The Cricut Explore Air 2 is an amazing machine that is the perfect cutting machine for beginners and advanced crafters. In this post, we will share everything you need to get started, including project ideas, tutorials, and must-have accessories!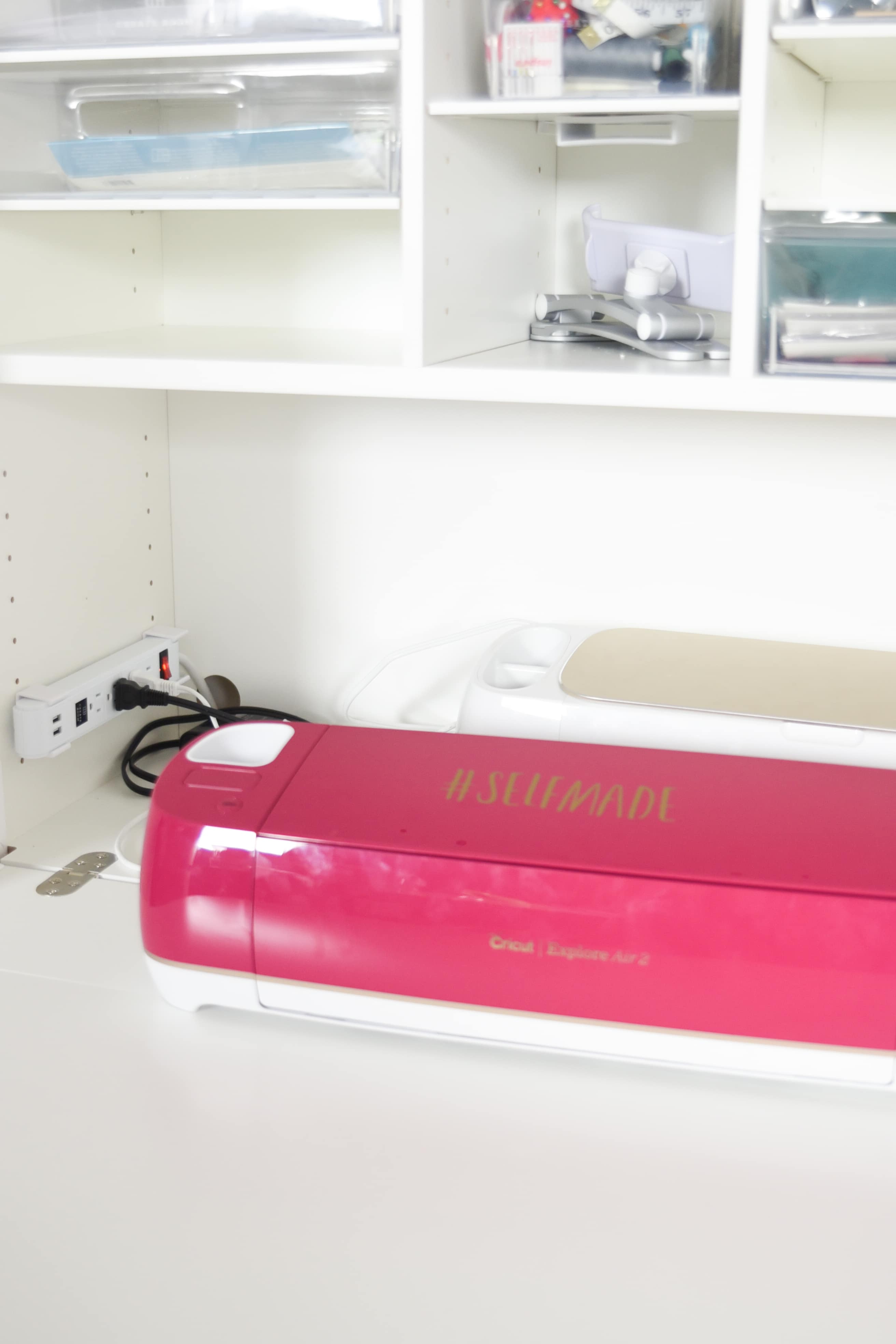 This is a sponsored post written by me on behalf of Cricut. All opinions are 100% mine.
When the Cricut Maker was released a few years ago, an understandable concern sounded through the Internet:
"What about the Cricut Explore Air 2?!"
People who loved their Explore Air 2 and had no desire to upgrade to a more expensive machine were worried that Cricut would stop supporting this machine.
Thankfully, the Explore Air 2 was and continues to be one of Cricut's flagship machines, so it's still a very popular machine.
Over the years, I have written posts about getting started with Cricut, lots about the Cricut Maker, and even quite a few posts about the Cricut Joy – but I recently realized that I didn't have a post that was solely dedicated to the Cricut Explore Air 2.
So today, I present to you the Ultimate Guide to the Cricut Explore Air 2. This post should be helpful in getting you started on the right foot – or even helping you decide if this machine is the right one for you.
Cricut Explore Air 2: Machine Overview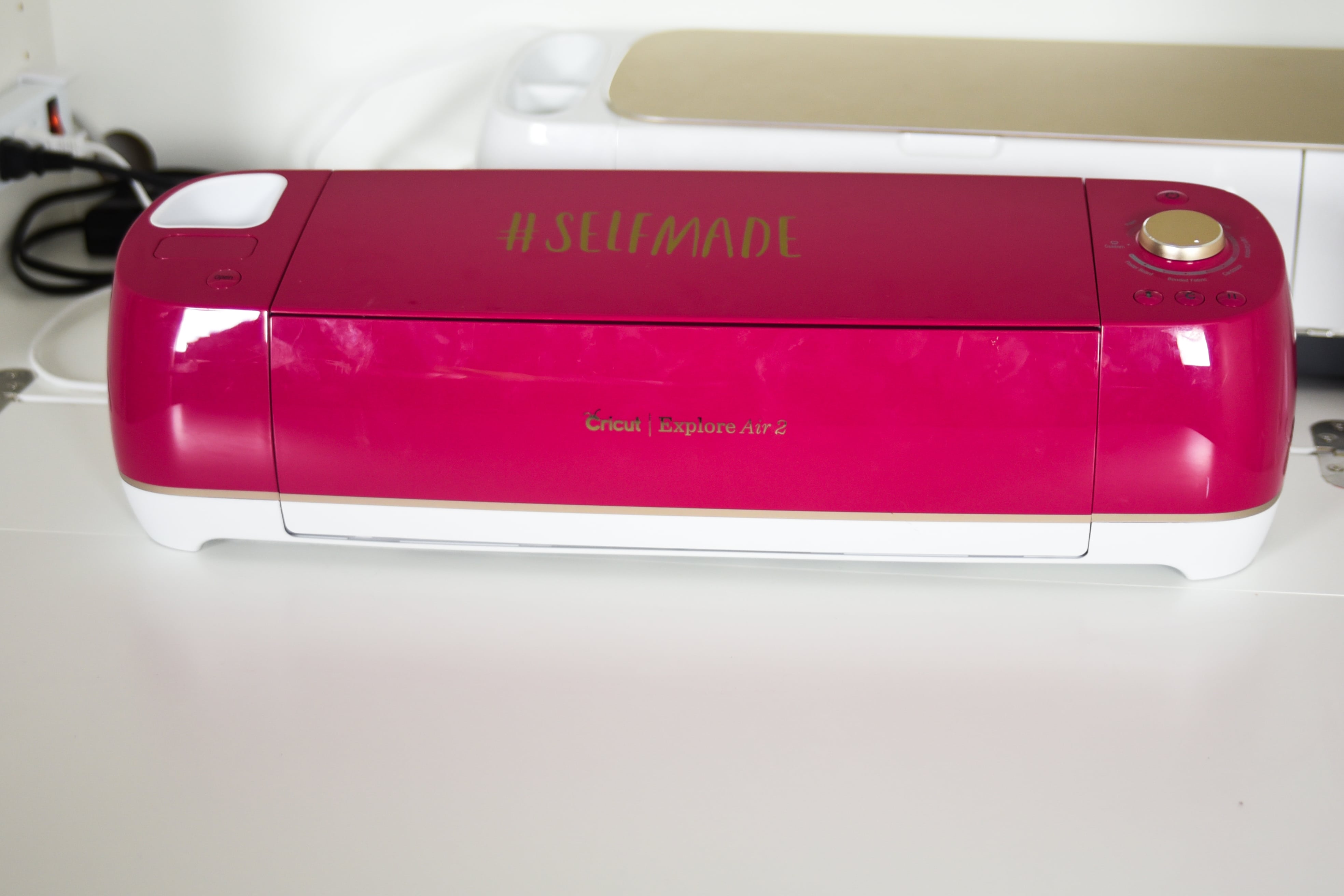 First, let's talk a little bit about what this machine has to offer.
It cuts over 100 different materials, primarily uses two blades, and it is compatible with Design Space. However, it also has a cartridge adapter so you can easily use any cartridges you may have acquired.
It can be connected to your computer through a USB cord or via Bluetooth, and if you use a tablet or smart phone for your designing, you will use Bluetooth.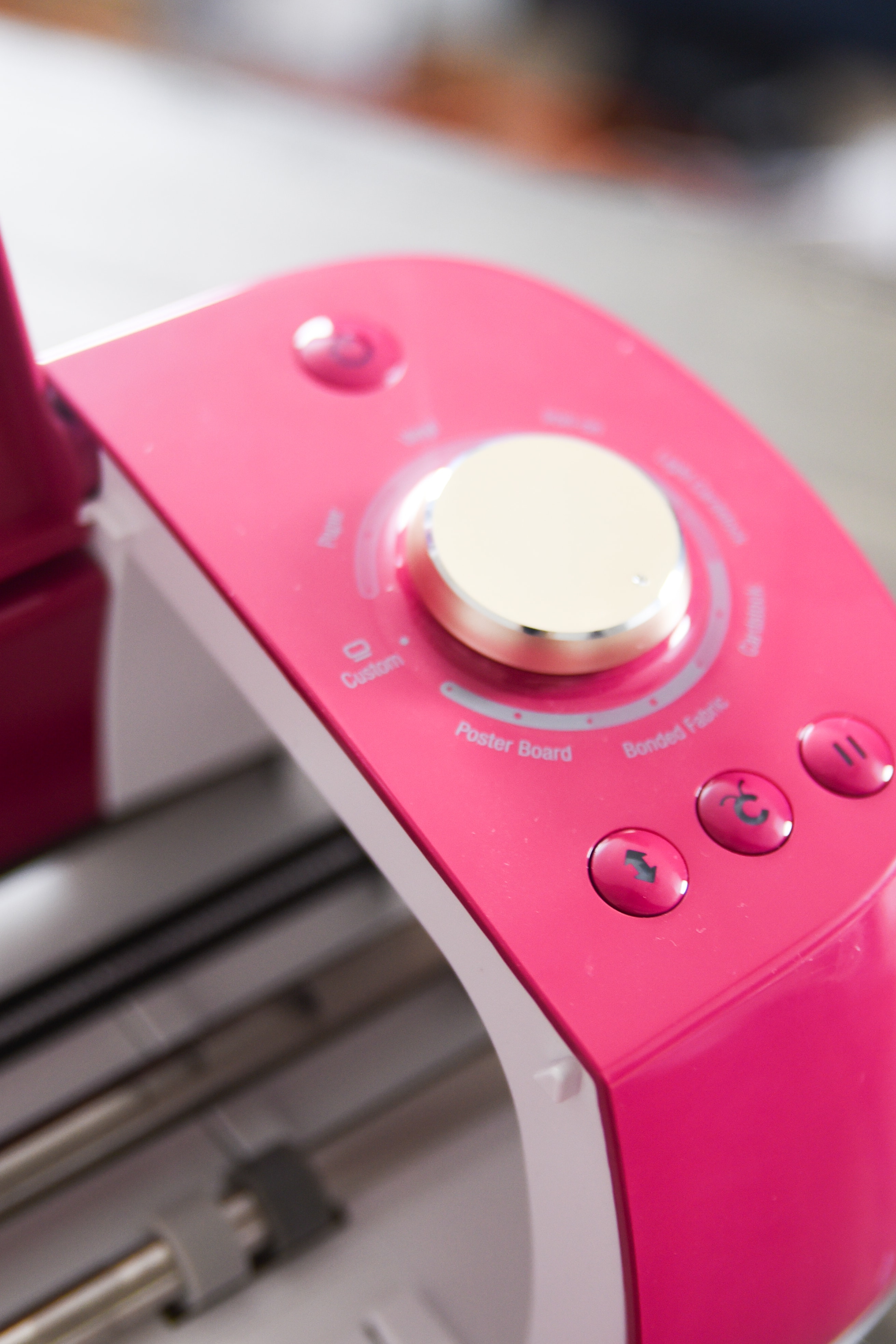 The CAE2 has the "Smart Dial" which is on the machine and allows you to easily turn it to some of the most common materials the machine cuts. This is really convenient, but don't let it fool you into thinking that is ALL the machine can cut.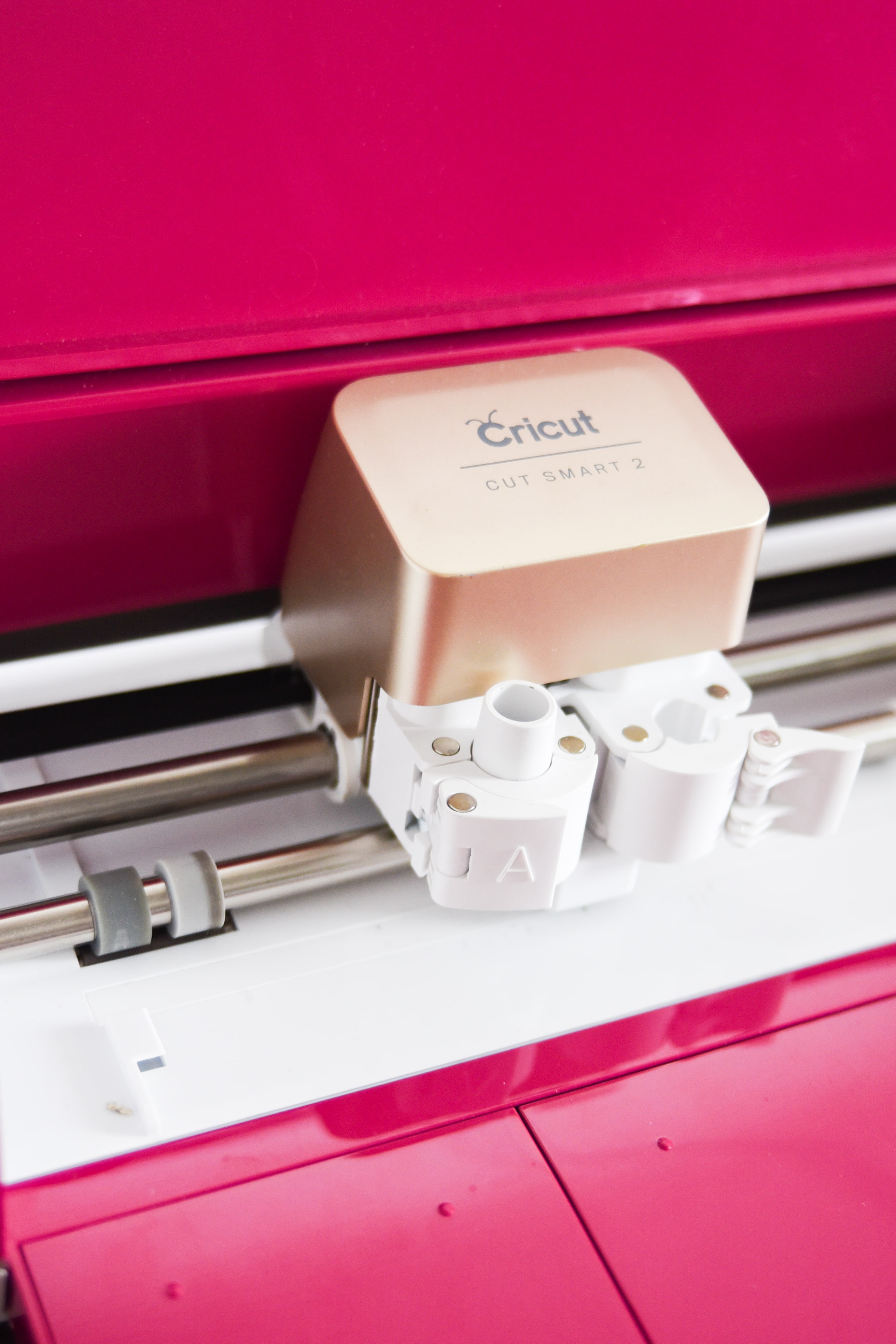 The main thing that sets it apart from the Cricut Explore Air is that it has two times faster cutting. My first Cricut machine was an Cricut Explore Air, and while I loved it, it took F-O-R-E-V-E-R to cut anything! The two time faster cutting is really impressive and you can tell a big difference.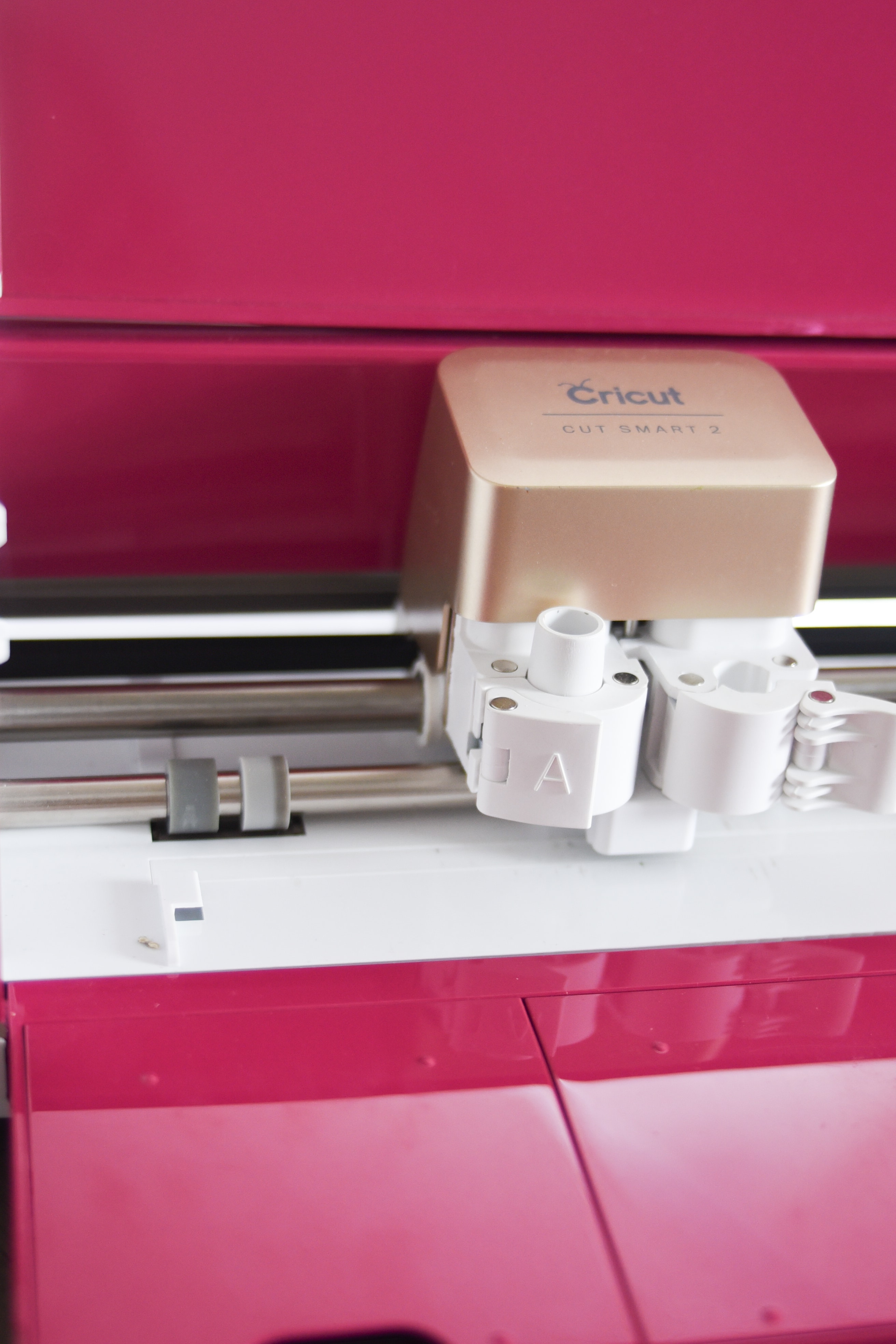 Oh! And it has two tool holders, which is different from the original Cricut Explore machine. This makes it so you can put a blade in one of the holders, while having a pen or scoring tool in the other holder.
Who Should get a Cricut Explore Air 2?
You might be asking yourself…is this machine the right one for me? I've done a deep-dive comparison in this post — , but let's talk a little more about who I think this machine would be good for.
I think that the CEA2 is a great machine for machines and advanced users. It can be used for a hobbyist or someone who wants to make a living with their Cricut.
I have also made this fun little quiz about which machine you should get. This shouldn't be the end all decision maker for you, but I hope that it will help.
How Much Does the Cricut Explore Air 2 Cost?
This machine retails at $249, but it is almost always available on sale. The price point will vary depending on where you bought it, the color, and what bundle (if any) you buy.
When you are shopping, I would suggest looking around cricut.com, Michaels, JoAnn's, QVC, and Amazon to see where you can get the most bang for your buck.
While I can't guarantee a specific time of year that there will be a sale, there are typically sales throughout the year – especially around the holidays. So keep your eyes and ears open for these.
Buying a bundle is usually the most cost efficient way to get started with your machine, as it will usually come with essential tools and materials so you can start right away. Make sure you look at the contents of the bundle to make sure it contains materials you actually want to use.
You may also be able to find an Explore Air 2 for sale from someone locally. This can be a good option, however, I would just be very careful to make sure the person is reputable. I would never purchase a machine online that seems like a "too good to be true" price – most of the time, it is too good to be true.
What does the Cricut Explore Air 2 come with?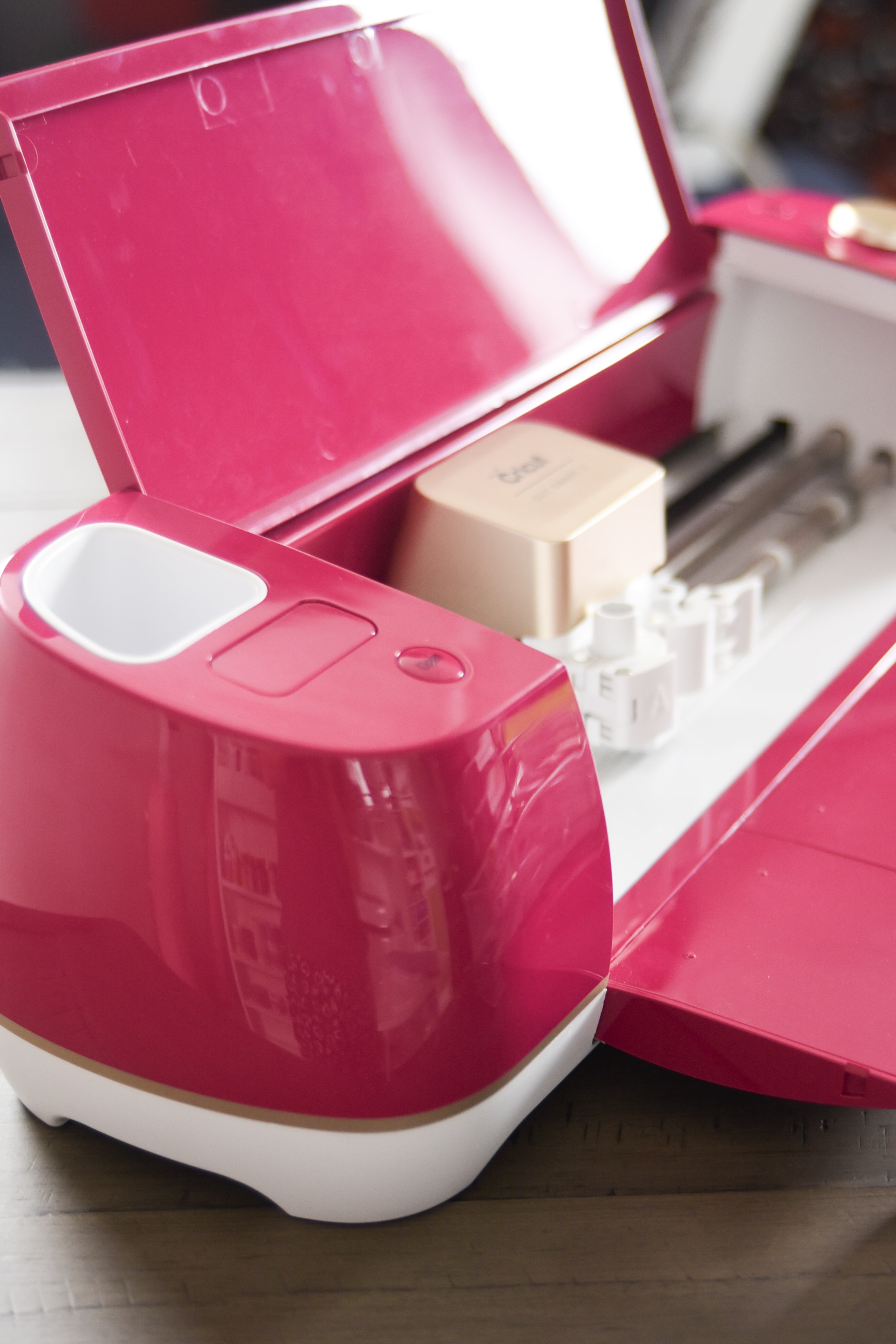 While you can buy different bundles for the Explore Air 2 – that will come with various materials and accessories to get you started – here is what comes standard with every new Explore Air 2 machine:
Fine Point Pen, Black
LightGrip Mat, 12″ x 12″ (30.5 cm x 30.5 cm)
Welcome Book
USB cable
Power adapter
Free trial membership to Cricut Access™ (for new subscribers)
50 ready-to-make projects
Materials for a practice project
What Can The Cricut Explore Air 2 Cut?
As I already mentioned, the Cricut Explore Air 2 can cut over 100 different materials.
It can cut materials that are up to 2mm thick, depending on the blade you are using. You can check out ALL of the compatible Explore Air 2 materials here, but below are some of the most popular:
Cardstock
Vinyl
Iron on Vinyl
Glitter Paper
Cork Board
Cereal Boxes
Foil
Burlap
Craft Foam
Light Chipboard
Photo Paper
Label Paper
You can view a list of all compatible materials here.
Cricut Explore Air 2 Accessories
What add-ons do I need to use the machine and how expensive will it be?
Your machine will come with the fine point blade and one fine point black pen…but beyond that, it's up to you to get any additional accessories.
You can do a lot just with your fine point blade, but if you want to expand your horizons, I would definitely recommend getting some extra accessories. Fortunately, they are generally not super expensive, and you can just buy them a little bit at a time.
Blades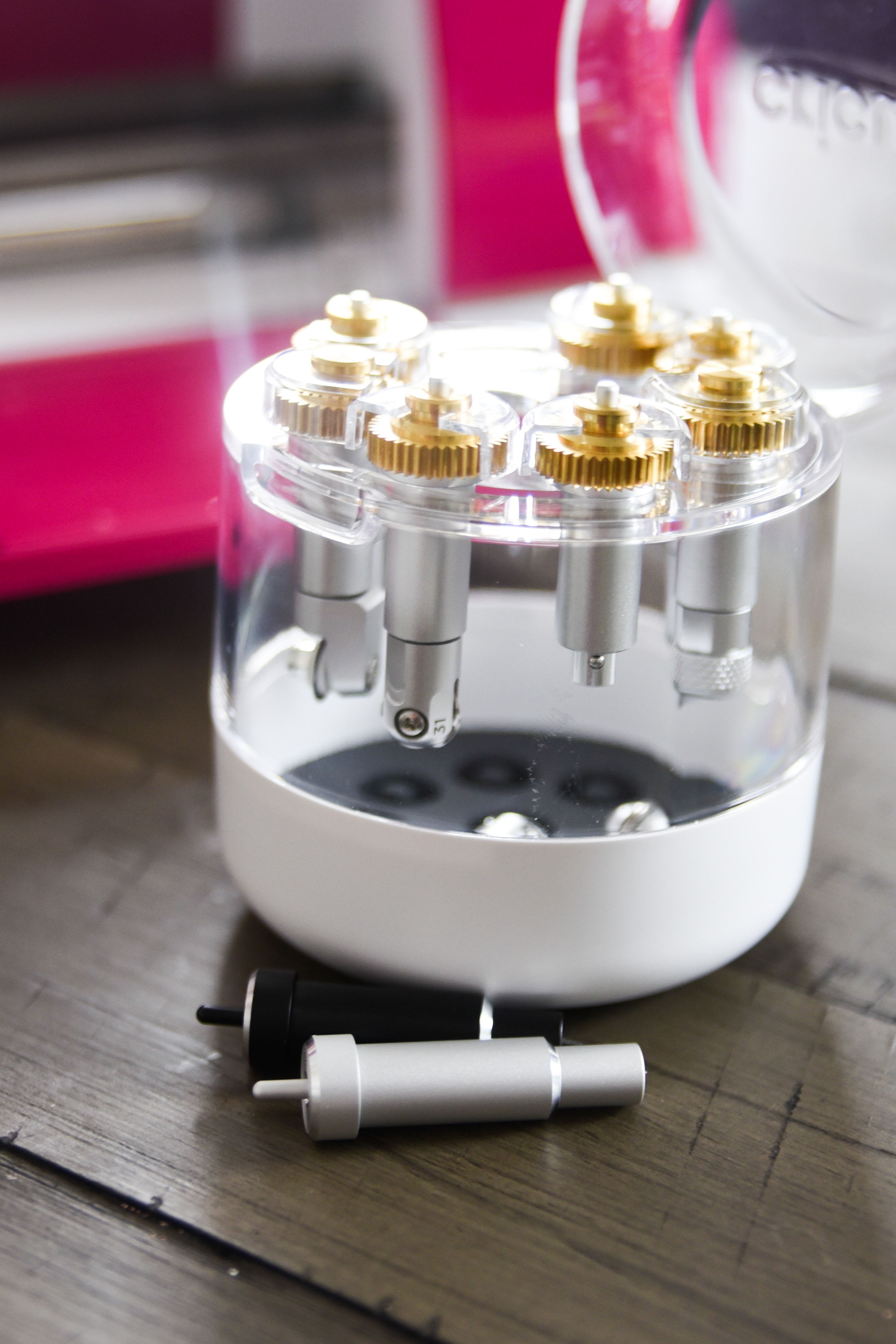 There are two main blades that you will use with your Explore Air 2:
There is also a bonded fabric blade, but this is basically just a fine point blade that is a different color and is designated for fabric. I would get this if you plan to do any bonded fabric projects.
The fine point blade is great for materials like scrapbook paper, vellum, lightweight card stock, vinyl, etc. The fine point blade comes with your machine, but I would suggest getting some replacement blades for it.
The deep point blade is more ideal for materials like chipboard, wood veneer, etc. You should definitely consider getting the deep point blade with some refills.
Mats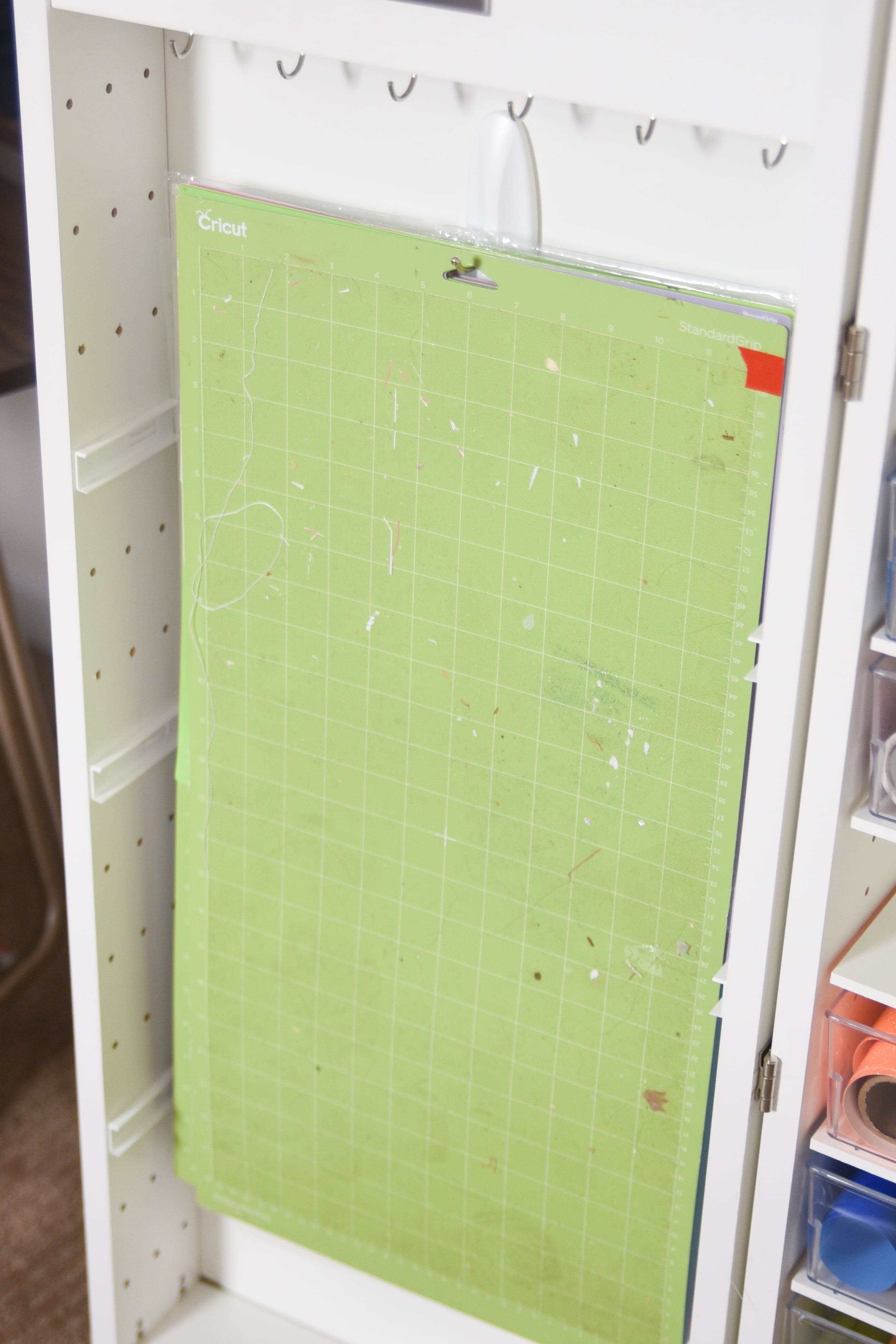 You will need cutting mats for your machine. The Explore Air 2 uses three different type of mats:
They come in sizes of 12×12 and 12×24. My most used mat is the 12×24 StandardGrip mat, so I definitely suggest getting a set of those.
I would have at least one of each mat in 12×24. If you want to get them in smaller sizes, that's fine, too.
EasyPress 2
If you will be doing any iron on projects or infusible ink projects, then you should definitely consider an EasyPress 2.
They come in various sizes, and I much prefer them over an iron or traditional heatpress.
I strongly recommend reading these posts:
Helpful Tools
I think all Cricut users will get a lot of use of the following tools:
Pens
You can use a variety of pens with your Cricut Explore Air 2. There are thick pens, thin pens, gel pens, glitter pens, pens of all colors…it's a little overwhelming, but I definitely recommend getting some.
While there are tons of different pens, I would suggest starting with the following sets:
You can check out all the pens here.
Scoring Tools
You can get a scoring stylus to use with your machine. It's great for paper crafting, it's very affordable, and you really only need one.
Scoring helps to fold lines for cards, envelopes, boxes, and other 3D projects.
Cricut Maker Tools
Many people ask if you can use Cricut Maker blades with the Cricut Explore Air 2, and the answer is no. Unfortunately, any of the blades that have been specifically designed for the Cricut Maker (such as the Rotary Blade, the Scoring Wheel, or the Knife blade), they will not work with the Cricut Explore Air 2. If you are still considering what machine to get, make sure you look at the blades the Maker has to make sure you won't be wishing you got them!
Cricut Explore Air 2 Tips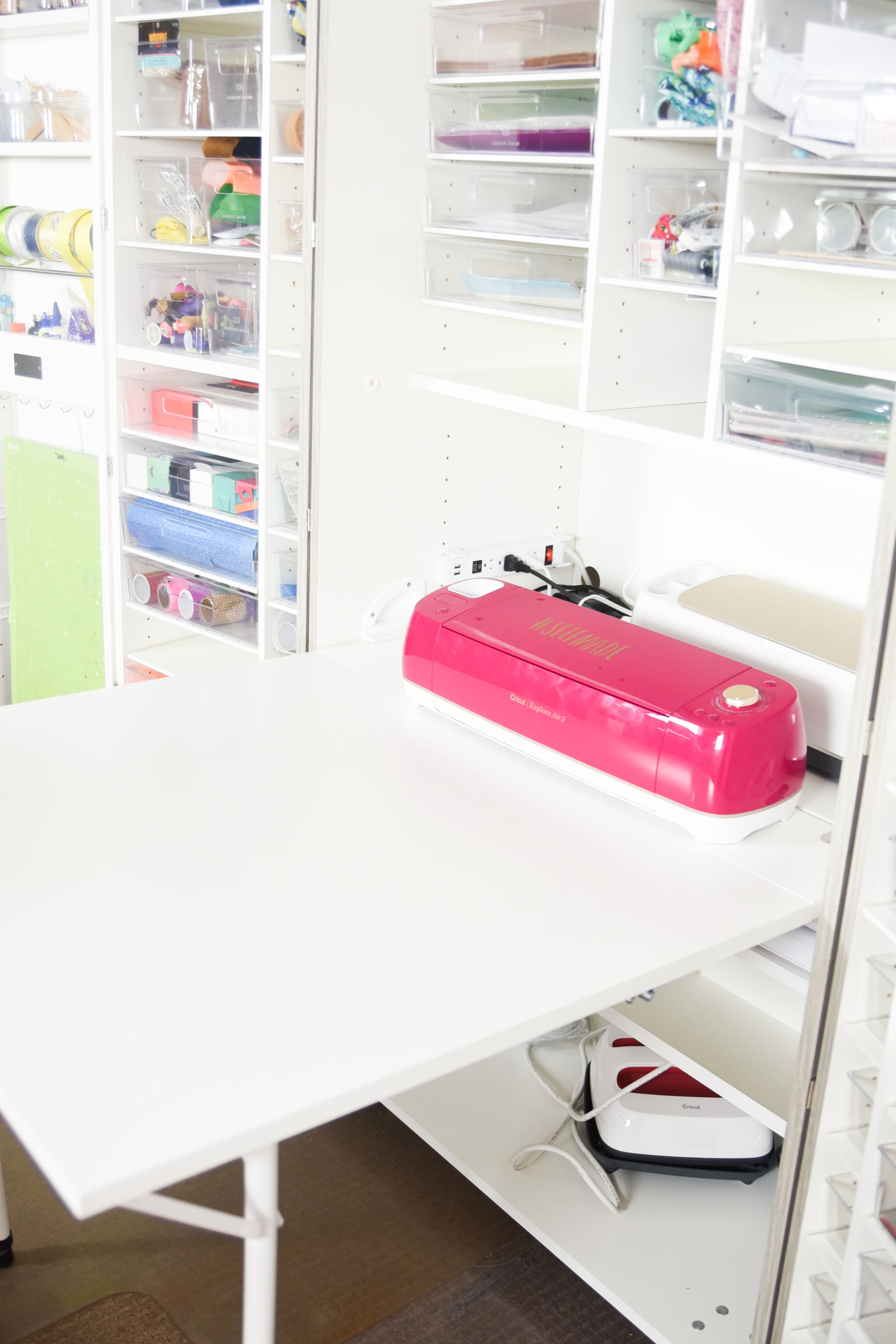 It can be overwhelming when you first get your machine out of the box – trust me, I know!
Here are a few tips for getting started:
Read the instruction manual and make sure you do the test project. This is a great way to get acquainted with your machine and make sure you know what you are doing.
Take time to discover all the materials that you can cut with your machine. A lot of people don't realize how much it can do!
Save your scraps! You can easily use them later for other projects, and you ALWAYS have scraps.
Get organized right away. There's nothing more frustrated than not being able to find your materials. Here are some craft Cricut and Craft Storage Ideas.
Read all you can! There are TONS of tutorials out there (some better than other) and a lot of great resources. My Cricut Support Group on Facebook is a great place to start for tons of free help.
If you are really wanting to dive in, I recommend checking out Cricut Academy with Cori George. It is an inexpensive Cricut membership that includes tons of tutorials, videos, free SVG files, and more.
I have an online Cricut class that I offer for just $1.99. It's not super updated, but it will get you started on the right foot!
Consider getting a Cricut Tool Organizer to keep your blades organized.
Cricut Explore Air 2 FAQS
How do I design my projects with the Cricut Explore Air 2?

Any project that you cut with your Cricut Explore Air 2 will need to be done in Cricut Design Space.

You can use images and fonts from Cricut Access, upload your own images, or make creations using their shapes and colors.

Cricut Design Space is available with a desktop version for your laptop or computer, and there is also an app for iOS and Android devices.
Will it be easy for me to learn the software to make projects?

It shouldn't be too hard – with anything, it really just takes TIME and practice. I recommend just starting with very simple projects and going from there.

My Cricut class, which is just $1.99, will give you the basics for getting started with Design Space.
Can I make money with my Cricut?
You sure can! Many people use their Cricut to make money – even beyond creating and selling crafts or t-shirts.
I have a post ALL about Cricut and Business that you can read here to learn more: How to Make Money with Your Cricut Machine
What colors does the Explore Air 2 come in?
It comes in a variety of colors, often depending on the retailer your buy it from. I see mint quite frequently, and I own the raspberry edition (which I love).
Look around – chances are, you'll find the perfect color for your home!
Is it easy to use a Cricut Explore Air 2?
I wouldn't say it's hard, but it does take time to figure out. A lot of people do get frustrated when they first start to use their machine for the first time. With practice, it will get easy.
It's definitely a lot more user-friendly than a lot of products out there, and the good news is that there are TONS of tutorials.
How big of projects can I make?
The largest would be about 11.5×23″, though there are ways that you can make a project larger than that – here is some information on that!
Can I use my cartridges with the Explore Air 2?
You absolutely can! If you want to use a digital cartridge, just purchase it with the same account that is linked to Design Space, and it should be automatically synced up.
If you have a physical cartridge, the Explore Air 2 does have an adapter, so just plug it in and you will be able to link it to your account.
Where can I find fonts and images to use in Design Space?
There are lots of places to find designs, images and fonts that you can use in Design Space and cut out with your Explore Air 2.
First off, let's talk about Cricut's library! They have tons of projects (both free and paid), as well as quite the variety of fonts and images.
Most of the projects that are paid are between .99 and 9.99. Most images are between .99 and 1.99, and most fonts are about $5.99.
However, if you signup for Cricut Access, you will get access to thousands of images and fonts and lots of projects.
Here are a few other places I like to look for fonts and images. Always check the license and don't just take something you find in Google image search.
So Fontsy – This is a great place to find fonts, SVG files, and much more! Lots of freebies available as well.
Craft Bundles – This website is really fun, and each month, they release a bundle of images and fonts for about $20 (valued at over $300 typically) – all with the license to use commercially. They also have some great $1 deals that are absolute steals.
DaFont and Font Squirrel – These are my two favorite websites to find free fonts. Just make sure you check the licensing if you plan to sell anything!
Where can I get a discount on the machine and/or materials?
Cricut.com occasionally runs sales on these machines, and you can often find them as well at Michaels and Joann Fabric. You can especially find these deals around the holidays.
Make sure to shop our Cricut store on Amazon for all your Cricutting needs. If you are shopping on Cricut.com, you can use the code WINTER10 for 10% off and free shipping materials and supplies on Cricut.com on orders of $50 or more.
Cricut Explore Air 2 Tutorials
Here are TONS of tutorials to get you started with your machine:
Other Machine Guides: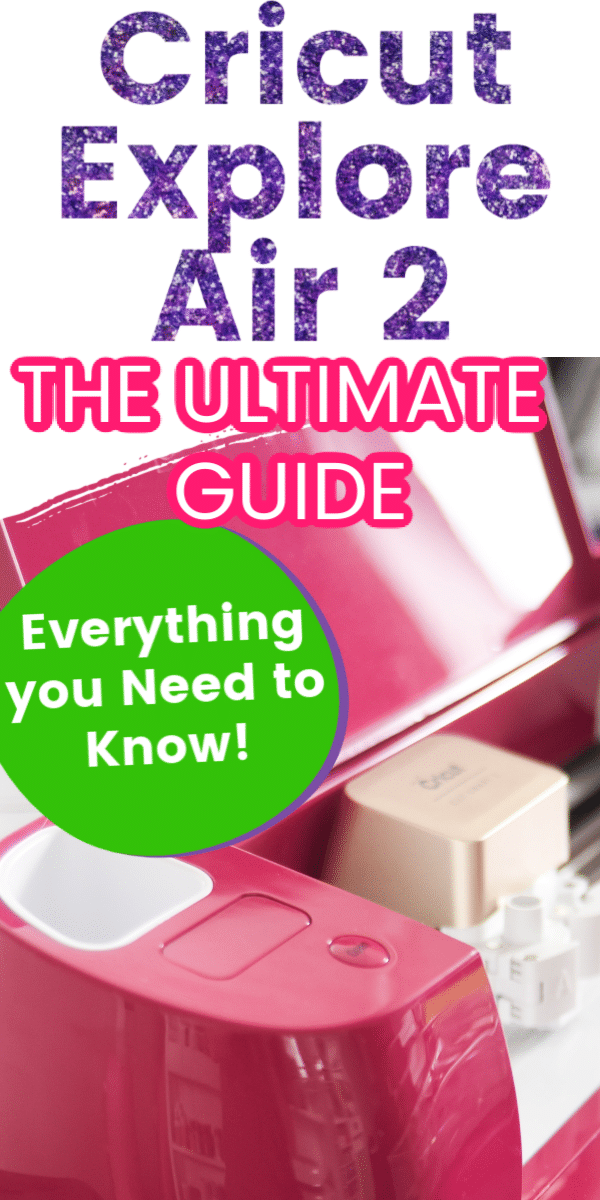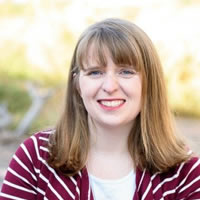 Katie is a Colorado-native, BYU graduated, and most importantly, wife to one and mother to three beautiful boys. She is passionate about sharing her experiences with others – especially about pregnancy, breastfeeding, cooking, and crafts. She is an International Board Certified Lactation Consultant. She loves spending time with her family and helping others find joy in family life.