A Cricut machine doesn't have to be hard to use – but it can be intimidating. Here are the best tips for those of you starting out with your Cricut Maker or Explore Air 2!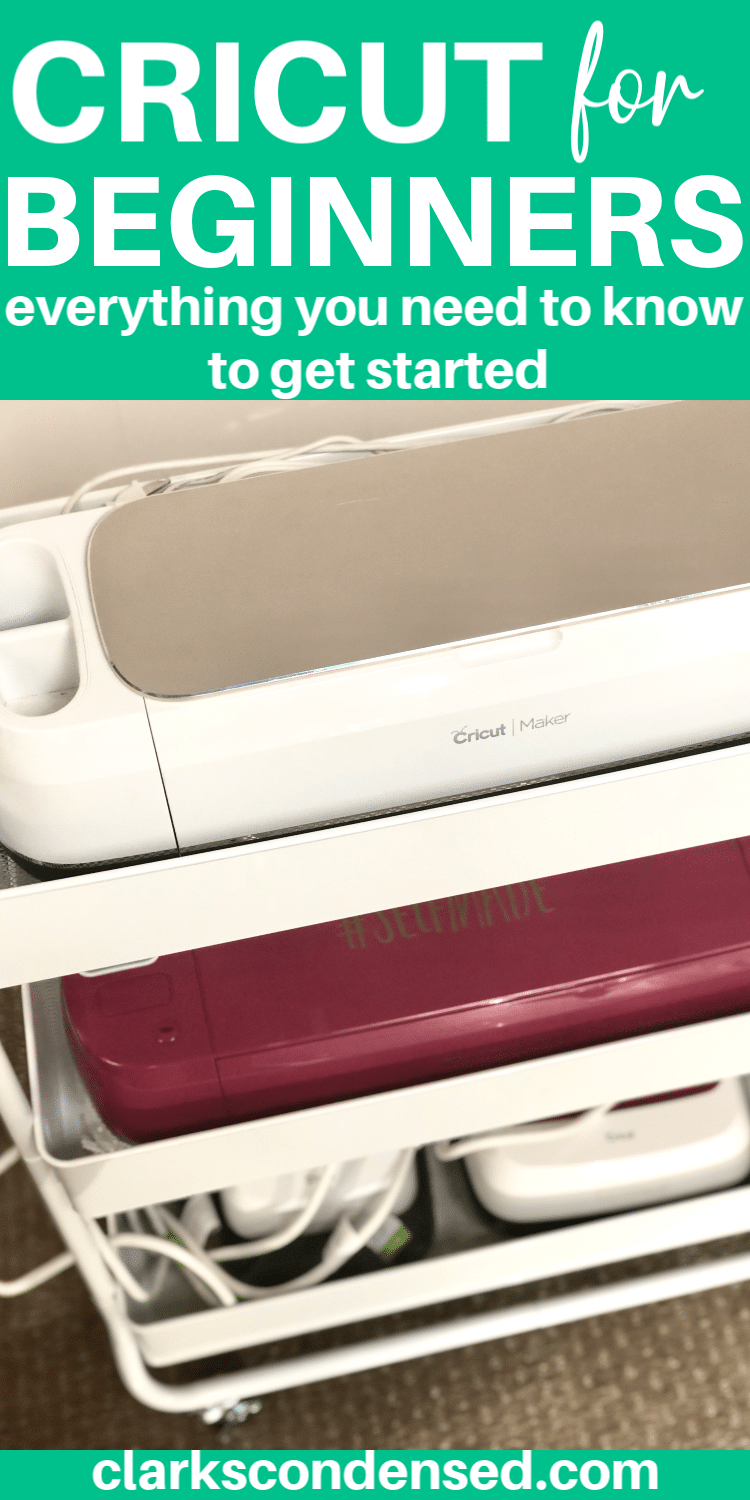 Cricut Machine Tips
When I first got my Explore Air, I was so intimidated to start the first project.
It sat in the box for months, because I just didn't know where to start.
Well, those were wasted months, because it has turned into one of my favorite hobbies.
I'm not one of those people who has every project turn out perfectly – in fact, many end in tears or just end prematurely because it just isn't worth finishing!
However, I have learned a lot over the years, and I hope that this post will help those of you who are just starting out and need a little bit of extra help. If you are a Cricut newbie, want to learn simple projects, or you need answers to popular questions, we have you covered.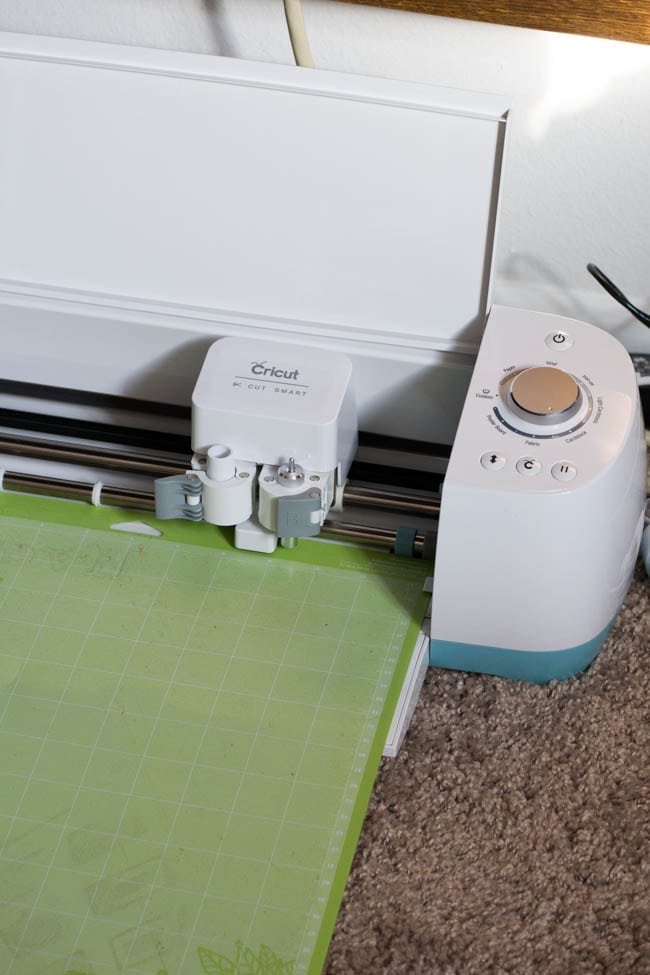 Be sure to join Cricut support group on Facebook for ideas and inspiration! There are thousands of members who are so helpful and creative!
Make sure to shop our Cricut store on Amazon for all your Cricutting needs. If you are shopping on Cricut.com, you can use the code WINTER10 for 10% off and free shipping materials and supplies on Cricut.com on orders of $50 or more.
Table of contents
What machine should I get?
If you are reading this, you likely already have a new Cricut machine – but you may also be trying to decide which one is best for you.
There are a ton of different machines out there, but the two lines that they still actively update and promote are the Explore Air line and the Maker.
I am fortunate to own the Air, Air 2, Joy and Maker, and really, they are all amazing machines. There are things I like about the Air more than the Maker, but overall, I like the power and possibilities of the Maker.
I wrote this post – Cricut Joy versus Explore Air 2 Versus Maker: Which Should You Get? which I think will be helpful in determining the best machine for your needs.
Here are some guides that dive specifically into each machine:
What's in the Box?
So, what comes in the Explore Air 2 box? (if you are looking for details on the Maker, click here).
Well, that depends. If you check out the Cricut website, they have different packages available, and the more money you pay, the more you get (obviously).
However, if you were to buy the most basic option from the website right now, you will most likely find in your box:
Explore Air
Storage Bag
Power and USB Cord
Blade
Standard Grip Cutting Mats
Getting Started Guide
Silver Pen
Samples
So, you don't get a ton of things, but it's enough to get started. However, I do recommend buying one of the starter sets for your first Cricut machine, as they do include more of accessories that I feel are necessary for success.

Here are a few items I think everyone should make sure they have when using one of these machines.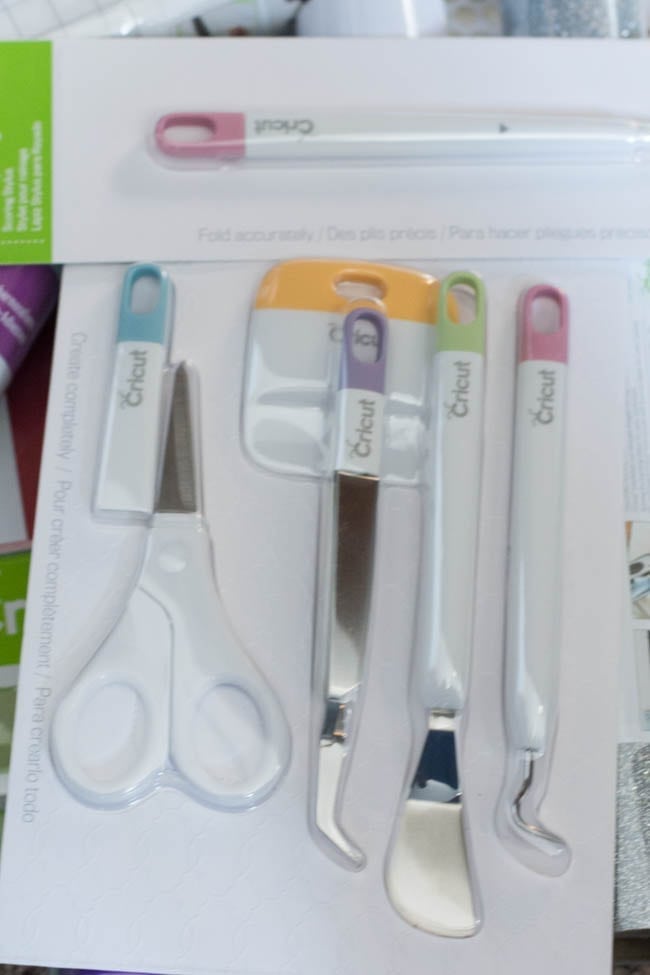 I've also written a post that goes into what you might need – depending on what kind of crafting you might do: Cricut Essentials.
Read the instructions
Maybe you all are great at reading instructions, but I am not. I'm the type of person that just jumps into something without reading all the information first.
Sometimes it works, other times, not so much.
I did that with the Explore Air when I first got it, and let's just say, I struggled.
So, save yourself some time and frustration and read EVERYTHING that comes with your machine.
Cricut Education
There are SO many great articles and courses and videos out there – many of which are free.
Here on Clarks Condensed, we have TONS of tutorials and projects that can help you get started with your machine – click here to view all of them. You can also check out our YouTube channel here.
For an ad-free experience, you can check out our eBook, which is actually very comprehensive and available for $7.99.
And finally, there are people far more talented than I am who have created some AMAZING online courses and communities – if you are really wanting to dive deep, check this post out to learn more – The Best Online Cricut Courses For Every Budget (personally, I'm partial to Cricut Made Easy).
Cricut Mat Care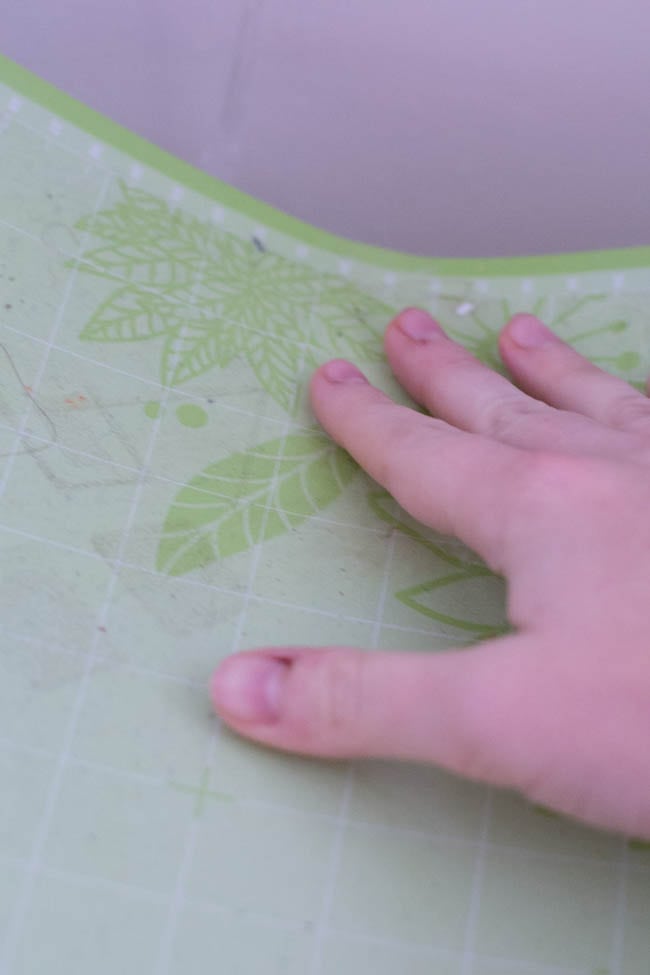 Cricut mats will be your new best friend, especially when you're working on beginner projects and learning about your new Cricut maker.
The cutting mat is essential to success with your machine. You really need it to make sure you get a cut on just about all the materials you will use. It helps with clean cuts, and it's the best way to go if you want to make an intricate design with your cutting machine.
Without proper care, they can get messed up pretty quickly. I'll talk about this more later but you should ALWAYS make sure you do a test cut. I've ruined a mat because I had the cut setting too high.
Beyond that, one tip I learned is to wipe it down with non-alcoholic baby wipes (water wipes would be perfect) after each cut. This can help keep it cleaner, stay sticky for longer, and just increase the longevity of it.
You can use a paper clip to pick up tiny pieces of leftovers that are hard to get, as well as a lint roller.
If you are hoping to make your mat sticky again, here are two pieces of advice:
Good ol' soap and water: This really does seem to work! My mat was starting to feel a little less sticky, so I just gave it a good cleaning with soap and water, and it seemed to revive itself.
Krylon Repositionable Adhesive: I have not actually used this, but I've heard that it can help make a mat sticky again.

What mat should I use?
There are currently four different mats:
The pink mat is specifically designed for the Maker and is to be used with fabric.
The blue is for materials that stick rather easily and won't slide around.
The purple is for thicker materials that have a harder time staying put (such as balsa wood, chipboard, etc.)
In general, my rule of thumb is this – the thicker the material, the stronger the grip.
What Materials Does The Cricut Explore Air Cut?
It cuts SO many things – the sky is really the limit. The first thing that probably comes to mind is vinyl – which is definitely a big one (and there are TONS of different kinds of vinyl as well).
However, that's just barely scraping the surface. There are over 100 different materials you can use, but here are some of the top materials listed on the website:
Paper – Standard, Cardstock, Vellum, Poster Board
Vinyl – Standard, Premium, Dry Erase, Chalkboard
Adhesive Vinyl
Iron-On – Heat-Transfer Vinyl (HTV)
Craft Materials – Washi Tape, Craft Foam, Glitter Paper
Upcycled Materials – Chipboard, Cereal Boxes, Aluminum Cans
Fabric – Felt, Denim, Polyester, Burlap, Canvas
Plastic – Stencil, Window Acetate, Silicone
Thick Materials – Leather, Balsa Wood, Magnet Materials (check out this tutorial on how to cut wood with your Cricut machine)
You can purchase many compatible cutting materials straight from their website. You can use things that aren't Cricut branded, but I always know that if I use something from the site, it will definitely work.
Make sure that you read our post on 50+ Unique Cricut Projects to find out all the different ways you can use your machine!
Test cut
Always do a test cut – especially if you are cutting with a new material. I'll be the first to admit that sometimes I'm lazy in this, and I almost always regret it when I see my new materials aren't being cut all the way through.
It takes just a few seconds for a test cut to be done, and it can help to ensure that you won't have to do extra cuts or that the pressure of the cut is so much that it will cut into the mat.
Cutting with fabrics
I've found cutting with fabrics to be somewhat tricky – there's some trial in error involved. For instance, for Oliver's birthday, I made him a shirt with fabric that I cut from the machine. It worked pretty well.
However, I tried to cut some flannel the other day, and it was a disaster. It was pulling all over the place, and it cut fine in some areas but horribly in the others.
I've found that the secret is to use something like heat and bond to make the fabric a little thicker. If you aren't going to be bonding it to something, you can at least attach it to some interfacing.
The flannel, I had chosen to use a spray adhesive, but I wish I had just used Heat 'n Bond I feel that it would have made it a stiffer surface, and it wouldn't have gotten pulled around as much. Test cuts are super important when cutting with fabric!
UPDATE: The Maker cuts fabric BEAUTIFULLY – make sure you check out our post about the Cricut Maker and Fabric for more details 🙂
Writing/Drawing
One of the fun features is that you can draw with it – this can be fun for signs, cards, etc.
Cricut has their own markers that work well with the machine, so I do recommend picking up a set of those. However, don't feel like you can't use anything else. Anything else that will fit can work. Sharpies are a popular option.
Be sure to read this post on how to write with Explore Air to get you started!
How to clean your new machine
As with any kind of machine, it's crucial that you clean it to keep it working in tip top condition. This a great video that shows you how to clean your machine:
Non-alcoholic Baby wipes are a great option for cleaning both the machine and the wipes
Double-check your settings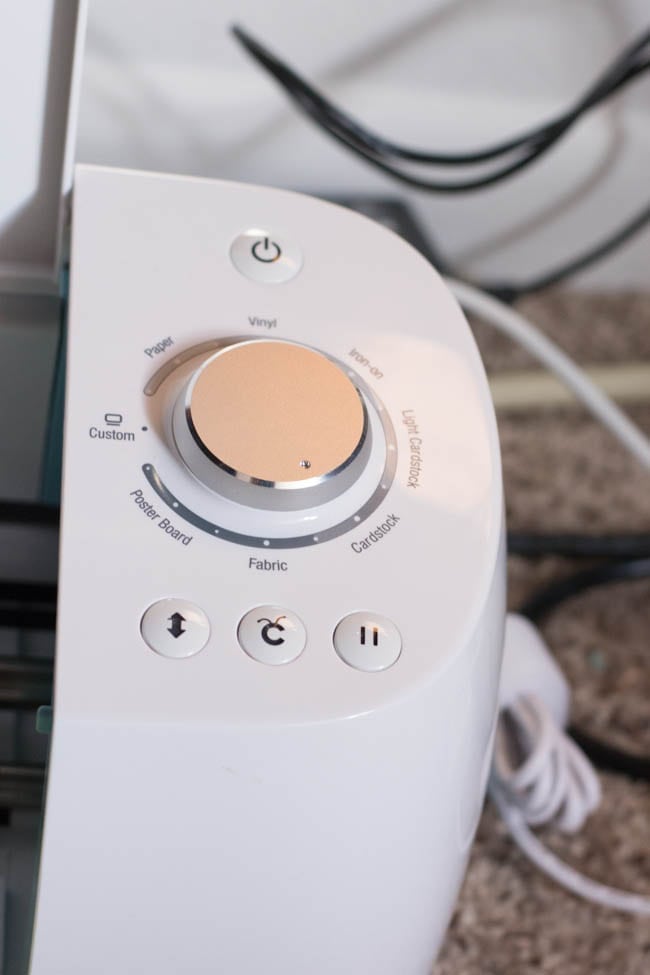 Always make sure you have your machine set to cut the right kind of material! You can do this by changing the knob on the machine, or you can do it manually within the software.
Within the Design Space software, it will give you settings for TONS of different cutting materials – far more than are on the knob on the machine. It gets pretty specific with the material. I also like that you can adjust the settings in there, just in case the machine isn't cutting the material exactly the way you want it to. a
Keeping blades sharp
Blades will dull over time – and it's usually a slow transition. I remember when I finally replaced my blade on my old machine, and I didn't realize how bad it had gotten.
I recommend having different blades for different kinds of materials that you cut frequently – so one that is only for fabric, one for vinyl, etc. Then you could have another blade for materials that you don't use as frequently. Here are the different blades that are available:
You should also clean out the housing for the blade after each use. This can get gunky very easily. I've found that using compressed air is pretty easy to use.

Transfer Paper
Transfer Paper is essential for many projects – specifically for use with vinyl. However, you can use transfer paper more than once – so make sure you don't throw it out!
Make sure you cut the transfer paper down to the size you need to eliminate excess waste. If you don't want to pay for the Transfer Paper, you can actually just use regular ol' contact paper. It might save you a few bucks!
Vinyl Tips and Where to Find Vinyl
I think when people think of cutting machines, they think of vinyl. I know that's the first thing that comes to mind for me! So, I figure it's worth mentioning a few tips for cutting with vinyl.
First off, it's important to understand that there are MANY different kinds of vinyl – interior, exterior, heat transfer, matte, gloss, glittered…SO many. It's important to look at what kind you are using in order to cut it correctly.
For instance, when I first started using heat transfer vinyl, it took me FOREVER to figure out what side was supposed to be cut (haha, pathetic, I know!).
When you are getting ready to cut the vinyl, make sure you line it up with the edge of the mat and fills the entire mat. I always have issues when I try to cut out the exact size and place it in the exact right spot on the mat. Just fill-up the whole space!
Once the vinyl is cut, I recommend cutting away excess vinyl before you remove it from the mat. If you don't do this, you risk pulling up vinyl that hasn't been cut.
When you do the transfer to the transfer paper, it's easiest to do this while it's still on the mat.
Start simple – vinyl does have a learning curve, and it can be easy to become frustrated with.
You can find vinyl a lot of different places. I bought a huge pack of vinyl from Amazon for cheap, and while it did the job, I didn't feel like it was the highest quality. I really love using the Vinyl straight from the website or from Expressions Vinyl.