The Cricut Joy has just been released – but is it the right machine for you? Here is everything I know so far to help you decide if it is!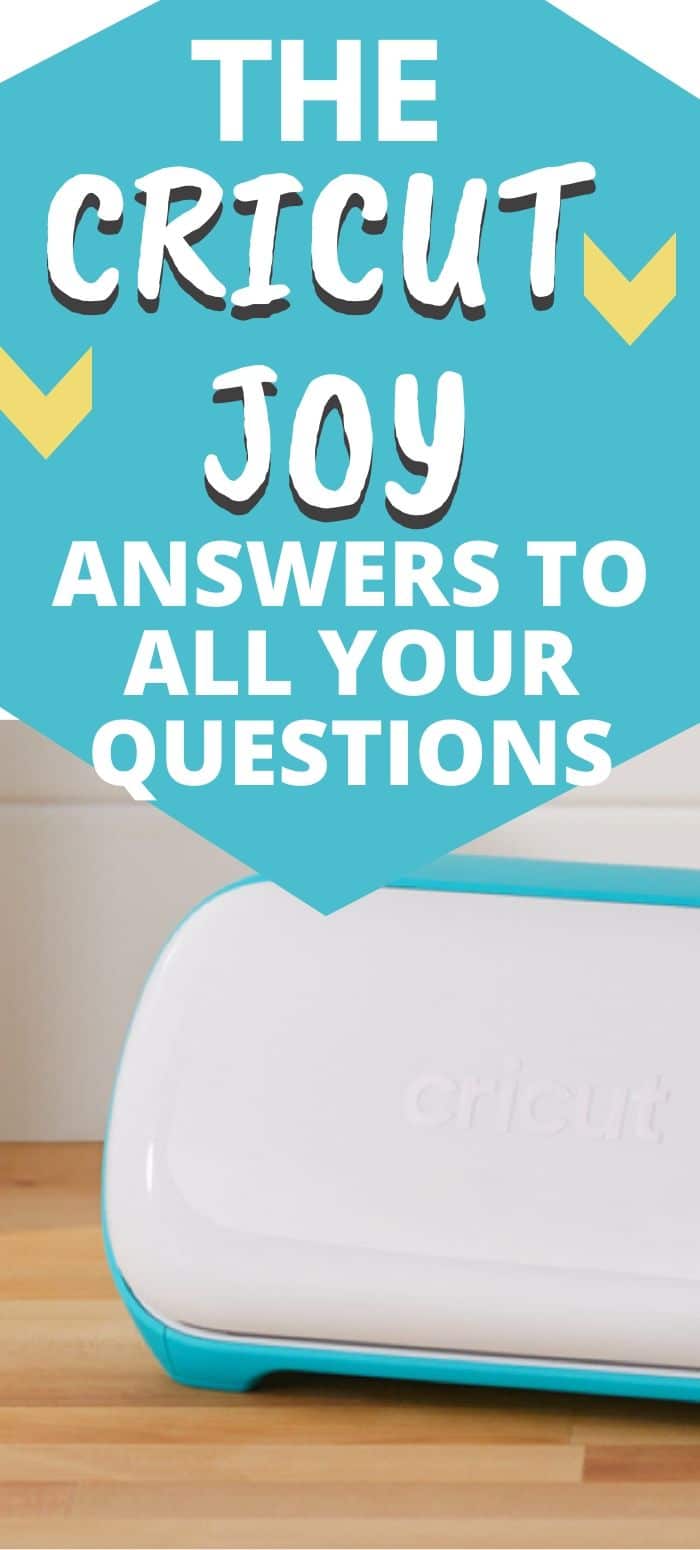 Well, Cricut has done it again – they've released "the next big thing"…or as they kept promoting it – something that's surprisingly small.
Introducing – The Cricut Joy!
This is a TINY personal cutting machine that Cricut just released, and I
Amazing, right?! I wasn't given information about it beforehand, so I was just as surprised as the rest of you. But I've gathered all the information I can find for the time being until I'm able to try it out myself.
As soon as I watched the video on Facebook this morning (I've embedded it below), I was jumping for joy with each feature that was announced.
I've said it before, but Cricut has made me into so much more of a crafty person than I was before – and I think the Cricut Joy will do that even more.
It's not for everyone – and I'm not telling you to go out and buy one just because they released it. But as I'll talk about later, there are certain people that I think this will be a great machine for.
As soon as I'm able to get my hands on this, you better believe I'll be doing some videos and tutorials. I will update this post with my thoughts and feelings as well. I will be updating my course to include this information as well.
BE SURE TO JOIN OUR CRICUT JOY CREATING GROUP!
What is the Cricut Joy?
The Cricut Joy is the latest and greatest from Cricut. It's their smallest machine yet that boasts of being a machine that you can use anywhere, anytime.
It's about 25% the size of the Cricut Maker and Cricut Explore Air 2, which is amazing. I have lugged my Maker and Explore Air 2 all-around town before, and it can be such a pain – I love how portable this is.
They've designed it to make sure it can cut the top 50 materials better than ever, so you won't be losing any functionality in that sense with the smaller size.
Cricut Joy Features
It's amazing how much they can pack into a small little machine! Here are a few things that stood out to me
Cut matless – yes, this means you can now cut projects up to 20 feet long without a mat. You can cut a single image that's about 4′ long, but you can do repeated images for up to 20 feet long. And image can be about 4 1/2″ wide.
However, there are mats that have been specially designed for this machine as well. These will be great for using smaller or scrap pieces.
Card Making – Admittedly, the one thing I rarely do with my Cricut machines is making cards. They always require so much attention to detail, and I'm just not that type of person. The Cricut Joy has a special card mat to make it even easier.

You simply take a pre-folded card and slide it on under the mat. It will cut or draw on the front of the card, and then you take it off the mat – and all the negative is left behind. You then slide an insert in, and you have a card in less than five minutes.
They have various card kits that come with all the materials you need. I am SO excited about this. It comes with the cart, insert, and envelope.
You can draw or cut the card.

Smart Labels – these are so cool. I don't always love working with vinyl, because you have to mess with transfer tape. This smart label vinyl has a special coating so you can write directly on the material, draw, cut, and place on the blank without using transfer tape!
They have developed a line of smart materials that work with this machine and make crafting easier than ever.
There's just one spot for tools and pens – just drop in and go. You don't have to worry about it clicking into place or anything like that. So, so simple.
When you go to load your material, the sensors in the machine automatically recognize it, and you don't even have to feed it in. It also scans over the material to make sure you have enough for the project you are working on.
Portability and Ease of Use – I have already mentioned this, but this machine is so much easier to bring around with you. Since you don't need mats for everything, you could even leave those at home. The fact that it has NO buttons will make it a lot easier to master.
It works with Design Space on computers, phones, and tablets!
How does the Cricut Joy differ from the other machines?
Obviously, it's WAY smaller – which is probably it's biggest selling point.
Beyond that, it's so much simpler to use. It doesn't have any buttons or switches or dials – just a light to indicate it's ready, and the door that you can swing open.
It is used entirely wireless via bluetooth connection, so there's nothing to plug in to your computer.
Obviously, if you have wider projects, it may not be the best tool.
From what I understand, it only has a fine point blade, so you won't be able to do thicker projects, or fabric without an adhesive backing. It has specially designed pens that work just with the Cricut Joy.
Who Should Get a Cricut Joy?
Ah, the million dollar question.
As soon as they announced the Cricut Joy, I saw lots of comments like, "I just bought the Maker! What gives!" or "Why can't you just release more tools?" etc.
And I TOTALLY understand the frustration. Most of us aren't made of money and can't afford every machine that comes out.
Here's the thing – if you are happy with your Explore Air or Maker and don't need portability or to be able to cut longer projects – you may not even give the Cricut Joy a second though.
But I think there are some people who would greatly benefit from buying the Cricut Joy. I do not think this is a replacement for the Cricut Maker AT ALL – and if that's the one you want to save up for, I would save up for it. BEcause the Cricut Maker is an amazing machine.
Here are some people that may want to consider the Cricut Joy:
Teachers! I've seen a lot of teachers saying how much they would LOVE this
Church leaders – I have brought my Cricut several times for activities, and the girls love it. But it's such a pain to bring everything with me. I think this would be great to bring to church, especially if we are doing an activity with the youth.
People with limited space – This is significantly smaller than the other machines, and if you have a small crafting area – this would be perfect for it. I have a big craft space now, but we've lived in smaller homes before that this would have been a much better fit.
Children/Teenagers – My boys love my machines, but they can be a little tricky for them to use. I think this will be a great machine to let them use and help me with.
College Students – back to the little space thing – and the fact that college students can be so transient! This would be great for a crafty college student.
Beginners – If you are just getting started in the personal cutting world, this would be the perfect machine for you.
People who need portability
People overwhelmed by the Maker or Explore Air 2 – I know so many people are SO overwhelmed by their machines because of all the buttons and options. I love that this has NO buttons and was designed to be as user-friendly as possible
People who primarily cut vinyl, paper, and HTV
Need a budget-friendly option. The Maker is very expensive and it's not in everyone's budget. This is a great entry-level machine.
What does it cut?
The main materials that this machine will cut are vinyl, iron-on, paper, cardstock, and labels. It's definitely not the beast that the Maker is, but, as I mentioned before, they've designed it to cut the top 50 materials that people use perfectly.
It can cut any shape or style of material, and it can write as well.
Here are some of the smart materials they've specifically designed for this machine (in various colors and designs) – click here to see everything they have to offer.
Iron-on
Labels
Shimmer vinyl
Metallic vinyl
Glitter vinyl
Holographic Vinyl
What Can I make?
As with all Cricut machines – the only limit is your imagination. While there is some limitation in making certain projects that you could make with a Cricut maker, you can do all sorts of things like:
Wall decor
Labels
Signs
Measurement charts
Pillows
Cards
Water bottles
Birthday Signs
Can I use my Cricut mats, blades and/or materials?
Unfortunately, no. The Cricut Joy requires specific mats, blades, pens and materials for projects. They are not interchangeable with what you may already have.
Can I use non-Cricut branded materials?
For the longer cuts, you do need to use the Cricut smart materials, such as the vinyl and iron on.
However, you should be able to use other branded materials, so long as they can be cut with a fine point blade.
How much does the Cricut Joy cost?
The Cricut Joy is $179.99 on the Cricut website.
I know a lot of people have been frustrated by the cost of the Maker, and while this certainly isn't the Maker – I hope it makes it possible for more people to get their hands on a personal cutting machine.
What does the Cricut Joy include?
Here is everything that comes with the Cricut Joy:
Cricut Joy machine
Blade + Housing**
Fine Point Pen, Black (0.4 mm)**
StandardGrip Mat, 4.5″ x 8.5″ (11.4 cm x 16.5 cm)**
Welcome card
Power adapter
Free trial membership to Cricut Access™ (for new subscribers)
50 ready-to make projects online
Materials for a practice cut
When will the Cricut Joy be released?
March 1st, 2020 is the release date. You better believe I'll be heading to my local craft store to pick one up on that day!
Where can I buy the Cricut Joy?
It will be available in pretty much all the retailers that currently sell Cricut products, such as Joann's, Michaels, and Hobby Lobby.
It will also be available on Cricut.com
Well, that's everything I know. As soon as I am able to get the machine and try it out, I'll be able to be more helpful. Please post any questions below, and I'll do my best to answer them!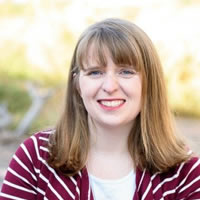 Katie is a Colorado-native, BYU graduated, and most importantly, wife to one and mother to three beautiful boys. She is passionate about sharing her experiences with others – especially about pregnancy, breastfeeding, cooking, and crafts. She is an International Board Certified Lactation Consultant. She loves spending time with her family and helping others find joy in family life.