If you love Infusible Ink, you are going to love all of these Infusible Ink blanks that you can try out with your projects!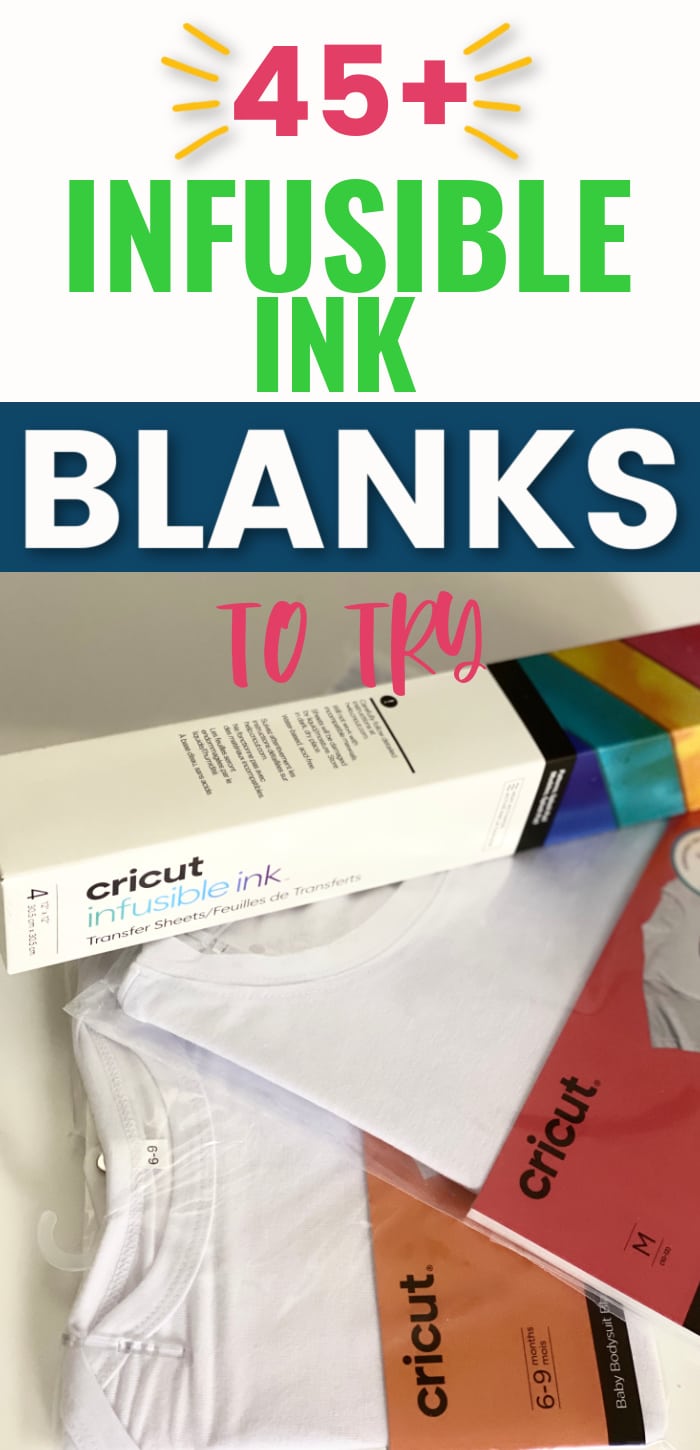 What is Infusible Ink for Cricut?
Infusible Ink is one of my favorite things to come from Cricut – I love how the projects turn out, and people are always complimenting them on how professional they link. Infusible ink designs are the best in every way. I love when the final result is revealed and my designs come out in vivid colors!
Infusible Ink is basically Cricut's version of sublimation, which isn't a new thing. But I love being able to create my designs in Design Space, either use their Infusible Ink sheets or Pens, and then put easily adhere them to sublimation blanks.
If you are pretty new to Infusible Ink, be sure to check out this article – Cricut Infusible Ink: Everything You Need to Know.
What is sublimation with Cricut?
Sublimation in terms of Cricut is transferring dried ink from a sheet directly to a blank. It is a permanent process with professional finishes.
Cricut's version of sublimation is their Infusible Ink. They have tons of different sheets and pens available to make this process much more user-friendly.
You actually don't NEED a Cricut to sublimate or even use Cricut's Infusible Ink – but Cricut makes it easier to cut out personalized designs.
What do you need for Infusible Ink?
To use Cricut Infusible Ink, you just need a few materials:
What can you do with Infusible Ink?
There are so many fun projects you can make with Infusible Ink. The most popular are personalized t-shirts, but you can make:
Hats
Tote Bags
Backpacks
Infant Onesies
Blankets
Coasters
Cricut has a line of their own blanks that they have tested extensively with their Infusible Ink.
Is Cricut Infusible Ink worth it?
I do think that it is worth trying out and using. Cricut offers a large variety of colors and patterns, and each colorful design makes it more tempting to try out. With making your own sublimation, it can be trickier to find those right color combos. It makes it easier than ever to make high-quality products that don't flake, fade, or peel away, and bring vibrant colors. It's pretty easy to use. There are a lot of projects in Design Space specifically designed to work with Infusible Ink.
Cricut Infusible Ink vs Iron-On Vinyl – What is the difference?
These are both very popular materials – while they do have similarities, it's important to identify the differences:
Cost:
Infusible Ink Transfer Sheets are more expensive at 17.99 (some are less but have fewer sheets. Cricut Joy sheets are less than $10 but are much smaller)
Iron-on vinyl or heat transfer vinyl generally is less expensive, and there are a lot of different brands so you can usually find a good deal
Size:
Infusible Ink sheets are either 12×12 or 4.5×12" (for the Joy)
Most iron on vinyl sheets are 12" wide and can vary in length
Materials:
Infusible Ink has to go on special blanks, or else the ink won't adhere. This does limit your options a little bit
Iron-on can go on most shirts and blanks, and even items like wood!
Permanency:
Infusible ink is designed to not flake, peel, or fade with time. It's definitely much more permanent than iron-on. However, for the best results, you need to be picky about the base materials.
While iron-on vinyl can last quite awhile when it's use correctly, it inevitably will start to peel with time, and the transfer process might struggle with regular iron that does not reach high temperatures.
How do you use Infusible Ink?
It is simple to use Infusible Ink. Follow this simple step-by-step tutorial for best result:
First, create your Design in Design Space or draw it on a piece of printer paper
Place your design on your blank and put a few sheets of the paper included with your Infusible Ink on top of it
Press according to the heating instructions on Cricut.com
Carefully remove the paper and the sheets. You want to make sure everything has completely transferred!
Infusible Ink Ideas
Can you use any design with Infusible Ink?
You technically can use any design with Infusible Ink. However, there are some designs that are better suited for them. I would look through Cricut Design Space for some ideas!
Cricut Blanks
Cricut has a wide variety of blanks:
Men's and Women t-shirts (including traditional round cut neck and v-necks) – available in white and grey
Onesies (white onesies and raglan ones)
Tote Bags
Wine Bags
Cosmetic Bags
Ceramic Coasters
What are Cricut Infusible blanks made of?
T-Shirts and Onesies are 95% polyester and 5% spandex. These types of materials are ideal for printing.
Mugs are made of ceramic and have a coating on them that make them sublimation friendly
Tote bags, Wine Bags, and Cosmetic Bags are 100% polyester, so the colors of the prints come out as bright colors.
Coasters are ceramic with a special coating to make them compatible with sublimation
Compatible Infusible Ink Blanks
Because of the popularity of Infusible Ink, people are always asking, "What can I use this on?" I know I've asked myself that as well.
In today's post, I'll share lots of different products for you to consider using with Infusible Ink. It can be an expensive hobby to do, and hopefully, some of these items will be a little bit easier on the budget!
Do you have to use Cricut blanks for infusible ink?
First of all, Cricut only suggests using Infusible Ink on the blanks they have created. This doesn't mean you can't use them on other brands, but they have been specifically designed for those blanks.
What material is best for infusible ink?
Different materials work differently with infusible ink projects. When looking at other products – especially with blanks like shirts and bags – you should make sure it's made from a high level of polyester. Any bags or shirts with a high polyester count will work in contrast to the blanks. Another material such as a cotton shirt is not compatible to bring out a bright color pattern.
I did a test awhile back with three different types of shirts and infusible ink to see how they turned out – you can check that out here: Cricut Infusible Ink: What Shirts Can I Use?
I would always recommend doing a small test on a new blank before you do a big project. There's nothing more frustrating than going through all the effort of designing, cutting, and weeding something, only to find out it didn't work!
Cricut Infusible Ink Blanks – Where to Buy
Cricut has released a pretty large variety of Infusible Ink blanks that should work pretty well. I have used quite a few of these without too much complaint.
You can buy these on Cricut.com, Amazon, and craft stores like Michael's and Joann's. There may be different stock at all of these locations – I have linked to their Infusible Ink sections below. I have found different types of Infusible Ink available at different places as well.
Shop Cricut.com / Shop Amazon.com
Make sure to shop our Cricut store on Amazon for all your Cricutting needs. If you are shopping on Cricut.com, you can use the code WINTER10 for 10% off and free shipping materials and supplies on Cricut.com on orders of $50 or more.
T-Shirts
In my experience, these tend to run small – including the infant body suits.
Bags
Coasters
Square – set of four with cork backing, 3.75″x3.75″ – Cricut.com
Round Coasters – set of four with cork backing, 3.6″ diameter – Cricut.com
Pillow Cases
I would imagine Cricut will release even more, so I'll keep this list updated as much as I can!
Cricut Infusible Ink Blanks Alternatives
We have searched the Internet for a variety of other blanks that might work well with Infusible Ink. Just be aware that these are not tried-and-true, so proceed with caution and do a test.
We tried to pick items that have successfully been used with Sublimation or that people in the reviews have said they have successfully used them with Infusible Ink. It may take a little bit of experimentation with the timing and heat, but they should work!
Mugs – someone suggested 385 degrees for 240 seconds
Face Masks – here is another version with different ear ties
Couch Pillow Cases – I personally used these with Infusible Ink Pens, and they worked very well.
Square wooden hardboard keychains
iPhone 11 Blank Phone Case (there are ones available for other types of phones, just do a search)
Hanes Sport Women's Cool Dri V-Neck T-Shirt
Hanes Men's Cool Dri Long Sleeve T-Shirt
Have you had any success with non-Cricut Infusible Ink blanks? Be sure to comment below for others!
If you are wanting to learn more about the Infusible Ink Pens, be sure to read this post – Cricut Infusible Ink Pens: Tips and Tricks for Getting Started
Check out these other favorites from Clarks Condensed:
Cindy Maudsley lives in Utah with her husband and five children. Aside from writing, her passions include her family, faith, and spreading infertility awareness. She also loves a good book or podcast, true crime documentaries , Netflix binge, diet Coke and Target run