Cricut Access is Cricut's premier subscription service that provides access to hundreds of thousands of images and fonts, along with exclusive discounts. But is it really worth getting? This post answers common questions and concerns to help you decide if it's right for you.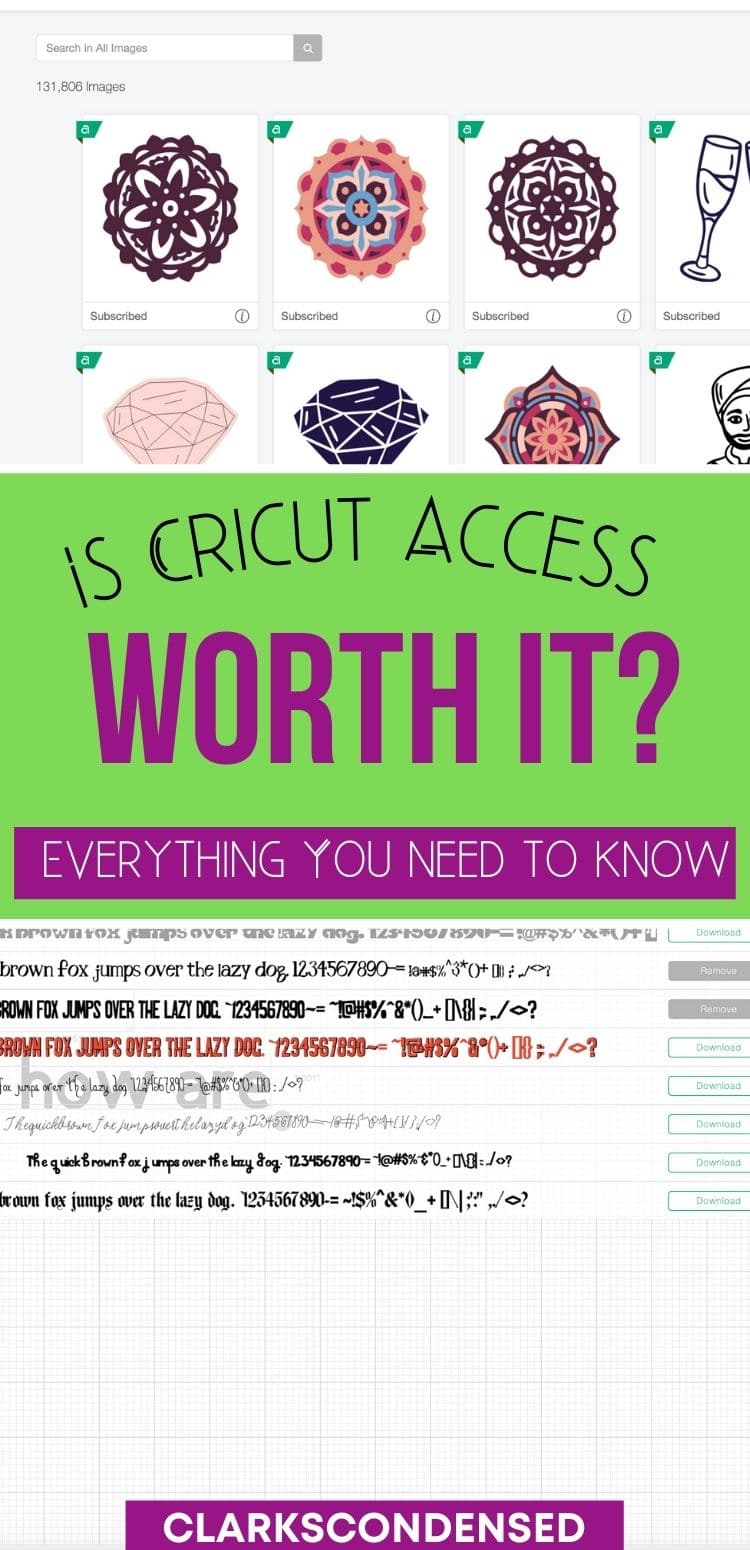 Whether you just got your Cricut machine or you've been a user since the beginning, you are bound to ask yourself at some point or another if you should signup for Cricut Access.
Cricut Access has a lot of great features, but it's certainly not for everyone. It has changed a lot over the years, and I am glad that Cricut has continued to improve it.
It is a program that I subscribe to year after year because I do think it offers a lot of bang for your buck – especially if you aren't as good at designing your own projects.
In this post, you will find everything you need to know about Cricut Access to help you decide whether or not it's something you should invest in!
Table of contents
What is Cricut Access?
It is a subscription service offered for Cricut users for use with Design Space. Cricut Access members will get access to fonts, images, and projects in Design Space, along with other occasional discounts (for instance, sometimes Cricut has "Access Only" sales).
Their pricing model has changed over the years, but here are the current pricing tiers. They've really simplified it from what they used to have.
Cricut Access Comparison of Plans
Now, here are the most current plans that they offer:
| | | | |
| --- | --- | --- | --- |
| | Free | Standard | Premium |
| Images | 1,000+ | 250,000+ | 250,000+ |
| Fonts | 15+ | 700+ | 700+ |
| Licensed Images | n/a | 10% off | 10% off |
| Ready-to-Make Projects | 250 | 1,000s | 1,000s |
| Collections | 5 | Unlimited | Unlimited |
| Cricut.com Discount | n/a | 10% off, up to $50 (including machines) | 20% off, up to $100 (including machines) |
| Monthly Coupon | $0 | $10 | $10 |
| Free shipping over $50 | n/a | X | Yes |
| Priority Member Care | n/a | Yes | Yes |
| Monthly Price | Free | $9.99/month | No Monthly |
| Yearly Price | Free | $95.88/year (7.99 per month) | 119.88/year (9.99 per month) |
For me, I don't personally purchase a lot from Cricut.com, so the benefits of Premium aren't as alluring. However, if you are someone who makes a lot of orders, that 20% will make a big difference.
Pros and Cons of Cricut Access
Pros:
Easy – you have access to thousands of images and hundreds of beautiful fonts at the click of a button. No need to download fonts or images to your computer and mess around with uploading them to Cricut. I know people often have trouble uploading images and making them cut-able!
Low cost – especially when you pay yearly
Great variety – they have options for every occasion!
You can a discount on digital images and cartridges (that aren't included in the subscription), as well as on the physical product
You can use all the images across all your Design Space devices, including the Design app for IOS or android.
Cons:
You pay the fee even if you don't use it that month
You lose access to the fonts and images if you cancel your membership to Cricut Access
While it has a lot of fonts and images, it doesn't have everything. You may find yourself heading over to Etsy for more complex designs, which would be an added cost.
Questions to Ask Before Signing Up
So first off, let's discuss whether or not you should consider getting a Cricut Access subscription. Here are a few questions to ask yourself:
So first off, let's discuss whether or not you should consider getting a Cricut Access subscription. Here are a few questions to ask yourself:
Do you often buy images or fonts from Cricut at-cost?
If yes, Cricut Access is a great option. The cost of a couple of fonts or images will definitely be paid for in the cost of the subscription.
How frequently do you use your machine?
If you use your machine infrequently (Less than 1-2 times a month), it may not be the best idea – especially if you are making your own designs.
However if you are a frequent user, Cricut Access is probably a great investment for you.
How frequently do you buy physical products and materials from Cricut?
With your subscription, you get 10% off physical product purchases, including machines. With the Premium package, you get 20% off materials and supplies, which is pretty awesome.
What kind of projects do you make?
Are the projects you are making font heavy – and do you like them to be more fun/fancy? Do you like to use more complex images (so, ones you couldn't create yourself just using the shape tools?)
Do you create your own images?
If you are pretty good at creating your own images and don't plan to buy a lot, you probably don't need a subscription.
Do you buy images from elsewhere?
Etsy is a great place to find cut files to use with your Cricut machine. They also offer a different variety. I recommend looking through different categories of images and seeing if you like the styles offered by Cricut.
If you are buying a lot of fonts and images from other sources, Cricut Access may not be the most effective solution for you.
Are you comfortable downloading and installing fonts to your computer?
You can find great fonts from DaFont and similar websites. If you are comfortable installing the fonts on your computer, this can be a good option. However, you always need to double check the licensing on fonts you download. It's convenient to just have the fonts pre-installed that com with Cricut Access.
How many new fonts will you use?
If you only have one or two fonts that you want to use, or you feel comfortable downloading fonts to your computer to be used in Design Space, buying a subscription solely for fonts might not be the best idea. However, if you want to have access to lots of Cricut fonts without having to deal with downloading them yourself, you may want to get Cricut Access.
What machine can I use Cricut Access with?
Cricut Access is useable with any machine that you can use Design SPace with.
Is Cricut Access Worth the Money?
I think that if you plan to use your machine a lot and you want the ease of having images and fonts ready at a moment's notice without much effort on your part, Cricut Access is absolutely worth it. As you saw above, the most expensive plan is $11.99 a month. Most fonts in Cricut Design Space are $4.99, and most images are around $1.99. That can add up quickly!
I think it's worth the money, simply because I like the convenience of it. I like knowing that if I go into Design Space, I can almost always find exactly what I'm looking for – and it is almost always available through Cricut Access.
What Happens if You Cancel?
One thing to keep in mind is that if you cancel your subscription, you will lose access to the images and fonts you have used in the past. So if you want to have access forever to certain images and fonts, it might just be best to buy them right out.
Which Plan Should I Get?
First off, you will need to decide if you want to pay monthly or upfront. If you want to pay monthly (no initial upfront payment), congratulations! The monthly subscription is going to be the best option for you.
However, if you are fine with paying a little bit extra upfront for more features, then you will be deciding between Annual and Premium.
If you look at the chart above, you can see the main difference between Cricut Access plans. With Annual, you will pay less throughout the year with a few less benefits. With Premium, you will pay $2 more, but you will get the added benefit of up to 50% off on licensed images, fonts, and ready-to-make projects, as well as free economy shipping and a premium member support line.
Does Cricut Access have a free trial?
There is no free trial for Cricut Access. You can view all of the images and fonts available with it, though, when you login to your normal Cricut Design Space account. You can also pay for just one month of the monthly plan to test the waters, and then consider upgrading to the yearly plan later if you decide it's something you can't live without.
So, we hope that this article has answered all your questions about Cricut Access. Comment below with any others you may have or to share your experience with others.
More Cricut Posts You May Enjoy: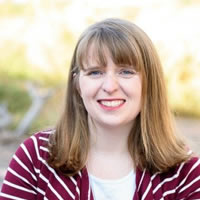 Katie is a Colorado-native, BYU graduated, and most importantly, wife to one and mother to three beautiful boys. She is passionate about sharing her experiences with others – especially about pregnancy, breastfeeding, cooking, and crafts. She is an International Board Certified Lactation Consultant. She loves spending time with her family and helping others find joy in family life.