Is it possible to make money with a Cricut machine? Should you consider starting a Cricut-based business? This post goes over all you need to know to decide if it's right for you and how to get started!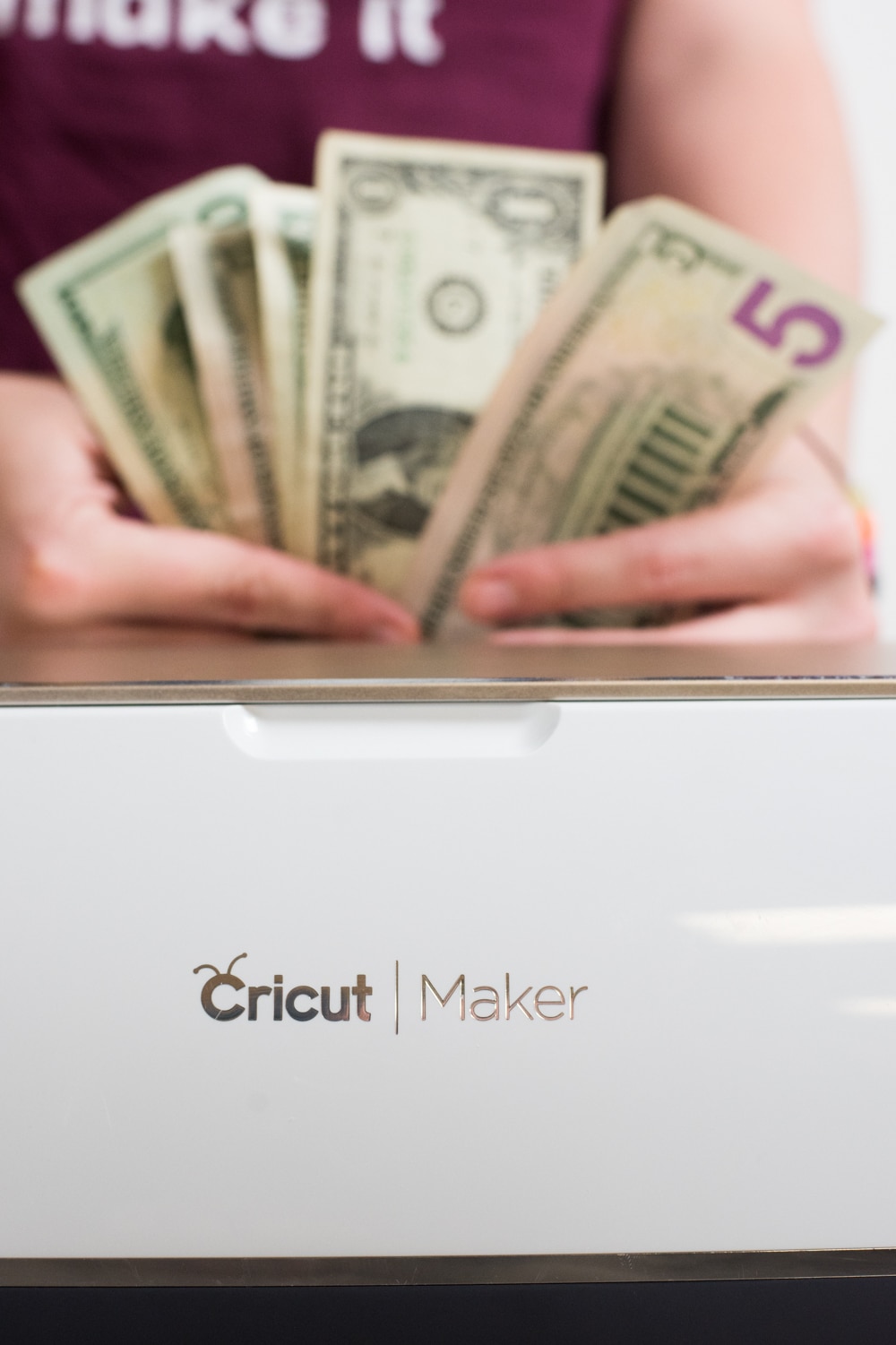 Cricut Business Ideas
While many people use their Cricut for pure enjoyment and to create crafts for their homes and loved ones – there are many who use it for their business.
Myself included!
Cricut is a good small business if you want to earn money at home! And the best part is that you have endless options for easy crafts ideas. To me, it should be a popular option to get a higher profit without big capital expenses.
Everybody seems to be starting their own business, creating their own product line, and selling handmade goods. The ways to start a business have become easy, and you can also start your own business.
In the Cricut Support Group, I help run, people are always asking tons of questions regarding Cricut and businesses.
The best places to buy materials.
How much should they charge?
What are the most popular products to sell?
And, most importantly, can you actually make money with your Cricut?
So in this post, I am going to share all the answers to your burning questions about making money with your Cricut!
I actually conducted a survey of real people making real money to create this post, so I hope it will be helpful to all of you!
Make sure to shop our Cricut store on Amazon for all your Cricutting needs. If you are shopping on Cricut.com, you can use the code WINTER10 for 10% off and free shipping materials and supplies on Cricut.com on orders of $50 or more.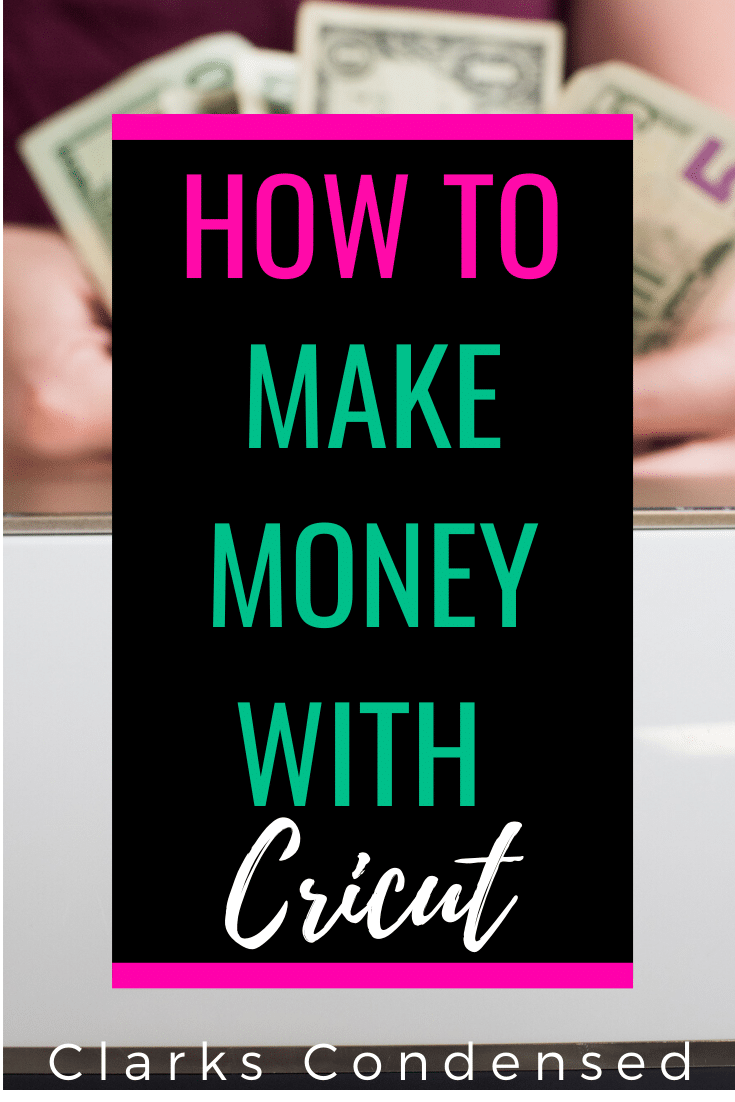 Cricut for Business
Facebook Group for Cricut Business Owners
Interesting in talking with other Cricut business owners? Make sure you join our NEW Facebook group that is focused on just that!
Can you make a business with Cricut?
Yes! You can. This particular business can be a profitable Cricut business in terms of production cost. There are MANY people who make money with the assistance of their Cricut machine.
With the Internet being as big as it is, it's easier than ever to get your products out there and reach a huge audience with a quick search – but there are also still PLENTY of opportunities to make money locally as well.
The amount of money you can make varies significantly based on what you are selling, the time you invest, and your marketing.
But there are many opportunities to use Cricut for your business – even beyond creating personalized items.
How to make money with a Cricut
The most obvious way to make money with your Cricut is to assist in creating personalized products for customers.
The Cricut can cut SO many different materials, and if you are creating products for others, it can be an awesome resource. And with your personal touch, it could be an extraordinary item.
Another way you can make money with your Cricut is by teaching. Stores like Michaels have Cricut classes and are occasionally looking for experienced Cricutters to teach.
You could also teach local classes at libraries or even your own home/office. Online is another place to teach classes as well – you could create your own platform or find a company that offers online classes and allows you to sell them there.
You don't need extra money to create a personalized online shop because there are groups and pages you can make from your social media account. Thus, you can run your new business with much profit.
If you are savvy with making SVG files, there is definitely a market for that. You could create them and sell them on your website, Etsy, local groups, etc. If you sell SVG files, let me know! I'm always looking for new resources to send people to.
Here is a course from Jennifer Maker on how to make SVG files. I have not taken it, but I've heard wonderful things.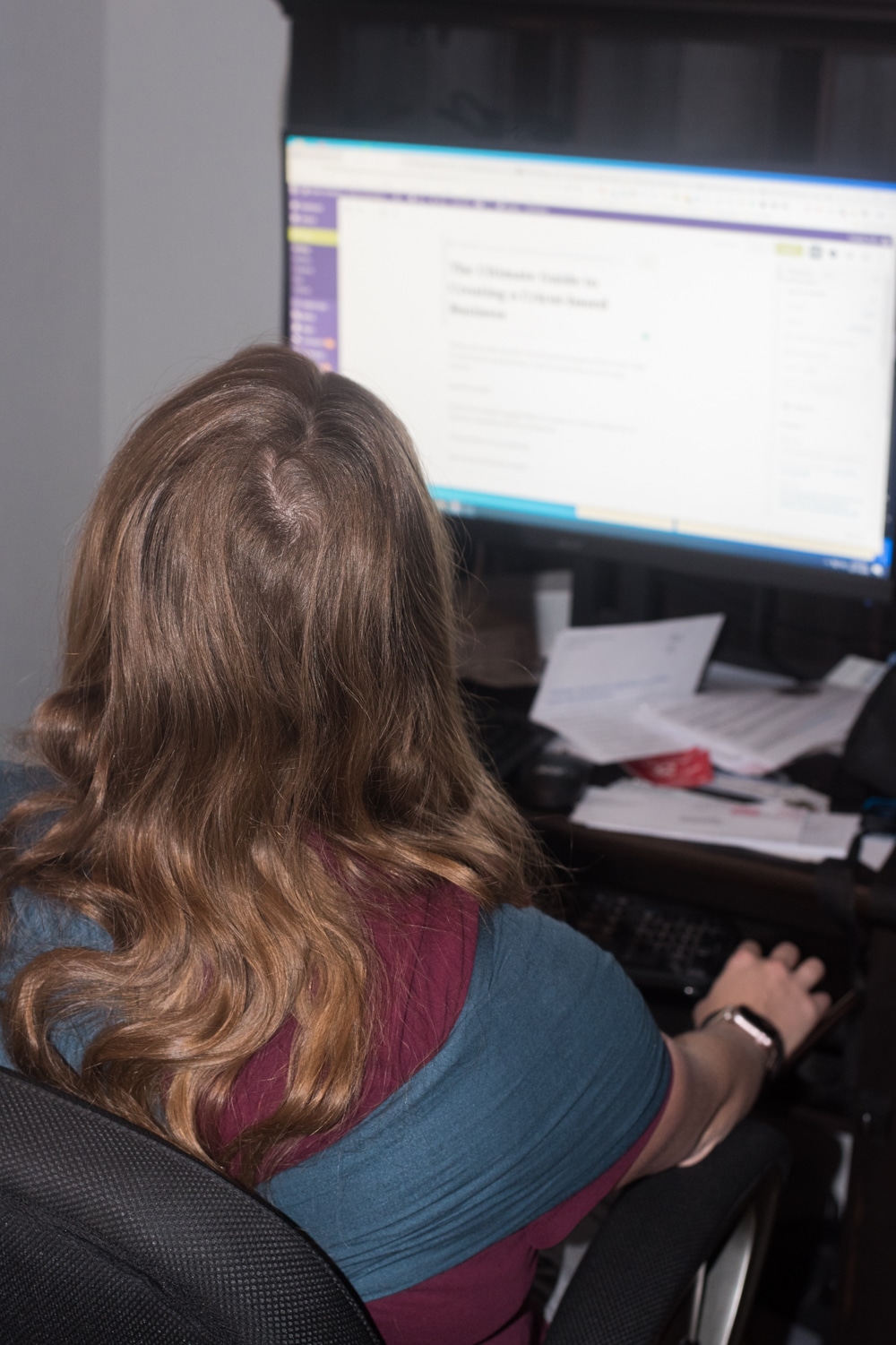 And finally, you can make money through blogging and YouTube – which is how I make money with my Cricut machines. People are constantly looking for projects and instructions – and there is a huge audience for it.
It takes time to build up a blog and/or YouTube channel, but it can pay off substantially. In fact, I believe it probably has the most potential for earning. When I say that Cricut changed my life, I mean it.
It can be a bit intimidating to start your own instructional channels, but there are tons of free and inexpensive resources. Here is a couple that I offer if you are interested in going this route:
We also offer a variety of other blogging courses here.
I know people who run Facebook groups and make money through those and who have created online courses for others to learn from. There are so many ways to make money with your Cricut if you are experienced and willing to learn!
And honestly, even if your business isn't specifically about Cricut, a Cricut machine can be valuable in so many lines of work.
What Machine is Best?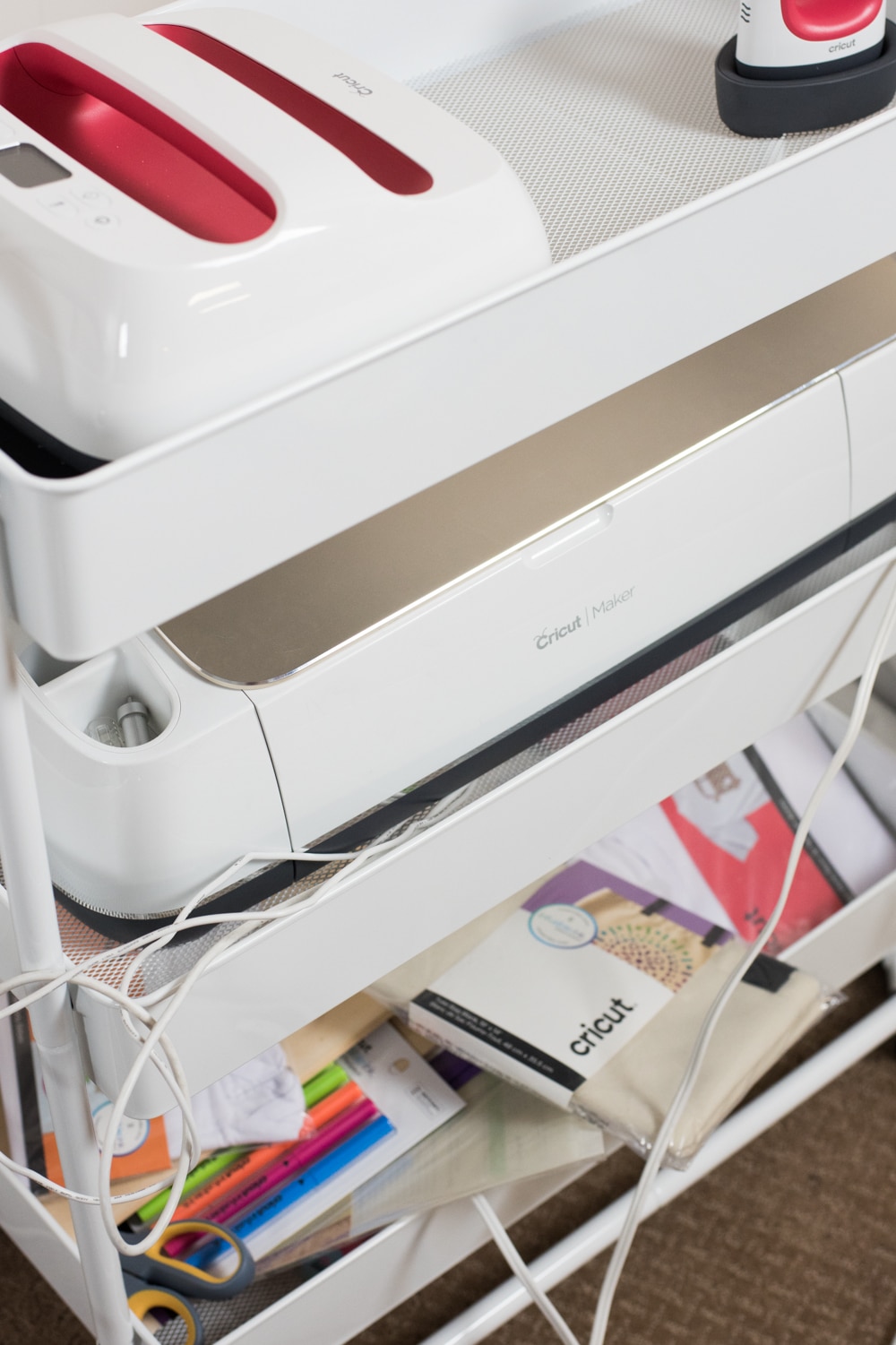 I always say the best machine is the one you can afford.
The Cricut Explore Air line is excellent – there are a couple of different machines, and they can cut all sorts of materials – including many of the ones you will need to make popular products (like vinyl!).
If you are deciding between the original Air and the Air 2 and can afford both, I would recommend going with the Air 2, simply because the 2x faster cutting is so helpful when creating things in bulk.
Now, if you have the budget and are trying to decide between the Cricut Explore Air 2 and the Cricut Maker…well, I would probably suggest the Maker.
The Maker has so much more potential than any other machine. It cuts thicker projects, makes sewing projects so much easier to do, and it has so many different blades and accessories designed to make crafting even easier.
I would suggest reading this post about the Cricut Maker and what you should know, as well as this post about the Cricut Explore Air versus the Cricut Maker.
I have an Explore Air, Explore Air 2, and Maker. I rarely use my Explore Air anymore, but I use both my Explore Air 2 and Maker regularly.
2022 Update: I definitely think the Maker 3 or Explore 3 are the best options for a business, especially because of the matless cutting feature!
How much money can I make with my Cricut?
As with most things, this varies significantly.
For people making crafts and projects for others, some people said nothing, some said a couple of hundred dollars a month, and there were some who made thousands.
So there is a large earning potential. The amount you make will definitely depend on your profit margin, the demand for what you are offering, how much time you are able to invest, your reputation, and the quality of your work.
When it comes to sharing your knowledge with others – whether it be through a blog, YouTube, a course, etc., there can be a huge range for profit as well.
I know many who blog and YouTube and make quite a bit of money. It is not for everyone, and it's definitely not a get-rich-quick scheme. But there are lots of people who want to learn!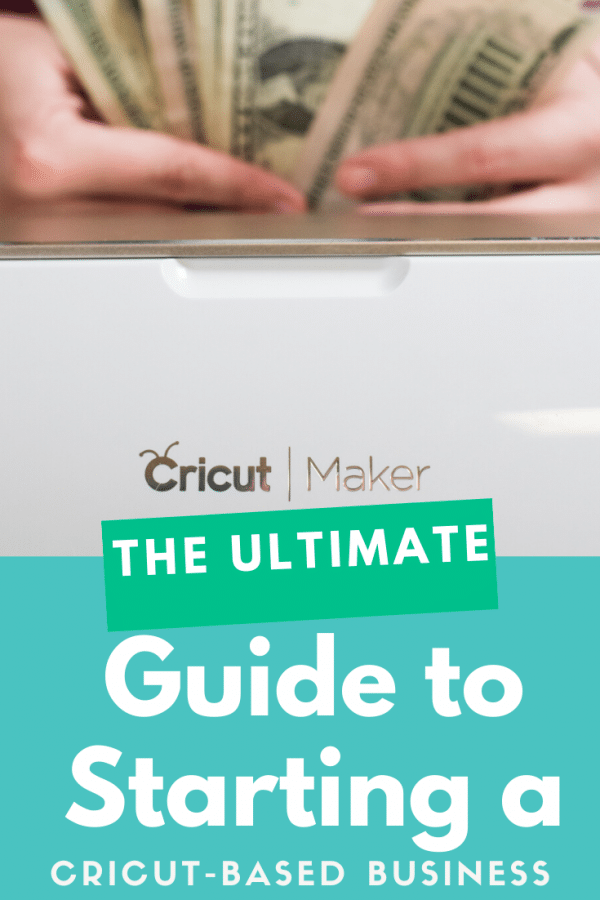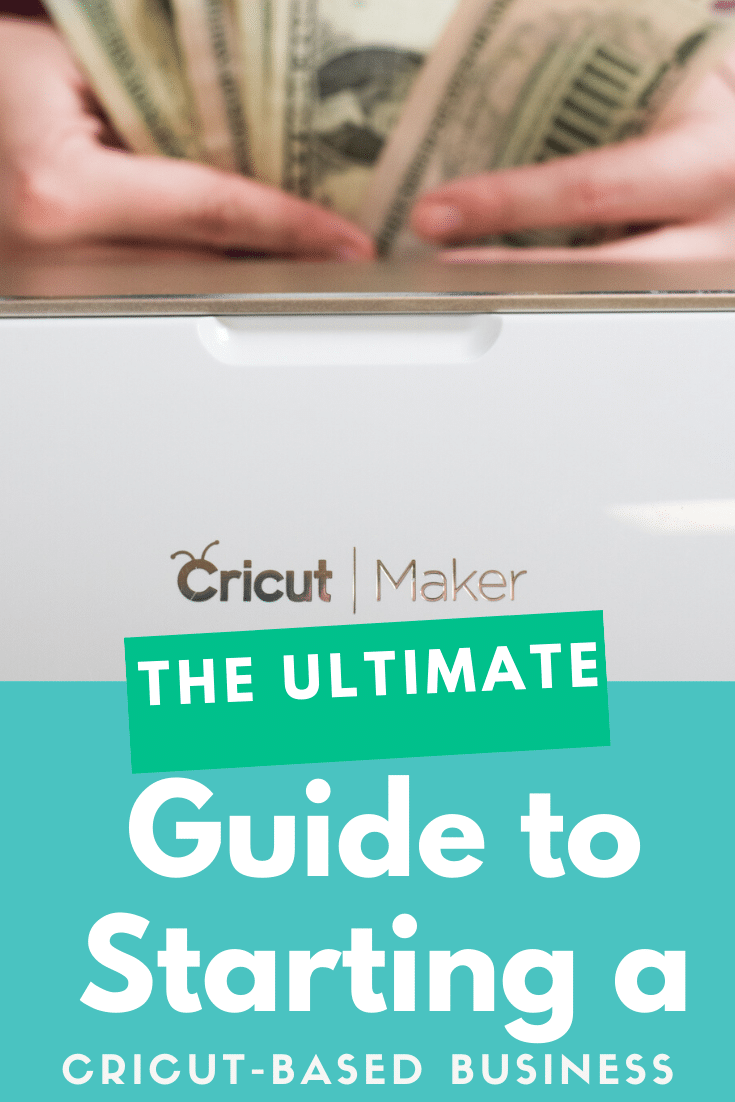 How to Start a Cricut Business
Well, the number one thing you need to get started is…
A Cricut machine! Shocking, I know.
After you have that, you need to have a business plan of what you want to do – and that will determine what ELSE you should invest in.
T-Shirts/Iron-on Projects
So if you are planning to do t-shirts, you'll need iron-on vinyl, Infusible Ink, etc., as well as t-shirt blanks.
If you are doing anything that uses iron-on/HTV, you will need some kind of heat press. There are traditional heat presses that can be helpful for creating things in mass production – but they can be a bit cumbersome. I personally LOVE the Cricut EasyPress 2 and have one in every size. If you aren't doing mass production, this might be a good option for you.
You should definitely read this post, though, to help you decide – Iron versus EasyPress versus Heat Press.
Be sure to check out this post for some helpful tips – How to Make a T-Shirt with Cricut: The Ultimate Guide
Create SVG Files
If you want to create SVG files, you'll need design software. There are various software options for graphic design.
I do recommend having a good camera if you are planning to market online so people are visually attracted to what you are selling. Learning photography skills and how to make things look appealing can really make or break your business! Imagine you need to sell your custom shirts designed by the Cricut machine. Until you upload a great picture of it in your online store, no one will order it.
Blog/YouTube Channel
If you are planning to do a blog or YouTube channel, you'll need a variety of supplies and materials. If you want someone to look to you as an authority, you should have a good handle on all the products and materials available – you may not be able to get all of these at once, but set aside a certain percentage of money from earnings to invest back into your business. And thus you would not need to worry about the additional cost because it is from your profits.
And honestly…one of the biggest things you need is motivation. I see a lot of people start a business and then stop it, and the biggest thing missing is motivation and the ability to push through the growing stage.
Once you've decided what you want to do, then you need to decide:
Will your business be online or in-person (or both?!)
If you will have any kind of online presence, I would recommend getting some kind of website. You can get a domain name for pretty cheap, as well as hosting.
Do I need a license to sell Cricut crafts?
The logistics of whether or not you need a license to sell handmade crafts and products depends on where you live.
However, most places do require that you have a business license if you make items with the intent of making a profit off of them.
What kind of business can I start with a Cricut?
There are so many opportunities when it comes to a Cricut-based business:
Most people who start a Cricut-based business want to make and sell physical products. They may sell these on Etsy or Facebook Marketplace, craft fairs, farmer's markets, or just through word of mouth.
Some people have a Cricut business based on teaching others how to use their machines
Or how to create digital files, making and/or customizing SVG files, etc.
If you create a business, I do recommend having a general niche and catalog of products that you went to sell. This may take some time to decide what is your best seller, but it can be very successful.
Cricut Business Ideas
There are so many places to get business – you just need to put yourself out there. Here are some popular options:
Craft Fairs – pay attention to local Facebook groups, neighborhood newsletters, Nextdoor, school bulletins, etc., to hear about any type of craft fair or event going on in your area.
Etsy – Definitely a popular place to get customers without having to build your own website.
Facebook Groups – Make sure you are allowed to advertise in the groups, but Facebook groups can be a great place to drum up business. Be sure to join local groups for your area!
Personal Website
Social Media
Personal Functions – Host your own event at your home!
Family and Friends – Once people know you are talented at making things, they will often turn to you for customized projects. Don't be afraid to let it be known what you have to offer.
Charity Events – You can donate products to raffles, charities, and fundraisers to get your name out there. Obviously this won't make you money when you donate, but the long-term benefits are there.
How much time will I invest?
This will depend a lot on you. You can invest as little or as much time as you want – but your results will usually depend on what you invest.
In the beginning, you will likely invest more time, and once you get a system going, it will be easier. For crafters and product creation, you will likely have slower times of the year where you aren't working as much, and then other times of year (like Christmas)
There were three main camps in my survey:
2-3 hours
12 hours
40 hours. Obviously, huge variation!
With education via blog or YouTube, there is usually a pretty large time investment. It takes time to create quality content, edit photos, and videos, and promote your content.
Where should I buy materials?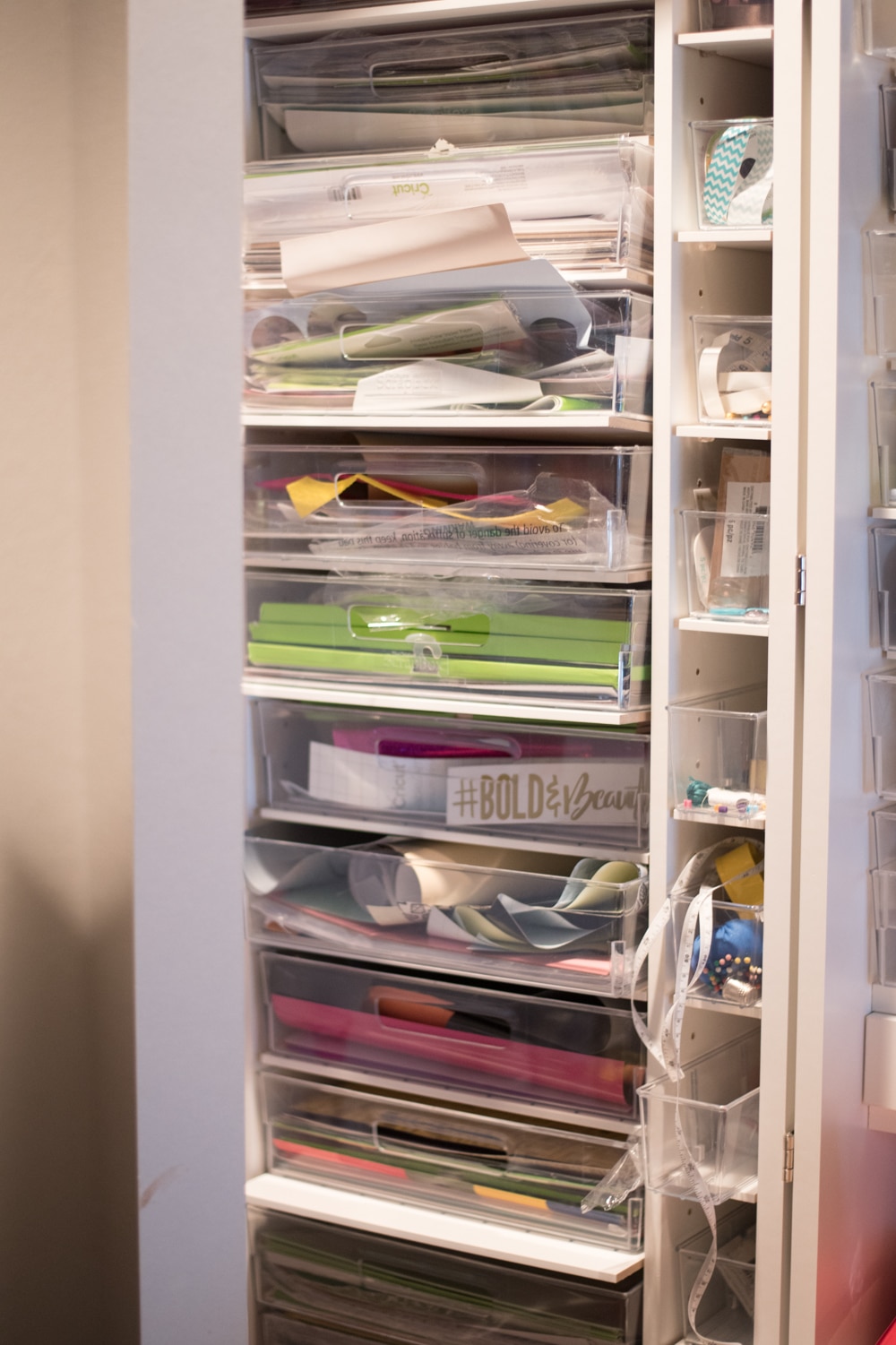 There are a lot of places you can buy materials for projects.
The most important thing is to make sure it comes from a reputable source. There are a lot of deals I see posts that are from pretty sketchy-looking websites.
The good news is, that there are LOTS of great websites for buying blanks and materials for affordable prices. Cricut.com is always a good place to buy materials – they are constantly expanding their offerings, too!
I would suggest asking around in Facebook groups for recommendations. Here are some popular places for blanks:
Amazon! This is always my go-to. Here are TONS of options!
The Dollar Tree
Cricut for Infusible Ink blanks
Hobby Lobby, Joann Fabric, Michaels, etc.
Primary.com (this is a great place for great quality onesies and children's shirts, sweatshirts, etc. Not the cheapest place, though).
Be sure to check out places local to your area. I know a lot of people have good luck buying local.
If you do buy online, just make sure you read lots of reviews!
Cricut Ideas to Sell
The sky is really the limit here. So many awesome ideas out there – try and think outside the box.
You can always look on Etsy for trending products, though make sure you don't outright copy someone. Put your own twist on popular products, quotes, and designs.
Things to Make and Sell with Cricut
Here are some different responses from the survey I did:
Personalized gifts
Holidays personalized gifts
T-shirts
Signs
Ornaments
Infant onesies
Tumbler
Floral arrangements
Backpacks
Lunchboxes
Icy Pole Holders
Shell bags
Water bottles
Holiday plushies
Papercraft memorabilia
School designs and initials
Pot holders
Toys
Card sets
Personalized Clothing
BowPainted wood signs
Tea towels
Custom totes
Here are some different materials that are popular that might get the juices flowing:
Here are a few projects here on Clarks Condensed that might sell well!
What Cricut items sell best?
There are so many great items that you can make with your Cricut to sell. When I asked in my Cricut support group, the overwhelming response was that t-shirts are the biggest seller.
In addition to that, people mentioned these ideas:
Personalized Onesies
Stickers
Bumper Stickers and Car Decals (click here for our tutorial on how to make car decals)
Tote Bags
Memorial Glass Boxes
Earrings
Masks
Cake Toppers
Faux flowers
Wall Art
Where can I find designs?
A lot of people create their own designs in Design Space, Adobe Photoshop or Illustrator, or ProCreate.
However, if you aren't particularly good at that aspect (me!), you can use SVG files and fonts that you find online. Just make sure you check the license agreement for anything you buy or download to make sure it can be used commercially.
Never just find something off of Google and assume you can use it!
Can I use Cricut designs to sell?
This is a very common question. Cricut has its "Angel Policy" which does allow you to use certain designs from Design Space. I recommend reading the policy in full here, but here is the gist of it:
You can sell up to 10,000 projects made using your Cricut machine each year.
The finished project can only be made by one person – so you can't have a factory or group of people working on it. This includes family members.
Most images in the library are covered, however, if they are licensed from a third party, you cannot use them. They talk about this in their full Angel Policy.
You can tell what images are available for use and what ones aren't based on if there is a green "A" in the top left corner of the image when you are searching in Design Space.
Even if you don't use Cricut's images, make sure you have the rights to use any images that you create or buy online, such as places like Etsy.
For instance, for the SVG files we sell, we allow people to use them to make a finished project, though we don't allow them to sell the digital file itself.
How do I decide what to charge?
It can be so hard to figure out what to charge for your products. That's why I created this craft pricing calculator.
You want to make sure it's reasonable – but you also want to make sure you are being paid for your time!
Several years back, I did tech support for other bloggers. I prided myself on having the lowest prices…but I got SO burnt out. People take advantage of you, you end up spending way more time than you initially anticipated, and it's just not worth it.
Here are some other ways people calculate pricing:
Look around for what others are selling similar products for in their area (if you are selling locally, this can be really important. Prices can vary so much in different areas of the country).
Size of the product
Experimenting at craft fairs with different pricing
Check average pricing from other sites and on Etsy
Resources
Here are some helpful resources others suggested:
Pinterest
Other Crafters – Facebook Groups
Get your clients to do referrals.
Utilize cheaper blanks from department stores over stores created specifically for blanks
I am dutch and therefore I love Teddie B on Youtube
Scrapbook.com and cricut.com
Etsy education
YouTube
Tips for Starting a Cricut Business
Here is some advice for getting started with creating products from others that came from my survey:
I'm still learning myself and starting off so I know everything isn't perfect like I want but I will get there
Don't give up. People may be reluctant at first to buy when you first start out.
Just remember we make things on our time and from our heart so no one can beat a price for things made from ❤
Pinterest, YouTube, Facebook are your friends
I found that new product giveaways helped build my business. Occasionally announce a new product & run a giveaway for the personalized prototype
Just do it!
Do lots of research on what you want to do and make sure it's feasible for you.
Research your target area
Focus on one thing at a time
Be creative & know your local market, offer unique/exceptional products rather than challenging a current business in your area
Stick with your commitment to complete orders on time.
Be Organized
This is so important for any type of business! Make sure you keep good records.
If you are creating products for other people, ensure that you have a system in place from the start to keep track of orders. One of the best ways to grow your business is by referrals – and if you are reliable, people will be willing to share their experience with others!
Keeping sound financial records is also important. You want to make sure you
I recommend using online financial software like WaveApps.com (which is free!) or Quickbooks Online to keep track of things better.
Try, Try Again
This is my philosophy with most things in life -, especially with my business.
If something doesn't work – try something new. Most things DON'T work – but when you find the one thing that does…well, it's a pretty sweet moment.
Don't try and copy someone else. Look to others for ideas and support, but at the end of the day, people come to YOU for a reason. Give them a reason to think you stand out from the rest.
Have you started a Cricut business? I would love for you to share your experience in the comments!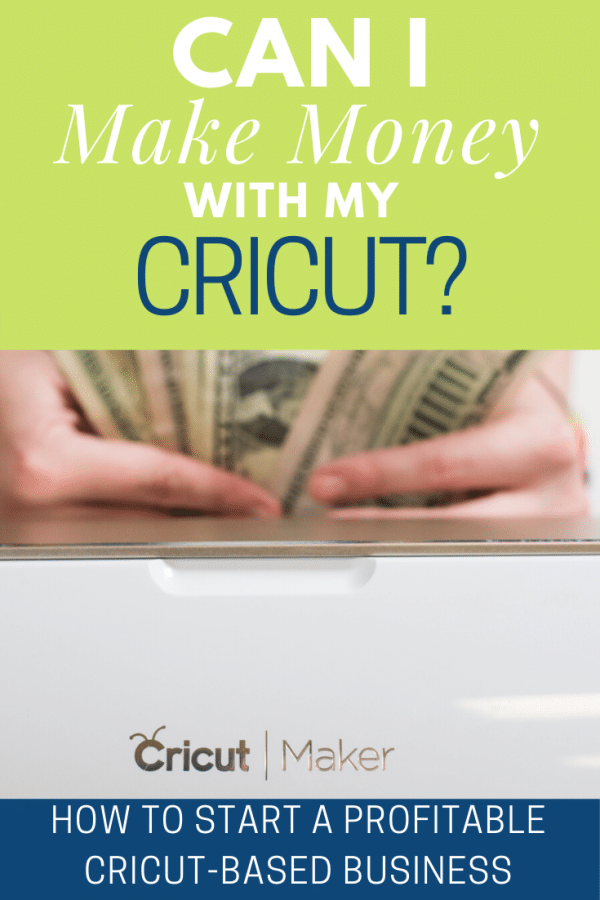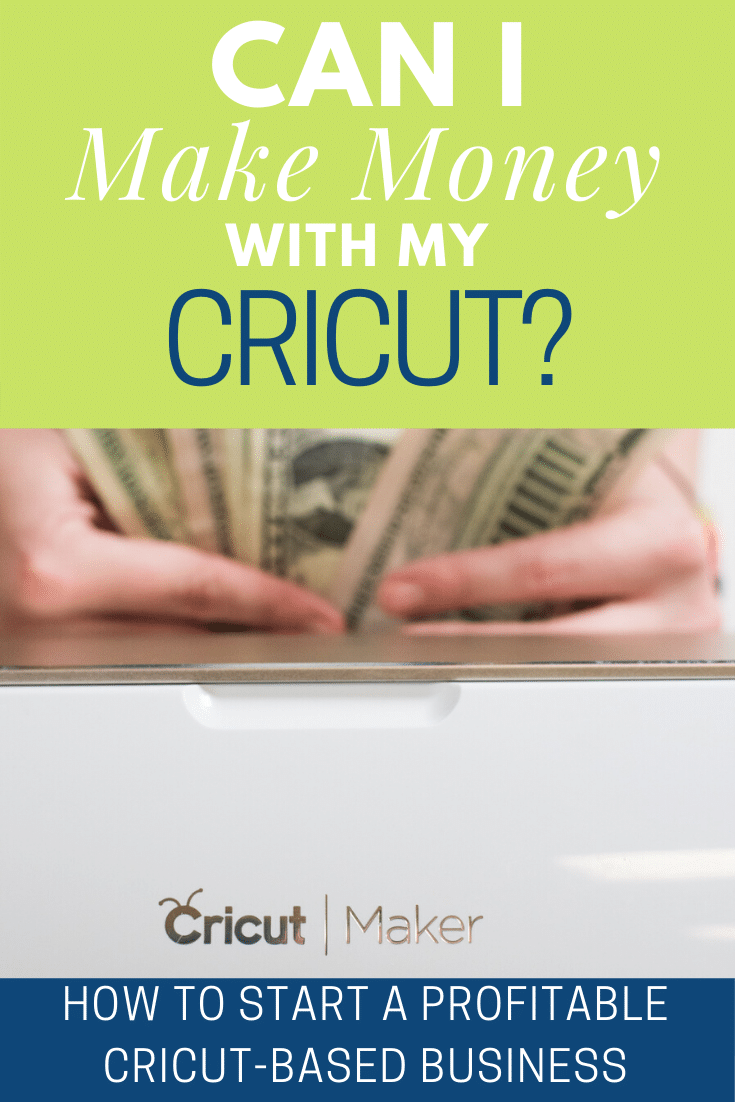 Check out these other favorites from Clarks Condensed: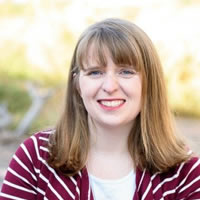 Katie is a Colorado-native, BYU graduated, and most importantly, wife to one and mother to three beautiful boys. She is passionate about sharing her experiences with others – especially about pregnancy, breastfeeding, cooking, and crafts. She is an International Board Certified Lactation Consultant. She loves spending time with her family and helping others find joy in family life.