Working with vinyl iron-on can be a lot of fun – but it can also be really frustrating! In this post, we go over your most common questions about vinyl iron on for Cricut (and other machines can benefit, too!).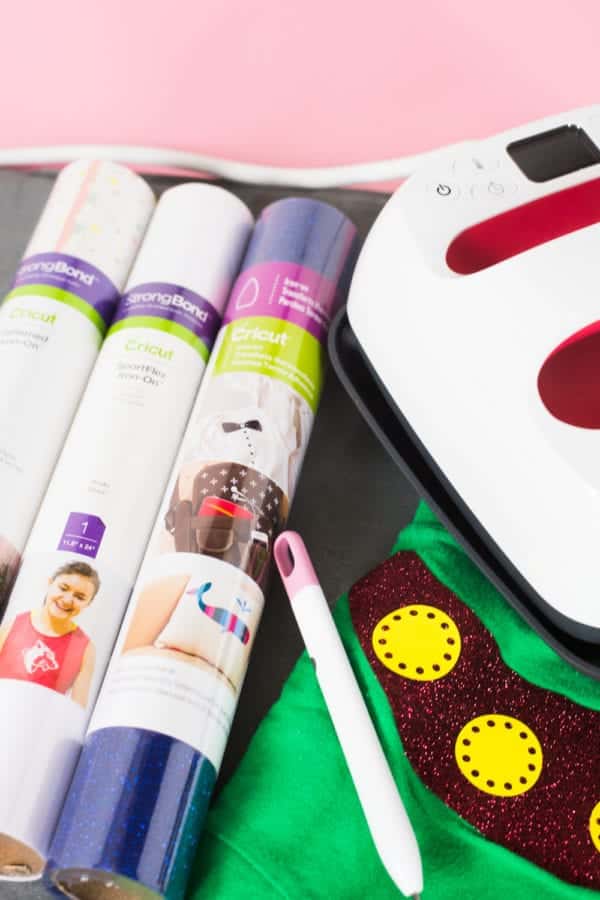 HTV Troubleshooting

It's no secret that I love iron-on projects.
They are probably what I make the most with my Cricut! Pretty much every holiday, occasion, or announcement we make, I immediately think, "Hey, I could make an iron-on project for that."
A while back, I wrote a post about how to use iron-on vinyl, which is easily one of our most popular posts.
It details everything you need to know about cutting and applying iron-on vinyl. But today, I want to talk more about some of the common questions people have about iron-on.
Because I use (and highly recommend) an EasyPress 2 with all my iron-on projects, I will also be addressing some questions in regard to the EasyPress 2 as well. I really do think it's a must-have for all crafters.
While many of these questions are related to using a Cricut, even if you use a different machine, you will likely still find them helpful!
Make sure to shop our Cricut store on Amazon for all your Cricutting needs. If you are shopping on Cricut.com, you can use the code WINTER10 for 10% off and free shipping materials and supplies on Cricut.com on orders of $50 or more.
Table of contents
What side of HTV do I cut?
It can be confusing to know which side you should be cutting with your machine. I can't tell you how many times I've cut the wrong side – especially when I was first starting out.
For the most part, you will cut with the pretty side down. If you can't determine what that is, you may have to inspect a tiny corner of your material to figure out what side has the plastic liner. You cut with the plastic liner facing your mat.
What kinds of HTV are there?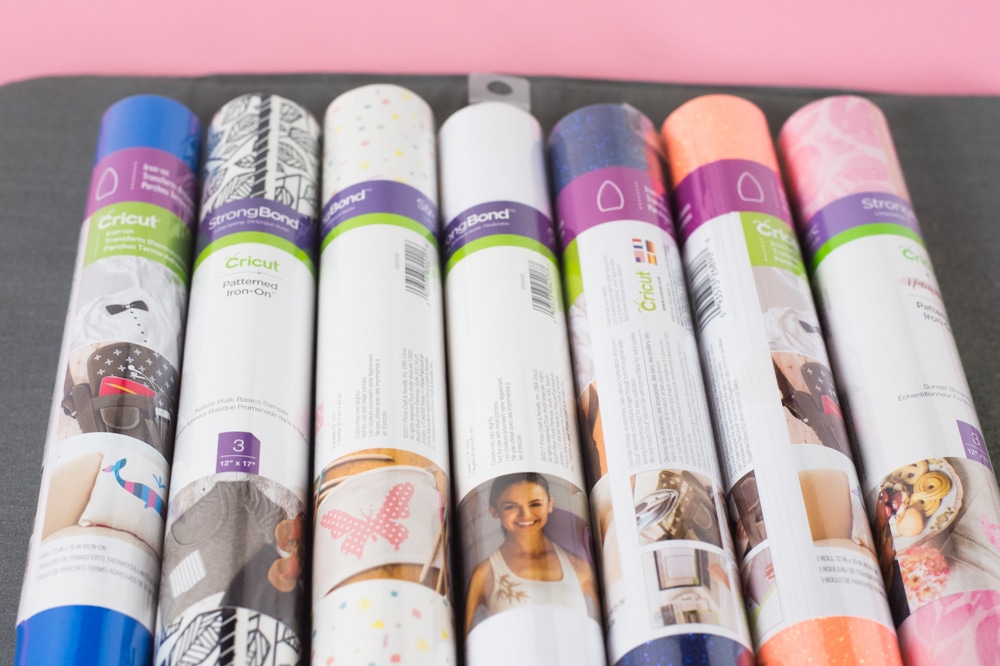 There are all sorts of different colors and patterns to be found, and different retailers will sell different kinds.
I primarily use Cricut iron-on, and these are the different options they have:
Is there an iron-on material for sportswear?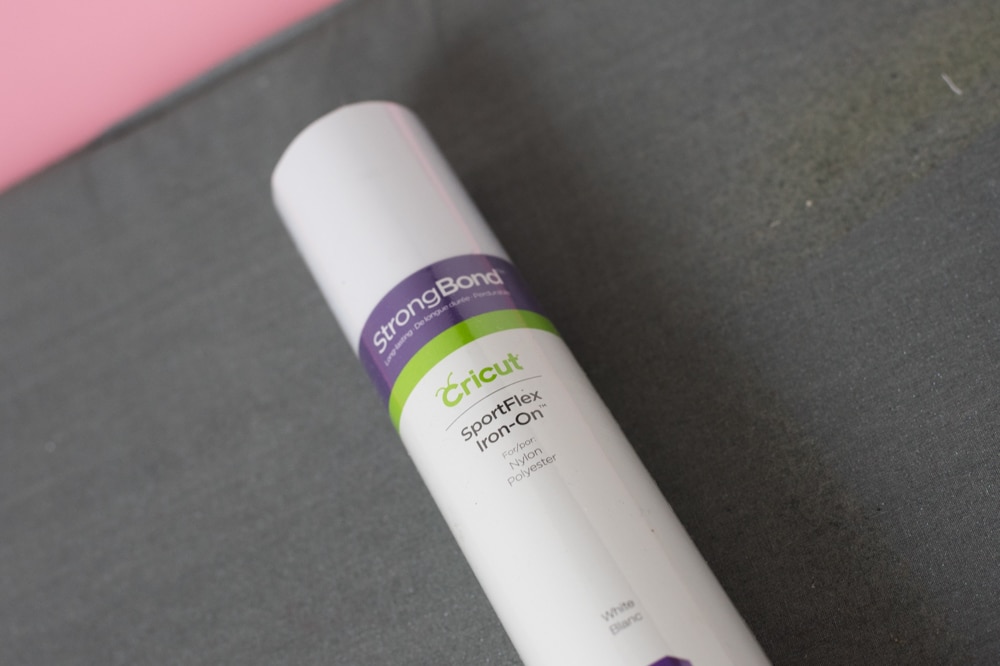 Yes! Cricut SportFlex is awesome for sportswear. I love using it on regular shirts as well. Be aware that if you are using the EasyPress Interactive Guide.
What tools do I need?
For iron-on projects, you need your iron-on design, something to put it on, a heat source to press it on (so an iron, EasyPress 2, or heat press), and weeding tools.
I also find the Cricut BrightPad to be really helpful for weeding, so that's something else you may want to consider having on hand.
I'll admit I don't use this a ton (primarily because I forget), but it is a helpful thing to have on hand. Basically, it's a thin, non-stick sheet that you place on top of your iron on design to protect your projects from getting too much heat and help gives your project an evener press.
The good news is that it's reusable and inexpensive, so if you want the best press possible, it's a good thing to remember to use.
Buy on Cricut.com.
How do you wash iron-on?
You should follow the instructions for whatever material you have pressed your iron-on onto. I think it's usually a good idea to wash the shirt (or bag, etc) inside out to protect the iron-on as best as possible. However, the best protection comes in the preparation for your shirts.
Do I need to use transfer tape with iron-on?
Nope!
How to not burn projects?
This is a question inspired by my friend who has burnt a few projects using her iron.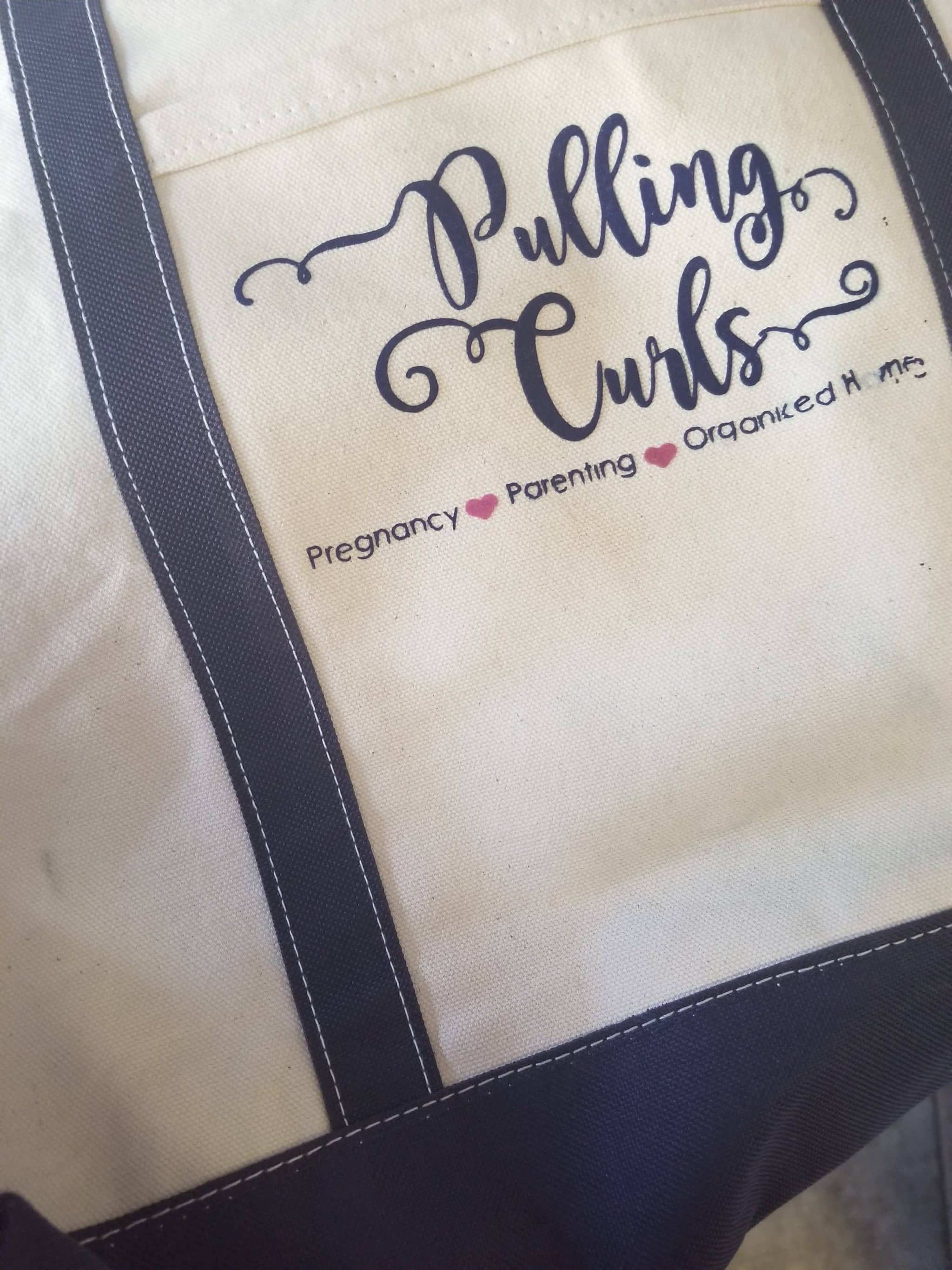 I think a lot of people worry about burning their material, and it's a legitimate concern. If you are using an iron, it's definitely a lot more common than with the EasyPress.
I have also burnt projects using my iron, but I've never burnt anything with my EasyPress. I think it helps that the pressing is a little bit more even, and I know exactly what temperature and time to do for the materials.
However, if you aren't using an EasyPress, here are a few things you can try and do to help prevent burning:
Do a test press with your iron-on and material to make sure it's the —right temperature
Start with less time on the iron than you think
Move your iron around frequently so it's not just in one place for an extended period of time
Why is my material not sticking?
There's nothing more frustrating than your material not sticking, especially after you feel like you have been pressing it FOREVER. This happened recently with the baby milestone blanket that I made.
When this happens, just take a step back and review the steps of iron on to make sure you are following them on. I was trying to bypass steps in order to save time with the project I mentioned above. Sometimes this is okay, but in this case, it wasn't.
So here are a few things to go over in your mind:
What material are you ironing on to? Is it actually appropriate to use with iron-on?
What type of iron-on are you using? Different types require different temperatures.
Did you pre-wash your material?
Did you pre-heat your material? It only takes a few seconds, but it's important.
Did you use enough pressure?
Is the temperature holding? Sometimes with an EasyPress or an iron, it will drop the temperature when you are putting it up and down a lot.
Did you leave it on for long enough?
Are you trying to iron on seams? You really need to make sure there are no seams in the way to ensure an even press.
Did you heat the back of the material? This is usually the culprit for me when something isn't sticking correctly. With the blanket, I just didn't want to keep flipping the blanket over…but it's why my material wasn't sticking!
What is mirroring?
So important to remember to mirror! I have wasted more iron-on because of forgetting to mirror than any other reason.
When you are ironing iron-on on to a material, you need to make sure the design is flipped. This ensures that when it's on the material, it doesn't look backward.
In Cricut Design Space, you can easily mirror by toggling the *mirror* button – either in the mat preview or in the cut settings section.
How do I know what temperature to use for different materials/projects?
If you are using an EasyPress or EasyPress 2, Cricut has made this super handy Interactive Heating Guide which tells you exactly what you need to know. I've also made a printable version of this that is available for sale in our printable Cricut Reference charts.
How do I know what temperature to use for different materials/projects?
When it comes to using an iron and not an EasyPress, it can be a little trickier to determine this. I usually will just set my iron to whatever the material is (so cotton setting if it's a 100% cotton t-shirt), and then I will heat in 15-second increments.
This may not be the best method, though, so I would suggest reading any instructions that come with your iron-on material and even googling "iron settings for **kind of material** to determine the best settings.
Why does my iron-on peel off after just a few washes?
Most likely this is happening because you didn't follow the iron-on steps exactly. Make sure you are always pre-wash, pre-heat, and then heat the back of the material.
On to what materials can I apply iron-on?
There are so many options! Here are some options to consider:
T-shirts
Bags
Backpacks
Hats
Ties
Onesies
Purses
Jackets
Hoodies
Headbands
Swimming Suits
Sweatpants
Yoga Pants
Towels
Wet suits
Sports uniforms
Pennants
And those are just a few options!
Will I melt my material?
Unless it's a material that's known to melt under heat, you probably shouldn't unless you are using super high heat. It's more likely to burn in that situation than melt, though.
When I used a heat press, I did burn through a shirt, which seemed like it melted!
How long should I let it cool?
This all depends on the material you are using – if you are using the EasyPress 2, the interactive guide will tell you if you will use cool peel, warm peel or hot peel. It's very important to follow these instructions, especially if it's a cool peel.
If something was hot peel and I forgot about it, I usually am able to peel it up later without too much issue. However, if I peel something when it's hot and it should have been cold, it causes all sorts of problems.
Why is my iron-on vinyl wrinkled after I iron it?
Sometimes you will peel up your plastic backing and find that your iron-on material has wrinkled! This isn't a fun sight to see.
When this happens, it's usually one of two reasons:
You peeled up the plastic backing too soon
You used too high of a temperature
There's not a lot you can do after it's been wrinkled, though I do find that it sometimes will settle after a while.
What mat should I use?
I usually use my green StandardGrip mat with my iron-on. However, I always have trouble with patterned iron-on and having it stick, so I will usually use my purple mat with that.
What is the difference between different Cricut iron-on materials?
The main differences are the texture/feeling of the iron-on, what materials they can go on, and the colors or patterns.
Which Cricut machines can cut iron-on?
All of them!
How can I make my iron-on lay flat on the mat?
If you are having trouble getting your iron-on to lay flat and get rid of any creases, make sure that your mat is sticky enough and then use a scraper tool to smooth it on.
How can I make my iron-on lay flat on the mat?
If you are having trouble getting your iron-on to lay flat and get rid of any creases, make sure that your mat is sticky enough and then use a scraper tool to smooth it on.
Can I layer iron-on?
You sure can! Not all iron-on materials work well for layering (such as patterned iron-on), however, it can work beautifully for other materials.
You can read all about how to layer iron on vinyl this post.
How long does iron-on last?
A lot of it depends on how you put the iron-on on, the quality of the material
With Cricut, if you buy an iron-on material that has their "StrongBond Guarantee", you can rest assured that you are going to have a long-lasting product. This means that if you use the iron-on as directed, you are guaranteed to be entirely satisfied with the results or they will replace it for free!
Iron on Vinyl Projects
Here is a list of all of the iron on projects we have featured on our website!
Cricut Tutorials
Here are some other Cricut Tutorials you may enjoy: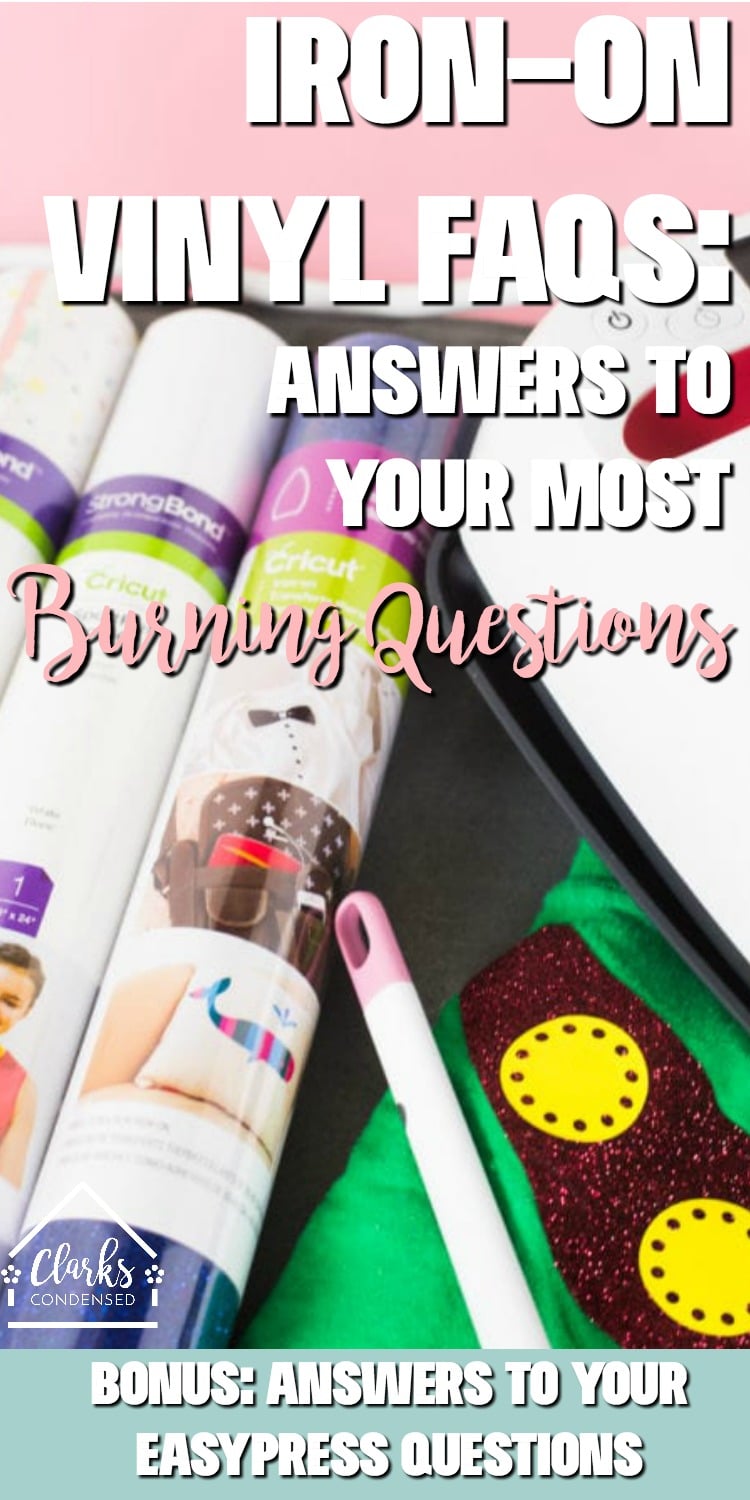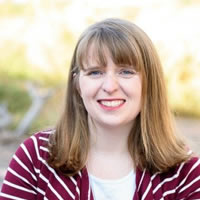 Katie is a Colorado-native, BYU graduated, and most importantly, wife to one and mother to three beautiful boys. She is passionate about sharing her experiences with others – especially about pregnancy, breastfeeding, cooking, and crafts. She is an International Board Certified Lactation Consultant. She loves spending time with her family and helping others find joy in family life.