Breakfast doesn't get easier or more delicious when this slow cooker french toast casserole is on the menu! Made with strawberries, whole wheat bread, and coffee creamer, it will disappear quickly from the breakfast table.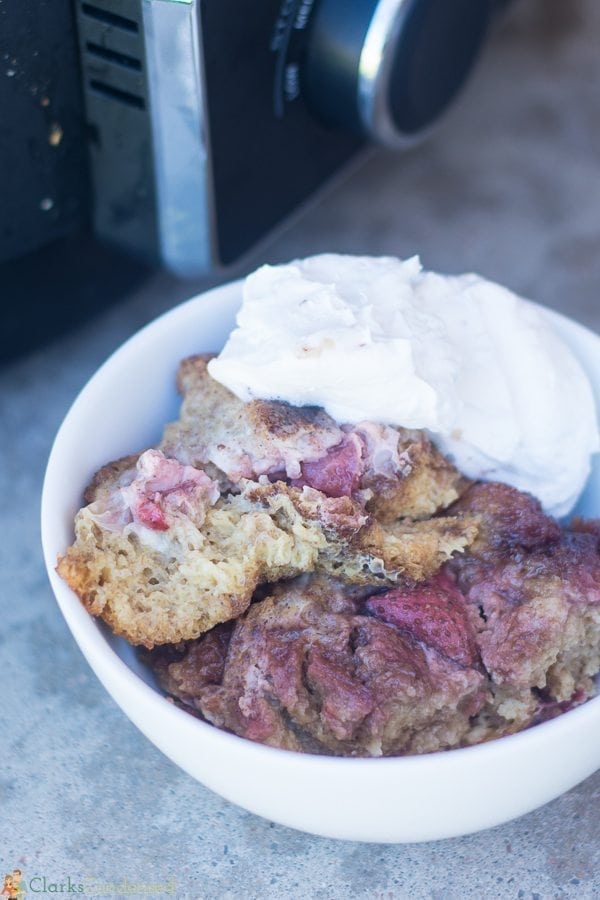 I've really become a big fan of my slow cooker this summer. I mean, I've always loved it, but since I've been pregnant, we have no air conditioning, and my energy level is about at a -10, it's really become a life saver.
And you probably don't need a reminder, but I'm also a big fan of breakfast casseroles. I've shared quite a few on the blog (such as our ever-popular sausage breakfast casserole recipe, or more recently, this yummy slow cooker breakfast casserole recipe.) I'm excited to share this really easy and delicious french toast breakfast casserole. It's really so easy to make, and the flavor is great!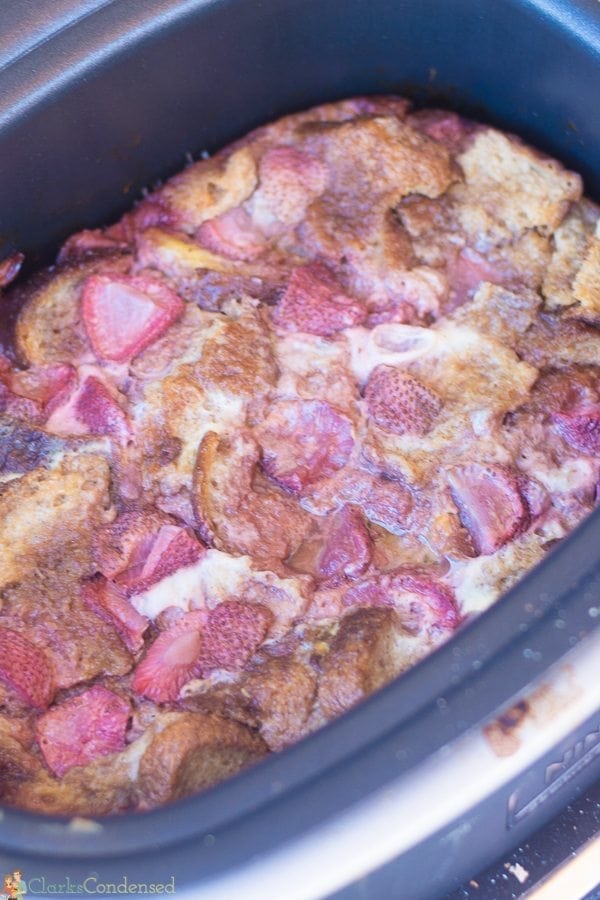 French Toast casserole is such a great way to use up day-old bread. While French Bread is often recommended, we will often just use regular bread to make the casserole or just French toast. When Nature's Harvest® Bread asked us to create a recipe in partnership with them, I knew that this strawberry slow cooker French Toast casserole was what I should make.
I always feel like strawberries and French Toast go together well but you could easily substitute another fruit in this (blueberries might be tasty.) I know a lot of people just use regular milk or heavy cream in French Toast, but I'm a HUGE fan of using coffee creamer. I'm not a coffee drinker, but I think coffee creamer can add a lot of flavor to recipes. For this recipe, I used dulce de leche from International Delight.
I used Nature's Harvest Honey Wheat Made with Whole Grain Bread, and it really gave the whole recipe a delicious flavor. You don't have to use wheat bread, but I feel like it helps balance out some of the less-than-healthy aspects of this dish!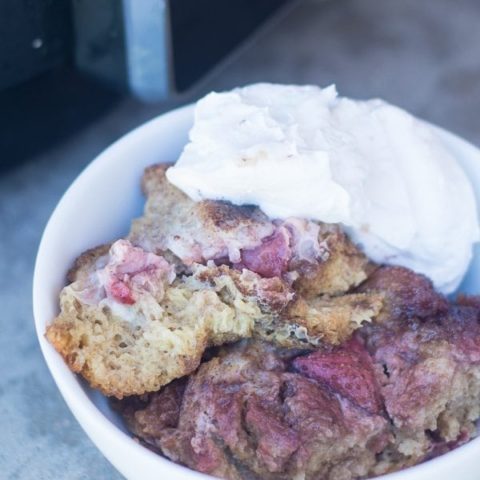 French Toast Breakfast Casserole
Ingredients
8 slices day old bread, we used Nature's Harvest® Honey Wheat Made with Whole Grain Bread
2 cups coffee creamer, we used dulce de leche flavor
6 eggs
1 teaspoon cinnamon
1/2 teaspoon nutmeg
1.5 cups sliced strawberries
1/4 cup butter, sliced
1/4 cup brown sugar, sprinkled
Instructions
The night before (or three hours before, if you don't have time) whisk together 2 cups of coffee creamer with eggs, cinnamon, and nutmeg. Place in the refrigerator.
The day you want to make it, tear apart day-old bread into chunks and layer in the bottom of a slow cooker.
Next, layer the sliced strawberries evenly over the bread.
Pour the egg mixture over the top of the bread and strawberries.
Place the slices of butter across everything, evenly.
Sprinkle brown sugar over the top.
Cook for two and a half hours on high or 3.5-4.5 hours on low.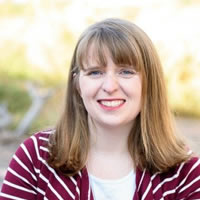 Katie is a Colorado-native, BYU graduated, and most importantly, wife to one and mother to three beautiful boys. She is passionate about sharing her experiences with others – especially about pregnancy, breastfeeding, cooking, and crafts. She is an International Board Certified Lactation Consultant. She loves spending time with her family and helping others find joy in family life.