Are you looking for a better-for-you snack idea that will keep your kids full but still tastes delicious? These loaded applesauce power cookies are filled with all sorts of hearty ingredients, designed to keep you energized and full for longer. Best of all, they taste just as good as "normal" cookies…just a lot better for you!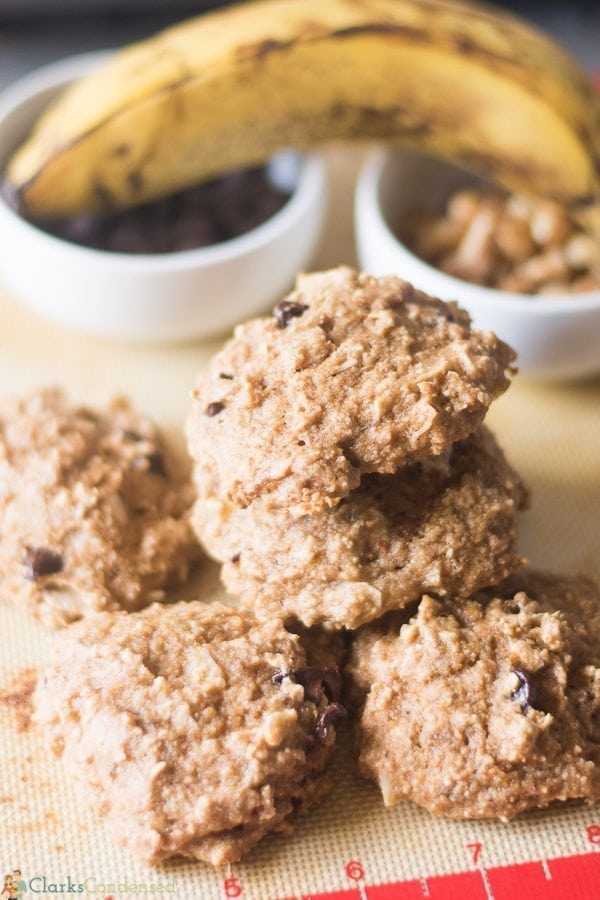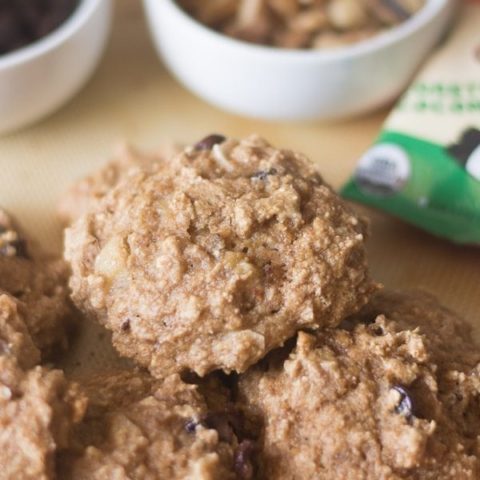 Loaded Power Cookies
Ingredients
1/2 cup brown sugar
1/2 cup mashed banana, about 1.5 medium bananas
1 egg, you could substitute 1 whole egg with two egg whites
1 cup whole wheat flour
1 cup oat flour, this can be made by putting 1 cup of quick oats into a food processor or blender
1/2 teaspoon salt
1 teaspoon baking soda
1 1/2 teaspoons pumpkin spice, or you could use cinnamon and nutmeg
1/4 cup semi-sweet chocolate chips
1 bag Horizon Toasted Coconut Fruit Crunchers, about 1/4 cup chopped dried coconut
1/4 cup chopped walnuts
Instructions
Preheat oven to 375.
Mix together applesauce, brown sugar sugar, banana, and egg.
Add remaining ingredients, except for chocolate chips, coconut, and walnuts. Mix until ingredients are wet.
Fold in chocolate chips, coconut, and walnuts.
The dough will be pretty sticky.
Place balls of the dough on a greased cookie sheet or silpat baking mat.
Bake 10-12 minutes. Let cool on baking pan for 2 minutes, and then transfer to cooling rack.
I feel like every other day, I see some kind of article about snack time and how "bad" it is. Quite frankly, I think that's a bit silly! It's recommended that people eat six small meals a day, and to me, that means having snacks. Of course, perhaps these parents are referring to empty calorie snacks (and I'd be lying if I didn't say we had a few of those every now and then), but I'm all for snack time!
When I was in elementary school, we were encouraged to bring a filling snack to have at some point during the day. I usually brought grapes, or an orange, or something else like that. Then we'd have lunch around 11:30 or 12, and when I went home at 3:30, my mom usually had some kind of after-school snack waiting for my siblings and I. Quite honestly, we were super hungry at that point! Obviously we wouldn't have dinner for a few more hours, so having a snack to help us stay powered throughout the rest of the day was important.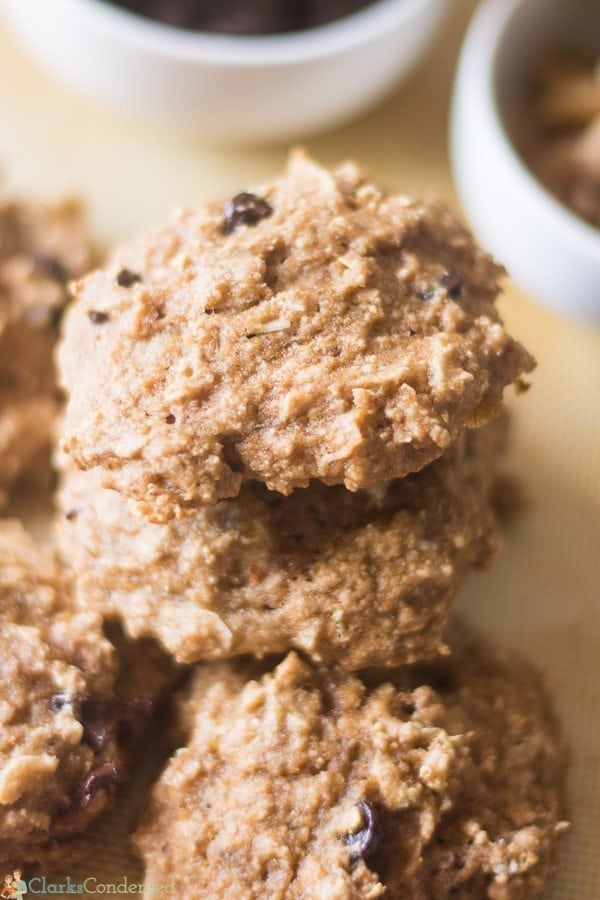 As a parent, it may be hard to come up with snack ideas that are nutritious and will help keep your child sustained. I mean, I totally understand not wanting your child to tell you that they are hungry every 20 minutes (nor should you give them snacks every 20 minutes.) I think the key is finding or making snacks that have ingredients that keep you fuller, for longer, and that contain a lot of fiber.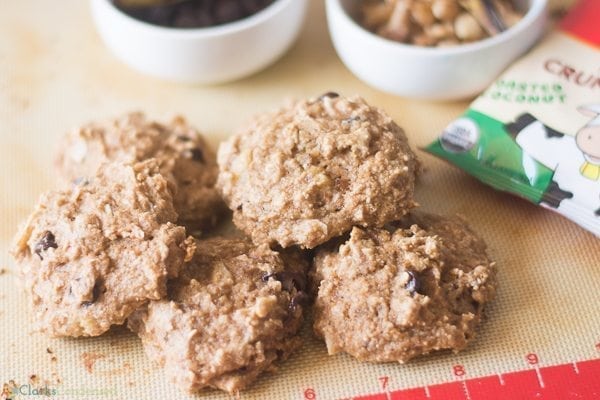 However, it can also be a challenge getting your child (or even yourself!) to eat those types of snacks. I know I much prefer cookies over celery sticks! So, you just have to get a little creative – combine nutritious, filling ingredients with some fun ingredients included as well.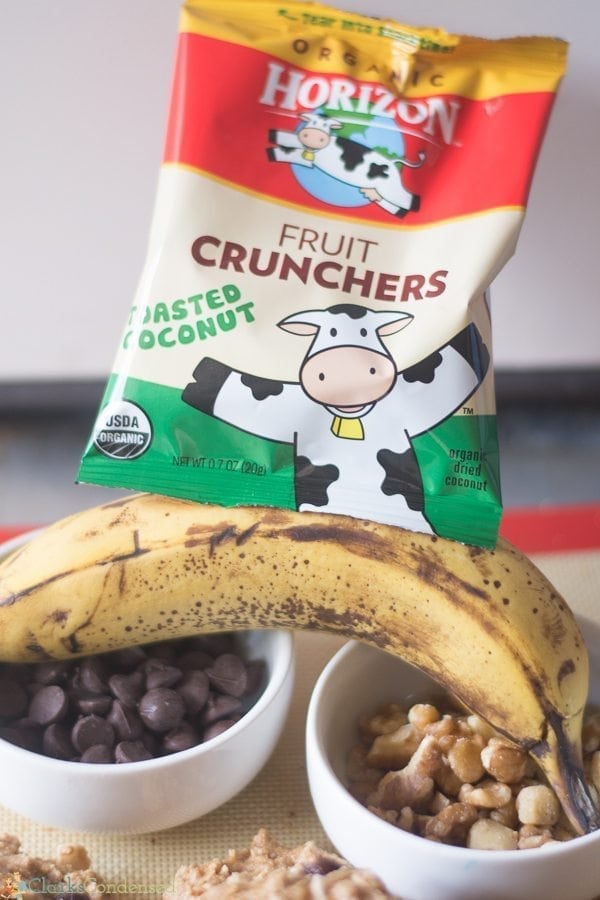 I came up with these delicious power cookies that are jam packed with ingredients that will help keep you or your child full, but they still have the essence of being a treat. I based them off of an applesauce cookies recipe I shared a long time ago, but I cut the sugar down significantly, swapped a banana for the butter, and instead of using white flour, I used a combination of whole wheat flour and oat flour (which is just pulsed quick oats!) To make them even more filling, I threw in some walnuts and Horizon Toasted Coconut Fruit Crunchers. I also put in 1/4 cup of chocolate chips, just because all the best cookies have them – I did resist the urge to use milk chocolate, though, and used semi-sweet instead. The cookies turned out soft, moist, and just overall amazing. I'm being 100% honest when I say they might be my new favorite cookie recipe.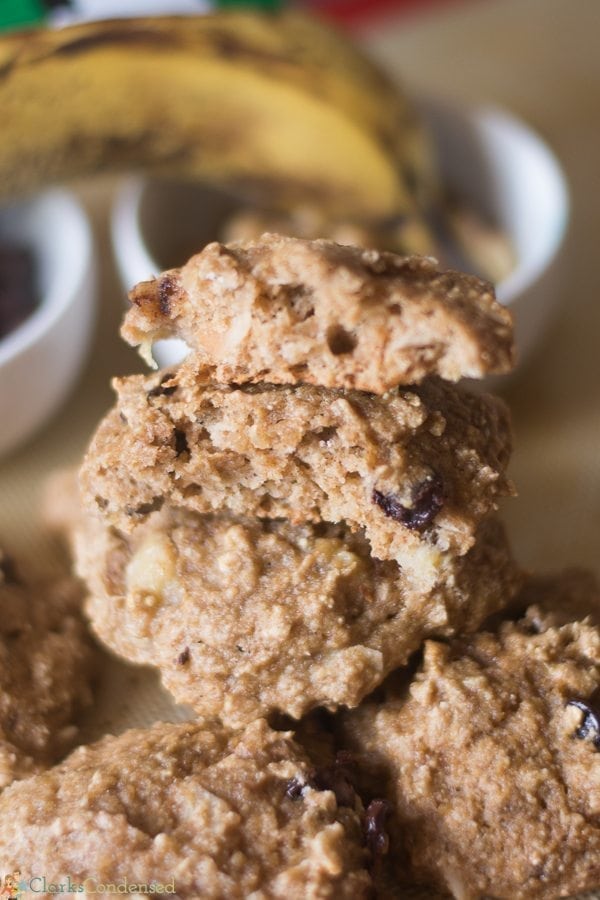 These were a big hit for not just Jack, but Forrest and I as well. They were tasty enough to taste like a treat, but I felt like the nutritional content justified using them as a snack or even as part of a breakfast. This is a snack that will keep your child full for awhile, and they probably won't be starving 20 minutes later!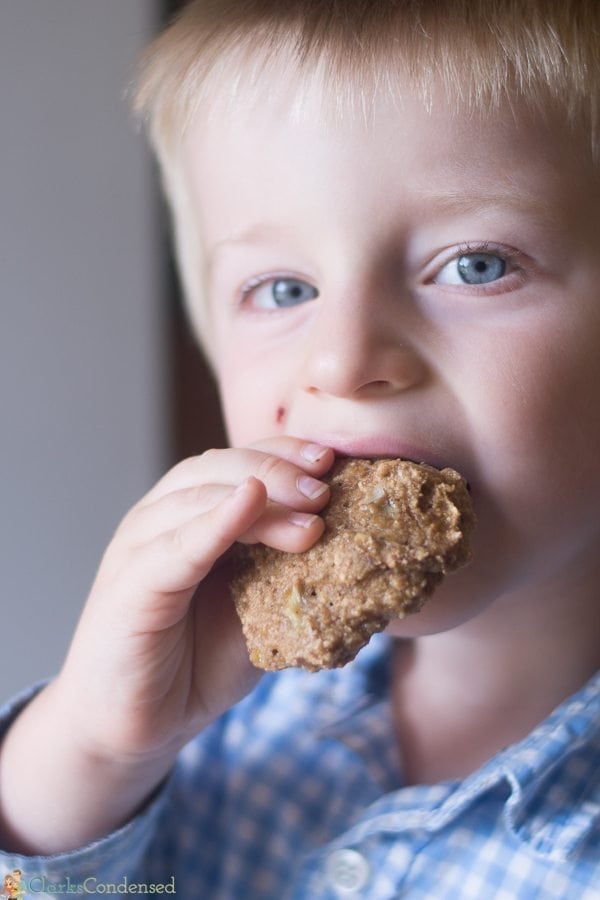 Even if you don't have time to make snacks like this, you can buy pre-packaged snacks that you can feel good about serving your kids from Horizon Organic. They have an awesome line of snacks, like the toasted coconut I used in this post. Be sure to follow them on Twitter, Pinterest, and Instagram for more fun ideas like this one and maybe even the occasional coupon!
This conversation is sponsored by Horizon. The opinions and text are all mine.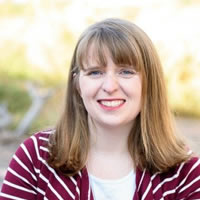 Katie is a Colorado-native, BYU graduated, and most importantly, wife to one and mother to three beautiful boys. She is passionate about sharing her experiences with others – especially about pregnancy, breastfeeding, cooking, and crafts. She is an International Board Certified Lactation Consultant. She loves spending time with her family and helping others find joy in family life.