This is the BEST Cornish Game Hen recipe around! We love Cornish game hens, and they make for a delicious recipe. There are many ways to make them, however, this has the best tips for how to make Cornish game hens.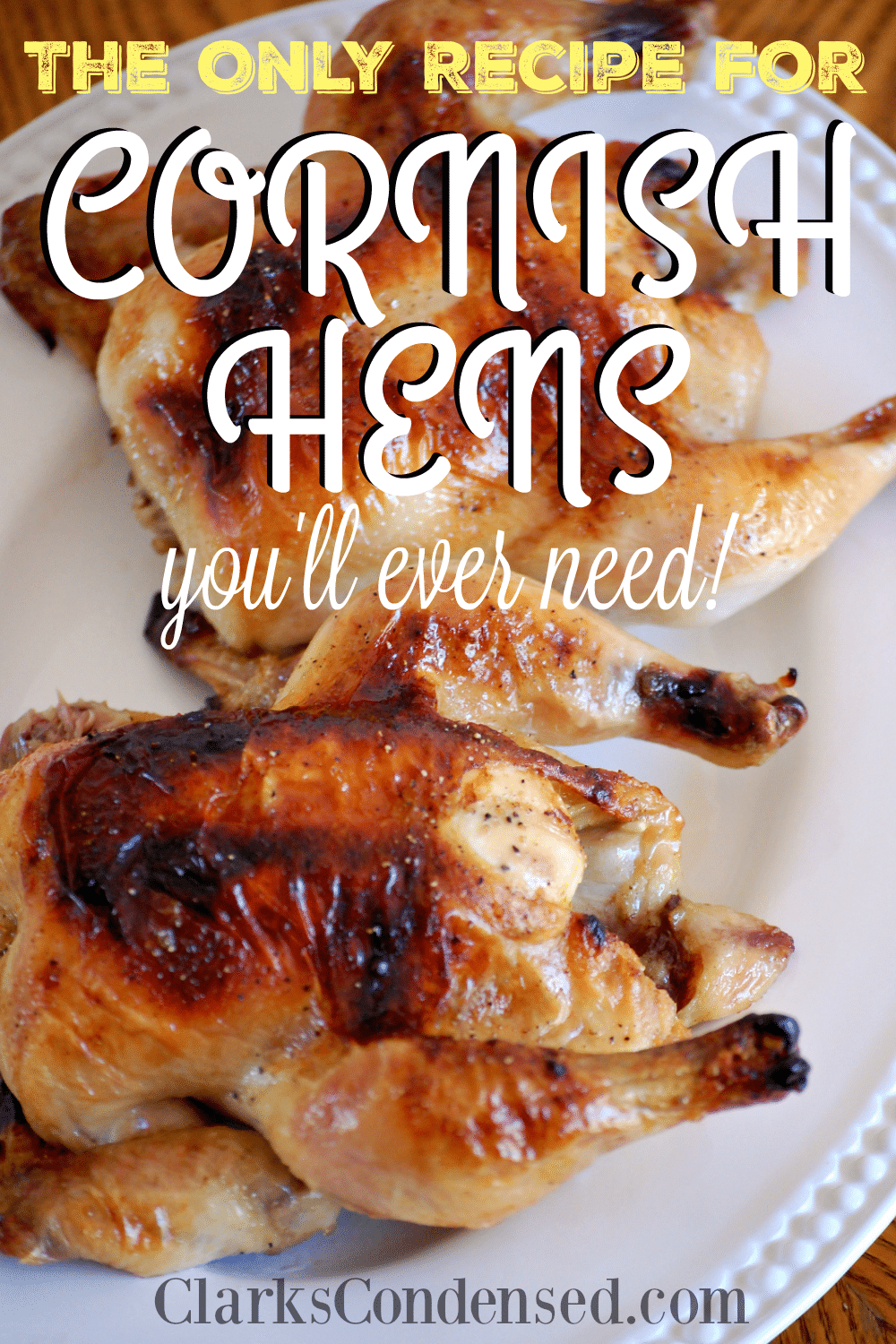 Cornish Game Hens Recipe
Hi, there Clarks Condensed readers! My name is Charlee and I blog over at Humble in a Heartbeat. I am so excited to be on Katie's blog today to share a simple and out-of-this-world Cornish game hen recipe with you. Never made Cornish hens before? No problem. This recipe is great for beginners.
When I was dating my husband, he invited me over to his apartment one evening to have dinner with him. I was thinking we would have some kind of steak or maybe pork. But no. He served Cornish game hens with oven fries. They only weigh 1 1/2 pounds or so.
Let me tell you, it was a dinner to remember! I had never in my life heard of Cornish game hens before and it was kind of fun to have an entire bird to myself.
Since our first Christmas dinner as a married couple, the Cornish game hen has become a regular feature. But really you can eat them anytime you want.
I personally love roasting Cornish hens because when you cook two 24 ounces in your oven it literally takes half the time in the oven as a 6-pound chicken.
Cornish game hens would be perfect to cook if you are having Thanksgiving away from family. Two Cornish game hens can feed two adults and one or two young children. It's also great to cook these little birds if you don't want leftovers.
Thanksgiving, Christmas, or any weeknight is a fine occasion for making Cornish game hens. Ok, so they are more expensive per pound than your average whole chicken. BUT, remember that when you don't really want leftovers and you only want to heat up your oven for a small amount of time, they are the perfect solution.
Do you want to know what makes these babies so delicious? It's my special brine recipe. I had heard about brining turkeys for years before I ever tried brining myself. I tried it on chicken several months ago, and now I've tried it on my little Cornish hens. Extraordinary results, I tell ya.
Once you brine even once, you will not go back to making any kind of bird without doing this simple process. Brining just makes every chicken, turkey, and Cornish hen so much tastier and moist.
Cornish Game Hens
1/4 cup + 2 T. Kosher salt
1/3 cup sugar or honey
3-5 garlic cloves
1/2 T. black peppercorns, crushed
1 tsp. ground mustard
1 tsp. onion powder
2 1/2 quarts of warm water
2 Cornish games hens (mine were 24 oz. each)

Cornish Hen Brine
At least 12 hours or more before you intend to cook your Cornish hens, start the brine.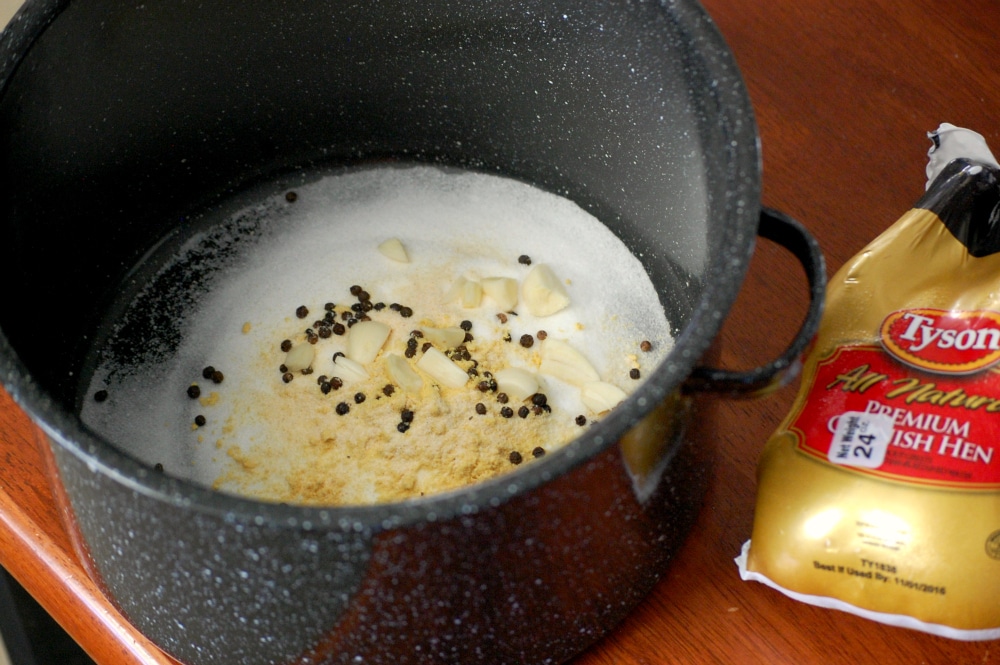 Get out a large food-grade container. You can use a large pot if you have one large enough. Try to avoid metal if at all possible, because from what I've read it can do strange things to your birds!
Add the salt, sugar, garlic, peppercorns, ground mustard, and onion powder to your pot. (Do not worry if you don't have garlic, peppercorns, ground mustard, or onion powder because these can be omitted. I would discourage this, but sometimes you just don't have an ingredient.) Pour the warm water over it all and stir it so the salt and sugar dissolves. Put the pot into your fridge until the water has cooled down.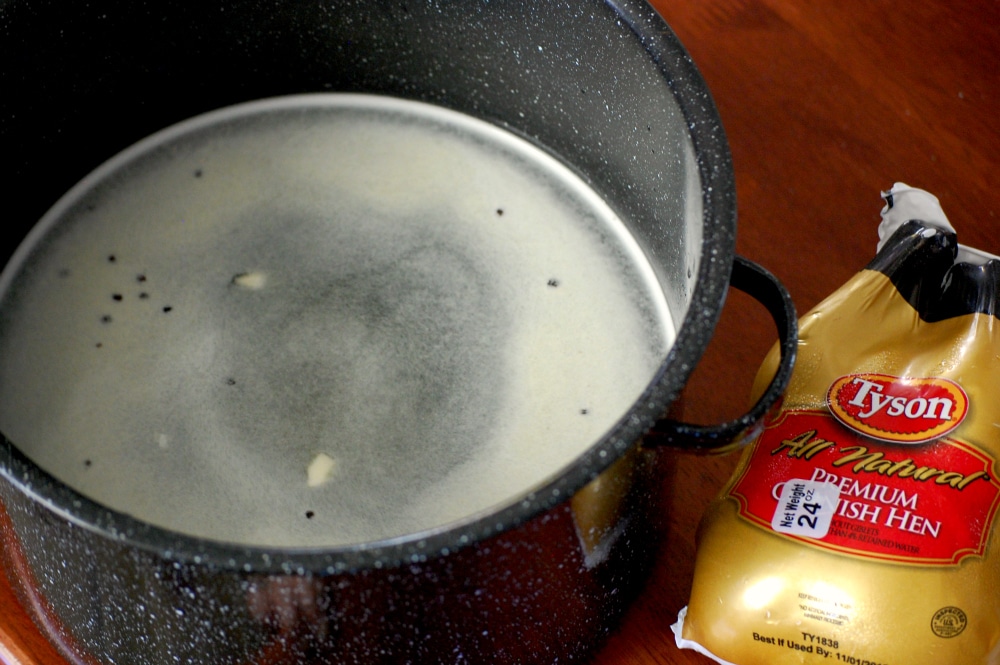 Take the pot out of the fridge and get your Cornish hens ready. Remove the giblets and submerge the hens into the brine. Put the pot back in the fridge for about 6 hours. Remove the pot from the fridge, flip the birds over, and put the pot back into the fridge for another 6 hours.

How to Cook Cornish Hens
Remove the pot from the fridge, take the Cornish hens out of the brine, and pat them down with paper towels. Place them on a roasting rack in a roasting pan. You do not have to add anything else, because they taste wonderful as they are, but I tried them with some olive oil, more salt, and a little pepper, and it does make a difference. Either way is sooo good!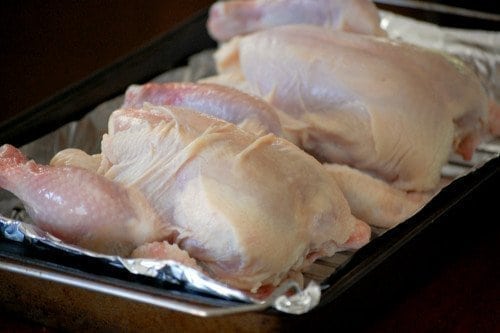 Tuck the wings under the birds, and if you have some cooking twine, use it to tie the legs together. It will help the birds roast more evenly and makes for better presentation. I rarely do this since I don't have cooking twine lying around my house. 🙂
Preheat your oven to 425 F. Once the oven comes to temperature, put the birds into the oven for 25 minutes. Turn down the temperature to 400 F and roast for another 20 minutes. Finally, bring the temperature down to 375 F and roast for another 25-30 minutes. If you have a meat thermometer, make sure that the internal temperature of the birds is at least 165 F before removing from the oven. If you don't have one, make sure that the hens are completely cooked (no longer pink) before eating.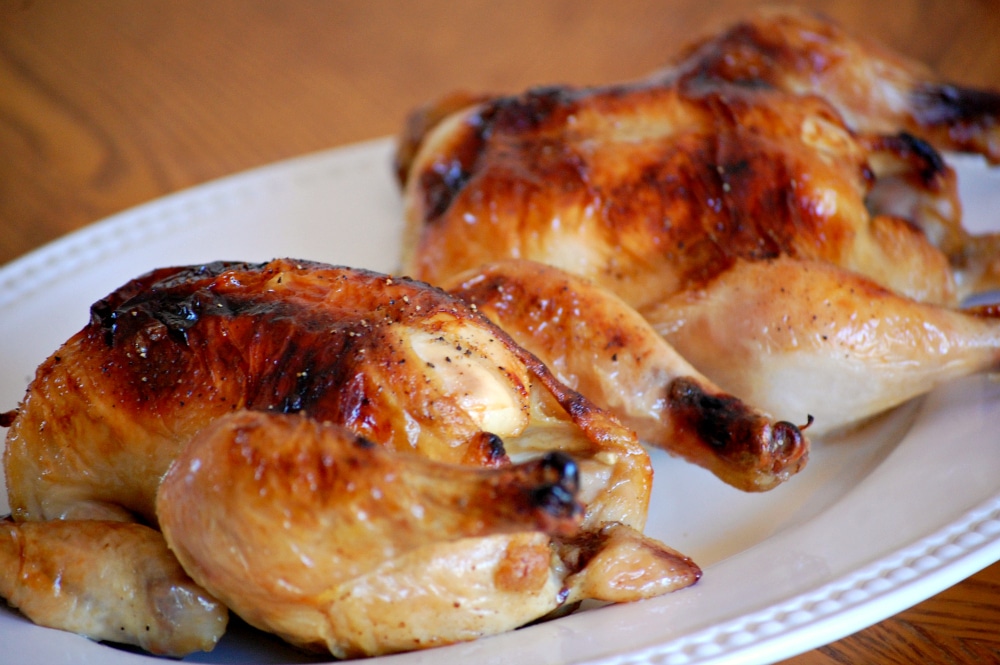 Take the hens out of the oven and let them rest for 10 minutes while the juices distribute evenly.

Bon appétit!
You are going to really enjoy the ease of making these Cornish games hens this holiday season. When you can do the prep a day ahead, it makes the cooking part a breeze. Enjoy!
Oh, and if you'd like to make a brined chicken before trying the Cornish hens, please check out my post on Better Than Rotisserie Roast Chicken.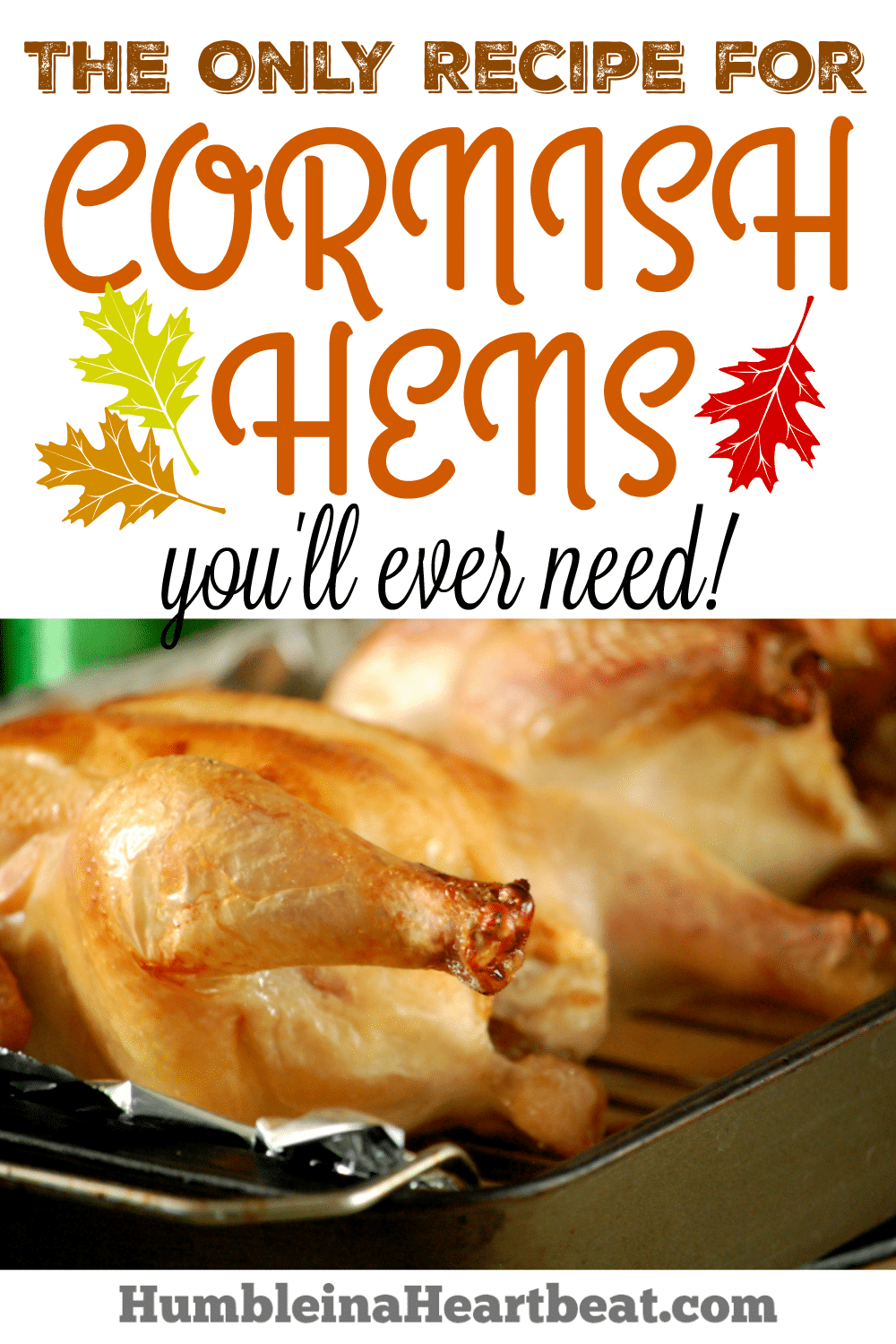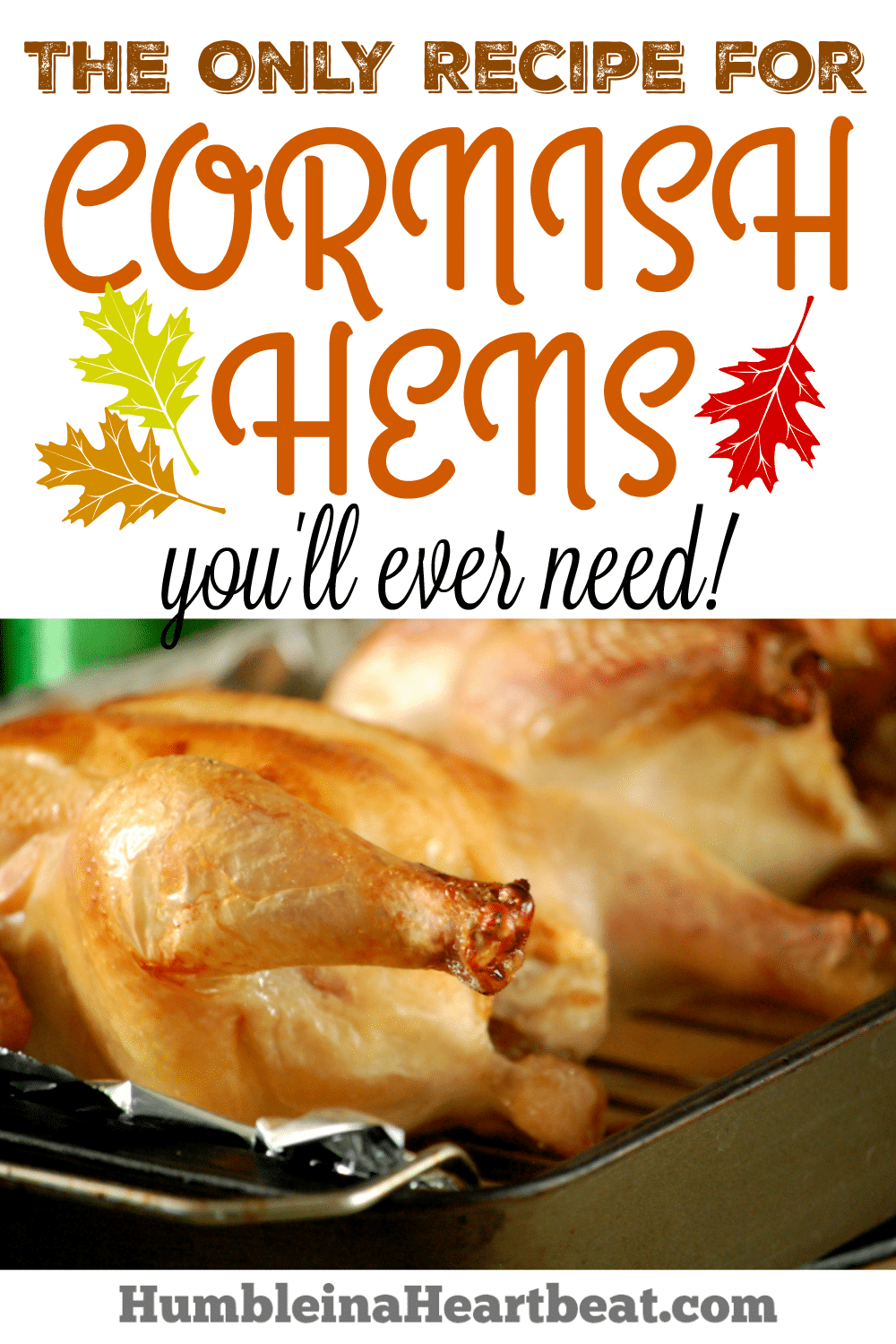 COMMENT POLICY:
All we ask is that you be kind. We welcome differing opinions, but any comments containing personal attacks, sarcasm, etc. will be removed immediately. Keyboard warriors aren't welcome 🙂 All comments are moderated and may take time to be approved. Anything not pertaining specifically to the content of a post will be removed (including comments about ads).