Debating about which stand mixer to buy? If you are deciding between the Bosch Mixer and Kitchen Aid, this comparison has everything you need to know when making that decision. From capacity to uses, overall functionality, and personal experiences, this is the ultimate tool for deciding on the best stand mixer for your kitchen.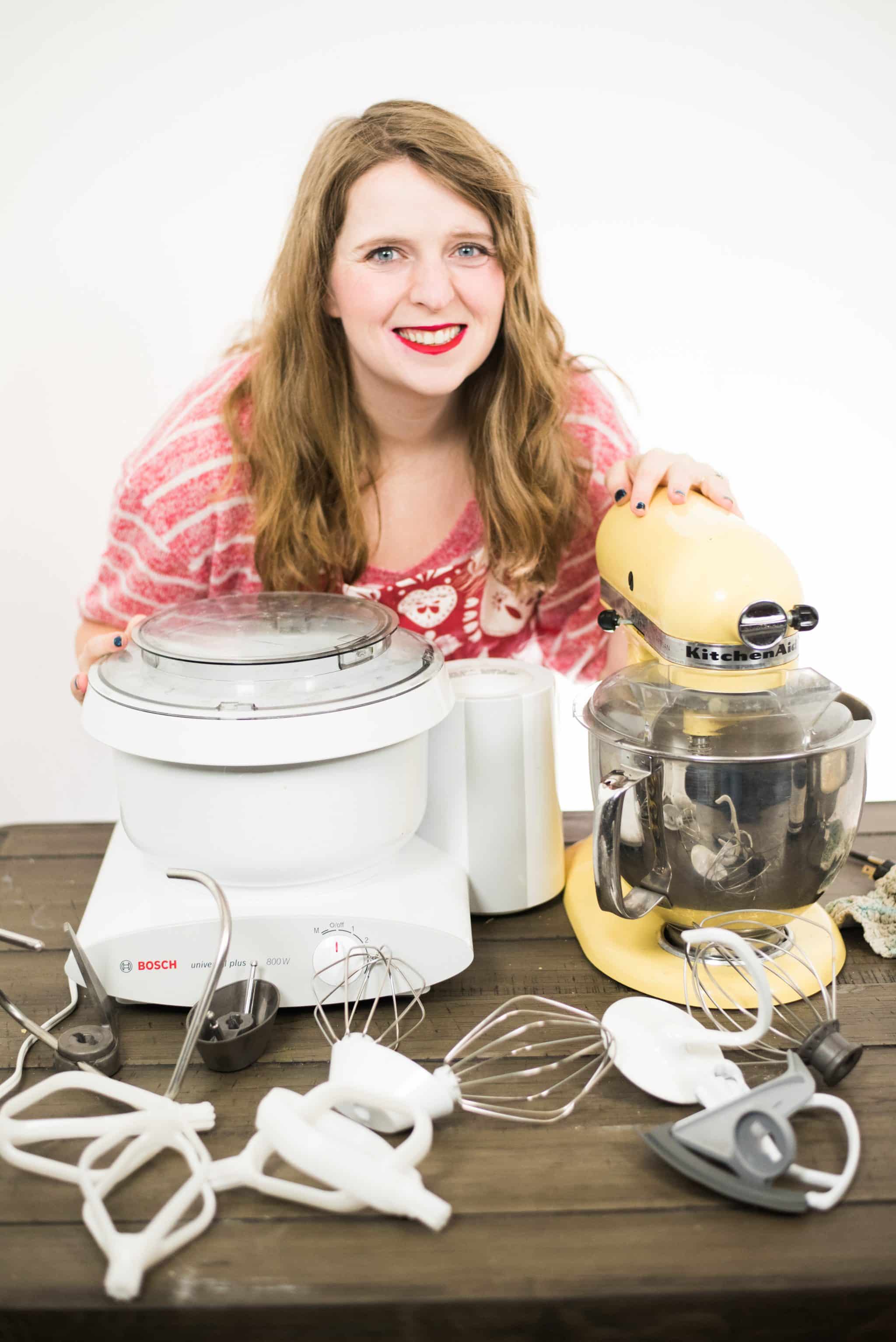 Bosch and Kitchen Aid both make long-lasting and sturdy stand mixers. With that said, there are certain people who would benefit from one over the other.
In this article, you will learn everything you need to know about these popular stand mixers and be able to decide which one would make the best addition to your kitchen.
The Bosch Universal Mixer is Better For…
People who make more than 1-2 batches of bread per week
People who need to make large batches of cookies
Need a mixer that is easier to store
Need a lighter weight mixer
People who want easier clean up (we'll discuss why in the comparison)
People who are looking for ultimate longevity
Professional bakers seem to prefer the Bosch
The Kitchen Aid Mixer is Best For…
People who will be using their mixer for occasional use/smaller batches (a couple of times a month – just a couple of batches of cookies or 1-2 loaves of bread at a time) – with the Artisan. With the Pro, it can handle more
People who want a simpler, but powerful, mixer
People who want something that can be matched to your kitchen
I own a Bosch Universal Plus Mixer, Kitchen Aid Artisan, and a Kitchen Aid Pro 600. I grew up using a Kitchen Aid that my mom has had for over 20 years. This comparison shares my honest feelings and experiences with these different mixers.
What Mixers Are Being Compared?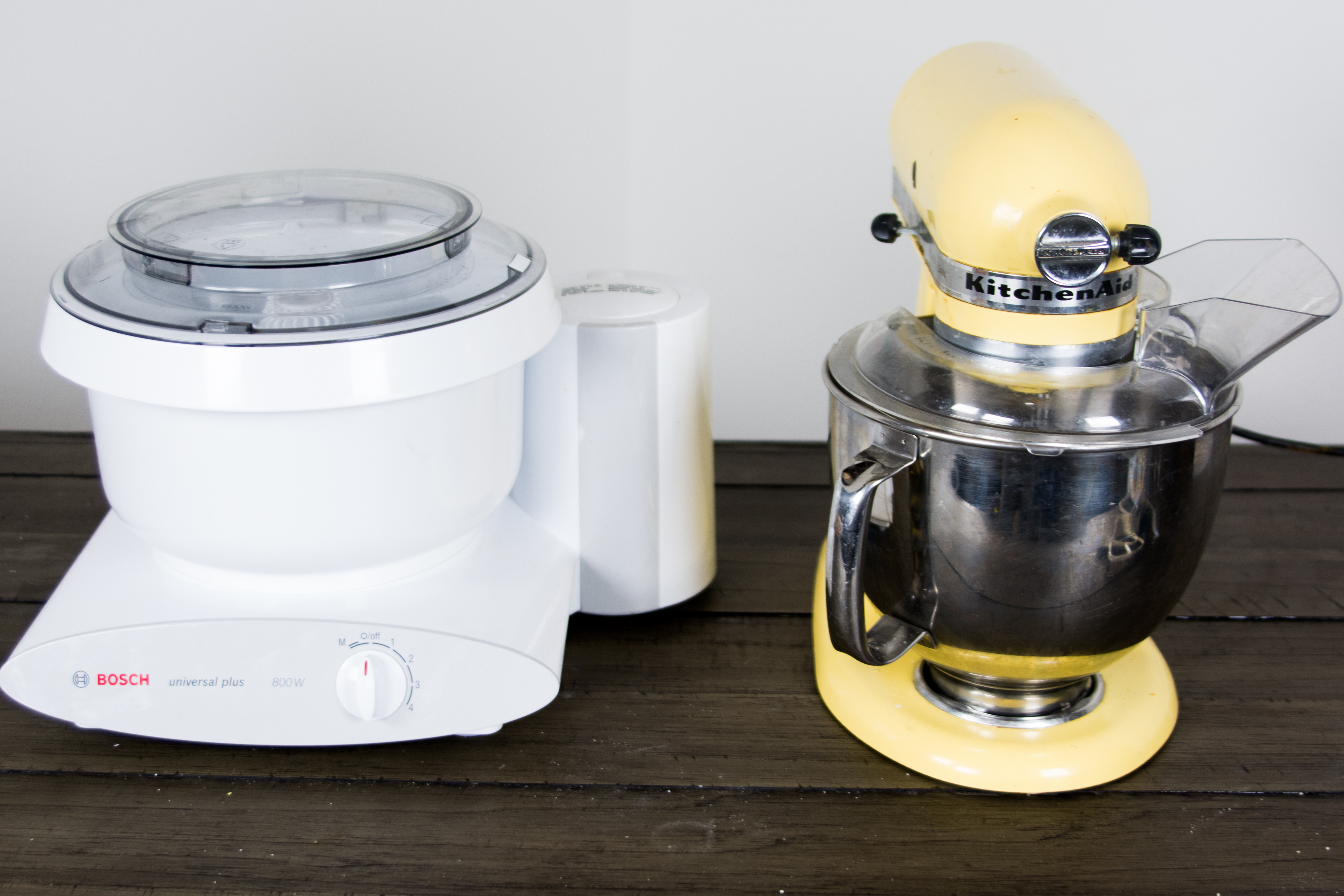 This comparison is primarily between the Bosch Universal Plus Mixer, the Kitchen Aid Artisan, and the Kitchen Aid Pro 600.
I chose these models because:
They are most similar in price and function
They are among the most popular models from each company
They are the mixers I have the most experience with!
Keep in mind that Kitchen Aid has several different types of mixers, so if you read this comparison and think, "I like the idea of the Kitchen Aid but these two don't quite fit my needs," you can check out these lines to see what else is out there!
Classic Series
Artisan Series
Professional Series
Commercial Series
Comparison Video
If you are more the visual type, here is a video that goes over some of the pros and cons of both mixers, as well as shows our little mix off!
Side by Side Comparison of Mixers – Comparison Chart
In this comparison chart, you will see a couple of different mixers:
The first three are the different mixers available through the Bosch/Nutrimill family. The second group of three are from KitchenAid. KitchenAid has tons of different mixers, but I chose these three because I've seen them for sale in the store, and I thought it gave a nice look at versatility. Be aware that there are models no longer available (such as the Heavy Duty), but you may be able to buy these on eBay or at garage sales.
Depending on your computer or device, you may need to use the scroll bar to see this entire chart.
| | | | | | | |
| --- | --- | --- | --- | --- | --- | --- |
| | Bosch Universal Plus Mixer | Bosch Compact | Nutrimill Artiste | KitchenAid Artisan | Kitchen AId Pro 5 | Kitchen Aid Pro Series 7 |
| Price | $399 | $159 | $299 | $499 | $799 | $799 |
| Power | 800 watts | 400 watts | 650 watts | 325 watts | 450 watts | 500 Watts 1.3HP high efficiency DC motor |
| Bowl Capacity | 6.5 quart | 4 quart | 5.5 quart | 5 quart | 5 quart | 7 quart |
| Bowl Material | Plastic (stainless steel can be purchased separately) | Plastic | Plastic | Stainless Steel (glass can be purchased separately) | Stainless steel (glass can be purchased separately) | Stainless steel (glass can be purchased separately) |
| Colors | White | White | White with choice of white rim, black rim, or silver rim | Over 50 options | Red, black, and silver | Six Colors |
| Width | 15.5″ | 10.5″ | 13″ | 8-7/10″ | 11-5/16″ | 13-3/10″ |
| Height | 10.6″ | 10.25″ | 11″ | 13-9/10″ | 16-1/2″ | 16-2/5″ |
| Weight | 17 pounds | 9.75 pounds | 10.287 pounds | 23 pounds | 24.91 pounds | 25 pounds |
| Dough Capacity | 14 pounds (around 9 loaves) | 6 pounds | 10 pounds | 4 1/2 bread loaves | 6 3/4 loaves | 8 pounds of dough |
| Batches of Cookies | 39 dozen | Not sure | Not sure | 9 dozen | 10 dozen | 14 dozen |
| Accessories Included | Base package includes dual wire whisps, plastic whip drive, dough hook, dough hook extender, and splash shield. Other accessories available to expand versatility. | Base package includes wire whisps, dough hook, and splash shield. Additional accessories available. | Wire whips, dough hook, and bowl. Additional accessories available. | Coated flat beater, coated dough hook, 6-wire whip, Pouring shield (additional accessories available to expand versatility) | Coated flat beater, coated dough hook, 6-wire whip, Pouring shield (additional accessories available to expand versatility) | Flat beater, PowerKnead spiral dough hook, wire whip, pouring shield (additional accessories available to expand versatility) |
| Speeds | 4 speeds | 4 speeds | 6 speeds + pulse | 10 speeds | 10 speeds | 10 speeds |
| Dishwasher Safe | Yes – except for the gear drive and the base/motor. | Yes – except for the gear drive and base/motor | Yes – except for gear drive and base/motor | The bowl, coated flat beaters, and coated dough hook are. Wire whips, burnished dough hook, and burnished beaters need to be hand washed. | The bowl, coated flat beaters, and coated dough hook are. Wire whips, burnished dough hook, and burnished beaters need to be hand washed. | The bowl, coated flat beaters, and coated dough hook are. Wire whips, burnished dough hook, and burnished beaters need to be hand washed. |
| Warranty | Three-year motor and transmission. 1-year parts and plastic. | 1 year warranty from date of purchase | 1 year from date of purchase | 1-year limited warranty from date of purchase | 1-year limited warranty from date of purchase | Five years from date of purchase |
| | BUY NOW | BUY NOW | BUY NOW | BUY NOW | BUY NOW | BUY NOW |
Also, as you see above, the KitchenAid Pro Series 7 power is measured in horsepower, which makes it harder to compare the power. However, on one website, it says that it has a 500 watt 1.3 HP motor.
Aesthetics
This really comes down to personal preference, as each mixer has its own distinct look.
Are known for coming in a beautiful array of colors, including:

Traditional silver, white, and black
Bright colors like yellow, turquoise, and orange
You can easily select one that matches your preferences and color scheme in your kitchen.

They are a slim design that can easily fit into most kitchens
There are lots of vinyl decals you can add to them
Many people consider their KitchenAid to be the finishing touch for their kitchen
The silver bowl comes standard with Kitchen Aid mixers
There is a glass bowl that you can purchase
Traditionally comes in white, though there is a black/stainless steel version
The Bosch Universal is a little bit wider than the Kitchen Aid Artisan, however, if you turn it around, it will end up being pretty similar.
The Bosch is a little bit lighter in weight than the Artisan and other models. It can more easily be bumped in my experience, but newer models have the suction cup feet which keep it very steady.
The Bosch is shorter, so it may fit under low cupboards easier.
Ease of Use
Bosch has more parts, and I feel like because of this, it can be a little bit cumbersome to run at times. In the beginning, I got a little confused about all the attachments and having to switch the gears for different attachments. However, I've gotten used to it over time, and I don't have to think about it anymore.
I do think that KitchenAid is more user-friendly, but that may also be because I grew up using one, and it's what I used to.
When it comes down to it, I think a lot of it just what you are used to. I've talked to people who think the Bosch is an easier machine.
Honestly, neither of them are that complicated to use. Once you figure out what accessories you need to use for what, it's easy either way!
Cleaning
Overall, I find the Bosch to the be easiest to clean.
Bosch Mixer:
Even after the bowl has sat for an hour or longer, I can easily wipe out the dough that was left behind.
The bowl and the mixer itself seem to be more slick, so debris comes off easier.
After 24 hours, it still was very easy to clean with a damp cloth
You can throw almost all of them in the dishwasher (except for the gear you put up through the pole) which makes cleanup pretty simple, especially for the pieces that have more nooks and cranies.
Kitchen Aid Mixer:
Debris seems to stick to the bowl a lot more easily than to the Bosch
There are more nooks and crannies for leftover material to get into
If I let my Kitchen Aid bowl sit for longer than a few minutes, it has to soak in order to get the debris off
If you don't clean where you attach the attachments really well, they sometimes won't go in
The bowl, coated beaters, and coated dough hook are dishwasher safe
You have to hand wash the wire whip and burnished beaters.
Price
Depending on the time of year and what deals are going on, any of these mixers will cost between $249 and $499.
When you look at the MSRP, the KitchenAid Artisan 5 quart is $499, and the Bosch Universal Mixer is $399.
Best Kitchen Aid Deals
Best Bosch Deals
I have never actually seen a KitchenAid Artisan 5 quart at $499, though, and I most often see it on sale for around $300 and even less during the holidays. Because of that, the Bosch Universal Mixer is a little bit more expensive – but it certainly has reason to be a little bit more expensive. I have seen it go as low as $319 for just the mixer, and it's basic attachments.
Honestly, I am always seeing deals on mixers, so it's hard to say what price you are going to be able to get the Bosch Universal, the Kitchen Aid Artisan, or one of the mixers above. Regardless, you will end up spending a couple hundred dollars at least – and if you can find a good bundle deal (especially with the Bosch), you will get the most bang for your buck.
With the KitchenAid, they are sold at TONS of retailers all over the country and online, so you can search around for the best deal that way. Bosch Mixers are available in fewer places, so I usually recommend buying directly from the Bosch website to find the best deals. Sometimes you might be able to find a Bosch Costco deal, though those can be rather rare.
Bosch Universal Overview and Review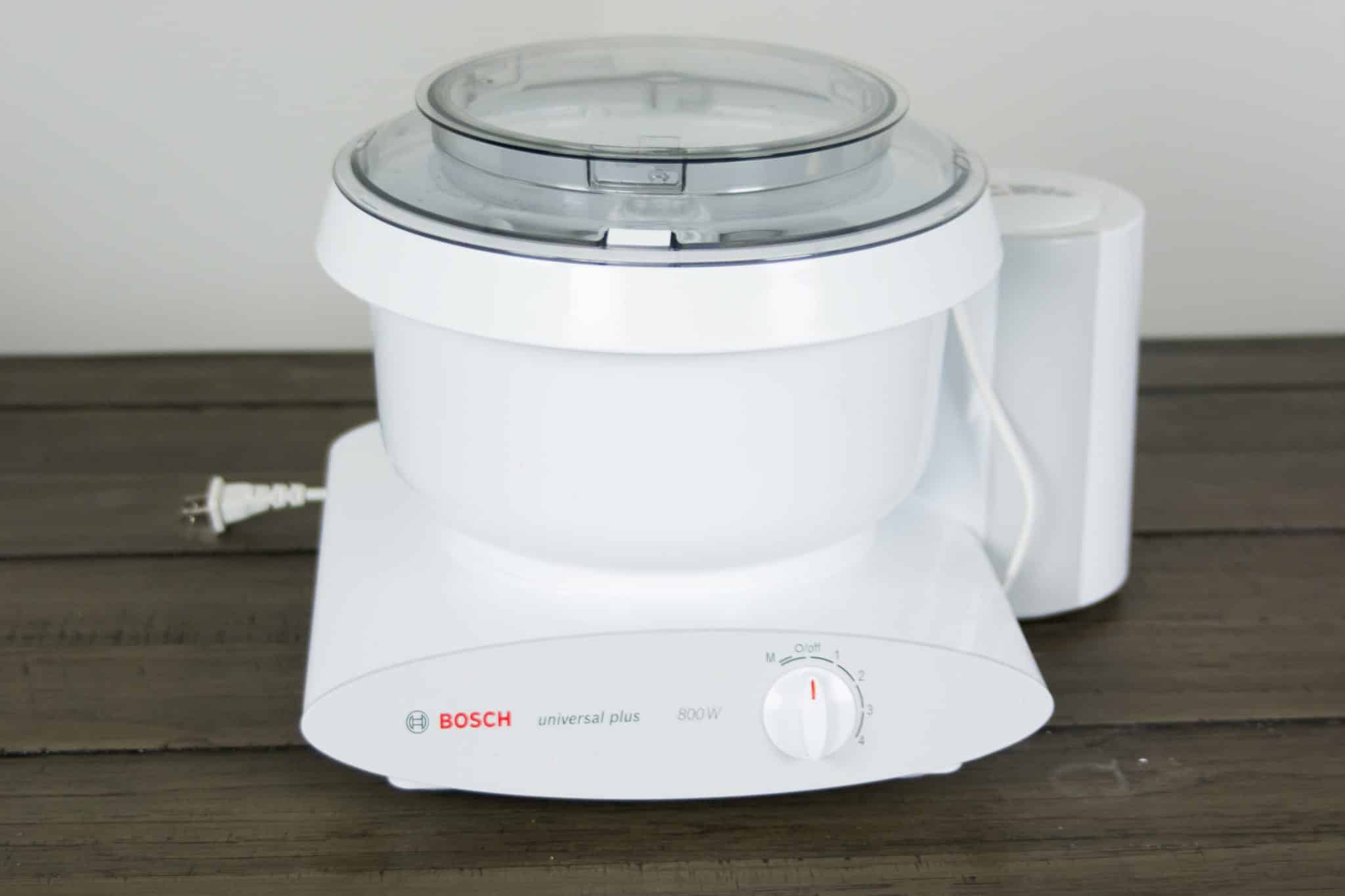 I've already written a post about the Bosch Universal Plus Mixer, which you can read here – The Ultimate Guide to the Bosch Universal Plus Mixer. However, I will give a brief overview and review below for the sake of this post.
When you JUST buying the base model of the Universal, you'll get the following:
Plastic bowl (stainless steel available separately)
Wire whips
Dough hook
Dough hook extender
A note on the plastic bowl – initially, this was a turn off to me. However, I learned that they have a plastic bowl because it is better for bread making. Pretty cool!
Bosch often has some great bundled deals going on, which will give you the most bang for your buck. If there's ever one going on, I'll share the details below.
Things I Like
The Lid
This is my favorite part of my Bosch
The closed lid makes baking less messy as it prevents ingredients from flying everywhere
You can remove the circle part so you can easily put ingredients in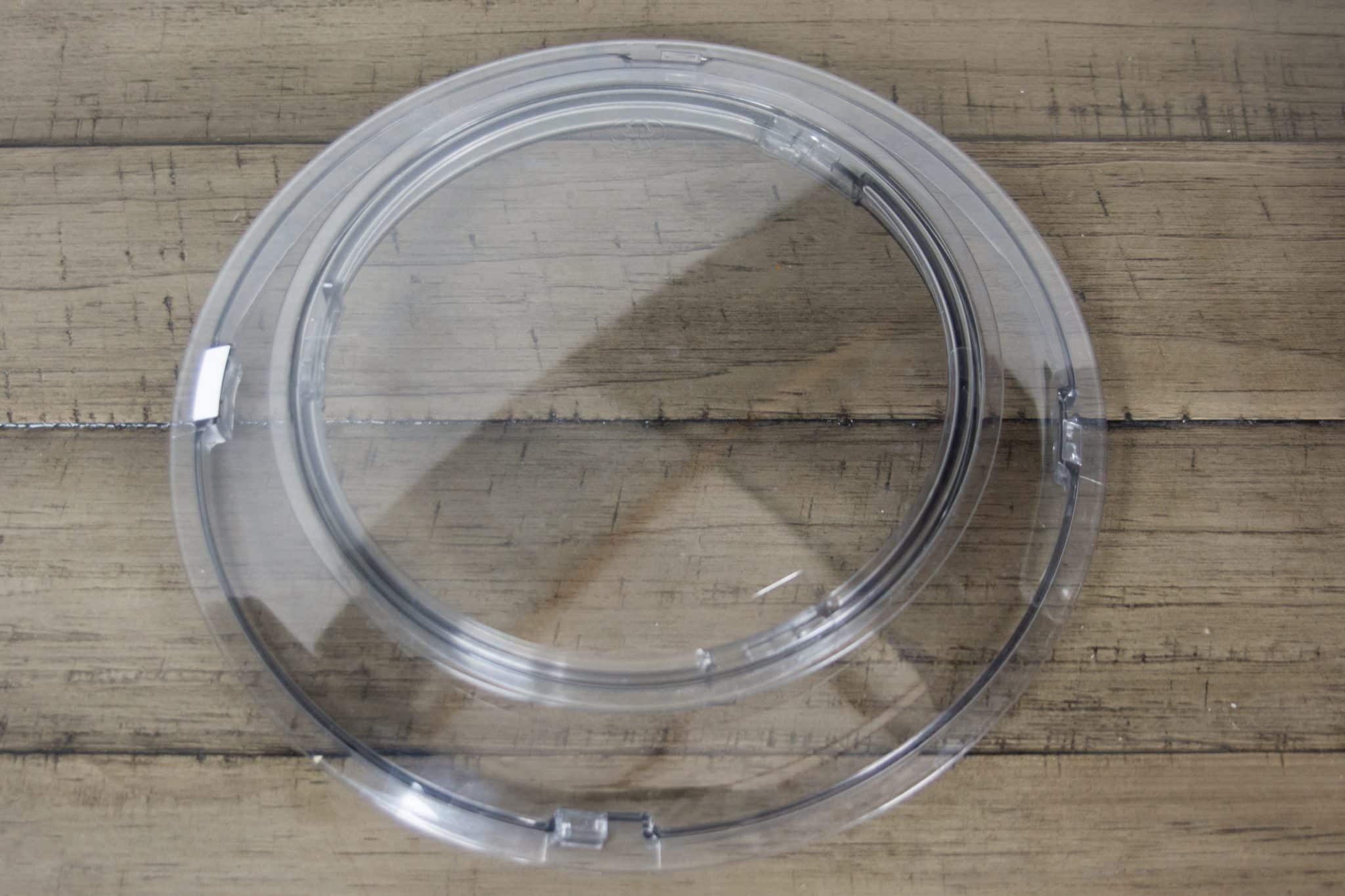 Suction Feet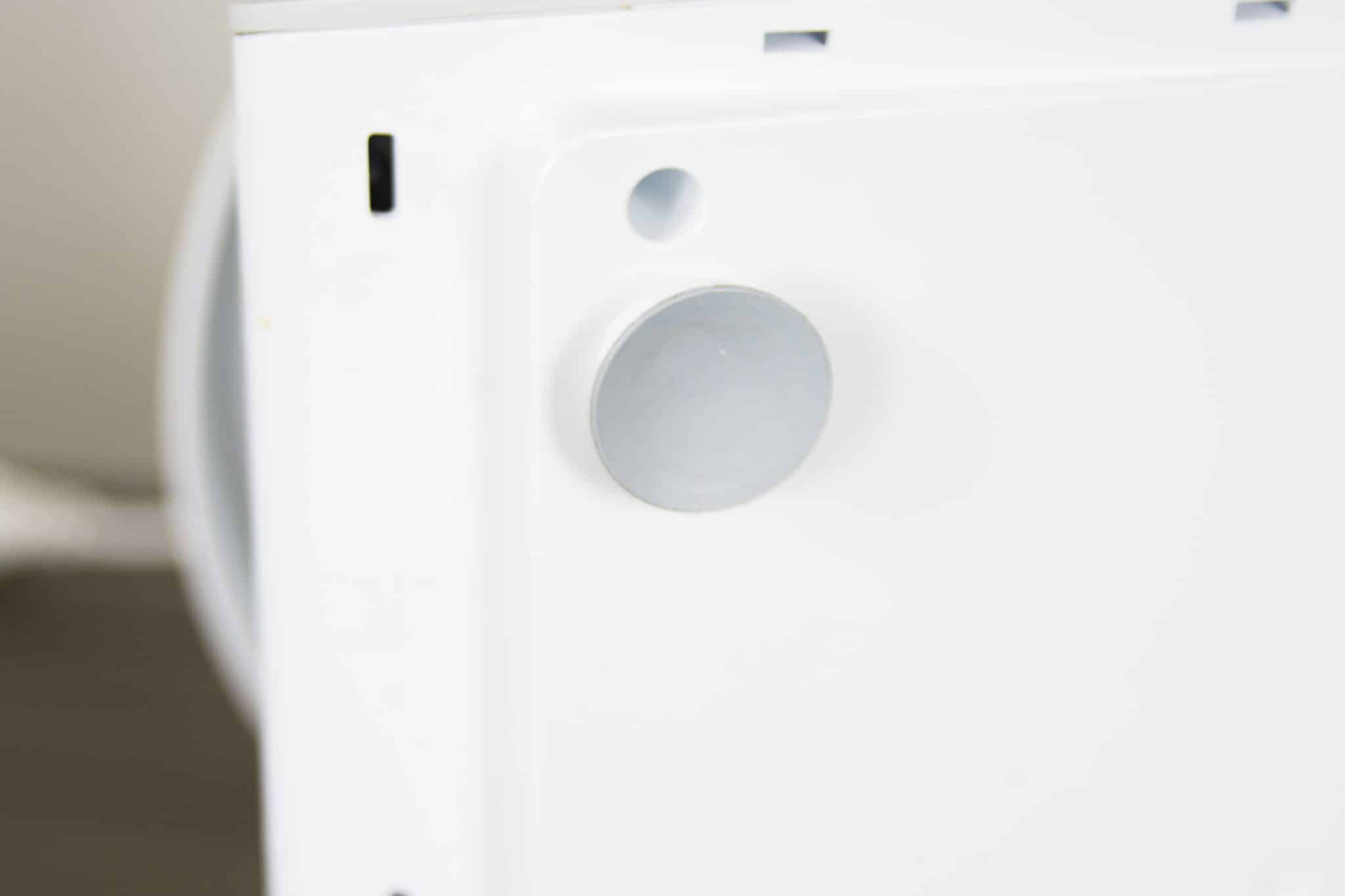 Because the Bosch is pretty light weight, f it gets bumped, it would be more likely to move than a heavier mixer. These suction feet keep it nice and secure
Older models of the Bosch do not have these
Dough Hook
Heavy duty and large – it is very reliable
It does a great job at large batches
You need to use an extender for a smaller batch
Extenders
The dough hook extenders make it so you can do smaller batches (which can be tricky to do with the dough hook by itself)
The cookie scrapers are helpful, though I do have some issues using them at time
The Power
Bottom line – the Bosch is POWERFUL
It has four-speed settings, but in this case, I think fewer options is better
The lowest setting is quite powerful
It has 800 watts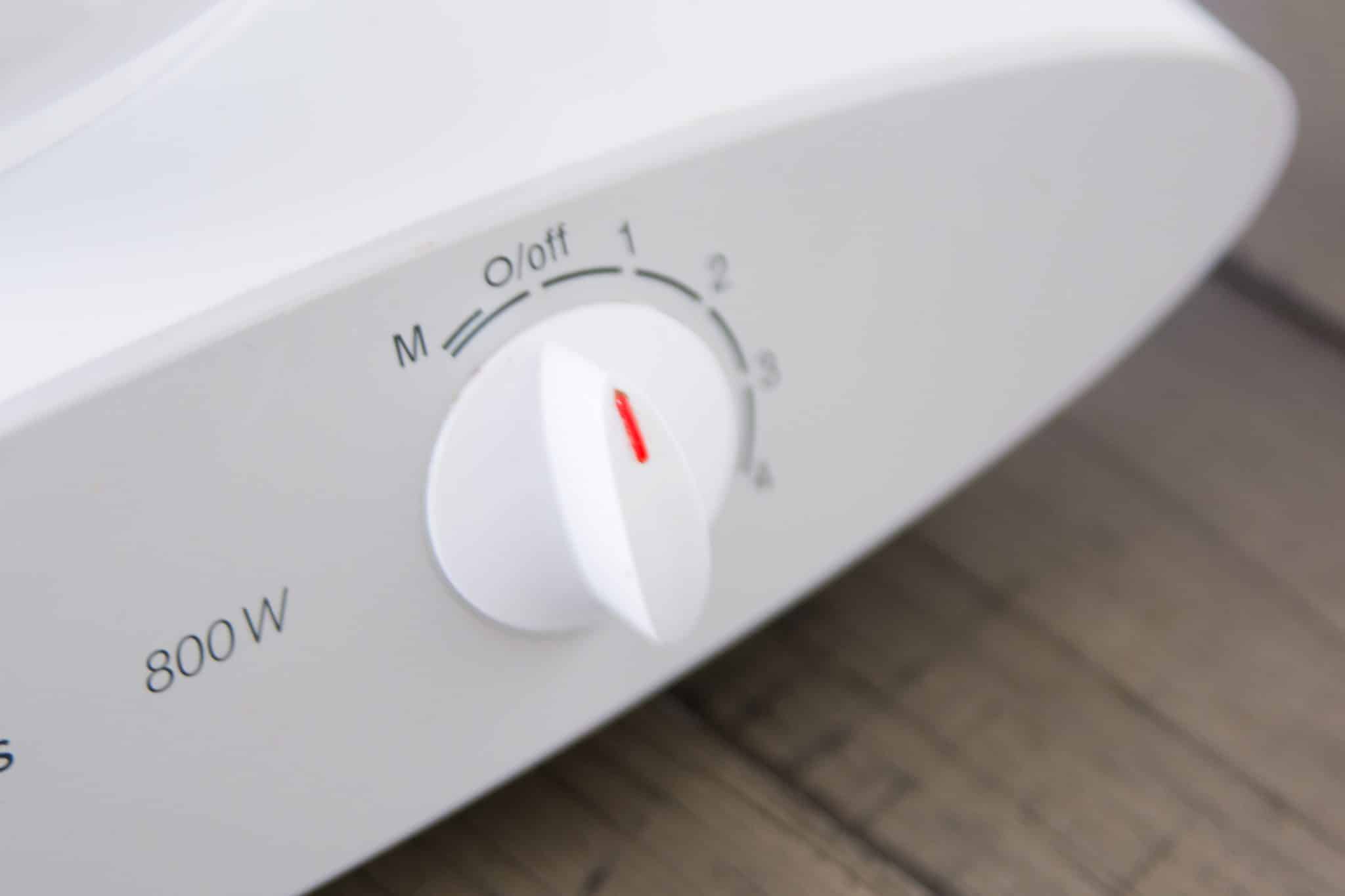 Cord Storage
The Bosch has a hidden cord storage where you can easily store the cord when it's not in use
This is nice compared to the Kitchen Aid – the cord on my Artisan got cut somehow, and it always seems to just be hanging in the way.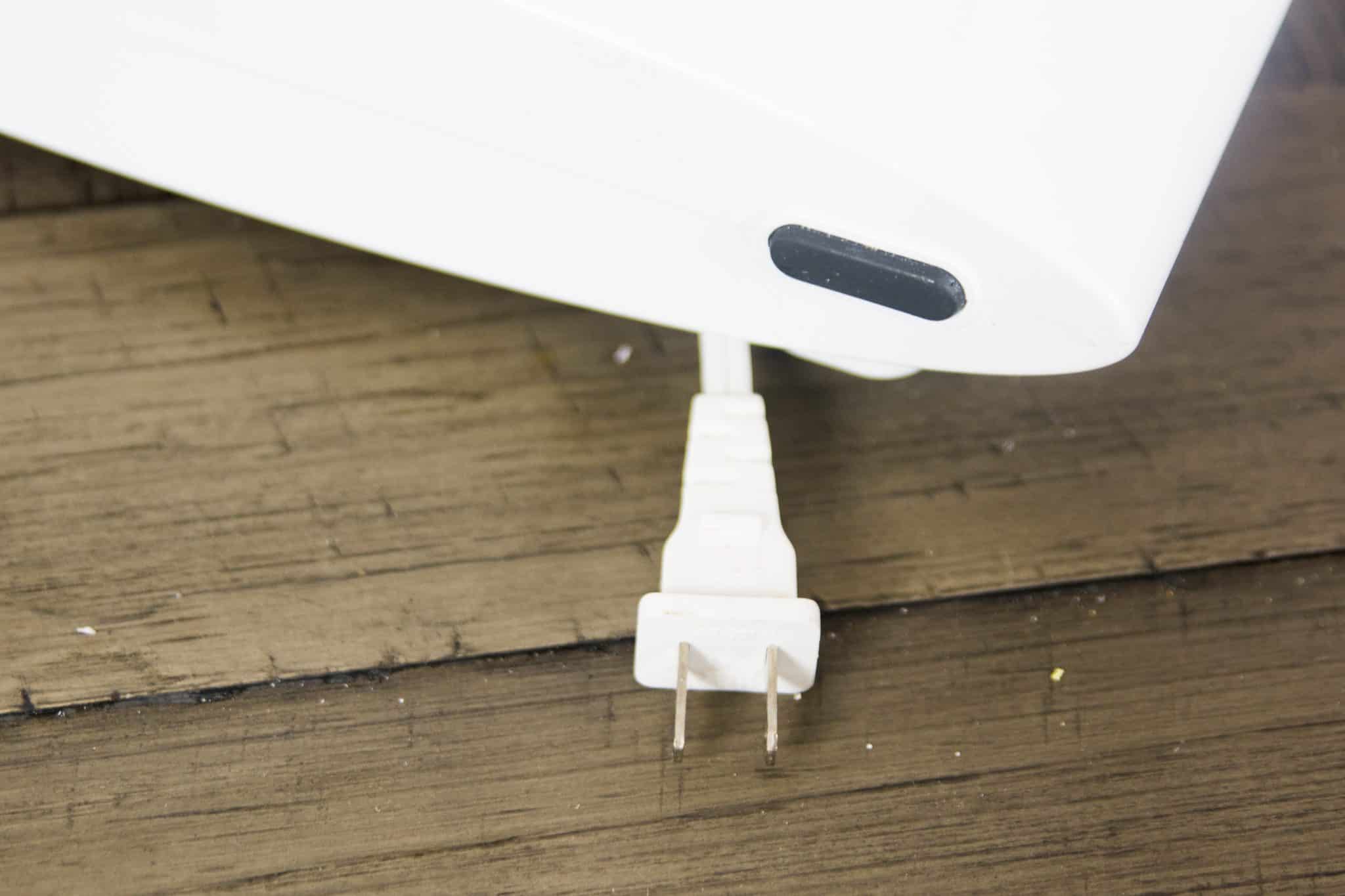 Warranty
Three year warranty
This is applicable to the motor and transmission
Easy to Store
Shorter than the Kitchen Aid, so you can store more easily in the cupboard if you need to
You can easily put most of the attachments inside the bowl to store
What I don't like
Center pole – I really don't love this. I find that it gets in the way more often than not. I like to let my dough
It does have a lot of components, and it can sometimes be annoying to have to switch out all the parts. I often forget to put the draft shaft in the middle, so I'll end up picking up the bowl and putting it in with all the ingredients. If you are more keen on details, you might not have this problem.
Butter Mixing – A lot of my recipes call for cold butter, and the cookie beaters can't beat this. I have to use the wired whisks, and even then, it can't be totally cold. I like mixing the butter in my Kitchen Aid better.
Loud – It definitely isn't a quiet machine!
Harder to put in the fridge – the size of the bowl is harder for me to find a spot for in my fridge than the Kitchen Aid. This can be annoying when I have to chill cookie dough.
Bosch Accessories:
Bosch Accessories I have – how I feel about them:
I have all of the standard accessories, plus a few extras:
The dough hook
Bulky and heavy
Does a great job with high-yield baking
If you are are baking bread (more than two loaves at a time) or rolls (more than two dozen) you will LOVE this
Must have for bread bakers and cookie makers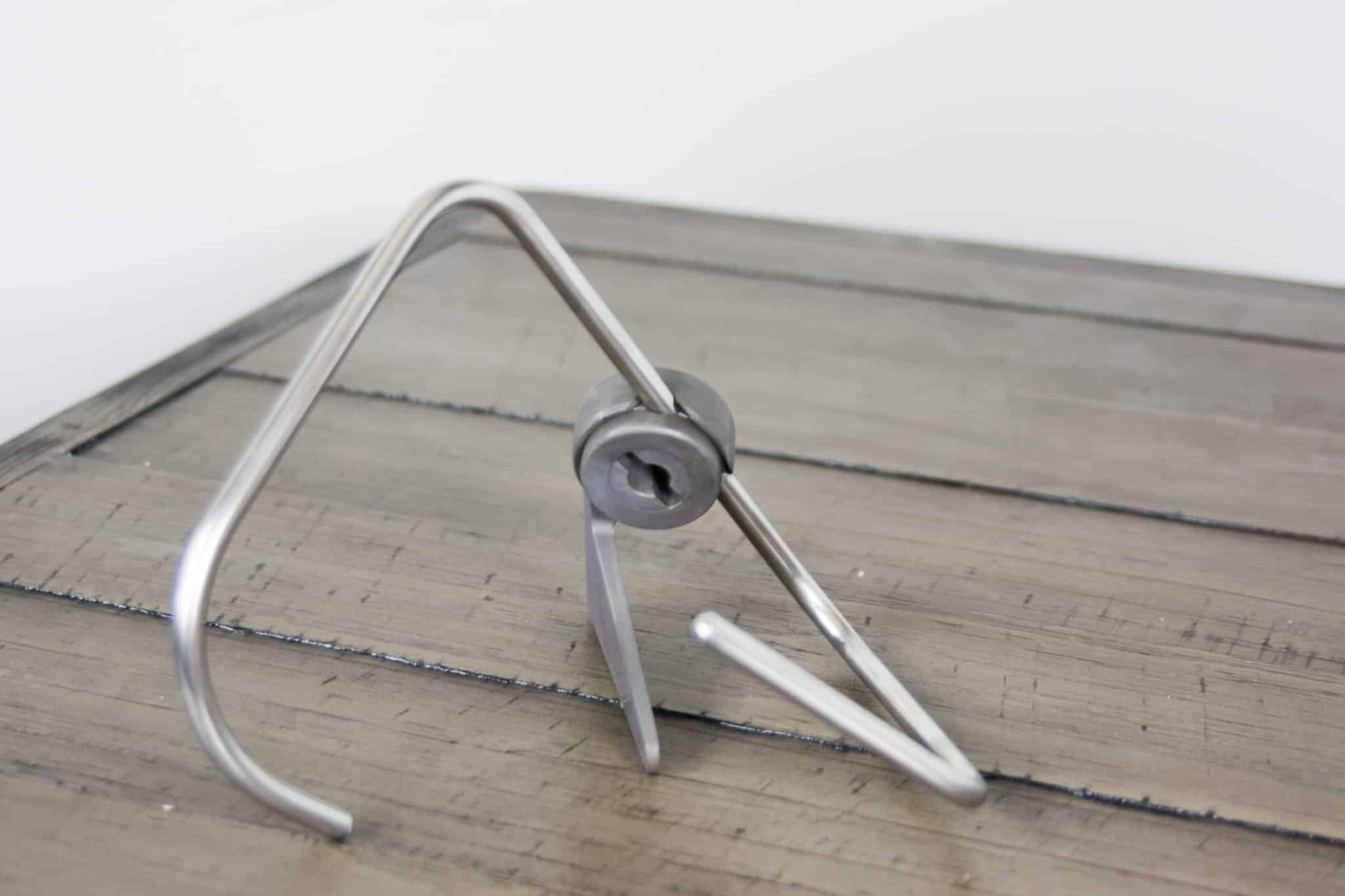 Wire whisps
These work with both the metal and plastic gear.
The plastic gear is ONLY to be used with liquid!
Ideal for whipping cream, eggs, or batters (such as pancakes and waffles)
Come standard with the Bosch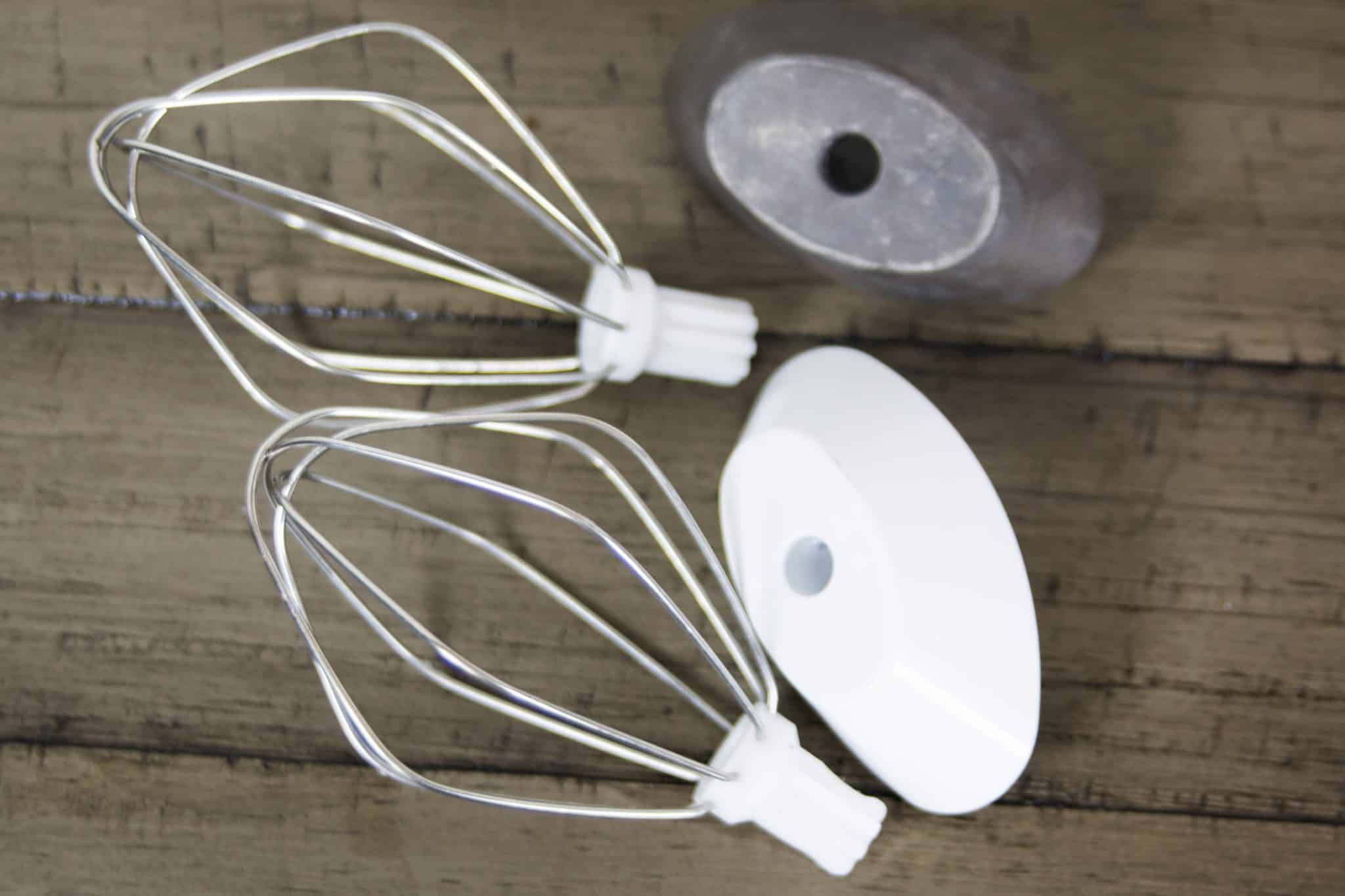 These are designed specifically for making cookies
Ideal for cookies without a lot of mixins or that are smaller batches (less than 3 dozen)
Cookie paddles are designed to break if they are being overworked, rather than hurting the Bosch motor.
Must-have for basic cookie makers. If you fully-load your cookies, you're better off relying on that dough hook.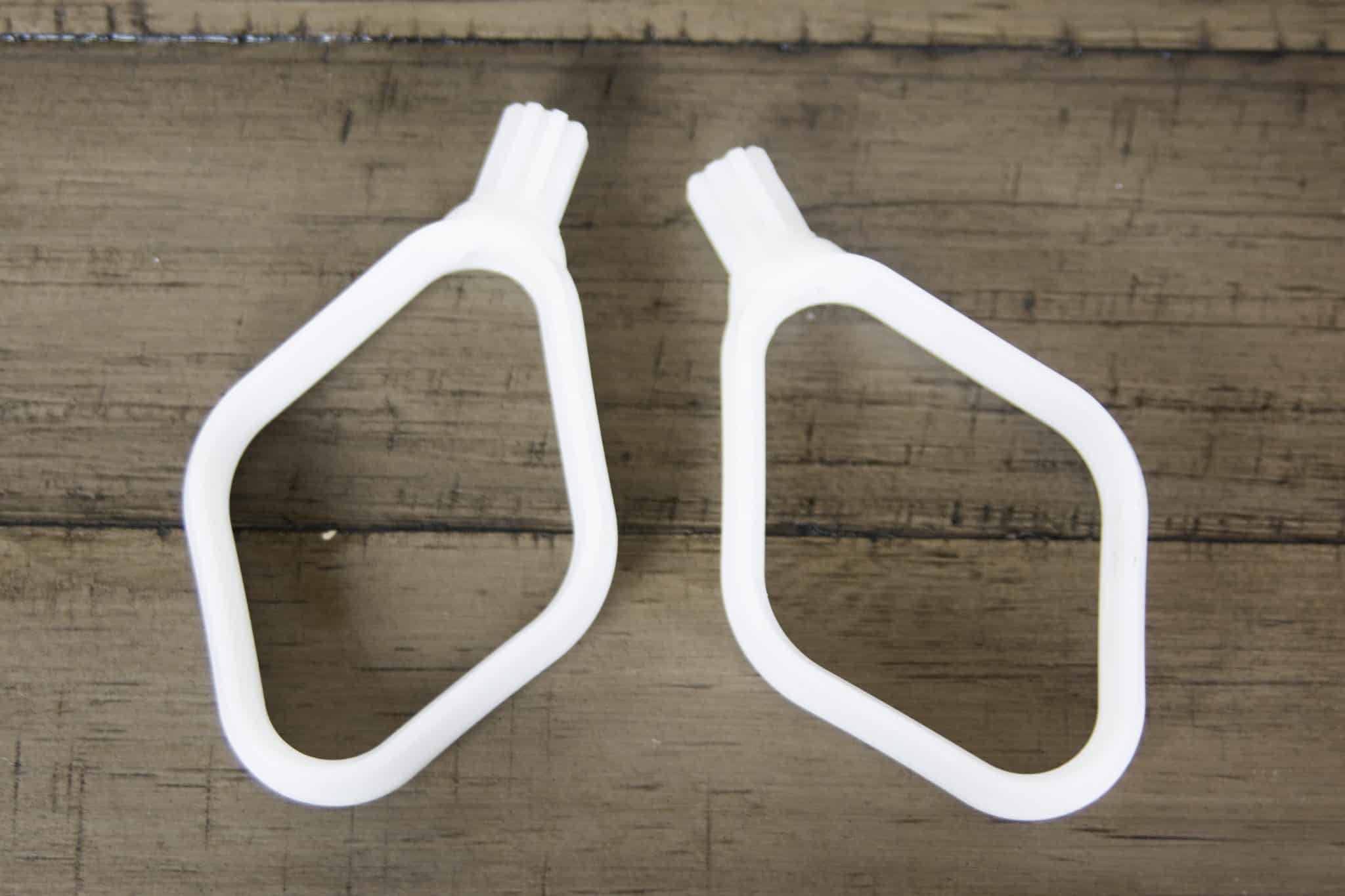 To be honest, I never used these
They do help create a smoother batter because there are fewer tines than in the wire whisp – making it so there isn't as much air incorporated.
Must-have for people who frequently make cakes and muffins.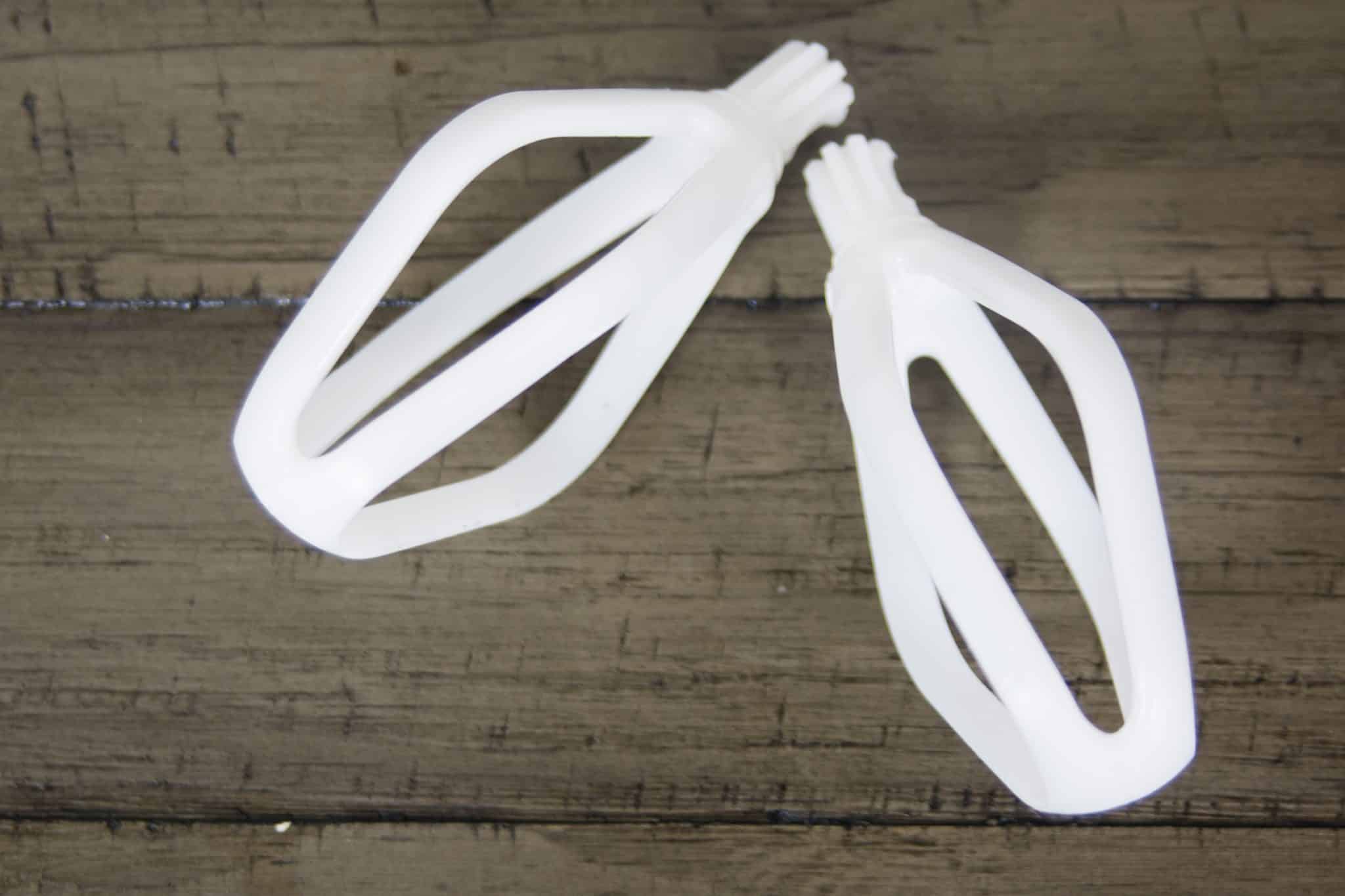 Splash shield/Lid
This comes with your Bosch
Honestly, LOVE this. It's so nice to be able to close it while mixing to prevent a mess, but it's easy to remove and add in new ingredients if needed
This lid is one of my top features that I find superior over the Kitchen Aid.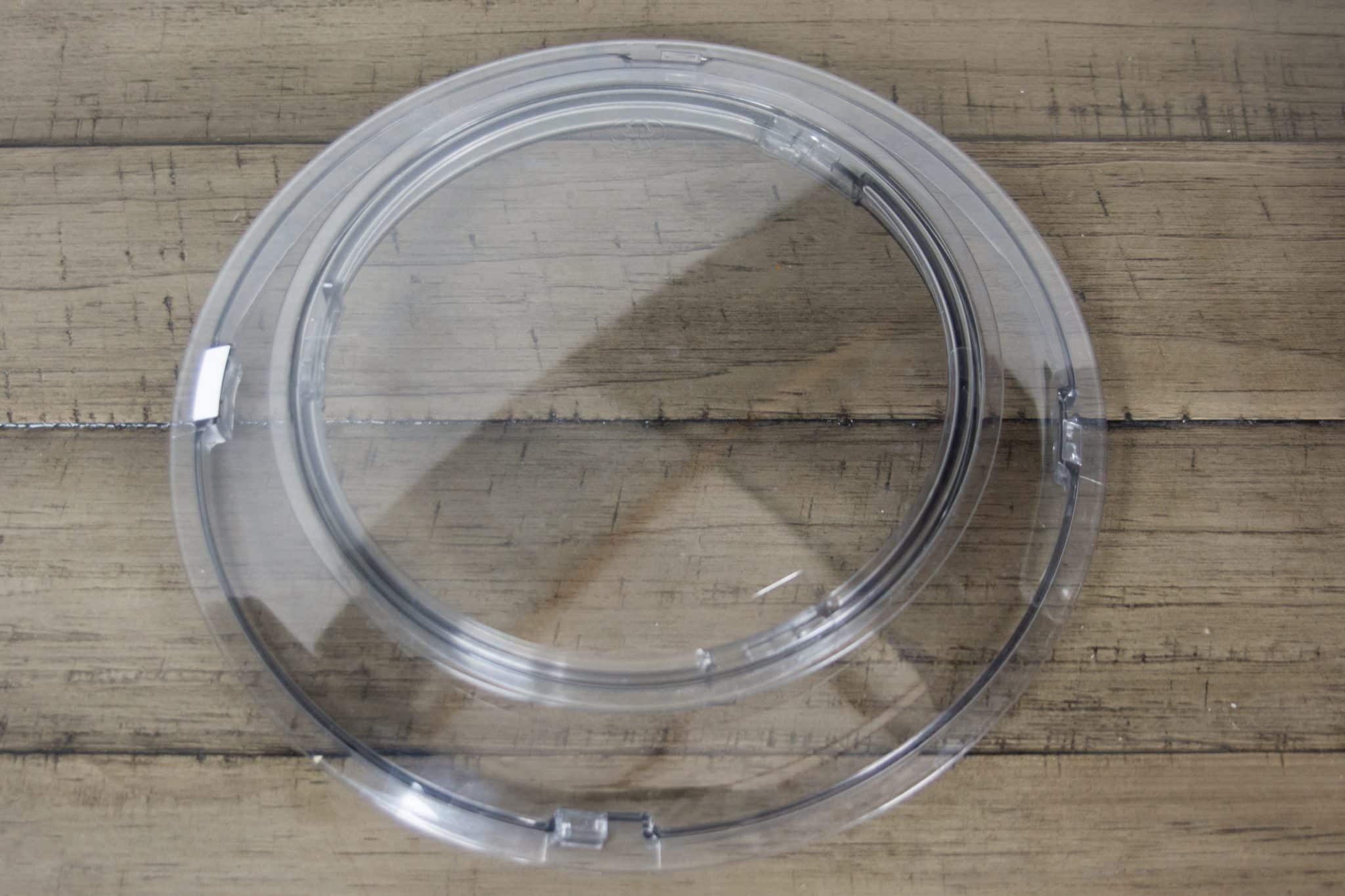 Bosch Accessories Available:
When people think of Kitchen Aid, they often think about how many accessories they have. The Bosch has tons, too!
Here are some that you can purchase (more details on each of them can be found in the post I wrote about the Bosch previously):
Necessary for other accessories – such as the berry press – to work
Helpful if you grind your own meat
There is a less expensive version that doesn't work with other accessories
Seems sturdy – more similar to the Kitchen Aid
Good for those who want to avoid plastic
Must have the food and meat grinder
Can be used to juice/press small fruits and vegetables
Might be helpful for those trying to save space and have fewer appliances
6 quart capacity
Stainless steel blades
Superior over the wire whisps that come with the machine because they have fewer tines
This helps you to incorporate batter more easily without the extra air
Ideal for sauces, dips, and batters
Inexpensive attachment that can really improve your usage of your Bosch
Allows you to slice and shred
Comes with the shredding blade, grating blade, and slicing blade
You can buy additional blades – julienne disk, fine shredding/grating, and french fry blade
Great for speeding up your preparation processes
This is handy for scraping the side of the bowl for cookies, cake batter, and more
Comes with the Baker's Package
This is a very popular attachment
It comes with a pasta roller, and 6.25mm pasta cutter (fettucini), and 1.6mm pasta cutter (angel hair)
You can also use it for crackers, wontons, and even fondant
Lots of attachments
Great if you are looking
KitchenAid Artisan Overview and Review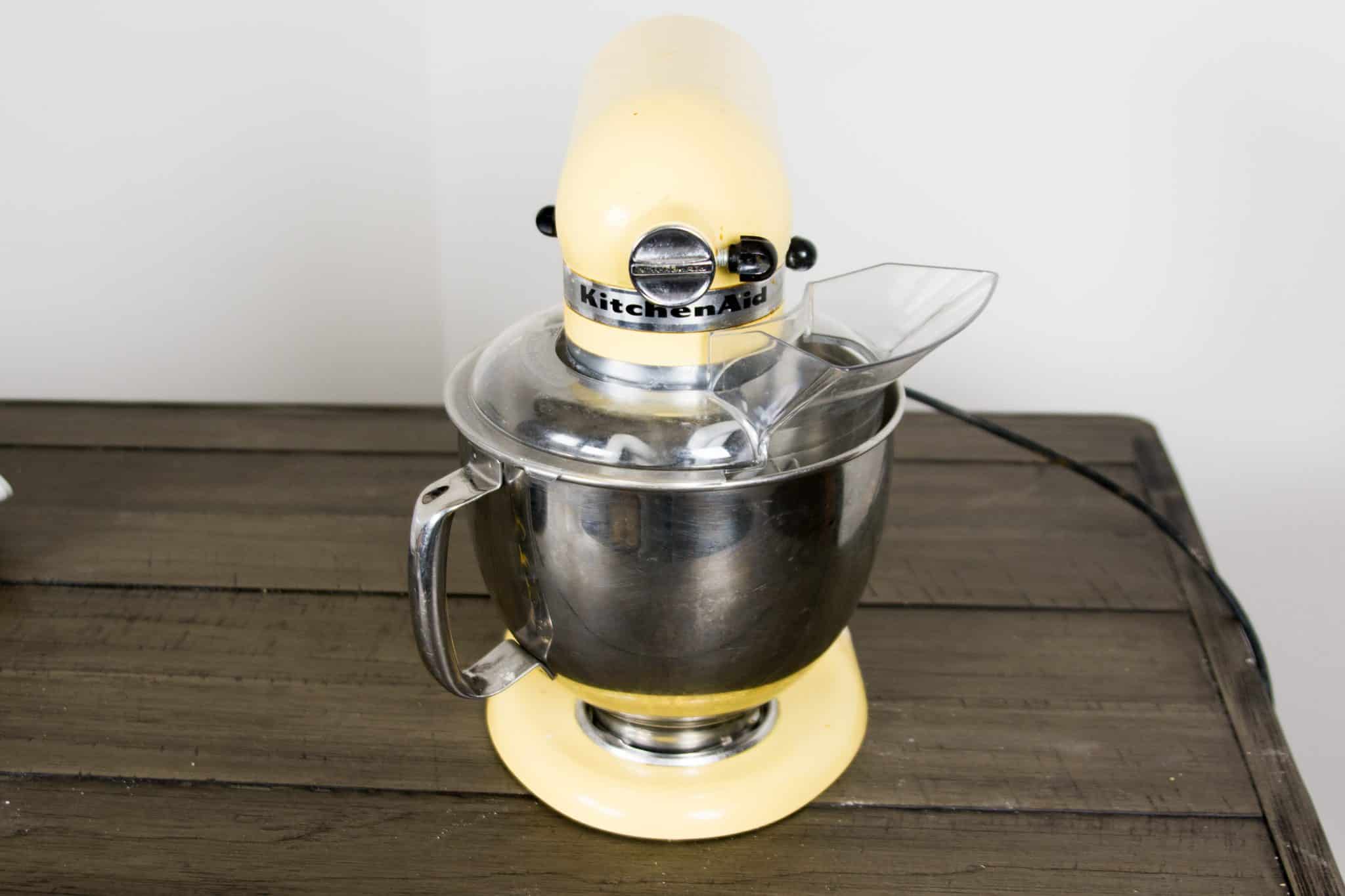 My mom has a KitchenAid Heavy Duty, and she has had it for many years – probably around 20-25 (it was around for as long as I can remember). Although they no longer make this model, they still make parts that fit with it, which she appreciates it. There's nothing more frustrating than having an expensive appliance that you can't buy replacement parts for.
We both agreed that the tilt head was easier to use than the crankshaft version, which is what my mom had. The Pro series from Kitchen Aid use this mechanism as well.
What it Comes With:
When you buy your KitchenAid Mixer, it will include: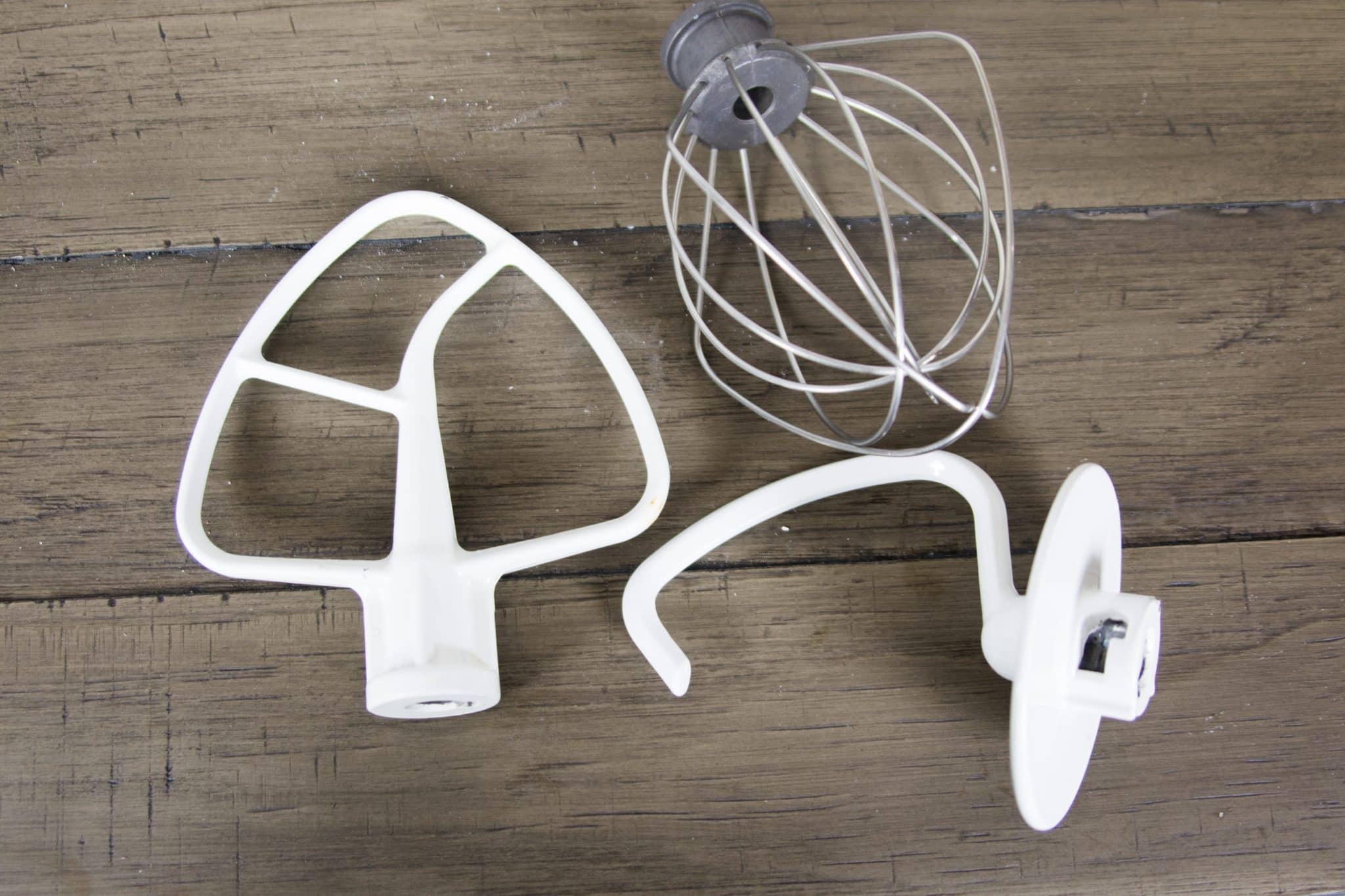 Things I Like:
Butter whipping

I just think it's easier to beat butter with my KitchenAid, especially when it's cold.

Good for smaller batches

It does a great job with all of my cookie and dough recipes that are smaller. Everything mixes up well. We also really like to make frosting in it.

Very aesthetically pleasing

I love how it looks, and I love that you can pick one to match your kitchen. Because it's so heavy, it's not really ideal to get it in and out of the cupboard every time you use it.

It is very heavy

Although it's not fun to carry out, chances are, you'll just put it on your countertop and leave it there. I don't ever worry about it falling off. It shakes much less than my Bosch.

User-friendly

It's just very straightforward and easy to use. There is not a huge learning curve associated with it.

They continue making parts for older machines

As I mentioned, they no longer make the KitchenAid Heavy Duty that my mom has – however, she has no problem getting replacement parts for it when she needs to.
Things I Don't Like:
Stuff flies all over the place

No matter what I do, ingredients always fly out of it, especially if I have to add ingredients while it's on. Don't get me started on how much I hate putting powder sugar in it. The pour shield doesn't do a thing.

The Cord

It just kind of hangs out, and I often find it in the way when I'm not using it. I think I've seen people would command hooks on the back to hold it in place, though.

Mixing tools not compatible with other models

If you upgrade to a different model, you will likely need to get new mixing attachments.

Doesn't seem to get the sides or the bottom very easily

Whenever I am mixing, I usually have to get the sides or bottom using a plastic scraper. Not my favorite thing to do!
My Accessories:
Coated Beater:
These come standard with all mixers, and they are great for a variety of tasks.
I personally LOVE the flex edge coated beater – it incorporates things better than the one that comes standard with the mixer
I use this for cakes, cookies, frosting, and batters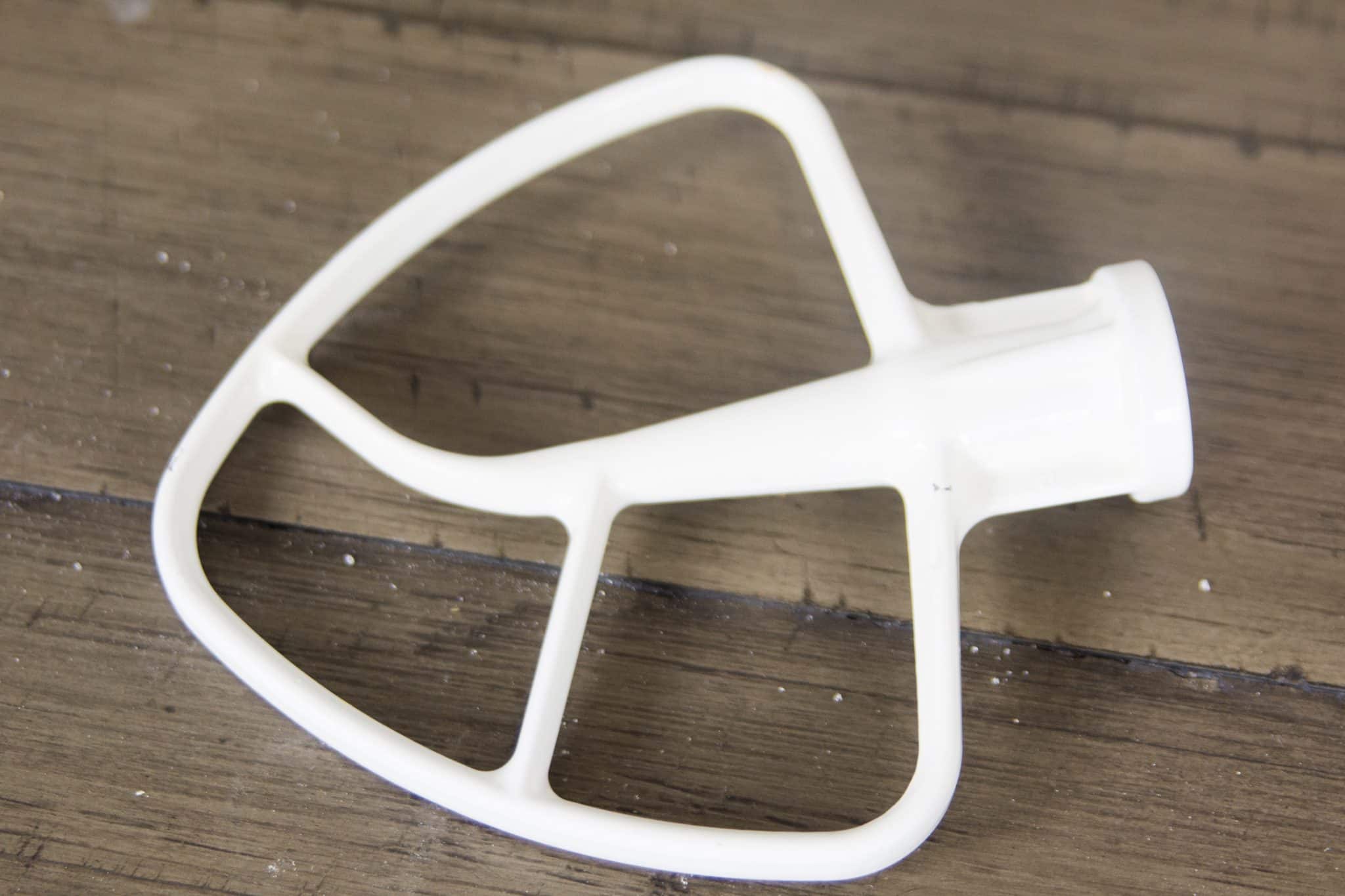 Dough Hook:
This also comes standard with KitchenAid Mixers.
The Professional Series has a larger one – the parts are not interchangeable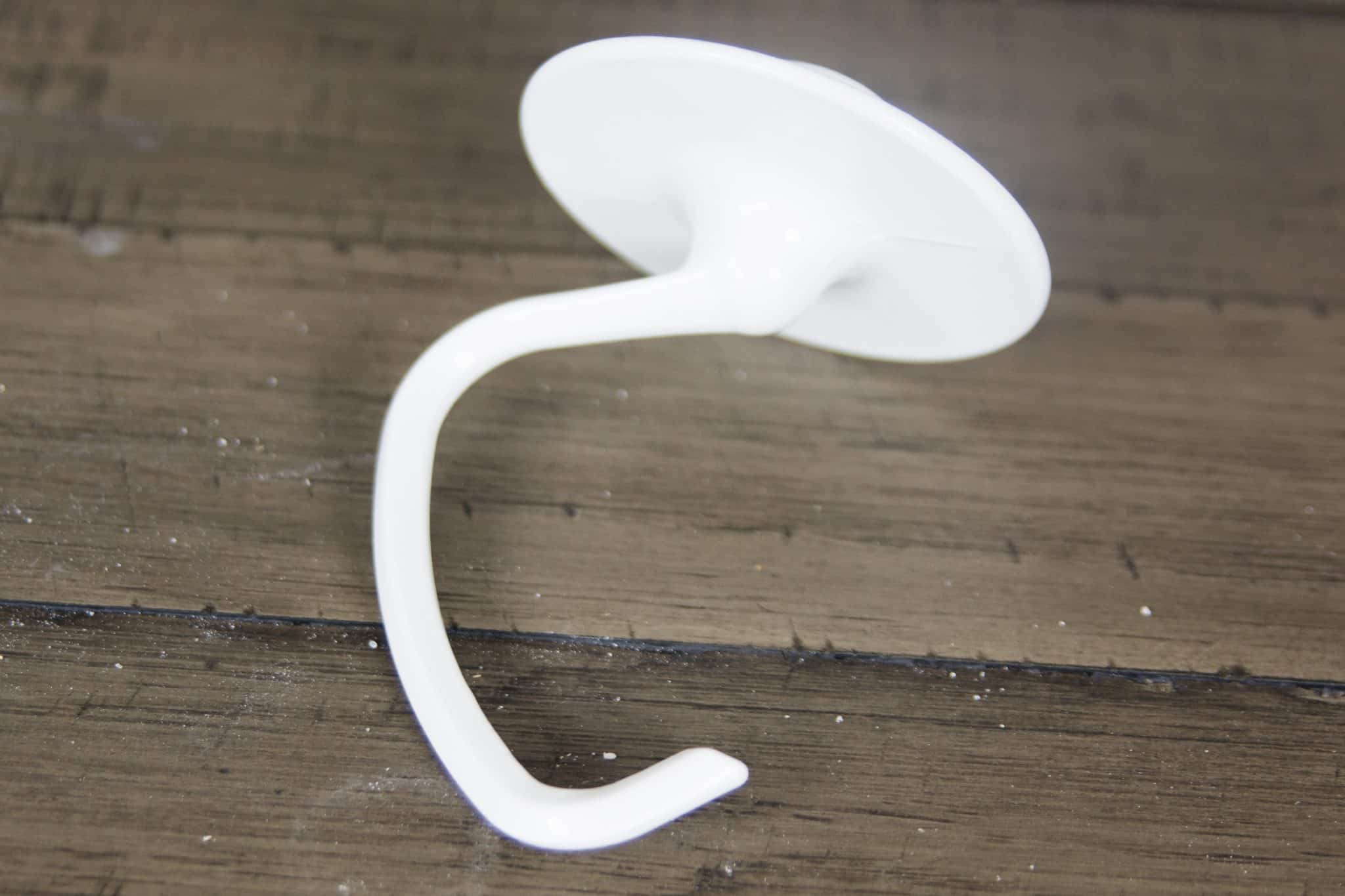 Wired Whisk
This is great for whipping frostings, cream, egg whites, and more!
Mine has never needed to be replaced in over 12 years!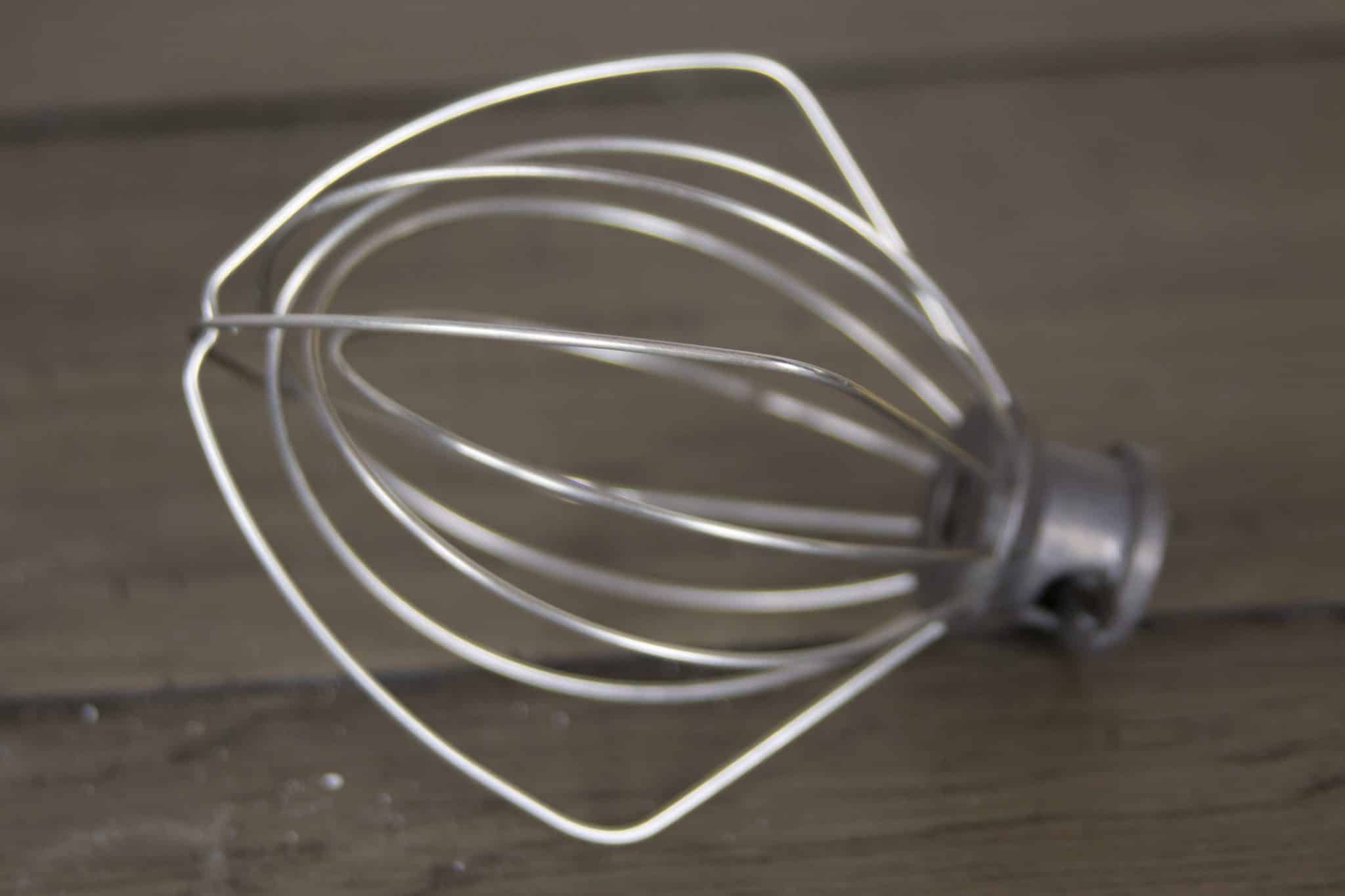 The Splash Shield
This is not my favorite tool. I think it can prevent some mess, but I still find that ingredients fly everywhere (such as powdered sugar)
I'm not even sure where mine is anymore!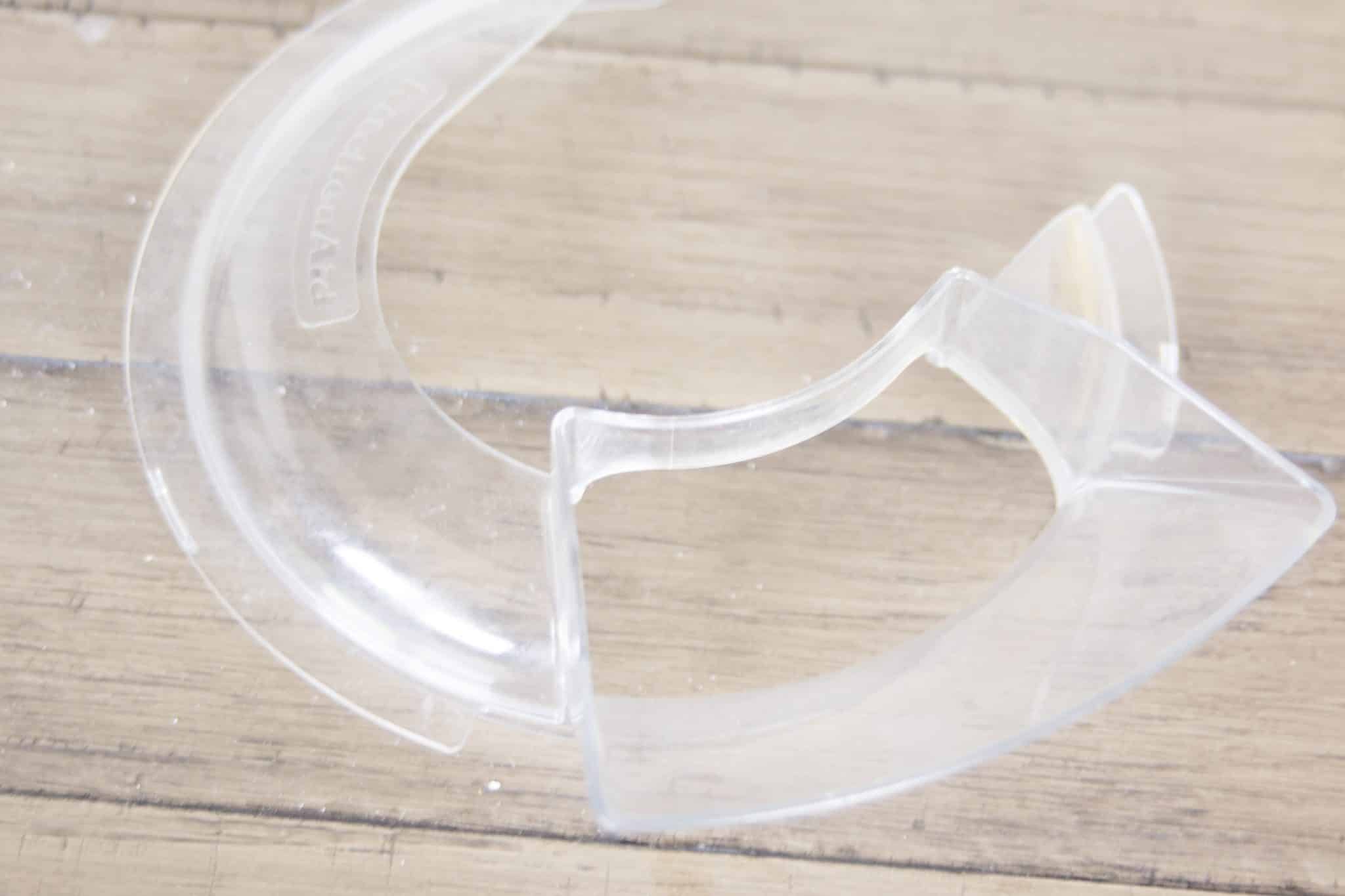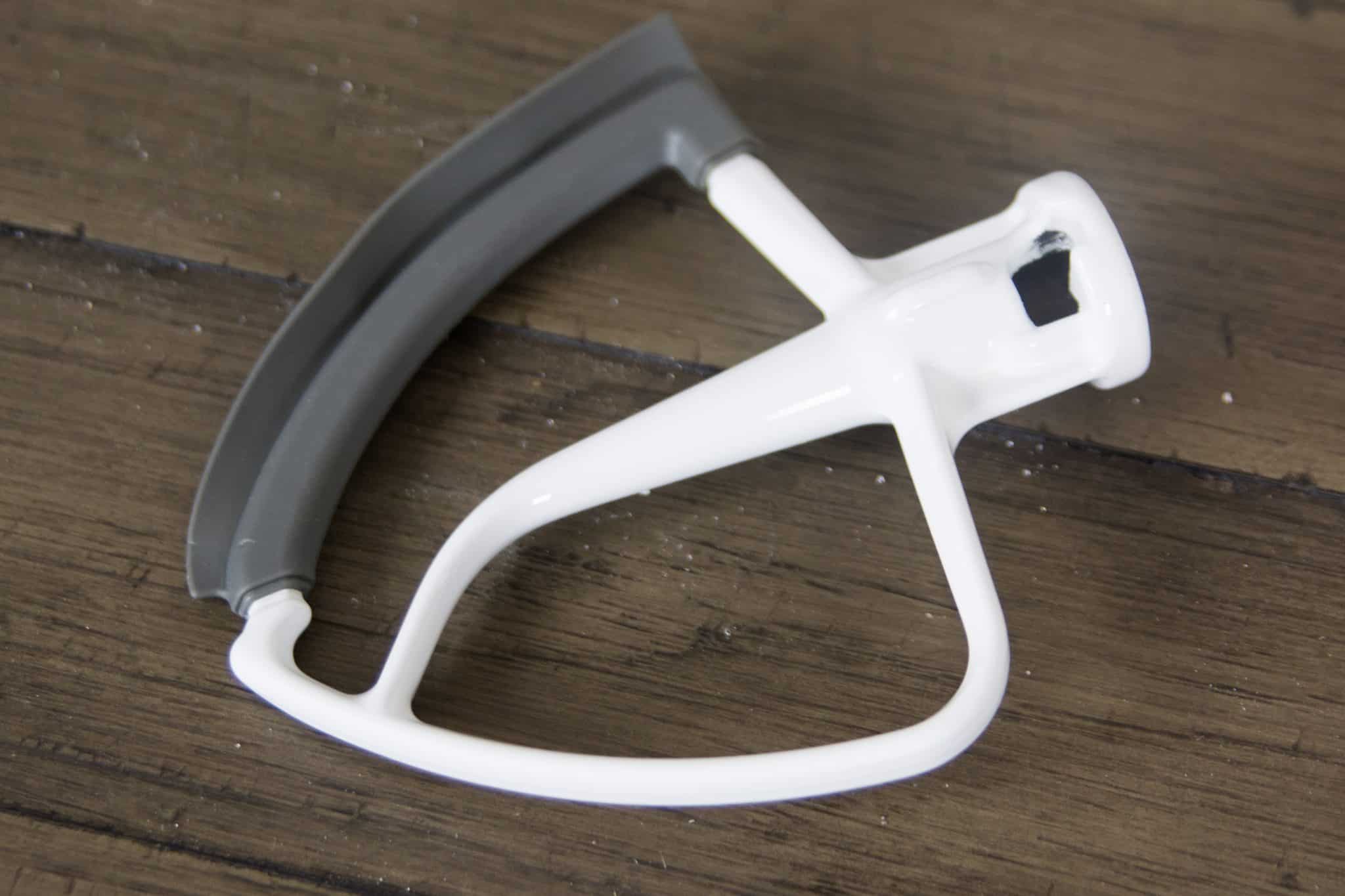 Additional accessories available:
The KitchenAid Mixer has TONS of accessories to make your machine even more versatile. Many of these are similar to what the Bosch has to offer.
I have not personally invested in any, but I think some of them are very tempting to get, especially if you are looking to downsize the number of appliances in your kitchen:
You can find all these on Amazon or on Kitchen Aid's website (make sure to check compatibility with your mixer)
Mixer Mix-Off
It only makes sense to share which of these mixers we think do the best job for different jobs. In our mix off, we've compared:
Whipped Cream
Rolls
Cookies
It should be mentioned that ALL of the mixers can handle these, and for the most part, it does come down to personal preference. We have included an at a glance chart for each section, with details below it on how the mix-off went.
Whipped Cream
Kitchen Aid is my overall winner efor this one.
I used the wire whisps for both the Bosch and Kitchen Aid to do whipped cream
They both created great whipped cream
The Bosch took about 30 seconds shorter to whip the cream
The texture was very different

The Kitchen Aid whipped cream was very airy
The Bosch created a more creamy texture
Both were delicious!

Although I prefered the results from the Bosch, I have a lot of trouble consistently making whipped cream with my Bosch. Because of this, I always use one of my Kitchen Aid Mixers instead.
Rolls
I was excited to compare the bread making ability of the Bosch and the Kitchen Aid because I love making homemade bread and rolls. I've found myself making larger batches as of late, and my dear old Kitchen Aid was really struggling – one time it turned off completely, and I thought I broke it!
We used my Quick Dinner Rolls Recipe for this "experiment". This is a very small batch recipe.
Overall, I felt the rolls tasted better from the Bosch

They were less dense
Ingredients seemed to be better incorporated.
Liked the texture and taste better

With the Kitchen Aid Pro, the ingredients did incorporate well, but I found them to taste more "yeasty" than with the Bosch
I prefer the Bosch for making bread and rolls.
Cookies
⭐️ Overall: Kitchen Aid – Artisan for smaller, Pro for larger batches
This is the main place where I am split.
With the Bosch:
LOVE how many cookies you can make with the Bosch
I like the potential of the bowl scraper (though the execution I have had issues with)
I don't love that you aren't supposed to cream cold butter in it – especially not with the cookie paddles. Some of my favorite cookie recipes require cold butter.
I also have found that the whisks seem to cream butter better, and it is a little annoying to switch from the whisk to cookie paddles.
My experience with the bowl scarper
Bosch has the bowl scraper, but for some reason, I've had issues with it.
It doesn't seem to sit correctly for me, so it doesn't end up scraping the inside of the bowl, and sometimes it falls off while mixing
On the outside it does beautifully, and I LOVE that. After talking with some friends who have a Bosch with the bowl scraper, they don't have this problem, so I'm thinking it must be a user error. But it's definitely been a downside for me.
With the Kitchen Aid:
I like how the paddle attachment can whip butter super easily and fast – even when it's cold.
I do find that even when I'm using my paddle that has the scraper on it, it doesn't get everything on the side, so I usually have to come in with a plastic scraper, which is annoying.
The Artisan tends to max out at about two dozen cookies, even though it's supposed to be able to handle 9 dozen. I used it to make some Gingerbread Blossom Cookies, and it sounded like it was going to explode. It was shaking all over the place as well.
The Pro 6 is a beast and can handle large batches of cookies with ease. However, I find it a little trickier to do just 1-2 batches at a time. You could get the Pro 5 or the Artisan if you aren't planning to make very large batches.
Overall, the Kitchen Aid is always my go to when it comes to cookies. I just find it more convenient and straight forward.
My Experience
Honestly? I have all three mixers sitting on my countertop. I use them all!
Not only do I think it is useful to be able to use them all at the same time (like for the birthday cake and frosting I am making later this week), but I do think they serve different purposes in my kitchen.
With Kitchen Aid
Growing up, I always admired my mom's KitchenAid mixer that sat proudly on her countertop. Kitchen Aid has the nostalgia factor for me.
⭐️ That KitchenAid has lasted many, many years, and she still lovingly makes rolls, cookies, and other treats for her many children and grandchildren.
When I got married, I registered for a KitchenAid mixer. I dreamed of making delicious treats and homemade baked goods for years to come.
My parents were so generous and bought Forrest and me the bright yellow KitchenAid Artisan Mixer that sits in our kitchen now. It's followed us through many moves, made hundreds of batches of cookies, and reminds me of my time growing up.
We have had this mixer since 2010, and although the motor doesn't seem to be as good as it once was, 12 years later and it's still kickin' and helping us make delicious food.
We now have the Pro 6, and it's taken me a little bit of time to get used to it, but I do really like it. I did find the bowl we got started to rust after the first wash, which is frustrating.
The main downside for both of these for me is the cleaning. The bowls are just trickier to clean if it's not rinsed out right away.
With Bosch
I've had friends and family members RAVE about the Bosch for yeras – so as I began to work more with homemade bread, it made sense to try it out.
Of course, there was a part of me who felt like I was cheating on my KitchenAid mixer…because I really do love it. But I thought it was worth trying.
I do LOVE the capacity!
The results – when I get it to work correctly – are consistent and high-quality
But overall, I find that it has a lot of pieces, and I feel like I'm always messing up, not using it correctly, and it just has a lot of pieces.
I do think the Bosch is a great mixer, and I know many people who absolutely love theres. I'm glad I have one, and when I am making larger batches of things, it definitely comes in handy.
Stand Mixer Reviews from Others
I think any good review shares thoughts from others. I've tried my best to be unbiased, but at the end of the day, nothing is truly unbiased. So I thought it would be fun to share thoughts from other people. It was really interesting to me to read all of these
More Bosch Mixer Reviews
"Bosch for about 17 years. It even fell off the counter one time when kneading dough and still works. And I have been making at least 6 loaves of bread each week all this time." -Tammy
"Bosch for over 16 years, with no problems – except for the blender that came with it. It wasn't that great and broke probably five or six years ago. Can't remember how." – Jamie
"I got a Bosch compact as a wedding gift. The only issue I had was that after 5 years the whisk attachment melted off when I was using it. I was making cream cheese frosting for 200 cupcakes for my sister's wedding. The frosting was thick. The friction heated up the metal shaft and melted the surrounding plastic. I still love and use it, just don't have a whisk attachment." – Brianna from Flippin' Delicious
"Had a Bosch for 15 years. I've never had it break down, but I have had to replace my beaters twice and my blender once. The beaters because of user error, and I literally wore out my blender. I LOVE it!" – Rachel
"Bosch for 18 years. Never a problem. Lots of baking and bars have gone through it. My brother has my mom's Bosch going on 35 years old. Still does amazing with all needs!" Kami
"I have my Grandmother's Bosch. I don't know when she got it. I think it was when my dad was a kid or teen. And he is over 60 years old. It hasn't needed any repairs since I've had it, but it is on its last leg." -Brittani
More Kitchen Aid reviews
"I've had KitchenAid mixers for the last 35 years. My first one was a hand-me-down from my mother, and it lasted about 15 years after she gave it to me.It was a 5-quart lift. My second was a five-quart lift bought a refurb from the KitchenAid outlet, also a 5-quart lift. I had it for about 10 years and passed it on to my daughter and got a 6-quart pro, which is what I have now. I bought it as a refurb from Amazon. The mixer works fine but I need to replace my whisk because I think it's out of alignment and seems to hit something in the bowl. I do large batches of cookies, and I also use the meat grinder attachment on a regular basis. I think it works fine for what I do, and I like the different attachments. I have a wheat grinder, grater, and the meat grinder. I don't use my mixer for making bread dough, so I can't say there." – Marie
"I have a KitchenAid. I've had it 6 years I think. It hasn't broken, but it's a bit louder than it used to be. I think from too many double batches of chocolate chip cookies lol!"- Brittany
"Kitchen aid, the mechanism that locks it down into place (top to bottom) broke like 3 used in and I never fixed it. I still use it though." Christa from Pura Vida Moms
"Kitchen Aid for almost 12 years and we've only had to replace the paddle attachment because it started to chip. We've had our second paddle for maybe 3 years and it's starting to chip too… but as far as the mixer- still looks great and works great!" Cindy from Infertilitees
"I have had my kitchen aid almost 10 years with zero issues." – Amber from Amber Simmons (Professional HD)
"Kitchenaid Pro for 12 years, other smaller models for 2 or 3. I've stripped the gears on the pro twice now. It's about a $20 fix. It's also unusual to strip the gears, but I'm also a lot harder on my KitchenAid than most consumers. The first time I was making 144 Dinner Rolls for a party. The second time I was making a giant 10 pound Oreo. " – Rachel from The Stay at Home Chef
"My mom has had two Kitchen Aids, and she loves them. If you get them serviced regularly (once a year), they hold up well. She had the one for 12ish years before she upgraded to a bigger mixer." – C.C.
"KitchenAid for 20 years. Luv it!" Pat
Reviews from People with Both
"I have both. Have had for a long time, more than ten years I feel my Bosch is better for large batches such as 6-8 loaves of bread dough and double batches of cookies. It doesn't do as well for frostings and small batches. I like my kitchen aid for smaller batches and for whipping." – Dee
"Well for one, I don't like the open bowl with the Kitchen AId. Even with one of that half bowl covers flour and lose stuff like that always flies out when I turn it on. Even if I try to do a little at a time. And I just hate having to pull the head up every time to get into the bowl. I just like the lid with the Bosch, and it just seems more user-friendly. All you have to do is take the lid on and off. You don't have to tilt the head up to get the bowl out or anything." – Mauri
"I think the Bosch is more user-friendly, I think because of the mixer is on the bottom. Kitchen Aid is known for all its attachments. Bosch definitely has a bunch, too. I prefer the Bosch. Kitchen Aid is nice because it's cute and sits on the countertop, so it's easy to not have to get it out. The wire whisk on the Kitchen Aid isn't the greatest in my opinion." – Kennedi (a professional baker)
"I have a Kitchen Aid Tilt Head and have had it for 8 years. I have never had a problem. My mom has had her Kitchen Aid Lever Raise for 35 years. The motor has gone out once in it, but other than that, she hasn't had any problems either! My least favorite part is that flour and sugar get in all the screw heads, nooks, and crannies, making it hard to clean." – Sarah from High Heels and Grills
"I have decided that the perfect combination is the smaller (5qt) kitchen aid (it does a better job of incorporating ingredients than the professional model) and a Bosch. I like the kitchen aid for smaller things, but I use my Bosch all the time. I felt like ingredients always got stuck on the bottom of my professional kitchen aid- so I sold it and bought the cheaper version. The Bosch is a lot harder to clean, but things mix so much better, it never overheats, and my bread dough especially turns out sooooo much better. I do have a few of the Kitchen Aid attachments and use them a lot (the wheat grinder and the pasta roller)." Kathryn
"I've had mine for about 5 years. I bought it used from a yard sale so I don't know how old it really is. It's a professional model, the kind that the bowl goes up and down, not the head. I love it. I had a mini Bosch too and I like the kitchen aid much better and it takes up less space on my countertop. I use it about 4 times a week. I make all sorts of stuff in it including kneading bread." Annette (MODEL KSM5)
"You most likely won't have trouble with either and you "could" have trouble with either if for some stupid reason you get a defective one (highly unlikely in both cases). My grandma has had two KitchenAids throughout her adult baking life (19-93 and both still working, second KitchenAid and grandma) and my mom is now on her second Bosch (30-67 also both still working, second Bosch and Mum)" – Lorena
"Bosch. I have a Kitchen Aid and pretty much strongly dislike it. Mom had a Bosch that was heavily used for years and it was wonderful. My Kitchen Aid bowl started to rust after about 3 uses – always hand washed and I had to fight them to replace it. It doesn't ever, ever pull everything from the bottom. I have a good hand mixer that I actually prefer to use over my Kitchen Aid nearly always." – Carrie
So there you have it! Our take on the KitchenAid vs Bosch stand mixer debate. Both are great machines, but we think the KitchenAid might just edge out the Bosch for us. What do you think? Let us know which mixer is your favorite in the comments below! And if you're still undecided, be sure to check out our comprehensive guide to choosing the best stand mixer for your needs. Happy baking!
Check out these other favorites from Clarks Condensed: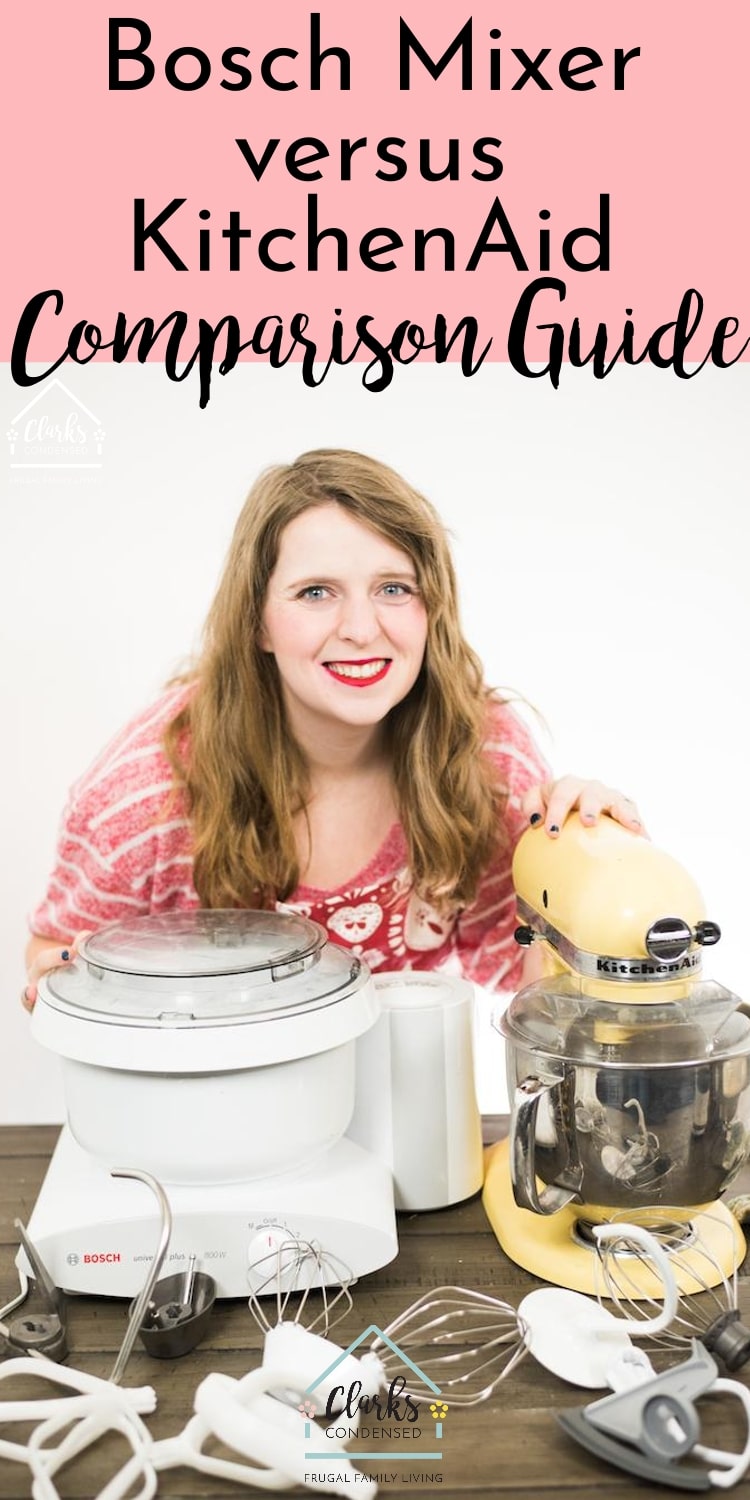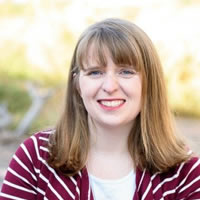 Katie is a Colorado-native, BYU graduated, and most importantly, wife to one and mother to three beautiful boys. She is passionate about sharing her experiences with others – especially about pregnancy, breastfeeding, cooking, and crafts. She is an International Board Certified Lactation Consultant. She loves spending time with her family and helping others find joy in family life.