If you are considering purchasing a Glowforge, you have t read this post first! It outlines 16 topics that you should consider before you buy your Glowforge 3D Laser Printer!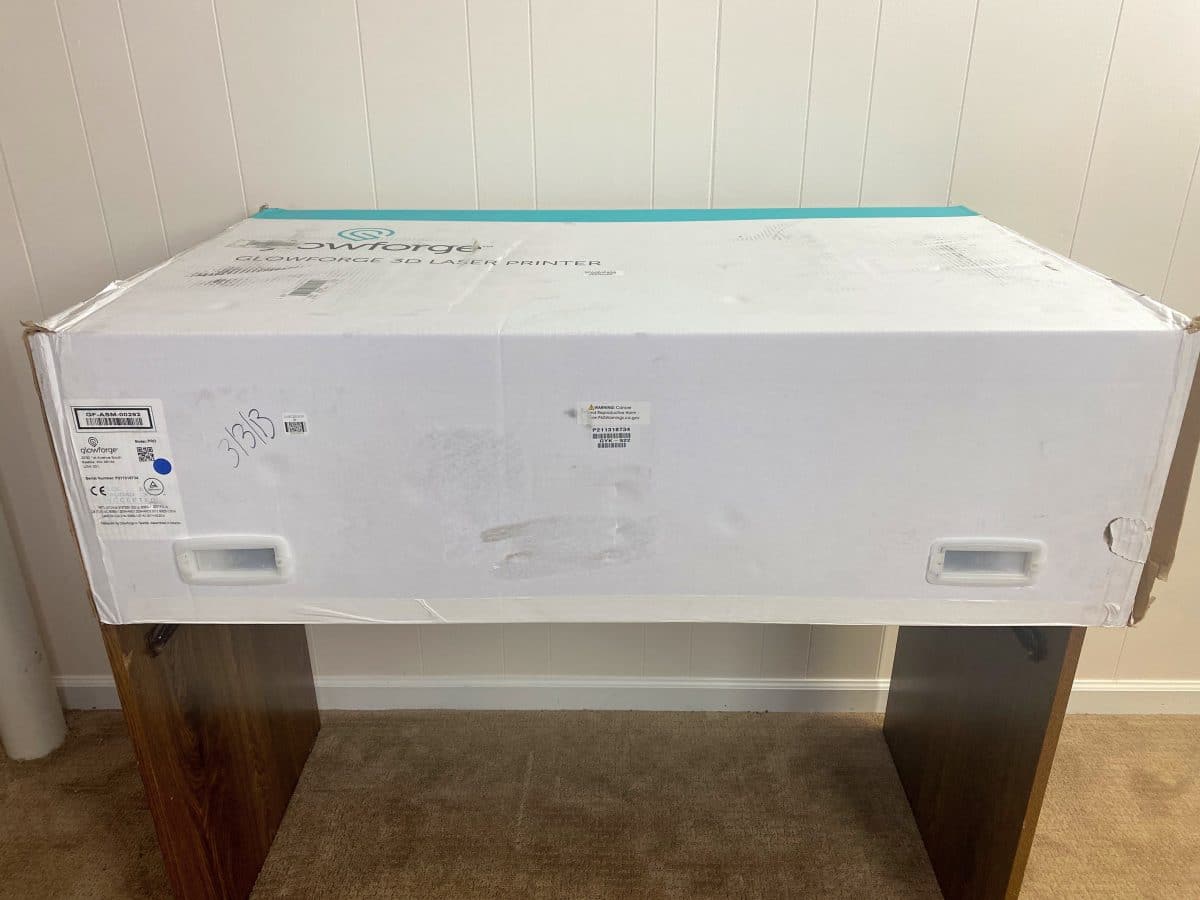 So, you're considering purchasing a Glowforge.
Congrats! These are pretty neat machines, and they can really take your creating to a whole new level. However, they are a BIG purchase – and it's not a decision to take lightly.
Chances are, if you are reading this post, you are hoping to get a little bit of advice on what you should know before you take that final plunge – or maybe some advice on whether or not it's the right machine for you.
I'll be honest, not everyone should get a Glowforge. It's not just a machine that you should buy on whim or just buy to use once or twice a year. Understanding the investment involved and determining if it's worth it for you is really the first step.
Let's dive in!
Are you ready to take your Glowforge to the next level? Make sure you signup for "Grow with Glowforge: Project Jumpstart Guide". It's the ultimate resource for going from feeling overwhelmed by your project creation to confident and making $$$! We even have a couple design tutorials!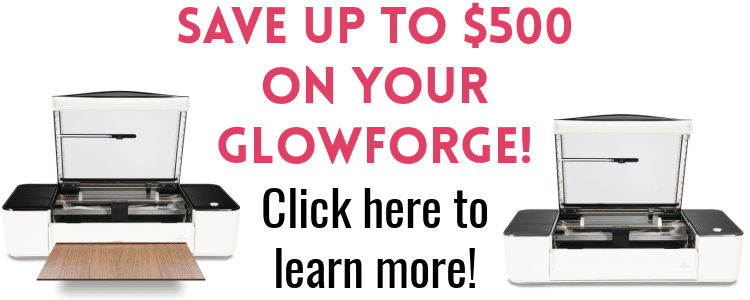 What is a Glowforge?
You probably already know what a Glowforge is, but if you stumbled onto this post on accident or out of pure curiosity, here's a brief overview.
Glowforge is a compact 3D laser cutting and engraving machine that can be used for personal and commercial uses. The device is so easy to use that even children or amateur designers can create stunning works of art pretty easily. It primarily can cut, engrave, and score with ease.
The device comes with free software and built-in cameras to keep track of the work progress in real time from your computer.
Glowforge can cut a variety of materials such as wood, acrylic, paper, leather, rubber, and much more. It can also be used to engrave on tougher materials like glass, coated metal, marble, aluminum, titanium and more.
Laser printers are not a new invention, and there are other home-based machines out there. However, Glowforge has gained a lot of popularity in recent years, and it has a pretty robust community. People are making a lot of money with their Glowforge machines, which is one of the main allures.
What does a Glowforge do?
The device uses CO2 laser for precise cutting and engraving. The machine produces a powerful laser beam in a sealed glass tube that is filled with CO2. High voltage flowing through the tube reacts with the gas and produces a strong beam of light which can vaporize materials and cut through.
Glowforge supports a huge number of file formats and design tools to bring your imagination to life.
Why Glowforge?
Most cutting and engraving devices available on the market use saw blades and drill bits. This can get risky and messy at the same time. Accidents caused by saw blades are very common.
On the other hand, Glowforge uses a powerful laser to cut and engrave materials. The device is very safe to use, doesn't create a mess and most importantly gets the job done seamlessly. The laser allows the device to cut and engrave materials with absolute precision.
Glowforge is suitable for anyone for it's simplicity and ease of use. Not to mention the safety and precision that comes with it.
Is Glowforge Worth It?
This is really important question to ask. What is the reason behind purchasing one? Do you have a solid business plan in place for a business that Glowforge can help you grow and earn money with? Do you feel limited by what you can do with your Cricut or Silhouette and you have the funds to afford this new hobby?
I'm not here to say who should and should not spend the money on a Glowforge. If you have the money and you just want one just because you want one – then go for it. But I'm a big believer in knowing exactly why you are purchasing something and being accountable to that money.
Which Glowforge model is best for you?
Three models of Glowforge are available depending on your requirements and uses. Make sure to read this post to help you decide – Glowforge Comparison: Which One is Right For You?
How Much Is A Glowforge?
The Glowforge costs between $3,995 and $6,995, depending on which model you get.

There are different costs associated with your Glowforge you should consider. Of course, the most obvious cost is the machine itself:
The Glowforge Pro is $5,995
The Glowforge Plus is $3,995
The Glowforge Basics is $2,995
If you want to buy the Glowforge Air Filter, this is $999, though many don't find this helpful. In addition to the filter, you will need to purchase:
Materials and Supplies
A digital caliper (not required but very helpful)
Design Software (check out our favorite Glowforge Design programs here)
A table that's large enough to hold it – thrift stores can be a good option for this!
On top of the cost of your machine, I would say most people have an initial investment of $500-1000. Of course, this can vary significantly depending on what you spend it on!
As mentioned above, the cost of your Glowforge directly from Glowforge is between about $3,000 and $6,000, depending on what model you get.
There are three retailers that sell Glowforge machines as well:
Michael's
Joann Fabric – They also have the option to rent a Glowforge as well.
Amazon
Basic
Plus
Pro
Glowforge.com
$2,995
$3,995
$5,995
Michaels.com
–
$3,995
$5,995
Joann Fabric
–
$4,394.50
$6,495.50
Amazon
$3,995
Unless you have a really compelling reason, I would recommend buying directly from Glowforge. This is the only place you can take advantage of our coupon code, too!
You can get $500 off the Glowforge Pro, $250 off the Glowforge Plus, and $125 off the Basic with our referral link.
Glowforge Coupons
Glowforge has a few different coupons to consider:
There are coupons available for the Glowforge machines – as far as I am aware, these are the only discounts they offer on the actual machines. When you shop through our link, you can get :
$500 off the Glowforge Pro
$250 off the Glowforge Plus
$125 off the Glowforge Basic
Glowforge often puts its materials on sale throughout the years. I see sales up to 50% off different types of Proofgrade materials. If you are on their email list, you will get notified of these sales. They are also posted in the Glowforge website app.

Another coupon to look out for is when they offer the option to extend your warranty. Last year, they deeply discounted this around Christmas.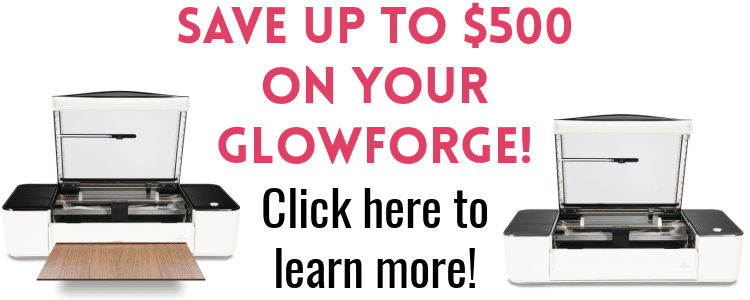 Shipping Times
This may change with time, but currently, the wait time for getting a Glowforge can be several months. Some people feel a bit blindsided by this, and while it's worth the wait, it is something to factor in.
What is better than Glowforge?
There are a variety of different laser machines available on the market. Glowforge is well known and reputable, but it's certainly not the only option. Here are some Glowforge alternatives that are top rated that you may consider:
OMTECH Laser – This is the most popular alternative I have seen. They have a variety of sizes and powers.
CNCShop Laser Engraving Machine
Full Spectrum Hobby Series
ZMorph 2.0 SX
How long will a Glowforge last?
A Glowforge machine is built to last. With proper care, maintenance, and ensuring you only use high-quality materials, it may last for many years.
There are people who complain about their machines breaking within a year of getting them. While this is rare, it does happen. This is why it's important to have you warranty details on hand if it does have issues.
Often, the people who have their machines break may not have been using their correctly and keeping up on the maintenance.
How long does the laser last on a Glowforge?
It's possible that your machine may not totally break, but the laser wears out. You can replace just this. The laser should last for about two years and costs $500 (including labor) to replace.
Glowforge versus Cricut and Silhouette Machines
I have had Cricut and Silhouette machines for years – they are AMAZING, and I love them, and I feel that they've really made it so the average person can afford a high-quality machine that allows them to create so many different things.
While there are some similarities between a Glowforge and a Cricut or Silhouette machine (which I will dive deeper into in another post), here are the key differences:
Laser versus Blades
Cricut and Silhouette machines use a variety of different blades to cut, write and score on materials. The Glowforge uses a laser for engraving, cutting, and scoring. It's just a very different process.
Although the Cricut can technically engrave, the Glowforge really blows it out of the water when it comes to engraving. However, for basic engraving projects, the Cricut will do.
Materials
The Glowforge is meant for thicker, hardier materials like wood, acrylic, glass, leather, etc. That's where it truly shines. With Cricut and Silhouette machines, they are going to be better at materials like vinyl, cardstock, and paper.
Size
The Glowforge is huge – there's no way you are going to throw it in a cute carrying case and bring it with you when you travel or over to a friend's house for a craft night. The Glowforge is huge and heavy, and it is really just going to stay put wherever you put it.
Sound
Cricut and Silhouette machines are definitely much quieter than the Glowforge. I honestly am not bothered by the sound of the Glowforge, but it is quite a bit louder!
Safety
Both machines can be safely used pretty easily, but there are more safety precautions that you need to take when using the Glowforge – specifically when it comes to venting.
Learn more about Cricut and Silhouette machine options below:
Where do you live?
This might seem like a weird question, but where do you live? Do you live in a single family home, a townhome, or an apartment?
It really shouldn't matter, but if you live in an apartment or a home that has someone else SUPER close to where you are using your machine (especially where you are venting), it might cause some problems with neighbors who don't like any extra noise. If you live in a place where you can't easily vent your Glowforge, that might be problematic as well.
Do you have a WiFi enabled device (computer, tablet, etc)?
In order to use your Glowforge, you will need to have a stable WiFi connection and a device to access the Glowforge App.
The Glowforge app is a browser-based program. It can be used on a Desktop or Laptop, tablet or smart phone, but I will say in my experience, using it on a Desktop or Laptop is a lot easier than using the program on your phone. Certainly not impossible, but you definitely want to consider the ease of use when spending thousands of dollars on a machine.
Additional Glowforge Cost Considerations
I saw recently in a group where a lady said she was surprised at how much money she spent on materials for her Glowforge. So the investment doesn't just end with the purchase of your Glowforge. You have to continually buy materials, and depending on what you make and where you buy them from, this can really add up.
Of course, if you are selling products, you have to just factor this into how much you charge (and maybe don't buy a bunch of materials before you know you'll get sales).
Other costs to consider:
Computer or Tablet suitable for using the Glowforge with
Any design programs you choose to buy
Laser cut files that you purchase
Desk or table that can fit your Glowforge
Fees for selling projects (online, vendor fees for in-person fairs, etc).
Venting
In order to safely use your Glowforge, you need to be able to vent out the fumes that are created when it is used – and yes, this is a requirement.
Space Requirements
The Glowforge is a large machine. We have a pretty large crafting space in our basement, but we had to clear off a pretty large table for it. We exclusively use our other crafting machines on our DreamBox, however, the Glowforge was a bit too big. And honestly, even if it had fit on the table, I wouldn't have wanted to use it there because the allure of the DreamBox is that it folds up nice and tidy.
Ideally, you'll have a room where you can have your Glowforge stored – and not, say, on your kitchen table. It needs a solid, large surface that you can justify giving up the real estate of that area for the length of time you have your Glowforge (which will hopefully be a long time!).
All three models of Glowforge are 38″ x 20.75″ x 8.25″, and you want to have at least an inch of space on each side of the Glowforge.
Join Glowforge Groups
There are so many fantastic Glowforge groups that you can join on Facebook, and there are also some great forums too. The Glowforge community is alive, well, and, for the most part, very friendly and helpful.
It can be helpful to peruse through these resources to see what issues people have, what they'd wish they'd known before getting started with their Glowforge or buying one.
My friend, Amber, and I run a new Glowforge group – come and help it grow! Click here to join.
Consider Renting One
Select Joann Fabric stores actually have Glowforge machines that you can rent. I couldn't find any near me that do, but if you have one in your area, it might be a good idea to rent one and see if it's a good fit for you. I can't really find any specific details on this program. It sounds like they are sold on an hourly basis, and the one comment I read from a year ago said it was $15 an hour, though I suspect the exact details will vary from store to store.
You could also ask around and see if you have any friends or acquaintances who have a Glowforge that would be willing to let you try it out.
Used Glowforge vs. New
There are lots of people looking to sell their Glowforge machines for one reason or another. While this can help you save a buck or two on your machine, I would definitely proceed with caution. Here are a few things you should keep in mind:
Is it still under warranty? While this isn't required, it is helpful – especially when buying a used machine that you can't guarantee the history of.
Why are they selling it? A person can certainly lie about why they are selling the machine, but it's a good idea to ask why.
Test it out. Make sure you test the machine out to ensure it actually works. Never just take someone's word on it!
Ask questions. Don't be afraid to ask lots of questions – if they skirt around a question or seem dodgy in any way, be wary about proceeding.
Buy it in person. Never buy something from someone who says they will ship the product to you unless it's through a platform that will protect you. In general, if it seems too good to be true…it probably is.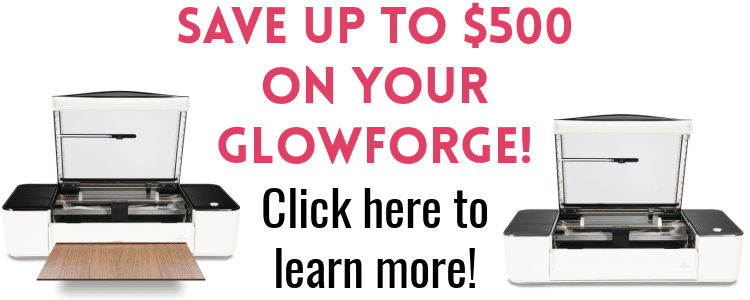 Check out these other favorites from Clarks Condensed: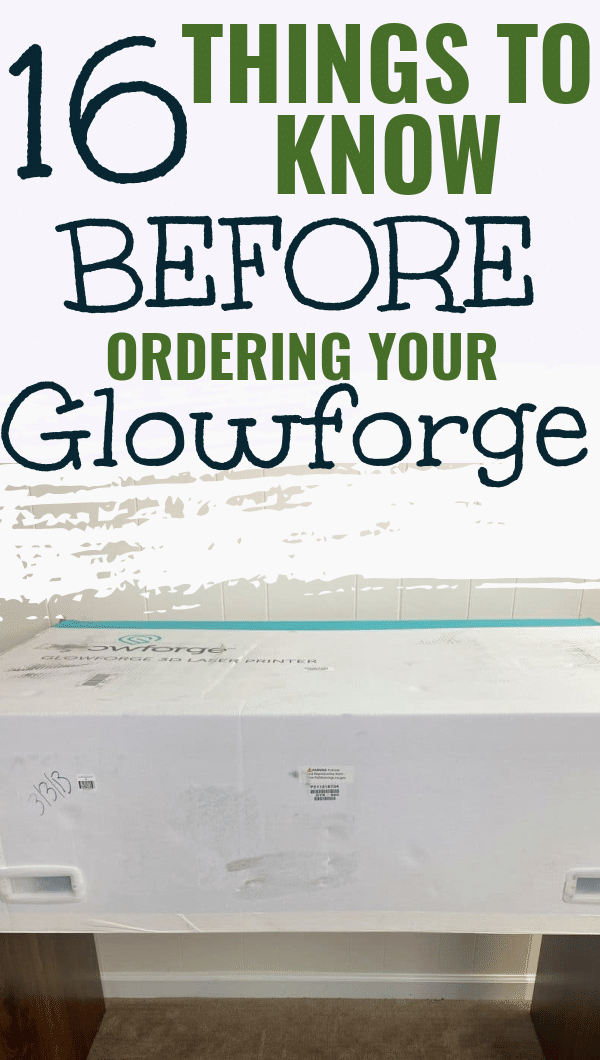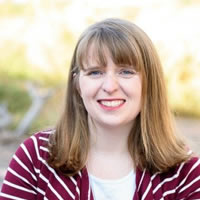 Katie is a Colorado-native, BYU graduated, and most importantly, wife to one and mother to three beautiful boys. She is passionate about sharing her experiences with others – especially about pregnancy, breastfeeding, cooking, and crafts. She is an International Board Certified Lactation Consultant. She loves spending time with her family and helping others find joy in family life.