Can't get your hands on an Owlet monitor now that they are off the market in the United States? Here are some of the best Owlet Alternatives you might want to consider!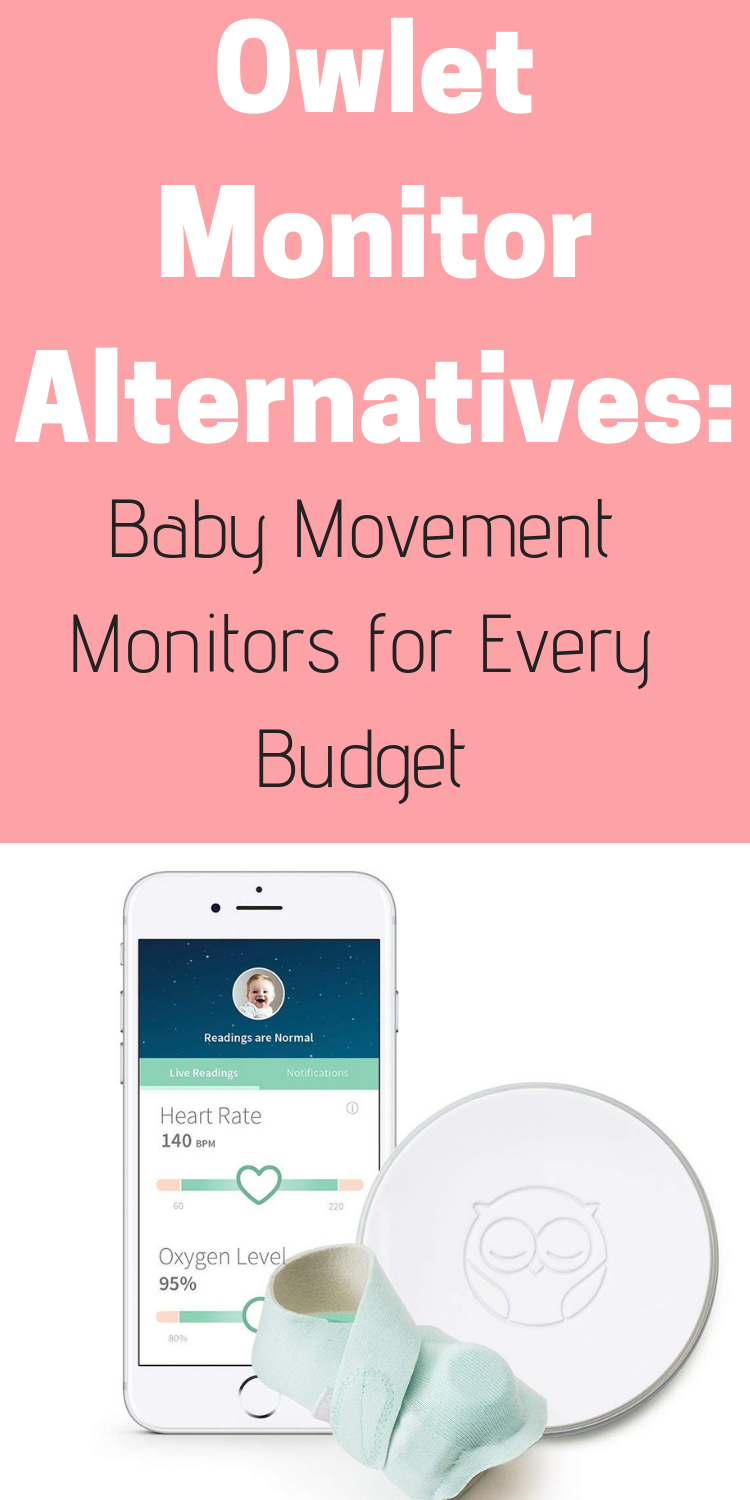 Whether you are a first-time parent or having your fourth- one thing never changes- and that is the desire to ensure that your baby is safe.
You may have heard about the Owlet Baby Care Monitor– a smart sock that keeps track of your baby's heart rate, oxygen level, and sleep. Over time, other companies have come out with their own products that also help give parents the peace of mind they need when their baby is sleeping.
We've shared our story about how Owlet helped us with our youngest, Oliver, and we still love it and are very grateful we had it when we did. They've improved the design, the app, and the reporting it can give you since Oliver was born three years ago, but it still does one thing – it helps give parents a better night of sleep.
With that said, while the Owlet baby monitor is a great product, we wanted to share the other options available at all different price points to help you make the most informed decision possible. The price of it is nearly $299, which is just not within reach financially for many parents (though they do occasionally have refurbished units for around $199, so be sure to click here to see if those are still in stock).
We hope that this guide will help you decide if the Owlet Baby Care monitor is the right one for your family. While critics of these types of products will say they aren't necessary, any new (or experienced) parent will tell you that sleep is a precious commodity during the first year of your child's life. And if a baby vital monitor can help you sleep better – it's 100% worth the investment.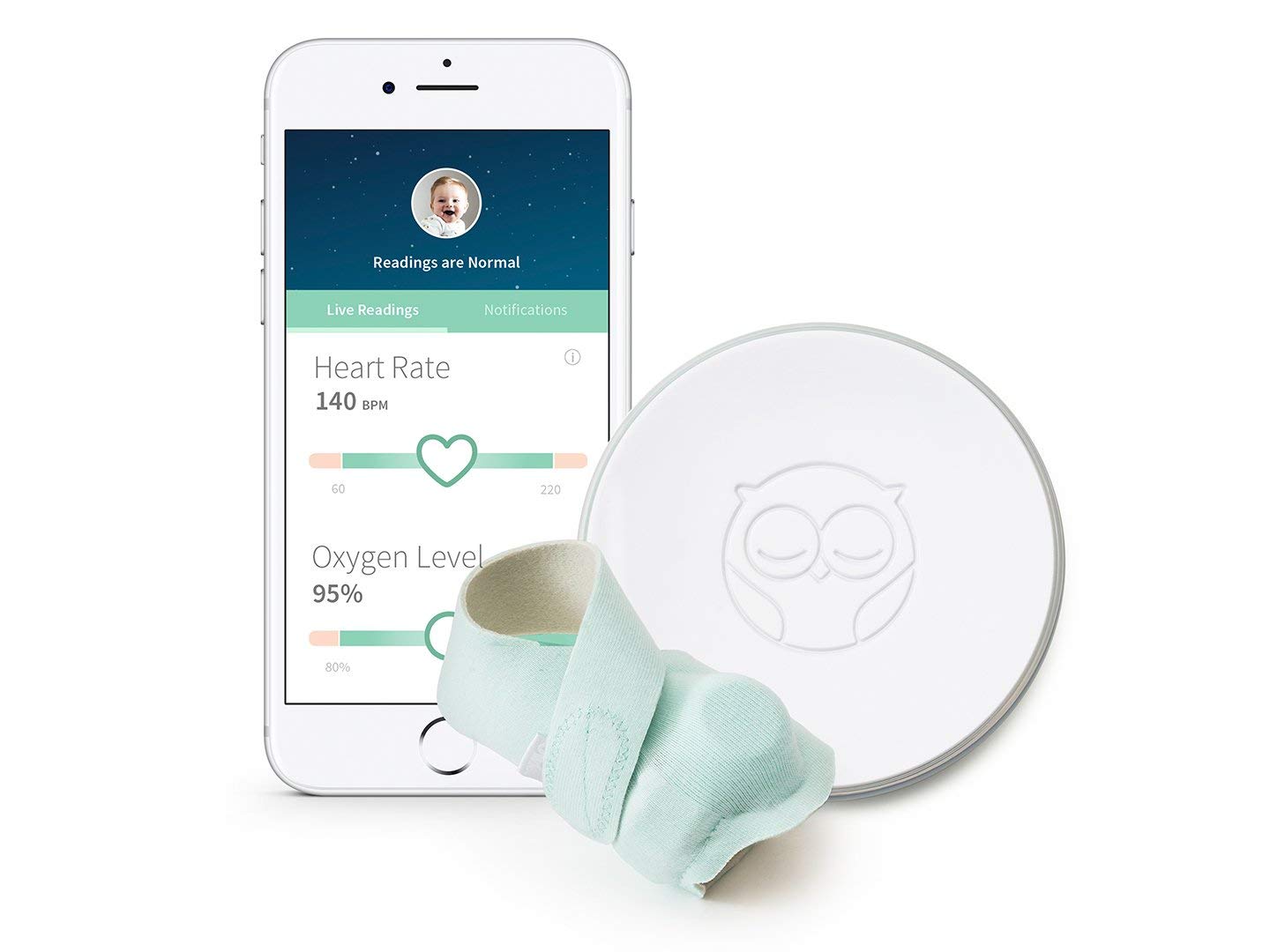 Before we get started with sharing some Owlet competitors, we thought we'd share some of the key features of the Owlet Baby Care Monitor:
Monitors baby's heart rate and oxygen levels – it will send an alert to your phone letting you know if your child's levels are gone outside of their preset range
Connected Care – this is their service (which is now free) that keeps track of historical data, shows you sleep trends, and allows you to share the information instantly with your doctor
Bluetooth enabled
The mobile app shows you real-time information on your baby's breathing
The main issues we had with it were:
The sock sometimes came loose
The bluetooth range wasn't super far (but the new Smart Sock 2.0 has a better range)
It was dependent on WiFi. We took it with us when we traveled sometimes, and it was hard to connect to WiFi that required a password. I would often end up using my hot spot.
The price – at $299, it is very cost prohibitive for most people.
None of these alternatives offer quite the same service, but they are definitely good for what they offer.
What happened to the Owlet Baby Monitor Camera
As of November 2021, the FDA has pulled Owlet monitors off the shelves in the United States. This is a huge bummer for many parents across the country, and I was very disappointed to hear about this myself. I'm not sure if it will ever be available again, but Owlet has said they are working on another sleeping product that will be released soon.
With all that said, I am sure there are many people looking for something similar. Unfortunately, I don't think there's anything quite like Owlet (and if there was, I suspect it would be pulled from the shelves, too). However, there are some other products like Owlet that might give you some peace of mind with your child – and here they are!
As of this writing, though, I am still seeing it for sale on Amazon.
Best Baby Breathing Monitor Comparison
Snuza Hero
I think the most commonly compared item to the Owlet is the Snuza, because it's been around for quite some time, and it's readily available in most stores.
The Owlet Baby Care Monitor and the Snuza Hero are really quite different. There is also the Snuza Pico, which is more on a similar playing ground. But the main difference between the Owlet and the Snuza is that the Snuza primarily is there to let you know if movement is no longer detected, and the Owlet actually monitors the baby's vitals.
I thought we'd start with the Snuza because we have personally used this one. It certainly doesn't have all the bells and whistles of the Owlet, but it is helpful. We often used it on road trips when Oliver was a baby and had to be on oxygen whenever he slept. Since the Owlet didn't work without WiFi, this helped us to make sure his breathing was being monitored.
Here are a few more things about the Snuza Hero.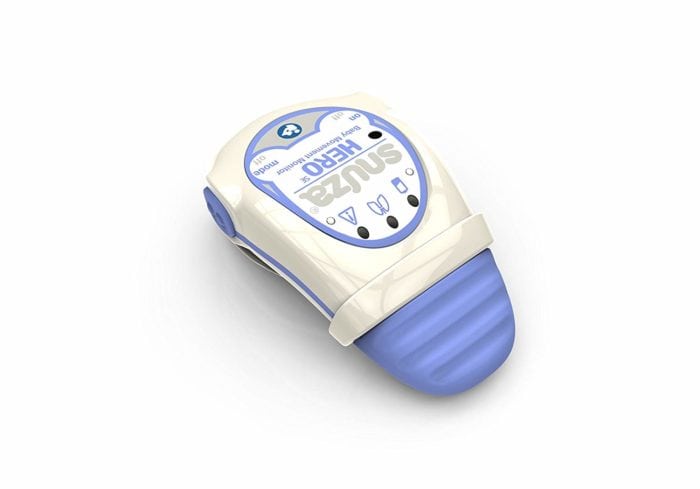 This is a wearable device that can clip onto a diaper. That means no cords, wires or sensor pads – which is probably appealing to many parents because we don't want to bring added discomfort to our newborns.
This device is also portable so you can take it to grandma's, daycare or just to another room in your home. It is run off of battery so there is no connecting to wi-fi or blue tooth- it's pretty straightforward. And it includes a 1-year warranty (excluding the battery)
After 15 seconds of no abdominal movement, a vibration stimulus kicks on. After 20 seconds an alarm goes off.
With any product, there are a few cons to this product to be aware of- which might be in commonly found in all products like this.
You should be aware that false alarms are always possible. Some reviews complained that this model is slightly too large for a newborn diaper and that the battery was dead upon arrival. You can find replaced batteries on Amazon so that shouldn't deter you too much.
The price point for the Snuza is roughly $110 on Amazon, which is significantly lower than its competitors. You can usually find it on sale, though, or buy it used from a local sales page.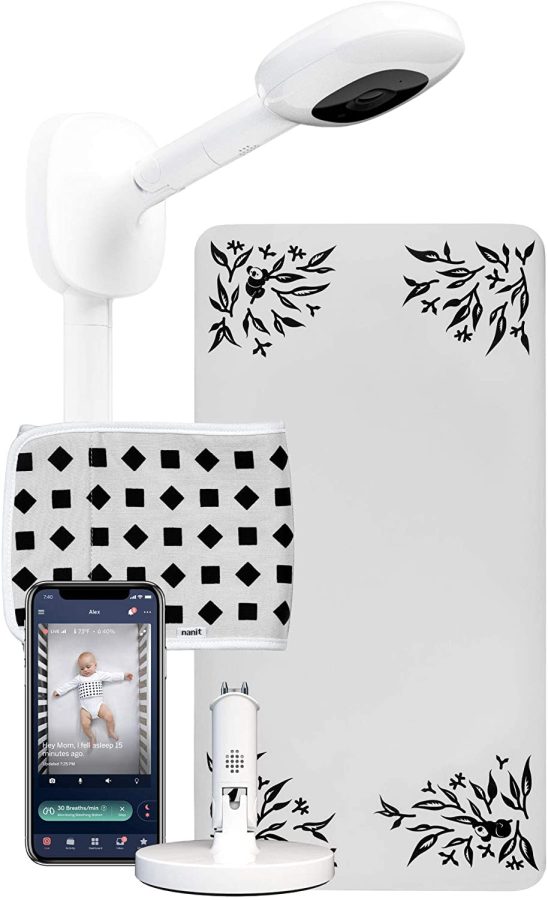 This is a fairly popular option, though it comes at a pretty high price tag. It's a monitor that uses a camera, a small sleep band, and a "smart" sheet to monitor your baby's sleep.
The camera gives you a birds-eye view of your baby, and it monitors their breathing, sleep and growth. The app is pretty handy and gives you insights into your baby's sleep, which can be helpful as you try and make adjustments. It also includes personalized advice to help your baby sleep better.
The band that is included is sensor-free, and it connects with the camera and app to track your baby's breathing. It sends alerts if there is anything abnormal or out of the ordinary detected.
One of the interesting features is that the smart sheet allows you to measure your baby's height. I think the way they measure the height of the baby's in the doctor's office is usually highly inaccurate, so I would be curious how well this works.
I like that this is easy to take places and move around – it's great that it's a baby monitor and breathing detector in one. It is pricey, but I think it offers a lot of features that other monitors don't.
At the time of this writing, it's about $284 on Amazon.
Snuza Pico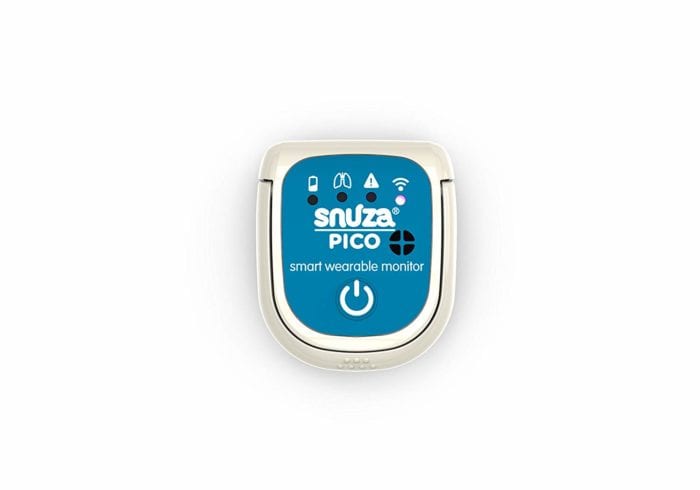 As I mentioned, the Snuza Pico is another product from Snuza, and it is certainly more in line with what Owlet offers. It can be used through the first year of your child's life, and while it's still primarily a movement monitor, it also keeps track of sleep patterns, skin temperature, and body position. Although it doesn't track heart rate and oxygen levels like the Owlet, it does provide additional insights that might help you sleep better. As your child grows, it can help you understand their sleep patterns a little bit more. It does have an app that you can use on Android or iOS.
The Snuza Pico is actually less expensive than the Hero, which seems interesting because it is definitely more robust.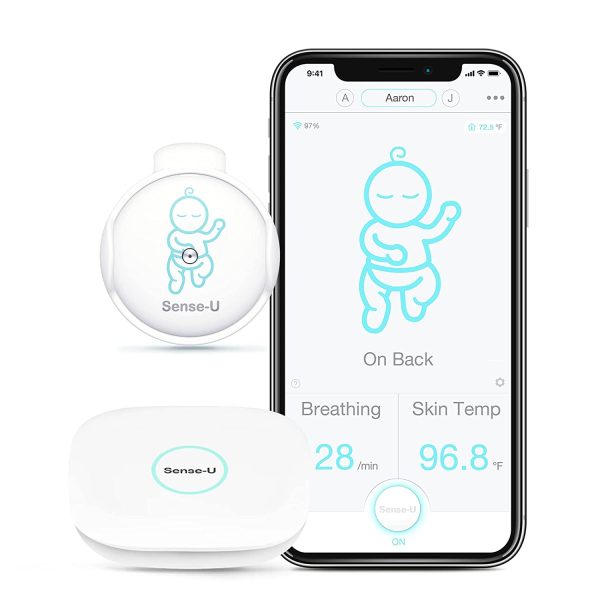 This has a portable clip that can easily attach to your baby's swaddles, sleep bag, onesie, etc. It monitors your baby's breathing with an audible alarm for no breathing movement and fast breathing movements from your smartphone.
It also notifies you when your baby is stomach sleeping. As an added touch it can help protect your baby from overheating and getting cold that will inform you of the temperature in your baby's room.
There is a 30- Day Money Back Guarantee, it uses Bluetooth Low Energy technology which has almost ZERO radiation. You can download the free app and there is no monthly charges to use.
This monitor costs around $130 on Amazon.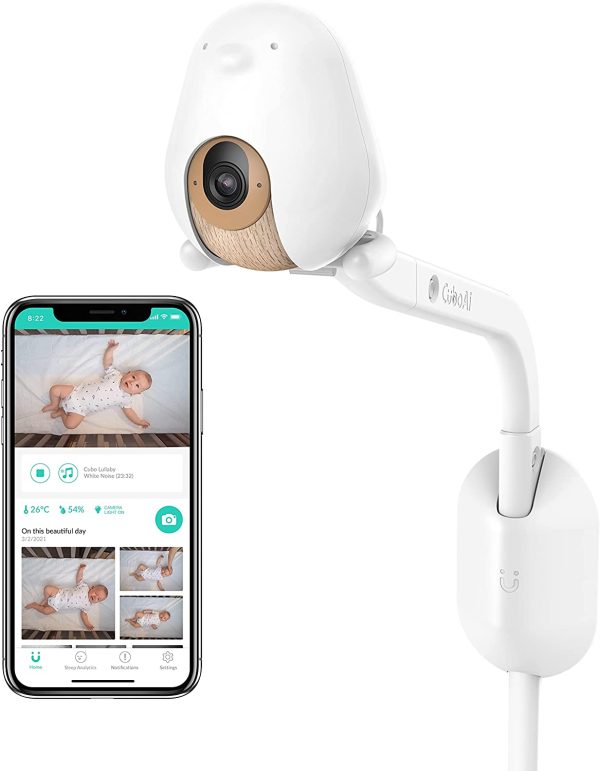 Cubo AI is a wall-mounted video monitor that uses AI to make sure your baby is safe. The system can detect if your baby's mouth or nose is covered, or if they have turned face down.
You can also set up certain areas that are "off-limits", and if your baby is detected in them, you will be notified via the mobile app.
It also provides lots of insights and suggestions into your baby's sleep to give you advice on how to help them have a more restful night. The app sends you daily updates, and it also can play lullabies and detect different types of crying.
In addition to infant tracking, it tracks the temperature and humidity in the room.
Cubo AI costs about $199 on Amazon.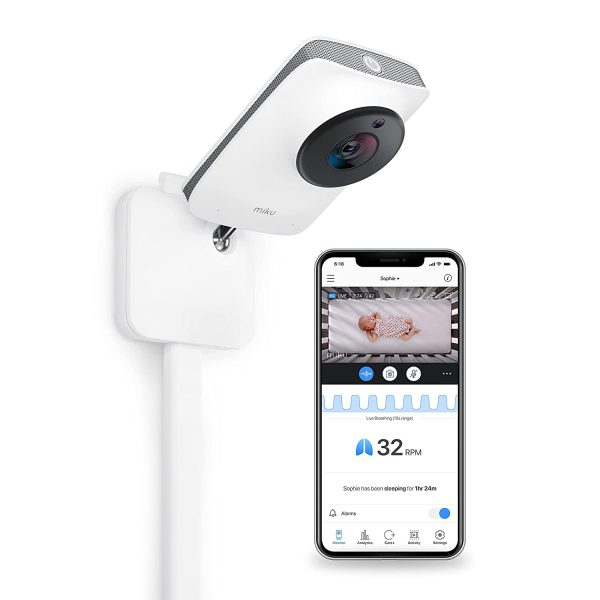 If you are looking for a monitor that is completely contact-free, the Miku Pro might be a good option for you. This monitor can detect your baby's heart rate through the camera – no wearables, batteries, or cords are required.
It uses its "SensorFusion Technology" to detect and analyze breathing, and the information is transferred real-time to your smartphone. It also gives you asleep/awake alerts.
The camera is supposed to be pretty high-quality, and it's very secure. The app provides lots of insights into your baby's sleep, such as average sleep lengths, sleep quality, etc.
This is a pricier option at $299.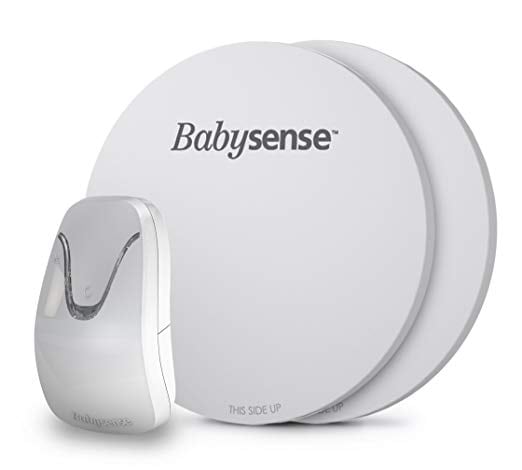 This is an under-mattress baby movement monitor. It is a highly sensitive device (lower risk of false alarms) that monitors and detects the baby's slightest movements through the mattress.
The Babysense sounds an alarm alert to check the baby if no movement is detected for more than 20 seconds or if the movement rate slows to less than 10 micro-movements per minute.
The two sensitive sensor pads provide coverage for the entire crib or bed area. This runs off of batteries and the monitor must be attached to the outside of the crib at mattress level.
Negative reviews for this product include not purchasing if you use a fan in your baby's room as it can cause a false alarm. Also, there were complaints about the sensitivity levels being off, poor customer service response, the monitor does not have an easy-to-read ON indicator, it does not reset if false alarms occur and it is not portable.
The price on Amazon is about $120.
This sound and movement monitor has a wireless, under-the-mattress Movement Sensor Pad that tracks subtle movements (like breathing) that audio and video monitors can't detect. It's been around for a while, and it was certainly one of the first in the market for infant breathing monitors.
If, after 20 seconds no movement is detected, an alarm will sound.It comes with a portable and rechargeable parent unit. On the parent unit it displays a room temperature and there is two-way talk from both units.
The Nursery Unit comes with a LED ring that glows and comes with a tabletop stand. There are adjustable sensitivity levels on the sensory pad and it is battery or mains operated- making it ideal for traveling.T
The cons for this are similar to what you might find elsewhere- false alarms, not always user-friendly, and problems with the alarm being too loud and being hard to turn off. Overall, there are plenty of great reviews for this product.
The price point on Amazon is about $130
And there you have it – an option for just about every budget. There are new options being developed regularly, so I hope that you will find the baby care product that works best for your family.
More Posts You Might Enjoy:
Cindy Maudsley lives in Utah with her husband and five children. Aside from writing, her passions include her family, faith, and spreading infertility awareness. She also loves a good book or podcast, true crime documentaries , Netflix binge, diet Coke and Target run