Dollar Tree Organization Ideas
I am a self-proclaimed neat freak and I love to be organized. I have been known to vacuum my house every day and I take great pleasure in making lists for just about everything I need to accomplish. And luckily, there are so many products out there to help me do all of that!
Now, you could spend lots of money on those items but I'll let you all in on a little secret! You can find so many great things at The Dollar Tree that can help you stay organized and help you stay on top of your cleaning duties.
The new year is the perfect time to make new goals and get in the habit of de-junking and cleaning up. I want to share with you my favorite organization and cleaning products to purchase at The Dollar Tree.
I also wanted to share some great Dollar Tree Organization Tips as well that I've found across the Internet – some people have asked for this in the past, so I hope that this might be helpful!
You might find some other great organization tips in our Dollar Tree Travel Hacks post!
Originally posted in January 2017 – updated January 2019.
1.) Air Fresheners
You will find all kinds of air fresheners at The Dollar Tree. Because they are only a dollar- you can stock up and have something for every room in your house. There is something about a fresh smelling room that makes everything seem clean!
2.) Notepads
Like I mentioned I love making lists. Nothing will keep you more organized than being able to write down everything you need to do each day! My mom always has several yellow legal pads that she uses to jot down lists for just about everything.
3.) Sponges
5.) Dish Soap
7.) Shelf liners
8.) Carpet cleaner
9.) Brillo pads
10.) Dust rags
11.) Mops
12.) Mop buckets
I love having several buckets around, they come in handy more than you might think!
13.) Dish scrubber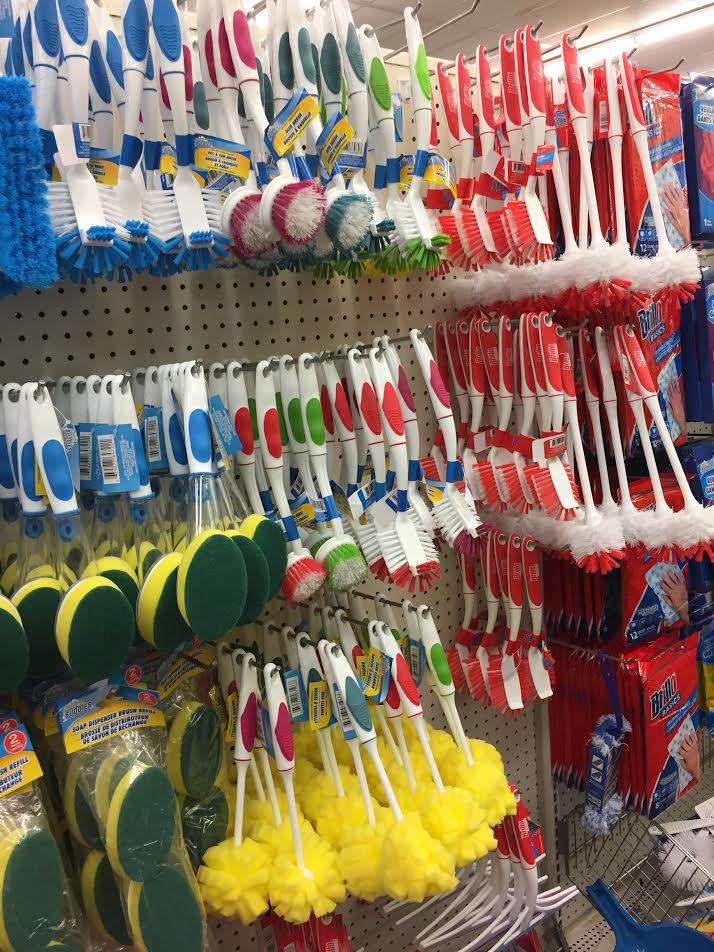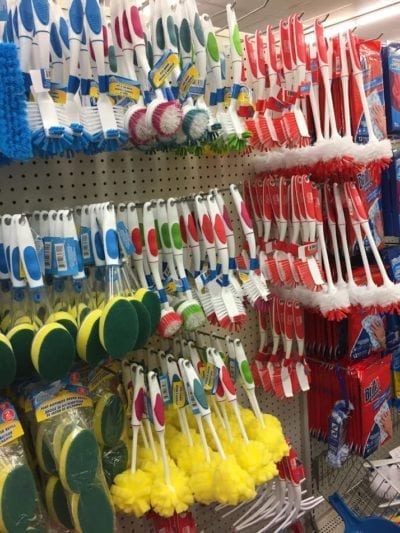 14.) Cleaning supplies
I'm not saying the cleaning supplies you will find here is going to be top quality, but if you are on a budget or not too picky- I'd definitely go this route. My mom has mentioned that sometimes the sprayer stops working, though, so be aware of that. We might have to do a post sometime testing out the different options!
15.) Rubber gloves
16.) Microfiber towels
17.) Lysol wipes
18.) Chip clips
I love having these to help keep cereal and chips and crackers fresh. We often have several boxes of these things open at one time and I love opening my pantry and seeing them safely secured with a clip- it just makes things look more organized!
19.) Calendars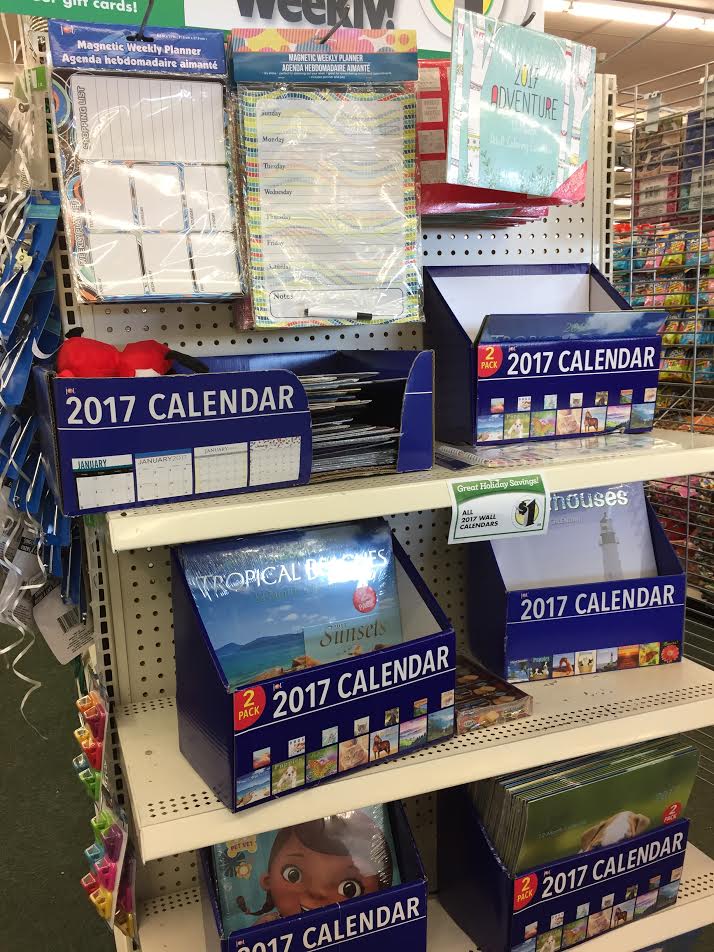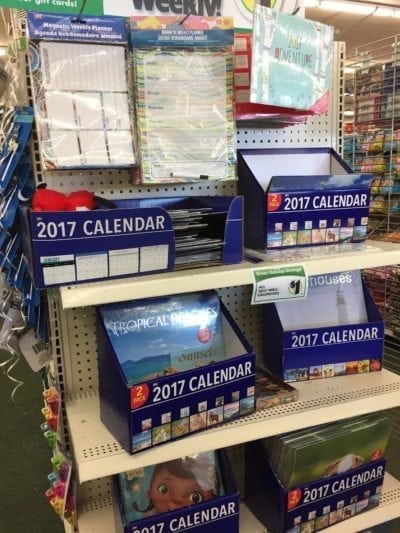 20.) Dry erase boards
Dry erase boards are perfect for keeping track of daily activities, meal planning or for jotting down phone messages or other daily details you don't want to forget. You can easily attach one of these to your fridge or on your wall. They also sell dry erase markers so be sure to pick up a few of those, too!
Here are some fun ways to use Dry Erase Boards:
21.) Tupperware 
I often see Rubbermaid brand sold in the store. These can be great for lots of storage in your home, as well as for leftovers or for taking people dinner.
22.) Laundry basket
You can read here why I love laundry baskets! They have some nice quality (considering they are just $1) at the Dollar Tree. A fun gift idea would be to get one of these laundry baskets and stuff it full of Dollar Tree cleaning supplies (which are surprisingly awesome – the Awesome Cleaner is always very highly recommended). Great gift for a college student or newlywed.
Here are some DIYs with Laundry Basket:
23.) Storage bins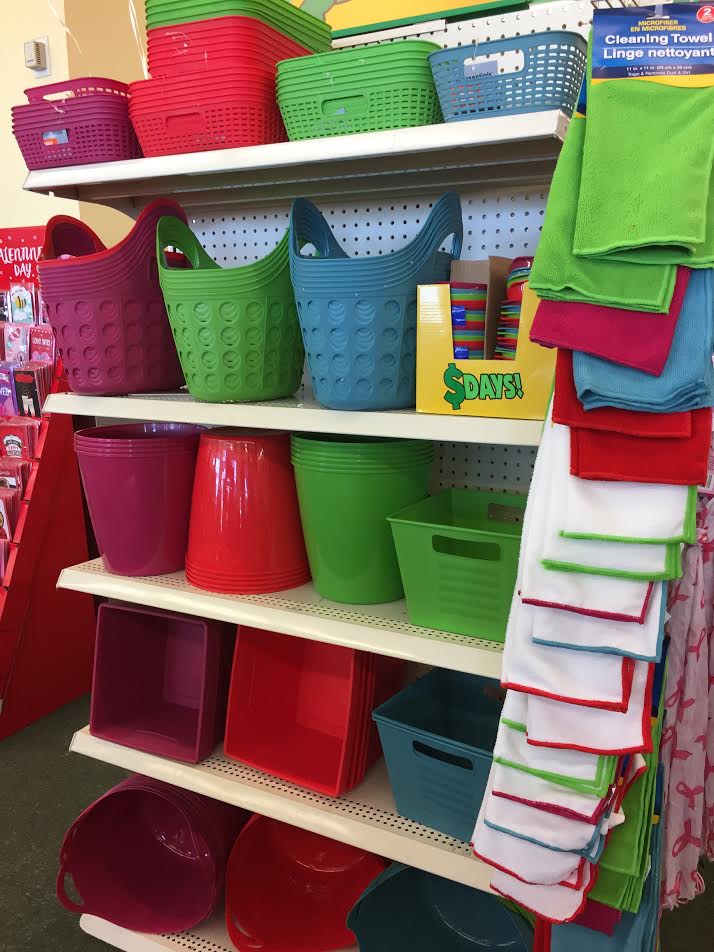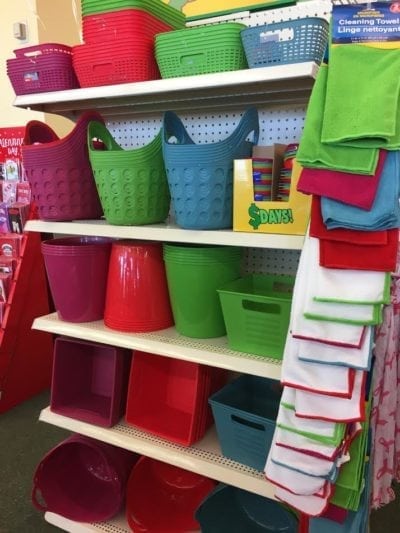 They have tons of different kinds of totes, baskets, and tubs that you can use to store toys- big and small in. You can also store your make-up, nail polish, hair gels, or medicine in any of the storage bins they sell.
Many people use these to organize their pantries, bathroom closets, or bathrooms. I think they can make for great ways to separate food and snacks in a pantry.
24.) Pill dispensers
If you take a lot of vitamins or pills daily, a pill dispenser is a must! These are also great to store medication in if you having an emergency bag that you keep in your car. They can also be a great way to store small cords and head phones.
25.) Office supplies 
Paper clips, pens, pencils, sticky pads, tape, glue, paper– you name it, they most likely have it!
What are your favorite Dollar Tree organization and cleaning supplies?
Other Dollar Tree Posts:
Join our FREE Dollar Tree Group
Download your FREE Dollar Tree secrets eBook and get exclusive tips, giveaways, deals, and more for saving money straight to your email!