The grocery delivery service is the newest great convenience. But how do you know which service to subscribe to? Not all services are created equal. Learn more about the two we compared – this is unsponsored and unbiased!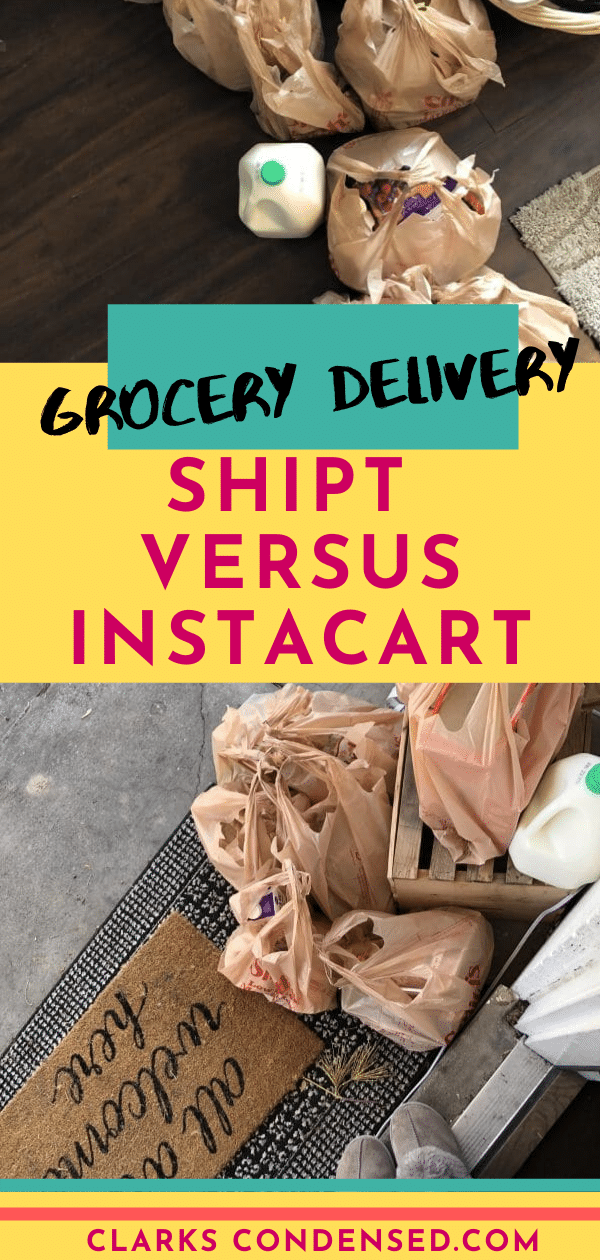 Grocery delivery service might just be the best thing I've discovered.
As a busy mom with school-aged children and a baby- my days come and go so quickly and there is always something I need to be doing other than grocery shopping.
But we all know groceries are a necessity- and having them be delivered right to my doorstep has been a game-changer.
I already have been taking advantage of Walmart Grocery Pickup – which I admit- I thought was pretty awesome, too.
But not even having to load up my baby, my totes for groceries or making sure I make my pick up time has been a refreshing change of pace for me in my schedule.
As grocery delivery becomes more popular there will be more and more services available.
I've tried out Shipt and Instacart recently and have the information you need to pick the one that fits your life the best!
Shipt versus Instacart
What is Grocery Delivery?
But first, what exactly is grocery delivery?
Well, it's pretty much what it sounds like but let me break it down.
Grocery delivery is when you order your groceries online through a grocery delivery service or directly from your store.
A professional shopper shops for your groceries and then brings them right to your house.
How does Grocery Delivery work?
This is where my comparison comes in.
As mentioned before, all grocery delivery services are not created equal.
There are different fees, rules, and regulations. And it's important to read the fine print to make sure you understand exactly what you are getting yourself signed up for.
Shipt and Instacart both have a list of available stores in your area to choose from. Just put in your zip code and those stores close to you will pop up.
You then start shopping!
You can look up items or go through different sections (ie. dairy, canned, snacks, bakery, etc.) and put what you want in your cart.
With both Shipt and Instacart you can also add notes to your order to instruct your shopper with specific request such as "please pick ripe bananas" or "please get thin sliced ham from the deli"
You can see the price right then and there and it keeps a running total for you.
After you are done shopping you then choose the day you want your groceries delivered. In my experience they had options as soon as two hours after placing your order.
After choosing your day you pick your time.
The times are in one-hour increments so you do need to make sure you are home- or make arrangements for your groceries to be left on your porch during that time.
You can keep your method of payment on file to use for future orders and you can add multiple credit or debit card numbers.
You can easily delete them and add them again later, too.
Shipt Review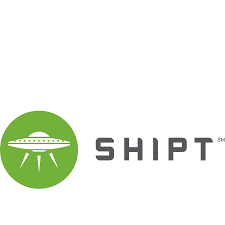 Shipt was the first delivery service I tried out. Katie has written a Shipt review in the past, but I'll try and share even more details here!
You can find it online or you can download the free app.
How much does it cost to order with Shipt?
Pricing for Shipt is based on a subscription.
You can choose a monthly subscription which is $14 a month. This would be great for anyone who is not fully committed but wants to try it out a time or two first.
The other subscription option is $99 for a year (or roughly $8.25 a month) .
If you order $35 worth of groceries your delivery is free, otherwise, there will be an additional $7 charge to your order.
I found that there was a slight upcharge on the prices of my groceries. Typically about .25-.75 higher than in store.
However, some groceries were actually priced lower than in store.
For me, I actually end up spending less using a delivery service opposed to going in store because it takes away the ability to impulse buy items I see that I don't really need.
So even though there is a monthly or yearly charge- in the end you will probably save money over time!
Shipt Fees
The only fees are if you have your order under $35. You will be charge a flat, $7 delivery fee.
Do you need to tip your Shipt driver?
You don't have to but there is an option to do so after your delivery has been made.
While it is optional it is pretty customary to do so.
You can choose a percentage or a dollar amount and your delivery driver will surely appreciate it. You can tip with cash when they arrive or through the app.
How does the shopper communicate with you?
My experience with my delivery person was excellent.
He text me to tell me he was beginning to shop and asked if I had any last minute items I wanted to add.
I was able to text back and tell him to please leave the groceries on my porch without ringing the bell because my baby was asleep. He happily obliged and even text to tell me after he dropped it off so I could grab them quickly.
I was happy to tip my shopper because of his friendly service and how he went above and beyond.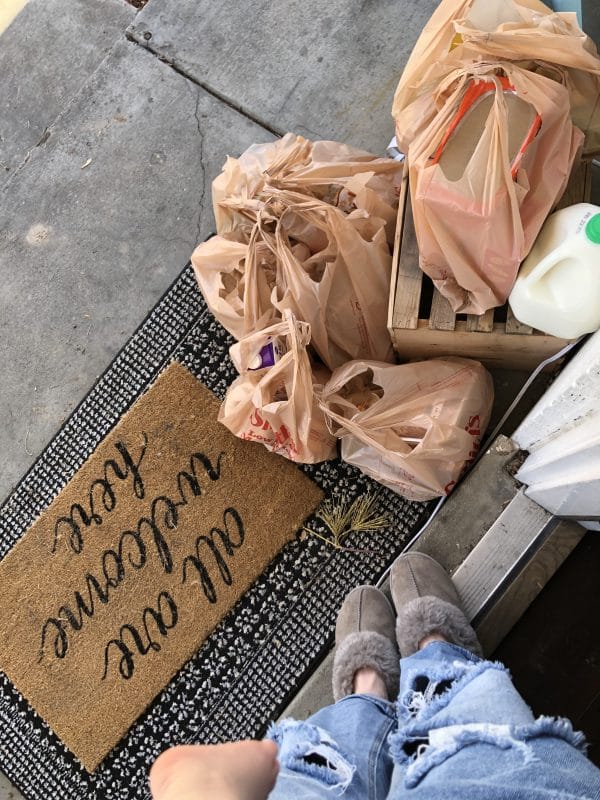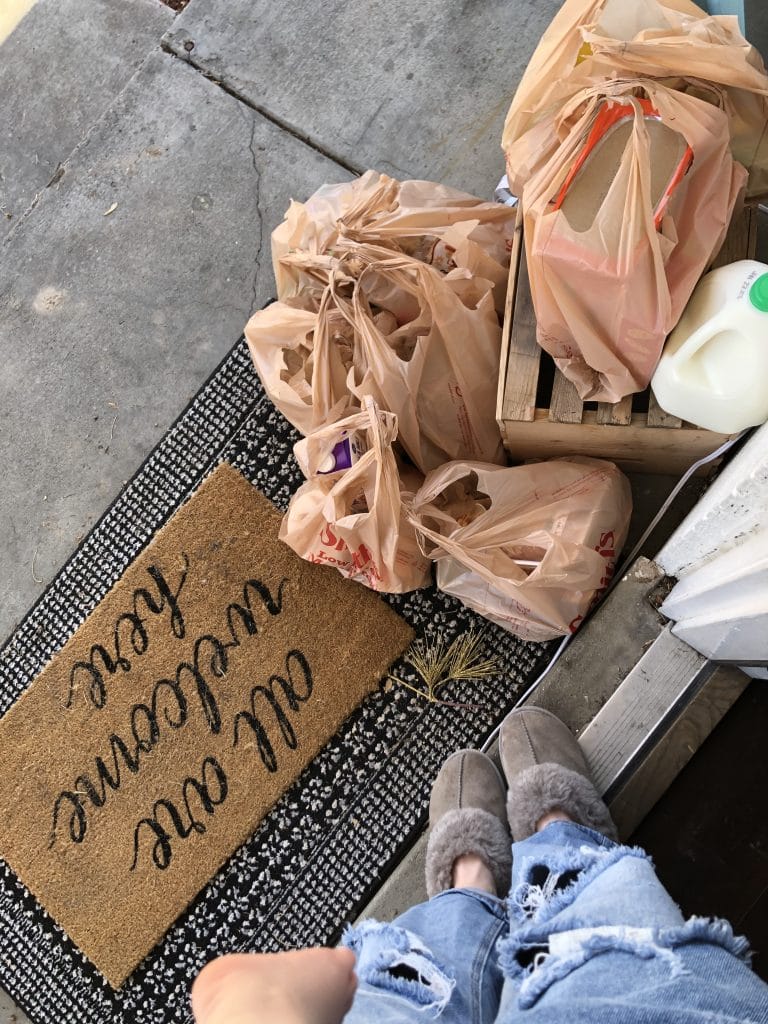 What if an item is out of stock?
While using the Shipt app, your shopper will text you if something is out of stock.
They will ask if they can substitute it for another brand.
Just make sure you have your phone available during the hour you chose so you don't miss any messages.
How will my groceries be delivered?
When you submit your order, you can add special notes in the delivery field that says "text me when you arrive."
Your shopper will probably text you when they begin to shop which is helpful for you to know when they will arrive.
Most shoppers always arrive carrying large tote bags full of groceries.
Your frozen or refrigerated items will most likely arrive in a cold/freezer insulated bag.
What else do I need to know?
Shipt travels with you!
So if you are on vacation or visiting someone's home you can still use your app to receive groceries. Just update your address and it will show you stores in your area.
This is a great bonus especially since you are paying a membership fee.
Shipt Coupon Code
There are. two promos you can use:
Get a membership for $49 instead of $99
Instacart Review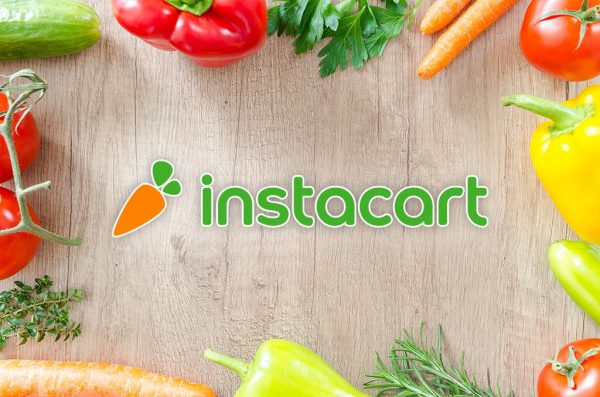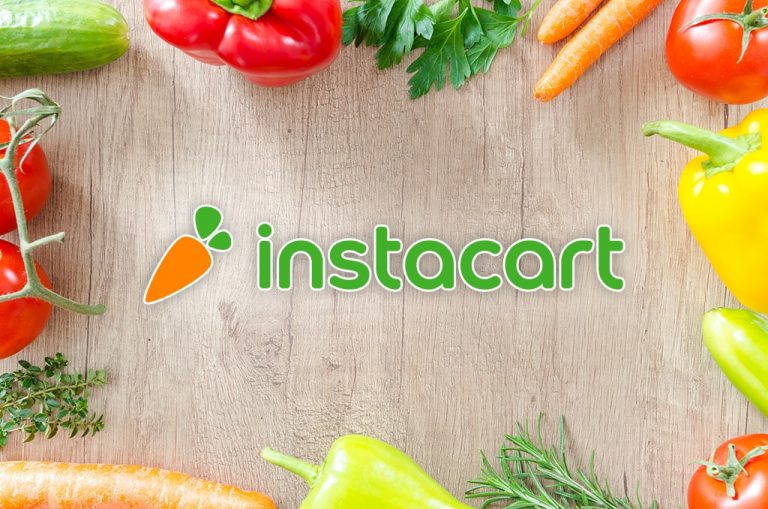 You can find Instacart online or buy downloading their free app.
Download for iPhone users here
Download from Google Play here
How much does it cost to order from Instacart?
Right now you can sign up for a free 14-day trial.
This means you can make unlimited orders for 14 days without paying a membership fee.
Instacart Express
With Instacart Express you can enjoy orders over $35 are always free (no added delivery fee) while orders under $35 are typically an additional $3.99- $7.99
Again, this might still save you in the long run because you are avoiding any impulse buys.
After your 14-day trial Instacart will automatically charge you the Instacart Express membership fee of $99 a year. This gets you: unlimited deliveries, no surge pricing which will save you even more during peak delivery hours and the ability to shop from multiple stores and free delivery on your whole order.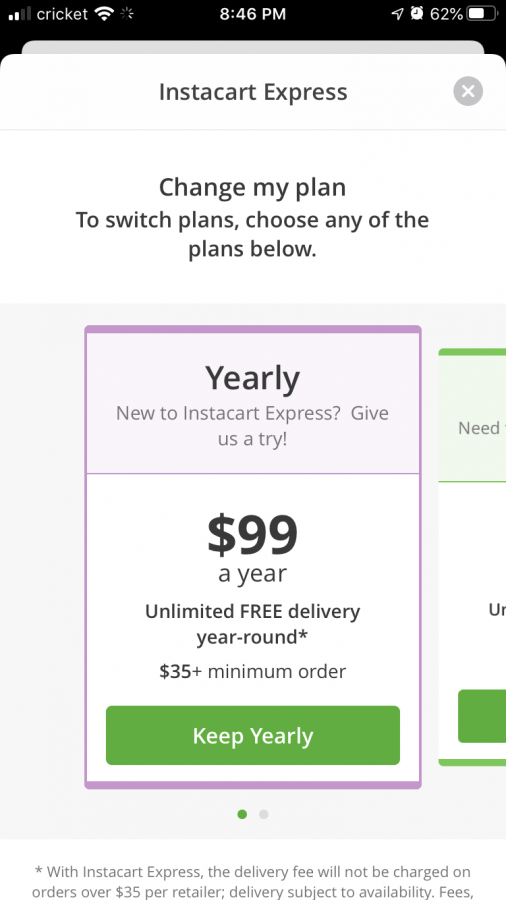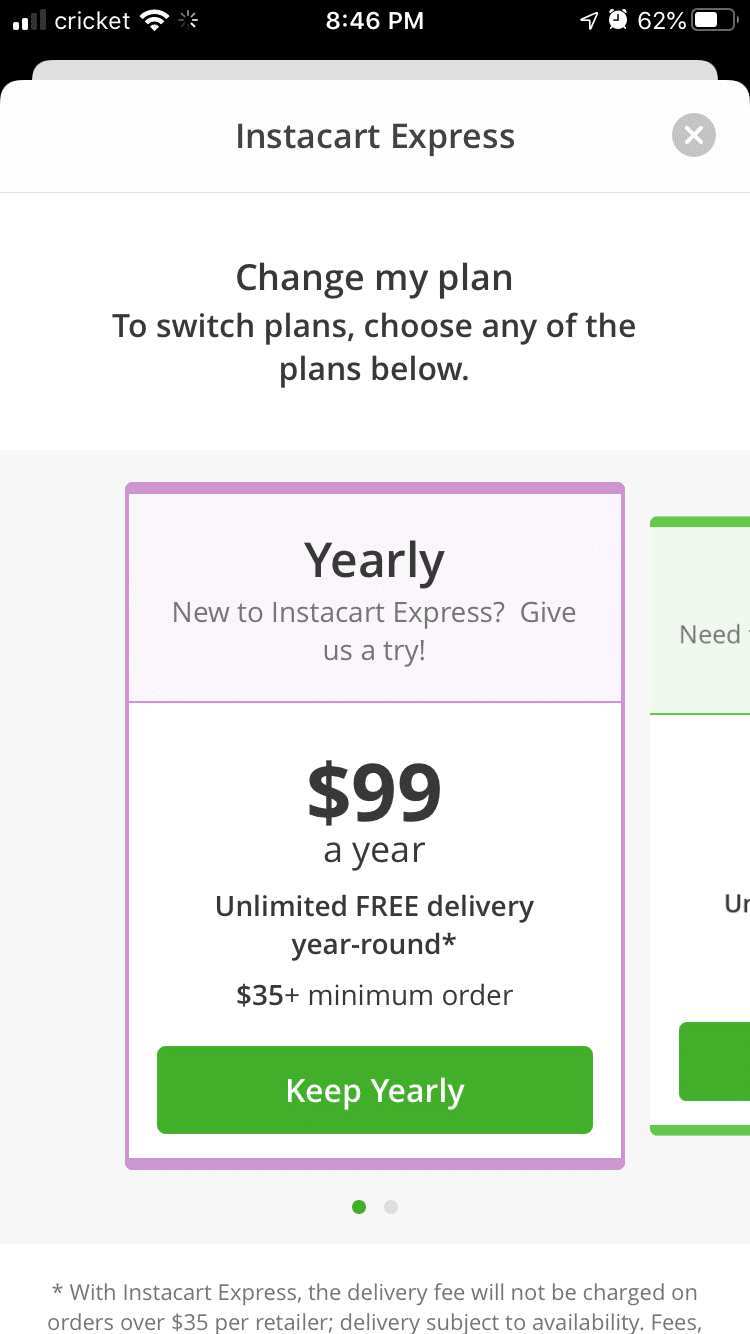 You can also sign up for a monthly subscription of just $9.99 a month.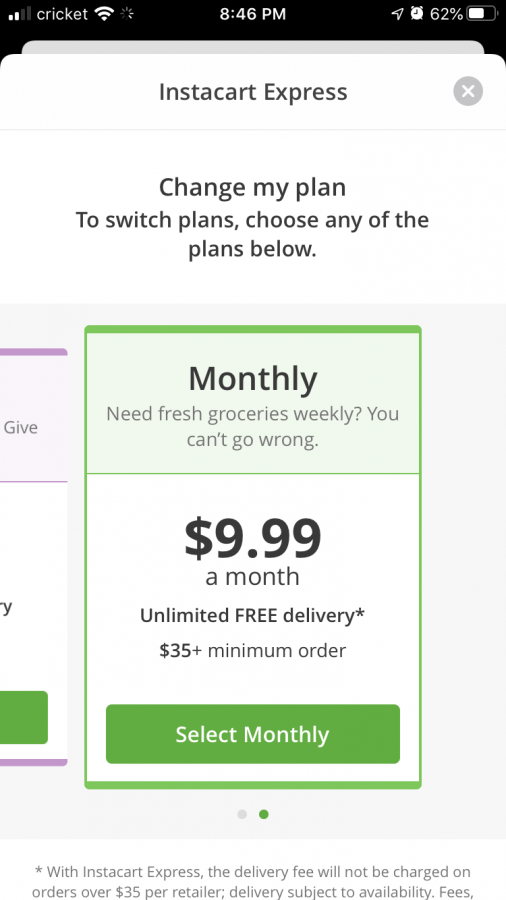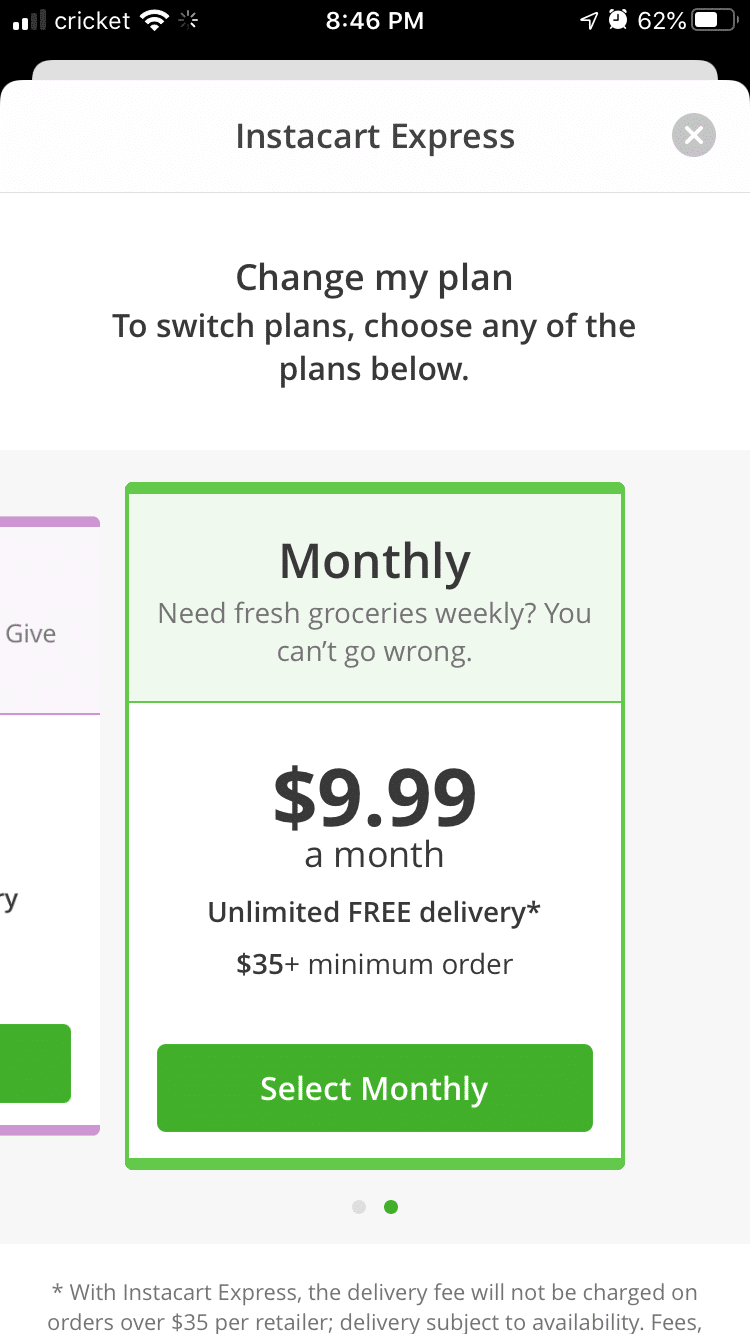 This would be perfect for someone who doesn't anticipate using long-term but could use the benefits on a month to month basis.
For free deliveries, there is the same minimum $35 order.
Depending on the store you choose you may or may not pay more than you would in-store.
Per their website Kroger store products are the same as in-store pricing (which I found to be pretty accurate when I ordered from my local Kroger store).
However, if you order with Target the prices will be higher.
If you order from Costco it will vary from warehouse to warehouse.
My advice would be to find the store you will be shopping from and look at the pricing to see if it is worth it to you or not to have your groceries delivered.
You Might Also Enjoy: Sam's Club Versus Costco
Instacart Fees
Instacart has a couple of fees to keep in mind.
5% (minimum $2) fee for a la carte customers
Instacart Express members will be charged a 1.9% fee
There are fees for alcohol separate from what's mentioned above. You can click here to learn more.
Do I need to tip my Instacart delivery person?
Instacart shoppers should get a tip.
You can easily do it through the app. There is an easy option to choose their tip amount before you check out. It is then added to your total charge.
The default amount is 5%, but you can adjust it. The minimum recommended is $2.
Or just give them cash at the time of delivery. 100% of tips go straight to your driver.
How do I communicate with my shopper?
Once your shopper begins they will send you a message through the app.
From their website: When your order is connected with a shopper, you'll see a message in the app. If you have notifications turned on, you'll also receive a notification
I somehow missed this information and did not have my notifications turned on and was not on my app to see any messages.
I was a bit surprised when my shopper arrived because there hadn't been any communication from her that I was aware of.
There is also a chat with shopper option at the bottom of the order page. I did not know about this so make sure you take advantage!
What if an item is out of stock?
If your shopper needs to replace something or cannot find something they will message you through the process above. Again- make sure your notifications are turned on so you don't miss anything!
I actually had three things that my shopper had to replace and if I had received the message while she was shopping I would have had her get a different replacement than what she chose.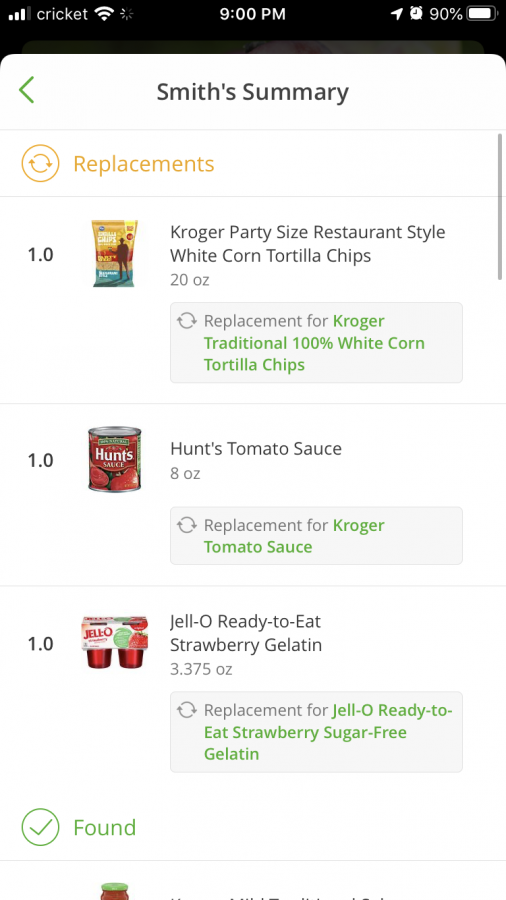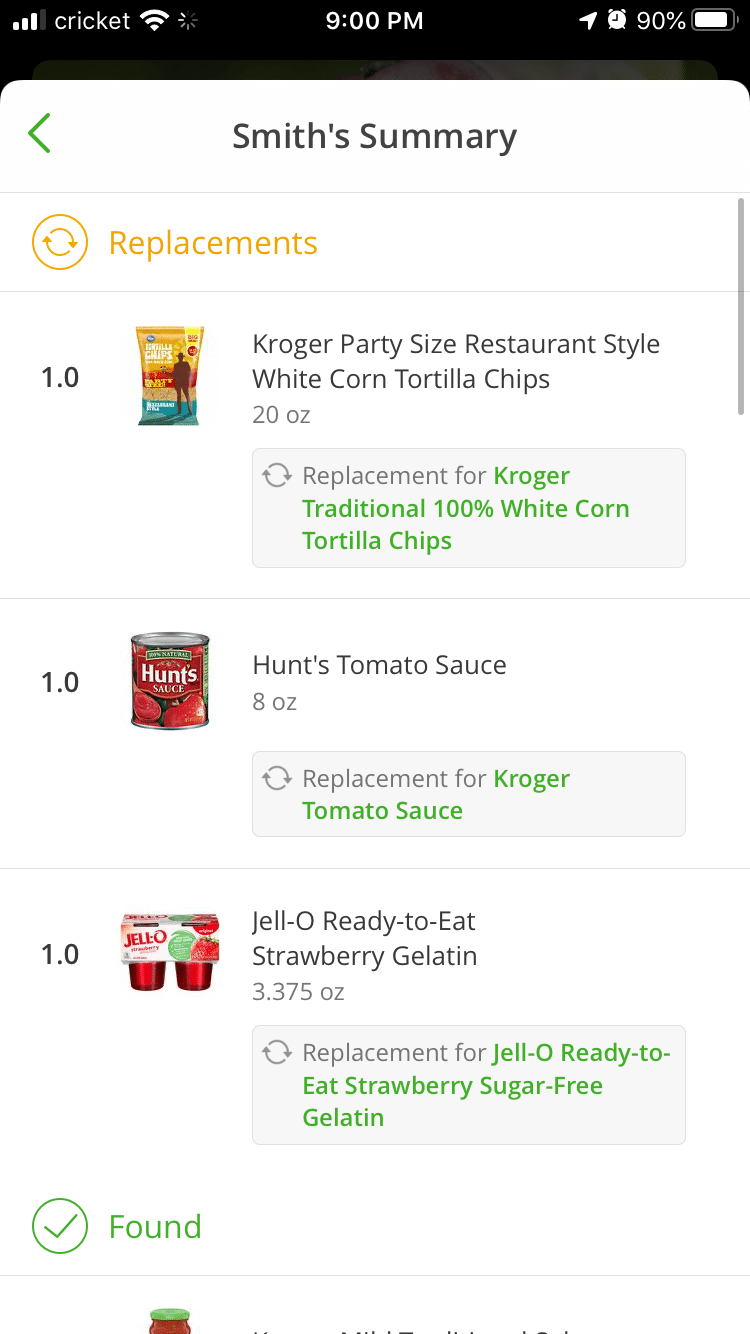 It was a small thing that I can overlook for my first order, but in the future I would definitely want to be properly notified.
If all works properly you will get updates while the shop and give you 5 minutes notice that they are on their way. I wish this would have worked out for me.
How will my groceries be delivered?
My grocereis were bagged in plastic bags but brought to my door in insulated Instacart totes.
I appreciated this gesture.
Because I came to the door to received the order my shopper unloaded her tote at the doorstep and I brought my groceries in.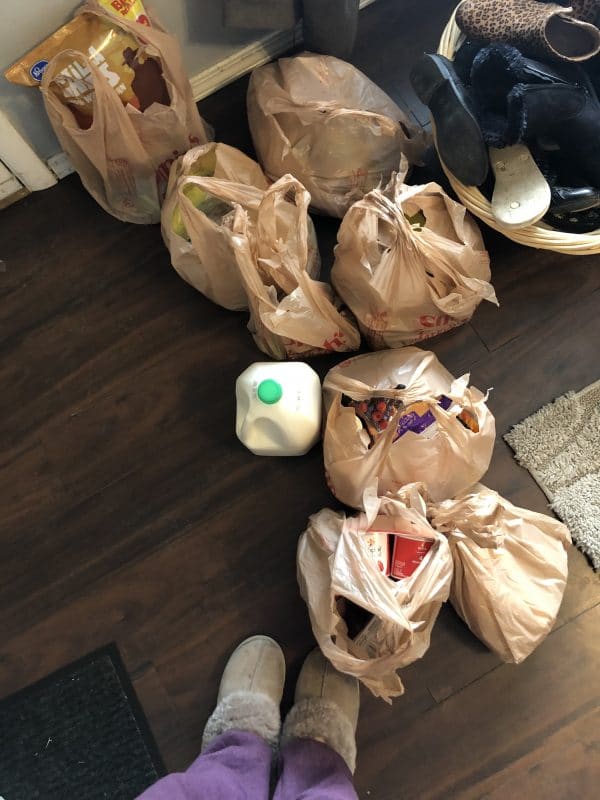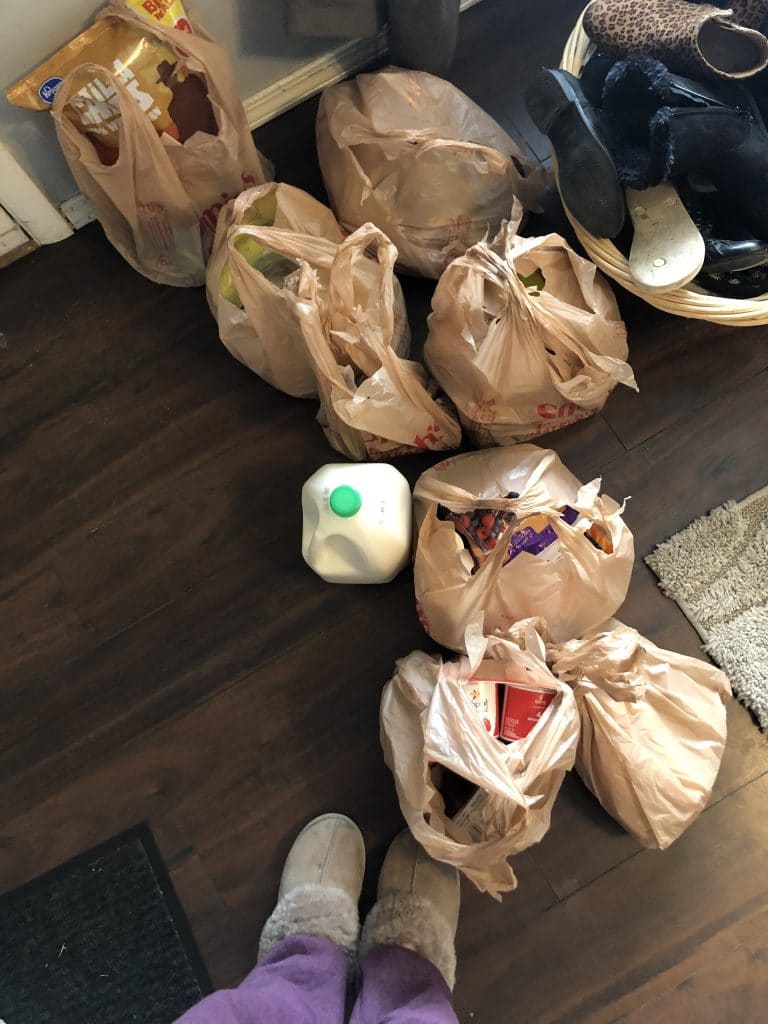 You could message your shopper and ask them to be left on the porch, delivered to the back door, or any other specific instructions.
Hidden Charge
My grocery total was $67 but my statement right away showed I was charged $80.
I called the Instacart helpline and was told that they add the extra charge in case extra items are added at the last minute.
I did not see this information anywhere when I signed up for my trial and was quite surprised by it.
I was told that the charge would be removed from my bank account within 24 hours.
I was able to get through to customer service within a few minutes and was helped out quickly which I appreciated.
However, I do not love the hidden charge and wish it had been made more clear.
Instacart Coupon Code
You can get a FREE 7 Day trial through our referral link.
Which is Better – Shipt or Instacart?
Both services are very similar as far as memberships and grocery options. However, Instacart seems to have a few more extra fees over Shipt.
However, I like how I got a text message with Shipt as opposed to an in-app message from my shopper with Instacart.
Text messages are easier for me to see and it worked much better for me while using Shipt.
I also don't like how Instacart adds an extra charge for those "just in case" moments.
Both apps are pretty user-friendly and they both save your frequently used items to make it easy to re-order each time.
Since Kroger groceries aren't marked up with Instacart, you may want to get that if you shop at Kroger.
But if Target is your go to, Shipt may be the best option for you! Instacart seems to partner with more stores, such as Costco and Sprouts.
I would definitely look at what stores you shop at most and go from there.
Who would benefit from grocery delivery?
If you are looking for a way to cut a few hours out of your week then grocery delivery is for you.
It will save you time and money when you don't go in store.
I personally think this is great as a busy mom but would be helpful for any busy person or someone who doesn't like going out in crowds.
If you like having complete control over your groceries and shopping experience this probably isn't for you.
With any new experience, asses the pros and cons and what you think will work best for you!
Cindy Maudsley lives in Utah with her husband and five children. Aside from writing, her passions include her family, faith, and spreading infertility awareness. She also loves a good book or podcast, true crime documentaries , Netflix binge, diet Coke and Target run