Family reunion games can make a family reunion even more memorable – here are some of our most-loved games from past reunions that you can easily replicate!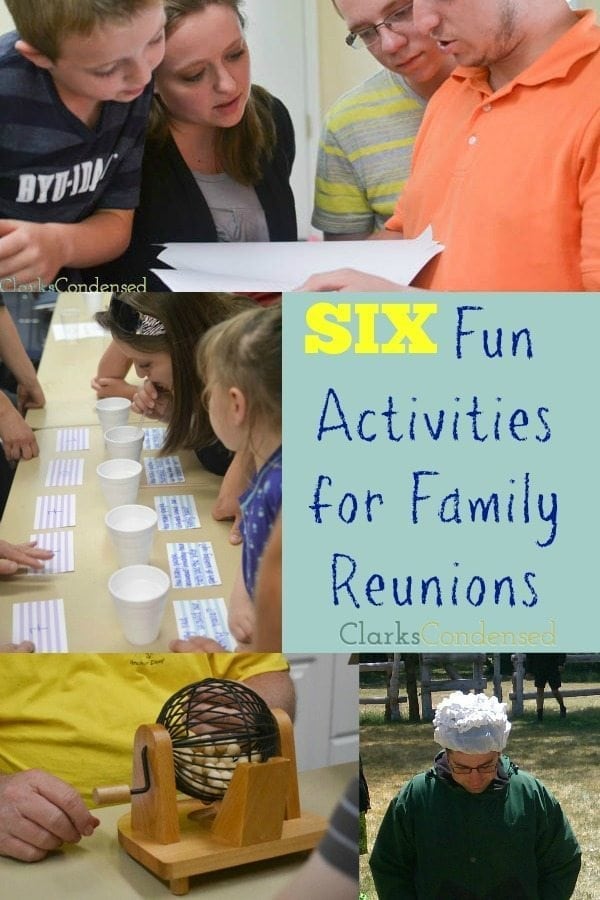 Fun Family Games
A few weeks ago we attended a family reunion with my mom's family. It's something we always look forward to every two years, and I hope we'll be able to continue for years to come.
Jack absolutely loved playing with all his cousins (he woke up asking for "kids"), and we had fun eating yummy food, going to some different fun places in Salt Lake City, and just visiting with family. I don't think any family reunion is complete without some fun games!
While I always enjoy visiting, it's nice to have activities for everyone to bond over and participate in — especially if people of all ages can participate. At our last reunion, we had quite a few fun games and activities available, and I thought I'd share them with you here.
Family Reunion Activities
1. Bingo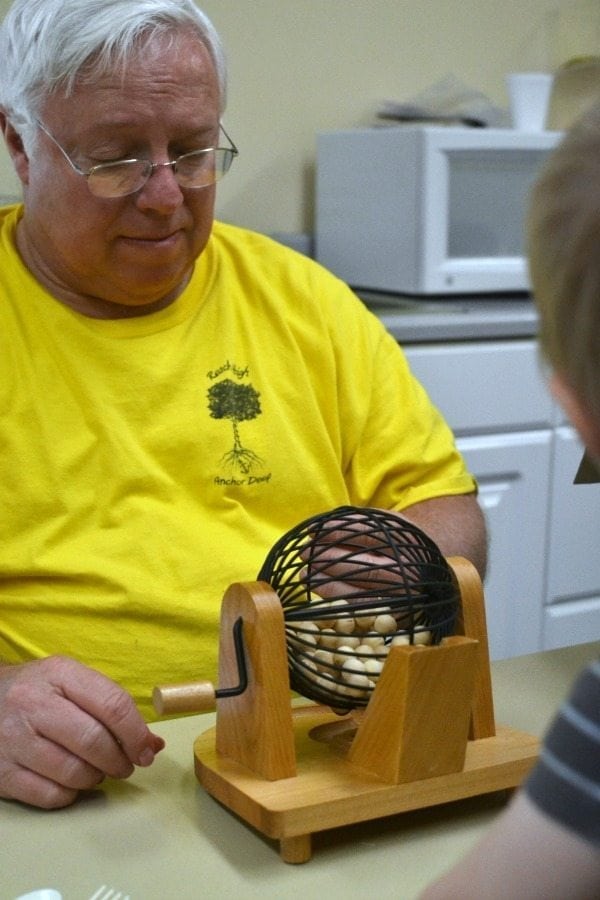 I don't think that any Park family reunion is complete without a couple rousing games of Bingo. This is something that I think all of us have come to enjoy over the years and that children and adults alike always enjoy playing. Since we've done Bingo at so many reunions, I think we've discovered the best ways to have a successful Bingo game:
Buy clear, mini cups to put the markers in
Don't limit how many times a person can win (if there are a lot of prizes)
Have an actual bingo cage and boards— this is easier than making your own boards, or cutting out pieces of paper to call out spaces, and you'll be able to use it for years to come!
The Dollar Tree and Target's dollar section are the best places to get prizes. Oriental Trading Company is another great option.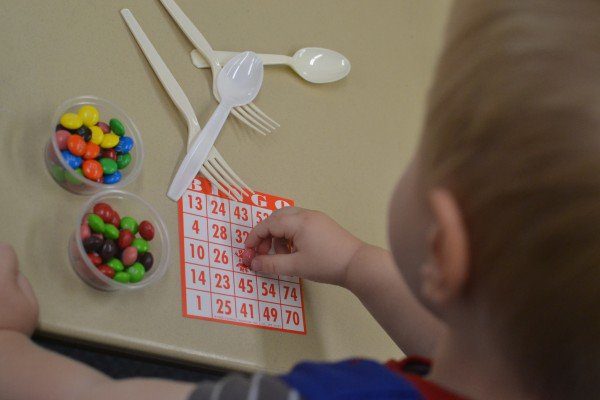 2. Shaving Cream and Cheese Puffs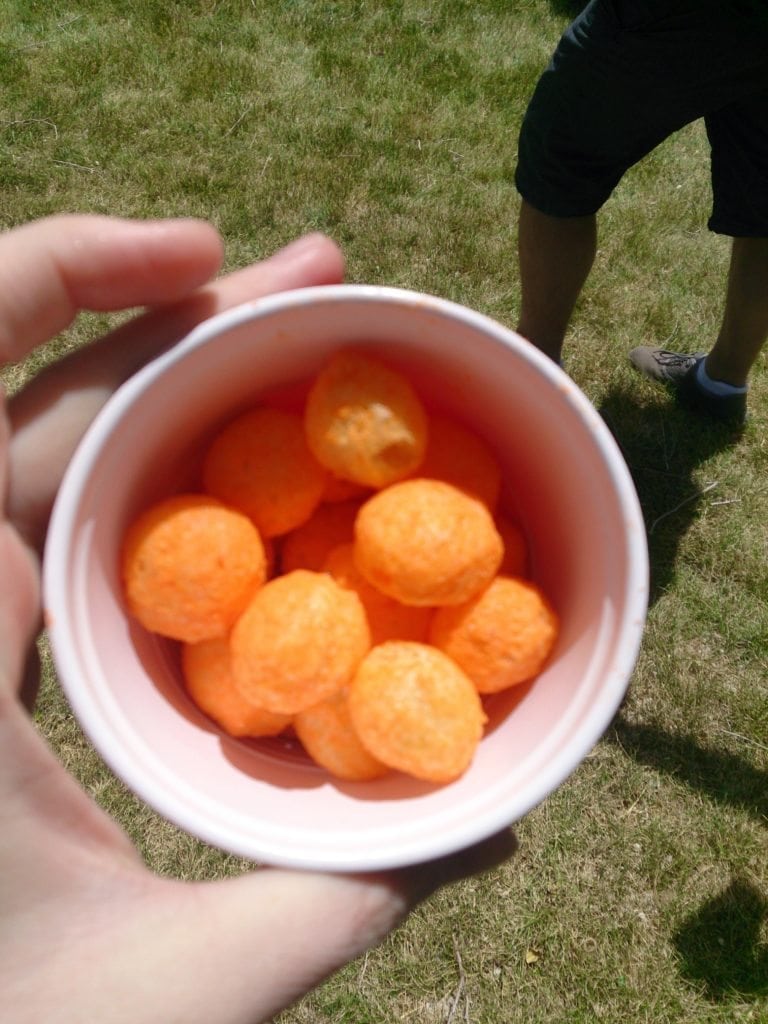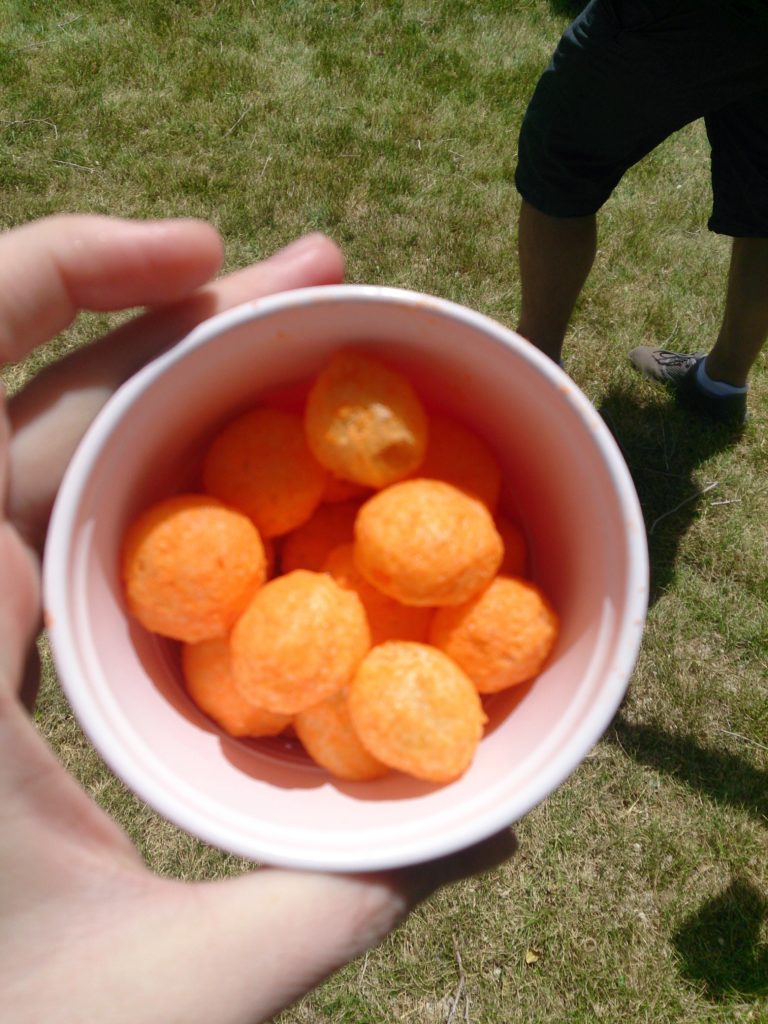 This is a game my cousin, Jamie, came up with at our reunion, and it was so fun and simple. You can probably buy most of these products for a dollar at the Dollar Tree, and it's definitely entertaining.
What You Need:
A couple of cans of shaving cream (the cheapest kind is fine!)
Paper cups
What You Do: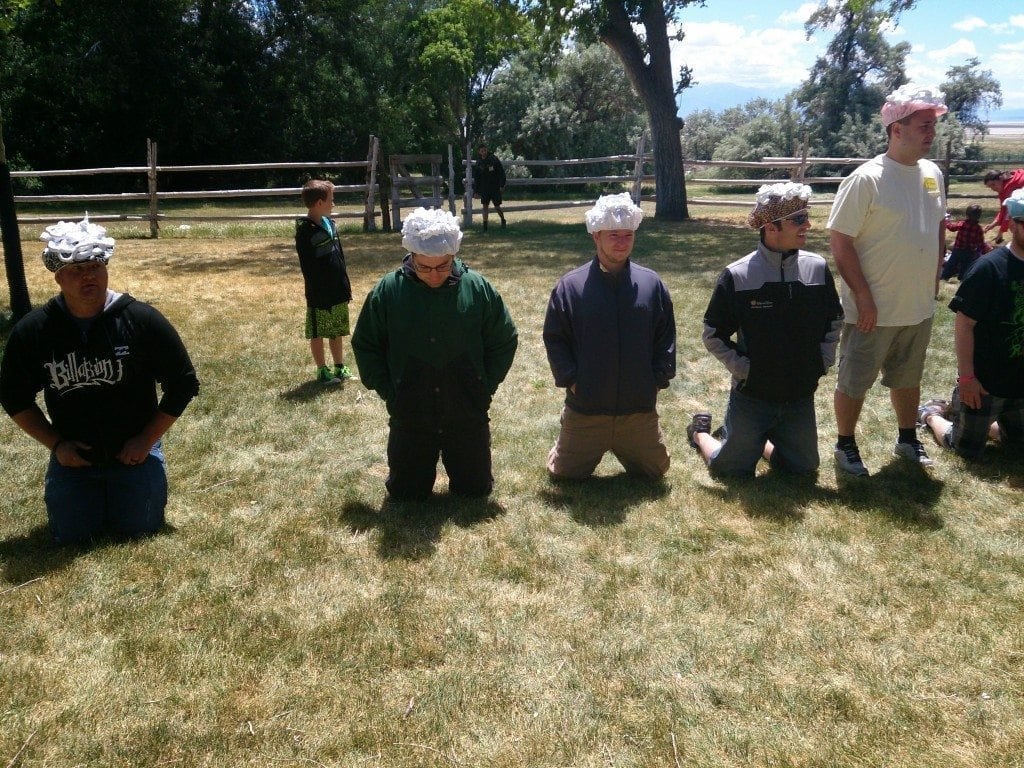 For this game, you have to play in teams of two. One person puts on the shower cap, and their partner sprays shaving cream all over it. Then, you put everyone with the shaving cream shower caps in one line, and then their partners about 5 feet away from them in another line and give them a up of cheese puffs. Set the time for 60 seconds, and the partner with the cheese puffs has to throw one cheese puff at a time and try to get as many as they can to stick to the shower cap. Whoever gets the most to stick, wins!
3. Cornhole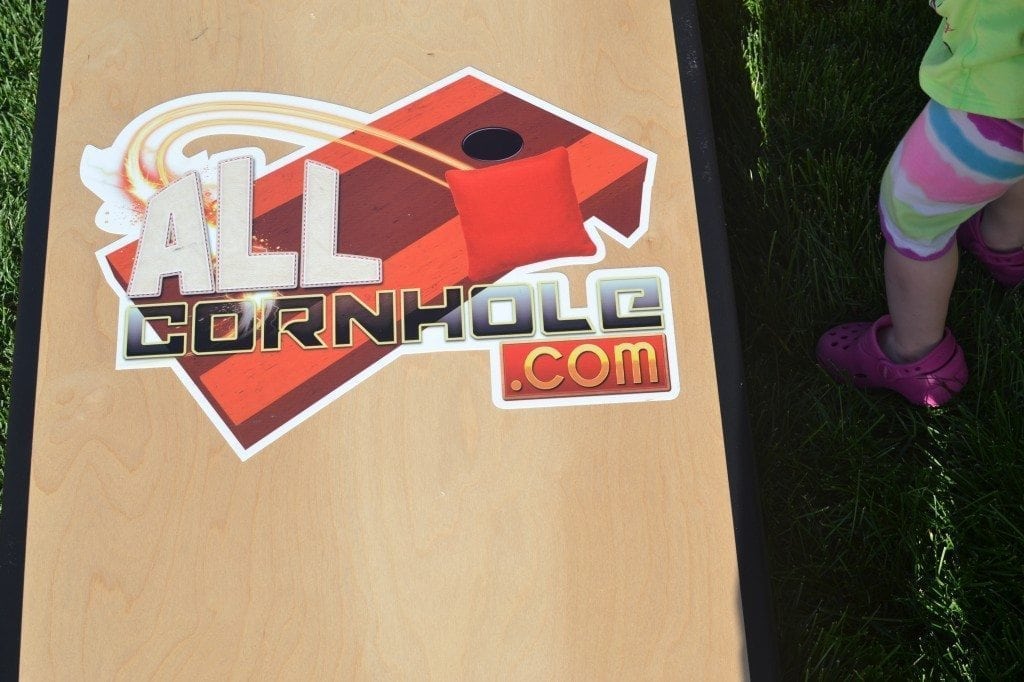 I had never heard of cornhole until this last year. Basically, it's a glorified version of bean bag toss, but somehow, it's a lot more fun. According to my sister-in-law, Cornhole is all the rage at tail gate parties. Everyone had a ton of fun with the one we brought to the reunion — the little kids had so much fun trying to throw them in (and crawl all over the board). Here is a tutorial on our blog to show you how to make your own cornhole board.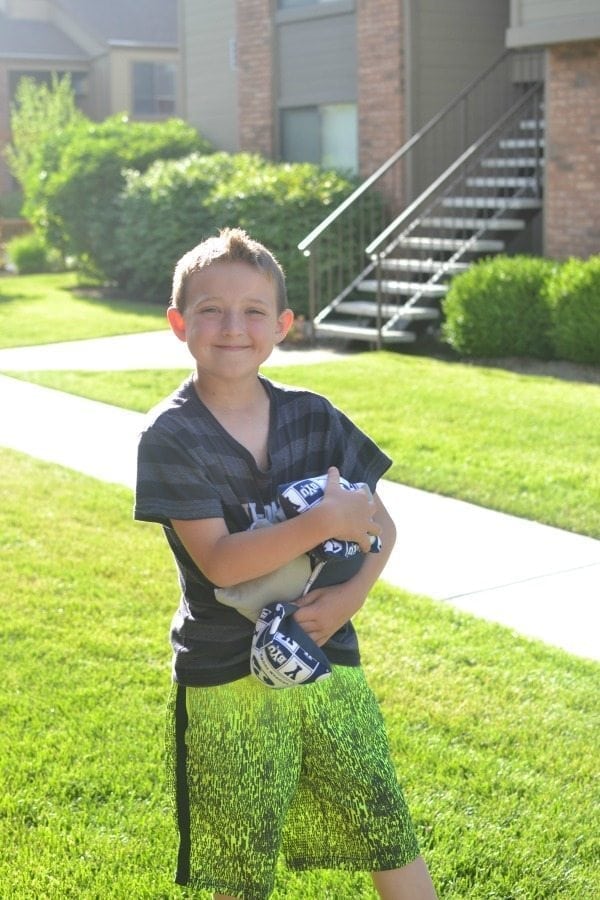 What You Need:
Cornhole board (you can make your own, or you can buy one from this website.)
8 cornhole bags
What You Do:
You throw the bags into the hole in the board. You can pretty much set this up however you want — teams, a point system, free for all…either way, it's a lot of fun and a great way to kill time!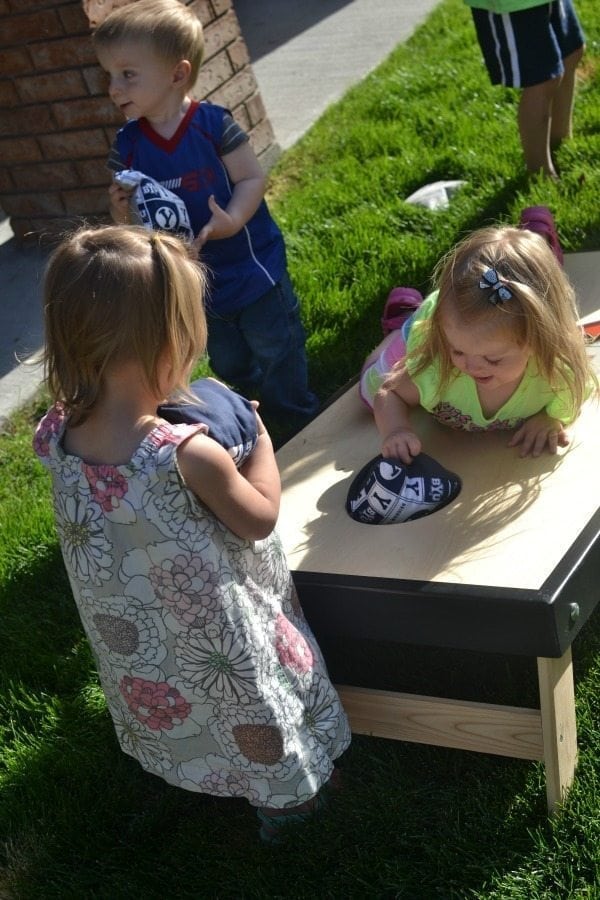 4. Golf Driving Competition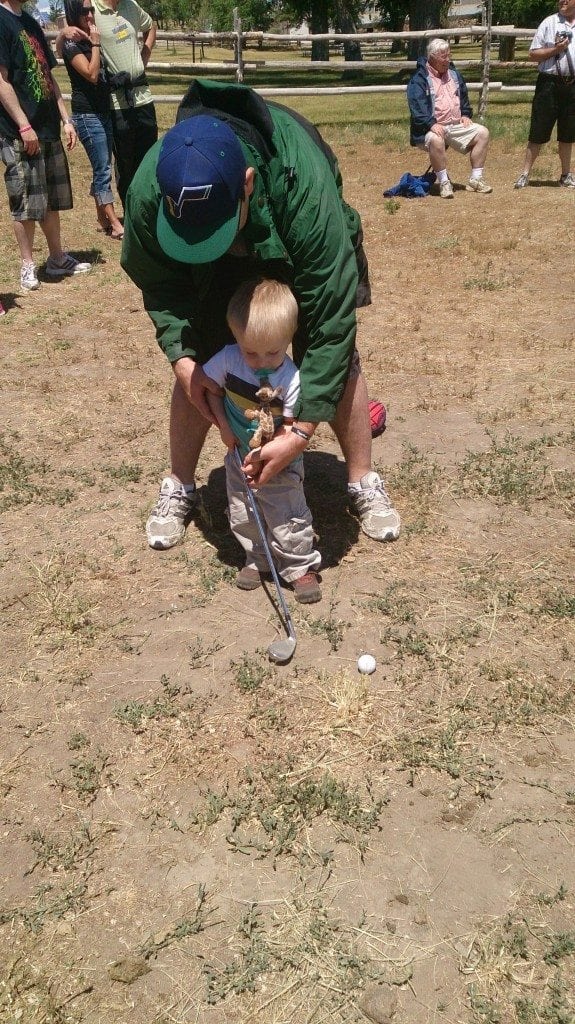 This is something we've been doing at family reunions since probably before I was born. I remember seeing pictures at my parent's house of me participating when I could barely walk. It's something everyone really looks forward to each year, and it is always fun to participate in.
Typically, we find a location that lets us hit balls as far as we want (so a lake, a large field, etc.), and everyone is divided into age and gender categories (just to even the playing field a little bit.) We all take turns hitting the balls as far as we can, and there are winners in each category.
It's probably best if you do it somewhere that people can actually go find their balls, because, as you might imagine, it can get rather competitive, and if you are hitting into a lake or ocean, there might be a few arguments that can't be resolved. Here is basically how it usually goes down.
We typically have a five and under category, a five to eighteen category, 18-30 (or so), and 30 and up, all split into male and female.
Everyone takes their turn in the category, and then the top four people from each category are announced. The top four from each category get some kind of monetary prize (though feel free to do whatever you want for prizes!
Sometimes we have a variation on the game. For instance, this year, we weren't allowed to do a long drive competition where we were at, so it was more a game of accuracy. There was an object placed in a field somewhere (different locations depending on the category that was hitting,) and everyone tries to get closest to the target.
At the end (after the winners have been decided), all the kids get to run out and collect all the balls they can. They each get $1 for each ball they collect. You could change this up and give them one piece of candy for each ball.
5. Relay Get-to-Know The Family Game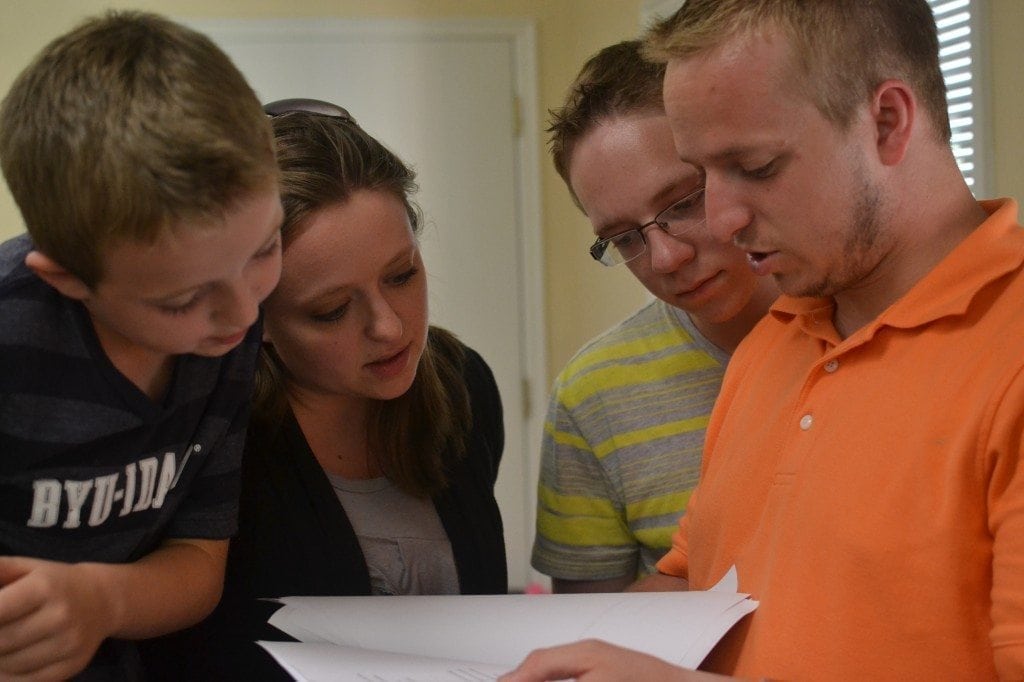 My cousin, Kristin, put together a really fun series of games this last reunion. Several weeks for the reunion, she sent out a list of questions to everyone in the family (with instructions to make up answers for ones that couldn't fill it out themselves.) She made several games out of these questions. Everyone was split into two teams, and whichever team completed the series of games first, won. Here are the questions from the questionnaire we all answered:
1. What is the best part of waking up?
2. What is a random, but not well-known fact, about yourself?
3. If Earth was invaded by aliens, what would you do?
4. What is your best piece of advice?
5. If you were a color, which one would you be?
The first game had five or six questions based off of the answers people put on their survey. For instance, there was the question, "How many people said they would be purple," Or "How many people were friendly with the aliens," and then, there were pieces of paper with different numbers on them. We had to match up the numbers (which represented people) with the correct question, and then one or two members of the team had to place that number of skittles into a cup corresponding with each question, using a straw, just for a fun twist.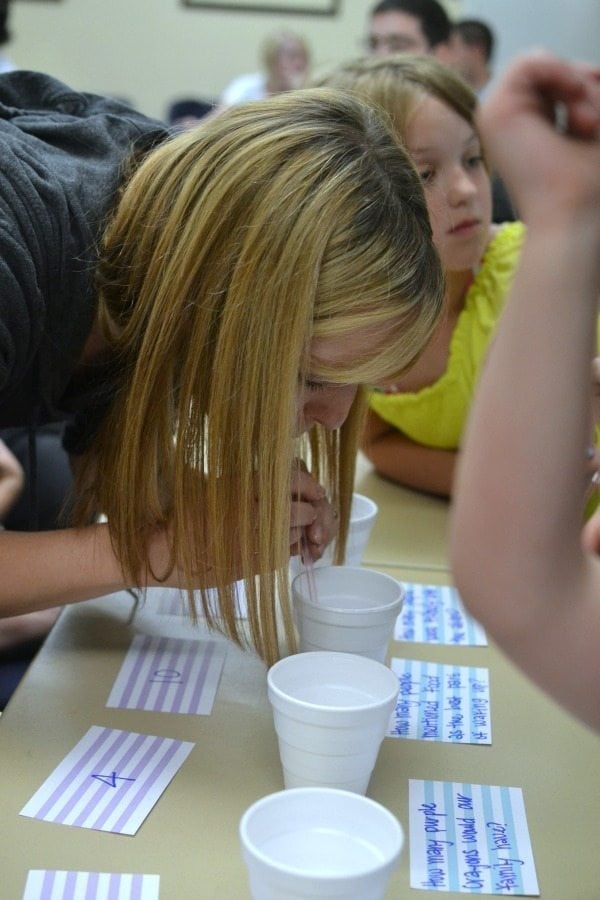 The next game had two sets of cards — one had different family members names, and the other had questions such as "who said they were a turquoise crayon" or "who said cartoons was the best part of waking up." You just had to match the names to the correct question (there were typically more than one person per card.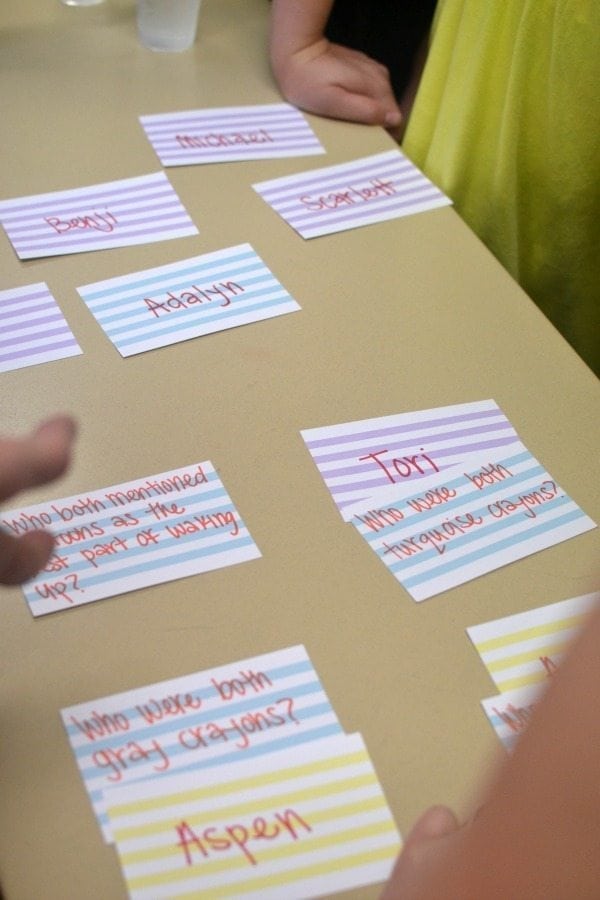 For the final game, it had a quote from everyone's questionnaire, and we had to match it with the person. This was my favorite part, because we learned a lot of things we didn't know about each other.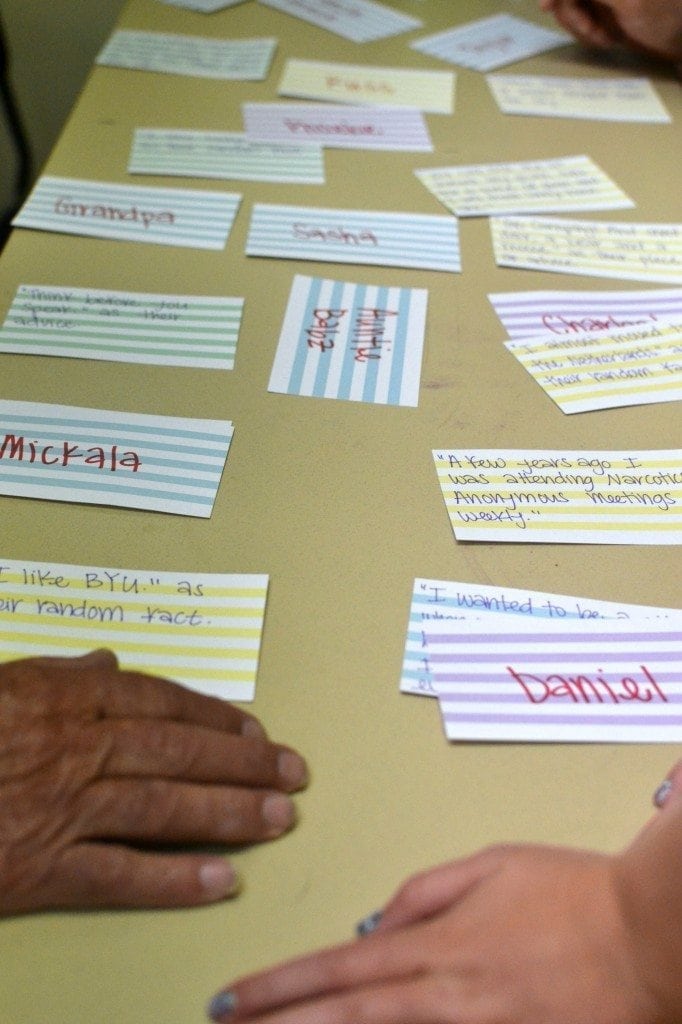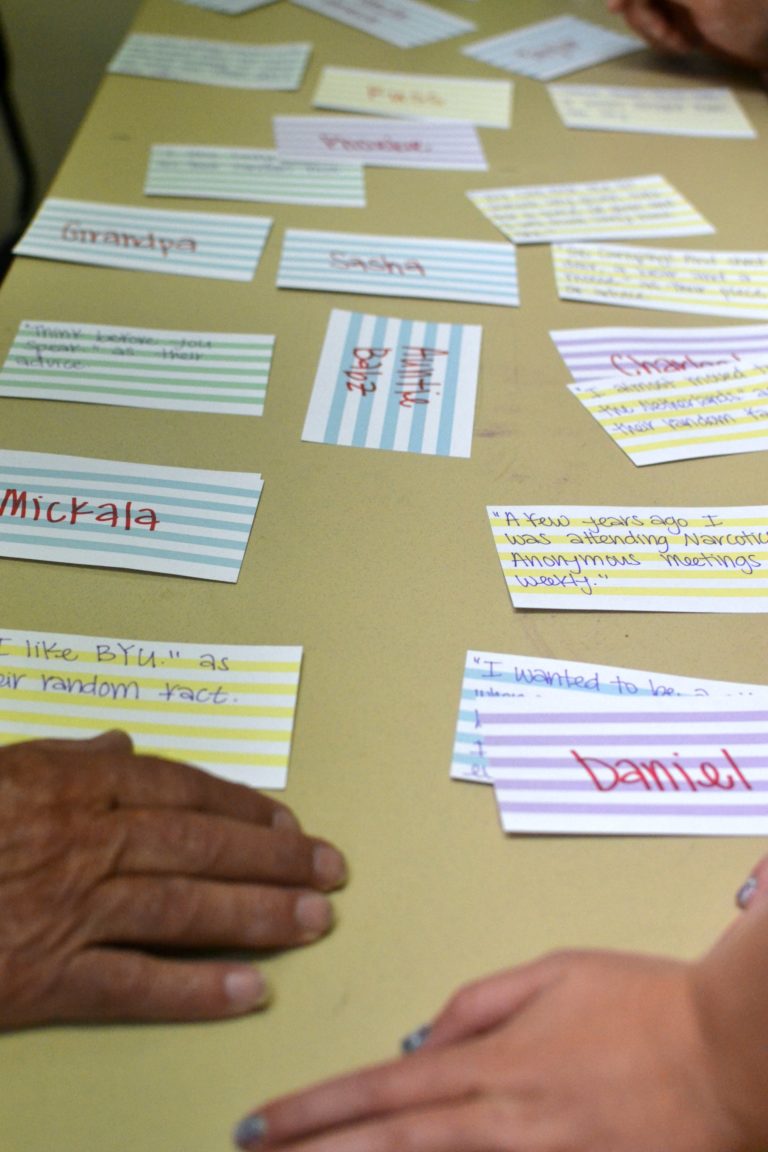 I really thought this was the most fun activity. As our family gets bigger, and most everyone is married and has children, it's harder to get to know everyone and keep in touch. However, the game helped us learn some fun new facts about each other, and it was a friendly competition!
6. Clothes Pin Game
If you've been to very many bridal showers or baby showers, you've probably played some kind of variation of this game. Everyone starts with a clothes pin, and there are a few words you can't say. If you hear someone say a word, then you can take their clothes pin. Whoever has the most clothes pins at the end wins. Now, this game can get really intense. I am pretty terrible at it — I lost my clothes pin pretty much the second we started (we weren't allowed to laugh and since I tend to laugh whenever I talk, I was doomed from the beginning.)
Now, this game can get really intense. I am pretty terrible at it — I lost my clothes pin pretty much the second we started (we weren't allowed to laugh and since I tend to laugh whenever I talk, I was doomed from the beginning.)
However, several members of my family took it very seriously. It's a simple, yet competitive, game, that's perfect to play during dinner time. Here are a few of the "banned" words: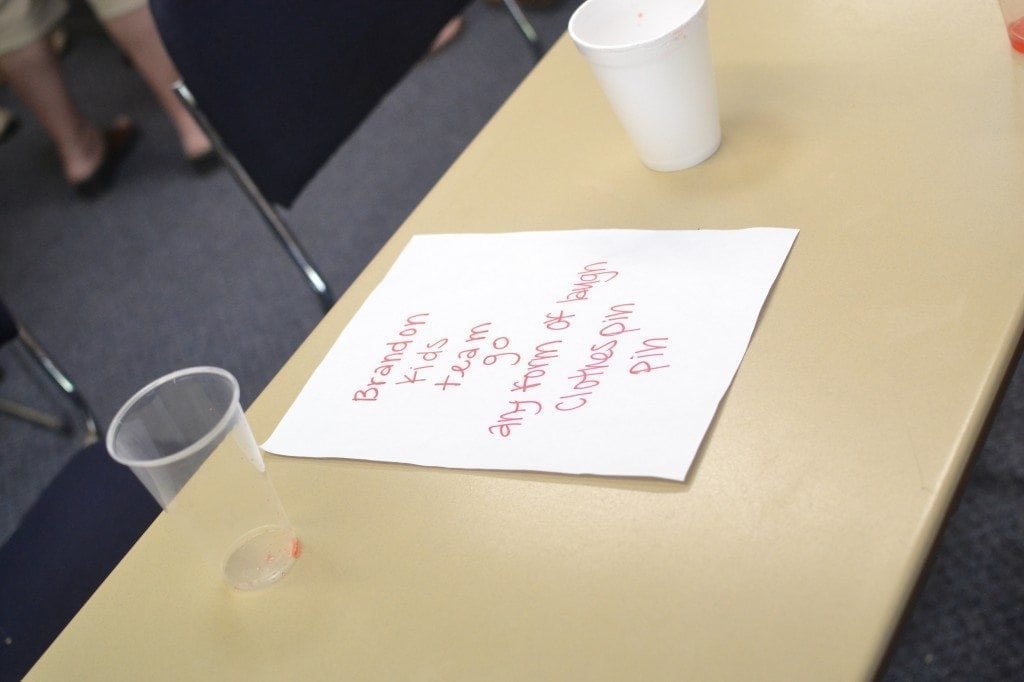 What You Need:
7. Guessing Game
This is a lot more exciting than it may sound — and it's definitely the highlight of every Park family reunion.
There are a bunch of jrs, of various sizes, set up on a table. Each jar is filled with some kind of candy or treat, and in a few cases, money, and everyone has a chance to write down their guess for how much is in each jar.
And, as you might be able to guess, the winner gets the jar.
I don't know about your family but mine is rather competitive, especially with the jar guessing games.
Everyone spent a lot of time using different strategies to determine how many of each item was inside and making their best-educated guesses.
The winners are announced at the end of the reunion, and it's always fun to see who won. Forrest won a jar of Mike and Ikes this year (ironically, just seconds after he said he never wins things like this!)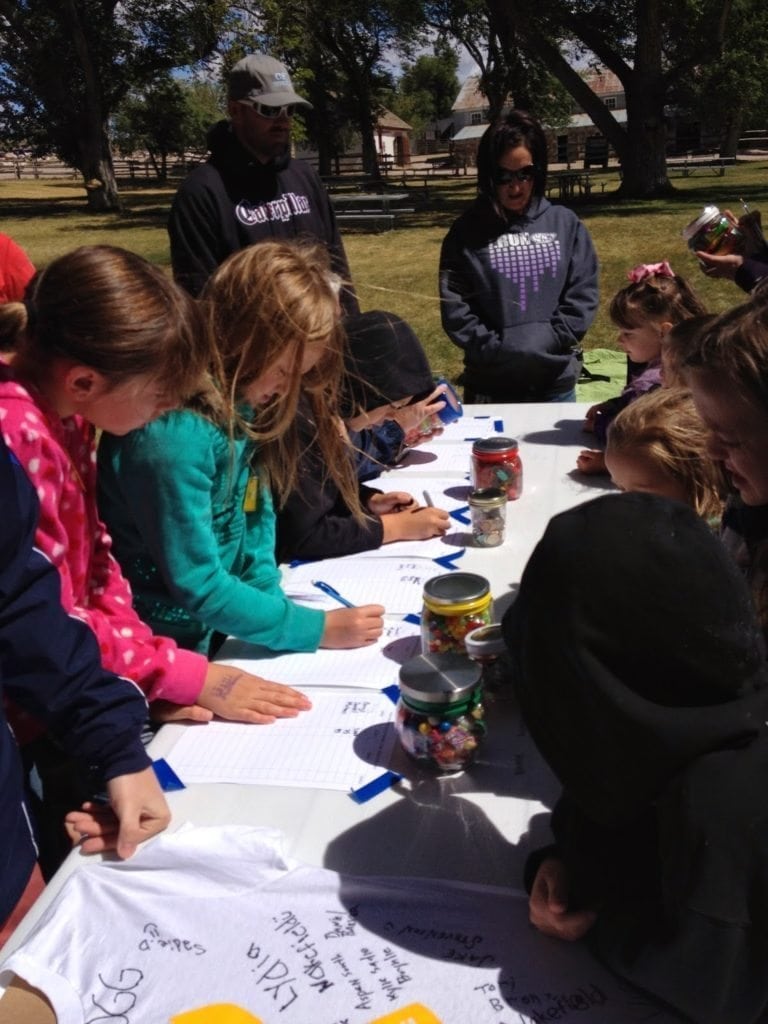 Ideas for Jar Contents
Money (pennies, dimes, dollars, etc.) It's especially tricky if you roll up a bill and put it on the inside of the coins!
Bonus: Minute to Win it Games
You've probably heard of Minute to Win it — basically, a series of games that are intense and last a minute long and are usually very entertaining.
I'm not going to list all of them here, but they are so fun and a great activity for family reunions or any party.
Here are some other minute to win it games you may enjoy as well.
[thrive_leads id='30547′]
Other Posts You May Enjoy: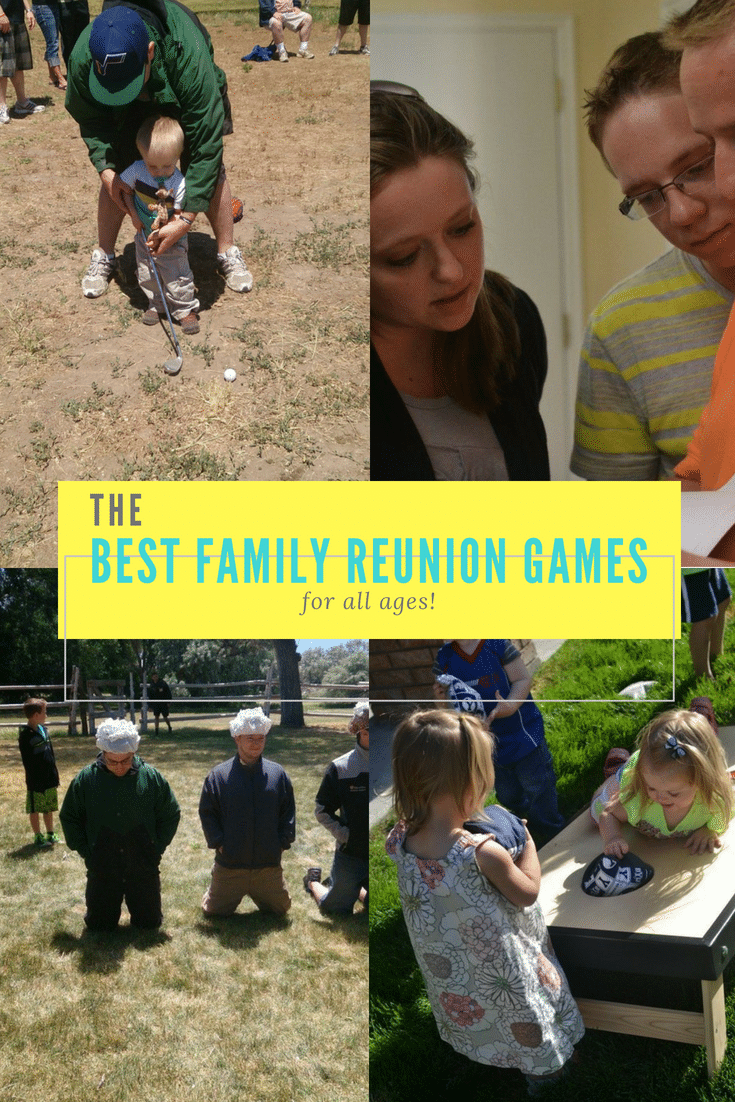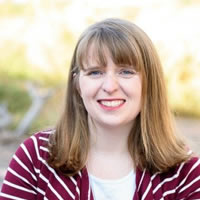 Katie is a Colorado-native, BYU graduated, and most importantly, wife to one and mother to three beautiful boys. She is passionate about sharing her experiences with others – especially about pregnancy, breastfeeding, cooking, and crafts. She is an International Board Certified Lactation Consultant. She loves spending time with her family and helping others find joy in family life.