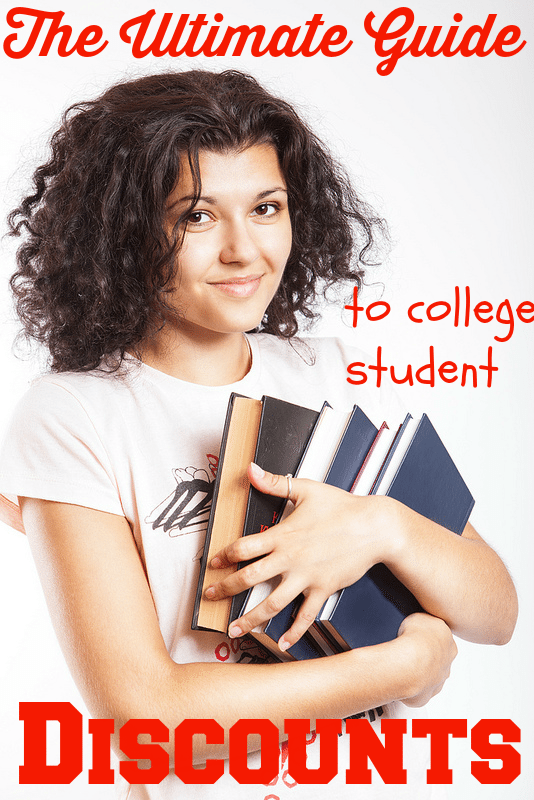 Best Student Discounts
As a college student, I was always looking for the best deals and discounts.
Fortunately, there are tons of discounts available for students — from clothing, to food, to electronics and entertainment.
I've scoured the Internet for the past few days, trying to find all the discounts that are available for students, to compile into this list. Let me know if I missed anything.
I wish I had known about all of these.
One thing you definitely want to do is make sure you have a .edu email address.
These are free and available through your university.
At BYU, it isn't an actual email account you can use, but it forwards to you regular email and having it allows you to be eligible for all sorts of online discounts. Also, be sure to check around your college town — local stores and companies may have discounts for college students.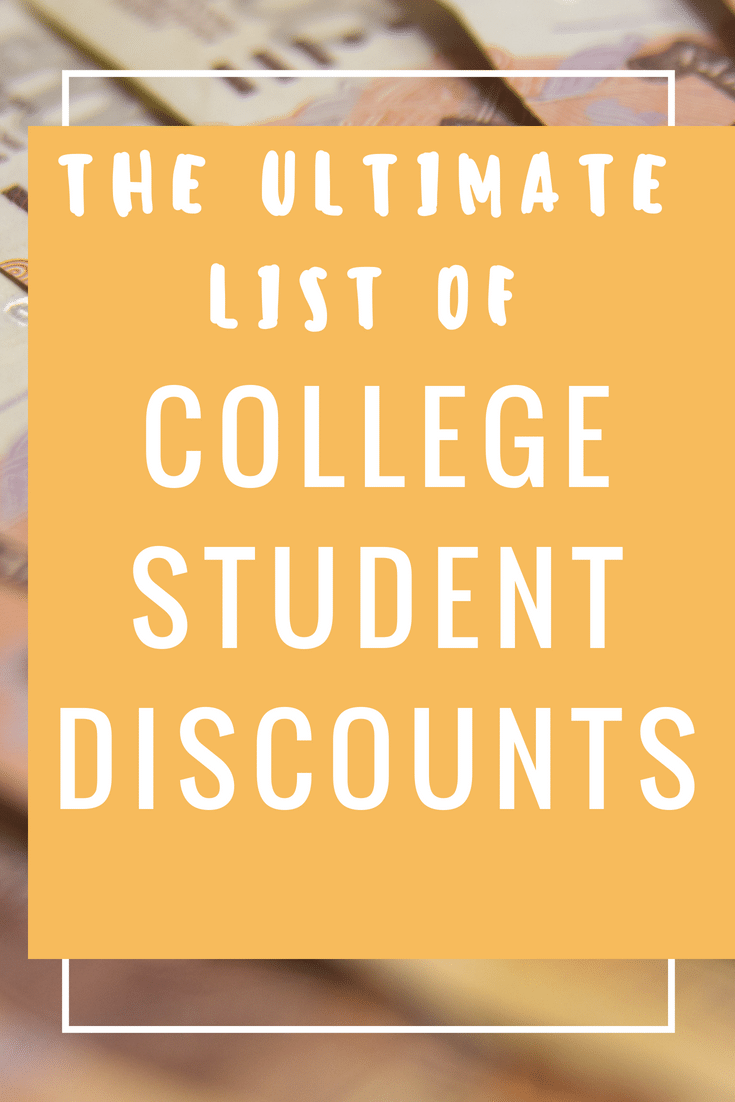 Student Discounts for Electronics
Dell – Save up to 30% on select items; often have other promotions going on
Apple – Various discounts, depending on what you buy
Microsoft – Deals on software, electronics, and more Internet Security
HP Instant Ink – I WISH I had this when I was a student! You do have to have an eligible HP printer (you can see the full list here). , but it can save you SO much money. Basically, you sign up for a monthly plan (starting at $2.99 – NO commitment), and then you get ink sent to you before you need it, based on how many pages you print enough. Even better – if you don't print the pages you thought you would, it rolls over to the next month. You can see the savings on the HP Instant Ink page, but it's crazy. Ink cartridges can be pricey, and this can help substantially. You can even get your first month free!
Norton – save up to 50%. This is my favorite anti-virus program. When you click here just search "student" and you can find any current discounts.
AVG – Great free option – does bog down computer quite a bit I've found.
Check with your University — BYU offered free Internet security for students, so yours might to!
Internet Provider — if you live in Off-campus housing, and you have to provide your own Internet, your provider may include security. CenturyLink gives its customers free Norton Anti-virus.
Acronis Backup Software – I think a quality backup software is CRUCIAL, especially when you are in college. Acronis is the best of the best, and as of right now, they are having some killer deals. Check them out here – it's one of the best investments you will make.
Adobe – Creative Cloud (includes Photoshop, InDesign, Illustrator, etc.) is available for 19.99 for students and educators. Other products likely are available through your school; The whole Adobe suite was available at BYU for super, super inexpensive.
Lenovo – Great discounts on high quality laptops. I recently bought a Lenovo and I love it — in fact, I saw that the model I have is available for students, for more than $100 less than what I paid!
Academic Superstore – Academic versions of software at discounted rates Sony – Staff and students can save up to 10%
Student Entertainment Discounts
Scribd – Scibd is an eBook, audiobook, periodical, and sheet music streaming service. It's usually $8.99 a month, you can get a 30 day free trial here.
Movie Theater
Alamo Drafthouse – Most locations have a student discount, and they also have a rewards club that is pretty great!
AMC – Thursdays students get a lower ticket price with their student ID cards (both high school and college)
Cinemark – Discounts vary, go to the linked website to find out which Cinemark theaters in your area are participating
Regal – Sells discounted tickets, though it might just be on Monday's now
Check Local Theaters – If there is a theater near your college, chances are, they might have discount tickets. In Orem (the city next to Provo/BYU), there is a theater called the Carmike Wynsong that sells $5 tickets with student IDs
Museums – I am not going to list every museum that has a student discount, because there are tons, but if there is a museum nearby, call ahead and see what deals they have for students. Some museums even let students in free!
NY Times – Just $1 a week for a digital subscription – it's usually $3.75 a week.
Wall Street Journal – Deals will vary.
The Economist – 12 weeks for $30 or $96 for a year
Sports Teams – If your school offers an All-Sports Pass, and you plan to go to a lot of sporting events, then definitely buy this.
It will cost far more to buy the tickets for each event individually. In addition, major and minor league teams may offer discounted tickets as well. Real Salt Lake, Utah's MLS team, had passes that were between 50 and 75 dollars, and you were able to attend 10 games as a student with that pass. Call or search around if you are curious about teams in your area.
Miscellaneous
Spotify – Get 3 months of premium for free, and then it's just $4.99 a month afterward – which includes ad-supported Hulu and SHOWTIME.
FedEx – Show your student ID and save 30% on documents and 20% on shipping services.
GM – College students and recent graduates are eligible. Awesome discounts on new Buick, GMC, or Chevrolet vehicles. Some discounts up to $5,000
Student Cell Phone Discounts
– Many cell phone companies will offer discounts or a certain percentage off of bills for students. Below, I have linked to the pages for different companies on Student Rate, which updates regularly what the current promotions are
Student Discount Gyms
24 Hour Fitness – This may vary depending on location. You can start by signing up for a free three day pass and talk with your individual gym when you go in.
Aaptiv – Okay, this isn't a gym membership, but it's just as good. We LOVE Aaptiv (you can read our review here), and you can get 50% off as a student – you can get more details here.
Planet Fitness – This isn't exactly a discount, per say, but Planet Fitness offers $10 memberships, which are month-to-month, and includes personal fitness training. For 19.99, you get that, plus a ton of extra goodies like massage chair visits, discounted drinks, unlimited guest privileges, and more.
Gold's Gym – Depends on location
Local Gyms – Local gyms and recreation centers may offer student discounts as well. Also, if your school has exercise and recreation facilities, they are probably available for your use as long as you are a student.
Itunes Music: You can get a subscription for $4.99. Perfect for students!

Car Insurance: Most insurance companies will give you a "Good Student" discount. Geico, All State, Esurance, and State Farm are a few that I know.
DropBox – I am not sure if there is a current promotion going on, but DropBox will sometimes offer extra storage for students with an .edu address. DropBox is an awesome resource for students, especially if you collaborate on projects with others, or you do work on school computers and don't want to carry around a USB drive. You can upload rather large files, which is one of the biggest selling points in my eyes.
Textbooks – Nobody wants to think about buying textbooks, I know. But there are lots of ways to save. I won't go into too much detail right now, but renting text books can be a great way to save money.
You can Google "cheap textbooks" will bring up several websites where you can buy and sell used and new textbooks. Finally, some schools have exchange programs where you can talk with other students and barter for their books. Be sure to read this post I wrote about how to save big on textbooks.
Amazon Student – This is the single best investment I think I've ever made. Amazon Student is Amazon Prime, at half the price. You get free two-day shipping on anything that ships from Amazon, access to the Amazon Video Library, access to the Kindle library, and more. It has more than paid for itself in my eyes, because we buy a lot of things off of Amazon.
BenchPrep – Student Rate has a great promo code for 50% off of any test prep (mobile or online) offered by BenchPrep. Click on the link to see the code. This is a great deal for anyone that is wanting to take a test like the GRE, LSAT, GMAT, etc.
Retail
Joann's – Anyone 14 years or older, enrolled in high school or other higher education, is qualified for a 10% discount (both on sale and regular priced items) and two monthly coupons. You must enroll online or in-store and carry the card you will receive in the mail. The first time you use it, you must have an ID, an acceptance letter, or a report card/transcript from the current year.
Best Buy – By registering with your .edu email address, you will get coupons emailed to you that can be used in store or online
Sally Beauty Supply – They have a student discount card that can give you some good discounts every now and then.
Madewell – Valid in store only, students and teachers get 15% off purchases made at Madewell
Ann Taylor – 20% off in store purchases
Banana Republic – 15% off full priced, in store purchases
Club Monaco – 20% off full priced and sale items in store and online
Charlotte Russe – 10% off full priced purchases
J. Crew – 15% off in store
Rugby by Ralph Lauren – 15% off purchases
Juicy Couture – 15% off
The Limited – 15% off in store
Steve Madden – 10% off
Target – If you signup for a college registry, you will get 15% off anything that is on it.
TOMS – Get free shipping on all orders.
Restaurants and Student Discounts
Many fast and casual food restaurants offer discounts or free items for students. However, this varies widely depending on the location, so I would recommend calling beforehand to see if the specific location you are going to is participating.
However, here is a list of places that have been confirmed to have discounts at certain locations (I'm not sure which ones, though.)
Burger King
Qdoba
Chipotle
Subway
Chick-fil-a
Waffle House
Papa Johns
Pizza Hut
Dominos
Kroger
Little Caesars – $1 crazy bread
Student Discounts for Travel
Some young adults think that college is a great time to travel, and lucky for them, there's a lot of travel deals and websites out there that are aimed specifically for college students. Groupon and Living Social often have amazing deals on travel, so I'd highly recommend checking those out. But here are a few other ways to save while traveling.
Also, make sure you read our post about traveling on a budget! Tons of great advice!
STA Travel – Great deals on airfare
Airbnb – Get $40 off your first trip when you go through this link.
Bus Passes: Many universities have deals with local transit systems to help give students lower bus fares.
Amtrak – Students can save 15% with a student advantage card, which is only $20 and also gives discounts on other items like food.
ISIC Card – This card is a must-have for students traveling or studying abroad, as it is "only internationally-recognized proof of full-time student status issued in over 125 countries." Students who have this card gain access to over 42,000 perks around the globe.
CoachUSA – CoachUSA has a free V.I.P student travel card, which has different perks with it. They have partnered with a bunch of different universities around the United States to help students get discounts on bus travel.
Eurail – If you are traveling in Europe, this is a great way to save money. There are different discounts depending on your age and situation.
Discount Cards and Websites
CollegeBudget – This is like Groupon for college students. There are all sorts of discounts on clothing, electronics, activities, and more.
Rakuten – This is formally known as Ebates, but it's an awesome way to save money with your online shopping. You even get a gift card for joining!
StudentRate – I really like this site. It lists up-to-date information on different discounts available for students. I wish it had suggested when I was an undergrad. It has everything from textbook deals, to wireless, to giveaways.
Ibotta – This is my favorite cashback app for grocery shopping, restaurants, etc. Great for college students!
Starving Student Cards – These cards are only available in Utah, Idaho, and Nevada, but they are pretty amazing. Forrest and I both have gotten one the past few years, and they definitely pay for themselves. They are filled with great discounts on food, activities, entertainment, car maintenance, hair cuts, and more, as well lots of free items. I even got a free strand of pearls! We have been able to get 2 for $30 in the BYU Bookstore, but price varies. You can purchase them online, though, and see what kind of items are listed.
Student Advantage – This is similar to the starving student card, but it is available nationwide, and has hotel discounts, shoes, food, and much more.