We recently switched our car insurance to Noblr and save about 30%! Here is our unsponsored review about our experience thus far – and whether it's the right service for you!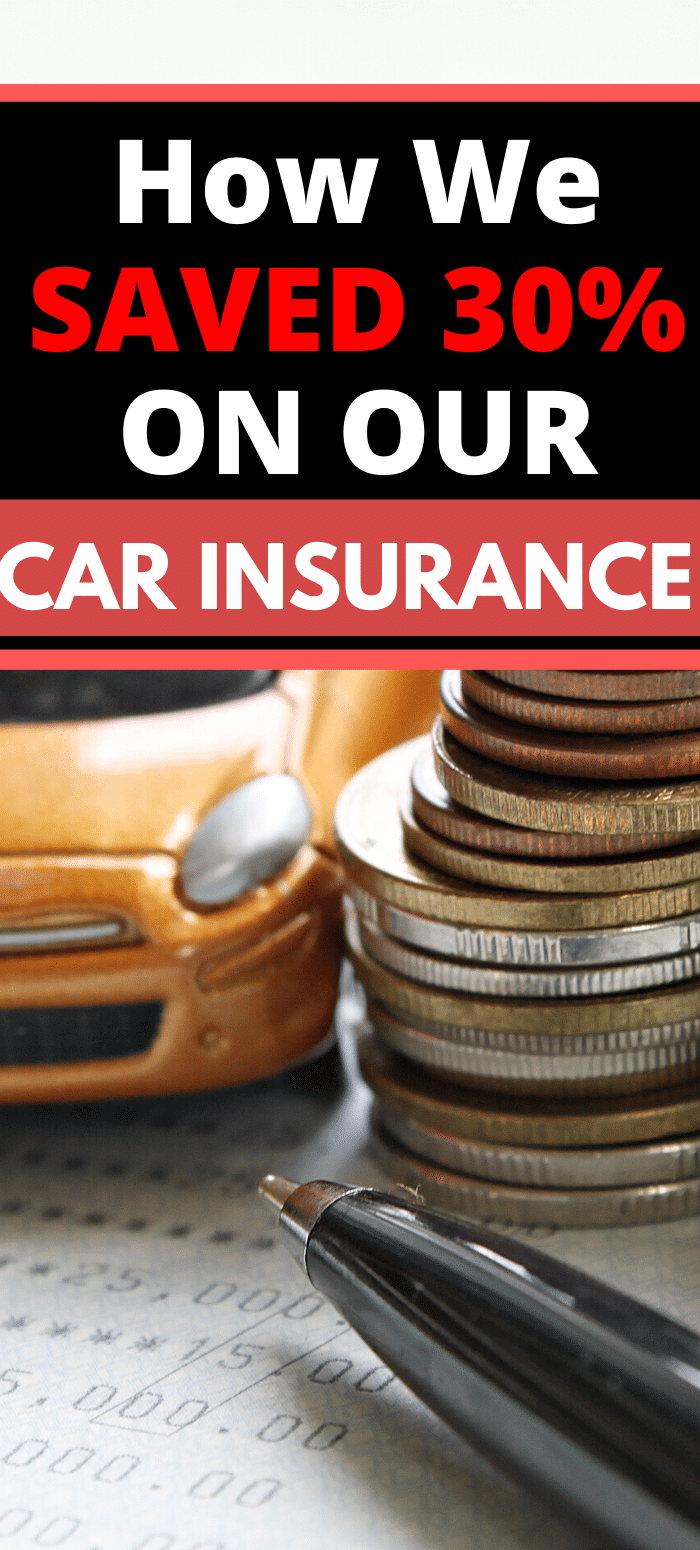 How to Save Money on Car Insurance
Last year, we bought a second car for our family.
As with any car purchase, there are always various fees associated with it – one of those being an increase in car insurance.
Because it was a fairly new car (2019), I knew it might hurt a little bit to see how much we'd be paying for car insurance.
I requested a quote from our insurance agent, and I about fell out of my chair when I read it would be an additional $158 a month to add our car – bringing our monthly premium to $262 a month.
They said they'd see if any other quotes came back lower. And they did not. So I decided to do my own research.
As I was searching on Google, I came across a company called Noblr. It claimed to base your rate on how you drove, and it intrigued me.
I put my information in, and I quickly got a much lower quote of about $170 for the exact same coverage from our other policy. I actually ended up decreasing our deductible, and our quote was around $190.
Obviously, even at $190 we were sitting a lot more comfortably.
But here's the interesting thing – when you sign up, you are given a fixed rate that you will pay every month.
That was about $130 – it was based on our expected driving habits, past accident history, being homeowners, etc.
No matter what, we would pay that amount.
After that, there is a variable amount that you will pay each month – and this is based entirely on our driving.
I was a little nervous as we waited for our first bill, but I was pleasantly surprised to see our variable amount was only $35.71, making our monthly bill for that month under $170!
The second month was a little more – around $54 – but I am pretty sure that's because we drove to Utah and back… and I drove more. My driving score isn't always as good as Forrest's (apparently I'm not a very smooth braker).
But still, we have come in well under the quoted amount.
While I was doing research on Noblr, I found there were very few – if any – reviews.
I'll admit that made me nervous, and I wasn't sure if I wanted to be a guinea pig. But I'm so glad I gave them a chance.
There were some technical errors with their website in the beginning, but so far, everything else has run smoothly.
We even got rewards for paying our premium in full and just for joining – $216.45 to be exact. So we haven't had to pay our variable amount at all yet!
So in case you are interested in using Noblr as well, here is a little more information. This isn't sponsored in any way – I'm just looking to help a few people save some money. My brother's quote came back almost $100 less than what he was paying with his current insurance. Pretty crazy!
I actually just saw they partnered with Hippo, a home insurance company that seems like they might be able to save us a bundle too…
But now I'm getting sidetracked! Here's everything you need to know about Noblr.
(PS – if you go through our referral link to sign up, we will each get a $25 Amazon gift card! This post is 100% NOT sponsored by Noblr – but hey, if you decide to signup for them because of me, I sure wouldn't mind a little Amazon cash!).
Noblr Car Insurance Review
How Does Noblr Work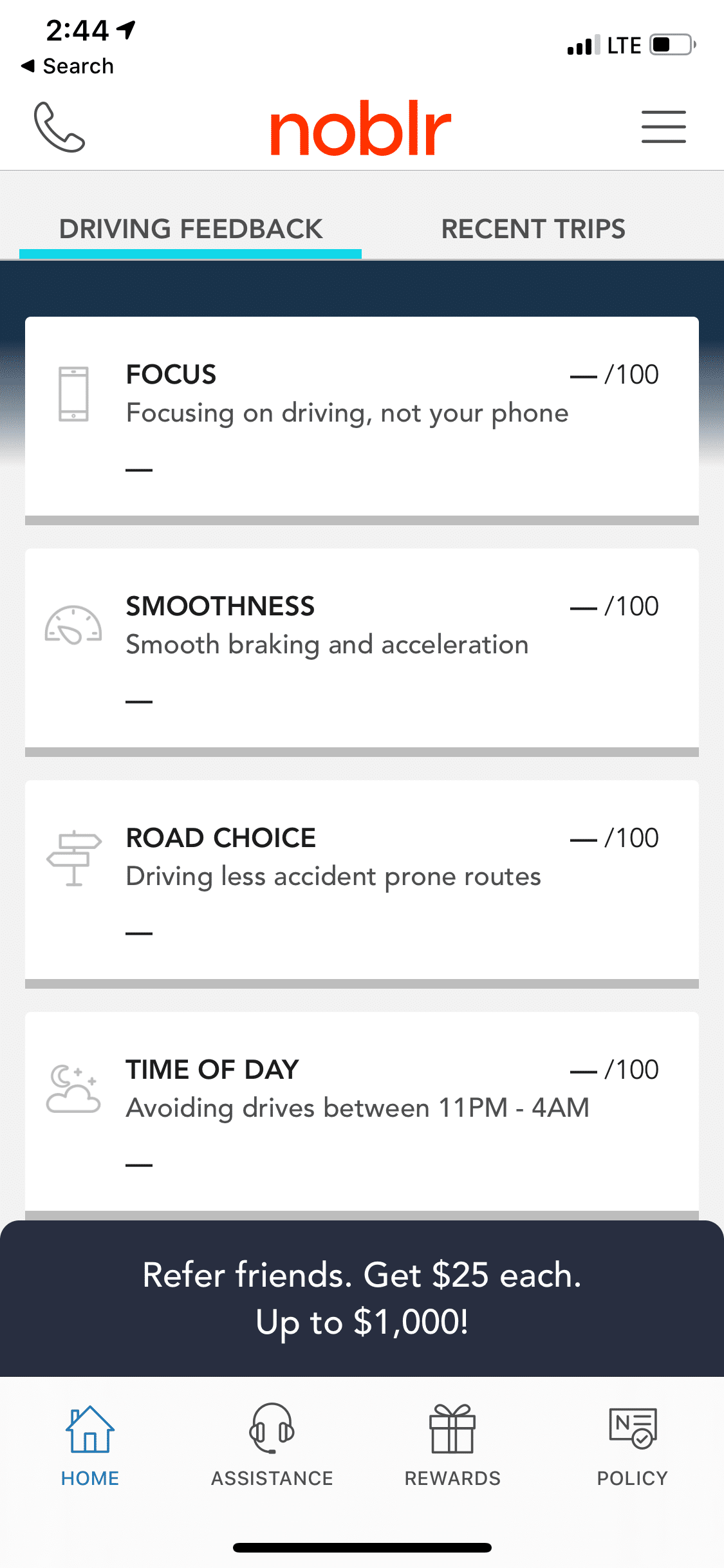 When you signup for Noblr, you put in your personal information, car information, and answer basic questions about your driving habits (for instance, how often you drive, when you drive, etc.)
Based on that, you are given a fixed amount you will pay each month. They also share a variable amount they predict you will pay – but that is completely up to how you actually drive.
Once you sign up, you need to download the app on the phones of anyone that is covered by the policy.
The app tracks your driving and scores it based on multiple factors:
Focus – basically, whether or not it senses you use your phone while driving.
Smoothness – Braking and acceleration
Road Choice – are you driving on more accident-prone roads? This one drives me crazy. I'll talk about that in the cons section.
Time of Day – You get dinged if you drive between to 11 PM and 4 AM.
Your variable amount is based on your scores from the above factors.
How much does Noblr cost?
This will depend entirely on your cars, driving history, any rewards you may be eligible for (for instance, being a homeowner and being accident-free), and how you drive your car.
You will always know your fixed-rate, but your flexible rate can vary from month to month.
We are saving, on average, about 30 percent a month compared to what our premium would have been. Here are our receipts for the last two months: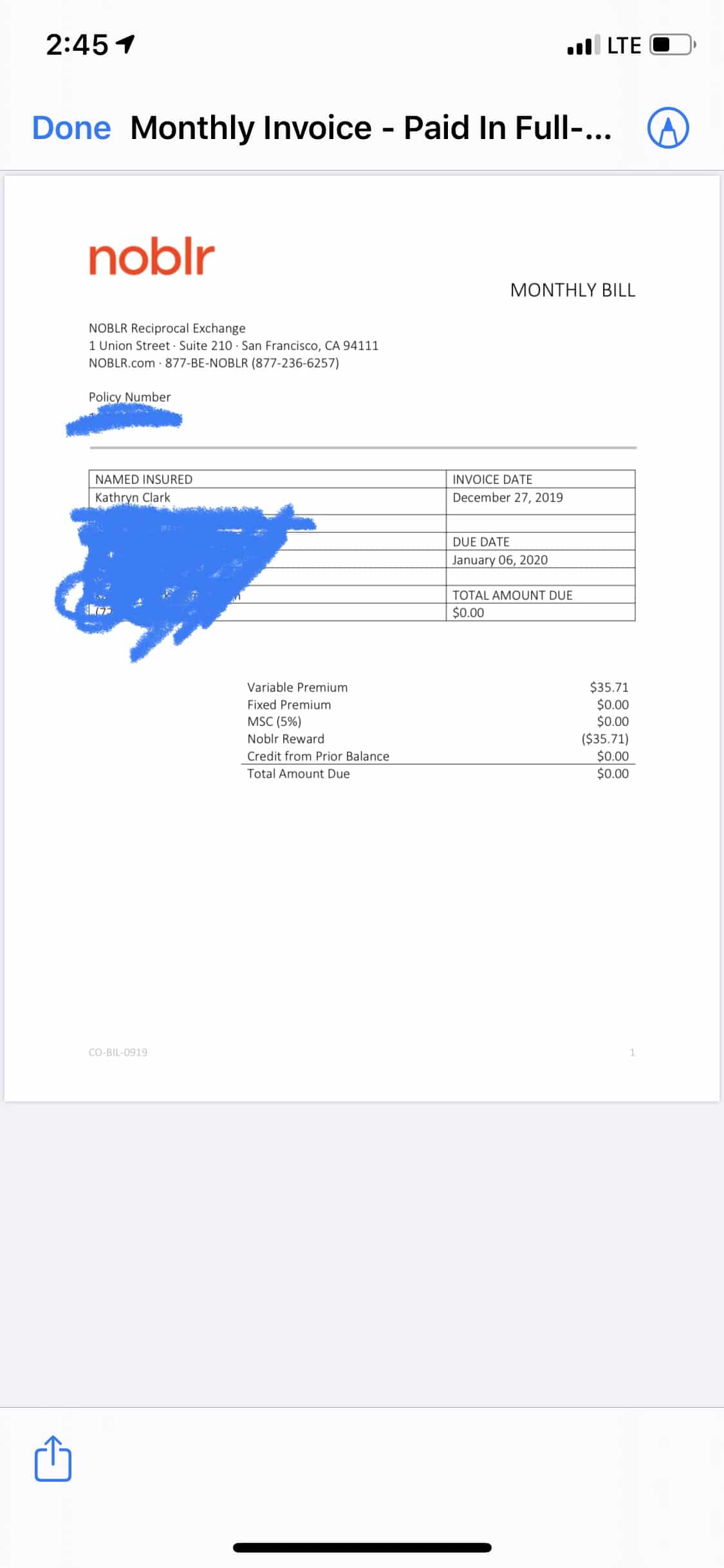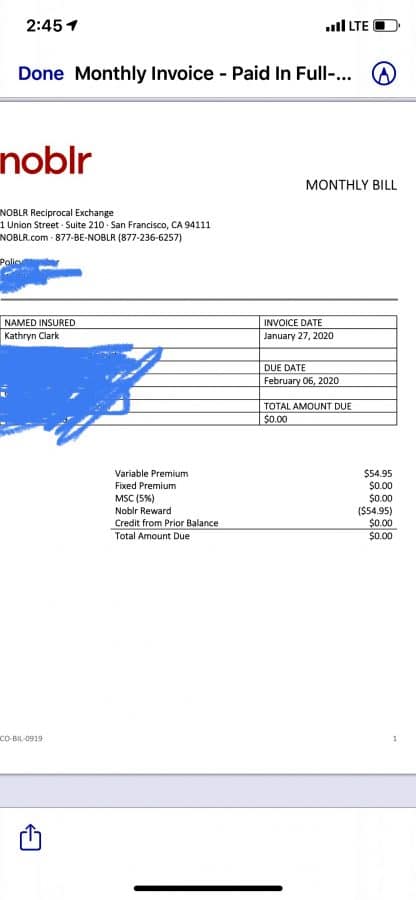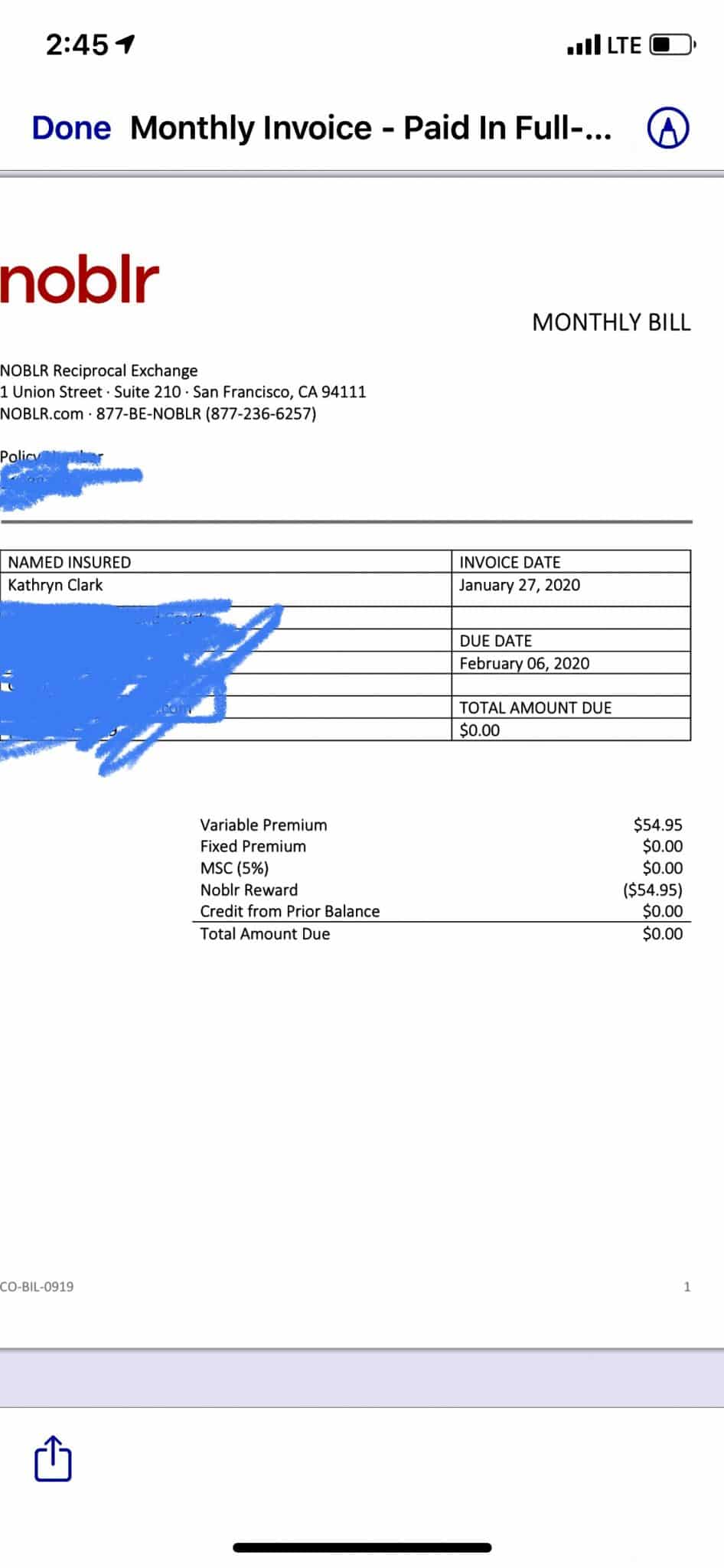 And since we got rewards upon signing up, we are technically only paying about $130 a month right now – those credits should last a few more months!
What type of coverage does Noblr offer?
They offer everything from very basic to comprehensive. We have top coverage on our cars with a low deductible.
I like that you can adjust everything based on what you want. For instance, since we have two cars that our entire family can fit in – and rarely do we need two cars at once – we opted out of having rental car reimbursement.
I also played around the deductibles and found the difference to be negligible.
Where do you have to live to use Noblr?
They are an authorized insurance provider in all 50 states and are currently able to provide insurance in:
They are constantly expanding, and at the time of this writing, they have announced they will soon be in Louisiana and New Mexico.
If you don't live in any of those states, Root is another option to consider. You can read more about them below.
Pros
Affordable
Obviously, we are saving a good chunk of change on our car insurance now.
I can't guarantee that will be the case for everyone – but as I've already mentioned, my brother was given a less expensive quote as well.
Based on how you actually drive
I like that it takes real-time data. I'm a big fan of you being rewarded for being a safer driver – and not just based on some arbitrary numbers thrown together.
If you are choosing to drive more dangerously (for instance, while texting), then perhaps you should pay more for putting yourself and others more at risk.
This could be a great option for those with teen drivers. You could make them pay you if they go outside an expected score (don't hate me for the suggestions teenagers!).
If only I could have health insurance that worked this way…
Rewards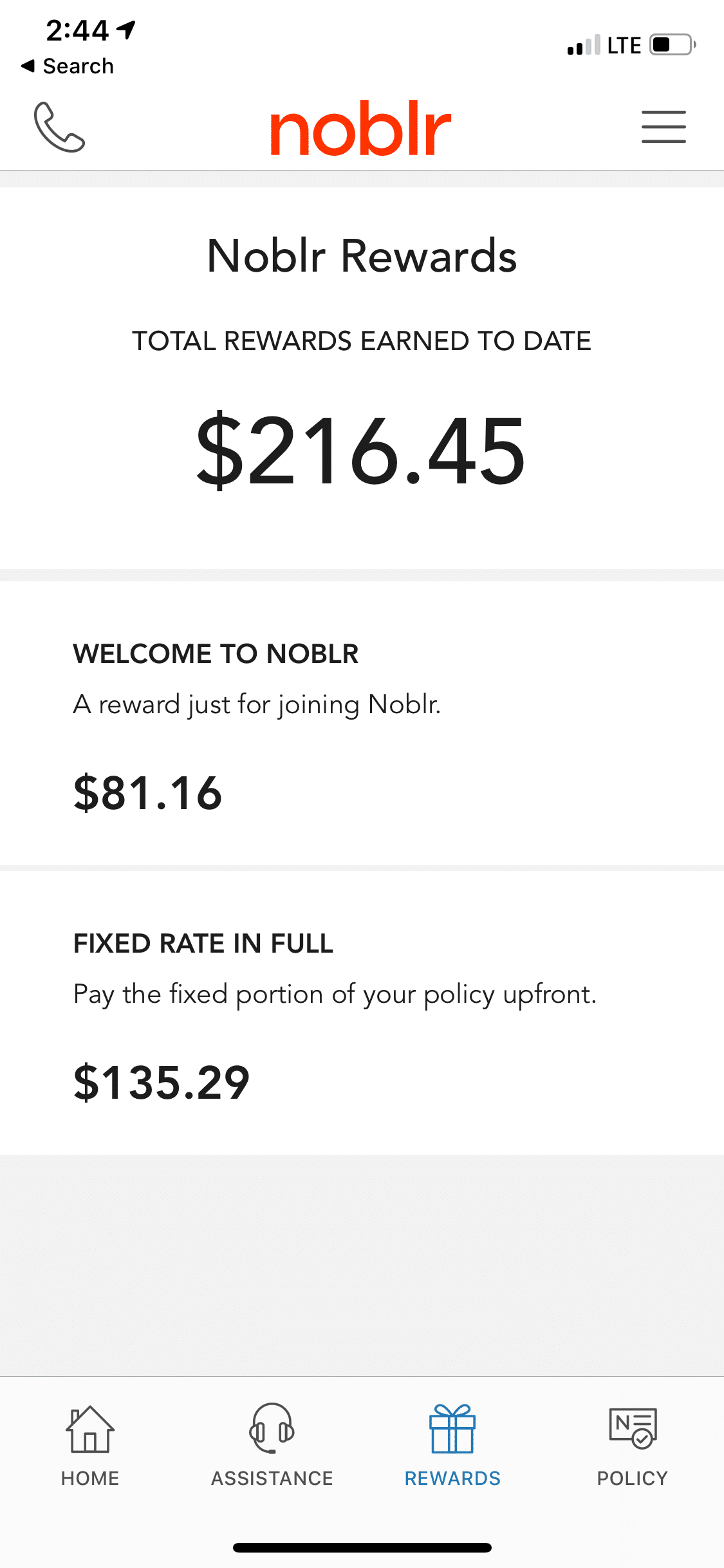 Noblr has rewards you can get that make things more affordable.
For instance, we got over $200 in rewards for paying our fixed amount upfront – as well as a bonus just for signing up.
They also have a great rewards program. For anyone that you refer, you both get a $25 Amazon gift card (up to $1000). Not too bad!
Easy to Find Insurance Card
I think a lot of companies have mobile apps these days, but I hadn't used one until Noblr. No more digging around for our insurance card in the glove box. It's simply in the app!
However, if you are more of a paper person, you can definitely print it off.
Cons
Road choice is annoying
As I mentioned above, the road choice part of the scoring algorithm is the most frustrating.
We rarely have it tell us that we are driving on a street they approve of, unless we are on the Interstate.
We definitely pick the best roads available to our destinations – but they don't see any of them as appropriate.
I hate that this brings our score down so much, when it's not really in our control. We live in a suburb of Denver. Not sure what exactly they are looking for!
Have to manually change when you weren't driving
I'm not sure how I would change this, but whenever I'm not driving (the majority of the time), I have to
No way to really track how much you'll pay for variable
As you are with Noblr longer, you can get an idea of how much you are going to owe based on your scores.
However, when you are first starting out it can be a bit stressful waiting to see what you'll owe. I was a bit worried that our average score of 80 (brought down by road choice) would have us paying a ton!
It would be nice to have something to track your progress (and inspire you to be better!) – like how much you would owe from each day.
Could be manipulated
This is more a con for Noblr. Because you can change whether you were driving or not, if you don't like your score, you could change it to say you were a passenger.
I would hope people would be honest, but it's definitely something that can happen.
How do you submit a claim?
It's very easy (well, it seems like it. Thankfully we haven't had to submit a claim yet!).
The app has an "assistance" button where it gives you all the information you need in case you are in an accident or need to submit a claim for something else.
It also has a place to call roadside assistance.
What are they doing with my driving data?
When I mention Noblr to people, the first thing they say is, "How are they using my information?!"
This is a concern since they are basically tracking everything about where you drive and how you drive.
Totally understanding that the thought of that might be unnerving. Here is what their website says:
"Noblr collects data about how and how much its members drive because they have chosen to share it with us via their phones. We work with technology partners to help us do the math that gives you the best possible rate."
How does Noblr compare to Root, Allstate Driveswise?
As you might guess, Noblr isn't the only company doing something like this.
I haven't used these other companies, but I did look into them. If I would have had a little more time before I had to get our new car insured, I may have used Root. However, Noblr didn't require a test-drive period, the rate was great, so we went with it.
Root is also an app-based program. They claim they can save you up to 52% on your car insurance.
Root is available in most states across the United States. It has more of a reputation than Noblr does, and I can't see anything wrong with it.
Before you can get a quote, it requires you to do a two-week drive test. Even though we have already paid for Noblr, I think I will download it so we can do a more accurate comparison.
It says you can submit claims in just one minute, and it seems to be a pretty smooth website and app experience. They allow you to customize your plan, earn cash for referring friends, and even give you Lyft credit on certain holidays.
I think it looks pretty good. My brother said his quote was about $30 higher than what Noblr expected he would end up paying.
However, Root does seem like a good option – especially if you don't live in one of the few states Noblr is available in.
Allstate has a program called Drivewise. It is an app you download, and it scores you based on driving safe speeds, during safe hours, and safe stopping.
You earn 3 percent cash back just for signing up, up to 30% cashback every six months for safe driving, and you can earn additional rewards for completing safe driving challenges.
Noblr Discount Code
This isn't really a discount code – just a perk for signing up through my referral code. You will get $25 to Amazon when you go through my link!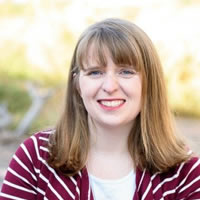 Katie is a Colorado-native, BYU graduated, and most importantly, wife to one and mother to three beautiful boys. She is passionate about sharing her experiences with others – especially about pregnancy, breastfeeding, cooking, and crafts. She is an International Board Certified Lactation Consultant. She loves spending time with her family and helping others find joy in family life.