Glowforge materials are the laser-compatible material that Glowforge lasers can cut, engrave and shape designs from. Glowforge materials include wood, acrylic, leather, some metals and more. In this article, you will learn about all the different types of materials you can use with your Glowforge, answers to frequently asked questions, and where to buy your supplies.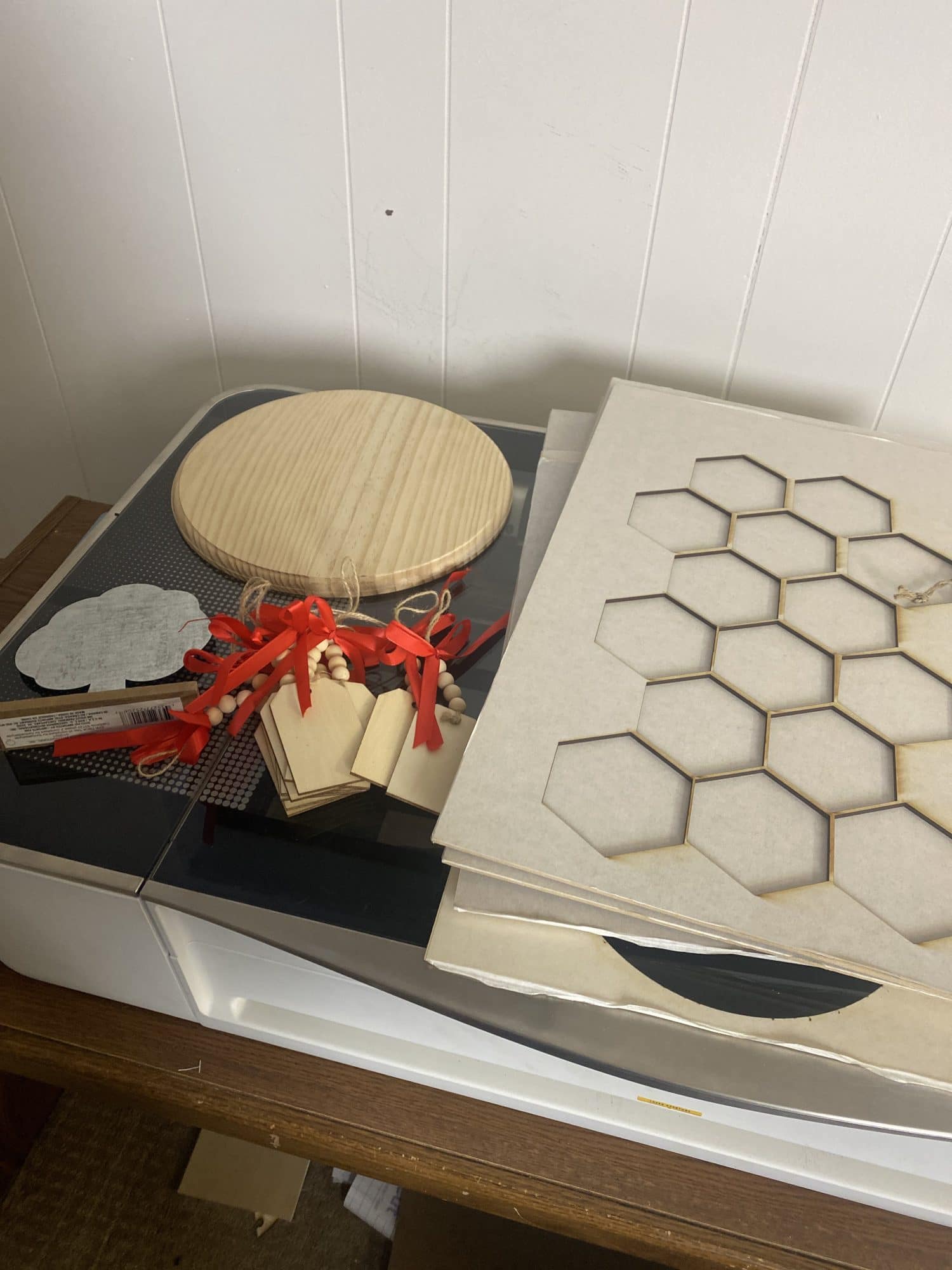 You've heard all the hype about Glowforge machines and you're ready to make your own projects, but you don't know what kind of materials to use.
A lot of people are intimidated by laser cutters because they think they need to have a background in engineering or design. But that's not the case with Glowforge! Our lasers can work with a variety of materials, including wood, acrylic, leather, and metal.
With Glowforge materials, you'll be able to create beautiful designs and projects in no time at all. Plus, all three models of Glowforge – Basic, Plus and Pro – give you the flexibility to choose the machine that fits your needs.
Are you ready to take your Glowforge to the next level? Make sure you signup for "Grow with Glowforge: Project Jumpstart Guide". It's the ultimate resource for going from feeling overwhelmed by your project creation to confident and making $$$! We even have a couple design tutorials!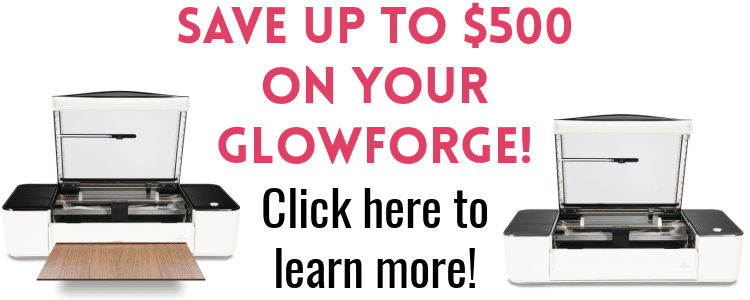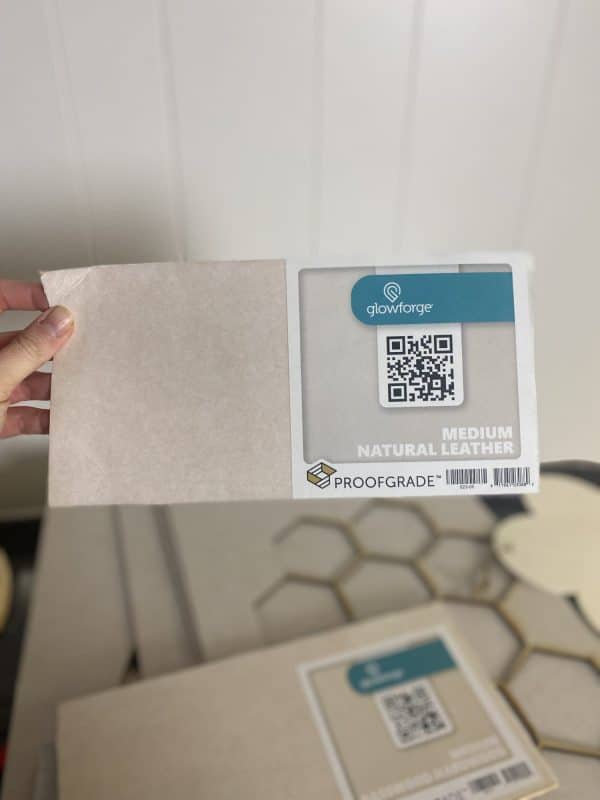 What Materials Can You Use with Glowforge?
In general, Glowforge can cut a wide variety of materials. These include cardboard, paper, leather, fabrics, and even some metals. The specific types of materials that Glowforge can cut vary depending on the thickness and composition of the material.
One of the benefits of using Glowforge is that it can print with a wide range of materials. This means that you have more options for what you want to create. Additionally, the different materials have different benefits for different objects. For example, cardboard is a good material for creating prototypes or models because it is easy to work with and relatively cheap.
Getting to know the various types of materials that you can use with your Glowforge will give you a better understanding of what you're trying to create before you start printing. Now that you have a general idea of materials your Glowforge can print with, let's dive in a bit deeper.
The following is a list of the most common AND popular materials that can be cut with a Glowforge:
Wood
Fabric
MDF Board
Leather
Paper
Plexiglas (acrylic)
Delrin (acetal)
Mylar
Rubber
Corian
Foods
One of the big features of the Glowforge is its ability to engrave. Here are some of the most popular materials you can engrave with the Glowforge (and you can engrave the aforementioned ones as well):
Aluminum
Titanium
Phones
Tablets
Laptops
Glass
Coated Metal
Marble
Andonized Aluminum
Painted/Coated Metals
Stone
Marble
Granite
What are Proofgrade Materials?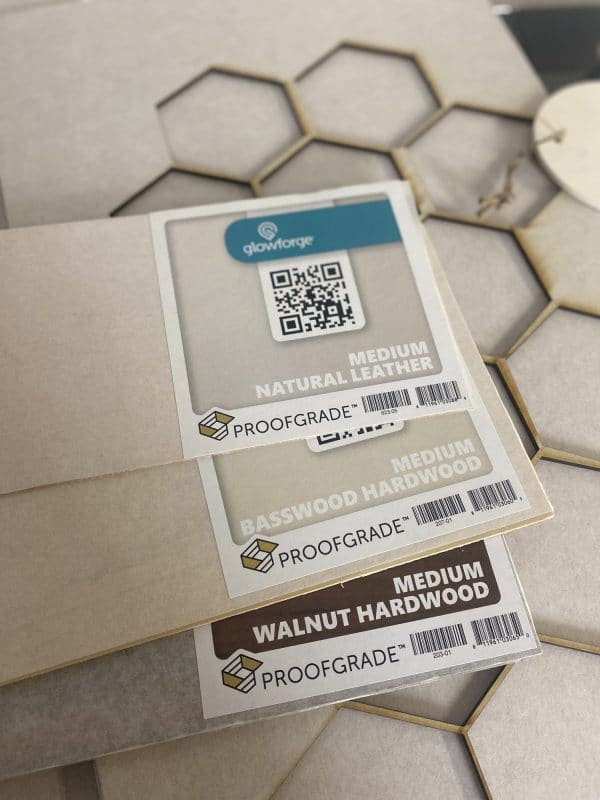 Proofgrade materials are the materials that have been created by Glowforge and shown to work perfectly with the Glowforge. They have been tried and lab tested for perfect printing.
Proofgrade materials include a QR code, which your Glowforge can scan. It automatically puts the settings into your Glowforge so you don't have to.
It is not a requirement to use Proofgrade Materials, but it can make things a little bit easier. I think that Proofgrade materials are particularly helpful when you are first starting out and maybe aren't as familiar with the process of selecting the correct settings.
They also come with the masking already on the material, so that's another step you don't have to worry about.
We have personally used many of their Proofgrade materials and have been pretty happy with them. You can find better prices on materials, but they do occasionally go on sale. Here are the different types of materials you can buy directly through Glowforge:
Leather

Natural Leather in a variety of sizes

Plywood

Maple plywood (finished)
Walnut plywood (finished)
Cherry plywood (finished)
Basswood plywood (finished)

Acrylic

Clear Acrylic
Black Acrylic
White Acrylic
Red Acrylic
Blue Acrylic
Teal Acrylic
Purple Arylic
Flourescent Pink Acrylic
Orange Arylic
Yellow Acrylic
Green Acrylic
Flourescent Green Acrylic
Glass Green Acrylic
Frosted Clear Acrylic
Clear Blue Cast Acrylic
Black Acrylic

Veneer

Cherry Veneer
Maple Veneer
Walnut Veneer

Hardwood

Walnut Hardwood
Cherry Hardwood
Basswood Hardwood
Maple Hardwood
Red Oak Hardwood
Poplar Hardwood
Ash Hardwood

Draftboard
Where to Buy Glowforge Materials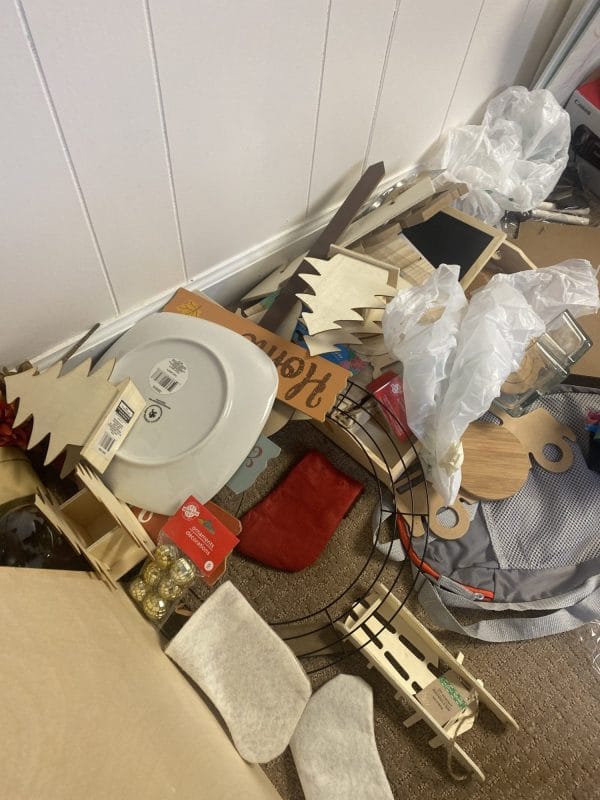 There are many different places where you can buy various Glowforge materials:
Many craft stores such as Michaels' or Hobby Lobby have items like wood, acrylic, and more that will work perfectly with your Glowforge.
Home Depot and Lowes are also great places to buy different materials, especially wood
You may even be able to find some great materials to use at your local dollar store – here are some of our favorite Dollar Tree Glowforge blanks.
There are many small companies, businesses and individuals that sell materials as well. They often have better costs than big box stores because they have lower overhead costs. The customer service is often more personal, too, and you are supporting a small business!
I am in quite a few Facebook groups for Glowforge, and people are always selling materials in them! Those are great places to look out for blanks.
The most important thing is that it comes from an authentic source and will work well with your printer- just make sure you get yourself some good prices without sacrificing quality!
Check out these websites for places you can buy materials and blanks:
There are many more, too! Not every distributor has everything, and many have products unique to them. But you can usually find some great materials at reasonable prices from small businesses.
You can also purchase materials from Glowforge directly and doing so has some great advantages. When you purchase your materials directly from Glowforge, they are coded with their cut settings for easy cutting.
What is a Glowforge 3D Laser Printer and What Can it do?
The Glowforge is a laser printer that can cut various materials as well as engrave. Although it is called a 3D printer, it does not actually print 3D objects. While a typical 3D printer uses additive manufacturing and builds up material layer by layer, a Glowforge takes one piece of material and carves it using laser light.
If you are new to Glowforge, be sure to check out this article – 16 Things to Know BEFORE You Buy Your Glowforge
What Glowforge is best?
There are three models of the Glowforge:
The good news is that ALL of these are compatible with all the same materials. The Glowforge Pro has added power, and it also has the "Pass-through" mode, which allows you to create larger-scale projects.
For a full comparison on the machines, check out this post – Glowforge Pro, Plus or Basic: An In-Depth Comparison (2021)
Regardless, you can save $500 on the Pro, $250 on the Plus, and $125 on the Basic when you shop through our referral link!
Popular Glowforge Materials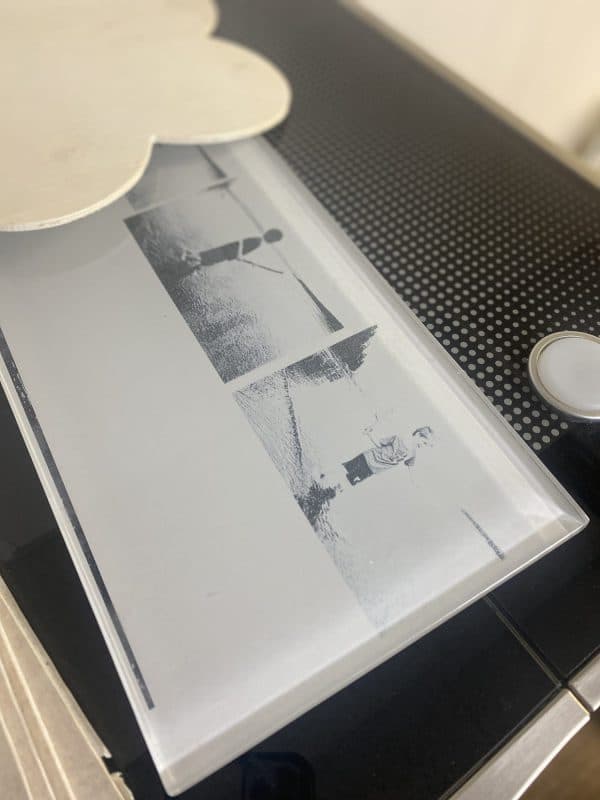 Just like with any other device, the materials you use with a 3D laser printer matter. Different materials have different properties, which means they can be used for different purposes. Some materials are better suited for creating detailed objects, while others are more durable and perfect for everyday items.
The Glowforge is compatible with a wide range of materials. These materials can be cut into a variety of shapes and sizes, making them perfect for a variety of projects. Let's take a closer look at some popular material options.
Wood
Wood is one of the most popular materials to cut with the Glowforge. You can use all kinds of different types of wood to make projects with your laser cutter in seconds from maple to Barnwood.
You do not need to be an experienced woodworker to make beautiful projects with your Glowforge as it cuts very fast and precisely with very clean cuts.
Baltic Birch is one of the most popular cuts of wood that people use with the Glwoforge.
Here are some other popular woods and what they are good for:
If you are doing a 3D engrave, hardwoods and draftboard tend to work best
For photo engraving, hardwood or plywood is a good choice
Veneers are great to be inlaid with other woods
Draftboard is good for practice or things that you aren't super particular about the finished product for
Plywood is really great for just about everything
Hardwood is good if you don't need an MDF center
Dense wood is best when cutting cutting boards
You really can't go wrong with any of the proofgrade materials!
Paper
Paper is a popular material to use with the Glowforge. The Glowforge is able to easily cut through a variety of different thicknesses of paper, making it a great material for creating quick and easy projects. Additionally, the cuts made by Glowforge are clean and precise, which can give your projects a more polished look.
Leather
Leather is another favorite material that Glowforge users love to create projects with. You can make many high-quality and long-lasting items with leather using your laser printer.
Some ideas for leather projects include wallets, handbags, pet collars, clothing patches, and more.
Acrylic
Acrylic is a Glowforge-favorite. Glowforge users love to use this material for all kinds of different projects, especially when it comes to making signs and other types of home décor items.
Making DIY signs using Glowforge acrylic is a great idea if you like decorating with names or inspirational quotes in your home. Additionally, Glowforge users often make small projects using acrylics, such as night lights and picture frames.
Silicone
Silicone watch bands, bibs, cell phone cases…these are all incredibly popular items to engrave with Glowforge! They are very hot sellers, too.
Masking Your Materials
Masking is something you usually will want to do if you ARE NOT working with a Proofgrade material. The Proofgrade materials come with a film already on them, so you can skip this part with those materials.
Masking helps to prevent/minimize scorching when engraving is going on. There are different ways that you can mask your materials, but the simplest is just simply using blue painter's tape. However, you can find more cost-effective solutions – for instance, this type of tape is pretty popular.
Cutting Metal with Glowforge
One big question many people have is whether or not they can engrave metal. According to Glowforge:
"Glowforge can etch some metals, like anodized aluminum, directly. Other metals, like stainless steel, work best if you spray them first with a product such as Cermark. This process discolors the metals but does not engrave them away, so the surface still feels smooth to the touch. Unfortunately, the power levels of a desktop machine aren't quite enough to cut metal, so your best bet is laser cutting a template or jig, then using that as a guide for a blade or saw."
Can I engrave curved items with my Glowforge?
You can engrave curved items – such as shot glasses – with your Glowforge. It can have up to a 1/2″ curve, and it must still fit underneath your laser. That is the main limitation, is that many items with curves just don't fit underneath it.
What size can Glowforge cut?
The Glowforge Basic and Plus can cut 12 in x 20.4 in and the maximum printable area is approximately 11 in deep and 19.5 in wide. Due to the passthrough feature that the Pro has, it can cut 20.4 in wide, up to 1/4 in thick, and unlimited length!
Can you laser engrave on food with Glowforge?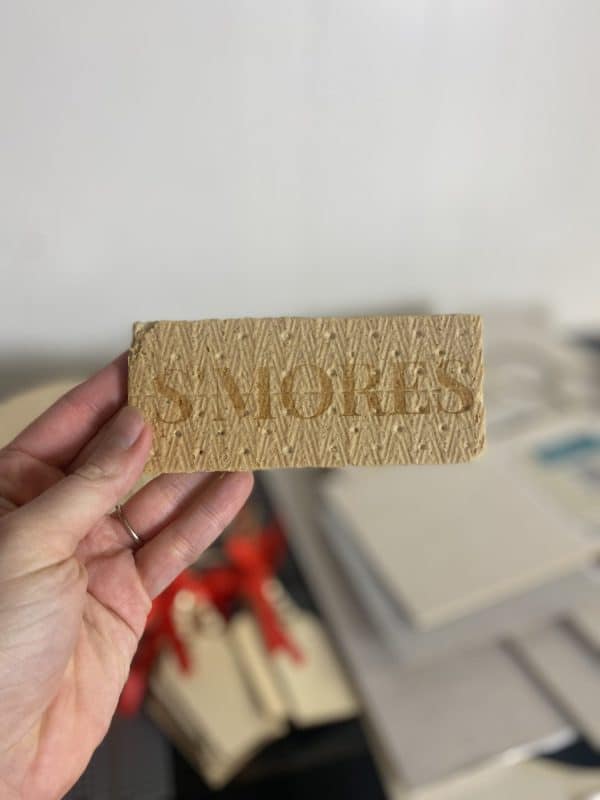 Yes! You can definitely use your Glowforge to engrave on food. However, if you are wanting to eat the foods that you engrave, you must have a Glowforge that is dedicated to food items only.
If you are using your Glowforge to engrave non-edible items, you can still engrave food. However, it should only be used for decorative purposes.
I would avoid anything too messy or sticky to prevent any damage to your machine.
What items should you avoid using with the Glowforge?
While there are tons of materials that you can cut and engrave with your Glowforge, it's important to be aware of what materials just aren't safe!
This list was taken from this Wiki page – be sure to check it out for more details on why you should avoid these materials.
PVC
Thick Polycarbonate/Lexan
ABS
Milk Bottle Plastic
Polystyrene Foam
PolyPropylene Foam
Epoxy
Fiberglass
Coated Carbon Fiber
Material with Sticky Glue Backing
What Can I Make with a Glowforge?
You can make all kinds of fun things with your Glowforge! You can create a wide variety of objects, including small items like jewelry and keychains, or larger items like furniture and home decor. The possibilities are endless! Here are some ideas to get you started:
Personalized Metal Flask
Jewelry Organizer
Picture Frame
Custom Signs
Wooden Earrings
Leather Wallet
Click here for over 100 Glowforge Project Ideas!
Tips on What to Look for When Selecting Your Material Type
If you're looking to 3D print a quality product, what material should you use? Well, that depends on what type of job you need it for. Each material has its own properties and what works best for one may work worse for another.
The Glowforge printer cuts a variety of different types of materials. It can cut different grades and types of wood, fabric, and paper as well as a number of other materials which are useful for one-off projects or prototyping.
Since there's such a wide range of what this 3D printer can produce, you'll have to know what material is going to be best for what project so you don't waste your time or money on creating something that won't look or function how you'd like it too.
If you're looking for a durable material, then wood or metal might be good options. If you are wanting something more lightweight, consider using paper or fabric.
If you're looking for something that can withstand high temperatures, metal is probably your best bet.
Glowforge is Perfect for Personalized Gifts
Almost everything can be cut on a Glowforge. Some materials will yield better results than others depending on what you're actually trying to accomplish.
Many types of materials can be used with Glowforge in order to make beautiful customized items that make perfect gifts for loved ones. In order to know what type of material you need for your project, it's important to first understand what the different types of materials are made of and what their benefits are for different objects.
Hopefully, this comprehensive guide of 3D printing materials that are compatible with Glowforge will help you to get started. With such a wide range of materials to choose from, you're sure to find the perfect one for your needs. Happy printing!
More Glowforge Posts You Might Enjoy: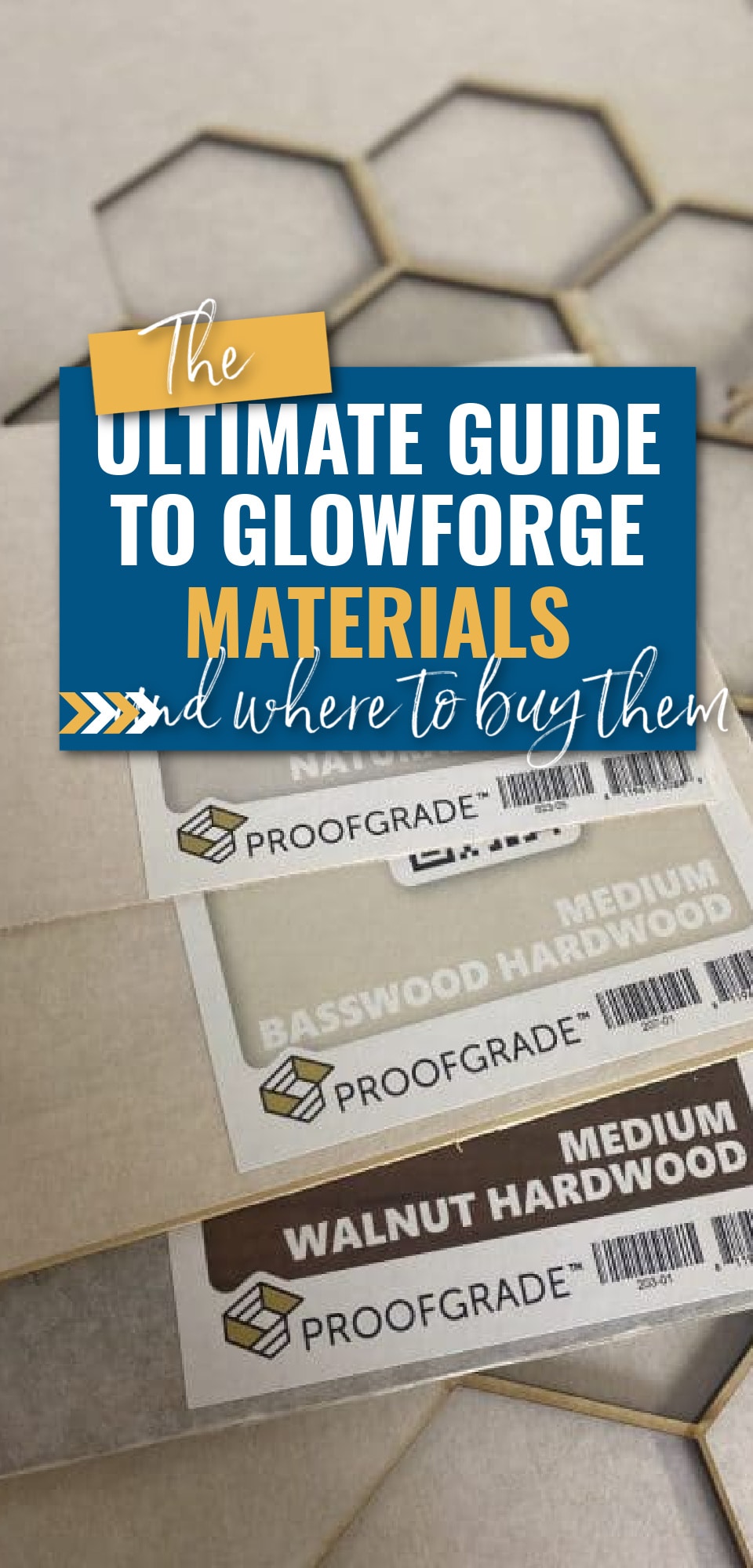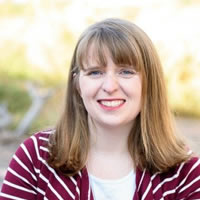 Katie is a Colorado-native, BYU graduated, and most importantly, wife to one and mother to three beautiful boys. She is passionate about sharing her experiences with others – especially about pregnancy, breastfeeding, cooking, and crafts. She is an International Board Certified Lactation Consultant. She loves spending time with her family and helping others find joy in family life.