Learn how to make easy Air Fryer English Muffin Pizzas – you may never go back to how you made these before!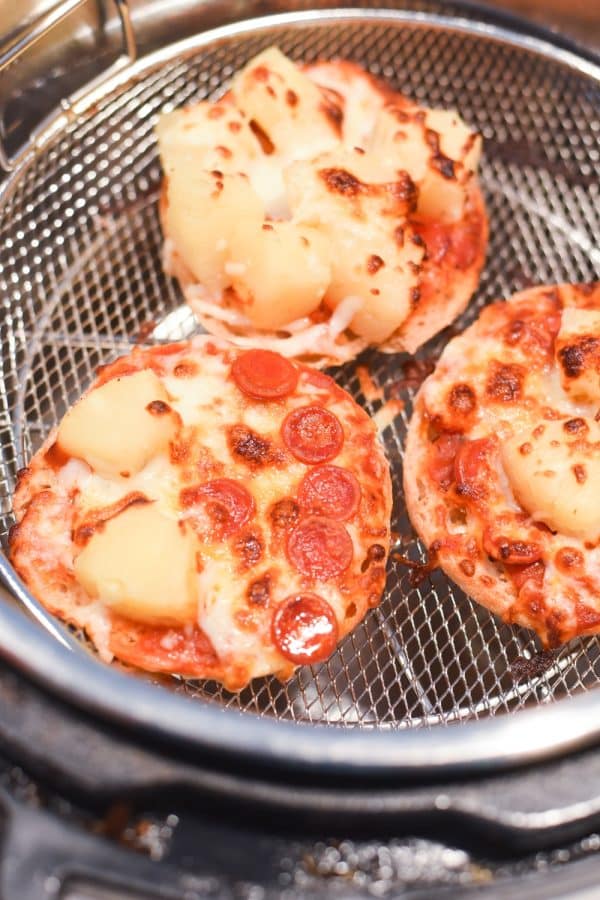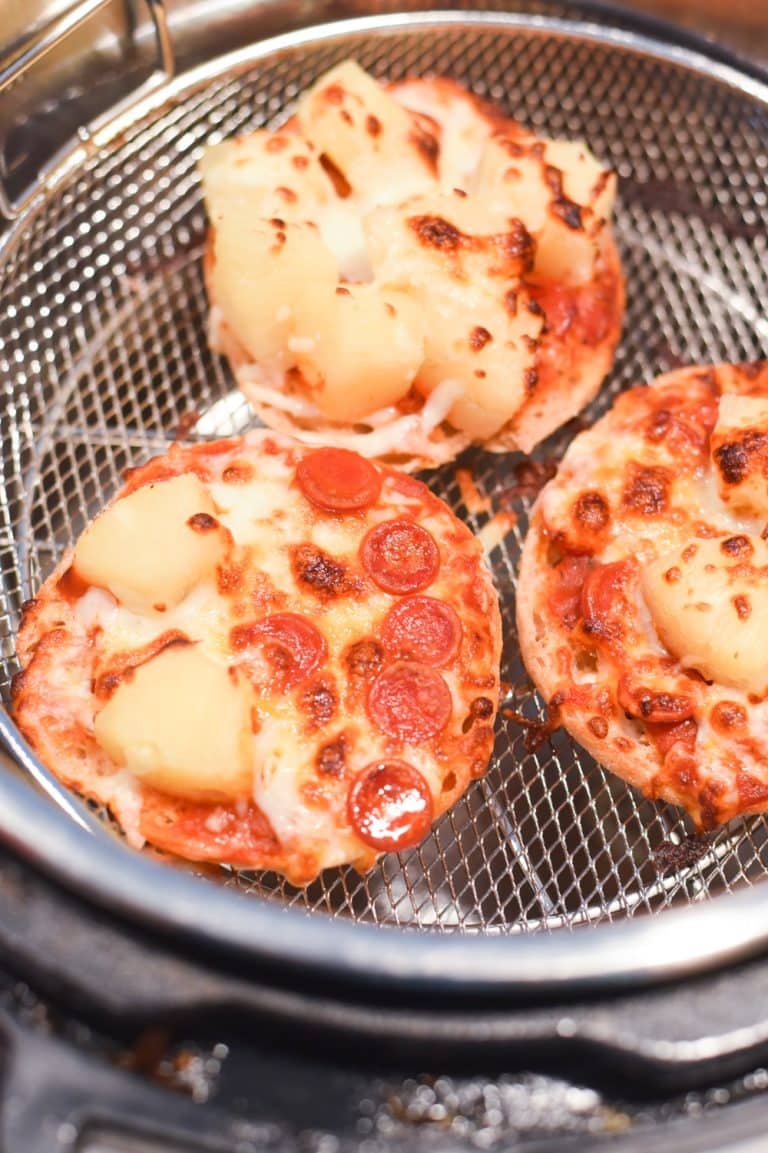 English Muffin Pizzas in Air Fryer
If there's one thing our family loves, it's pizza!
Friday night has been officially deemed pizza night around here.
While we sometimes will order out or try out a new pizzeria in the area – we primarily will make pizza at home.
I love trying out new recipes and different crusts – sometimes we'll go the traditional route with our homemade pizza dough recipe, or grab one of the herb pizza dough crusts from Trader Joes (which are SO good).
I also like trying things like naan crust from the store!
But one of our very favorites is English muffin pizzas. We've written about these a few times in the past – it's so easy to learn how to make English muffin pizzas.
They are perfect for our kids and to let everyone customize their pizzas to their own liking.
We usually just cook them in the oven, and they turn out pretty good. However, after we got our Mealthy CrispLid, I decided to try out Engish muffin pizzas as an Air Fryer recipe.
We made them as we usually would – sauce, toppings, and cheese, and then we put them in for a couple of minutes…and they turned out perfectly!
I think I would recommend putting the crusts under the Air Fryer first before adding toppings, just to crisp them up first.
These seriously couldn't be easier though, and we ALL loved them!
If you want more awesome tips and tricks for using your air fryer, check out this how to use an air fryer guide.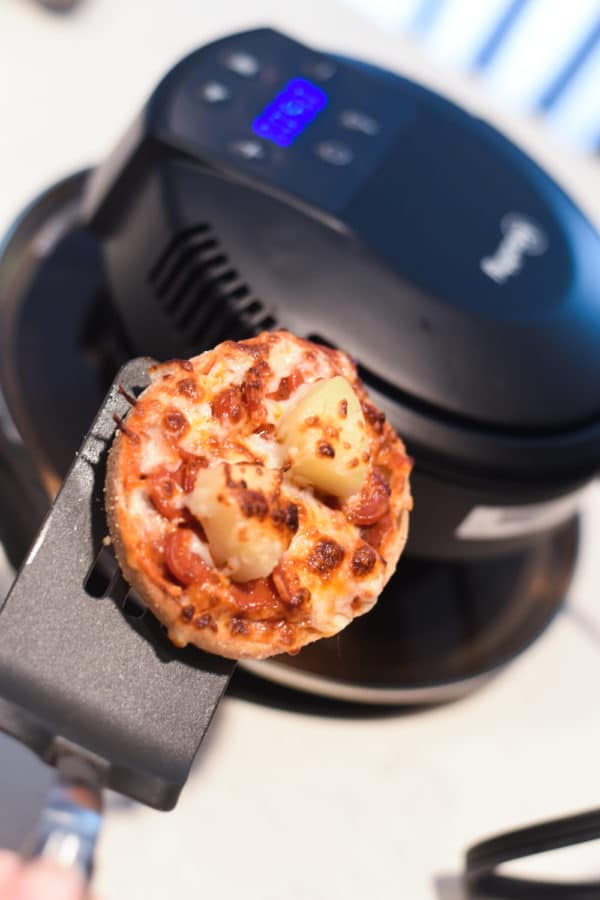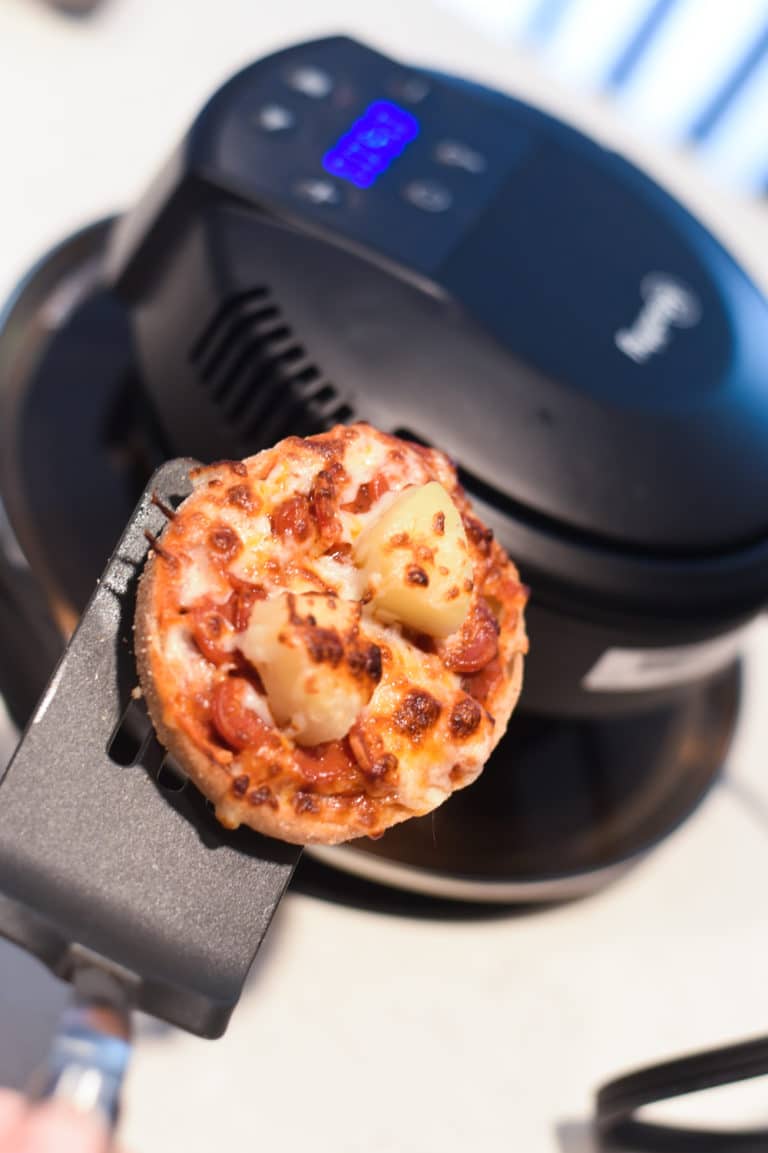 FAQ
What type of English Muffins do you use?
I have used Bays a lot in the past, but I recently tried out Dave's Killer Bread English Muffins, and I thought they were great.
Is this compatible with all Air Fryers?
It should be!
What Air Fryer do you use?
I use the Mealthy CrispLid on top of my Instant Pot.
Can I use a different kind of cheese?
Sure – use whatever blend you like. We just prefer to stick with the classics and use mozzarella
What kind of pizza sauce do you use?
If we are using store bought, I prefer the Simple Truth brand. However, if we are doing homemade, this homemade pizza sauce is delicious.
What toppings can I use?
You can use any that you want! We love using pepperonis, sausage, peppers, bacon, onion, and pineapple – all with different types of sauces (Alfredo sauce is delicious!).
How to Make English Muffin Pizzas in Air Fryer
Preheat Air Fryer to 400 degrees F.
Cut English Muffins in half.
Cook in Air Fryer for just about a minute before adding toppings.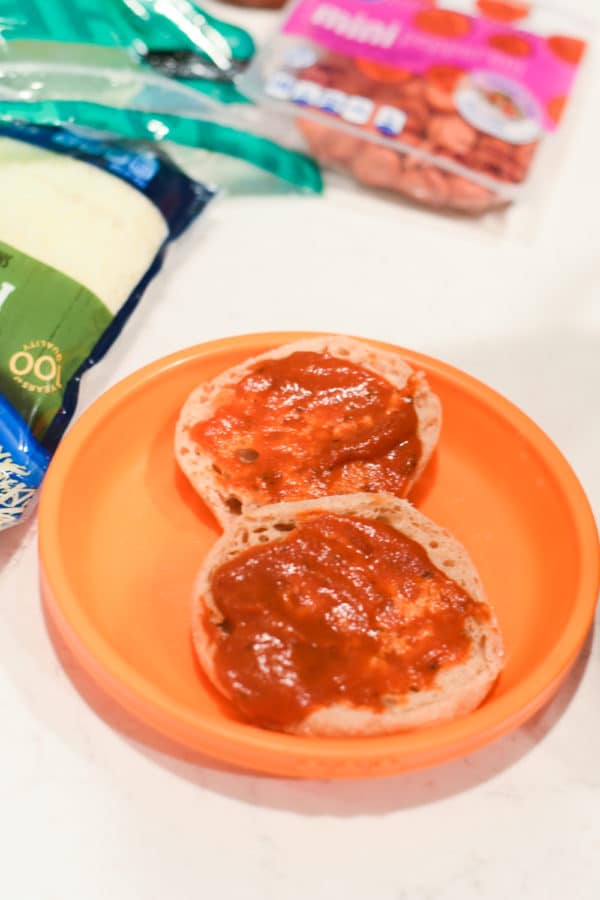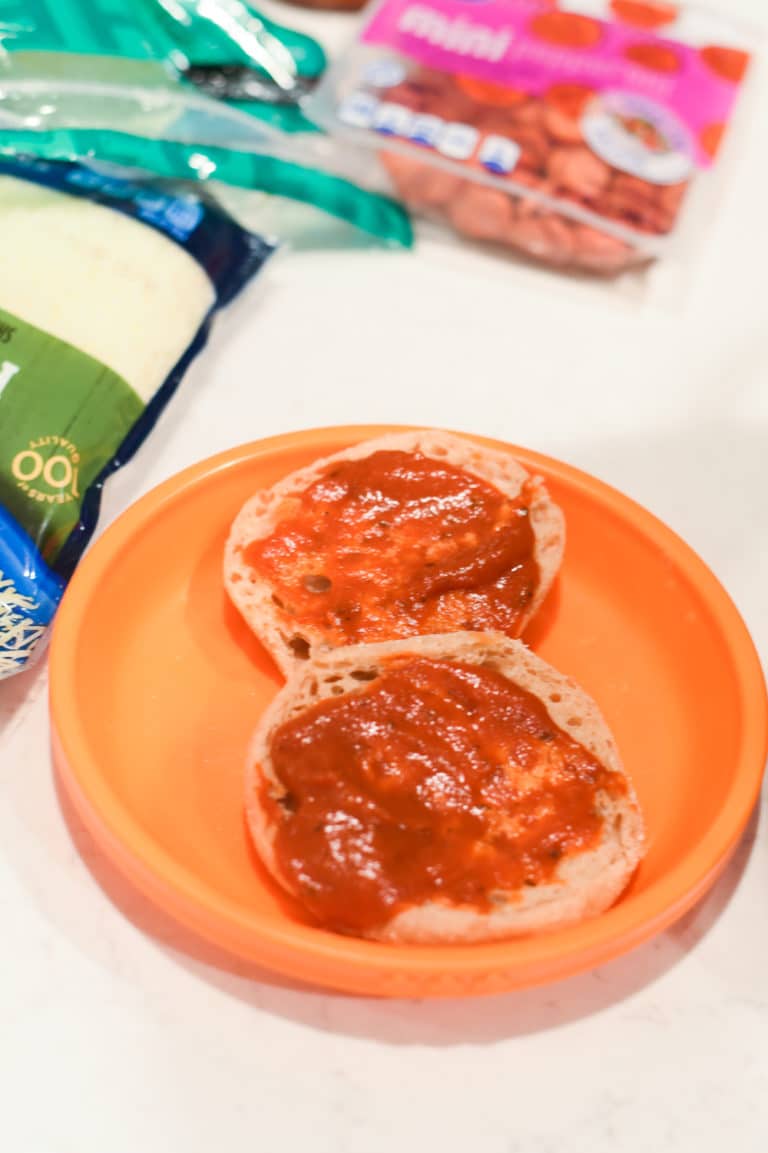 Spread pizza sauce of choice on top.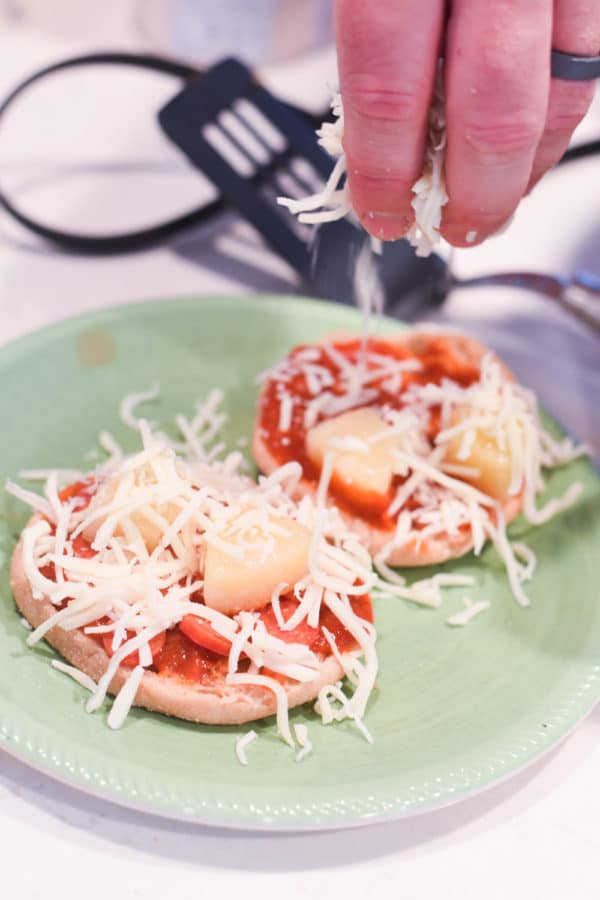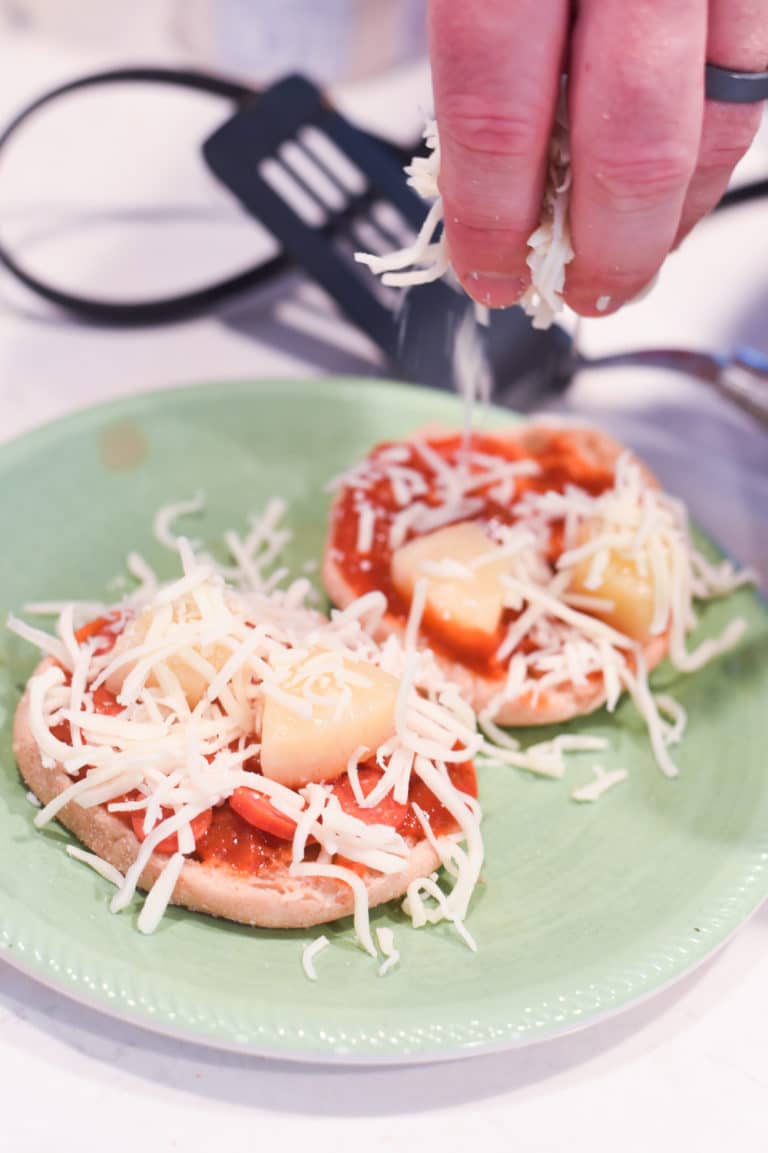 Add toppings.
Add cheese.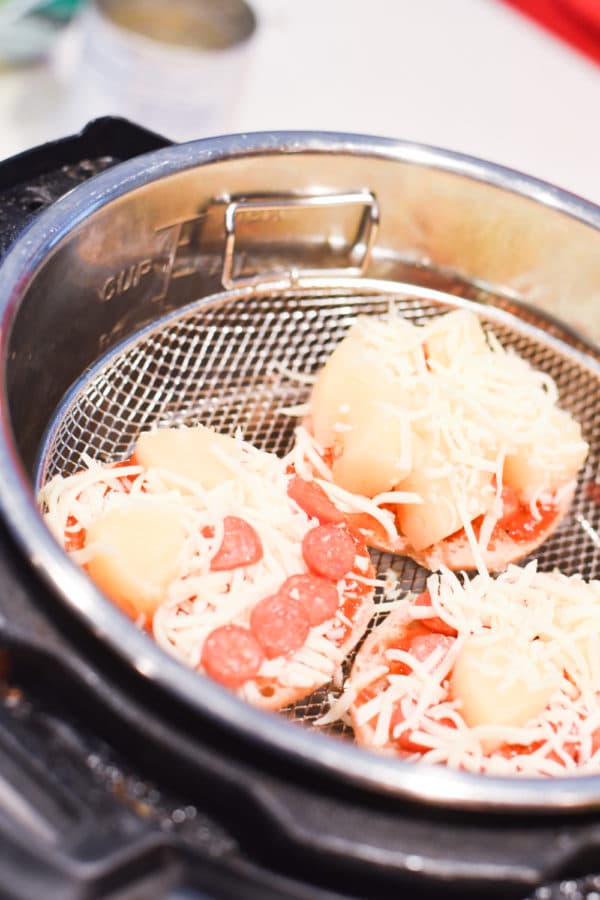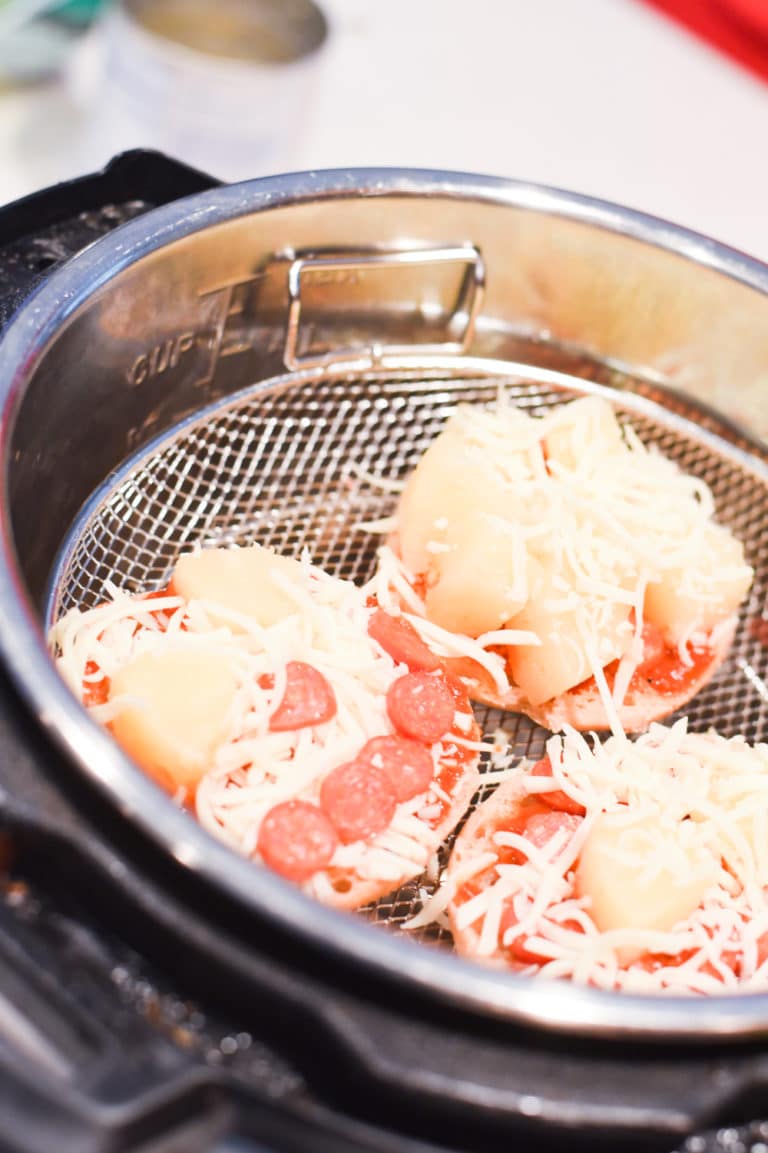 Cook for 4-5 minutes, or until browned and bubbly.
Air Fryer English Muffin Pizzas
Yield: 8 halves
Prep Time: 5 minutes
Cook Time: 5 minutes
Total Time: 10 minutes
Easy and delicious Air Fryer English Muffin Pizzas
Ingredients
4 English Muffins
Pizza Sauce of choice (tomato, alfredo, or BBQ are our favorites)
Toppings of choice
Shredded Mozzarella Cheese
Instructions
Set Air Fryer to 400 degrees
Once preheated, place halves of the English Muffins in the fryer for one minute
Remove
Add sauce, toppings, and cheese
Cook for an additional 4.5 to 5 minutes after putting back into the Air Fryer.
Other Pizza Recipes You May Enjoy
This Grilled BBQ Chicken Pizza is absolutely delicious!
A delicious and easy-to-put-together appetizer for parties that EVERYONE will love!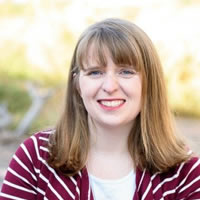 Katie is a Colorado-native, BYU graduated, and most importantly, wife to one and mother to three beautiful boys. She is passionate about sharing her experiences with others – especially about pregnancy, breastfeeding, cooking, and crafts. She is an International Board Certified Lactation Consultant. She loves spending time with her family and helping others find joy in family life.