Looking for an amazing Dutch Oven Pizza Recipe? This dutch oven pizza is perfect for campouts, scouting events, or even just the backyard.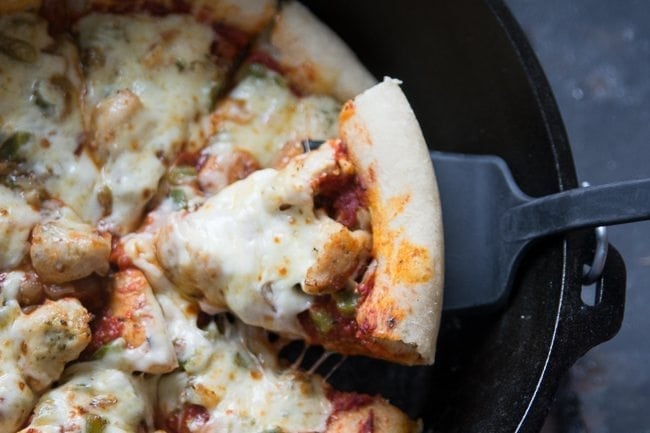 It's no secret that we love pizza around the Clark household.
While we probably order pizza once a week, we try to do homemade pizza at least once a month, because, well…homemade pizza is SO much better. It's also something we can all enjoy doing together, so it's a win-win.
When I was talking to my dad about different dutch oven recipes we should make, he suggested we make a dutch oven pizza. It's a pretty easy and diverse thing you can do in a dutch oven, and it's something everyone can enjoy.
Here are a few different ideas on how to make a dutch oven pizza even better:
BBQ chicken pizza – BBQ sauce, grilled chicken, bacon, pineapple, and onions
Hawaiian – pineapple, Canadian bacon, and cream sauce
Dessert Pizza – make a sweet pizza with fruit topping, icing, and a streusel topping
Classic – pepperoni and cheese
The Works – onions, olives, sausage (pre-cooked), pepperoni, peppers
Cheese Lovers – mozzarella, cheddar, asiago and parmesan. Yum!
Brush the crust with melted pepper and top with parmesan cheese
Full Dutch Oven Pizza Dough Recipe is at the bottom of the page.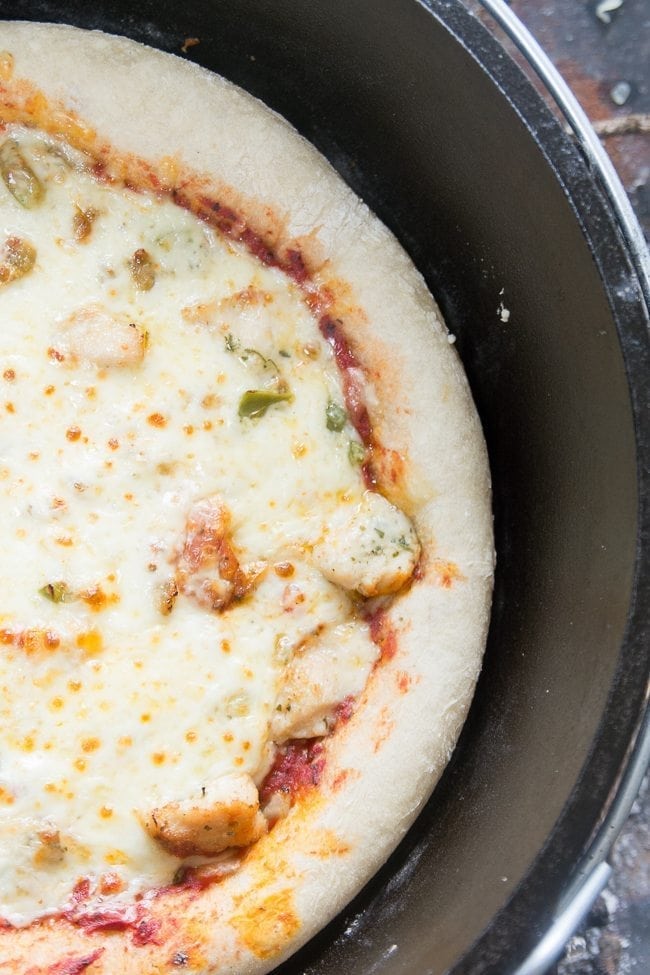 Thank you to HomeRight for continuing to partner with us on creating these amazing dutch oven recipes! We've loved featuring the ElectroLight Fire Starter!
Dutch oven cooking is a really fun way to enjoy the great outdoors. I really think cooking outside makes food just a *little* bit better.
We've made these pizzas for our family, and they are always a huge hit. I know that I can't wait until the next time we make it.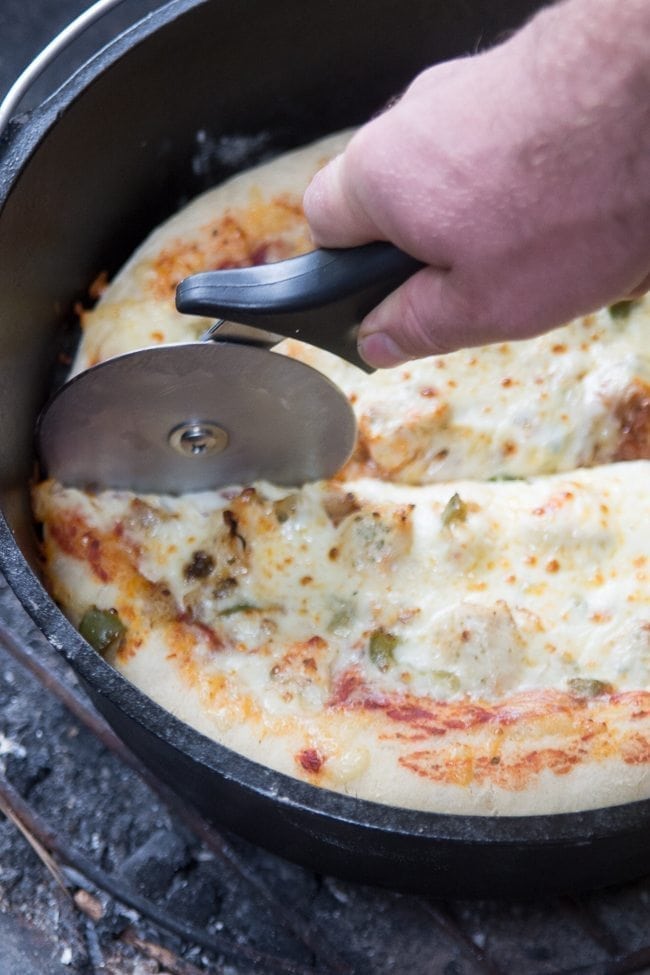 ANYWAYS, back to the dutch oven pizza recipe.
We used a simple and fast pizza dough recipe that requires very little time to rise. It's a recipe we love to use, and it works perfectly in the dutch oven.
The only issue with this that we had was that the cheese wasn't totally cooked to our level of doneness once the crust was done. I mean, it was hot and melted, but it wasn't quite as bubbly and brown as we like our pizza cheese to be.
So, there are two options. About five minutes before the pizza is done, you can just add more coals to the top (I would suggest three), or you can use your HomeRight ElectroLight Fire Starter.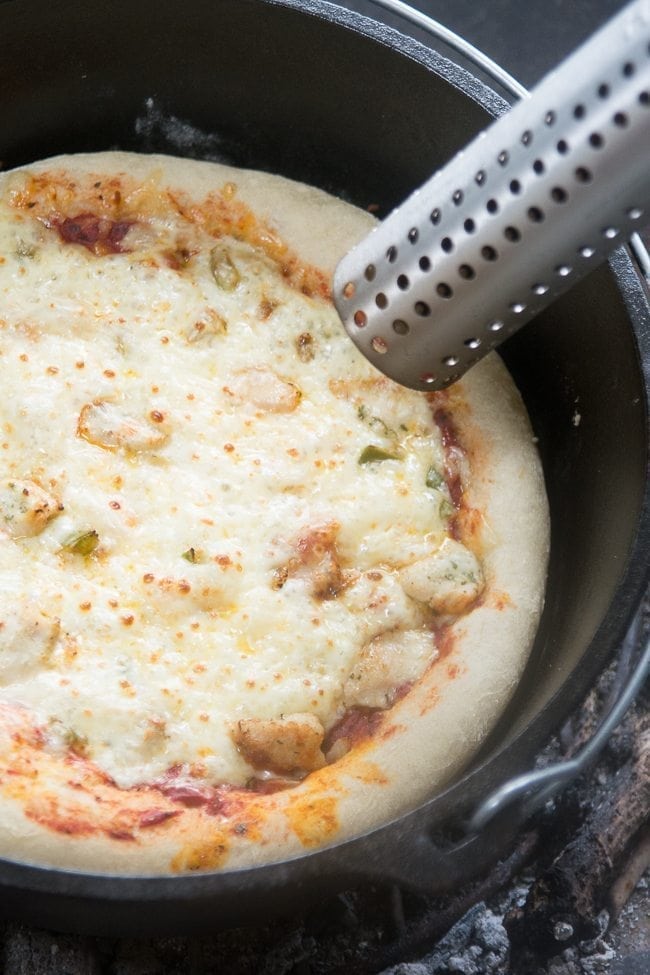 If you have this for lighting your coals (which, you should!) then you can just turn it on really quick to get the cheese bubbling fast. It was kind of fun to watch happen!
The best price I've found for the Electrolight Fire Starter is on Amazon. I've said it before, but I definitely think it's a MUST-HAVE for dutch oven cooking! No chemicals necessary!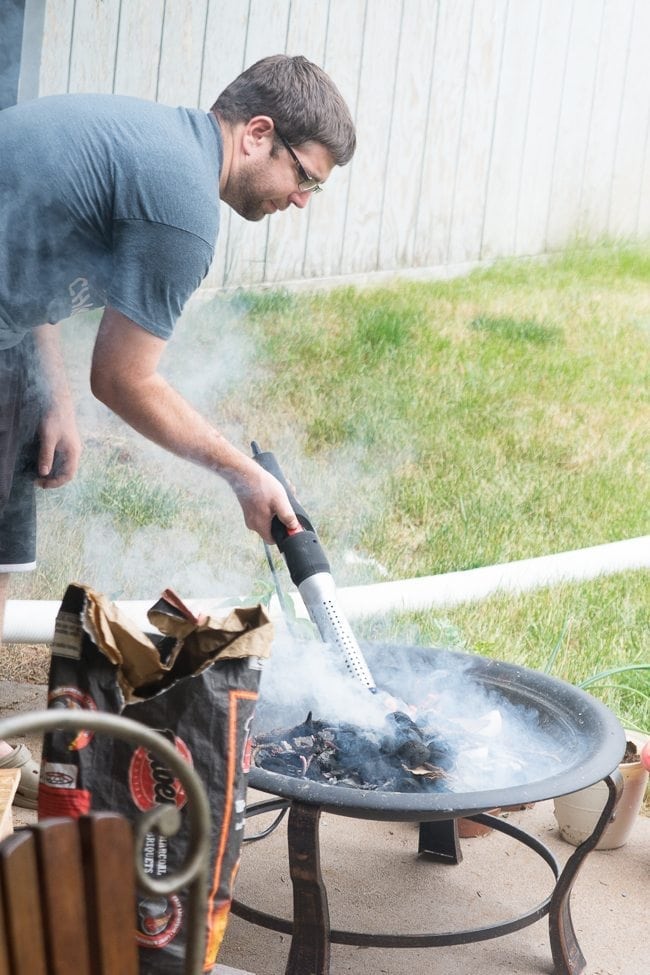 You want to heat up your dutch oven for about 10 minutes before you put the dough in to cook. You can either put some oil in the bottom to keep it from sticking or you can use tin foil (or these dutch oven liners.) My dad said he always just uses tin foil – it helps make cleaning up a little faster!
And as with all pizzas we make, we think you should always put the toppings on before the cheese! I don't know why I never thought to do this before I met Forrest, but now, I can't stand doing it the other way. It just makes the toppings stay on better, and I think the pizza looks better, too.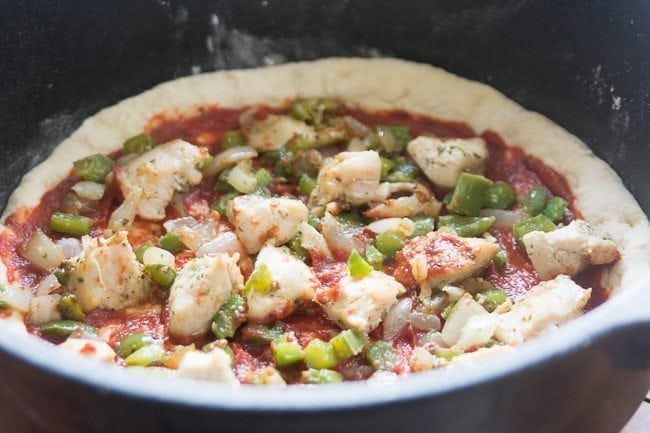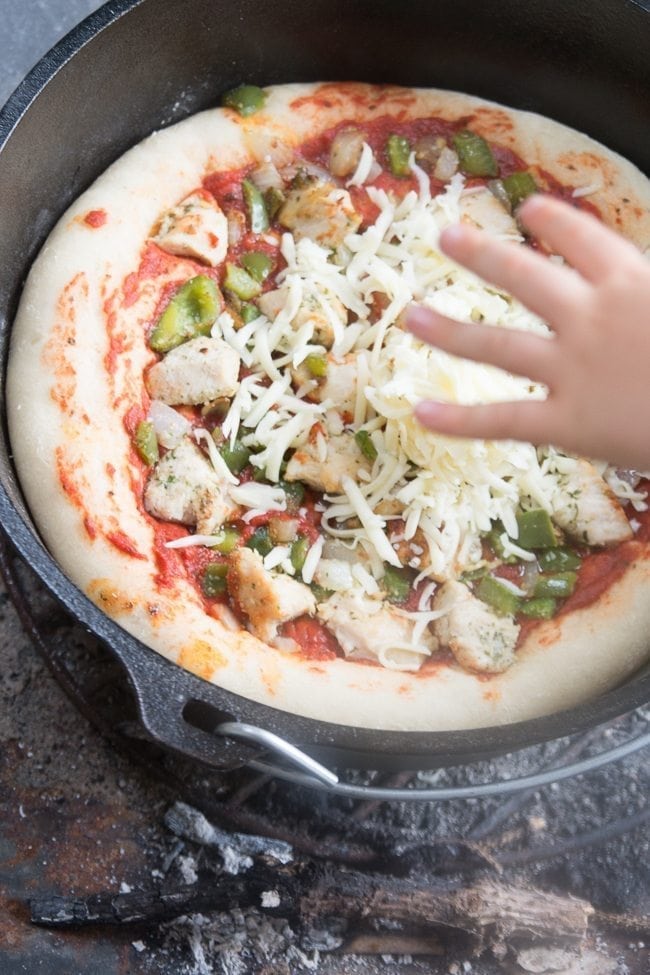 The sky is the limit when it comes to topping – we put giant pepperonis on one, and then chicken, peppers, and onions on the other. We also hand-grated cheese, which I think is always better than the pre-shredded kind!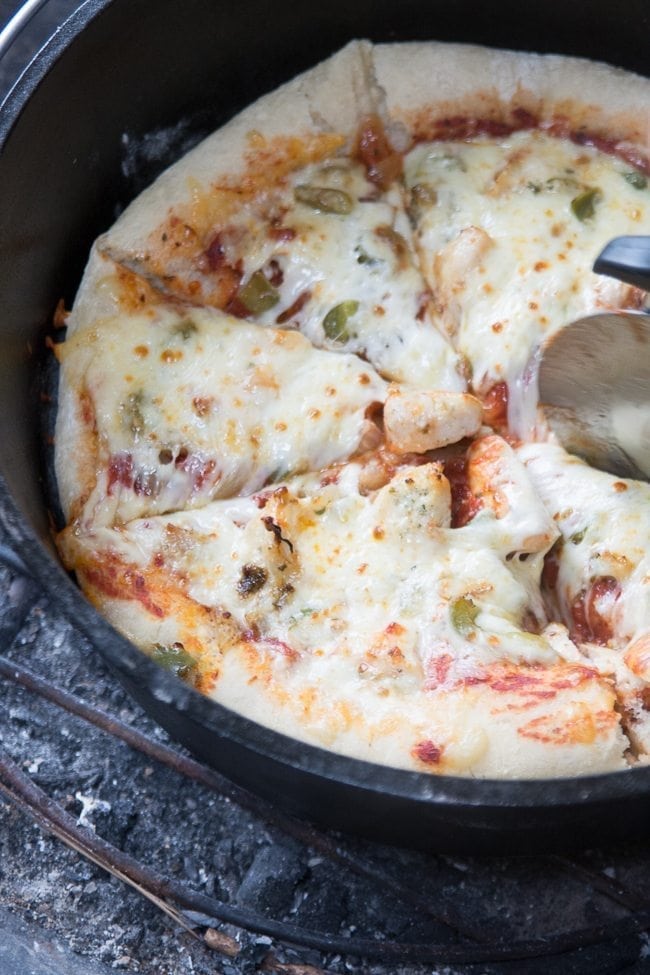 Also, since we were at home, we made the dough with a dough hook, but there is no reason you couldn't make it out in the woods. You just have to knead it by hand (which, honestly, I prefer sometimes!)
This recipe will make you enough for two dutch oven pizzas! The crust doesn't get super dark, so don't wait for it to brown to think it's done 🙂
This recipe uses a six-quart dutch oven (12″). We also used the HomeRight Electrolight Fire Starter. Using a charcoal chimney starter with the fire starter can make lighting the charcoal a breeze!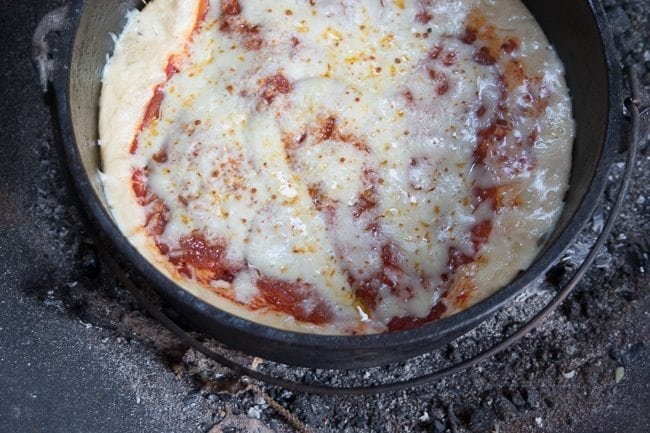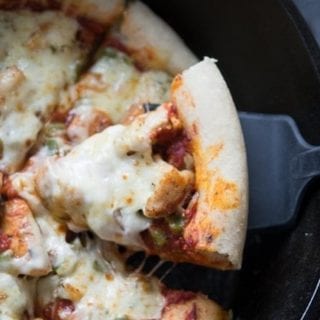 Dutch Oven Pizza Dough Recipe
Yield: Two Pizzas
Prep Time: 1 hour
Cook Time: 35 minutes
Total Time: 1 hour 35 minutes
Ingredients
2 cups warm water
2 packages of quick rise yeast
1 teaspoon sugar
1 teaspoon salt
1 tablespoon honey
5-5½ cups all-purpose flour
32 charcoal briquettes
Pizza sauce, cheese, and toppings
Instructions
Add water, yeast, and sugar to a mixing bowl. Stir and then let proof for about 5 minutes.
Add salt, honey, and about 2.5 cups of flour. Mix ingredients together.
Add remaining flour, ½ cup at a time, until dough doesn't stick to your hands.
Form until ball and knead several times (or use a dough hook for this part.)
Place in an oiled bowl, cover with plastic wrap and let rise at least 30 minutes. The longer it rises, the better.
Heat the charcoal briquettes.
Place 19 pieces of lit charcoal on the bottom. Place dutch oven on top.
Let heat for about 5-10 minutes.
Carefully put half of the dough into the dutch oven and push to the edges.
Spoon pizza sauce on top.
Layer toppings, ending with cheese.
Place lid on top and place 13 pieces of charcoal on top.
It took us about 35 minutes for the pizza to be done completely. I would check every 15 minutes.
If the dough is done but the cheese isn't melted completely, place several more pieces of lit charcoal on top to help brown it faster (or you can use the Electrolight Fire Starter!)
Notes
This crust does not get super brown - it will look pretty light when it's done. So don't wait for it to brown to think it's done!
Nutrition Information:
Serving Size: 1
Amount Per Serving:
Calories: 80
Sodium: 2341mg
Carbohydrates: 21g
Sugar: 20g
Other Delicious Dutch Oven Recipes on Clarks Condensed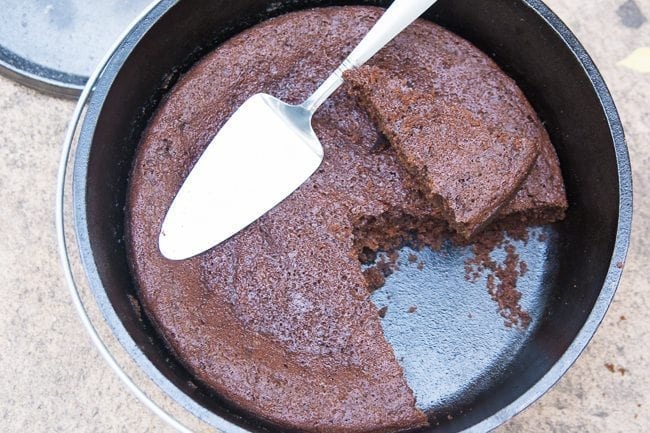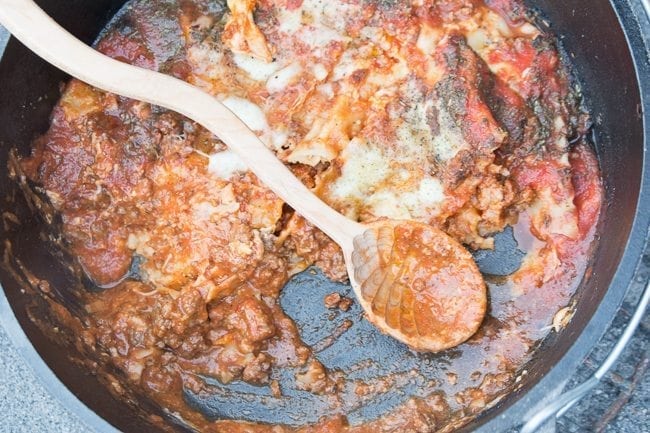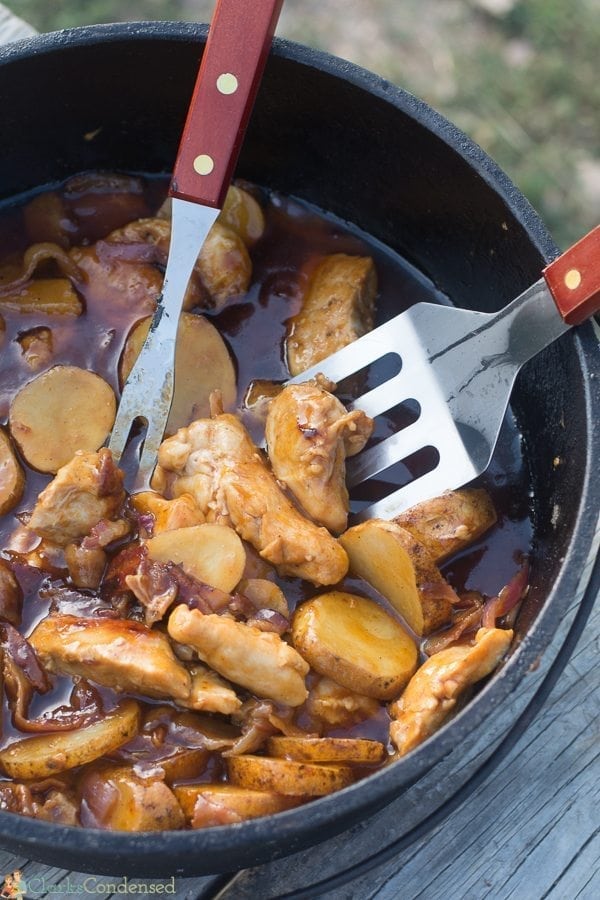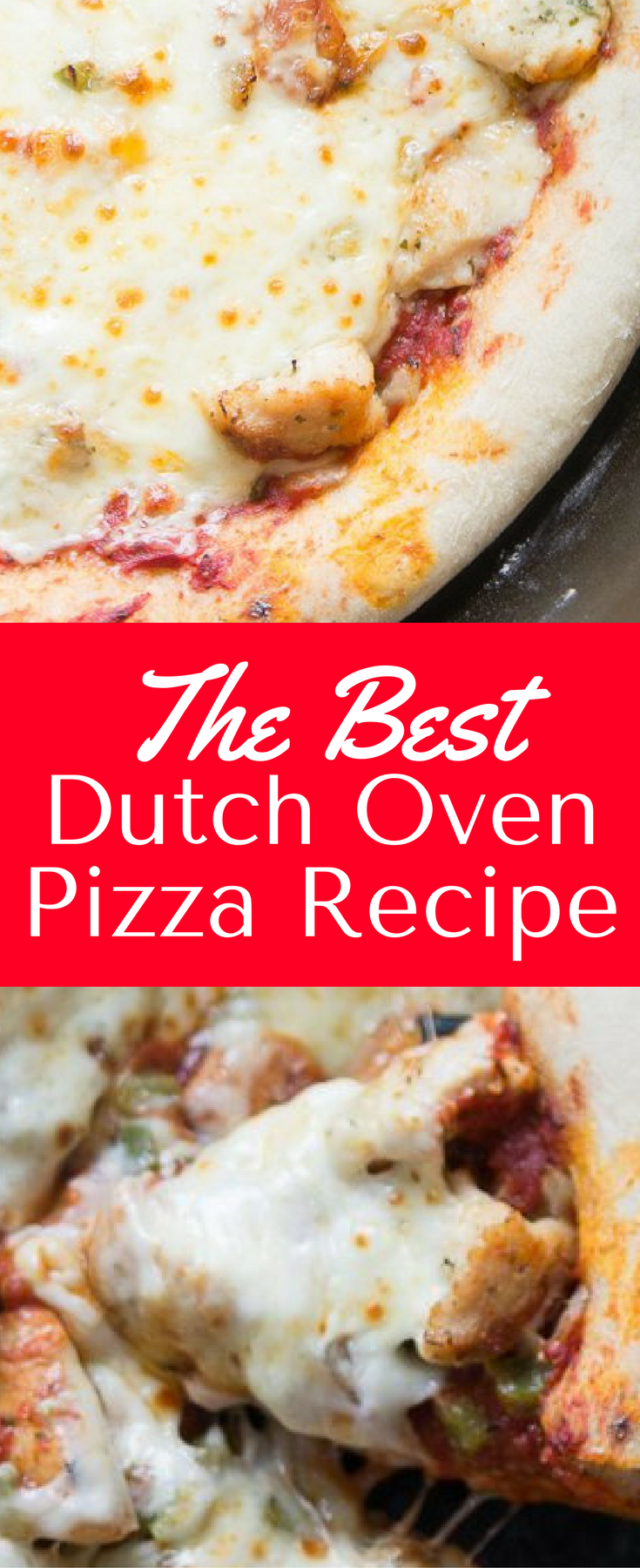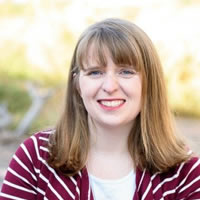 Katie is a Colorado-native, BYU graduated, and most importantly, wife to one and mother to three beautiful boys. She is passionate about sharing her experiences with others – especially about pregnancy, breastfeeding, cooking, and crafts. She is an International Board Certified Lactation Consultant. She loves spending time with her family and helping others find joy in family life.