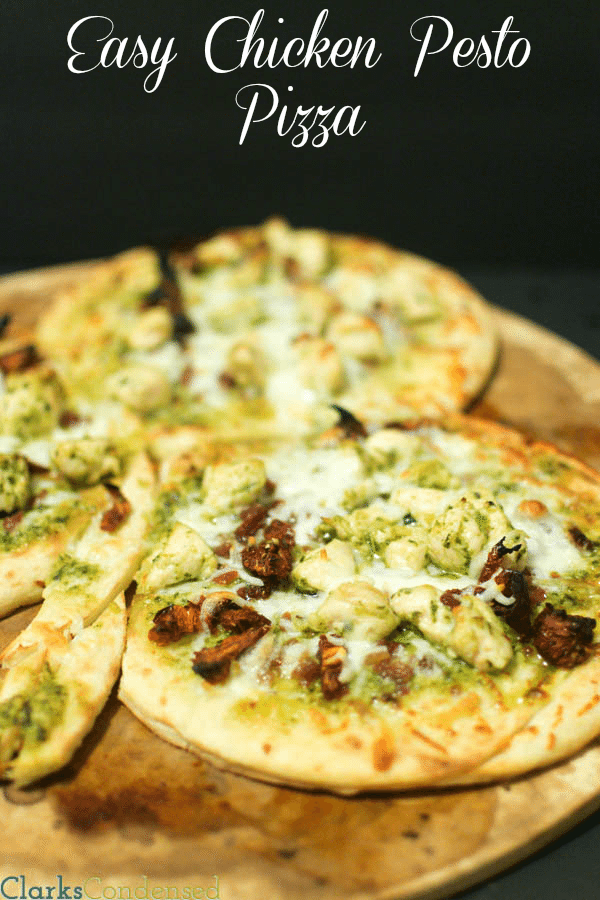 Well, welcome to day three of "Luck of the Irish" week! Continuing with the tradition from Monday, I thought it would fun to throw in a little more St. Patrick's Day trivia that goes along with the theme of the post, which just so happens to be shamrocks and the color green.
We all probably think of the color green, and lucky shamrocks, when Ireland or St. Patrick's Day is brought up — right? The name "shamrock" is a common name for three leaf clovers that are native to Ireland. It also is Ireland's national emblem because St. Patrick apparently used it to the illustrate the Trinity. The Irish have long thought the shamrock to be lucky, and it's just kind of attached itself to the Irish culture (and St. Patrick's Day).
There are several reasons why the color green is associated with St. Patrick's Day — the country of Ireland is green all year-round (and is often referred to as the "Emereld Isle") and during the 19th century, the color became a symbol for Ireland. Wearing it is a symbol of tribute toward Ireland, and children in the country started the tradition of pinching those who didn't wear it on St. Patrick's Day!
I'm not really a history buff, but I'm having fun learning a little bit more about this little holiday and its roots.
Anyways, today I'm sharing a chicken pesto pizza…but we made it a little more festive by using Boboli mini pizza crusts, and making them in the shape of a shamrock!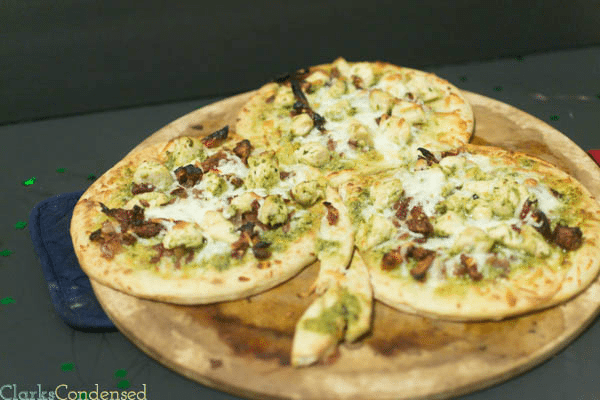 This is such a simple dish, and Forrest and I had a surprising amount of fun shaping the shamrock. We just cut off part of each circle until we could fit them together in a shamrock-pattern, and used the pieces we cut off as the stem.
The pizza is pretty incredible. And it's perfect for St. Patty's Day, or year-round! We like using Boboli crust, because they taste pretty good and are great for quick prep-time. However, feel free to use your favorite crust. I also used pesto from Costco, because I think it's super delicious, and tastes much better than the kind in a packet from the store. And we've been totally obsessed with sun dried tomatoes lately, sooo, we threw a bunch of our stash from Bella Sun Luci on top. It was definitely the icing on the cake (er…topping on the pizza?)
Chicken pesto pizza is probably my favorite kind of pizza. I've loved it ever since my sister made it for the first time when I was younger, and I make it every chance I get. I think what I love the most is that it's easy to throw together, but it tastes gourmet! It was a hit with everyone in this house.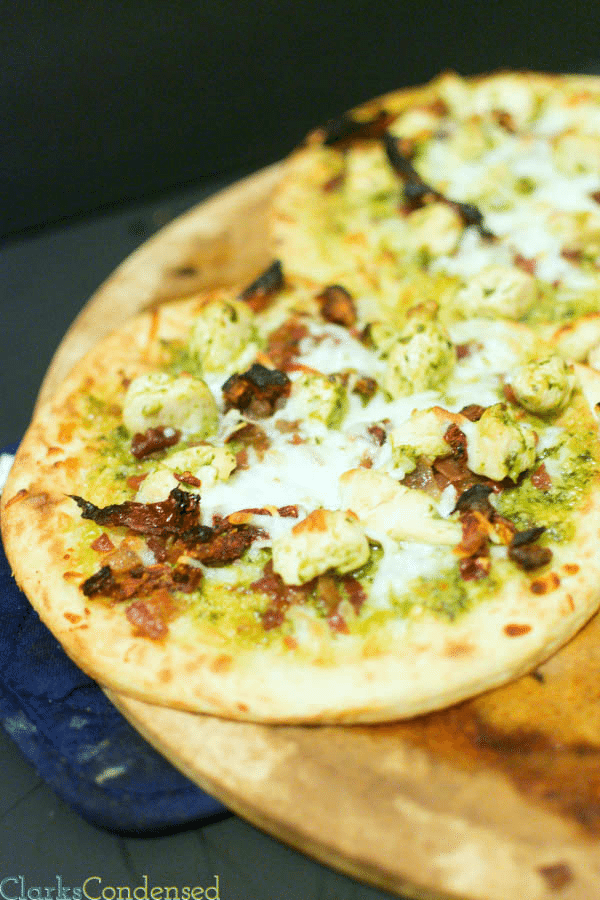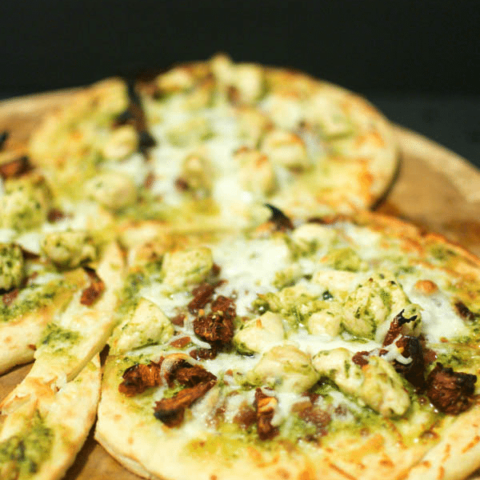 Chicken Pesto Pizza
Ingredients
Pizza Crust of choice, makes enough for three mini crusts, or one large pizza crust
Pesto Sauce of choice -- about 1 cup
2 chicken breasts
Mozzarella Cheese
Bacon, crumbled
Sun Dried tomatoes
Instructions
Cut chicken breast into bite size chunks.
Cook in a small amount of olive oil on the stove.
When cooked, add 1/4 cup pesto sauce into the chicken, and coat chicken with sauce.
Remove chicken from heat and set aside.
Spread a layer of pesto sauce on the pizza dough.
Layer chicken, bacon, and sun dried tomatoes.
Top with mozzarella cheese.
Bake according to instructions for pizza crust (if you are using bobolli crust, it was about 8 minutes until the cheese was melted and the crust was cooked well)
For more St. Patrick's Day fun, be sure to follow my Pinterest board:
Follow Katie Clark @ Clarks Condensed's board St Pattys on Pinterest.


and check out my friend's posts!
Lucky Sugar Cookie by The Bitter Side of Sweet
Luck of the Irish Activity by The Organized Island
Shepherd's Pie by From Gate to Plate
St. Patrick's Day Float by Fabulously Frugal
Lime Cheesecake by One Creative Mommy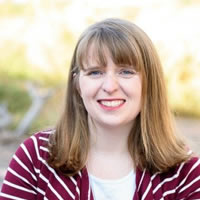 Katie is a Colorado-native, BYU graduated, and most importantly, wife to one and mother to three beautiful boys. She is passionate about sharing her experiences with others – especially about pregnancy, breastfeeding, cooking, and crafts. She is an International Board Certified Lactation Consultant. She loves spending time with her family and helping others find joy in family life.