I'll be the first to admit that I've had a love-hate relationship with my slow cooker.
I love it because you can – usually – just throw everything in it, set it, and forget about it until everything is cooked and ready to go.
This is perfect for someone like me, who, by the time dinner rolls around, is just too darn tired to cook up a huge meal (despite my best intentions).
However, I feel like so often, slow cooker meals all taste the same. Kind of mushy, decent flavor, but nothing too special.
But, the main thing I "hate" about slow cookers is cleaning them! I lamented in this in my newsletter yesterday, but really, I know I'm not the only one. There's just something kind of daunting about cleaning the slow cooker.
I'd be lying if I said I hadn't let a slow cooker "soak" in the sink one day too long more than once.
Anyways.
There are two things lately that have really been changing my love-hate relationship to a raving fan relationship.
Slow cooker liners and Real Food Slow Cooker Suppers by Samantha Skaggs.
First off, the slow cooker liners eliminate any cleaning of the slow cooker (minus maybe wiping it down with a wash cloth really quickly). I know some people don't think they are necessary…but for this mama? Necessary.
The second is one of the BEST cookbooks I have ever had in my possession.
I'm not a big cookbook girl, but ever since this arrived in the mail, I haven't been able to stop thinking about it.
You see, I connected with Samantha a few years ago when I did some work on her blog, Five Heart Home. I was so excited when I heard that she was releasing a cook book, because I just think she's so genuine and talented…I knew her cookbook was going to be something amazing.
(and yes, I am about to rave for quite a few paragraphs on this…I think you should read on, but if you really are just here for the recipe…it's at the bottom 😉
I actually tested a few recipes while she was developing the cookbook, which made me even more excited. I"m pretty sure she probably thought I was a little crazy, because somehow, we managed to make one of her recipes tear-inducing spicy (I'm still not sure how)…but she was nice enough to include me in her cookbook release tour!
As I looked through the cookbook after it arrived, I just wanted to make my meal plan for the next few months based purely on her recipes.
They looked and sounded that good. I wish my pictures of the recipe I'm sharing from it did it justice, but you'll just have to buy the book to see for yourself.
I absolutely love Samantha's philosophy that you don't have to use processed foods in slow cooker meals (which they are often wrought with), which is really what sets it apart from any other slow cooker recipe book I've seen.
I also love that she wanted to make sure all her recipes didn't taste all the same…which has always been a gripe of mine.
It has 80 slow cooker dinner recipes, and somehow, she managed to make all of them unique, amazing, and easy for busy mamas (and dads…and grandmas…and college students…you get the point 😉
In this post, I am sharing her Shepherd's Pie recipe (in a slow cooker – who would have thought?!), but in case you need some more convincing…here are a few other recipes you'll find in the book:
DINNERTIME CLASSICS
~Swedish Meatballs
~Teriyaki Chicken Breasts
~Marinated Pork Chops & Potatoes
COMFORTING MAIN DISHES
~Mexican Pot Roast with Borracho Beans
~Bacon-Wrapped Peach Jalapeño Pork Loin
~Cheesy Spinach Lasagna
SOUP'S ON
~King Ranch Chicken Soup
~Thai Shrimp Soup with Rice Noodles
~Bacon Cheeseburger Soup
STEWS, CHILIS, & CHOWDERS
~Beefy Three-Bean Chili
~Pork & Hominy Stew
~Chicken & Dumplings
SANDWICHES, TACOS, & WRAPS
~Raspberry Chipotle Chicken Sliders
~Mini Pulled Pork Pizzas
~French Dip Tacos with Caramelized Onions & Bleu Cheese
HOLIDAY HELPERS (holiday main dishes to make in the slow cooker so that your oven is freed up for other recipes)
~Cran-Cherry Glazed Ham
~Herbed Turkey Breast
~Citrus-Glazed Cornish Hens
So, I'm sure I've convinced you to check it out…it's available on Amazon, Barnes and Noble, and many, many other distributors. You can even buy it in eBook form.
And just so you know I'm not just being overly zealous about this – She was actually featured on QVC.
You know you're legit when that happens.
I think this is a cookbook that should be in everyone's kitchen.
And now, for the recipe 🙂 Shepherd's Pie. Seriously, I had no idea this could be made in the slow cooker.
I love that it uses a different cut of meat over ground beef. I feel like it really elevates the dish and makes it the ultimate comfort food.
We made this for the sister missionaries from our church, and they LOVED it. I think all of us in the room felt the same way.
I don't like leftovers…and I'm already planning on this for my lunch tomorrow.
Slow Cooker Shepherd's Pie
Ingredients
1 1/2 lb boneless beef chuck roast, trimmed and cut into 1-inch cubes
3 gloves garlic, minced
4 medium carrots, peeled and cut into 1/4-inch slices
8 ounces white mushrooms, cleaned and roughly chopped
1 1/2 cups frozen corn, thawed
3/4 cup low-sodium beef broth
6 tablespoons tomato paste
2 teaspoon Worcestershire sauce
1 teaspoon dried oregano
2 teaspoon garlic powder
2 teaspoon onion powder
1 teaspoon salt
1 teaspoon black pepper
3 tablespoon all-purpose flour
1 1/2 cups frozen peas, thawed
1 1/2 cups shredded cheddar cheese
5 to 6 cups mashed potatoes
Mashed Potatoes
2 1/2 lb russet potatoes, peeled and cut into 2-inch pieces
1 teaspoon salt
1 cup milk, warmed
6 tablespoon butter, melted
Salt and freshly ground black pepper, to taste
Instructions
Place the beef cubes in a large slow cooker. Top with the garlic, carrots, mushrooms, and corn.
In a medium bowl, whisk together the beef broth, tomato paste, Worcestershire sauce, oregano, garlic powder, onion powder, salt and pepper.
Pour the broth mixture over the contents of the slow cooker and stir to combine.
Cover the slow cooker and cook on low for 7 to 9 hours, or on high for 3.5 to 4.5 hours, until the beef is tender.
About 45 minutes before the meat is done, make the mashed potatoes.
Place the potatoes in a large saucepan and cover them with 2 inches of water.
Bring the potatoes to a boil over high heat and stir in the salt.
Reduce the heat and simmer until the potatoes are tender when stabbed with a fork.
Drain the potatoes, and return them to the pot.
Add the milk, butter, salt, and pepper to taste.
Gently mash the potatoes with a handheld potato masher.
Use a large spoon to skim any fat from the surface of hte beef and veggie mixture in the slow cooker.
In a small bowl, mix the flour and 6 tablespoons water until smooth, then slwoly stir hte mixture into the slwo cooker.
Add the peas.
Adjust the seasonings to taste with salt and pepper.
Mix the cheddar into the mashed potatoes and spread in an even layer over hte top of the beef and vegetables.
Cover the slow cooker and cook on high for 15 to 30 minutes, until the gravy has thickened and the mashed potatoes are heated through.
Check out some of her other amazing recipes featured by some other bloggers here: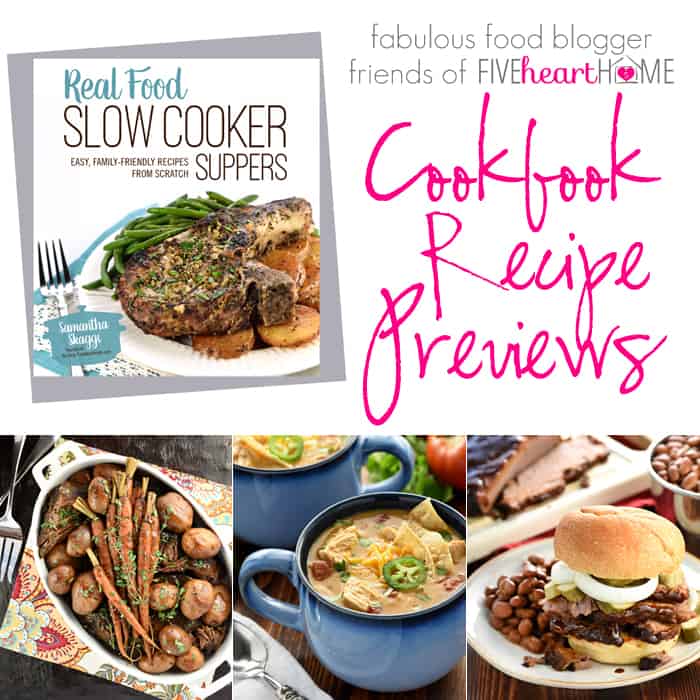 Katie is a Colorado-native, BYU graduated, and most importantly, wife to one and mother to three beautiful boys. She is passionate about sharing her experiences with others – especially about pregnancy, breastfeeding, cooking, and crafts. She is an International Board Certified Lactation Consultant. She loves spending time with her family and helping others find joy in family life.