Tips for a fun and colorful first birthday party!
Oliver has been one for almost a whole month, and I still can't believe it.
Some people stop calling their kids babies after they turn one…but my kids still seem like babies to me (and let's be honest…I still call Jack baby)!
My big plans for Oliver's first birthday changed a lot over the course of the month while I was planning it. I often start out with a huge plan in mind…and then it usually dwindles down to something a little less complicated by the time the day arrives.
For Jack's first birthday, we threw him a Very Hungry Caterpillar birthday, which was a lot of fun. However, if I'm being honest…I just didn't have the energy to do something quite as intricate.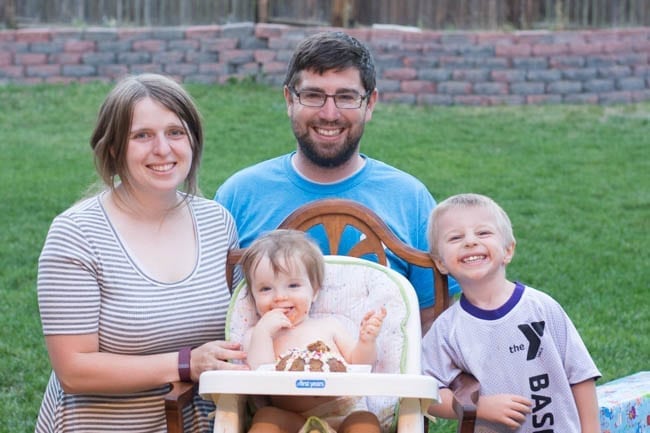 However, I still wanted to make Oliver's first birthday fun, so I still did some fun things. In the end, we decided to have a colorful birthday party – because all of the elements were bright and fun! The secondary theme was balls…so a colorful ball birthday!
First Birthday Food
First off, I made him his own little smash cake that was spherical (like a ball). I just combined a box of spice cake mix with a can of apple pie filling, and then I baked it in a small glass bowl. It turned out perfectly!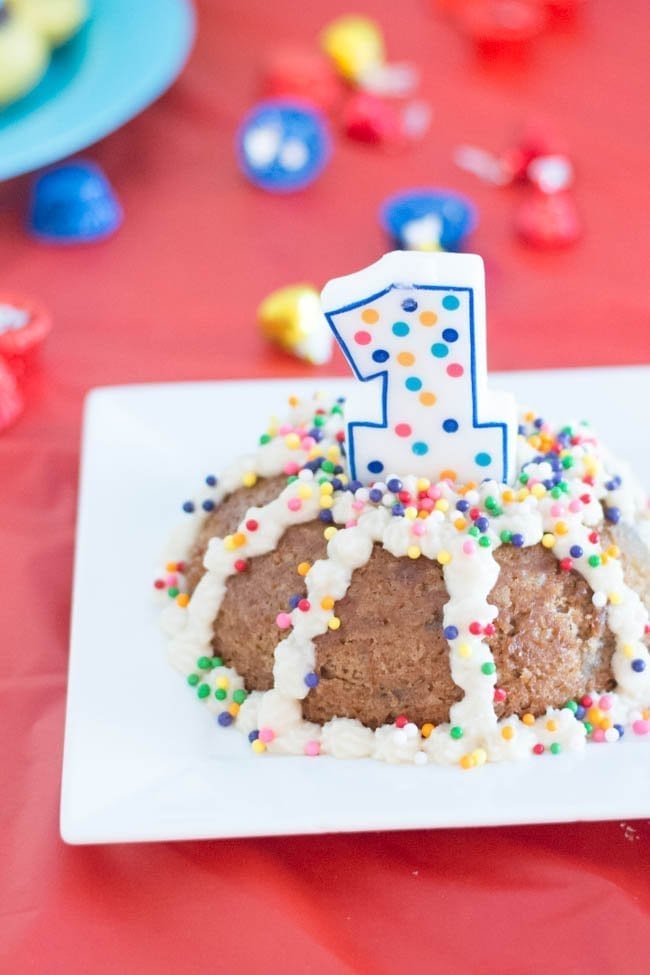 I frosted it with this caramel apple buttercream frosting, and we topped it with colorful sprinkles. I found the "1" candle at Walmart Grocery, and it went perfect with our theme. I'm pretty sure it was just 99 cents, too! I thought Oliver was going to go to town with it, but, just as Jack was, he was very cautious when he started eating it.
It was pretty funny.
For everyone else, I decided to make cake pops. This was a bit of disaster at first, and I was pretty sad when I found they weren't working.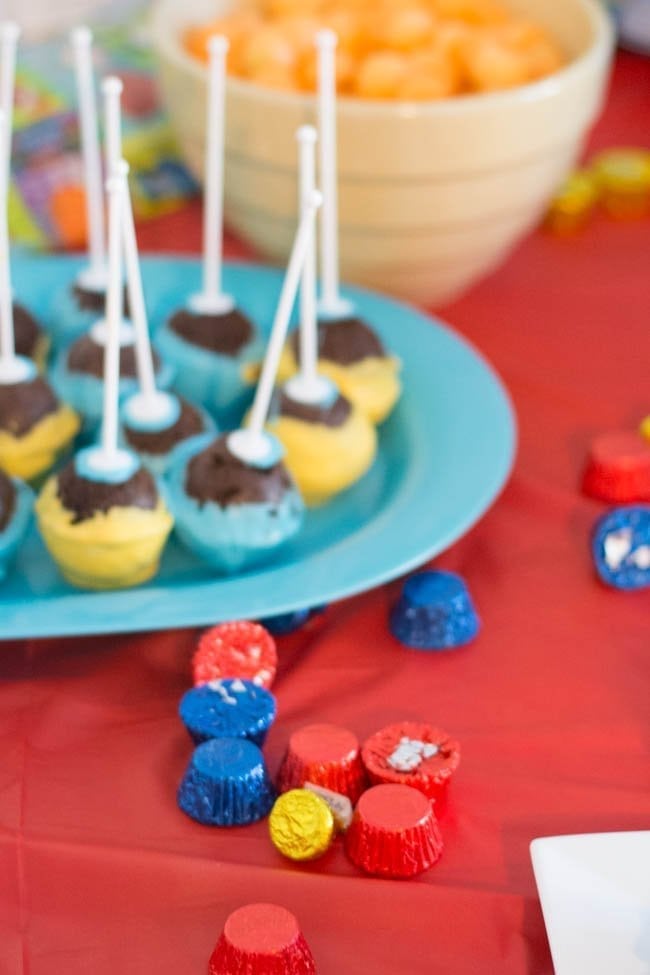 However, Forrest was the best hubby ever, and he pulled out cake pop pans that I forgot about! I was able to make a bunch of cake pops pretty effortlessly. I coated them in Blue and Yellow candy melts, which was perfect for the theme. Everyone loved them! We also served spaghetti and meatballs, garlic knots, and cantaloupe and watermelon balls.
Colorful Party Decorations
I kept things pretty simple, but I did have an idea to make a cardboard one and the letter O and decorate them with the new colored foil Hershey Kisses that were just released.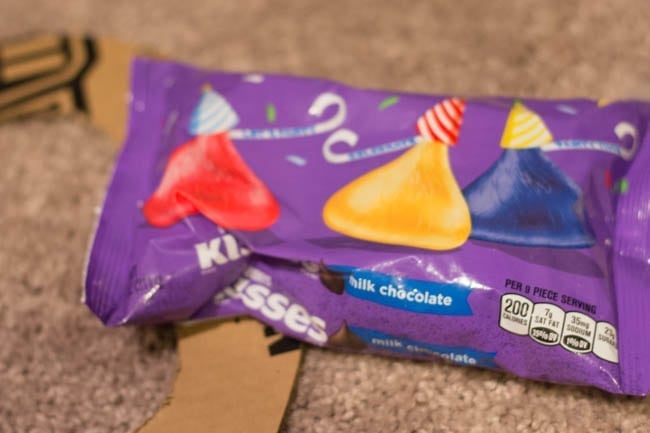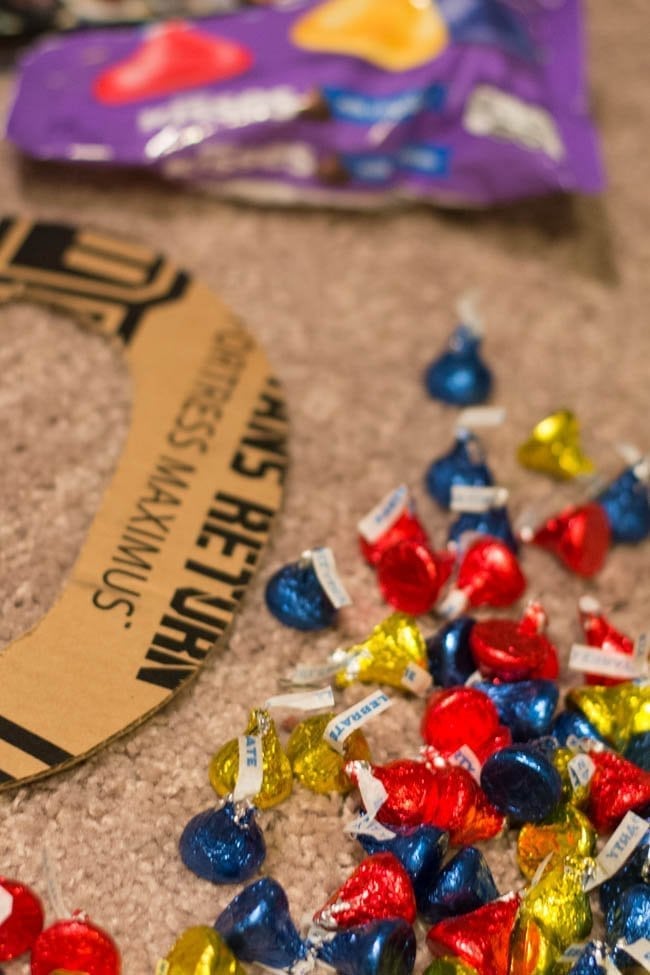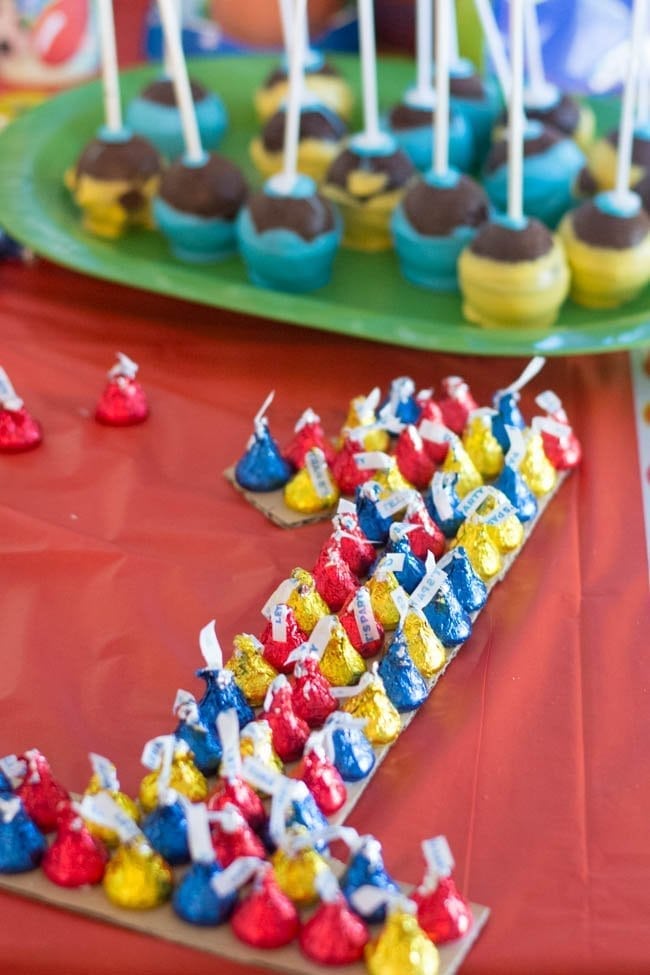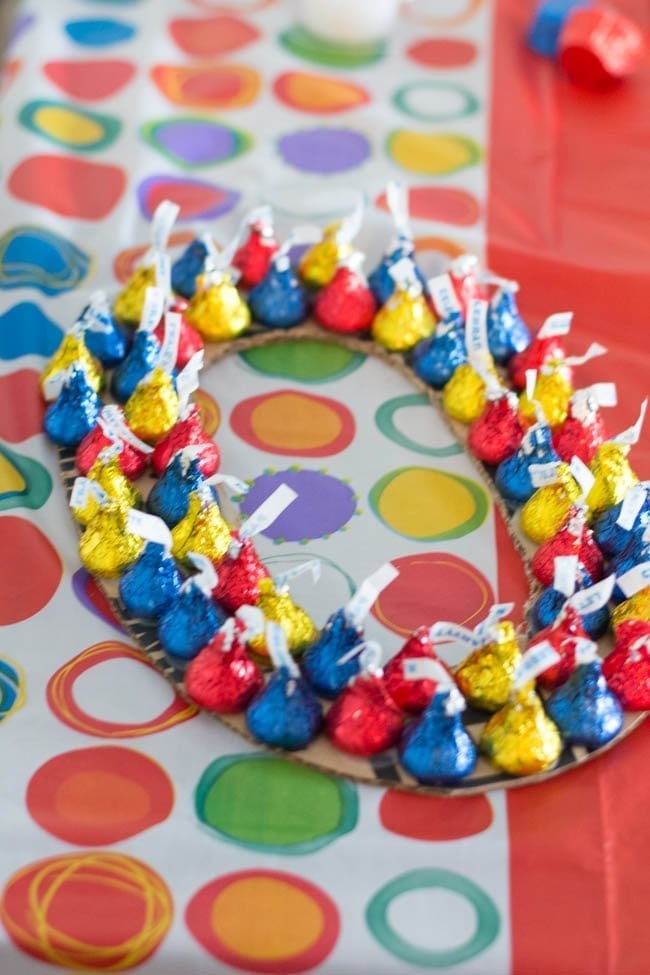 They come in all sorts of fun colors that are perfect for birthday celebrations. Hershey's has lots of great bithday themed products available at Walmart now (including their Birthday Cake Hershey Kisses. So good). Forrest cut the number and letter out using an X-Acto knife. Then I used tacky glue to glue each of the Hershey Kisses to the cardboard: It was a super easy craft, but I think they turned out really fun! For the table decorations, I just bought a bunch of items at a dollar store. I loved the colorful tablecloth they had – it had circles/balls on it, and it was so bright and colorful – exactly what we were looking for.
They also had a bunch of other similar items (cups, birthday sign, etc.), but we decided to get some ball themed items.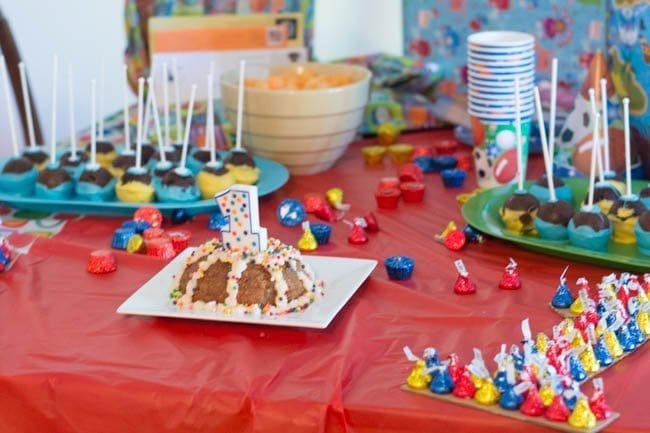 Oliver LOVES balls, so we thought it would fit perfectly with his personality. We also put some colorful birthday themed Reese's on the table. Let's just say everyone had a hard time keeping their hands off of those decorations! Wall Sign with Birthday Pics
I made a chalkboard-esque sign with all of Oliver's birthday "stats" on it. You can check that out here (free printable and editable copy available). Then, I just surrounded it with his monthly pictures I took during his first year. I loved how it turned out – even though it made me tear up a little bit seeing how big he's gotten!
First birthday Outfit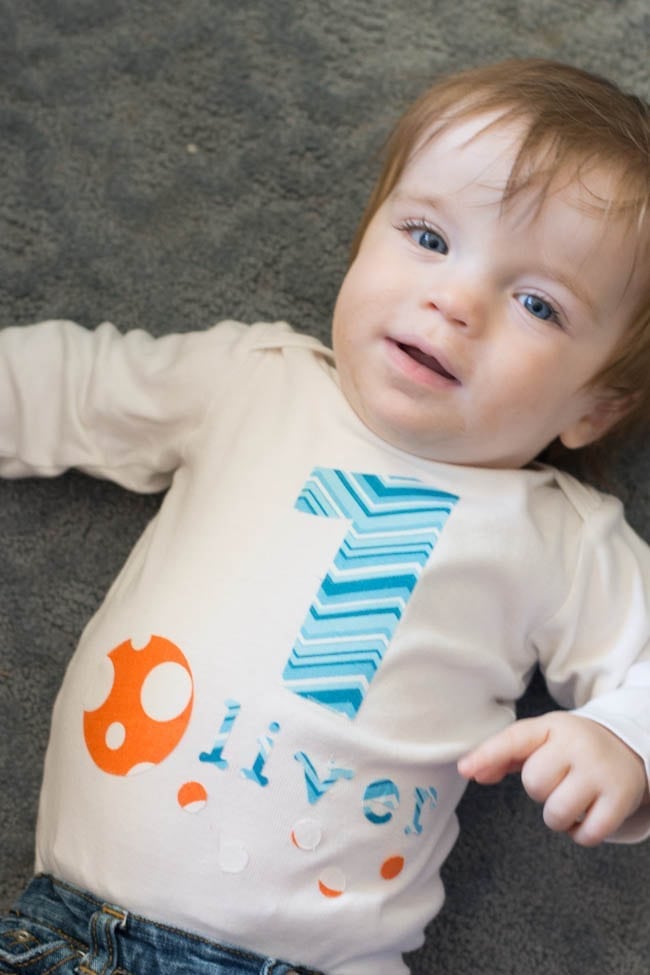 I made Oliver this onesie using my Cricut machine. I used some fabric squares from the store, as well as some Heat N Bond, to make the shapes and letters and number. I think it turned out really cute! I bought something simliar for Jack's birthday (though I must admit, Jack's was a little fancier), but it was fun to make my own.
Save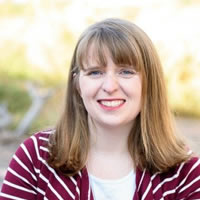 Katie is a Colorado-native, BYU graduated, and most importantly, wife to one and mother to three beautiful boys. She is passionate about sharing her experiences with others – especially about pregnancy, breastfeeding, cooking, and crafts. She is an International Board Certified Lactation Consultant. She loves spending time with her family and helping others find joy in family life.