Make your own Starbucks Caramel Apple Spice with this easy crockpot recipe. We also include the individual serving recipe as well!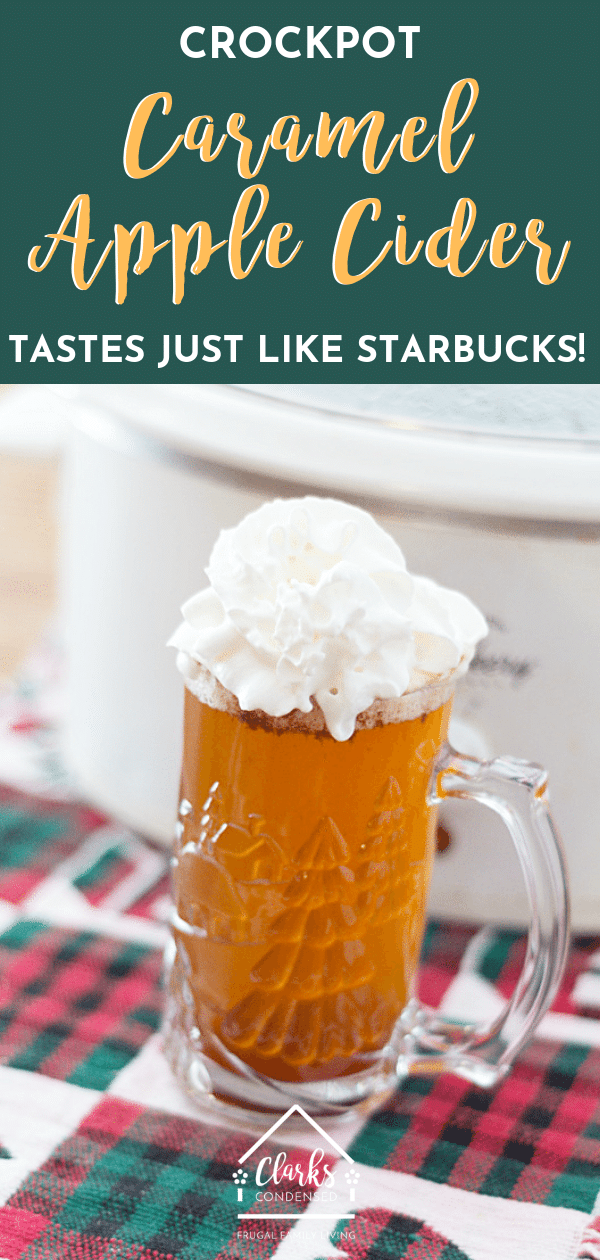 Starbucks Apple Cider
I'm not a coffee drinker, so I don't frequent Starbucks.
However, whenever I pass the Starbucks at Target on a cold day, there are two items I can hardly resist — the caramel apple spice and pumpkin bread.
While I wish I had the pumpkin bread recipe for you today, I do have a copycat version of the caramel apple cider…that tastes just like what you'd buy from Starbucks.
My friend introduced this to Starbucks caramel apple spice in high school, and I couldn't get enough of it!
I'm not usually a big fan of apple cider, but there is just something so good about this. I made Forrest try it awhile back, and he loved it. At that point, I knew I had to come up with a recipe!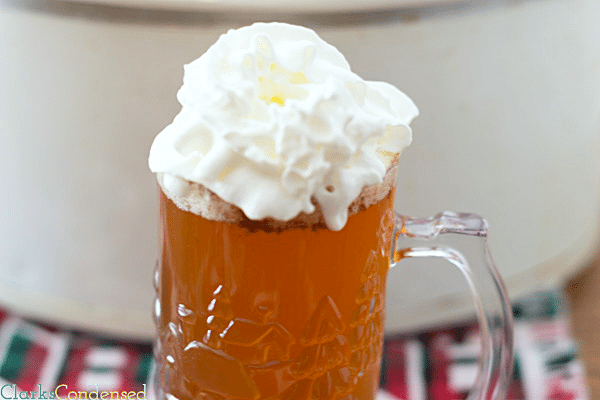 I've seen a lot of versions of this around the Internet, and it seems like most of them use a thick, caramel syrup.
While, yes, this is probably delicious…I knew it couldn't be completely right. Starbucks actually posted their "secret recipe", and it looks like they use Fontana Cinnamon Syrup.
Well, I wasn't about to drop $13+ on it, so I decided to try something else…and it worked perfectly!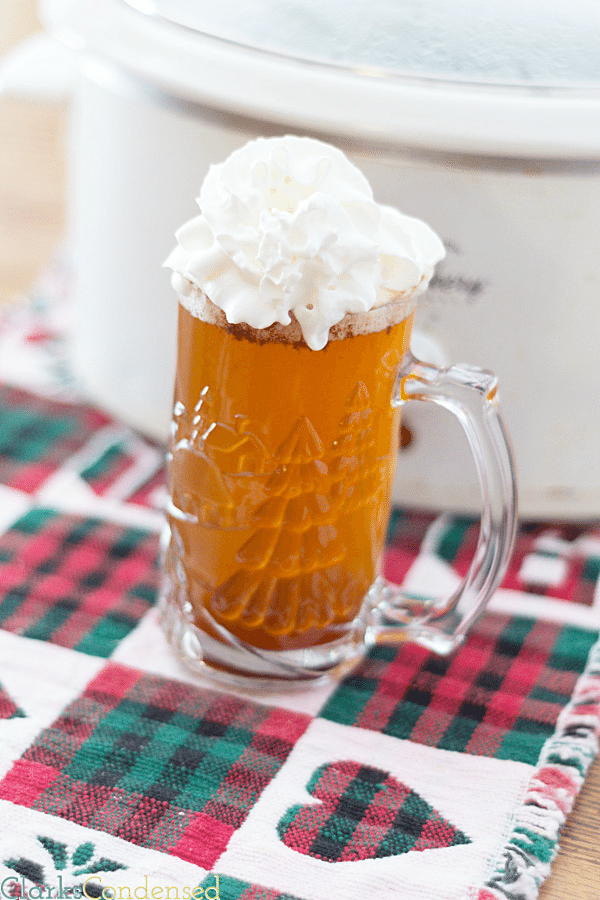 Instead, I purchased a bottle of Archer Farm's Caramel Coffee Syrup. It's a thinner liquid than the type of caramel syrup you would put on ice cream.
It was only a few dollars at Target, but if you can't find it, another good option is Amoretti Premium Syrup or Torani Caramel Syrup.
Or you can splurge and buy the Cinnamon Syrup. The Torani Cinnamon Syrup would probably work great, too.
I've seen both of these for sale at different grocery stores for just a few dollars.
If you don't want to buy anything, My Frugal Adventures has a homemade version of the cinnamon syrup!
I thought it would be a great idea to make this in the crockpot. It takes seconds to put in the crockpot, and it makes the whole room smell delicious.
You could easily take this to a party, or just have it on a cold, winter's day! If you don't want to make this in a crockpot, but a single serving, just divide the recipe by 5, layer the ingredients the same way, heat it up in the microwave, and top with caramel syrup!
For the topping, I do recommend using something like Hershey's Caramel Syrup. Also, some of the cinnamon will likely come to the top of the crock-pot; this is okay! Just give it a good stir before serving.
Originally posted in 2013; Updated in 2019.
Crock Pot Apple Cider Recipe
Crock Pot Starbucks Caramel Apple Cider
Ingredients
64 ounce bottle apple juice
16 tablespoons caramel syrup**
1 tablespoon cinnamon
Whipped Cream
Hershey's Caramel Topping
Instructions
Mix together caramel syrup and cinnamon with a whisk.
Pour sauce in the bottom of a crock pot.
Pour entire bottle of apple juice on top of the sauce.
Cover with lid and cook on low for four hours, or high for two hours.
Top with whipped cream and Hershey's caramel topping. Microwave topping to make it easier to drizzle.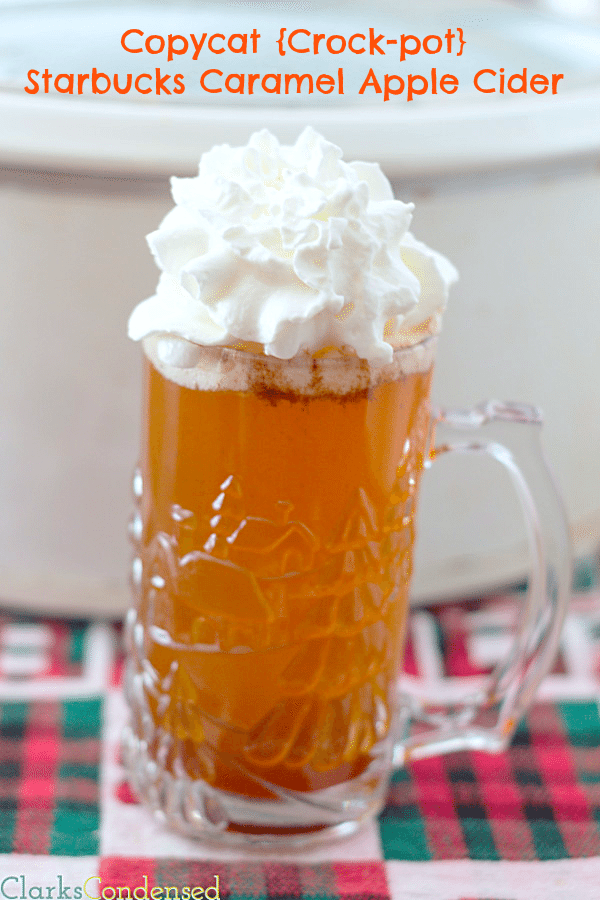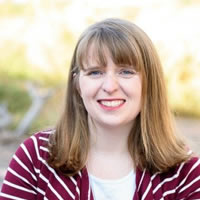 Katie is a Colorado-native, BYU graduated, and most importantly, wife to one and mother to three beautiful boys. She is passionate about sharing her experiences with others – especially about pregnancy, breastfeeding, cooking, and crafts. She is an International Board Certified Lactation Consultant. She loves spending time with her family and helping others find joy in family life.