These creamy slow cooker meatballs are amazing when served over rice for a main dish or as an appetizer at parties and pot lucks. Either way, it's incredibly easy to make and SO good!
This is a sponsored post written by me on behalf of Rosina Food Products®. All opinions are 100% mine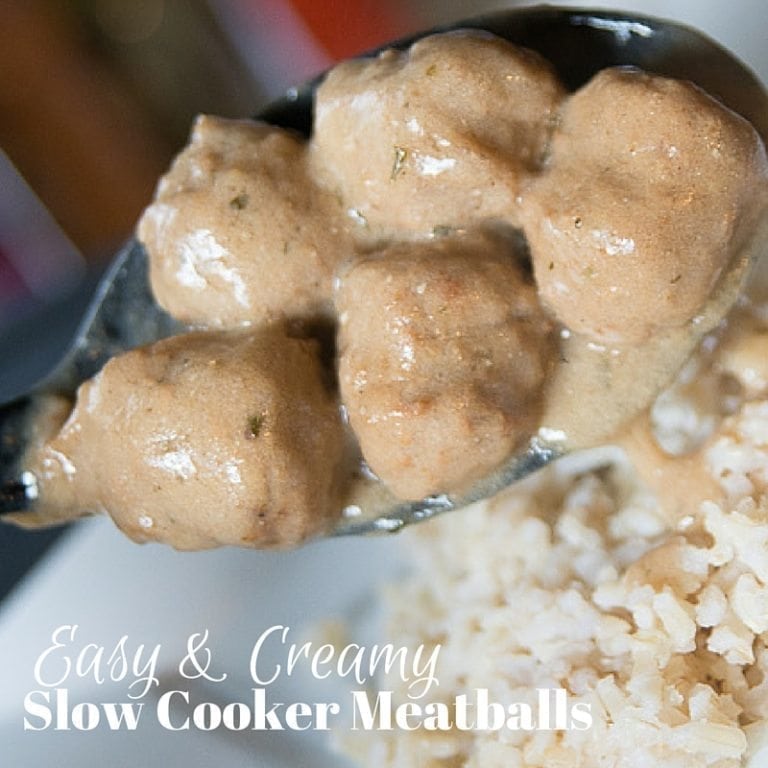 Over Christmas, we went to the annual Barker family Christmas party with my dad's siblings and my cousins. I was asked to bring some kind of appetizer, so I decided I wanted to bring meatballs!
They were Swedish meatballs, and they turned out so good. Everyone gobbled them up, and there wasn't a single one remaining by the time the night ended. I've wanted to make them ever since, but I just never got around to it.
But then, I was presented with the opportunity to create a recipe for Rosina Food Products, Inc.®, and I thought it was the perfect opportunity.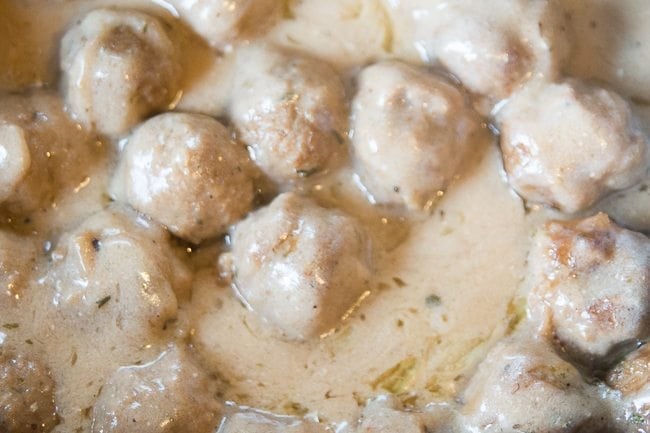 Sad thing was, I couldn't remember how I made them previously! So, I decided to improvise. These aren't really Swedish meatballs – Forrest and I joked that we should call them Multi-cultural meatballs because they are made with Rosina Italian Style Meatballs, they are inspired by Swedish Meatballs, and they have
Greek yogurt in them.
We are hilarious, I know.
Whatever they are called, they are SO good. We made them for dinner the other night, and it was such a simple recipe. I just threw everything in the slow cooker, added a few more ingredients about 20 minutes before serving, and we had an amazing comfort meal ready to go that night.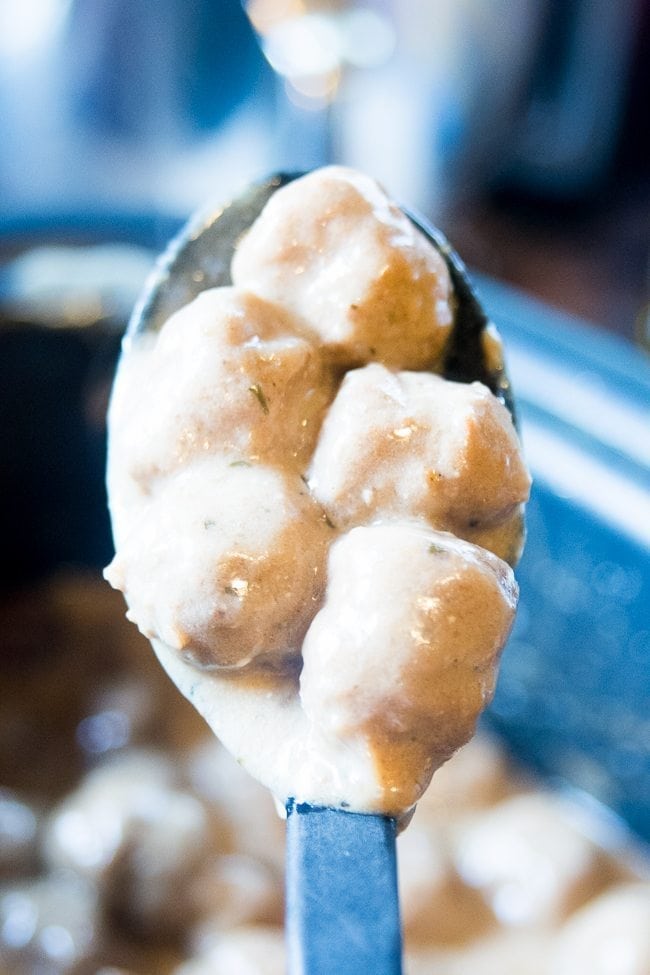 I love anything that is easy to make but tastes delicious – hence why I love using my slow cooker! I loved the added ease of using frozen meatballs instead of making my ownn. The Rosina meatballs line taste just as good as homemade, and they help to cut the work in half when it comes to dinner times. I used the Rosina Italian Style Meatballs in this recipe, but their Homestyle meatballs are equally delicious. You can get $1.50 off a package from
Walmart
with this coupon!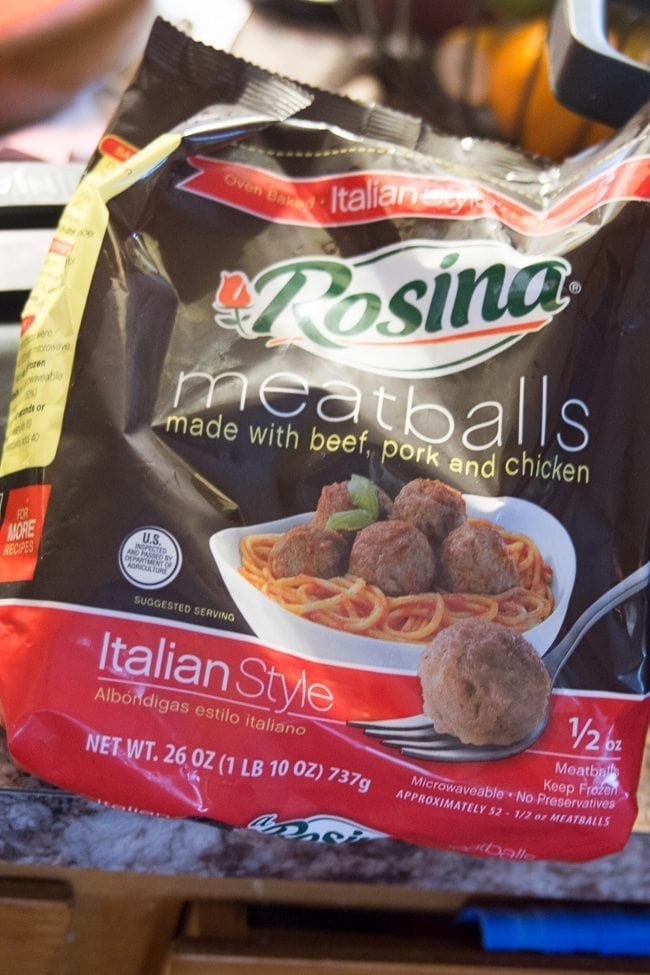 These creamy meatballs are great when served over rice or pasta, but they are equally delicious for just serving with toothpicks at parties. No matter what way you serve them, they are easy to make and packed with incredible flavor.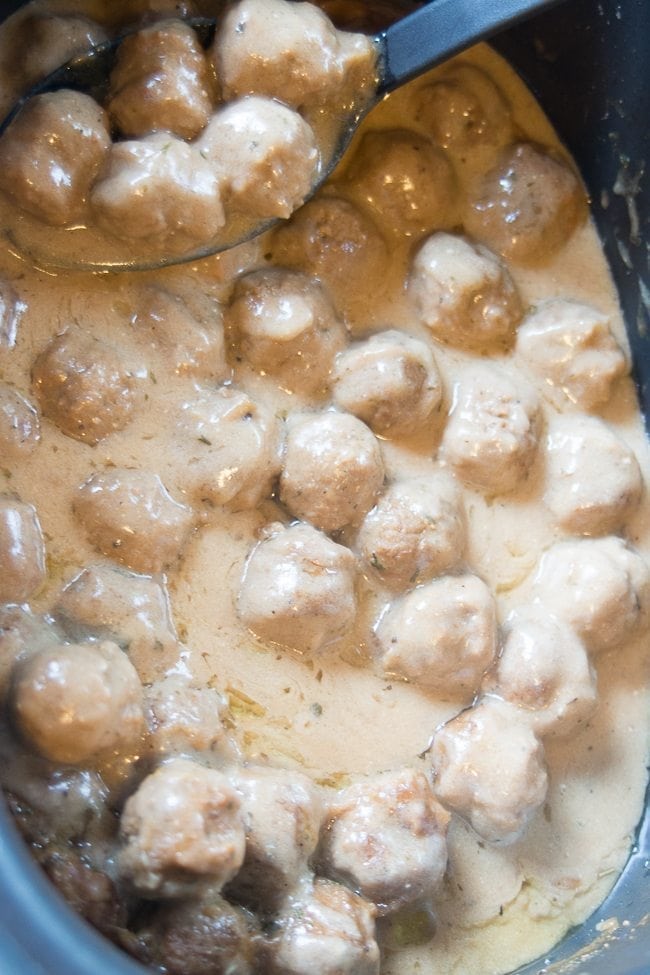 Our favorite slow cooker products: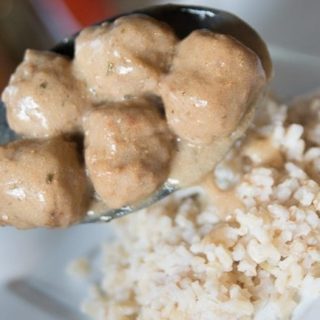 Creamy Slow Cooker Meatballs
Ingredients
3 cups water
3 teaspoon beef flavored Better than Boullion, or two beef bouillon cubes
2 teaspoon apple cider vinegar
1 1/2 teaspoons Worchestershire Sauce
3 tablespoons corn starch
1/2 cup plain Greek Yogurt
1/2 cup grated parmesan cheese
1 teaspoon Italian Seasoning
Pepper, to taste
Parsley, to taste
1 56 ounce container Rosina Italian Style Meatballs
Instructions
Combine water, Better than Bouillon, apple cider vinegar, and Worcestershire sauce in a bowl.
Put frozen meatballs in the crock pot. Cover with the water mixture.
Cook on high for two hours.
Add Greek yogurt, parmesan cheese, and cornstarch. Whisk until cornstarch dissolves.
Cook for an additional 30 minutes on high.
Add pepper and parsley to taste.
Serve over rice or noodles.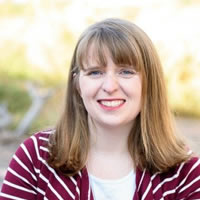 Katie is a Colorado-native, BYU graduated, and most importantly, wife to one and mother to three beautiful boys. She is passionate about sharing her experiences with others – especially about pregnancy, breastfeeding, cooking, and crafts. She is an International Board Certified Lactation Consultant. She loves spending time with her family and helping others find joy in family life.