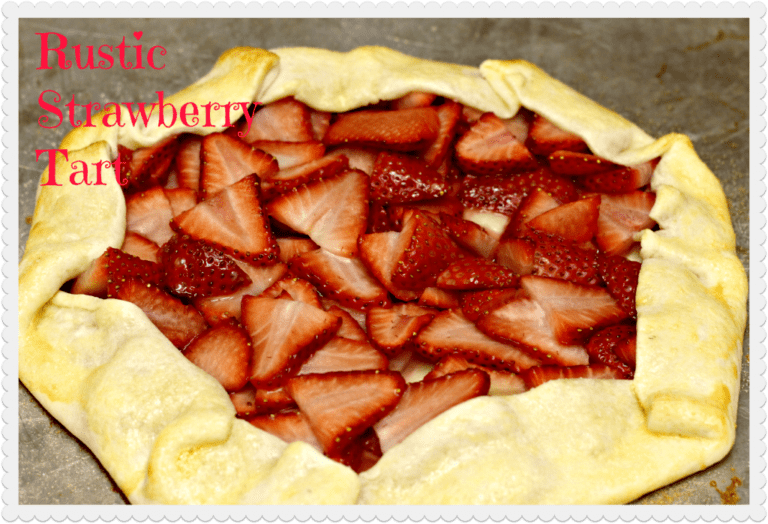 Hi, this is Julie from Confessions of a Cooking Diva, I'm so excited to be here today and share my Rustic Strawberry Tart with you.
This is one of my absolute favorite recipes to make and I make it year-around. The beauty of this recipe is that you can make this with any fruit or combination of fruits. I've made it with blueberries and strawberries, perfect for 4th of July.
If you are having last minute guests over for dinner this is a quick dessert to put together and stick in the oven. All you need is a prepared pie crust, some cut-up fruit and, voila, you have dessert.
Make sure you don't miss any of the fun stuff Confessions of a Cooking Diva is up too!
Facebook | Instagram | Pinterest
NEVER Miss Another Recipe!
Sign up for our food and recipe newsletter today
Free eRecipeBook upon signup
Free Meal Planning Bundle
Easy and Family Friendly Recipes EVERYONE Will Love!
Enjoy!
~J
Rustic Strawberry Tart –
Ingredients
1 refrigerated pie crust
1 cup of strawberries, cut into bite-sized pieces. You can use different fruits and change the amounts to what you want.
2 Tbsp. sugar, plus 1 tsp. for sprinkling on the crust
1 Tbsp. cornstarch
1 whole egg, beaten
Instructions
Preheat oven to 425 degrees.
Gently unfold the pie crust and place on a baking sheet lined with parchment paper.
In a bowl, gently mix together the fruit, sugar and cornstarch. Then pour into a strainer to release
and extra juices.
Pour the mixture into the center of the pie crust, leaving a 2 inch border.
Fold up the uncovered border over the edge of the fruit and pinch into pleats.
Brush the crust with the beaten egg, and sprinkle with the remaining sugar.
Bake in oven until crust is lightly browned, 12 to 15 minutes.
Serve warm and is great with a scoop of ice cream.
COMMENT POLICY:
All we ask is that you be kind. We welcome differing opinions, but any comments containing personal attacks, sarcasm, etc. will be removed immediately. Keyboard warriors aren't welcome 🙂 All comments are moderated and may take time to be approved. Anything not pertaining specifically to the content of a post will be removed (including comments about ads).