A low carb (and delicious) alternative to mashed potatoes — garlic & bacon mashed cauliflower. So much flavor, creamy, and the perfect side dish!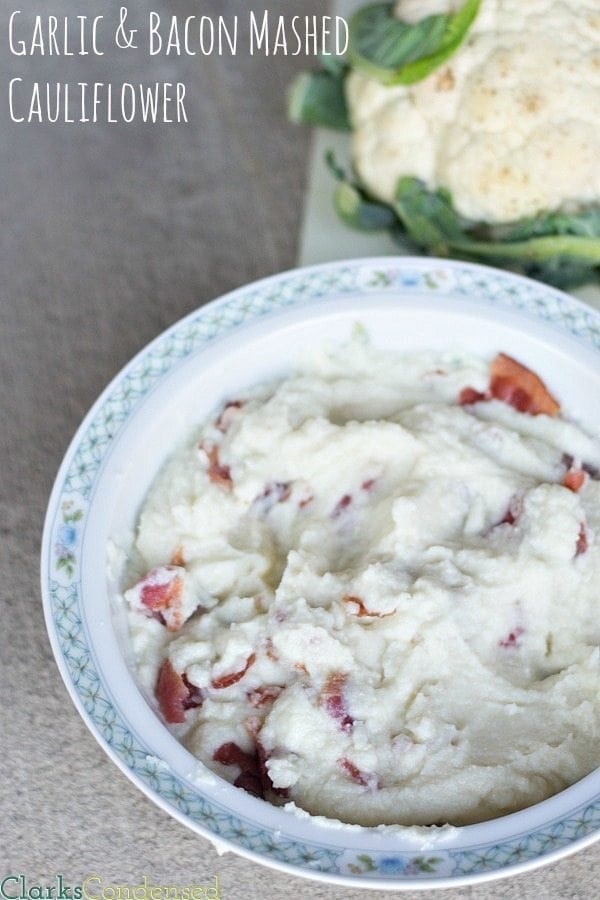 For over a year now, I've seen recipes for mashed cauliflower floating around Pinterest. I've even had a few friends say how much they loved it. Despite that, I never had any desire to make it, because it just didn't seem like it would taste very good!
Well, curiosity got the best of me, and I finally made some the other day. It took roughly the same amount of work that it takes to make regular mashed potatoes, and it turned out really well. It obviously doesn't have the same texture as mashed potatoes, but it had a great, creamy texture, along with a lot of flavor. I will definitely be making this as a lower carb, healthier option from now on.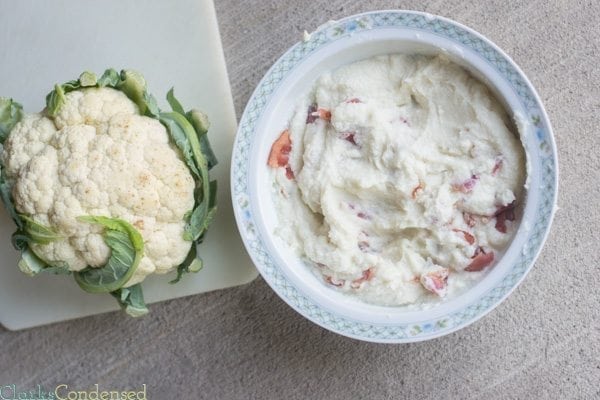 I think my mom put it best when she said that if you knew it wasn't going to be mashed potatoes, it was pretty good. Some people thought it was going to be mashed potatoes and were a little surprised, but in the end, most everyone loved it. My brother said it was the best way he's eaten cauliflower! I think the garlic and bacon was essential to this mashed cauliflower's success. It was delicious! The holidays will be here before we know it, so this is definitely a great side dish to consider making!
Also, I wrote this instructions assuming you don't have a steamer (because I don't!) The important thing is, make sure your cauliflower is soft!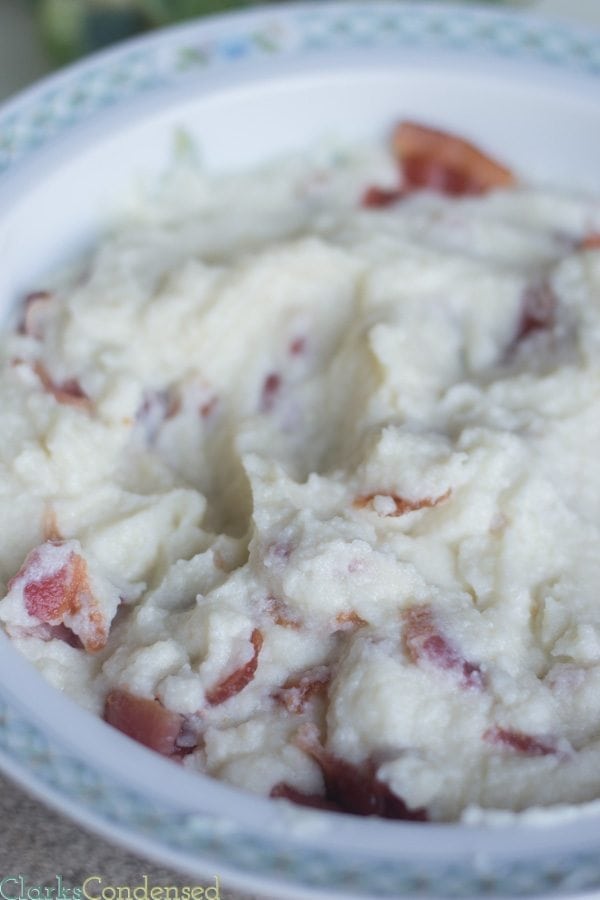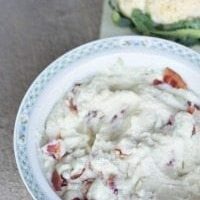 Garlic & Bacon Mashed Cauliflower
Ingredients
1 head of cauliflower
2 teaspoons minced garlic, divided
1 teaspoon salt
4 tablespoons butter
1/2 cup milk, I used almond milk
1 teaspoon pepper
4 slices of cooked bacon, crumbled
Instructions
Remove the florets from the cauliflower and place in a bowl. Set aside
Place 2 cups of water into a pot or sauce pan large enough to hold your cauliflower.
Bring to a boil. When the water starts to boil, place the cauliflower florets, 1 teaspoon garlic, and salt into the pot. Cover and let cook until the cauliflower is very soft (about 10 minutes or so).
After it is cooked, drain cauliflower.
Put the cauliflower, remaining garlic, butter, milk, and pepper into a food processor.
Process until smooth.
Add crumbled bacon and stir.
Enjoy!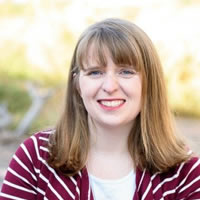 Katie is a Colorado-native, BYU graduated, and most importantly, wife to one and mother to three beautiful boys. She is passionate about sharing her experiences with others – especially about pregnancy, breastfeeding, cooking, and crafts. She is an International Board Certified Lactation Consultant. She loves spending time with her family and helping others find joy in family life.