This recipe is for Cafe Rio style pork. Now, if you've had Cafe Rio, you know that it usually is shredded. But head on over to this post, and you'll see why this is more chunky than shredded. Don't worry though, it still tastes AMAZING, and this recipe will yield the typical shredded pork we all know and love (as long as you follow the instructions…which I did not.)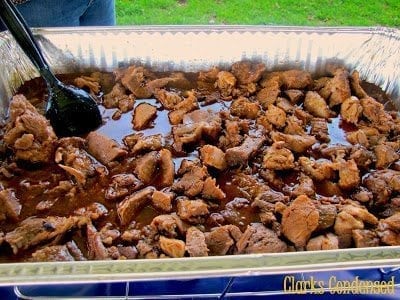 Ingredient amounts or instructions in parentheses indicate the amount needed for a larger group (approximately 30-40 people)
Cafe Rio Pork
Serves 6-8 (or 30-40)
3 pounds pork (or 14-15 pounds pork shoulder)
3 cans Coke (or 2 1/2 liters Coke)
1/4 c. brown sugar (1 cup brown sugar)
1 tsp garlic salt (1 tbsp garlic salt)
1/4 c. water (1 c. water)
1 can diced green chilies (4 cans diced green chilies)
1 can red enchilada sauce (4 cans red enchilada sauce)
1 c. brown sugar (3 c. brown sugar)
if making the larger recipe, cut pork shoulder in half, or just get 2 seven-pound pieces of pork shoulder. You will need two large crock pots. 
Add 1 can of coke (or about 3/4 liter) and 1/4 cup (or 1 cup) brown sugar to either a large ziploc bag or large bowl, depending on the size of the pork being used. Place thawed pork in container, and marinate for at least three hours but preferably overnight.
Place pork and 1/2 can (or 1/2 liter) of coke, water, and garlic salt into a crock pot and cook on high for about 3 1/2 hours, or low for 8 hours, or until it is shreddable.
Take pork from crock pot and shred in a separate bowl. Drain liquid from crock pot, and place shredded pork back in the crock pot. Blend together remaining coke, green chilies, enchilada sauce, and the remaining brown sugar in a blender or food processor. Pour over the shredded pork (if making the larger recipe, divide among the two crock pots) and cook on low for two hours.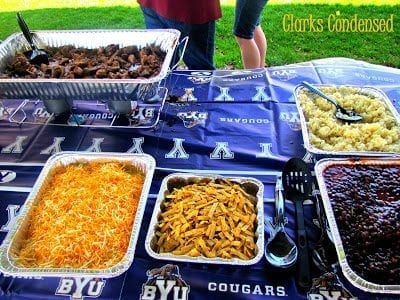 For the entire Cafe Rio Copycat Recipe guide, click here
COMMENT POLICY:
All we ask is that you be kind. We welcome differing opinions, but any comments containing personal attacks, sarcasm, etc. will be removed immediately. Keyboard warriors aren't welcome 🙂 All comments are moderated and may take time to be approved. Anything not pertaining specifically to the content of a post will be removed (including comments about ads).