These whole grain, dark chocolate amaranth cookies have a fudge-like texture, and are filled with sweet, dried cherries, dark chocolate chunks, and chopped almonds. Best of all, you can eat them practically guilt free, and with the secret ingredient — amaranth — you can be sure you're getting a delicious combination of important nutrients in every bite. Can easily be made gluten free!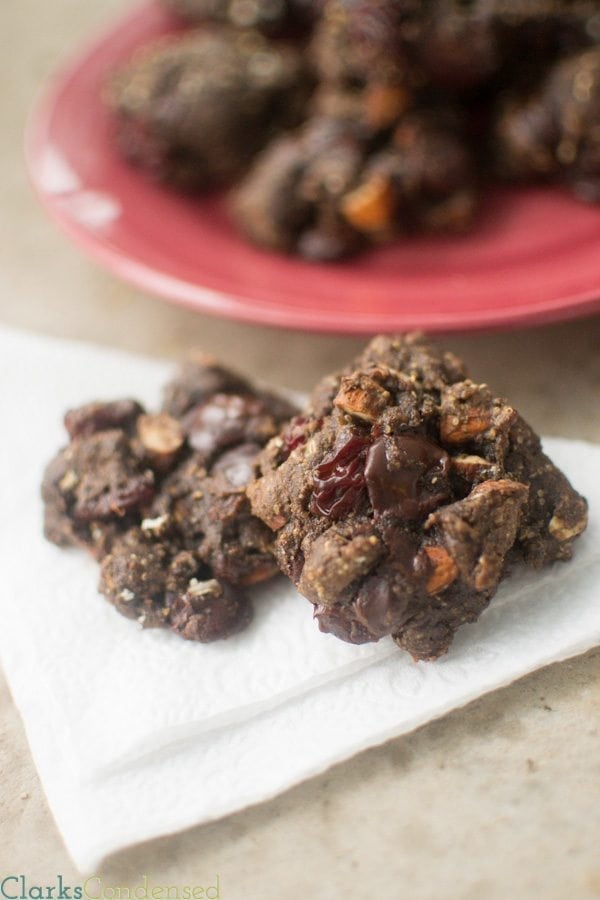 Ah…the weeks just fly by. It seems like I just posted my roasted red pepper hummus and pita bread recipe last Saturday for the Clean Eating Challenge. Time should just slow down!
Today, I'm sharing with you a delicious, pretty healthy cookie recipe. To me, it's pretty darn clean, but I imagine some people may disagree (since I used dark chocolate chips…but I think every balanced diet needs dark chocolate chips ;-). These cookies are fudge-y, have a nice crunch (from the almonds), and sweetness from the dried cherries. Oh, and they have a super secret ingredient in them that up the nutritional content by a lot: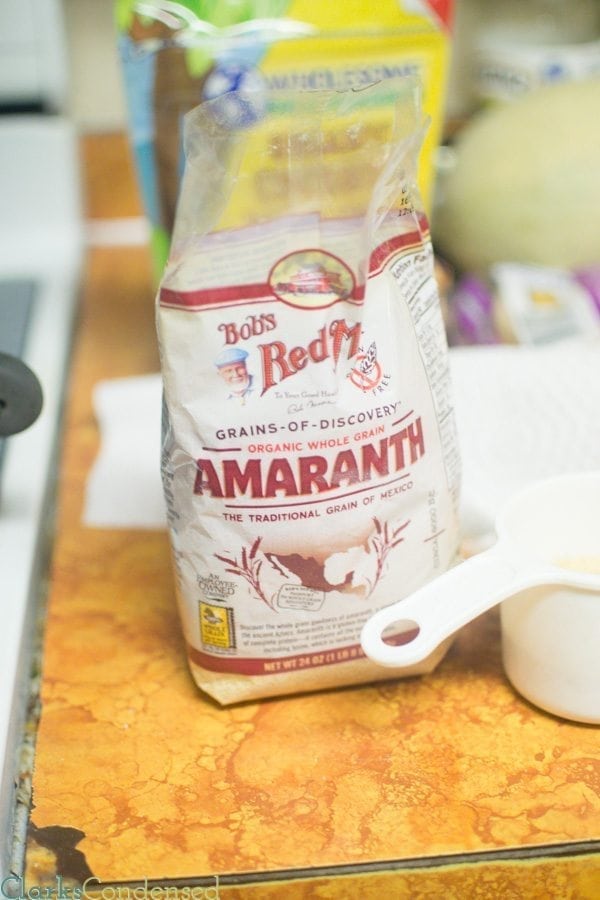 Amaranth. Have you heard of it? I hadn't until a few weeks ago with Bob's Red Mill sent me a couple of items from their product line, and amaranth was in that package. Forrest thought it looked similar to quinoa — which is obviously a rather popular, gluten-free grain. I decided to do a little research on the Bob's Red Mill website.
Amaranth was first cultivated in Mesoamerica 8,000 years ago
It was a food staple for the ancient Aztec people
It's gluten free and is full of protein
Has all the essential amino acids
High in fiber
Great for people on a gluten free diet
Can be grown in your garden
Has a nutty flavor, and tastes great in bread.
I have seen a lot of quinoa cookies out there, and since amaranth is pretty similar (just a little bit smaller) I thought I'd see if I could create an amaranth cookie recipe. I cooked about 3/4 cup of amaranth to add to the batter, and you couldn't even tell after they were cooked — I think they made them more soft (and much healthier!) If you have any picky eaters trying these, just don't tell them it's in it — they won't know the difference!
I used whole wheat flour, however, you can easily make these gluten free cookies using your preferred gluten free flour mix (Bob's Red Mill has a great gluten free baking mix.) I also used organic coconut sugar instead of brown sugar. It's a little more expensive than brown and white sugar, but it's better for you, and I don't think it affected the taste of the cookie.
You can pretty much use any mixin that you want, but I thought that the combination of dried cherries, dark chocolate chips, and chopped almonds was perfect. Combined with the fudge-y texture and taste of the cookies, these definitely won't last long!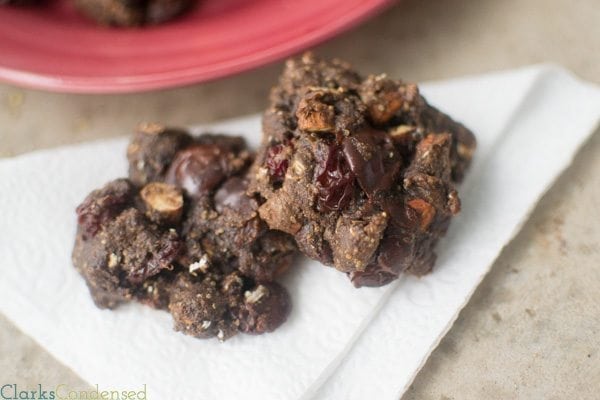 Thank you to Bob's Red Mill for sponsoring this post. Be sure to follow them on Facebook for more delicious recipes, and look for their products in most grocery stores, for all your whole grain needs!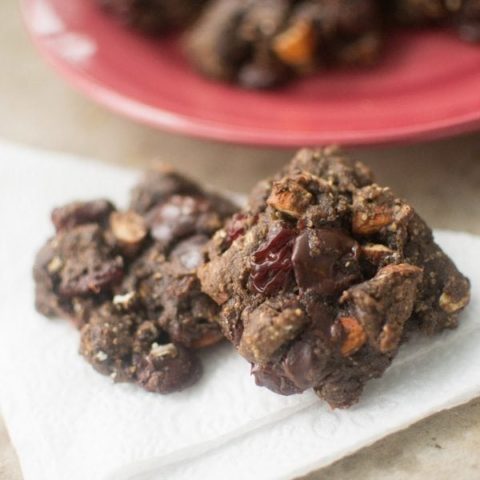 Dark Chocolate Amaranth Cookies
Ingredients
1 c. whole-wheat flour, or gluten free flour mix of choice
1 c. old-fashioned oats, ground
1/2 tsp. salt
1/2 tsp. baking powder
1/2 tsp. baking soda
1/2 cup cocoa powder
1/4 c. coconut oil, melted
1/4 cup applesauce
2/3 c. coconut sugar, or brown sugar
2 large eggs
1 T. vanilla extract
1 tablespoon honey
3/4 cup cooked amaranth, cooled
1/2 c. chocolate melts or chocolate chunks
1/2 cup chopped almonds
1/2 cup dried cherries
Instructions
In a medium bowl, whisk together whole-wheat flour, oats, salt, baking powder, and baking soda.
In another (large bowl) mix together melted coconut oil and apple sauce.
Stir in coconut sugar.
Add eggs and vanilla and honey,and stir.
Add amaranth and stir until incorporated.
Add dry ingredients, and stir until combined.
Stir in chocolate chunks, almonds, and cherries.
Cover and place in refrigerator for an hour (otherwise the dough will be too sticky.
Preheat oven to 375
On a silpat baking mat or greased cookie sheet, place about 1 1/2 tablespoons of dough about 2 inches apart.
Bake 8-10 minutes
Let cool on cookie sheet 10 minutes, then transfer to cooling rack.
Be sure to check out some other recipes for the clean eating:
Almond Milk – Rick•a•bam•boo
Chocolate Almond and Cherry Amaranth Cookies – Clarks Condensed
Chicken Avocado Sandwich – Life as Mrs Larson
Light and Easy Fish Tacos – Keep it Simple, Sweetie
Blackberry Ginger Chocolate Chip Muffins – Cooking with Curls
Deep Dish Breakfast Fritatta – Bite of Delight
Asian Marinated Pork Chops – Hezzi-D's Books and Cooks
Deconstructed Fresh Spring Roll Bowl – Je suis alimentageuse
Broccoli Quinoa Casserole – Yummy Healthy Easy
Roasted Asparagus Skinny Guacamole – Everyday Southwest
Raw Vegan Fudgy Bars (Gluten-Free, V) – Wallflour Girl (Ala)
Grilled Cedar Plank Salmon – Delightful E Made
Pineapple Raspberry Green Smoothie – Project Domestication
Sun Dried Tomato and Cheese Stuffed Chicken – Yours And Mine Are Ours
Caramelized Banana Pecan Paleo Ice Cream Recipe – My Natural Family
Garlic and Rosemary Mashed Cauliflower – My Daylights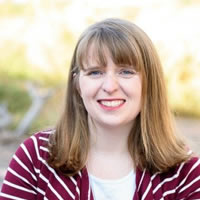 Katie is a Colorado-native, BYU graduated, and most importantly, wife to one and mother to three beautiful boys. She is passionate about sharing her experiences with others – especially about pregnancy, breastfeeding, cooking, and crafts. She is an International Board Certified Lactation Consultant. She loves spending time with her family and helping others find joy in family life.