Guacamole is one of the easiest recipes to make, yet it seems like everyone has a different one! Usually, I just buy a mix from the store, but we decided to make it from scratch! And when I say we made it, I mean my mom and dad. This is pretty similar to the kind of Cafe Rio, but we omitted jalapenos and added lemon juice. It turned out pretty tasty!
Unfortunately, we forgot to bring the guacamole out until the very end, so we ended up with a lot of extra. So, sadly, most of it has gone all brown and nasty. But before that, it was amazing. I think I ate most of it myself. Forrest said that when he was on his mission for our church in California, some people would put the avocado cores in guacamole to prevent this. I have no idea if this works, but it's worth a try!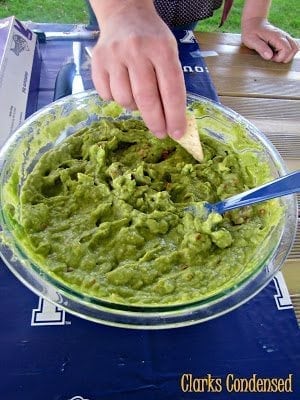 Ingredient amounts or instructions in parentheses indicate the amount needed for a larger group (approximately 30-40 people)
Cafe Rio Guacamole
serves 6-8 (or 30-40)
3 (or 10) avocados
1/4 (or 1 cup) chopped red onion
2 (or 6) cloves minced garlic
1/2 (or 1) bunch chopped cilantro leaves
1/2 (or 1) diced large garden tomato
1 Tbsp (or 2 Tbsp) Lemon juice
1 Tbsp (or 3 Tbsp) lime
1 tsp (or 1 tbsp) green Tabasco sauce
1 (or 2) tsp kosher salt
1 (or 2) tsp pepper
Pit avocados and mash in a large bowl. Stir in remaining ingredients and keep covered until ready to serve.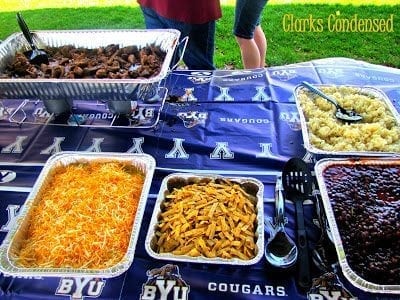 For the entire Cafe Rio Copycat Recipe guide, click here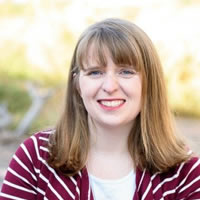 Katie is a Colorado-native, BYU graduated, and most importantly, wife to one and mother to three beautiful boys. She is passionate about sharing her experiences with others – especially about pregnancy, breastfeeding, cooking, and crafts. She is an International Board Certified Lactation Consultant. She loves spending time with her family and helping others find joy in family life.