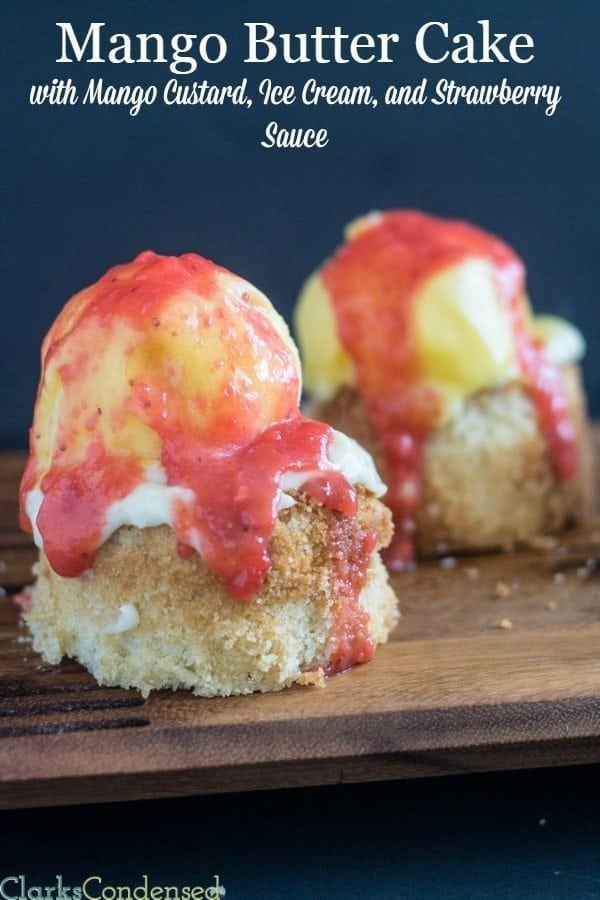 A warm butter cake topped with mango custard, mango sherbet, and strawberry sauce. This tastes just like the mango butter cake you can get at Tucanos!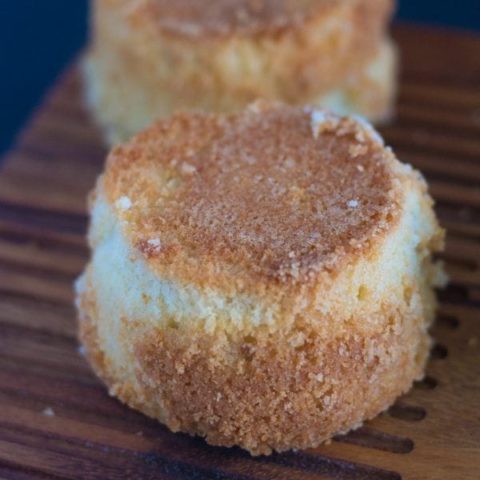 Copycat Tucanos Warm Mango Butter Cake
Ingredients
1 cup butter, softened
1 cup sugar
2 eggs
2 egg yolks
1/4 teaspoon Mango Oil Extract"*
1 1/2 cups all purpose flour
1 teaspoon salt
1/2 teaspoon baking powder
1/2 teaspoon [url href="http://shop.lorannoils.com/baked-goods/bakery-emulsions/buttery-sweet-dough-flavor-bakery-emulsion
"] Buttery Sweet Dough Emulsion"*
Extra white sugar-emulsion
Instructions
Preheat oven to 325 degrees.
Blend soft butter with sugar
Add whole eggs, egg yolks, mango extract, & butter extract, and mix.
In other bowl, mix flour, salt and baking powder.
Mix dry ingredients into wet.
Grease ramekins with butter (very well!)
Sprinkle a little bit of sugar into the bottom of each dish.
Spoon the dough evenly into each This is a link to "ramekin", filling them each about 1" from the top.
Bake about 40 minutes, or until toothpick comes out clean.
If the dough cooked over the top, gently cut off the excess.
Allow to cool for about an hour before turning out from ramekins.
Notes
*You can omit the mango oil and buttery sweet dough emulsion -- it just will have a slightly different taste (try and use them if you can, though!)
The reveal of this special four part recipe is finally here! I'm SO excited to share this final recipe with all of you, simply because I was pretty proud of myself that it all come together so nicely.
As I mentioned yesterday, I created this post as part of a recipe contest for LorAnn Oils. I was sent a couple of different flavors to use in recipes, and it was so fun experimenting with them. Yesterday, I used the mango oil in my mango custard recipe. Today, I will once again be using that oil, but I will also be using the buttery sweet dough emulsion. One thing you must know about these oils and emulsions is that they are VERY potent. You don't need to use a lot for the flavor to come through.
This recipe is based off my favorite dessert ever from Tucanos, a Brazillian Churrasco. We don't always get dessert when we go there, but when we do, this is what I get. It's basically a warm butter cake, topped with mango custard, mango glaze, and a strawberry glaze. For this copycat version, I decided to make the warm butter cake into a warm mango butter cake, and I skipped out on the mango glaze.
I was a little nervous about how it would turn out, but really, I couldn't have been happier with the final product! It tasted superb. All the flavors went together perfectly. The mango butter cake was the component I was most worried about turning out, but it baked beautifully and had the flavor I was really going for. I wasn't sure how the oils would work in it, but they actually worked really well. I used the buttery dough emulsion to bring out an even more buttery flavor, and just 1/4 teaspoon of the mango oil to ensure that it had some yummy mango flavoring throughout it. If you don't have these flavorings, you can still make the cake, and it will taste delicious, but I really think the oil and emulsion knock it out of the park!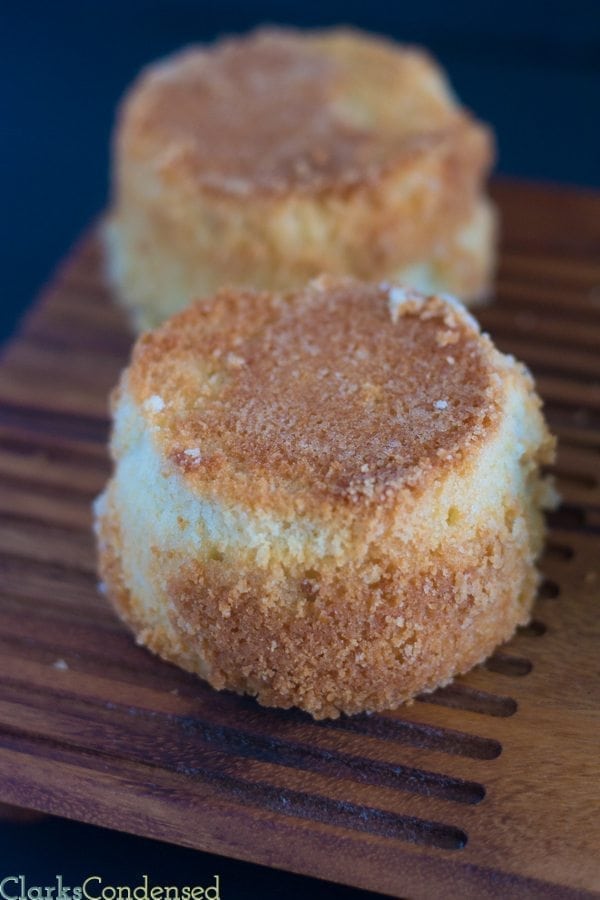 I'm really obsessed with this recipe. I wish it would have photographed better, because it is dang good. The "hardest" part is the butter cake, but really, it's not even really hard. It just takes more time than the other components (beyond the mango sorbet.)
So, are you ready for assembly? Here are all the recipes you'll need.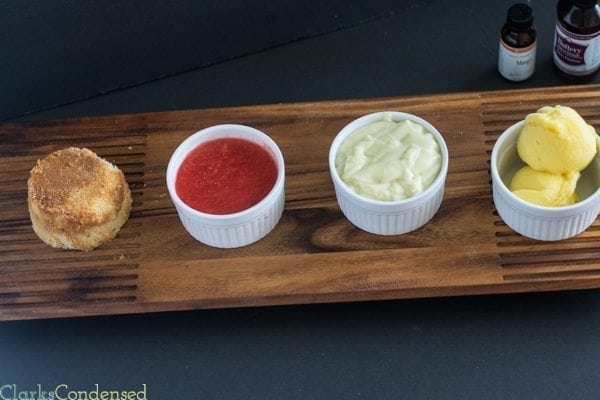 The mango butter cake at the beginning of this post
Easy Mango Sorbet
Mango Custard & Strawberry Glaze
This recipe should make enough for about five cakes (with some of the toppings left over!)
If your cake has warmed down, warm it up right before serving. Trust me on this one.
Then, spoon the custard on top of each cake: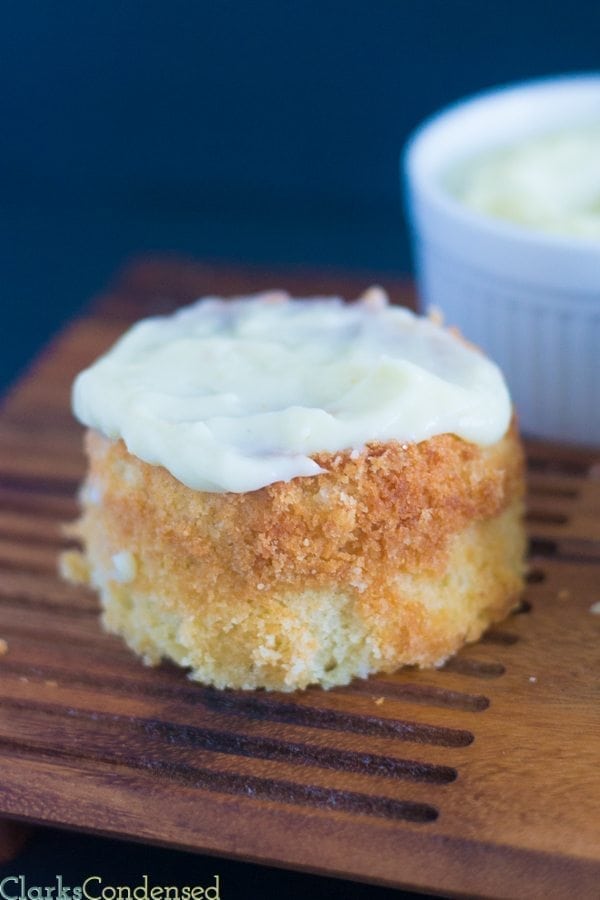 Place a scoop of mango sorbet on top of the cake and custard: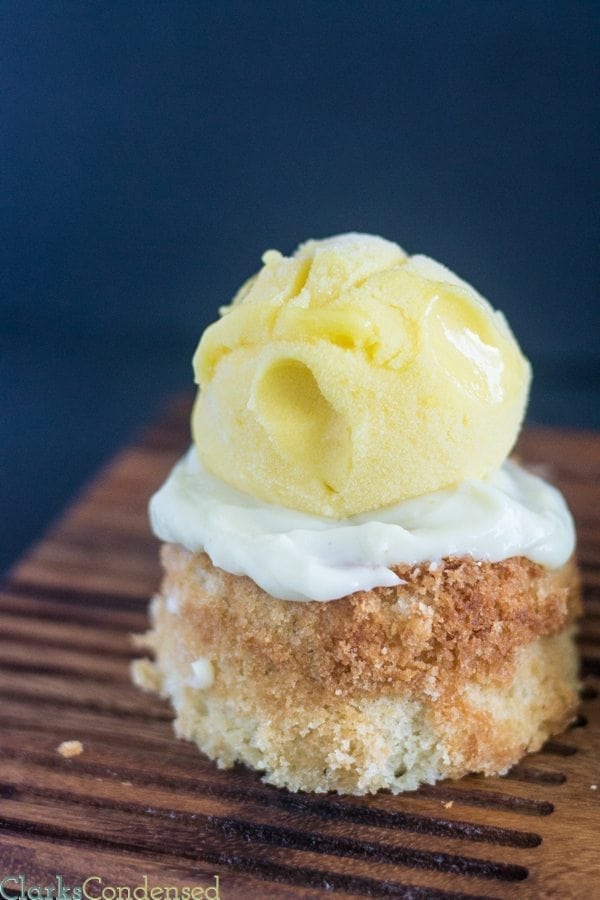 Finish it off with a little bit of the strawberry glaze: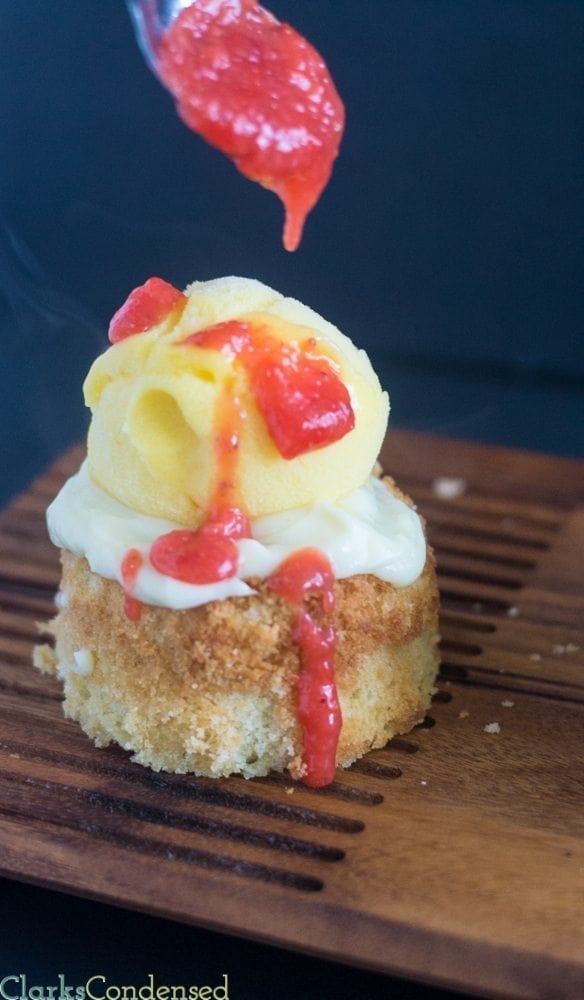 And enjoy!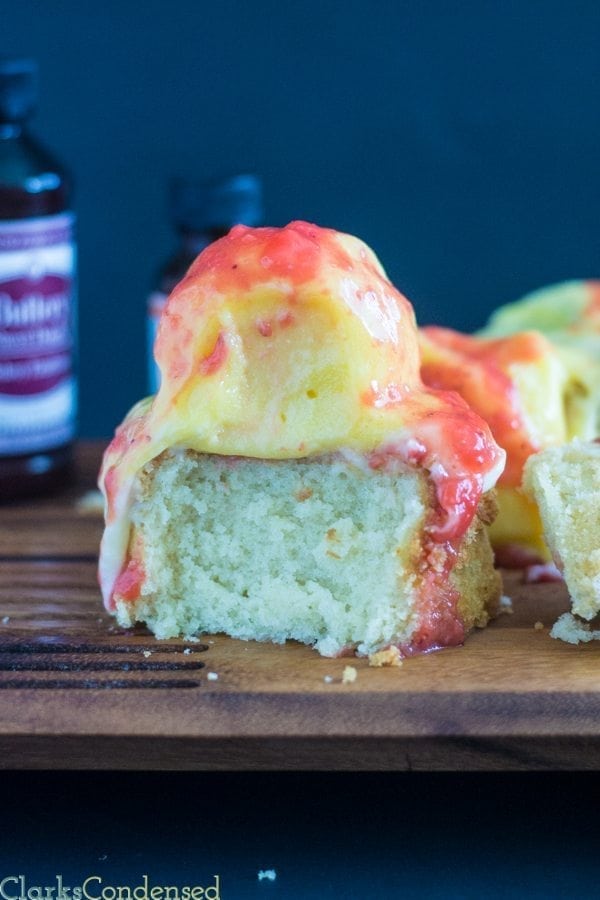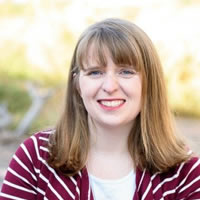 Katie is a Colorado-native, BYU graduated, and most importantly, wife to one and mother to three beautiful boys. She is passionate about sharing her experiences with others – especially about pregnancy, breastfeeding, cooking, and crafts. She is an International Board Certified Lactation Consultant. She loves spending time with her family and helping others find joy in family life.