These triple chocolate raspberry brownies are a recipe you most definitely DO NOT want to miss! They are chocolate-y, decadent, and full of incredible flavor. You'll want to bring this to every party from now on.
Hey there! I'm Ashley from
The Recipe Rebel
and I'm so excited to be sharing this recipe with all of you lovely readers of Clarks Condensed. My motto is "everything in moderation", so while I try to sneak some vegetables and healthy stuff into my meals on a regular basis (and yes, the disguise is for me — my 2-year-old
loves
her veggies!), I also like to indulge every once in a while. One of my favourite ways to come up with new recipes and combinations, is to look at recipes we already love and think of ways to make them new or add new flavours. In the last little while, I shared my recipe for
Absolutely the Best Brownies Ever
as well as some
Triple Chocolate Raspberry
Cookies which I deemed my new favourite.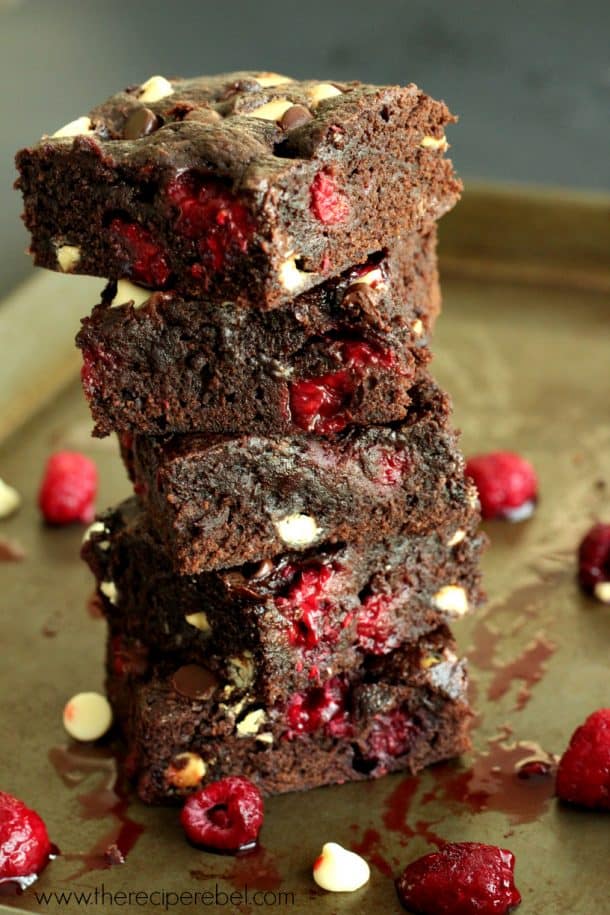 So I started wondering why I hadn't ever combined the two. I mean, those cookies are absolutely my new favourite, but cookies are always a little more labour-intensive than bars because you have to roll them out, and bake the sheets separately. Plus, cookie dough takes a little more precise measuring than a brownie batter to get the consistency just right. These brownies are really the best of both worlds. Now, I'm really not into cakey brownies.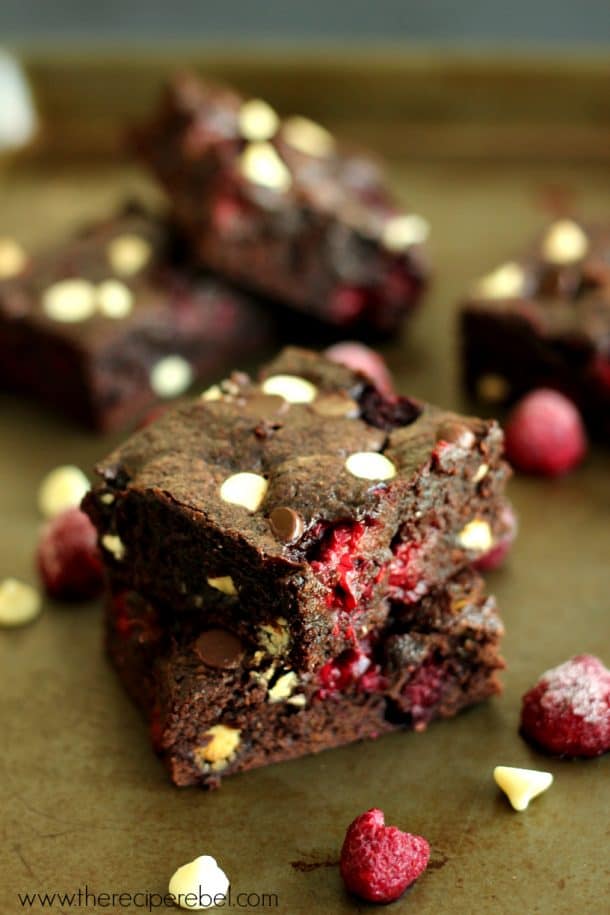 Don't get me wrong, I like cake. But brownies, in my opinion, should be dense and fudgy and never fluffy. These brownies are no exception. They are my ideal brownie: dense, rich, fudgy but packed with two kinds of chocolate and frozen raspberries. The raspberries add an extra punch of flavour which contrasts the rich chocolate perfectly. Because you throw them in frozen, they don't fall apart when you stir them in the batter. If you're a fruit and chocolate lover like myself, these are a must try!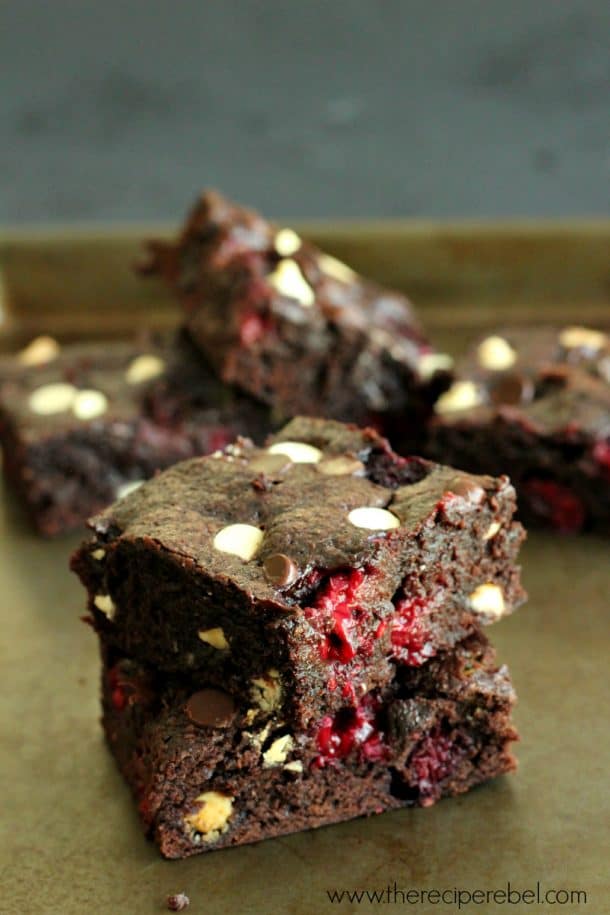 Triple Chocolate Raspberry Brownies
Ingredients
1 cup butter, melted and cooled slightly
2 cups sugar
1 tbsp vanilla
4 eggs
1 1/2 cups whole wheat or all-purpose flour
1 cup cocoa
1/2 tsp salt
1 cup frozen raspberries
1/2 cup white chocolate chips
1/2 cup semisweet chocolate chips
Garnish:
1/4-1/2 cup white chocolate chips
1/4-1/2 cup semisweet chocolate chips
1/4-1/2 cup frozen raspberries
Instructions
Line a 9x13" baking pan with tin foil and spray with non-stick spray. Preheat oven to 350 degrees F.
In a large bowl, combine butter, sugar and vanilla. Whisk well.
Whisk in eggs until smooth.
Stir in flour, cocoa and salt until smooth.
Stir in raspberries, and both kinds of chocolate chips until evenly distributed.
Spread batter into prepared pan and garnish with additional chocolate chips, white chocolate chips and raspberries if desired.
Bake at 350 degrees F for 28-33 minutes, or until a toothpick comes out clean or with a few crumbs (but not wet). Cool to room temperature before slicing.
Katie is a Colorado-native, BYU graduated, and most importantly, wife to one and mother to three beautiful boys. She is passionate about sharing her experiences with others – especially about pregnancy, breastfeeding, cooking, and crafts. She is an International Board Certified Lactation Consultant. She loves spending time with her family and helping others find joy in family life.