Do you like steak, salsa verde, and tacos? Then you will definitely want to check out this delicious recipe. These salsa verde steak baked tacos can be made in about 20 minutes and are definitely not lacking in the flavor department!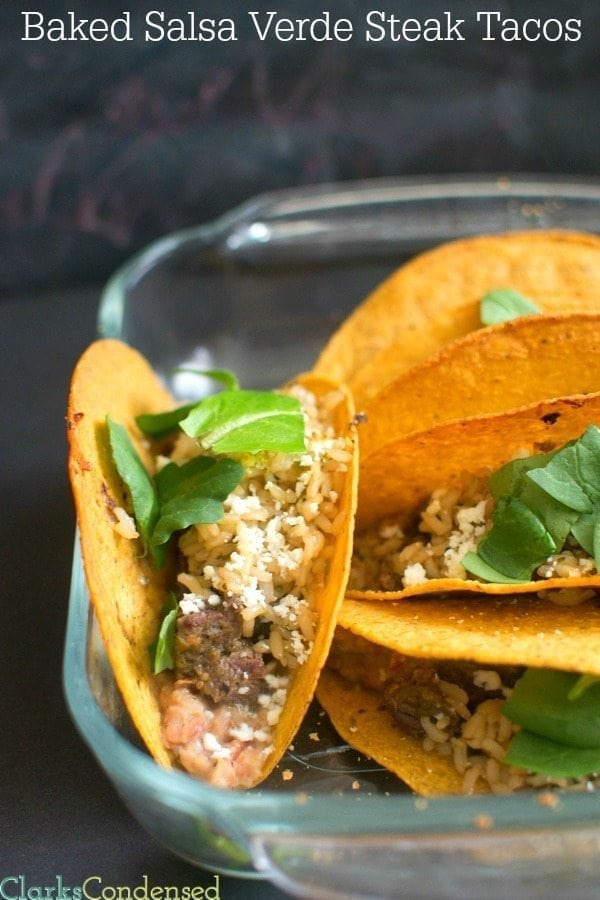 Welcome to the final day, Day #6 of Kick Off to Summer Week, a multi-blogger event co-host by Lauren of From Gate to Plate and Summer of Summer Scraps. With summer quickly approaching and Memorial Day in a few weeks, we wanted to make sure you had plenty of ideas for your Memorial Day activities. For the past six days we have been serving up a variety of different appetizers, main dishes, desserts, decor, printables and more all centered around the up-coming Memorial Day. We hope you enjoyed all of these wonderful ideas and thank you for tuning in each day. We have great prizes up for grabs and you will not want to miss out on any of the days! Be sure to check out previous days out here. Follow #KickOffToSummerWeek2014 on Twitter to keep up to date with all of our spectacular ideas and giveaways!
I love any type of salsa verde, and I'm always incorporating it into a lot of our meals. My favorite type of salsa verde is this
roasted tomatillo salsa
— it's spicy, sweet, and delicious. I really should make it more often and just can it, so we can always have some on hand. One of my favorite recipes that we've made using salsa verde are these salsa verde steak baked tacos. I know, it's kind of a mouthful to say (especially if you're eating a mouthful of them…haha, I know, I'm hilarious!), but they sure are delicious. We always buy meat from the discounted section at the store (hey, it hasn't gone bad, and is great for
freezer food storage
), so we are usually really excited when we see steak over there. We used some steak we got from that discount section one day, and they worked perfectly for these tacos. I feel like they have a lot of flavor and are somewhat unique. I'd seen baked tacos floating around Pinterest, and I thought these would be yummy. When I came up with the flavor profile, I couldn't hardly wait to make them. I could almost taste them! And thankfully, they lived up to the hype I created in my head.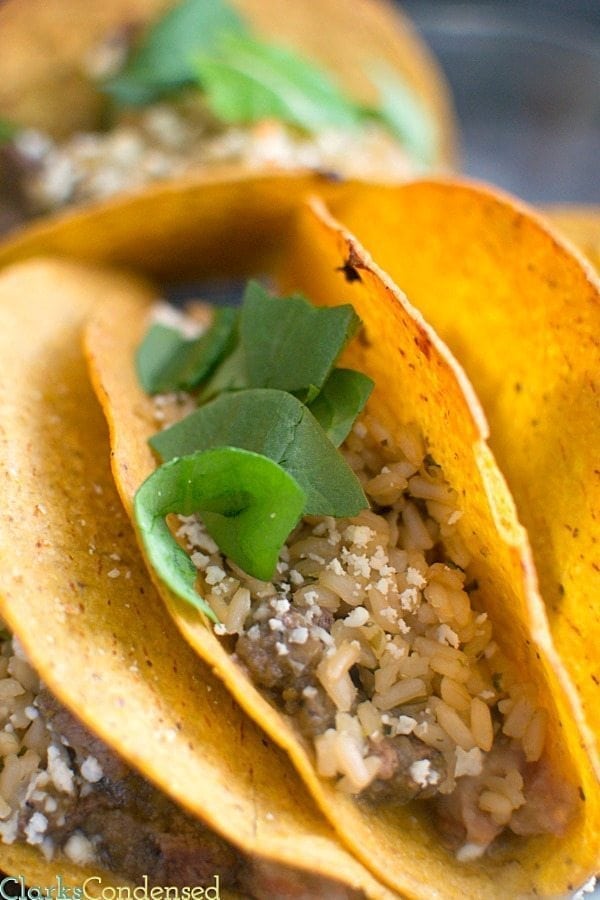 They really don't take a lot of work and can really be made in about 20 minutes! Sounds like the perfect kind of meal to me. We really liked the added addition of spinach on top, and overall, these tacos are fresh and perfect for the summer. Too bad I didn't have this up in time for Cinco de Mayo!
Don't forget to check out the rest of my blogger friends who've participated in this great event and show them how much you've enjoyed this week… drop them a line and show some love 🙂
Grilled Garlic and Basil Rubbed Pork Chops
by From Gate to Plate
Mango Lassi
by The Haas Machine
Shrimp and Corn Salsa Shooters
by It's Yummi
15 Barbecue Favorites
by Summer Scraps
Greek Pork Kebabs with Tzatziki
by Hezzi-D's Books and Cooks
Favorite Popcorn Balls
by Forty Eighteen
Making Memorial Day a Family Affair
by Bits of Ivory
Sea Breeze Punch
by Keep it Simple, Sweetie
Steak Sandwich Stackers
by Lady Behind the Curtain
Memorial Day Whoopie Pies
by The Freshman Cook
Steak Verde Tacos
by Clarks Condensed
Red, White and Blue Sangria
by Love in the Kitchen
Sriracha Coleslaw
by It's a Keeper
Lemon Pomegranate Punch
by Food Lust People Love
Peanut Butter Cup S'mores
by Little Dairy on the Praire
Teriyaki Chicken and Vegetable Kebabs
by Like Mother, Like Daughter
Vintage Patriotic Book Craft
by We Like to Learn as We Go
Salsa Verde Steak Baked Tacos
Ingredients
About half pound of steak, cut into bite sized pieces
1/2 cup salsa verde
1 cup cooked rice
About 1/2 to 3/4 cup refried beans + 2 tablespoons Mexican crema
1 teaspoon cotija cheese per taco, so about 5 or 6 teaspoons
5-6 hard taco shells
One lime
Spinach leaves
Instructions
Preheat oven to 375 degrees
Place cut steak bites into a skillet with salsa and cook until done. Set aside.
Put refried beans into a sauce pan with crema and cook over medium heat until smooth, stirring occasionally
Assemble as follows: Taco shell, refried beans, steak, rice, cotija.
Place tacos in an oven safe dish and bake for about 7-10 minutes, or until shells start to brown
Remove from oven and top each taco with a few squirts of lime juice and a few spinach leaves.