Sweet and spicy roasted tomatillo salsa, made with roasted green and jalapeno peppers, garlic, sugar, and lime. Perfect for parties, or just for snacking on.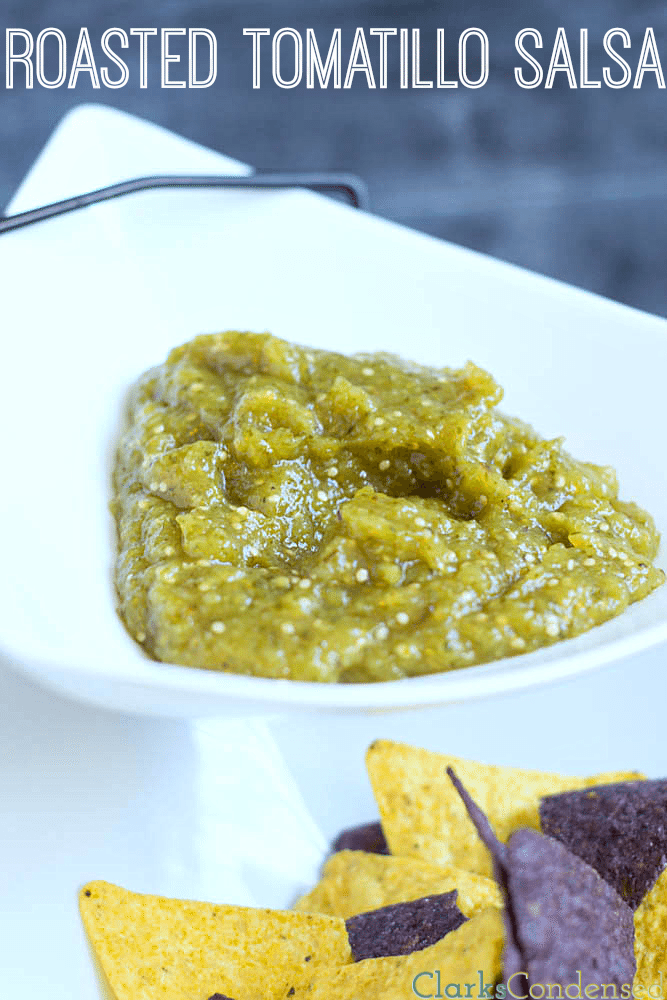 There is a restaurant near where we live that I cannot get enough of — it's called Milagros, and it's honestly some of the best Mexican food around. Everything is fresh and homemade, and you can tell they use only the highest quality ingredients. However, the real reason I go is for the salsa. It is SO good. They give you two kinds — a red kind, and a green kind. Both are good, but the tomatillo salsa is my favorite. If I could afford it, I would go there all the time. Just for the salsa.
However, I can't, so I became determined to make a salsa that tasted just like Milagros. So, last time we went, I asked our waiter what was in it. He told me that it had tomatillos and green peppers, and that the green peppers were roasted. I figured there must have been a jalapeno in there somewhere, since there was a decent kick to it.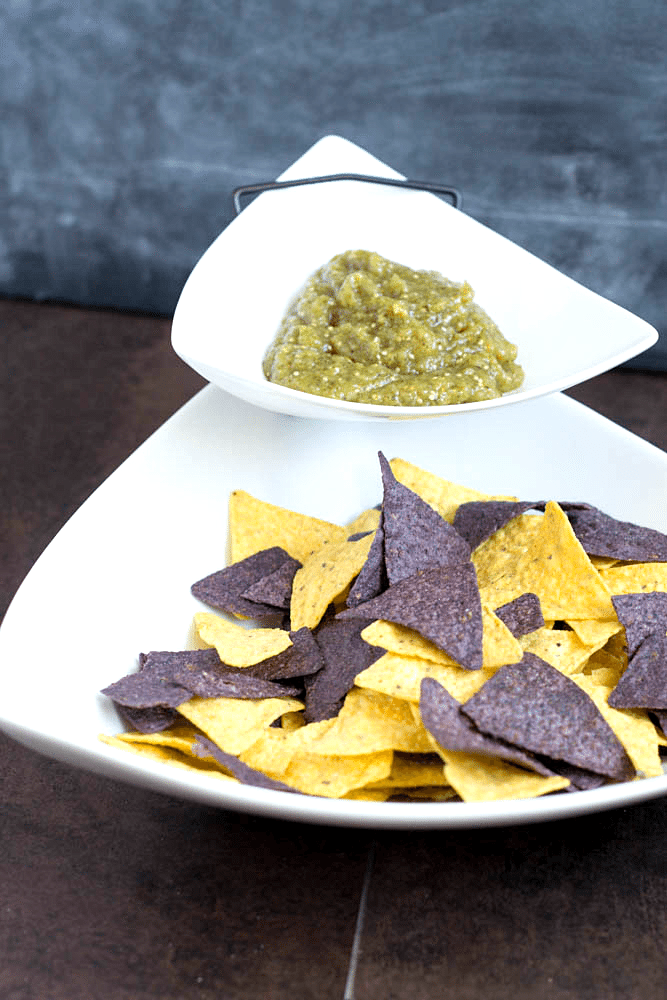 After a little trial and error, I believe I found the perfect copy cat recipe of Milagros' Tomatillo Salsa. It has the perfect amount of sweet and spicy. However, if you don't like it being spicy, leave out the jalapeno (but definitely cut down the sugar), or if you want it less sweet, just add less sugar. The key to this salsa is roasting the tomatillos, the jalapenos, and the green pepper. Don't skip this step! I definitely will be making this salsa a lot more from now on!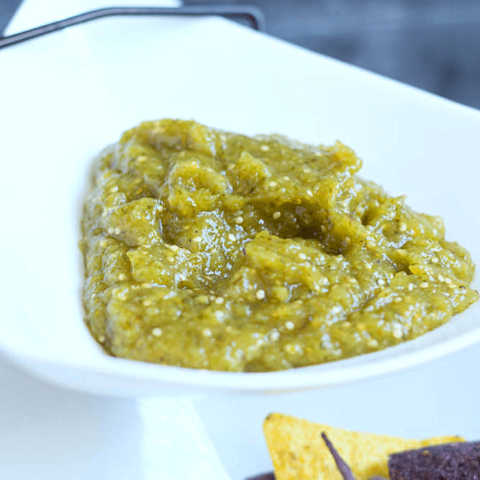 Roasted Tomatillo Salsa
Ingredients
1 1/2 pounds tomatillos
1 green bell pepper
1 jalepeno
1/4 cup chopped white onion
1 Tablespoon lime
10 teaspoons sugar
2 Tablespoon cilantro
about 1/4 teaspoon salt
Instructions
Wash peppers and tomatillos, and place in a single layer on a cookie sheet. Bake at 400 degrees for 20 minutes on each side (alternatively, you can broil them for five minutes on each side.)
After peppers and tomatillos are roasted, remove from oven. Cut off the stems on the peppers, and de-seed them.
Place all the ingredients except for the sugar and salt into a food process, and process until all ingredients are finely chopped and well-combined.
Add in sugar, a couple teaspoons at a time. Blend the sugar, and taste. Add more until it reaches desired sweetness level.
After adding sugar, add in about 1/4 to 1/2 teaspoon salt.
Refrigerate until ready to serve.
Notes
if you want to omit the jalepeno, cut down on the sugar by at least half. If you want the salsa to be less sugary, but more spicy, cut down on the sugar as well.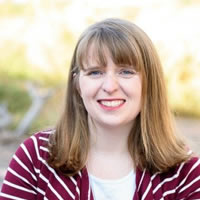 Katie is a Colorado-native, BYU graduated, and most importantly, wife to one and mother to three beautiful boys. She is passionate about sharing her experiences with others – especially about pregnancy, breastfeeding, cooking, and crafts. She is an International Board Certified Lactation Consultant. She loves spending time with her family and helping others find joy in family life.