I'm Kendra from the blog
The Things I Love Most
and excited to be here guest posting. One of my favorite quick and easy treats to make is these Peppermint Toffee's with Saltine crackers.  They are super super easy to make and taste amazing!
Peppermint Toffee Cracker Crunch
<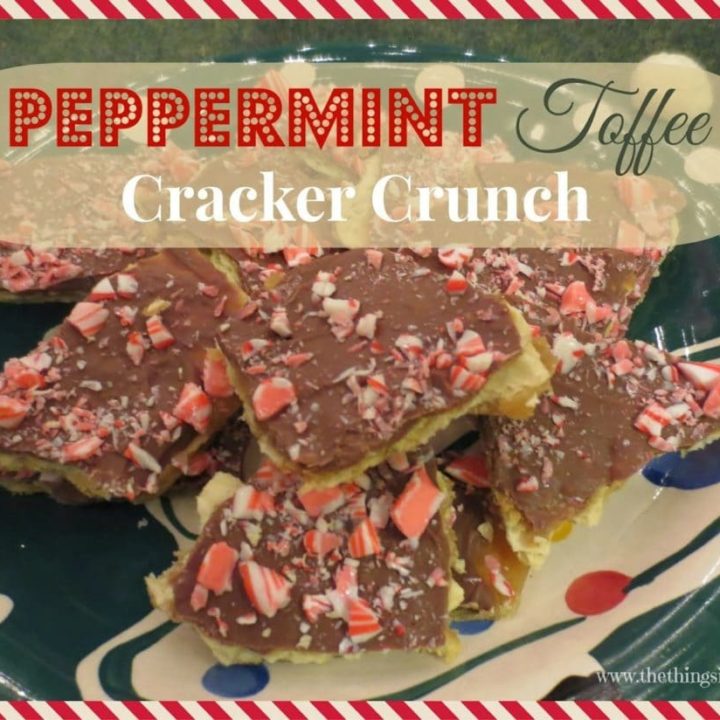 Peppermint Toffee Cracker Crunch
Ingredients
1 cup butter
1 cup brown sugar
1-2 sleeves of Saltines
2 cups chocolate chips
Crushed Candy Canes
Instructions
Preheat oven to 350 degrees.
Line baking sheet with foil, and lay crackers down to cover the whole area.
On stove top combine butter and brown sugar. Once melted bring to a boil and keep stirring for 3 mins.
Pour over crackers evenly and bake for 5 mins (Toffee will be bubbly)
Take out of oven and pour the chocolate chips on top.
As you see the chocolate start melting use a spatula or back of a spoon to spread it evenly over all the crackers.
Add crushed candy cane or any other kind of treat (i.e. mini M&M's, white chocolate, toffee chips) to the top while the chocolate is still melting.
Refrigerate for 30 mins and then break apart in uneven pieces.
And enjoy!!
I think this is what Santa is getting this year from the kids, with a little eggnog of course!
COMMENT POLICY:
All we ask is that you be kind. We welcome differing opinions, but any comments containing personal attacks, sarcasm, etc. will be removed immediately. Keyboard warriors aren't welcome 🙂 All comments are moderated and may take time to be approved. Anything not pertaining specifically to the content of a post will be removed (including comments about ads).