These chocolate dreams can also be transformed into non dairy chocolate desserts so everyone can enjoy them. They're amazing, creamy, and chocolate-y. What else could you want in a dessert?!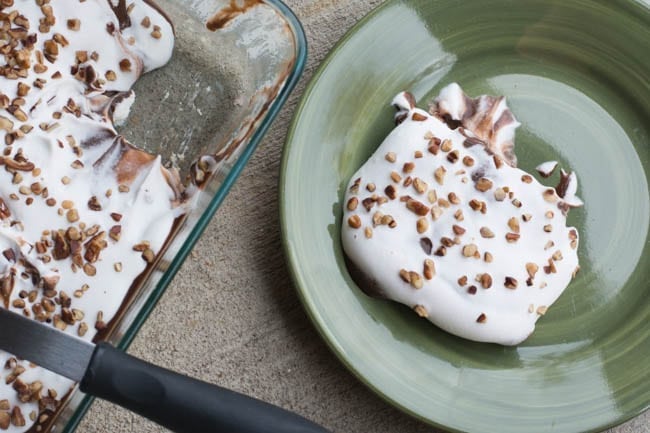 What do butter, cream cheese, chocolate pudding, and whipped topping have in common?
Combined, they are used in a traditionally rich, yummy, chocolatey, cream-cheese dessert that anyone who is lactose intolerant would not get to eat, and that just doesn't seem right–especially at the holidays!
Non Dairy Chocolate Desserts
The traditional version has been a favorite dessert at our house for –well– decades! When I was given the challenge of making a regular dish into a similar dish that was dairy-free I wondered if transforming this dessert was possible.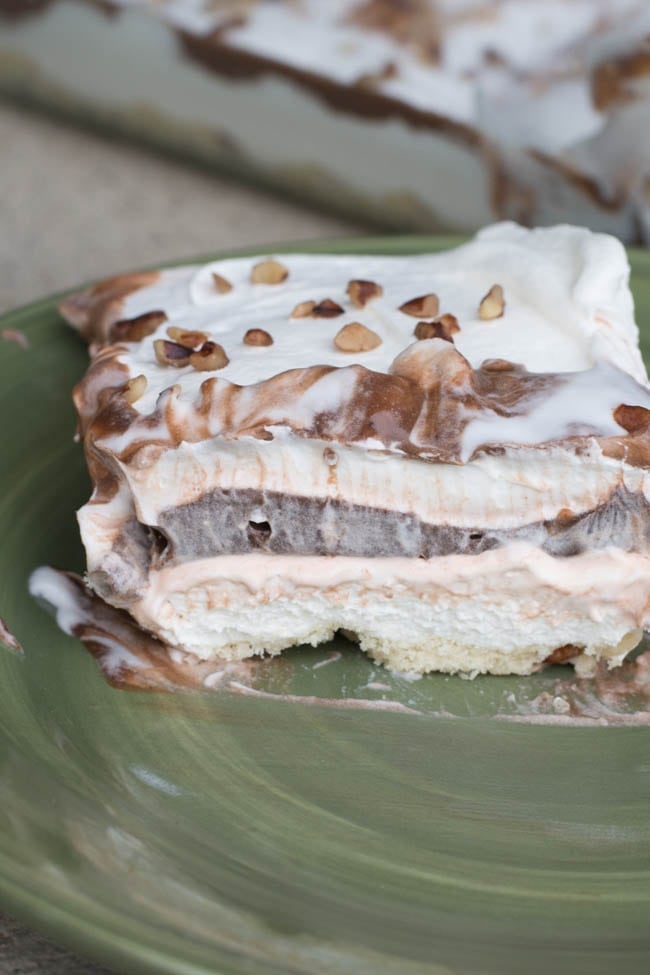 Dairy Free Chocolate Dessert
And if it were possible, how would it taste?
The crust, as well as the other three layers, all include some form of dairy. I was able to find non-dairy brands of butter and cream cheese; use almond milk to make the pudding; and found an amazingly simple method of turning a can of coconut milk into whipped topping.
So I followed my usual recipe, substituting dairy products for the dairy-free versions; put the dessert into the fridge for several hours to chill; and then–with some hesitation–served it to my family.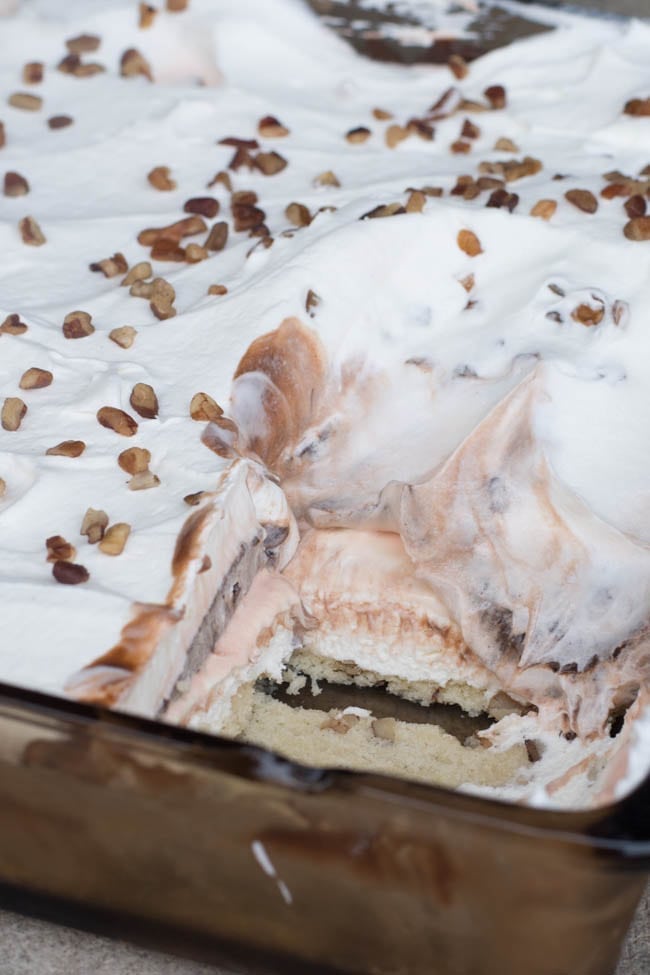 They loved it! Honestly, no one could tell the difference between it and the traditional recipe! To be totally honest, the final layer of whipped topping was a little thinner than the real thing, but it tasted the same.
This dish is absolutely delicious, and I don't think you'll be reaching for IMODIUM A-D after having this for dessert. But, just in case everything at Thanksgiving isn't tummy-friendly, make sure you check out Walmart for all your digestive aid needs.
Dairy Free Dessert Recipe
Here is the traditional recipe, with the substitutions in parenthesis. The recipe is easily doubled; just make it in a 9″ by 13″ pan.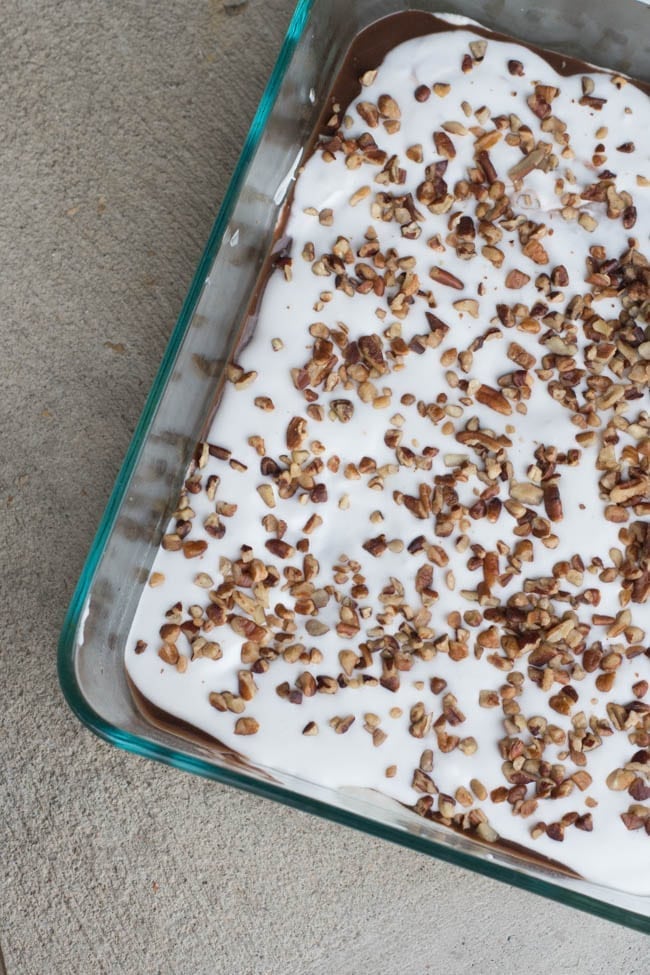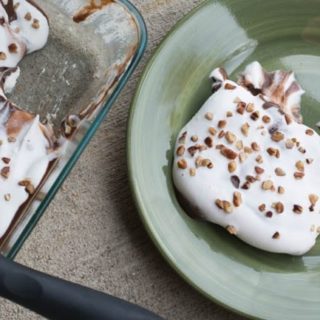 Chocolate Dream Dessert Recipe with Dairy Free Options
Ingredients
1/4 C softened butter or margarine, non-dairy butter like Earth Balance
1 Tablespoon sugar
1/2 C flour
4 oz. softened cream cheese, non-dairy cream cheese like Tofutti
1/2 C powdered sugar, if using non-dairy cream cheese, increase powdered sugar to 3/4 Cup
1 small package instant chocolate pudding, JELL-O brand is dairy free
1 1/2 C milk, almond milk
1/2 C pecan chips, optional
2 eight-ounce containers whipped topping, ***May use whipped toppings made from coconut milk instead. See recipe below. If you go this route, you may need sugar and vanilla
Instructions
]Crust[/br]
Combine softened butter and sugar until creamy.
Add flour and mix until spreadable.
Spread into 8" by 8" greased pan. (If you don't grease the pan the crust will stick like crazy!) Bake at 350 degrees for 10 to 15 minutes until lightly browned.
Cool.
First Layer
Mix softened cream cheese, powdered sugar, and whipped topping until creamy. Pour over cooled crust.
Second Layer
Combine pudding mix with milk. Beat for three minutes. Let sit five minutes. Pour over first layer.
Third Layer
Spread second container of whipped topping over second layer. Sprinkle with nuts if desired. Chill and serve.
Whipped topping made with coconut milk [/br]
Chill one 15-ounce can full-fat coconut milk in fridge for several hours, or overnight.
Open can. There will be a firm, waxy layer on top.
Scoop out this layer and put into mixing bowl.
Stop when you reach the water at the bottom of the can; discard water.
Turn mixer on high and beat three to five minutes, until the consistency of whipped cream with soft peaks.
Mix in one to two tablespoon sugar and/or one teaspoon vanilla if you desire a less coconuty taste.

Babzanne is a mother of six, grandmother of sixteen, and lives in Colorado – though she'll always claim her true heritage as an Idaho girl! She has a degree in journalism but has been a stay-at-home mom for the past 35 years.