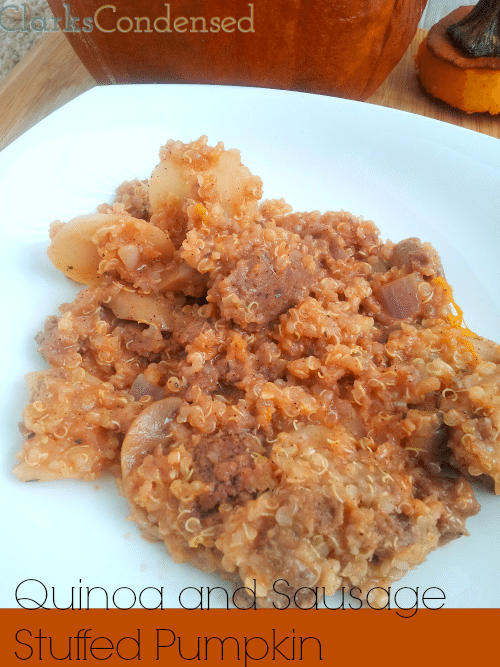 Ingredients
Two Smallish Pumpkins, or 1 medium-large
1 pound Jimmy Dean sausage
2 Tablespoons balsamic vinegar
1 1/2 cups cooked quinoa
1/2 onion, chopped
2 teaspoon minced garlic
1 teaspoon Italian seasoning
1 tbsp brown sugar
1/2 teaspoon cinnamon
1/2 teaspoon nutmeg
1 8 oz can tomato sauce
1 can cream of mushroom
1 can water chesnuts
1 4 oz can mushrooms
2 tbsp b. sugar + 1/2 tsp nutmeg, 1/2 tsp cinnamon (optional)
Instructions
Wash the outside of the pumpkins. Cut the top of the pumpkin off, making sure to cut at an angle. Clean out the inside of the pumpkin and set aside.
Cook quinoa. Set aside.
Preheat oven to 350 degrees.
In a large skillet, brown the sausage in balsamic vinegar. Add garlic, onion, Italian Seasoning, brown sugar, nutmeg, and cinnamon, and saute.
Add tomato sauce, cream of mushroom, mushrooms, water chestnuts, and quinoa. Bring to a boil, then let simmer about five minutes.
Scoop mixture into the pumpkin, and replace the pumpkin top. Bake on a cookie sheet for 1-2 hours. Pumpkin is done when it starts to feel soft.
7.8.1.2

997

https://www.clarkscondensed.com/food/dinner-in-a-pumpkin/

This recipe was created on ClarksCondensed.com. Feel free to distribute as needed, but if you post it on your own site, please link to back to ClarksCondensed.com


Did you all have a nice Halloween? We sure did! We went to the grocery store (like we do every day…) and then hit up the mall for some trick-or-treating. I know, kind of lame, but since Jack is still so young, I thought it would be easier just to go to the mall. Next year though — we're going door-to-door. We tried to go to the local recreation center that was having this huge party, but we missed the memo that if you weren't members, you had to pay…so we nixed that idea. Then we finished off the evening with Monsters University

. Seriously, go buy or rent it right now. It is SO cute and funny. I think I'm going to watch it again today.

And, can you guess what we were?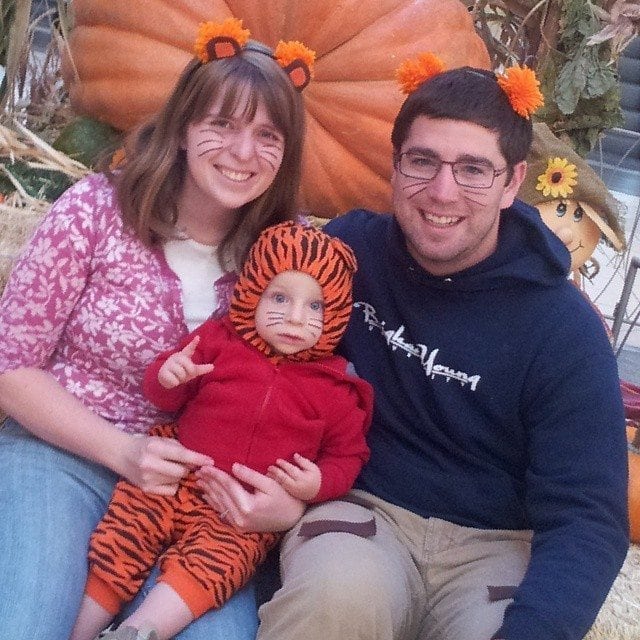 NEVER Miss Another Recipe!
Sign up for our food and recipe newsletter today
Free eRecipeBook upon signup
Free Meal Planning Bundle
Easy and Family Friendly Recipes EVERYONE Will Love!
Apparently, no one seems to watch Daniel Tiger except for us. Everyone thought Jack was Tigger, or a mixture of Winnie the Pooh and Tigger (why would we do that?) Oh well. We were the best Daniel Tiger family out there!
Anyways. Now that Halloween is past, you probably were thinking all the pumpkin recipes would be done and over with. Wrong-o! I'm just getting started. I think pumpkin can (and should) be used throughout the entire year. And today, I'm going to share with you a recipe I've been trying to perfect for awhile now, and after last night, I think I have.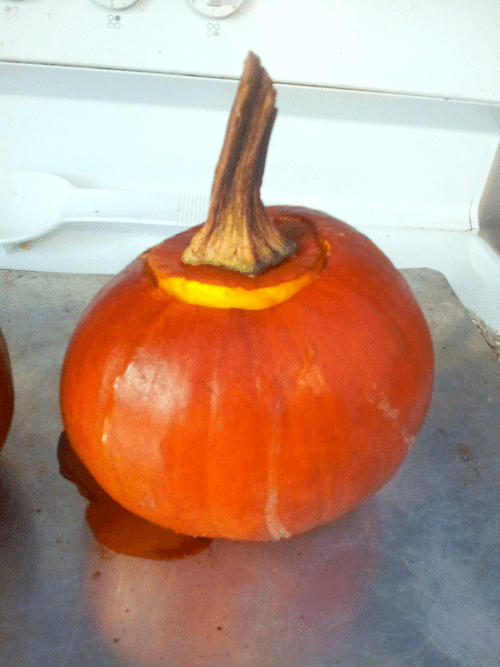 Dinner in a pumpkin. I had never heard of this until my freshman year of college, and at our roommate Halloween dinner, we had it. And I was totally won over by it ever since. I've started making it every Halloween, and I think it's fair to say, it's a tradition we will carry on forever.
Sadly, most of the recipes I found online were missing certain elements, or had strange things added in. And most of them had rice. Don't get me wrong – I like rice just as much as the next person, but I kept thinking how delicious quinoa would be in this. So, substituting quinoa, and combining certain elements from a different recipes, has now resulted in the ultimate dinner in a pumpkin recipe. I couldn't get enough. Forrest couldn't get enough. and Jack couldn't get enough. So basically, you've got to make this!
We used two smallish pumpkins, but this recipe could easily fit into a medium-large sized pumpkin if you only want to go through the process of cleaning out one. I don't know what it it is about this recipe, but it's so yummy. I ended up using Pompeian Balsamic Vinegar instead of soy sauce, and I think doing that really set this dish apart.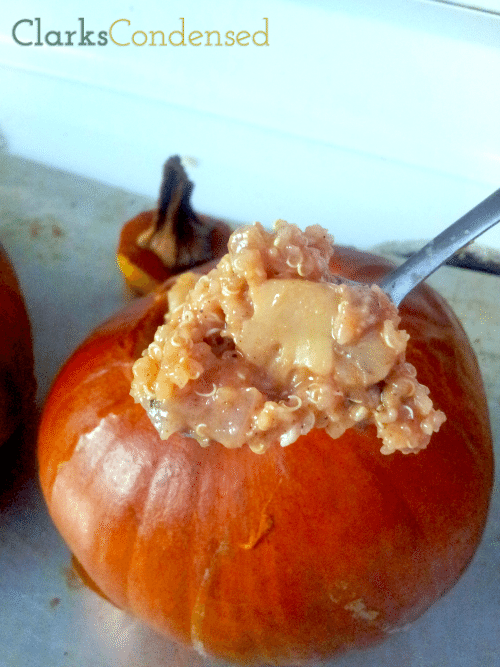 So if you aren't tired of pumpkin dishes yet, be sure to try this one. Or just file it away for next year. It's something I look forward to every year!
COMMENT POLICY:
All we ask is that you be kind. We welcome differing opinions, but any comments containing personal attacks, sarcasm, etc. will be removed immediately. Keyboard warriors aren't welcome 🙂 All comments are moderated and may take time to be approved. Anything not pertaining specifically to the content of a post will be removed (including comments about ads).