This simple eggnog monkey bread recipe is the ultimate holiday dessert! It's very simple to make, but it has amazing flavor. It's a great non-pie dessert!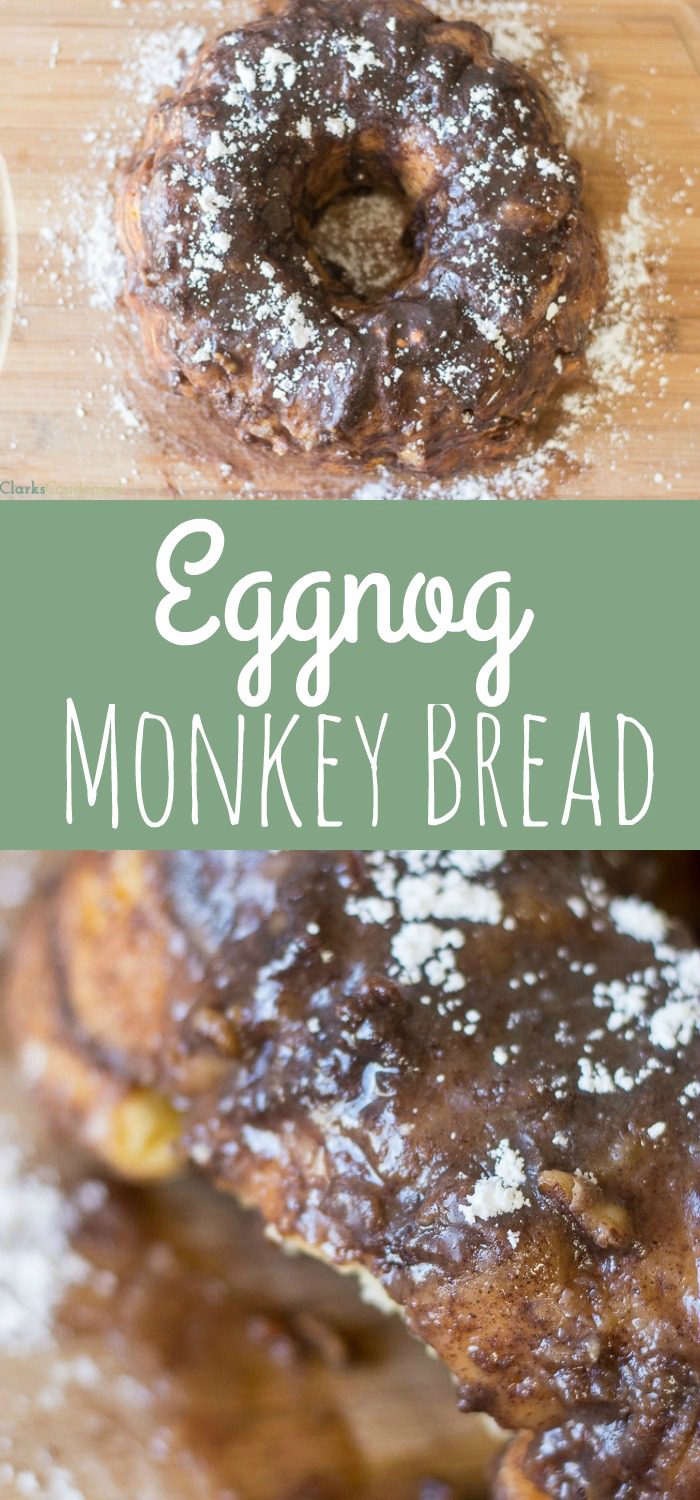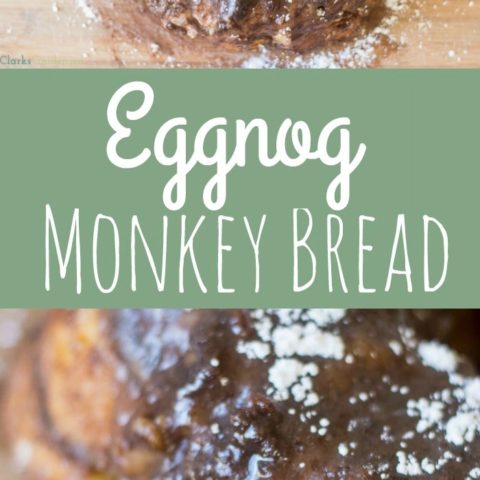 Egg Nog Monkey Bread
Yield: 1 bundt pan
Prep Time: 10 minutes
Cook Time: 35 minutes
Total Time: 45 minutes
Ingredients
2 cans Pillsbury™ Butter Tastin' Biscuits
3/4 cup eggnog
About 1 1/2 cups sugar with 2 teaspoon cinnamon
Chopped pecans, about 1/2 cup
1/3 cup butter, melted
Powdered Sugar
Instructions
Preheat oven to 350 degrees.
Spray a bundt pan well with cooking spray.
Open the biscuits and cut each biscuit into four pieces.
In a small bowl, pour 3/4 cup egg nog.
In another bowl, put the mixed sugar and cinnamon sugar.
Dip each biscuit piece into the egg nog. Shake off excess eggnog and then lightly dip in the sugar mixture.
Place each biscuit piece into the bundt pan. Once you have one layer, sprinkle with pecan pieces. Repeat until you use all the biscuits.
When all the layers are complete, mix the remaining eggnog with 1/3 cup melted butter. Pour over the top evenly.
Place in oven for 35-40 minutes.
Let cool in pan about 10 minutes then invert onto a plate or cookie sheet.
Sprinkle with powdered sugar
Until about three days ago, I had never tried eggnog before.
I'm pretty sure my mom doesn't like egg nog, so it wasn't something we had around our house. During one of the first Christmas's that Forrest and I were married, he was so shocked that there was no eggnog at our house…so he went out and bought some. I'm pretty sure he was the only person in the house that drank any.
For some reason, it just seemed unappealing. I figured it would taste like raw eggs.
Well, I was wrong. The other day, when I finally tried some (after being married to an eggnog fan for almost five years), I actually liked it.
I like it so much, I decided to make a dessert out of it. And it sure is a good one.
You've heard of monkey bread right? It's a pretty delicious dessert. So, I thought it would be fun to make a more festive version of monkey bread using eggnog. I wasn't entirely sure how it would turn out…but I was pleasantly surprised when I tasted it straight out of the oven. It was good. So good.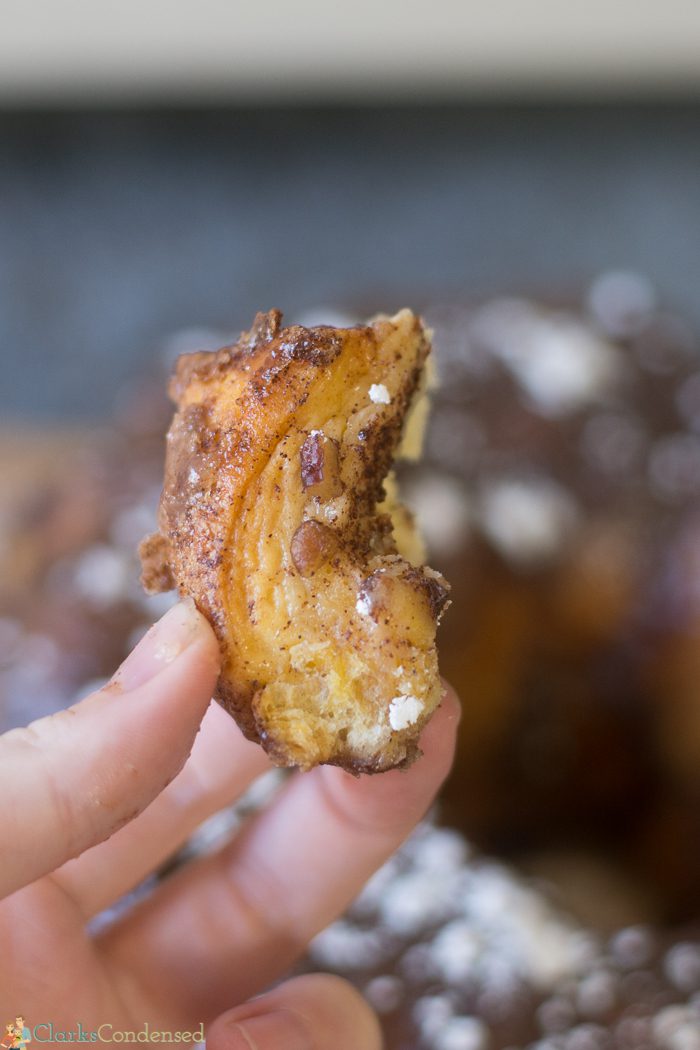 It's such a simple dessert to make – it's perfect for the busy holiday season. I used some of Pillsbury™Butter Tastin biscuits, because, well…can you really ever have enough butter (okay, don't answer that.) I felt like it gave the monkey bread an even more moist and yummy flavor.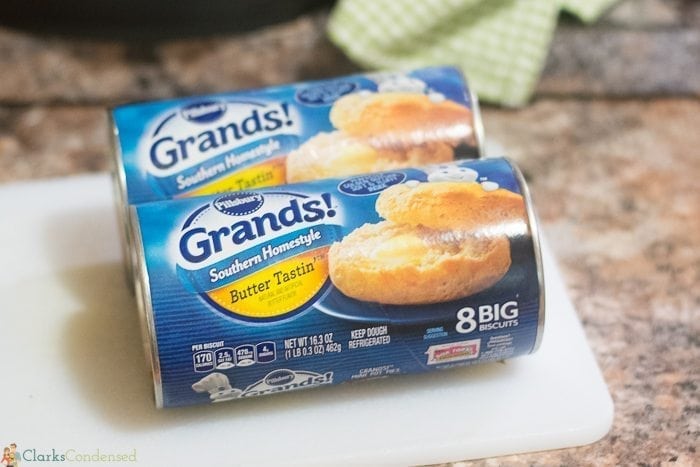 I just picked them up at my local Safeway store, along with a few other simple ingredients, and in less than an hour, we had a rather tasty dessert. This would be great for a non-pie dessert for Thanksgiving!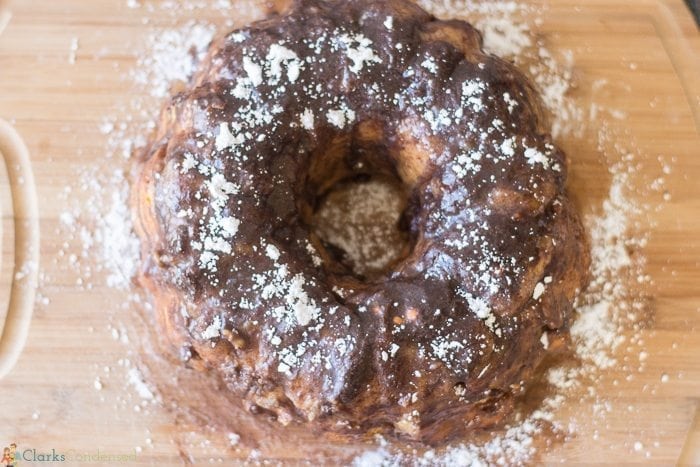 This is a sponsored conversation written by me on behalf of Albertsons Safeway (please use name of your local store) . The opinions and text are all mine.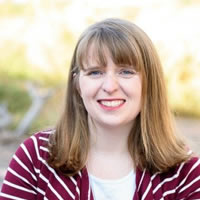 Katie is a Colorado-native, BYU graduated, and most importantly, wife to one and mother to three beautiful boys. She is passionate about sharing her experiences with others – especially about pregnancy, breastfeeding, cooking, and crafts. She is an International Board Certified Lactation Consultant. She loves spending time with her family and helping others find joy in family life.