These creamy sweet potato enchiladas are the perfect meatless meal that the entire family will devour!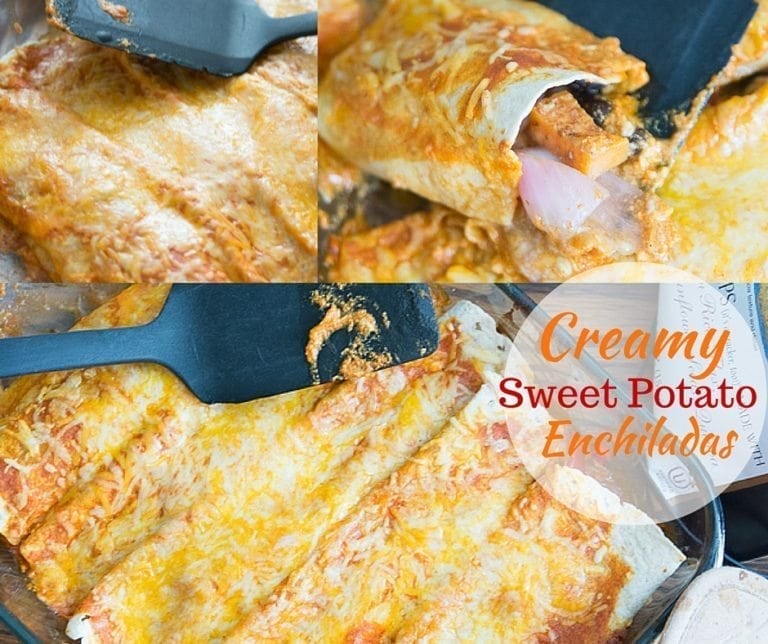 I've talked about my favorite restaurant back in Utah, right?
Milagros. It's a little Mexican restaurant in Orem, and it's oh so delicious. This tomatillo salsa was inspired by them.
I have yet to find a Mexican restaurant I enjoy as much as Milagros. One of my favorite things to get there was their veggie enchiladas.
I mean, I love meat. So if I choose something vegetarian, you know it's gonna be good.
I loved the grilled veggies inside – I never even missed the meat.
Since we've been trying to eat healthier nad incorporate a few more meatless meals into our life, I thought it would be fun to make veggie enchiladas. We love sweet potatoes, so I incorporated those into this recipe along with black beans, and they turned out so good!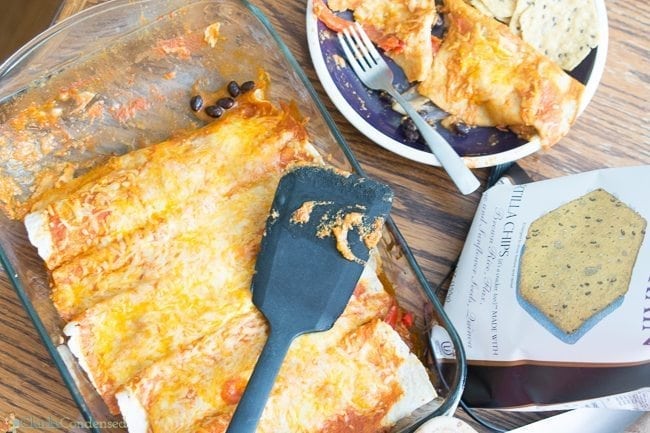 I picked up some Mountain High Original Style Plain Yogurt during Sprouts Better For You Brand Sale – where you can get 35% off yummy and better-for-you products – which I combined with some red enchilada sauce to make a creamy sauce.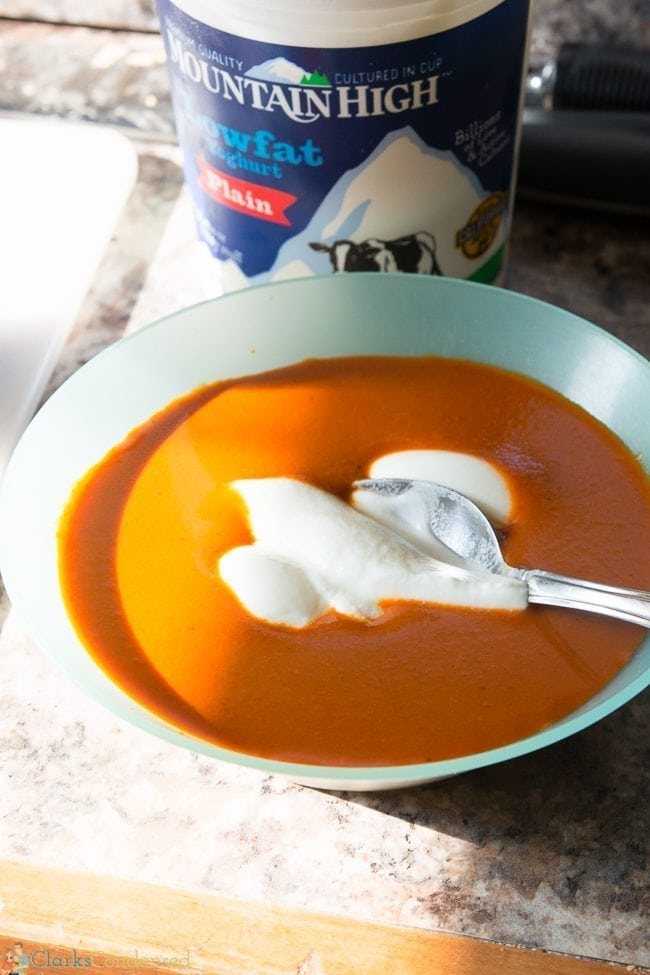 I grilled up some red peppers and onions, and threw that together with some sweet potatoes, black beans, and cheese.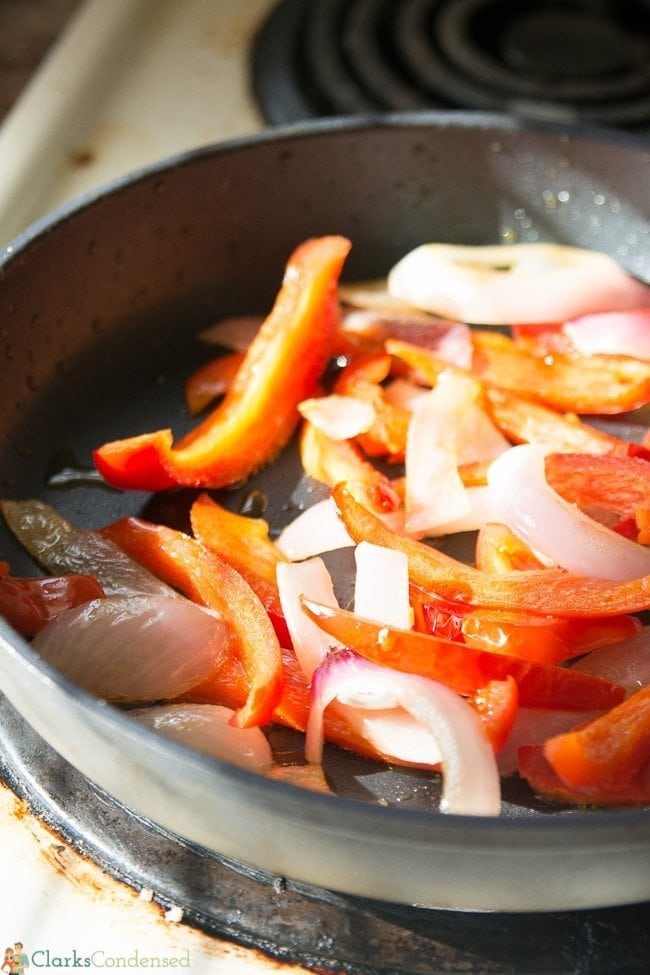 It was a really simple meal, but we all really enjoyed it – I think we ate the entire pan. The flavor was really yummy, and I was really sad we didn't have leftovers for the next day. There was some excess sauce in the pan, which was great for scooping up with Food Should Taste Good Multigrain Tortilla Chips!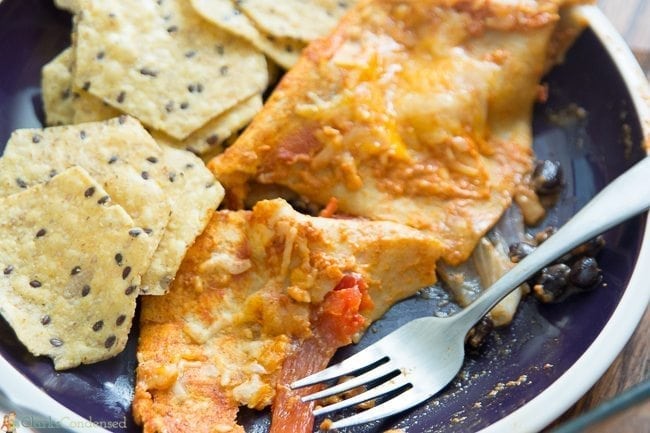 Jack took a little coaxing to try it, but he ended up telling us how delicious it was. Parenting win #fistbump.
Black Bean and Sweet Potato Enchiladas
Yield: 6 enchiladas
Prep Time: 15 minutes
Cook Time: 30 minutes
Total Time: 45 minutes
Ingredients
2 cups sweet potatoes, , diced
Salt and pepper
Olive oil
1 red pepper, , sliced
1/2 small red onion, , sliced
Olive oil, (a couple tablespoons)
1 can black beans, , drained
About 2 cups Mexican blend cheese
2 cups red enchilada sauce
1 cup plain yogurt
6 large flour tortillas
Instructions
Peel and dice sweet potatoes. Toss with a little bit of olive oil, salt and pepper.
Place in a microwave safe bowl, cover with plastic wrap, and cook for 5-7 minutes, or until soft. Set aside.
Heat some olive oil in a saute pan and saute red pepper and red onion until soft.
Add black beans and heat through. Combine with sweet potatoes.
Whisk yogurt and yogurt together until creamy and no lumps remain.
In a large glass pan, spoon a thin layer of the enchilada sauce across it.
Put a tortilla in the pan, spoon a little bit of enchilada sauce, some of the sweet potato mixture, and a little bit of cheese into it. Roll and repeat.
Once all enchiladas are made, cover with remaining sauce and about 1/2 to 1 cup of cheese.
Bake at 350 for 25 minutes. Broil for one minute.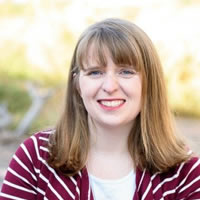 Katie is a Colorado-native, BYU graduated, and most importantly, wife to one and mother to three beautiful boys. She is passionate about sharing her experiences with others – especially about pregnancy, breastfeeding, cooking, and crafts. She is an International Board Certified Lactation Consultant. She loves spending time with her family and helping others find joy in family life.