Slip 'n slide kickball is one of the most fun summer activities. It's great for all ages, it's active, and it's a great way to cool off from the summer heat. Fun water games are the best relief in the summer. The best part is the whole family can join the backyard water games easily.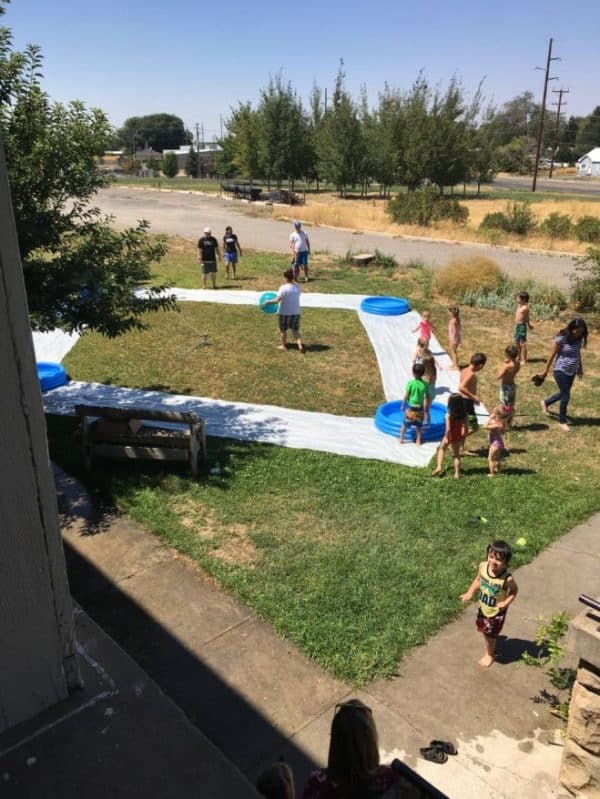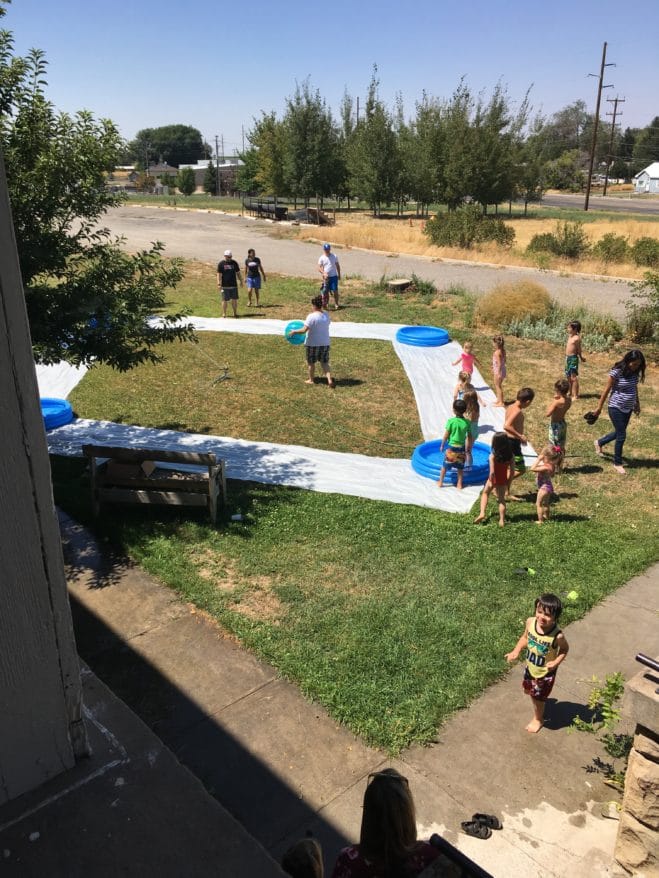 Kickball with Slip and Slide
Slip 'n slide kickball is one of the most fun summer activities. It's great for all ages, it's active, and it's a great opportunity to cool off from the summer heat.
We have played kickball with slip and slide at:
Family Reunions
Church activities
BBQS
Because it's a staple in our summer fun, we've found the best ways to make sure this activity goes well. So if you are looking to learn how to make slip and slide kickball, you are in the right place!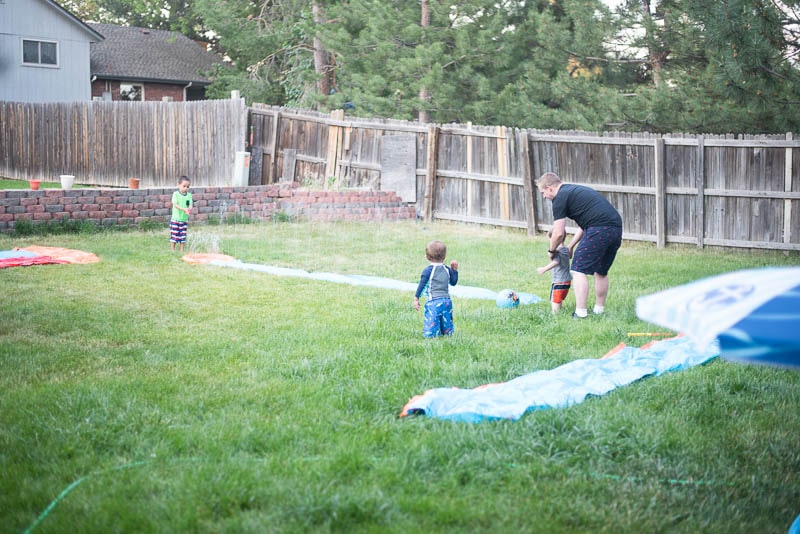 What is needed for slip and slide kickball?
There are a few different ways to put together your slip and slide kickball – there's really no one right way. I recommend going with the most cost-effective for your family/group.
In general, here are the materials you will need and can find easily in a hardware store
Four slip 'n slides (single ones work just great). You can also get plastic drop clothes (3′ wide by whatever length you want them to be) for a more inexpensive option. If you are using drop cloths, you will need tarp stakes
1-4 blow up pools (we got some at Walmart for $10 each – similar to these kinds)
5-6 large bottles of dish soap
Water source (you will need a water source continually going to all the slide and slides/plastic
Duct tape if there appears any small hole.
Keep some water guns, plastic cups for your little ones.
How to Setup Slip and Slide Kickball
When I first played at my family reunion, we had a blow-up pool at every base. However more recently, I didn't want to buy four blow-up pools, because there are not always all members of our family here, so we managed a fun game with just one at the home base!
The slip and slides that we used did have a little water splash pad at the end though, which made for a great base.
There is a different version of the game. How you set it up will depend on whether you are using an actual slip 'n slide or the plastic drop cloths. Either way, here is a diagram that will show how the field should look: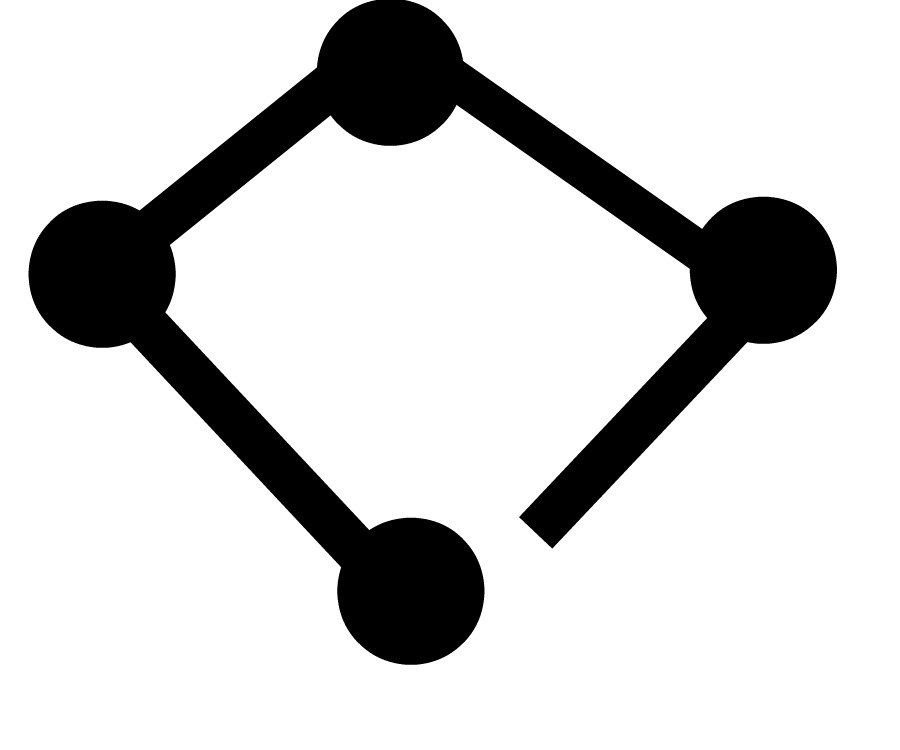 As you can see, there is a space to the right of the home base. This is so there is a place for people to kick without having to stand in the slippery area. This wide play zone takes it to the next level.
The big twist is, when playing this, people will run on the mats and then slip shortly before they get to the pools. However, this can be a little bit dangerous, so if you want, you can make it so the mats aren't continuous This way there is space to run and then slide.
When we played a few weeks ago, I just had one pool to splash into, which was for home base. However, I would recommend having one for each base. It makes it a lot more fun! Especially for little kids! It is going to be their favorite outdoor game in the summer months.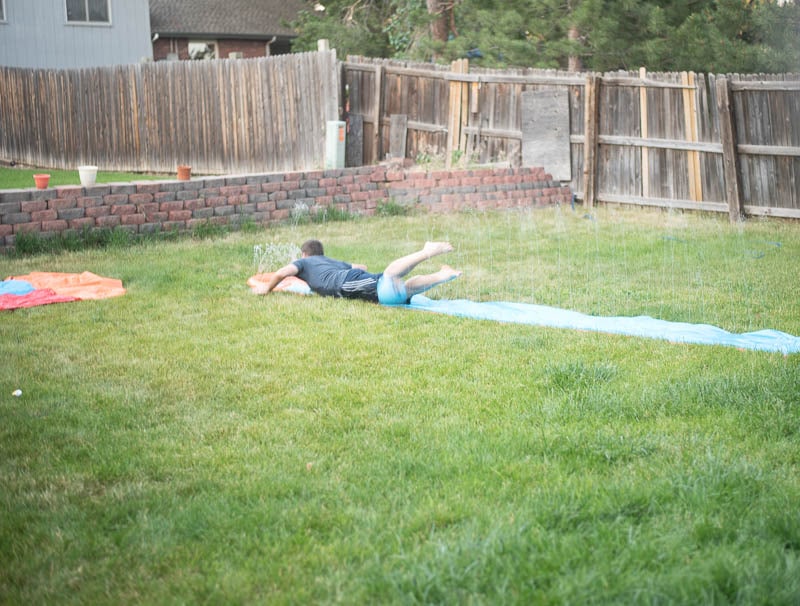 First, you will add dish soap to the slip 'n slides or plastic sheets.
Then you will spray them down with a lot of water.
You will also need to fill all the pools with a lot of water and be ready to refill them if they plan to play for awhile!
If using slip 'n slide mats:
Use included stakes to make sure they don't move around
We like the slip 'n slides that have a little splash pad at the end. This makes for a good landing place if you don't have the extra pools
If using drop cloths:
Use stakes to secure to the ground
In our video, our slip 'n slide setup isn't that awesome, since we don't have the extra pools, and one of our slip 'n slides was larger than the rest.
However, we still had a lot of fun. I do think using the drop cloths can be easier…but the added features of a slip 'n slide (especially if you have water feeding into it) is really fun.
How to Play Slip and Slide Kickball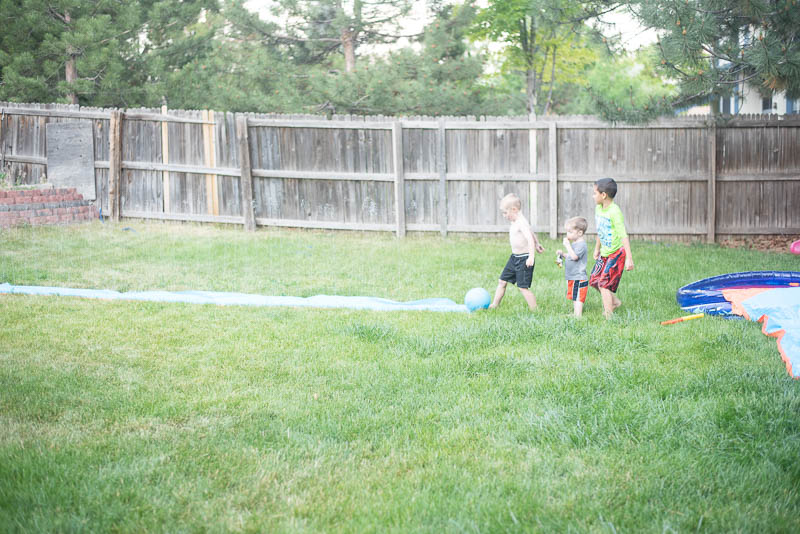 It's pretty simple!
Split into two teams
Select one member of your team to be a pitcher
One member from the first team that is up will go up to home plate
The pitcher will roll the ball
The first person will kick it. If it goes passed the pitcher without getting caught, they run and slip into baby pool. The goal is to get to the pool without being tagged. Some people will run along side the slip 'n slide/plastic sheets, and then slip at the end. Others will run on the plastic the whole time. One of those has a bit more of a risk involved 🙂 But it's up to you! I don't recommend trying to slip the whole way
The rules are the same as regular kickball! Have fun and be careful!
Slip 'n Slide Kickball Video
Here is a video our slip and slide kickball setup.
FAQs about Slip and Slide Kickball
Does the water need to be on the whole time?
You don't necessarily need a continuous flow of water, but if you have extra hoses and are using real slip 'n slides, then it's definitely a fun addition. But if you don't want to have the hose constantly flowing, you don't need to!
Do you need a flat surface to play?
It's really a very simple concept, and it just requires a little bit of prep work. You do need to have a nice, grassy area that's relatively flat. We tried to play in our own backyard, which has a slight tilt to it, which made it difficult to slip very far. You also need to have a water source available! If you don't have one keep a big water bottle to refill the pitch.
How far are the bases in slip-and-slide kickball?
Honestly, we never measured the length between them, and we just set them up based on the length of the materials we have. If you want to make sure they are standard, though, here are the typical dimensions for a kickball field:
– 60 feet all around
– The distance between home and second is 84 feet and 10 1/4 inches
– Pitching strip is in the middle at about 42 feet and 5 1/8 inches
Is slip and slide kickball safe?
Because there is water and running involved, this can be a more dangerous game. It's important for people to try and be as careful as possible. When playing in teams, being too excited against the opposing team for winning may be dangerous. Because you can have some falling in running when excited.
We have never had any collisions or really anyone hurt, but you should have plenty of people to help supervise to make sure everyone has fun and stays safe. Ultimately, it is a great game on a hot summer day, if you can arrange and manage it properly.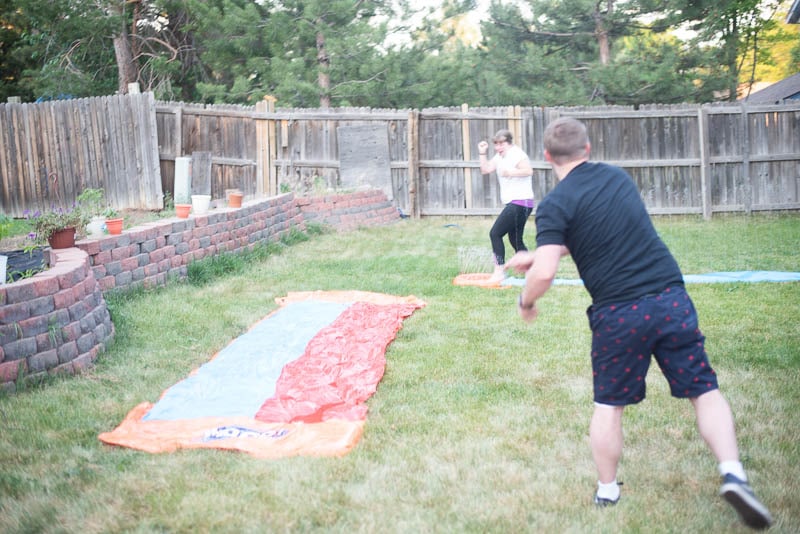 Playing kickball with slip and slide is one of our favorite summer outdoor activities. If you follow the instructions properly I think it would be nothing less than a water park. We hope that this tutorial was helpful and you are able to enjoy it, too! Let us know if you have any questions in the comments.
OTHER POSTS YOU MAY ENJOY: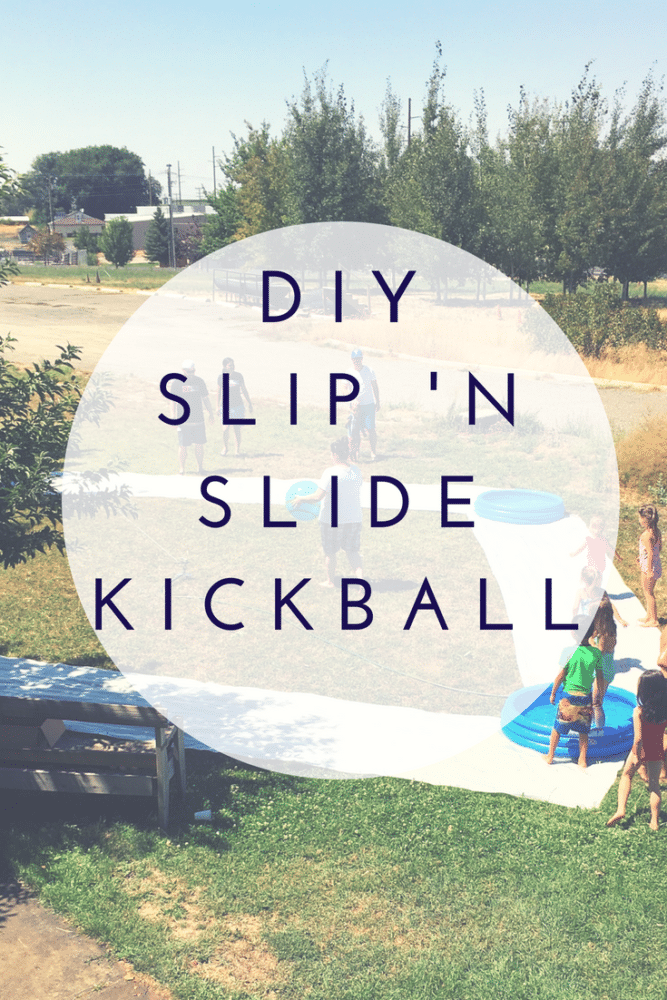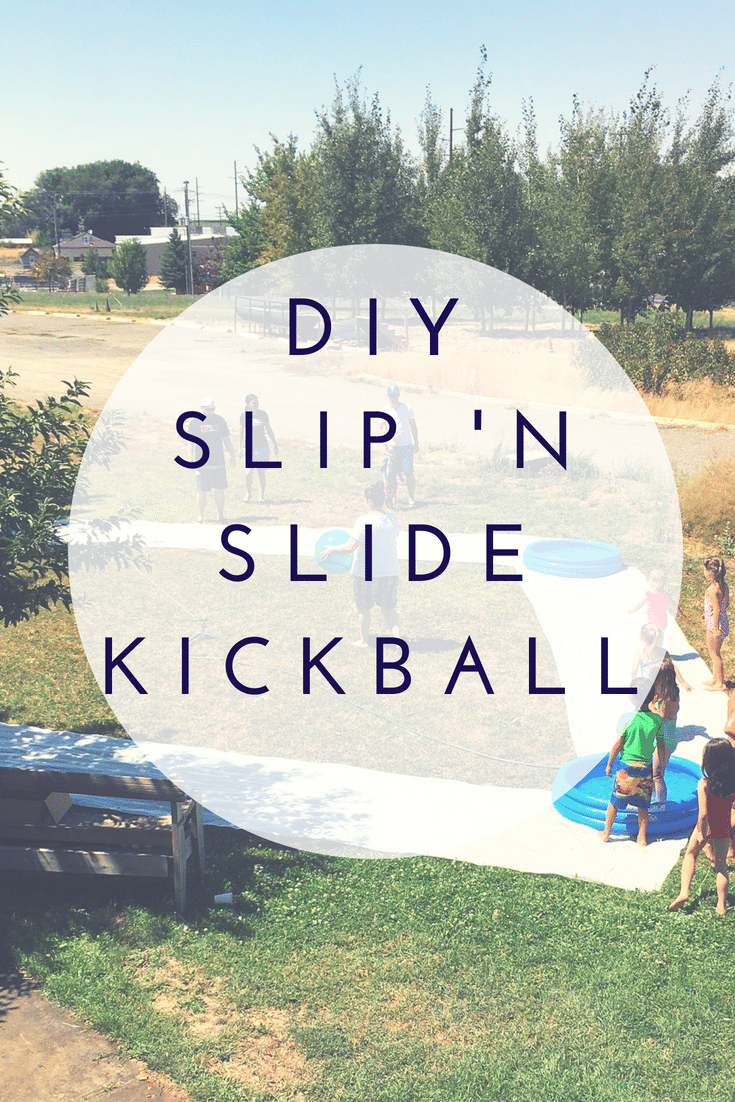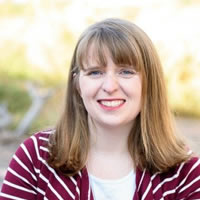 Katie is a Colorado-native, BYU graduated, and most importantly, wife to one and mother to three beautiful boys. She is passionate about sharing her experiences with others – especially about pregnancy, breastfeeding, cooking, and crafts. She is an International Board Certified Lactation Consultant. She loves spending time with her family and helping others find joy in family life.