ButcherBox offers high-quality meat delivered straight to your door – but is it worth the cost? Check out our in-depth Butcher Box Reviews to find out more, including ButcherBox prices and the most current promotions!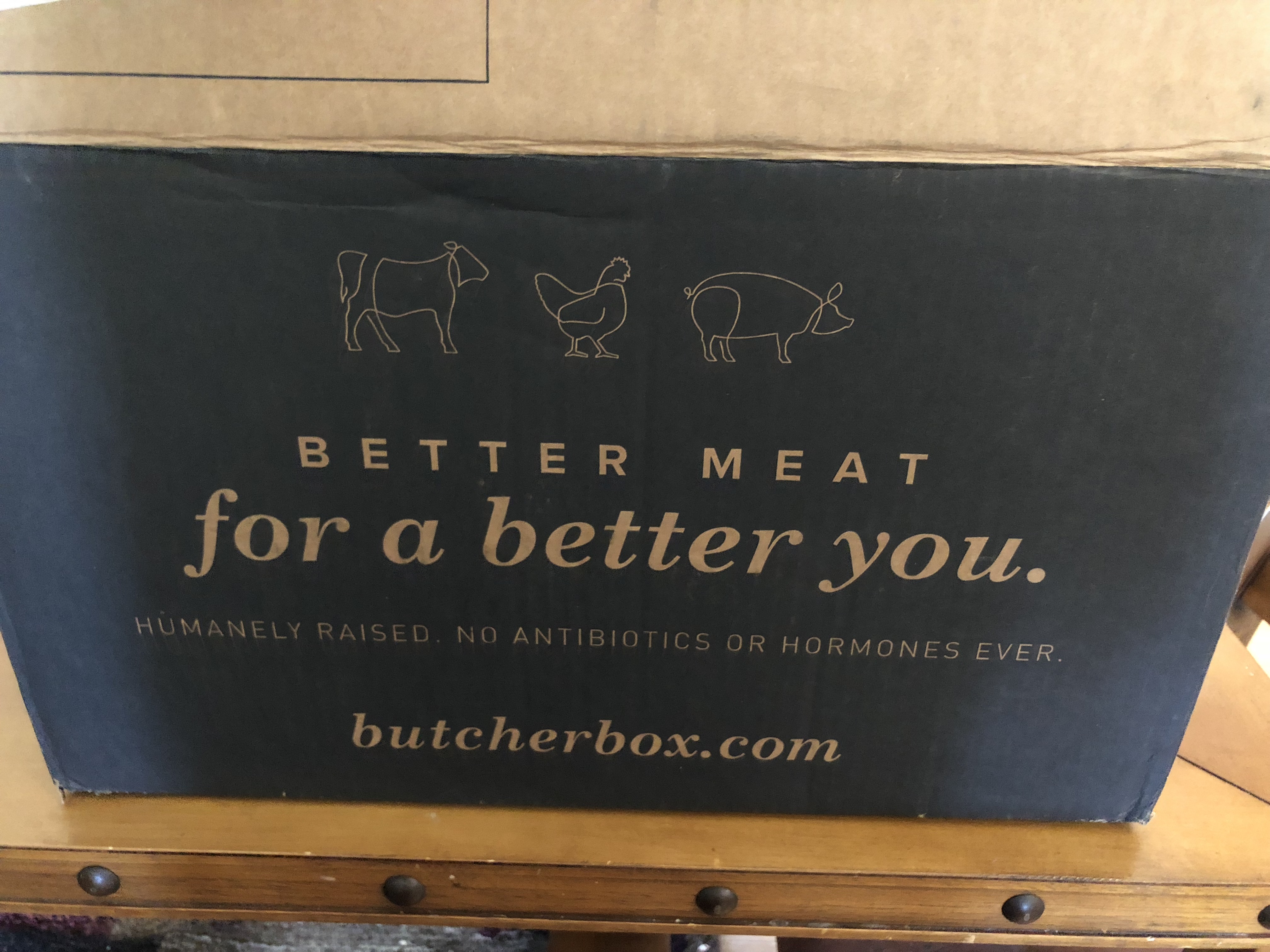 We live in a pretty crazy world.
You can pretty much get just about anything delivered straight to your door.
Heck, just a few months ago, we had a mobile Urgent Care come to my living room – ultrasound included.
#Spoiled.
One of the great services that exist these days is getting food delivered straight to your door.
A few months ago, I talked about how I've been LOVING Shipt Grocery Delivery.
As much as I actually don't mind grocery shopping, it has been a lot more convenient to have my big weekly grocery trip done by someone else.
Today, I want to talk about meat delivery – specifically from ButcherBox. I mentioned them briefly in my blog post about buying meat in bulk. This is a service that I've used a couple of times, and because I think it's gaining more popularity, I thought it was time to share a full review.
In full disclosure, ButcherBox has sent me a free box of meat to try out a couple of times. However, I have done my best to make this a fair and honest review.
Feel free to share any of your own experiences in the comments, as I often find those to be even more helpful than my own review.
Butcher Box Discount Code
ButcherBox is always offering great promos to make your boxes more affordable. I've seen everything from free bacon and wings for life to free steaks!
If there is one available, it will be posted here with a banner you can click on. If you don't see one, check back soon for another one!
What is ButcherBox and how does it work?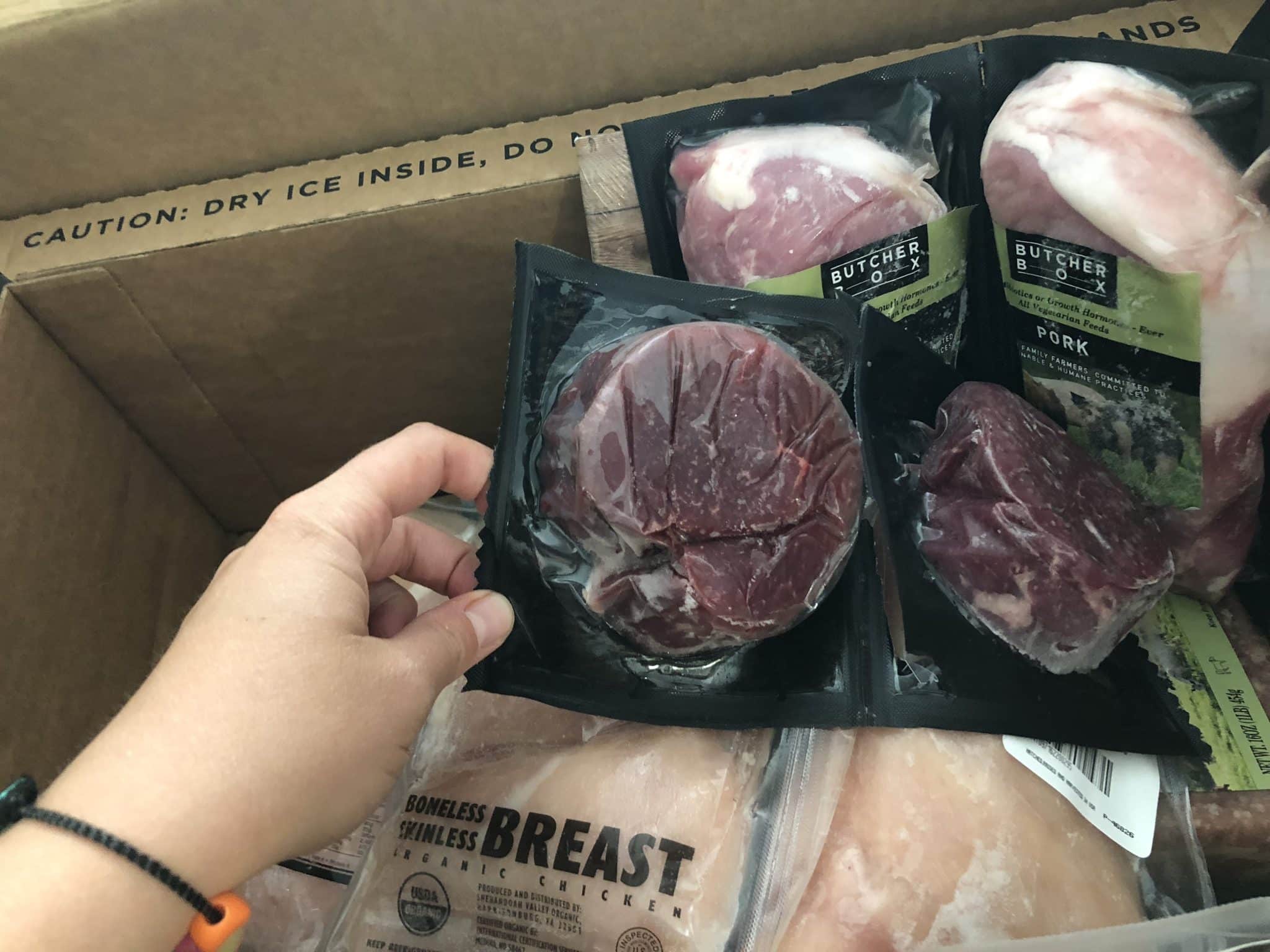 Basically, you pay to get a ButcButcher BoxherBox sent with an assortment of high-quality meats sent straight to your door.
They have various boxes you can choose from to receive:
Custom Box
Mixed box (with beef, pork, and chicken)
Beef and Pork
Beef and chicken
All beef
After you select the box you want, you then select how much meat you want – either enough for 24 meals or for 48 meals – and the frequency at which you want the box to come – either every 30 or every 60 days.
You then will have the option to add on additional products, such as bacon or breakfast sausage.
When your delivery date arrives, you will get a huge box filled with your meats. We have gotten several boxes from them.
Both times they have arrived cold with plenty of dry ice to spare. I will admit that our first box came, and we found some of the meat wasn't packaged correctly. It seemed as if someone had cut the plastic. So that was a little annoying. However, the second time, there was no issues with this, and everything was packaged to perfection.
The cuts that are sent will vary on location, time of year, and availability from their sources, however, you can always preview and see what was sent the month before.
It is a month to month service, but you can pause your account for up to six months at a time. Best of all, there is no contract – if you decided to discontinue your subscription, just cancel before your next delivery is set to go out!
Click here to read more about how it works.
How Much is Butcher Box?
I think it's important to get this out of the way first – it's usually the elephant in the room.
Obviously, ButcherBox is offering high-quality meats, so they will end up being more expensive than a couple of pounds of non-organic chicken breasts at the store.
Toward the end of this post, I will share a comparison to Walmart.
If you are someone who wants to make sure you and your family is eating organic chicken and grass-fed beef, it's certainly a good option.
The cost of each box will depend on what box you get and how much you order at a time. If you order more "meals, you'll save more.
Here are the current prices from their website:
Custom Box – $4.97 a meal ($149 a month for the small box / $270 for the big box)
Mixed box (with beef, pork, and chicken) – $5.38 a meal ($129 a month / $238 for the big box)
Beef and Pork – $5.38 a meal ($129 a month / $238 for the big box)
Beef and chicken – $5.38 a meal ($129 a month / $238 for the big box)
All beef – $5.38 a meal ($129 a month / $238 for the big box)
If you order the big box, the cost per meal goes down. They consider a meal to be 6 ounces of meat.
The custom box does cost more a month, but you get 20% more meat than the curated boxes on their website.
These do come at a premium – so if it's not currently in your budget or it's not a priority to get organic or grass-fed meats, this may not be the best option for you right now.
Butcher Box Products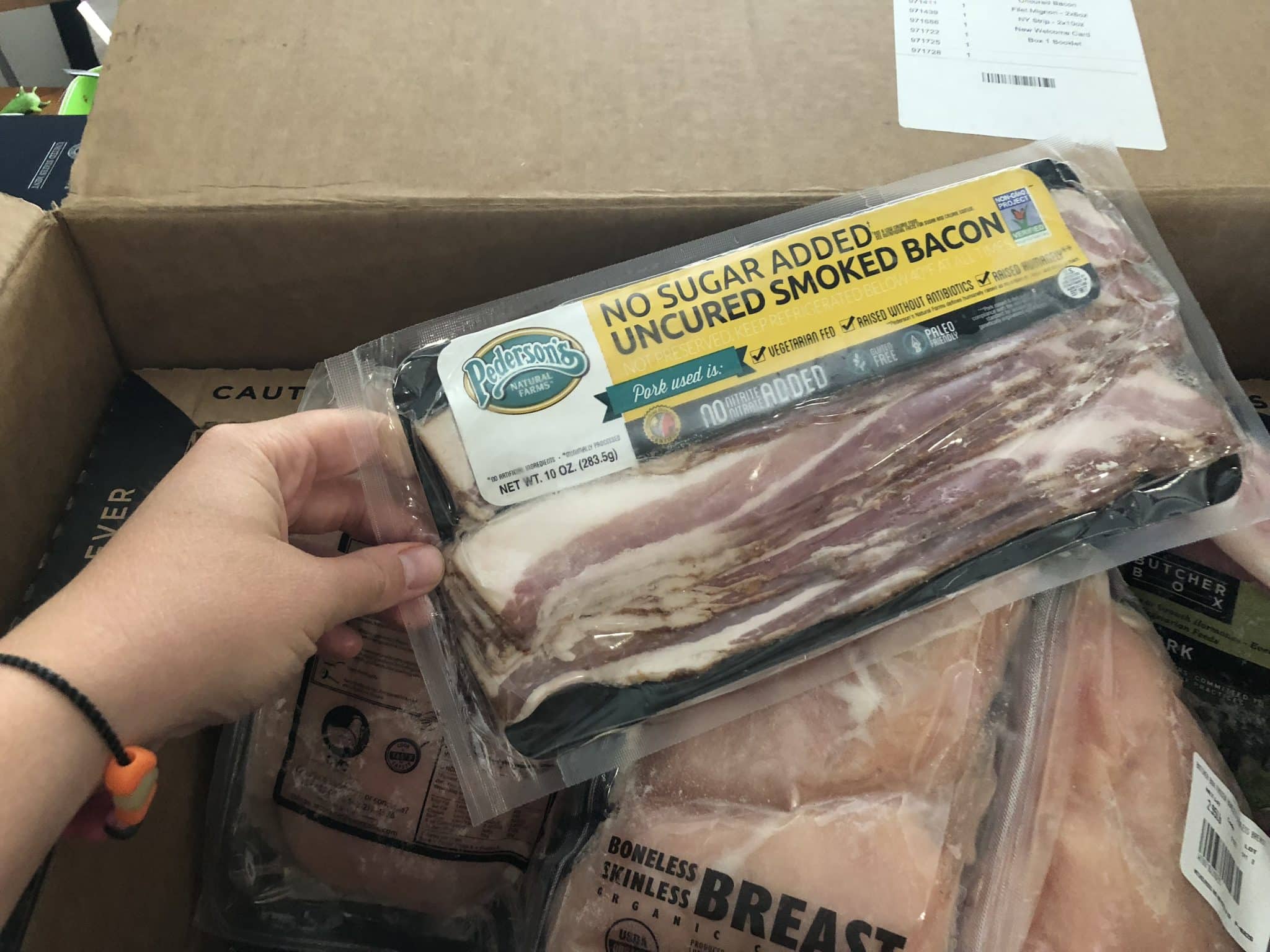 They offer:
100% grass-fed beef
Free-range organic chicken
Heritage breed pork (if you have no idea what this is – I sure didn't – click here to learn more).
And these are available in various cuts and varieties. As I mentioned above, you can't really select what cuts they will be sending you, but you can always view what was sent the month before for an idea.
In the boxes we have gotten, we have gotten chicken breasts, ground beef, steaks (various kinds), pork roast, and pork chops.
Quality of ButcherBox Products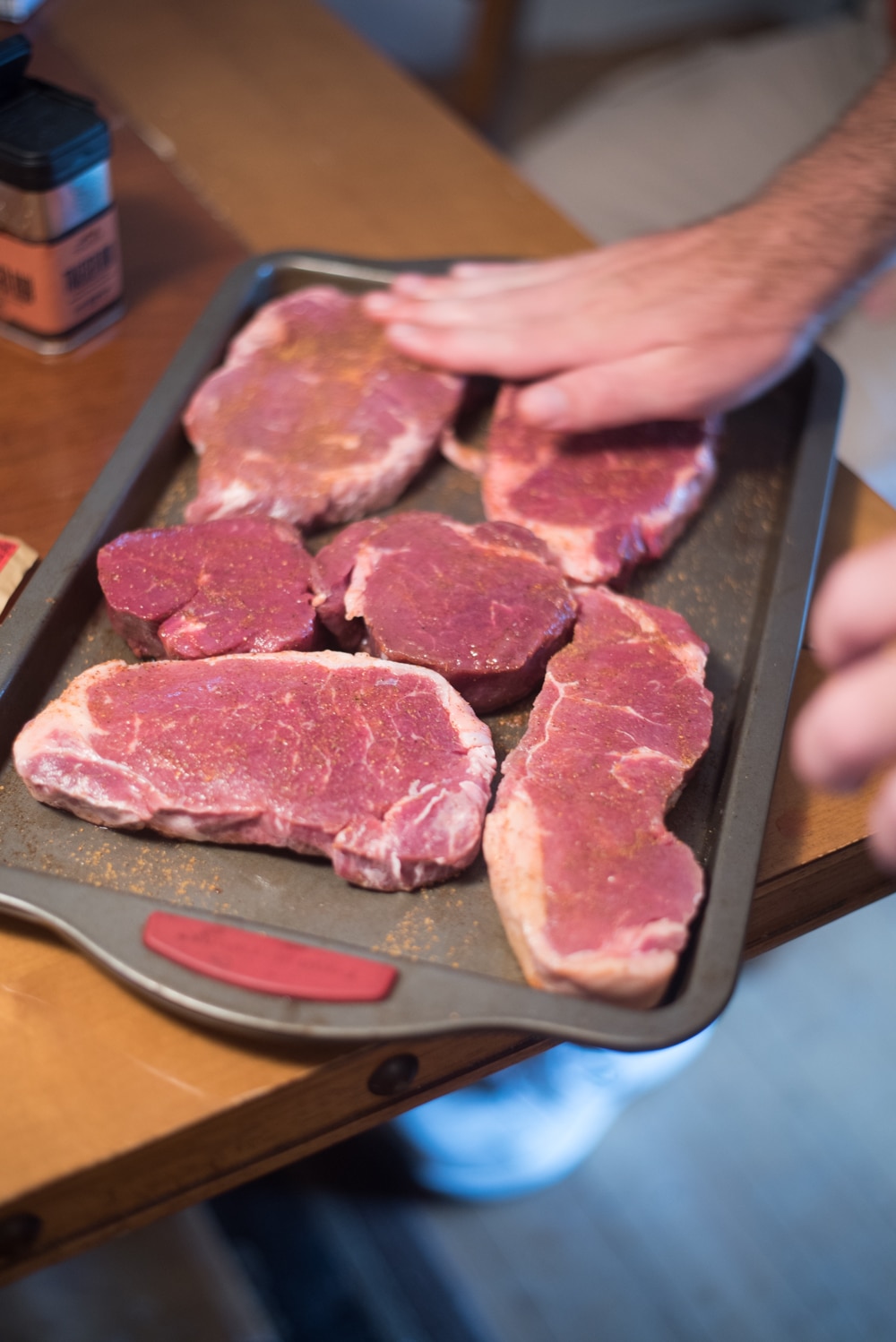 Butcher Box lists the three main requirements for their meat on their website:
Humanely Raised
No antibiotics or hormones ever
High quality
Of course, that last one is kind of up to interpretation, but from what I've observed it is very high quality.
I mean, sometimes you will get meat and you can just tell it's not good quality. It's stringy, dries out quickly, or just doesn't have much flavor.
That has not been something I've encountered at all with ButcherBox, which is very telling. I suggest reading their "Sourcing" page to learn more about where they get their meats.
One thing I've also noticed is that I feel better after eating their meats. I sometimes am sensitive to different meats and feel pretty crummy afterward, but I have not experienced that with ButcherBox.
Another thing to keep in mind – Butcher Box personally selects the cuts that go into each box. They have access to the entire animal, so they only select the top quality from each animal. They say that they will "introduce you to cuts you never would find at your local grocery store."
Butcher Box Reviews – Our Experience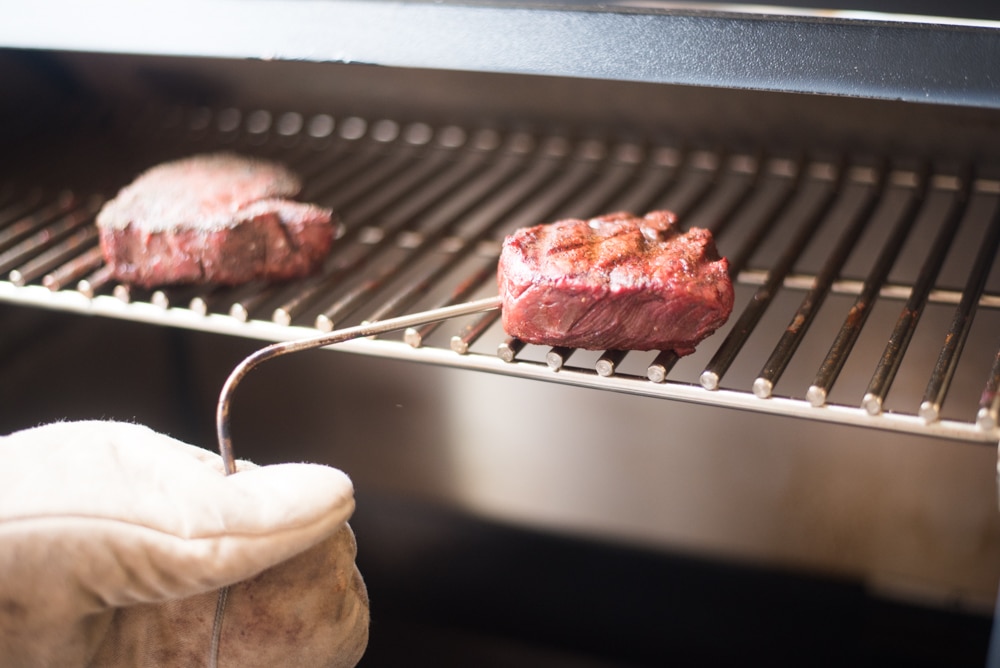 I'll be upfront – we are not regular subscribers to ButcherBox.
At this point, we can't quite justify spending $129-$149 a month on meat – that's almost half of our grocery budget.
Although I know the meat is higher quality than a lot that we buy, and I'm sure it's better for us…it's just not something we've made a priority at this time.
With that said, we have been very impressed with the quality of the meat that we have received from ButcherBox. I can absolutely taste a difference when I compare it with other meat that we have, and when we have some in our freezer, I'm always excited.
It tastes different. I feel like it cooks differently. And I feel better after I eat it.
So when I can justify buying a box, I do.
We have gotten a wide variety of meats from them – beef, pork, and chicken. And I can endorse each and every one of them.
In our first box, we got a beautiful selection of steaks.
We had these for the Fourth of July last year, and everyone LOVED them.
Everyone commented on how they were some of the juiciest steaks around. We smoked/grilled them on our Traeger Timberline
Butcher Box Prices Comparison to Competitors
It's a little bit hard to compare the costs without having an exact breakdown about how much each meat in the box is per pound (for instance, NY Strip Steak is most likely going to be more than a pound of chicken breast).
But I still wanted to try and do a comparison to meats at the grocery store. So I've added up the cost of each of these meats at Walmart.
2 lbs of Ground Beef
2 NY Strip Steaks
4 Top Sirloin Steaks
1lb of Whole Pork Tenderloin
3lbs of Boneless Skinless Chicken Breast
This would have been $129 with free shipping. Also keep in mind that they are often running promotions (such as free bacon for life, free steaks with your order, etc.), which can be factored into the amount you are paying.
Whole Foods:
I had someone suggest doing a comparison with Whole Foods, since that's likely the market of people who are interested in Butcher Box – which I think is true and probably a more accurate comparison. Here is the current prices from my local Whole Foods:
Ground Beef 85/15 – $5.49 per pound (2 lb)
NY Strip Steaks – $14.99 per pound (2 strip steaks)
Top Sirloin Steaks – $9.99 per pound (4 sirloins)
Whole Pork Tenderloin – $14.99 per pound (1 lb)
Boneless Skinless Chicken Breast – $8.99 a pound (3 lb)
TOTAL: $76.93
Walmart:
Non-Grassfed/Organic
2 NY Strip Steaks – $9.97 per pound
Ground Beef – 85/15 – $3.84 per pound (x2)
Sirloin – $9.94 per pound (x2 – assuming you get about two steaks per pound)
Whole Pork Tenderloin – $3.84 per pound
Chicken Breast – $1.99 per pound (x2)
TOTAL: $45.35
Grassfed/Organic
2 NY Strip Steaks – $13.96 per pound; Assuming most people have an 8-ounce steak, we will go with this for two.
Ground Beef – 85/15 – 5.46 per pound; 10.92
Top Sirloin – $10.97 per pound – about 8 ounces per steak, so $21.94 total
Smithfield All Natural Pork Tenderloin (this was the closest I could find) – $4.08 per pound
Chicken Breast – $5.94 per pound; $23.76
TOTAL: $74.66
So, looking at these prices, obviously, ButcherBox is more expensive for similar cuts of meat. However, I can honestly say ButcherBox meats that I've tried have been delicious – even when I compare them to my experience with other meats that are of similar "status" from the grocery store.
If you on a budget and can't afford (or don't care) about organic and grass-fed meat, then perhaps you are better off at the grocery store.
When you get the meats from the grocery store, there's no guarantee that you are getting meat from the best animal – even if it's all-natural, organic or grass-fed.
However, if you simply at the numbers side by side, the grocery store may be your best bet; especially for things like organic chicken and grass-fed beef. I had trouble finding a similar cut off pork. The most similar I could find was Smithfield All Natural pork tenderloin.
I also looked at the All Beef box, and I had trouble finding some of the cuts of meat that ButcherBox offers, such as grass-fed beef tips, and they weren't available.
One thing to consider doing is getting a custom box. Yes, this is more expensive – but you get more control over what comes in your box. If you know you can get cheaper cuts of similar organic chicken or grass-fed ground beef, then you can fill up a custom box with cuts of beef or pork that you may not be able to come across as easily.
I asked ButcherBox about their thoughts on this, and this was their response:
Not everyone has access to these high-quality meats (for example people who live far from a grocery store/butcher shop or in a city where there are limited meat options)
Price varies depending on where you live in the states – some people are closer to the supplier, which makes the priceless. Meats in cities are also often more expensive.
We offer a variety of cuts that grocery stores do not have – they often have a limited selection of cuts of beef that is 100% grass-fed and finished, pork that is a heritage breed, and chicken that is organic, free-range.
Pros and Cons
Butcher Box Reviews – The Pros
Highest quality cuts – I really did find the meat to be some of the best quality I've tried – I would definitely put the steaks on par with steaks I've gotten at fancy steak restaurants. I don't think you'll be disappointed with the taste or quality.
Try new products – If you are the adventurous type, ButcherBox tries to include cuts of meat that you may not have found or bought otherwise.
Lots of great recipes – ButcherBox has a huge library of yummy recipes that you can try out, which is nice.
Organic and Grassfed offerings – This is probably what appeals to most people about ButcherBox!
Pretty Mindless – You don't really have to think about it. They'll send you meat every month and you don't have to worry about trying to pick out the best cuts from the store. They do it for you!
ButcherBox Reviews – The Cons
Expensive – It is expensive; more than just buying meat at the store. This can be hard for anyone that can't justify $129+
Don't get to choose the cuts – I posted this as a pro, but it can also be a con! If you are really wanting something specific that month, and you don't get it, you won't have a lot of extra money in your budget for the month to go and get what you are missing.
Can't order in smaller (or larger) – Let's say you just want some chicken breast and ground beef. You order a la carte like this – so if you are looking to buy these types of meat in bulk, you'd likely be better of going to the grocery store and shopping the sales (or maybe looking into buying a quarter of a cow yourself!).
2022 Updates
It's been a while since we first tried ButcherBox, and we got another shipment a few months ago.
The comments on this post have been interesting – it's made me sad to see that so many people have had a negative experience! The main issues I've seen people mention are poor packaging and bad customer service.
If this is the case for you – I am so sorry, and I hope you can get a resolution fast. When you pay the amount that you do for ButcherBox, it's understandable that you want the highest caliber of product and service. If you find you are having issues with customer service, make sure you escalate.
As for our experience, beyond some of the bad packaging in our first shipment, we haven't had any other issues. I haven't seen any decline in the quality of meat, and they are easily the best meats we eat whenever we pull some out of the fridge.
As I mentioned, we can't afford to order from ButcherBox regularly, but at this point, I still wholeheartedly recommend them as a good option for high-quality meats delivered straight to your door.
I do NOT work for the company, but if there's any feedback I can pass on, let me know! Every time I have passed on information to them in the past, they've been great about getting back to me.
Similar Companies
From my research, there aren't a lot of companies quite like Butcher Box. There are many that provide meat in different forms, but I do think Butcher Box is pretty unique.
After writing this post, we reviewed Rastelli's, which is a similar model – you can read our Rastelli's review to find out what we thought.
ButcherBox Recipes
Here are some recipes you could try with your ButcherBox meats:
We have actually put together this great 4-week meal plan with Butcher Box Recipes that you can enjoy – including exactly what you should order!
Other Posts You May Enjoy: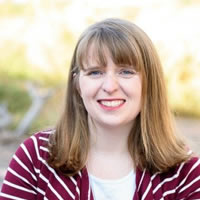 Katie is a Colorado-native, BYU graduated, and most importantly, wife to one and mother to three beautiful boys. She is passionate about sharing her experiences with others – especially about pregnancy, breastfeeding, cooking, and crafts. She is an International Board Certified Lactation Consultant. She loves spending time with her family and helping others find joy in family life.