More and more you will see youth and church groups gathering together virtually. Those activities don't have to be boring- in fact they might just become some of the most memorable get togethers ever!
During these current uprecedented times friends and family are turning to technology to stay connected.
Church groups also fall into this category of needing to find a way to communicate and have fun together.
While nothing quite beats gathering together in person- virtual activities are an awesome alternative that will keep youth groups and church groups making memories even when they can't be together in person.
What is a virtual activity?
A virtual activity is using technology to stay connected.
Typically you can use your phone, ipad, Kindle, computer or laptop.
Use a platform such as Zoom or Google Hangouts to reach each other virtually.
Bingo
Drop off Bingo cards or send a pdf each person can download. Have one person be the caller (ideally they would have a Bingo set) and play and have fun together.
You can have prizes at one person's house who then shows those playing what their options are- drop the prizes off the next day!
Make Cards
Gather paper, scissors, markers, glue etc. off to each person ahead of time and gather online to make cards together. Get creative! Make Birthday, Get Well, We Miss You, or Thinking of You cards for each girl to have on hand to give to someone who might need a pick me up.
Cooking Class
Decide on a fairly simple recipe and email it out to each girl beforehand.
Have one designated person be the one leading the class, teaching techniques, etc. And everyone does each step together until the recipe has been completed.
Pictionary
Email or text a list of words to each person ahead of time and then gather on Zoom to take turns drawing while the others take turns guessing.
Scavenger Hunt
Come up with a list of items typically found in the home.
Listing one item at a time have each person run to find the item and the first person to get back with it- wins!
Another variation is do an ABC Scavenger Hunt. Go down the alphabet and have everyone find something in their house that starts with that letter.
Get to Know You
Ask each person to pick one thing that represents them or their heritage.
It could be a trophy, instrument, photo, etc.
Each person takes turns sharing about their item and how it relates to them.
Facial\Spa Night
Drop off goodies for a spa night. Here is a great list of items.
Gather together on Zoom and apply face masks, paint nails and chat together.
Paint Night
Go to your local craft store and find either blank canvases or something else to paint (wooden bird house , wooden letter, picture frame, garden stepping stones- the options are endless!)
Supply each person with paint and brushes and paint your masterpieces together. At the end of the night everyone can show off their work!
Care Package
This one might be better for each person to do on their own time- but is still a way to help people feel love and remembered.
Gather crossword puzzles, coloring books, crayons, word searches, quotes, New Era articles, etc and drop off in a fun bag for everyone.
They can do it on their own time but can feel connected knowing their peers are also doing the same.
Trivia with Kahoot
Using Kahoot have each person come up with a trivia game.
Everyone playing can share the screen and see the question and the leader board.
Have a fun treat delivered to the top three winners.
Write to Missionaries
Write to missionaries in your Ward or to anyone they know.
Have a catch up chat as you do it.
Chopped Competition
Drop off a bag of ingredients to each person ahead of time.
Gather on Zoom and open the bags at the same time. Give each girl 45 minutes to come up with a recipe using the ingredients + anything else they had at home.
Have everyone share their creations at the end of the night!
Cake Decorating Contest
Have each person make a cake ahead of time, or drop off small rounds for each person along with frosting, candy, etc.
Ask the Bishop or another Ward member to be the judge at the night of night. It is a great way to help everyone get creative and share their goofy side.
Service
Encourage each person to choose one of act service they will do one week.
Gather together to discuss what they did, how it made them feel, and to make goals for the upcoming week to do it again.
Self Defense Class
If you know someone who is knowledgeable in self defense ask them to come and teach a a virtual class.
Work Out Class
Do Zumba, High Fitness, Yoga or anthing other form of exercise together over Zoom.
Mom and Me Activity
Come up with a list of get to you know questions.
Take turns asking and answering questions together.
Karaoke
Need we say more? This is sure to be a hoot!
Use Alexa or other music app and let the girls belt out in song together!
Lip Synch Contest
Let each girl pick a song they want to lip sync to.
Everyone can watch and cheer the others on as they "perform".
Theme Night
Every time you meet make it a theme!
Silly Hat, Pajama night, Super Hero, Favorite Heroine, Silly Socks are just a few examples!
Gather together and chat or watch a movie together sharing your screen.
Check out some of our other posts for Latter-Day Saints
Ultimate Guide to LDS Missionary Gifts
The Best List of LDS Gifts for Children
30 Ministering Ideas for Latter Day Saints
Come Follow Me Resources and Lesson Helps
Kahoot Quizzes for Come Follow Me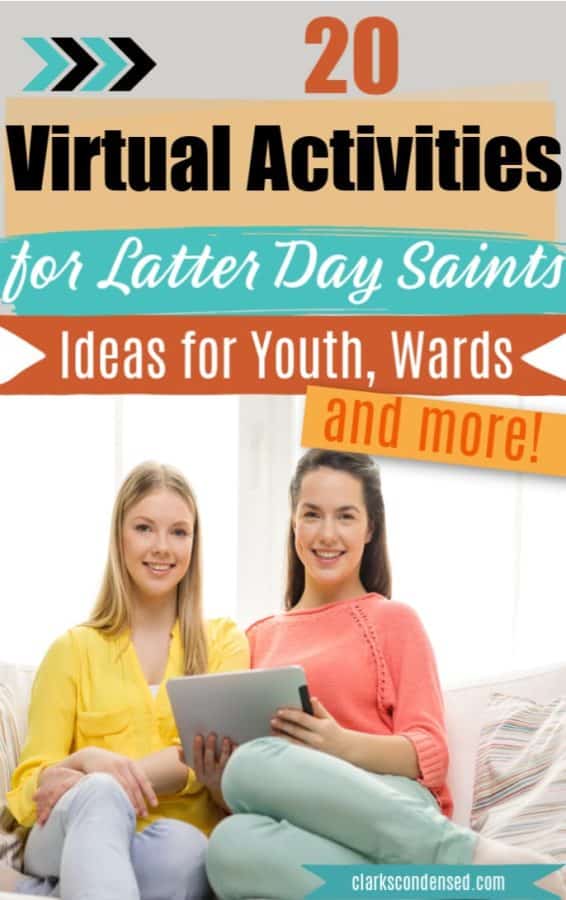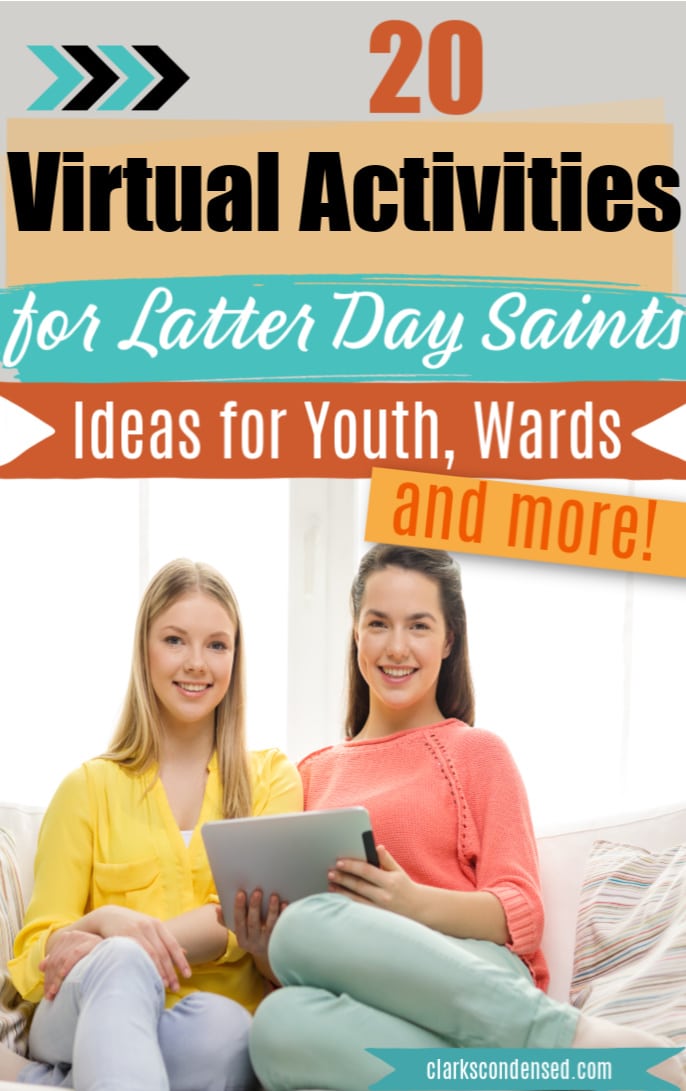 Cindy Maudsley lives in Utah with her husband and five children. Aside from writing, her passions include her family, faith, and spreading infertility awareness. She also loves a good book or podcast, true crime documentaries , Netflix binge, diet Coke and Target run