Mormon Pioneer Trek Ideas: The Ultimate Planning Guide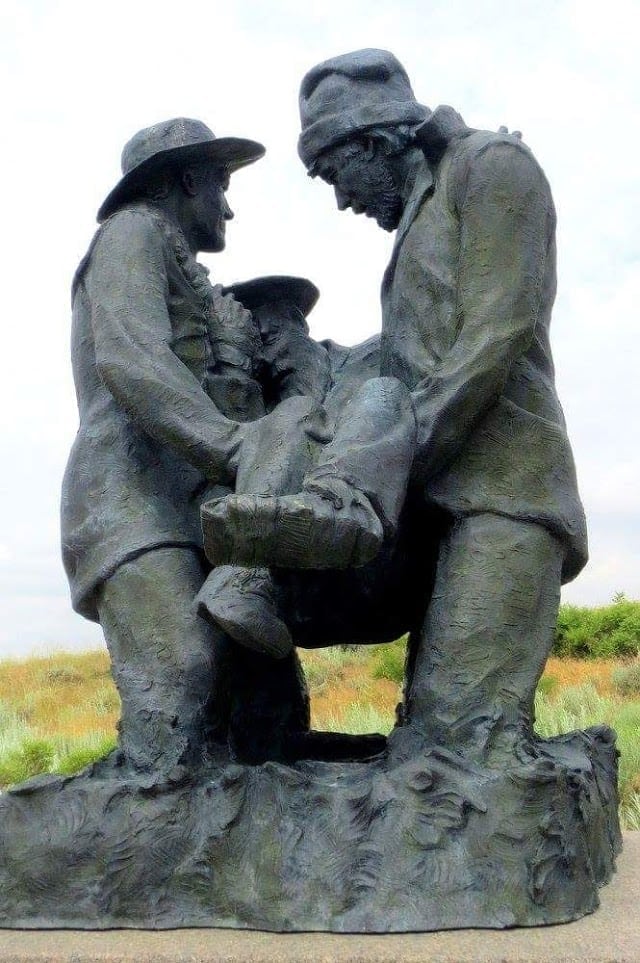 Are you or your kids going on a Mormon Pioneer Trek? This post will help you find the best places for pioneer trek clothes and tips and tricks for preparing and walking the trek.
A few years ago my family and I had the opportunity to go on a Pioneer Trek with our church.
It was an amazing experience.
You may be wondering why someone would ever want to do such a thing; dress up in pioneer clothes, hike for miles a day in scorching hot weather, all while pulling handcarts filled with belongings.
We do it to experience a little bit of what the early members of our church experienced, years ago, as they fled persecution and crossed the plains to travel to somewhere that they could settle in peace. They traveled for months on end, through the bitter winter, many losing family members along the way.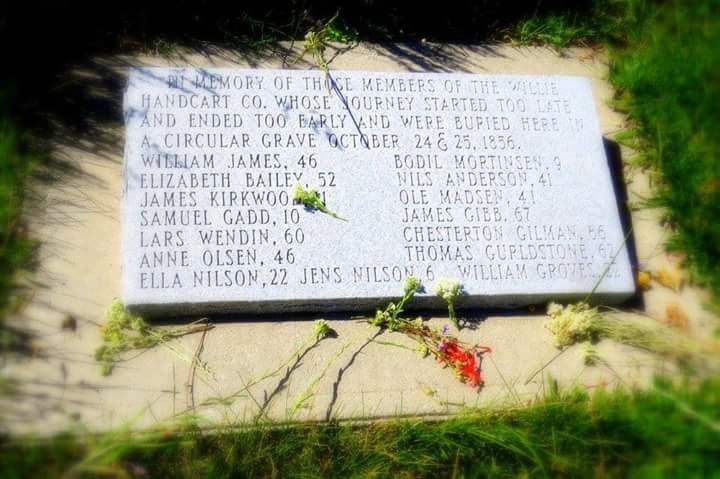 We do it to walk where they walked and to gain a greater appreciation for the sacrifices that they made. It was an amazing experience and something I will not soon forget.
This Summer our church is doing another trek for the youth ages 12-18. My husband and I were asked if we would be a Ma and Pa which means we will be assigned a group of 6-8 youth to trek with. We are so excited to have this experience again.
If you are in the midst of planning for a youth Pioneer Trek, here are some ideas to help make it a memorable and rewarding trip for all.
Pioneer Trek Clothing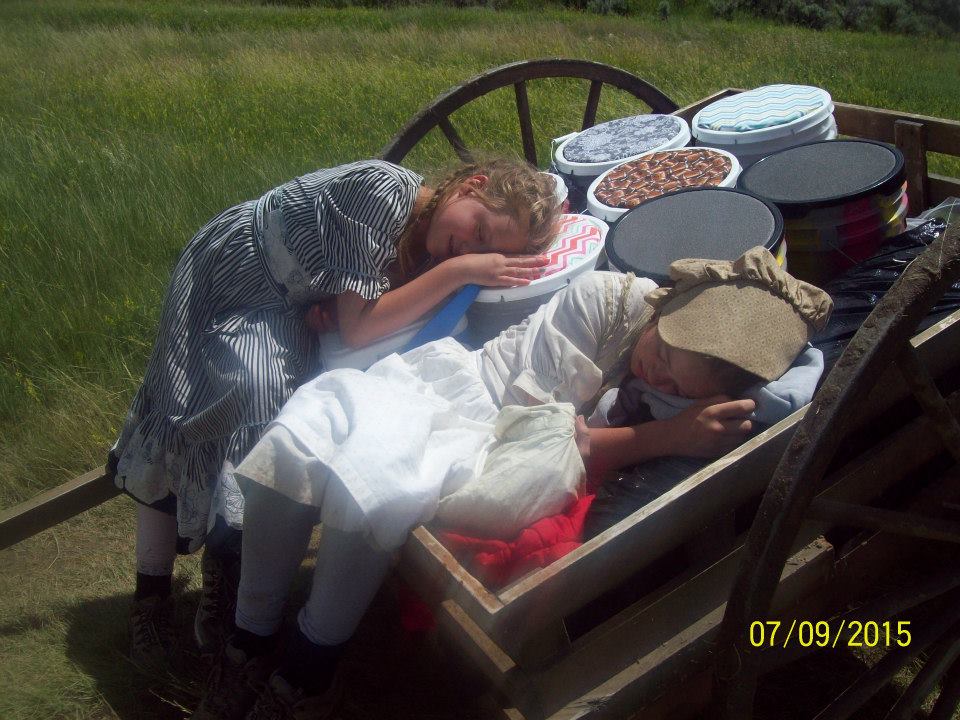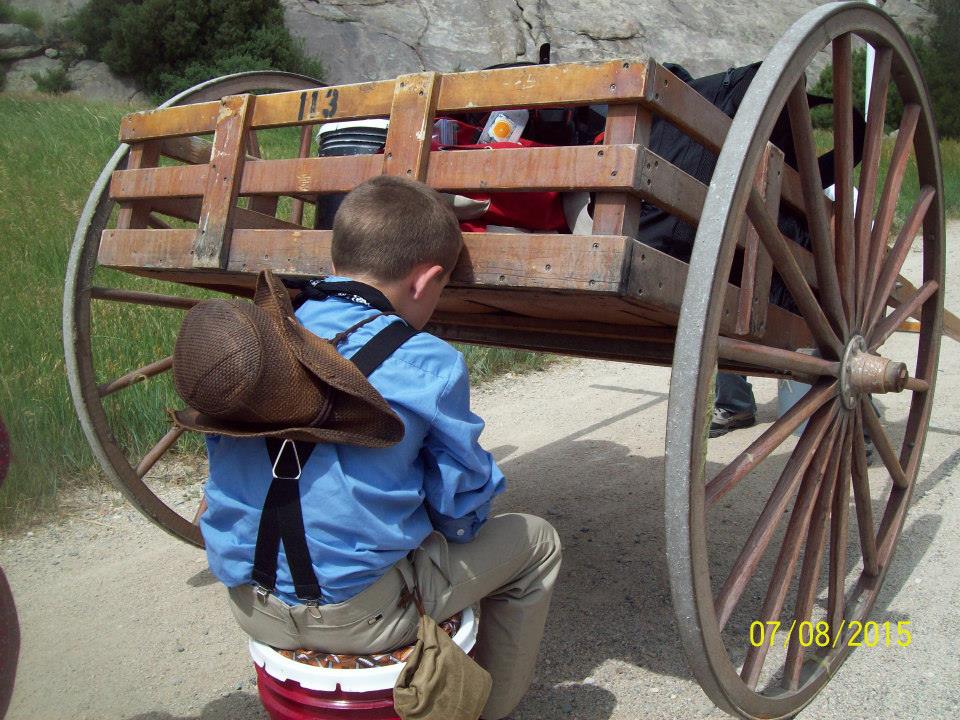 Going on trek takes a lot of preparation. In order to have the full experience we try to make it feel as real possible. One thing we do is wear clothing that the pioneers wore all those years ago. For women, that means, long dresses or skirts, aprons, bloomers, and bonnets. The men usually wear some kind of loose fitting pants, a button up shirt, vest, suspenders and some kind of cowboy type hat. It was really fun, but kind of stressful to find the clothing for my family to wear. Here are a few tips:
Girl/Women Pioneer Trek Clothing
A lot of people made their items. I am not that great with the sewing machine, but here a few easy patterns for making pioneer skirts and accessories:
This one uses a bed sheet to make a skirt:
Here is a link for a tutorial for a pioneer skirt that someone with even the most limited sewing abilities could tackle:
Here is a link for tutorials for a couple of different styles of pioneer dresses
Here is a tutorial on how to make a bonnet
Katie did an awesome tutorial on how to make an apron.
Another awesome website is White Elegance. They have locations in Utah, but I ordered my items online. I ordered aprons, bloomers and bonnets. They also sell skirts, dresses, and men pioneer clothing as well. Their items are reasonably priced and of great quality.
There are a lot of mosquitos, and ticks, and is important to make sure that you are fully covered up to prevent bites. A lot of women wore bloomers. Here is an easy tutorial for making bloomers out of scrub pants.
I ended up purchasing some for my girls and me, but we did not love the fit. We ended up wearing leggings (VIV Collection is great) underneath our dresses and skirts, which we found was a great alternative. We will probably do the same thing this time.
Pioneer Clothing for Men/Boys
Deseret Book has some great trek clothing items. My husband and I both purchased a trek shirt from there, and it was by far our favorite shirt that we had. There are a couple of different options. Here is the one that I purchased, and here is the one my husband bought. I also purchased a skirt and apron there as well.
My husband and I will be able to use our same clothes this time around, but my girls have both had growth spurts and need new clothing. I discovered that Etsy has a ton of available options.
I found a shop called Anne Sew and So with some great deals. The items were shipped quickly, and are of great quality. The skirts are the least expensive that I have found. We also purchased bonnets from this Etsy shop, and they were of great quality as well.
Pioneer Trek Shoes
It is so important to have a good pair of shoes for trek, as you will be walking 8-10 miles a day.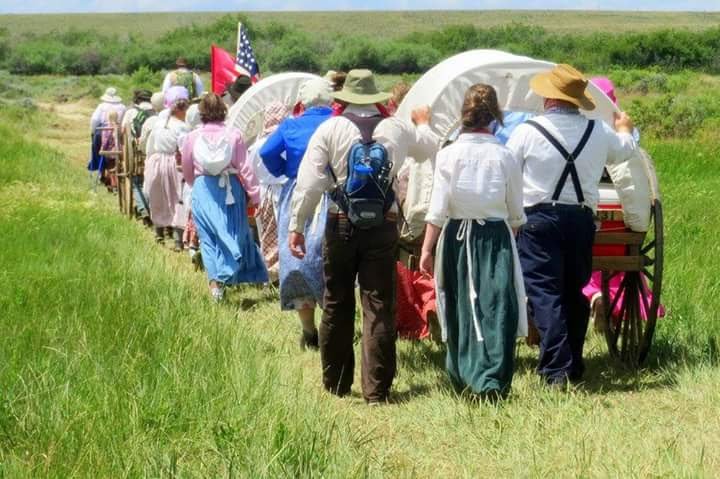 Hiking shoes can be heavy, so unless they are very well worked in, I recommend a good pair of tennis shoes to wear. If your feet are hurting, you will be miserable. Here are a few tips to help prevent blisters:
Purchase merino wool socks because they are warm, cushioning, and retain warmth when wet.
Another tip, which may sound weird, is to wear knee high pantyhose underneath your socks, men included! The extra layer will help to prevent blisters. I bought a ten pack from Walmart, and each of my family members wore them daily. It helped a ton!
Make sure you have Moleskin in your first aid kit. The first sign that you are getting a blisters is the feeling of a hotspot on your foot. Applying moleskin to the hot spot will in most cases, prevent the blister from developing further.
In addition to your shoes for hiking you will want to bring some type of water shoes. One of the things we participated in on trek was a water crossing over the Sweet Water River, which was the same river that the pioneers crossed over when they crossed the plains.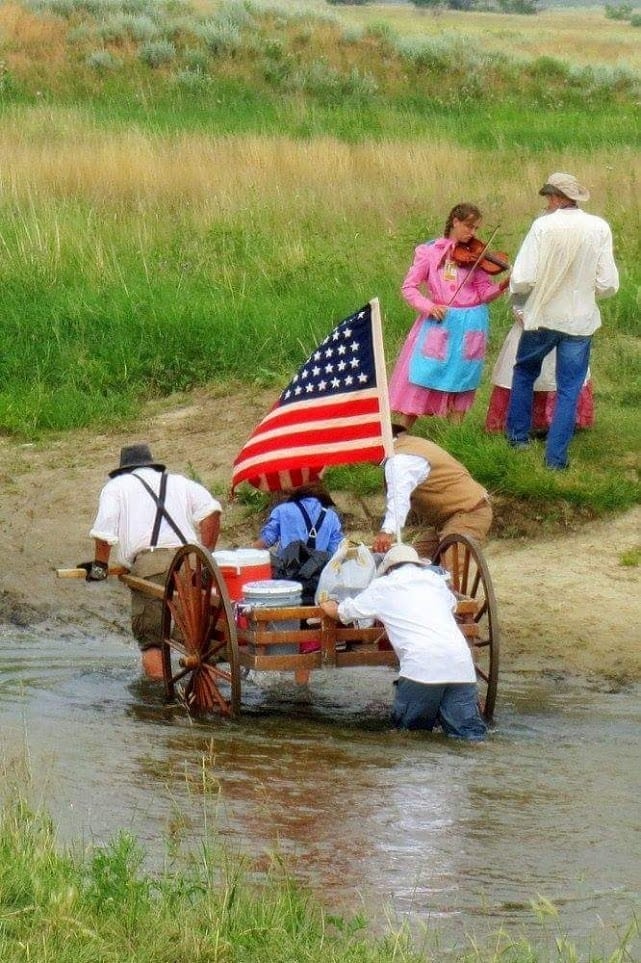 Some people just brought an old pair of tennis shoes, some brought water shoes and some walked across barefoot. You will definitely want to have a different option than to cross in the shoes you will be hiking in.
It was really cold, and pretty deep, but such a humbling experience when we crossed. When the pioneers crossed they crossed in the dead of winter. We were able to change into different shoes to cross the river, and then change right back into our hiking shoes once we were done crossing.
When the pioneers crossed, they crossed in the same shoes that the walked in. There are many stories of great sacrifices made by others as they worked together to cross the river. You can watch one account here.
NECK COOLERS
It gets very hot during the days, and neck coolers are, in my opinion a must. I picked up some for my family from Deseret Book for a few dollars. You can also purchase them from Amazon, or at several different sporting goods stores. Here is a tutorial to make your own, if you want to go that route:
In order for the neck coolers to work, they need to be soaked in cold water. A tip that someone told us, was to bring an empty gallon ice cream container. Fill it with cold water at the beginning of the day, and place your neck coolers in there. It is easy to carry on the handcart, accessible when you need it, and you can place the neck coolers back in there when they need to be soaked again. Neck coolers provide great relief for those long hot days!
5 GALLON BUCKET
Each person is allowed to bring one 5 gallon bucket to carry all of their belongings in (not including sleeping bags, pillows, etc.). I purchased ours from Walmart, though Amazon has many great options as well.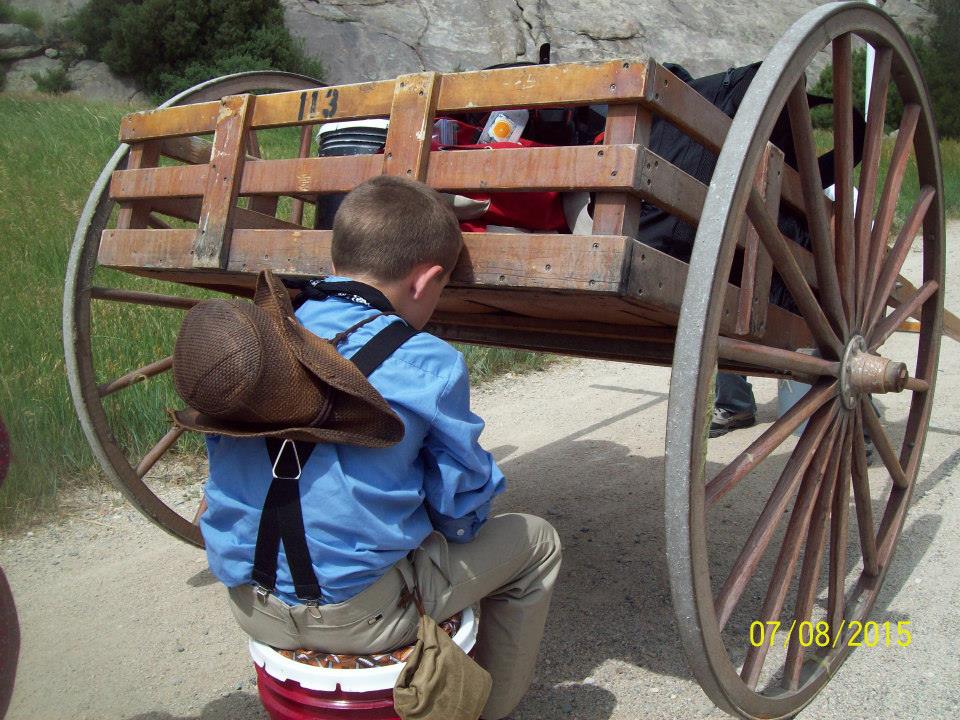 These buckets will also serve as your seat (and sometimes pillow) when you stop for breaks along the trail. Because of this, I highly recommend making some kind of cushion for the lid of the bucket.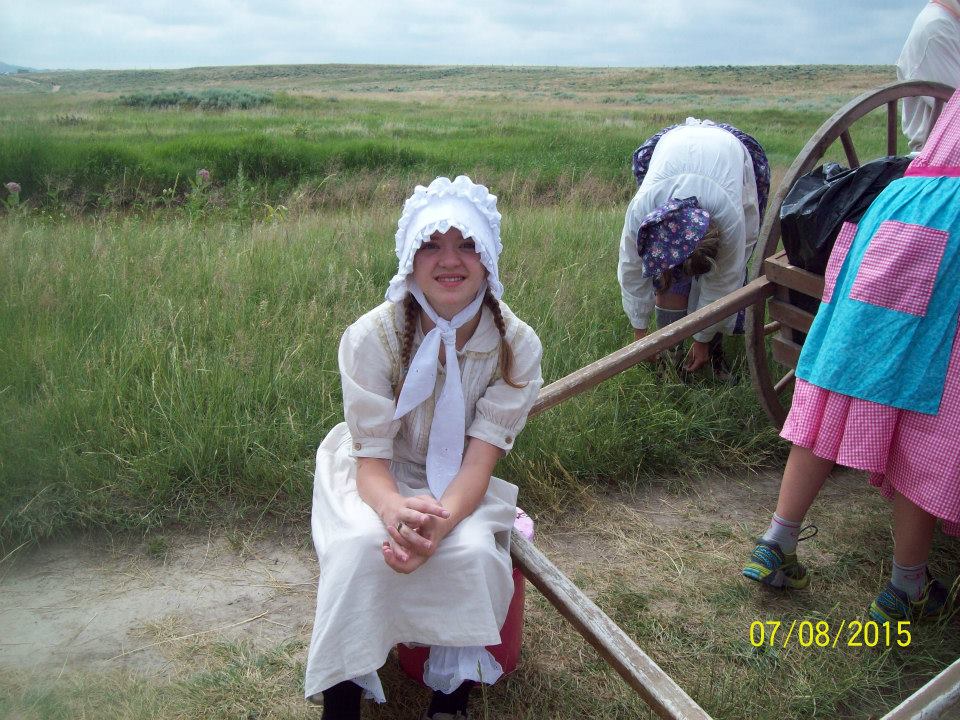 Here is a great tutorial. It is also a good idea to have your name written on the outside. Some people like to paint and decorate their buckets as well.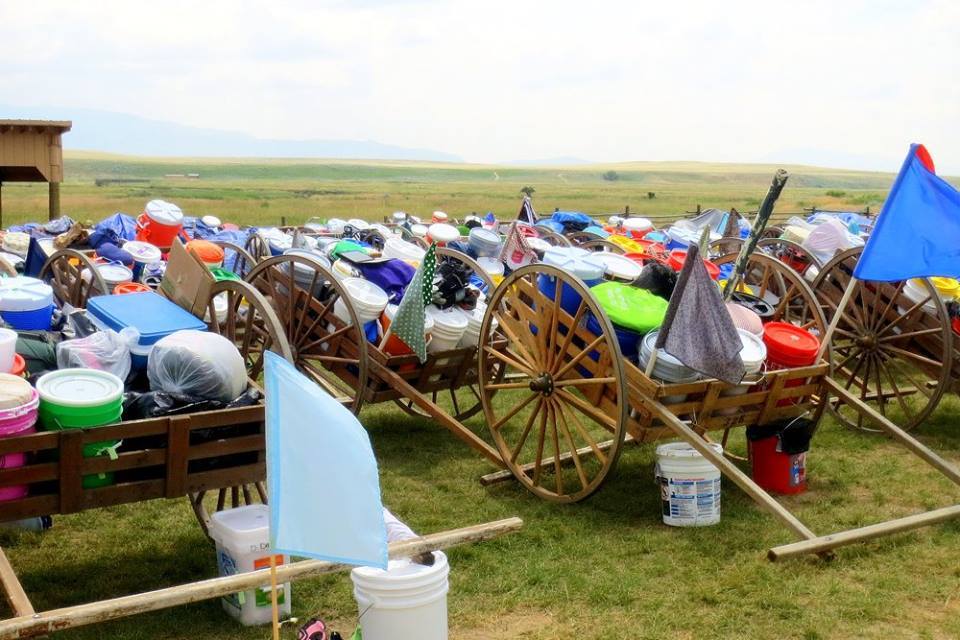 Pioneer Trek Snacks
Each trek is different. On the one we went on two years ago, we were required to bring all snacks for our family.
What I did was have a ziplock bag for each family member for each day that we would be trekking. On the bag I wrote their name and the day. At the beginning of the day I gave each person their bag of snacks and they knew they had to make it last for that day. Here are some ideas of snacks to bring, if you are required to bring your own.
Whatever you decide to bring, make sure that it is perishable, and it won't melt.
WATER
It is imperative that you drink plenty of water while trekking. It is very easy to get dehydrated, and is very, very dangerous to not stay hydrated. There are plenty of stops along the way to use the bathroom, so don't let that be a reason to not drink water.
On each wagon, we had a 5-gallon water jug where people could fill their water bottle back up when they needed to.
FIRST AID KIT
You will want to have some kind of first aid kit. I packed ours in a gallon size ziplock bag. Here are some important items to include:
Desitin (works wonders to prevent chafing)
Wrap
BUS RIDE
We had an eight-hour bus ride to reach Martin's Cove. It was very helpful to have some games and activities planned to help pass the time (no electronics were allowed). Here are some links to some ideas for activities to do on the bus:
FINDING SOMEONE TO WALK FOR
Something that will help the trek to be more meaningful and personal, is finding an ancestor to walk for. This can be an ancestor that crossed the plains, it can be an ancestor who was the first one to bring the gospel to your family, or it can be someone who has had a meaningful impact on your life.
Here is an excellent source for locating ancestors who were a part of the handcart companies:
Here is another wonderful resource which has additional pioneer stories and scriptures to read before trek. Reading these will help you prepare to have the most meaningful pioneer trek experience possible.
OTHER PIONEER TREK TIPS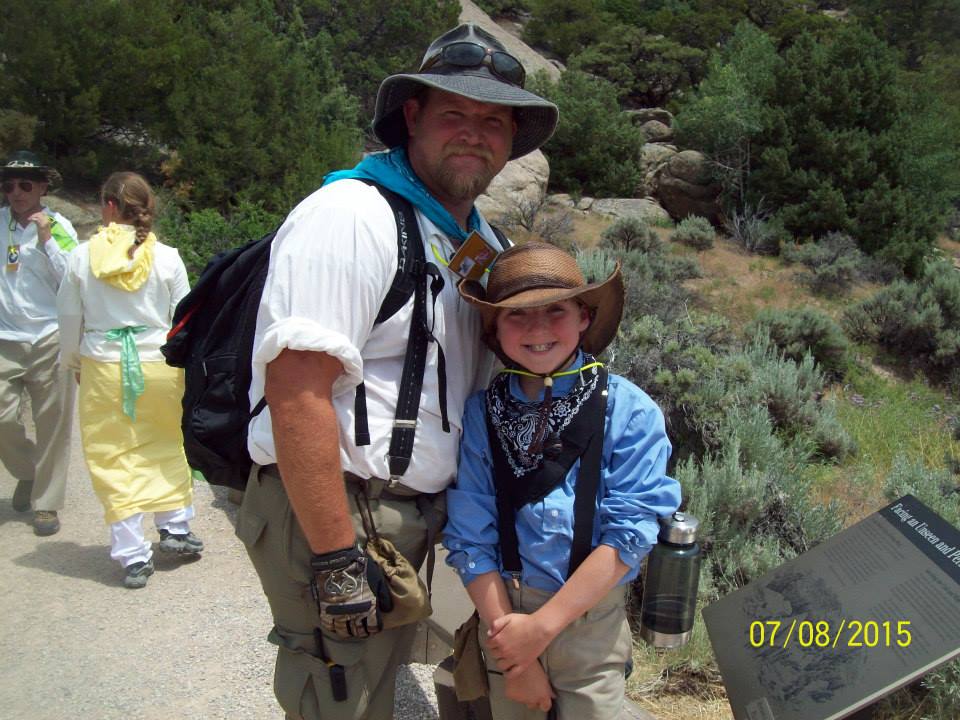 Bring a journal! You will have many sacred wonderful experiences while on trek. Each night, take the time to jot down things that happened during the day. You will love having your journal to look back on, and even if you think you will remember every detail, you probably won't!
Prepare physically before you go! I cannot emphasize this enough. Before trek go on lengthy hikes and runs to prepare for the long days of walking on trek. If you are physically prepared, you will enjoy the experience so much more.
Going on trek is an experience that I think everyone should have once in their life. Walking where the pioneers walked and experiencing just a taste of what they experienced will strengthen your testimony of the gospel and give you greater strength and courage to face the trials that you face in this day. Pulling the handcarts will give you courage and determination as you pull your own personal handcarts. Even though we did not face the challenges that the pioneers did, we face our own each and every day.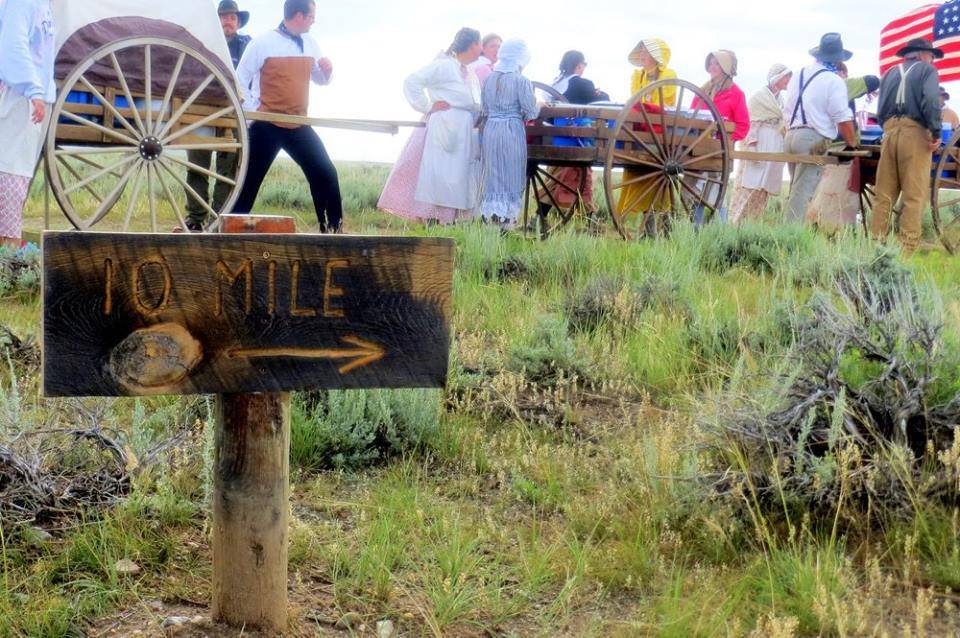 Elder M. Russell Ballard said,
"Brothers and sister, join us and begin now to prepare for a spiritual journey….by walking in the footsteps of our beloved pioneers in every land. We must be sure that the legacy of faith received from them is never lost. Let their heroic lives touch our hearts, and especially the hearts of our youth, so the fire of true testimony and unwavering love for the Lord and His Church will blaze brightly within each one of us as it did in our faithful pioneers" ("Faith in Every Footstep" Ensign Nov. 1996).
I hope this helps! I would be happy to answer any additional questions that you may have, to help you have a wonderful trek experience!
More Articles You May Enjoy: