An orange roll recipe that you'll want to make over and over again. Made with whole wheat, these orange rolls have a chewy outside and soft inside, and a sweet, delicate orange flavor is infused throughout the dough, the filling, and the frosting.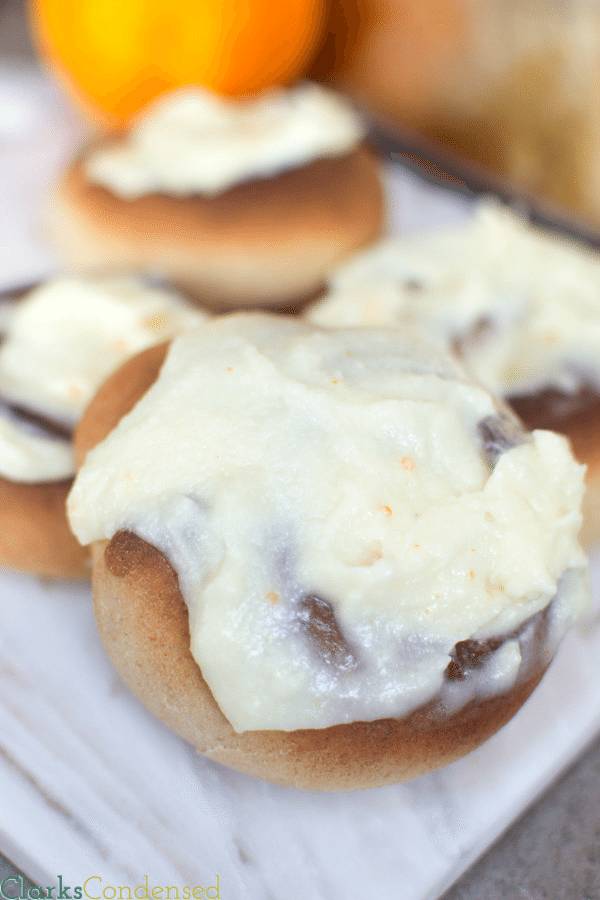 This weekend was General Conference, which, for most members of the Church of Jesus Christ of Latter-day Saints, a weekend full of inspiration…and delicious food. It's like a holiday. We've been in Colorado most of the weekend, and I've been cooking up a storm helping my mom prepare food for everyone.
Although there was a lot of yummy food, I think the favorite thing were these delicious orange rolls. I much prefer orange rolls over cinnamon rolls. However, I've never actually made them before! So I decided it would be fun to try my hand at them this weekend.
Do you have a favorite orange roll recipe? If not…this will probably be your favorite (and if you do, prepare for it to be changed to this one!)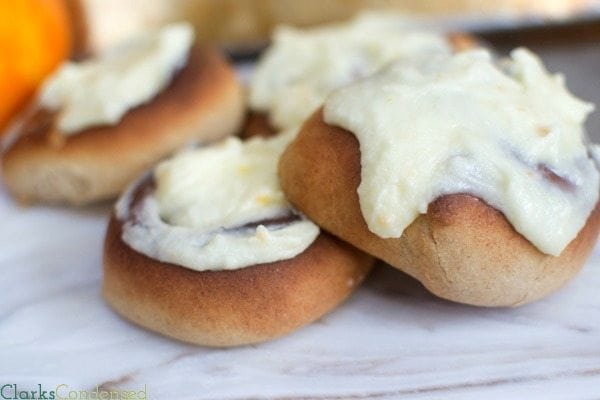 I looked around at different recipes online, but none of the dough recipes seemed quite right. So, since I was at my parent's house, I decided to pull out my mom's binder full of her favorite recipes, and I found an old cinnamon roll recipe from her friend. I just adapted it a little bit, and it seriously turned out perfect. It was fool proof!
I used a little bit of whole wheat flour, but also white flour (though feel free to make them 100% whole wheat, or 100% white flour orange rolls), and I felt like it created a nice density that was still light…if that makes sense at all! I also added orange juice to the dough batter. That was something I noticed none of the orange roll recipes online did, and I thought, why not?! Of course, it was a risk…but a tasty risk indeed.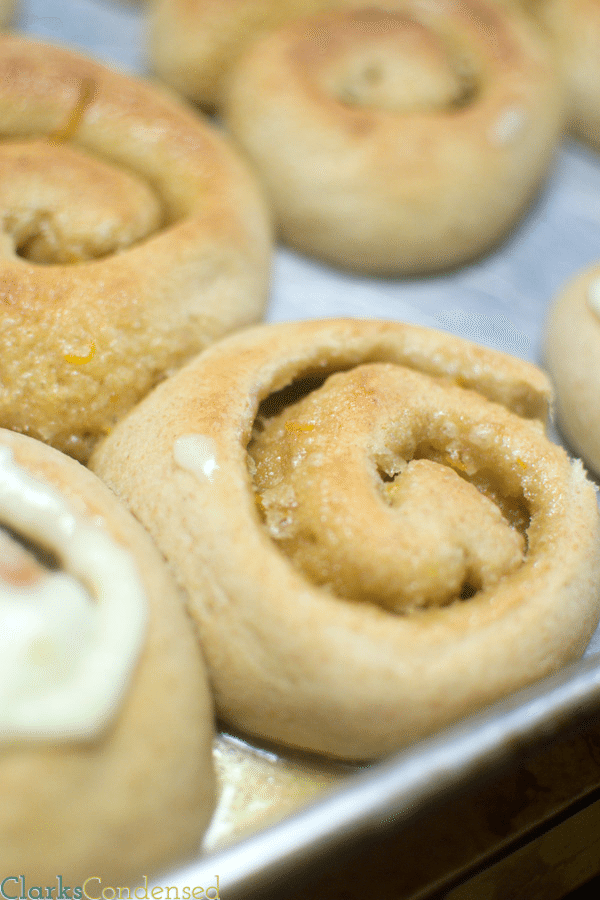 Not only is their orange flavor in the dough, but in the filling, and the frosting. But it wasn't overpowering at all. There was a delicate orange taste throughout the entire roll, and it was like heaven in each bite.
I will admit, this orange roll recipe isn't a really quick one. I made the dough at about 4:00 the night before we want to serve them, and refrigerated them until the next morning. While I feel like refrigerating the dough overnight is a good idea, you could probably just refrigerate for a few hours (though I don't guarantee the results!) It took about 1.5 hours for them to rise in the morning, but the frosting was very simple. Plus, these aren't particularly healthy. However, it is worth all the effort (and the calorie splurge) though, because they really are so good.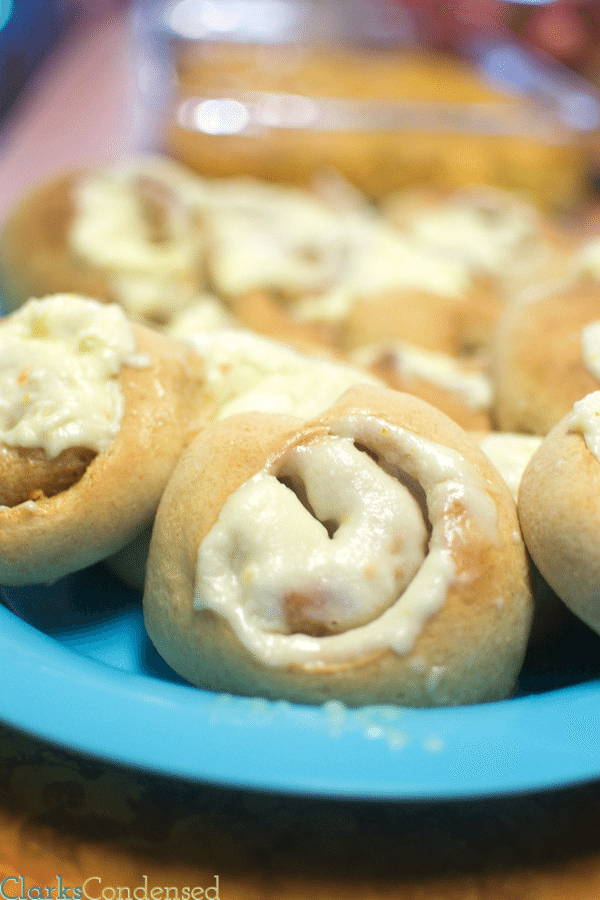 Recommended Tools for this Recipe:
Hand Mixer (for frosting)
Stand Mixer with Dough Hook
Jelly Roll Pan
Rolling Pin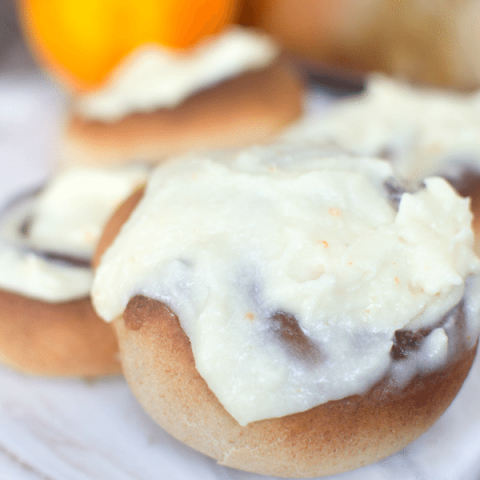 The Best Orange Roll Recipe
We love these EASY orange rolls for every day of the week!
Ingredients
Dough
3 teaspoons dry yeast
1 1/4 cup warm water
1/2 cup butter, softened
1/2 cup sugar
3 eggs, beaten
1 1/2 cups white flour
1 cup whole wheat flour
can change flours depending on taste
1 teaspoon salt
1 tablespoon orange juice
Up to 2 more cups flour, alternate white and wheat
Filling
1/2 cup butter
1 cup brown sugar
Zest of one orange
1 tablespoon orange juice
Frosting
3/4 cup butter, softened
3 1/2 cup powdered sugar
3 teaspoon orange juice
Zest of one orange
2 tablespoon milk
Instructions
!Dough
Place warm water into a small bowl, and sprinkle yeast over water. Let sit for 5 minutes.
Combine the yeast with butter, sugar, eggs, 2 1/2 cups flour, salt, and orange juice.
Attach dough hook (if you have one) to mixer, and mix until a dough starts to form. Add up to 2 cups of additional flour (alternate with white and white) until the dough is just slightly sticky (as in, you can handle it without it getting all over your hands). Let the mixer with dough hook run for about 10 minutes, or until a nice ball of dough forms that springs back when you touch it.
If you don't have a dough hook, just mix all the ingredients together into a ball, and knead for 10 minutes.
Place dough into a large, slightly oiled bowl, cover, and let rise until doubled.
After doubled, punch down, cover, and put in fridge overnight (or for at least 3 hours).
!Filling
In a sauce pan, combine all ingredients and bring to a boil, stirring constantly, until it becomes caramel-like.
Do this immediately before you plan to spread onto dough. It will become hard to spread very quickly
!Frosting
Combine all ingredients in a bowl and mix on medium speed with a hand mixer until creamy and smooth.
Add more milk or orange juice if consistency isn't how you like it.
!Assembly
Preheat oven to 375.
After dough has chilled in the refrigerator, remove and divide into two balls.
Spray a clean counter top with cooking spray.
Roll balls out into two large rectangles that are about 1/2 inch thick each .
Using a pastry brush, brush a layer of the filling across each of the pieces of dough, cover all of it.
Roll the dough, jelly-roll style, and cut into 1 1/2 inch thick slices.
Place on a greased cookie sheet.
Cover and let rise until doubled (about 1.5-2 hours)
Bake for 10-15 minutes (check early, as they can easily get overdone)
Let cool about 5 minutes, and then spread the frosting on each slice.
Enjoy!
Nutrition Information:
Yield: 24
Serving Size: 1
Amount Per Serving:
Calories: 379
Total Fat: 15g
Saturated Fat: 9g
Trans Fat: 1g
Unsaturated Fat: 5g
Cholesterol: 59mg
Sodium: 211mg
Carbohydrates: 58g
Fiber: 3g
Sugar: 30g
Protein: 6g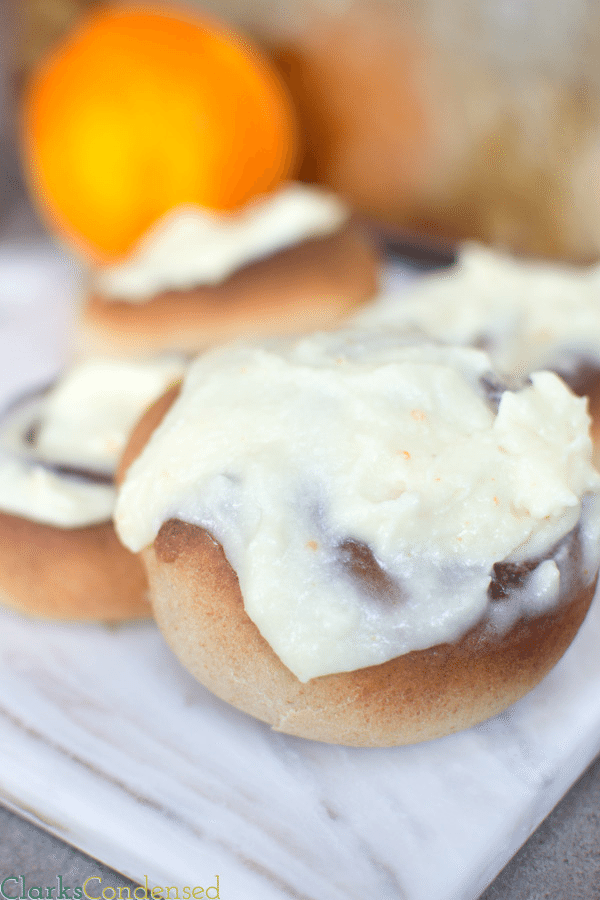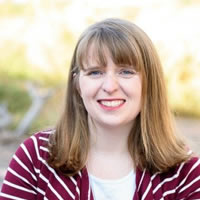 Katie is a Colorado-native, BYU graduated, and most importantly, wife to one and mother to three beautiful boys. She is passionate about sharing her experiences with others – especially about pregnancy, breastfeeding, cooking, and crafts. She is an International Board Certified Lactation Consultant. She loves spending time with her family and helping others find joy in family life.