Come Follow Me is an excellent way to study the scriptures and gain a better relationship with Jesus Christ and Heavenly Father. Here are some of my favorite "Come Follow Me" resources that have helped me!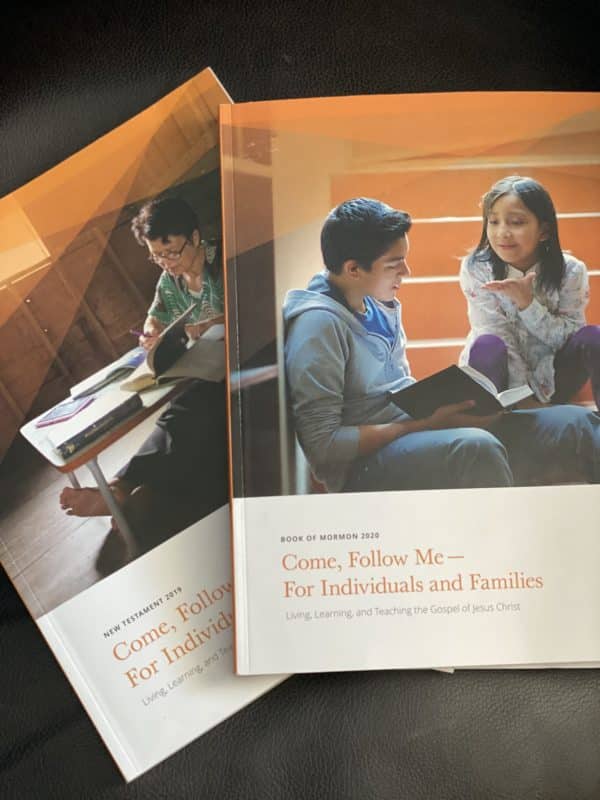 Come Follow Me for Individuals and Families
It seems like we were just stating the new "Come Follow Me" program – and now we are into year two.
When the year first started out, I thought we'd have an hour-long lesson when we got home from church, an exciting FHE lesson, and then nightly discussions with our children based on our personal study.
I saw all these people with bulletin boards and print outs, and I thought I would totally do that.
Then reality set in, and I realized that wasn't what this program meant for my family.
Slowly, I came to find resources that were most impactful for me. I discovered websites and individuals that resonated with me on how I should teach my children.
I realized that the beauty of this program is that there is no one size fits all approach. We can adapt it to fit our lives and our family's circumstances.
While some people probably thrive on having bulletin boards and nightly discussions, others don't. And I think it's so important to let go of what you think is the "model" Come Follow Me – and find what works for your family.
When I finally did this, it changed my life. I have gained a testimony of the inspiration behind this program and why it exists.
Am I a complete scriptorian now? Not even close. But I do have a great love for the scriptures and Jesus Christ and how I can apply teachings from His life into my own.
Since we are starting out with a brand new year of Come Follow Me, I thought I would share some of the resources I have loved. I also am including ones that my friends have said they love.
I hope that this will be helpful to anyone looking for a little more help 🙂
Oh, and I'm sure there are other resources that I'm missing – so make sure you comment and tell me about any that you personally share or use!
Church-provided Resources
First, I want to talk about all the church provides. There are so many great helps that they have, and it can be the simplest approach to Come Follow Me.
I know, this is pretty plain and simple – the manual! But it really has so many great conference talks, videos, and even activities.
And it should be the basis of anyone's study. Everything else I share in this post is simply because I find it helpful to hear other's perspectives and ideas.
I love to look through the Primary manual so I can find child-appropriate ideas for my kids. Sometimes I overlap with what they teach in primary, but I don't think it's a bad thing to do something more than once.
I like to use the Come Follow Me manual on my phone or iPad so I can easily pull up videos for my kids to watch or to listen to conference talks.
One of my favorite things to do is listen to a recommended conference talk from each week's study resources while I'm getting ready in the morning or when I go on a walk.
Ensign, New Era, and The Friend
I'm a little embarrassed that I didn't realize until partway through the year that the Ensign and The Friend usually have ideas for Come Follow Me – particularly for Family Home Evening.
They are usually very simple and easy to put together. I'm not 100
Come Follow Me Podcasts
This is, by far, my favorite find in 2019. I started listening to this podcast during the summer, and it has been one of the best things I've done.
This is a weekly podcast run by Melanie Price Wellman, and I can't say enough good things about her. The way she talks and explains things really speak to me. She's uplifting and down-to-earth.
She doesn't shy away from being emotional or talking about hard things. She's certainly had her fair share of trials. But when I listen to her, I can't help but think she's such a great example of being a believer and disciple of Jesus Christ.
While other podcasters might get more deep into the meaning of some of the scriptures, I feel she makes the scriptures come alive and seem more relatable. Which I love. She uses songs, talks from church leaders, and resources from all over to share her love of the scriptures.
She can be a bit silly, which may not be everyone's cup of tea (herbal, of course ;-), but I look forward to her podcast each and every week. I pretty much tell everyone I talk to that they need to listen to it! I've had quite a few people that I've recommended it to tell me how much they love it, and how they never miss an episode now.
I'm often saying things like, "Well Melanie said this . . . ", as if she's my best friend or something. Haha! I feel like she just makes you feel like she is talking to you.
In 2020, she is also launching a podcast specifically geared toward children and teenagers called Come Follow Me for YOUth, and I am so excited about it!
Okay, done fangirling. Just go listen to it or check out her website.
I have also enjoyed this one. It's a lot more scripture-heavy, but I feel like they explain the topics and scriptures in an easy to understand way.
The hosts have a great dynamic, and they both offer a unique and interesting perspective on the scriptures.
Come Follow Me Daily
This is a great one for quick inspiration and recaps of the Come Follow Me Materials. It's just five minutes a day, so it's a quick listen.
Come Follow Me Instagram Accounts
Earlier this year I decided I only want uplifting and helpful content in my Instagram feed – which has resulted in me following a lot of church-related accounts.
First off, I strongly recommend following President Nelson, all the other apostles, and any other church leader that has an Instagram account. While not always directly related to Come Follow Me, these are so inspiring to me! I love that they are on social media.
As far as Come Follow Me accounts on Instagram go, here are my favorites:
Family.home.evening123
This was another game-changer for our family. I struggled to come up with FHE lessons that were engaging for my seven and four-year-old but didn't require a ton of prep work.
I discovered this account several months ago, and I am so grateful it exists. Each week, a full lesson is posted, complete with scripture, quotes, and questions, along with three activities you can choose from.
One of them is usually a video, but the other two are always simple and don't require much prep. I can usually prepare for the lesson using these prompts in just a couple of minutes.
Unfortunately, I just noticed that they have moved to a paid model, so the content is no longer free, which is kind of a bummer. However, I know that it takes a lot of work to put together this content, so I understand why they moved to this model.
You can pay $3.99 a month to get the lessons and printables – and there is a free month trial. I wish that it was a paid upgrade to get the printables and that the lessons were free. But for me, I have found these very helpful so I have signed up to receive the lessons. $1 per lesson is a good deal.
We have had such engaging conversations with our children because of this account, and I feel like it's improved our Family Home Evening lessons substantially.
With the change to their model, the Instagram account may not be as helpful anymore. But time will tell, so I'm keeping it here 🙂
Come Follow Me for Toddlers
I started following this account recently, and I think it has a lot of simple ideas. My kids aren't toddlers, but I feel like I can still use many of the ideas for them.
This account posts several activities with instructions and materials right in the feed so it's easy to screenshot and save for later.
These are free, so if you are looking for free resources, this is an excellent account to follow.
Come Follow Me Study
This is my favorite account for my own personal benefit. I love the daily posts with insight, the background of each week's content in the stories, and the weekly quizzes. It's very engaging and fun.
I love that this account is simple and to the point. It's very much focused on Come Follow Me and providing helpful background and insight to improve my own studies.
Come Follow Me Daily
This was one of my favorite accounts. I found the feed posts to be so inspiring and helpful as I studied the material from the week.
I have to steer clear of the Instagram stories, as a few of them rubbed me the wrong way a few months ago. But when I just focus on this account's actual feed posts, I feel very uplifted when I read them.
I think it would be awesome if someone started an account that was Come Follow Me for teens. After talking to a few people with teenagers, this is something a lot of people are looking for more ideas about!
Come Follow Me Websites
This resource has a lot of ideas that can be used for FHE, though some of the lesson's ideas I feel would be great for a classroom setting as well.
It is another subscription-based service with varying prices. There is a free plan that will give you one lesson plan a month.
These include tons of ideas, printables, and coloring sheets.
I used to use it a lot, but I found there was almost too much information for me, and I would try and implement everything, and it just got overwhelming. BUT the content is excellent and very well-organized.
They also have a great Instagram account where the lessons are discussed and often shown in pieces.
Camille has so many great resources for Latter-day Saints on her website, not just things for Come Follow Me. There is a mixture of paid and free products. I really love everything I've used from her site!
I love this printable my friend, Camille, created for goal planning. It's a great visual, and she also includes some good tips. Her site isn't just about Come Follow Me, but there are so many great resources for families.
This is one of my favorite websites for all things related to teaching. I often use her lesson helps as I prepare lessons for Young Women.
There are study books, beautiful printables, and tons of ideas for lessons. There are things specifically for Come Follow Me, but there are other resources as well.
My brother-in-law suggested this website, and I am so impressed with it. There is a powerpoint that you can download for each month of lessons with key points, pictures, etc.
I could see this being helpful in my situations – lessons, FHE, etc. It's nice that it's in powerpoint form, but you can also easily print off the pages if you only need a couple.
This is the companion website to the Instagram account I mentioned above. It expands on what is available on the Instagram account with blog posts, study helps, and more. Excellent resource!
This is a pretty cool website. It has all the lessons throughout the year with additional resources that might be helpful, such as videos, maps, podcasts, timelines, etc. that are related to it.
LDS Living has various lessons and lesson helps that it provides throughout the year. I don't use these a lot, but I do think there are some helpful tools in them.
Come Follow Me YouTube Accounts
This YouTube account is extremely popular, and they actually just released a book at Deseret Book for Come Follow Me – it explores one verse from each chapter of the Book of Mormon. I am anxious to get this book myself!
The videos are about 45 minutes long, and I feel it's a bit like a Sunday School lesson. Emily and David are extremely engaging and knowledgeable. I don't always take the time to listen to the videos each month, but my life is always for the better when I do.
I haven't actually listened to this one myself, but I've been told it's great for people with teens. He is an EFY teacher, so he definitely knows how to relate and connect with youth.
Come Follow Me Books
Here are the different books and study guides I've found. I have not personally used any of these, so I can't endorse anything, but I thought I'd share for anyone who might be interested.
Other Latter-day Saint Posts You May Enjoy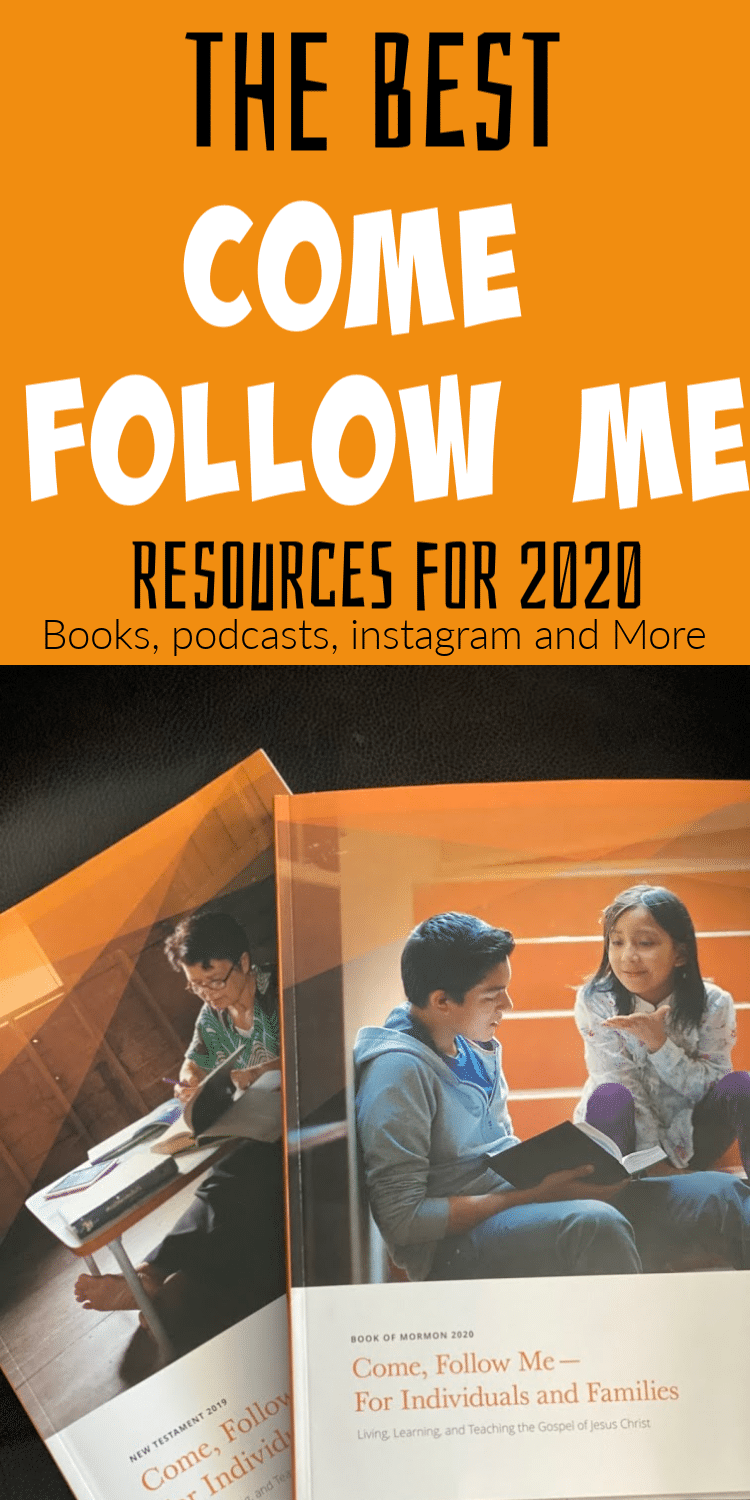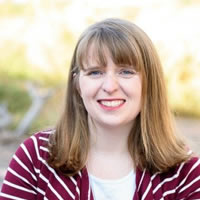 Katie is a Colorado-native, BYU graduated, and most importantly, wife to one and mother to three beautiful boys. She is passionate about sharing her experiences with others – especially about pregnancy, breastfeeding, cooking, and crafts. She is an International Board Certified Lactation Consultant. She loves spending time with her family and helping others find joy in family life.