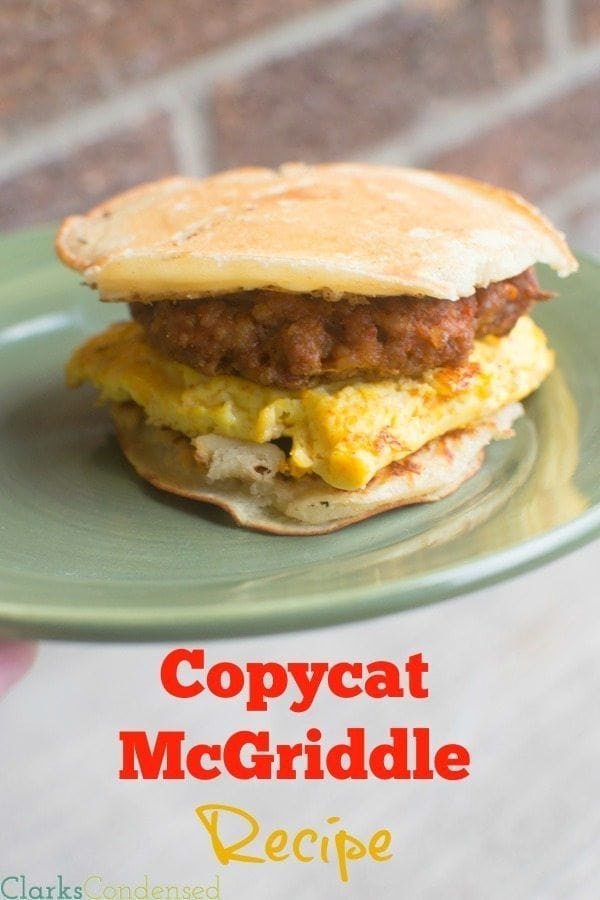 Judge us as you may, but we like McDonalds. Especially because we often get coupons in the mail, which makes it a quick and easy meal when we are on the go.
A few weeks ago, we got a coupon booklet that had a couple of coupons for BOGO breakfast sandwiches, and Forrest asked if we could get the McGriddle, which are a little too expensive to justify buying otherwise. I'd never had one before, and it was kind of intriguing, so I agreed.
The verdict? Delicious. It combines all the delicious aspects of breakfast food (egg, sausage or bacon, and pancakes) into one sandwich. I loved the pancake buns. Sure, it's not healthy…but I wasn't thinking about that when I was eating it. However, we thought it seemed like it would be easy to make at home…which could help make it a little bit healthier.
I'll admit, it was a bit of a disaster as we were making it, because we didn't pick the best sausage to work with (though, it was yummy sausage) and they didn't stay in the patties I formed them into. However, they did taste almost exactly like the McDonald's McGriddle, and we will definitely be making them again soon.
What is your favorite McDonald's breakfast food?
Ingredients

Copcat McGriddle
serves six
1 2/3 flour
2 tsp baking powder
2 tbsp sugar
1/4 tsp salt
1 large egg
1 1/2 cup milk
1/2 cup + 2 tablespoons Maple Sugar Crystals*
2 Tablespoons Water
1 tbsp butter
Sausage (either six patties, or 3/4 pound of favorite variety)
American cheese
6 eggs
1 cup milk
salt
pepper

Instructions

In a large bowl, mix together flour, baking powder, sugar, and salt.
In another bowl, whisk together eggs and milk, and then add to flour mixture, and mix until smooth.
In a smaller bowl, mix together 1/2 cup maple sugar crystals with water, and then mix into batter. Set batter aside.
Heat a griddle or frying pan and cook sausages. It would probably be easiest just to use pre-made patties, but feel free to make your own! Remove from griddle to paper towel and pat away excess grease.
In a bowl, crack eggs and whisk together with 1 cup milk and a few shakes of pepper and salt. If you can get your hands on a rectangle cookie cutter, that will create the most "authentic" McGriddle egg (just pour egg into cookie cutter) or just cook mini omelette style eggs. Cook until eggs are not runny, and carefully move to another plate.
Finally, pour about 3-inch wide, and 1 1/2 inch thick circles of batter onto griddle. The batter should be thick. Sprinkle maple sugar crystals on top of pancakes. Flip as needed, until pancakes are browned and cooked through. Make sure to cook two pancakes for each sandwich.
Assemble like this: Pancake, sausage, cheese, egg, pancake.
*Maple sugar crystals can be hard to find. We had to go to a few different health food stores to find them, but eventually did at Whole Foods.

7.8.1.1

968

https://www.clarkscondensed.com/recipe/copycat-mcgriddle-recipe/

This recipe was created on ClarksCondensed.com. Feel free to distribute as needed, but if you post it on your own site, please link to back to ClarksCondensed.com
If you liked this, then you'll love these other breakfast recipes from Clarks Condensed: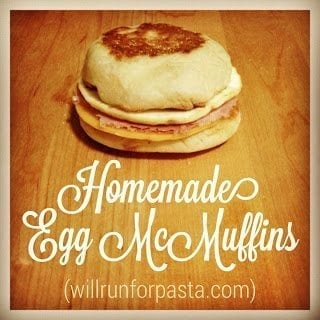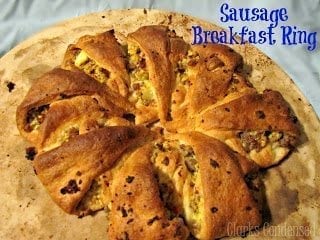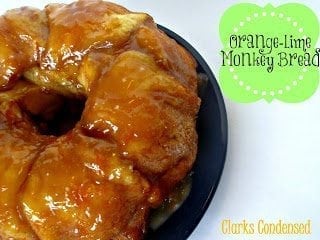 –>