This sticky and sweet sauce is a copy cat version of the famous JDawgs sauce and is the perfect topping for hot dogs, sausages, burgers, and more!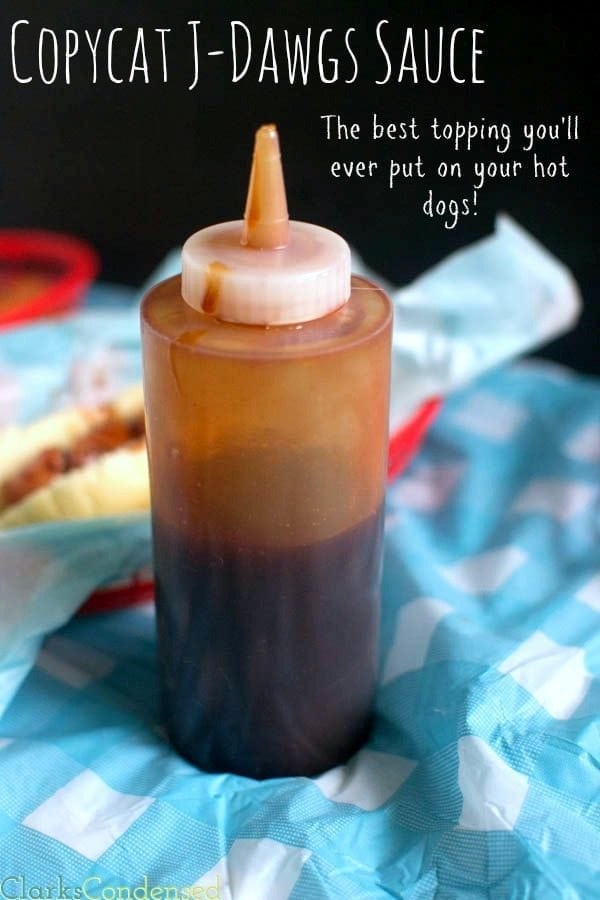 Unless you live in Utah (specifically in Utah County), or you attended BYU, you probably have never heard of J Dawgs. However, if you have heard of it, you know how absolutely delicious this place is — specifically because of their signature JDawgs' sauce. It's sweet, sticky, and pairs perfectly with just about any hot dog or sausage out there. Even if you've never even heard of the name JDawgs, you'll definitely want to file away this recipe for all the BBQs you'll probably have this summer.
When you go to JDawgs, you usually get to choose between a polish dog and a regular hot dog. Either is really yummy, and they are served on bakery fresh buns. I'm not usually a big fan of hot dogs, but I definitely make the exception for J Dawgs. We don't go there often anymore, simply because it's a little bit expensive. So Forrest and I thought we should try and make a copycat JDawgs sauce!
We found a couple recipes online, and they were all pretty much the same (and very simple.) I read through the comments on one, though, and a lady said that they don't use soy sauce in the sauce, but worchestire sauce. We made that small adjustment, and I have to say — I think it did the trick. As I was cooking the sauce on the stove, both Forrest and I felt like we were in JDawgs. And it honestly tasted exactly like we had just bought a container from the store.
I made the sauce and put it into a plastic condiment bottle, just like they do at JDawgs. It only took about five minutes. I had to let it cool down a little bit, so I cooked up the sausages on our indoor grill pan (it was raining so we couldn't use our outdoor grill.)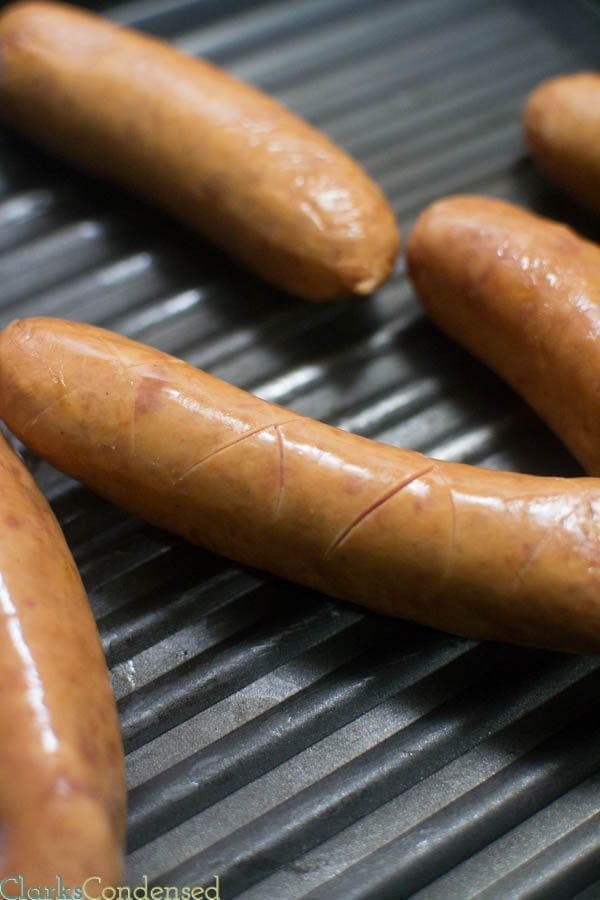 As you can see, I made some criss-crosses across the sausages. This is what JDawgs always does — I have no idea why, but it looked cool. I also grilled up the buns on the grill pan, just for a minute on each side, to make them a little crispier. Yum!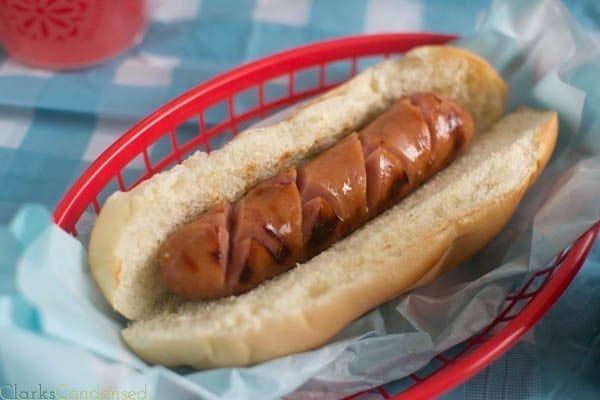 I kept it simple and just drizzled some of the J dawgs' sauce on top, but this would be a great opportunity to do a yummy sausage and peppers meal, throw on some grilled onions, or even some banana peppers (like they do at J Dawgs.) Whatever way you eat it, I promise, you'll never want to eat a hot dog, sausage, or maybe any other grilling recipes without this sauce again!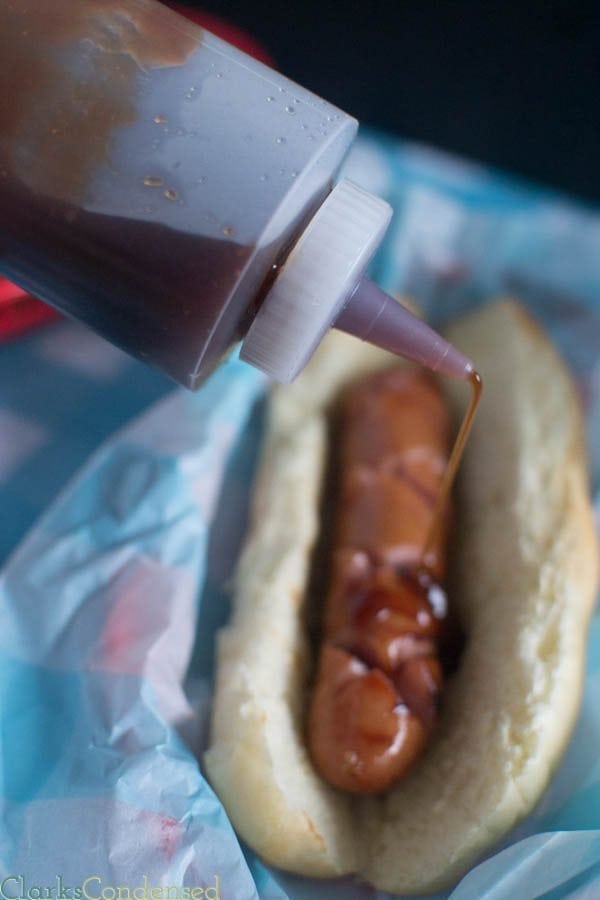 Jack definitely approved…and I can hardly ever get him to eat hot dogs or sausages!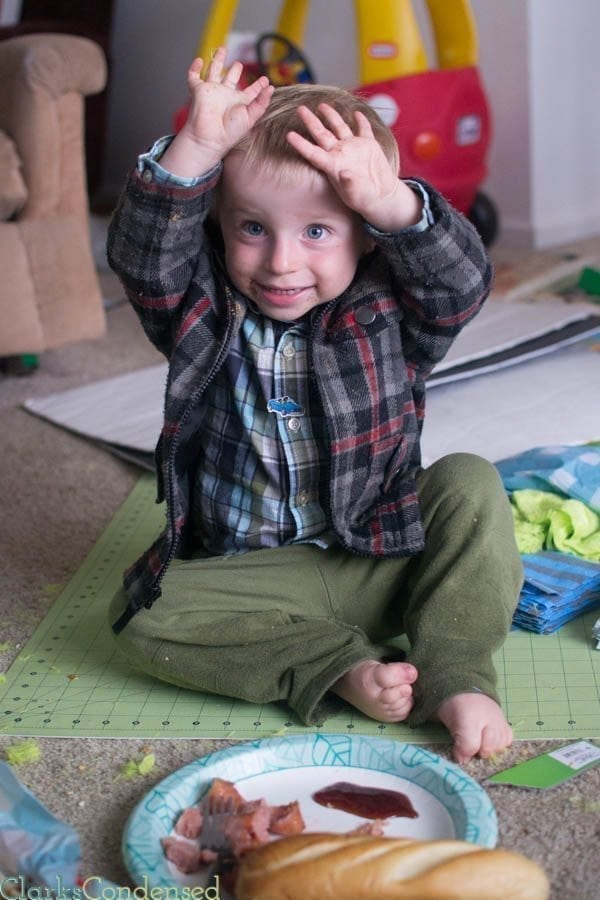 Copycat J Dawgs Sauce – Perfect for Any Grilling Recipes this Summer
Yield: 0 This made about 1 cup of sauce.
Ingredients
3/4 cup ketchup
3/4 cup brown sugar
1/4 cup honey
1 tsp. cider vinegar
1 tsp. Worcestershire sauce
1/2 tsp. onion powder
Instructions
Place all ingredients into a sauce pan and bring to a boil, stirring the whole time.
Let boil about 1-2 minutes.
Pour into bottle or container. Refrigerate when not using.
Notes
Modified from http://makemyselfathome.wordpress.com/2011/07/04/j-dawgs/