This easy sweet and sour chicken is sure to be a hit in your house! All you need is frozen crispy chicken strips and a few other ingredients for the sauce, and you are sure to have a meal everyone will enjoy! Gluten free and low FODMAP instructions included.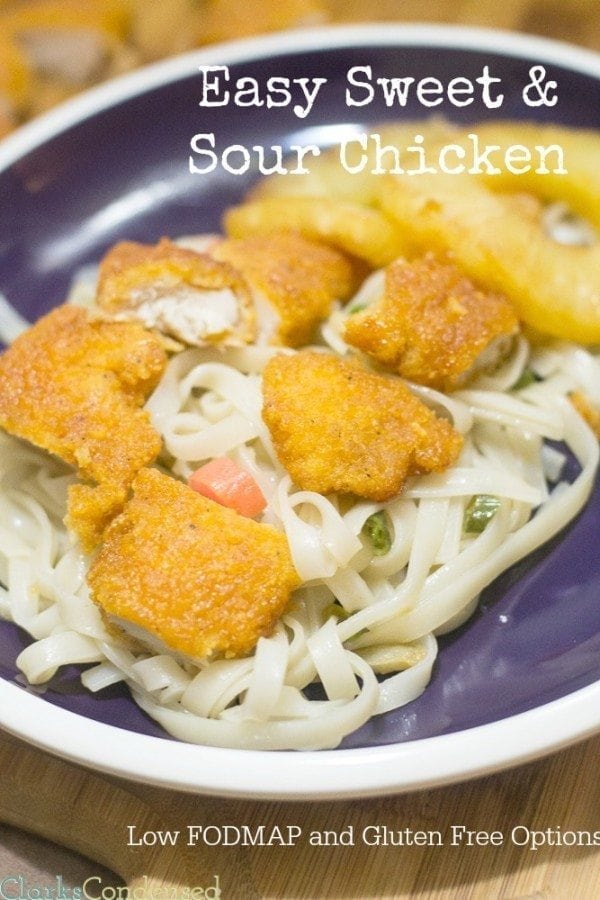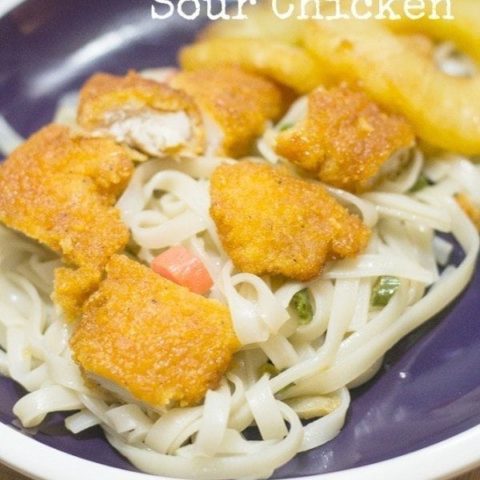 Easy Sweet and Sour Chicken with Asian Noodles
Ingredients
3/4 cup brown sugar
4 tablespoons ketchup
1/2 cup pineapple juice
1 tablespoon soy sauce
1 teaspoon garlic infused oil, or 1/2 teaspoon minced garlic, if you aren't following a low FODMAP diet
1 teaspoon of Tapatio, or other hot sauce without onion and garlic if low FODMAP diet
6-8 frozen crispy chicken strips, depending on size (use gluten free chicken strips if you are gluten free or on a low FODMAP diet.)
Pineapple, rings or cubes
Instructions
Preheat oven to the what the chicken strips package say they need to cook at.
Place chicken in a baking dish and bake for the half the time it says on the package.
Mix together all the the ingredients in a bowl (besides the chicken.) Set aside.
Remove chicken from oven.
Place pineapple on the baking sheet and coat both the chicken and pineapple in the mixture you created.
Bake for the remaining time.
Remove from oven, cut chicken into bite size chunks.
Serve over rice or noodles.
Our days always seem to be rather busy. Although we both work from home, and we "only" have one kid, there never seems to be enough time in the day. Does anyone else feel that way?
Before I know it, it's dinner time. As much as I wish I was good at planning and preparing dinner, our dinner is usually decided on about 10 minutes before we start to prepare it. This usually means that we are hungry and want to eat something quick!
So, I'm all about short cuts. We love sweet and sour chicken, but when you make it from scratch, it can be a bit time consuming and messy. While nothing beats the crunchy outside of homemade sweet and sour chicken, my favorite part is definitely the sauce. I thought it would be fun to take some pre-breaded crispy chicken strips (I used Tyson brand) to eliminate the hassle of breading the chicken myself and just add a sauce to the top.
It was definitely a huge hit with us. We served them with Asian style noodles (using rice noodles), and we really enjoyed it. We used the gluten free chicken strips from Tyson, but if you don't need to eat gluten free, their original crispy chicken tenders would be fantastic in this recipe as well!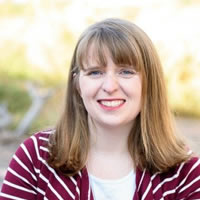 Katie is a Colorado-native, BYU graduated, and most importantly, wife to one and mother to three beautiful boys. She is passionate about sharing her experiences with others – especially about pregnancy, breastfeeding, cooking, and crafts. She is an International Board Certified Lactation Consultant. She loves spending time with her family and helping others find joy in family life.