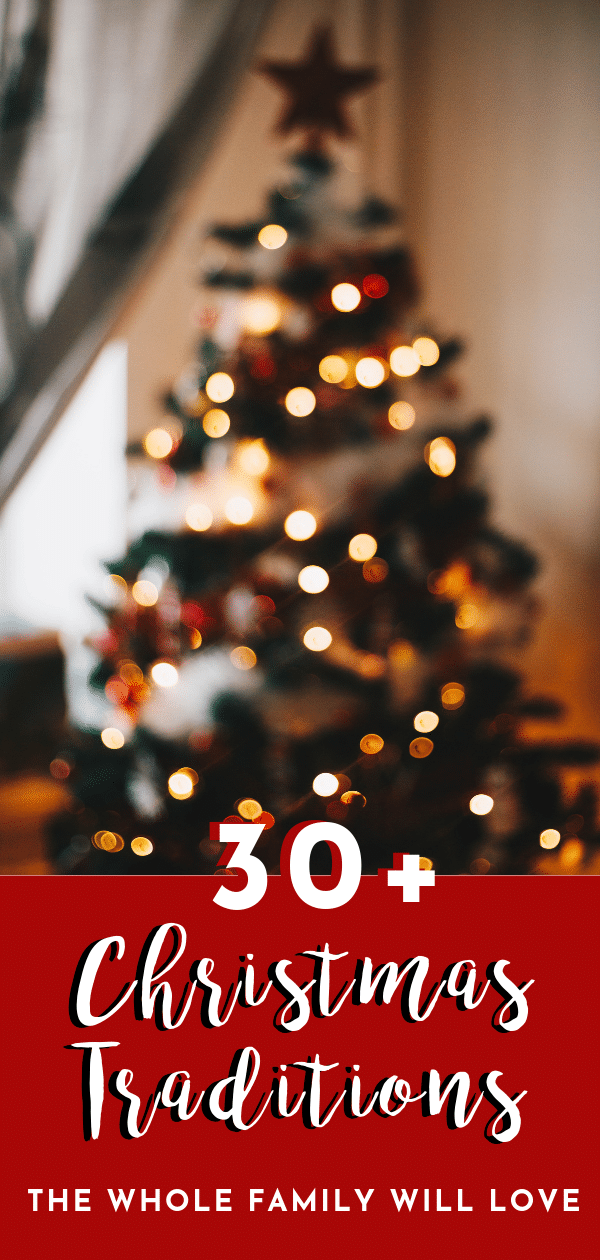 One of the best parts of the Christmas season is the memorable traditions. Here are over 29 memorable Christmas tradition ideas everyone will remember for years to come!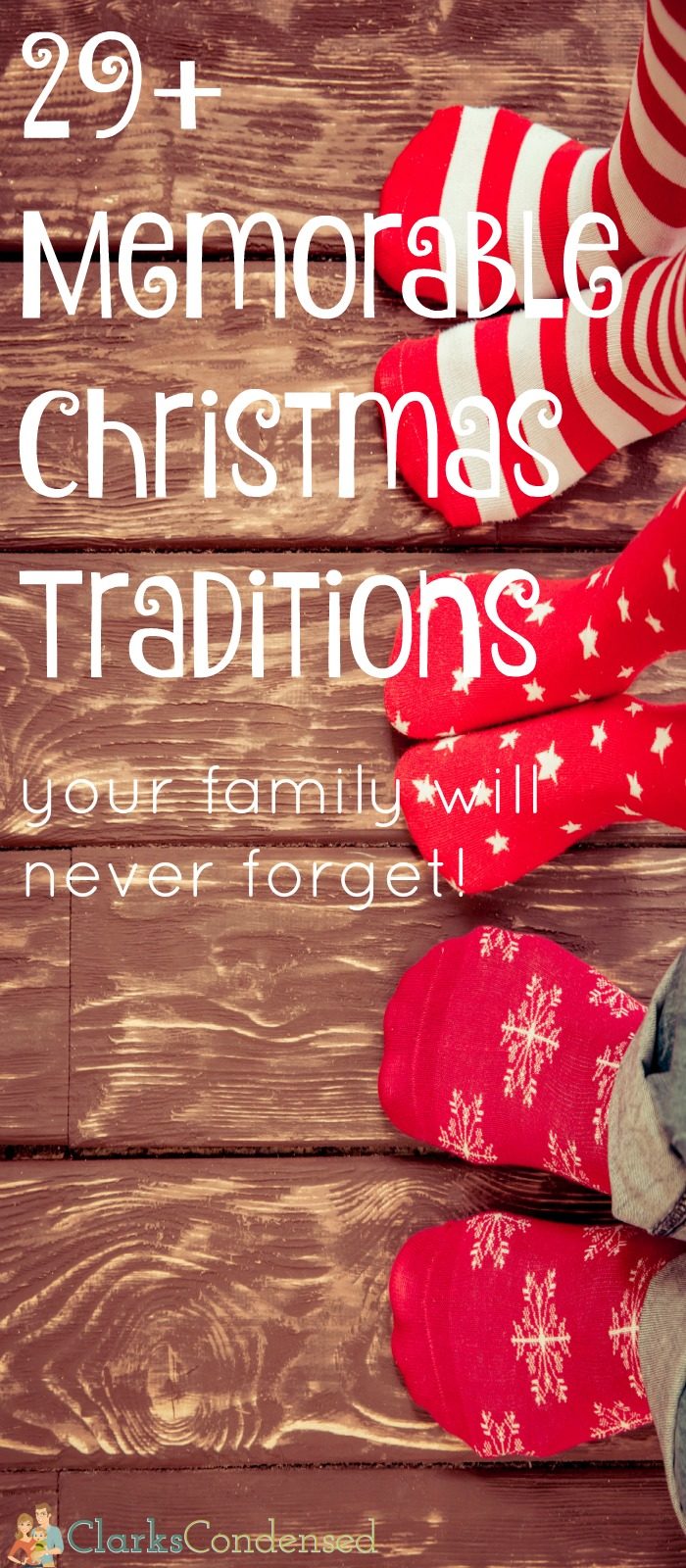 Christmas Tradition Ideas
It's no secret at this point that I love Christmas. What a fun and joyful time of year. I've been blessed to only have happy Christmas memories, and I hope that I can create lasting memories for Jack as well.
One thing I love about Christmas is being able to celebrate it all month long! At church we usually will sing Christmas hymns throughout the month, the mall is decorated so beautifully, cookies always seem to be baking…so fun.
Traditions are so important to me, and I think they are sometimes what make the holidays so memorable.
Jack is almost three, and this year has been so much fun celebrating Christmas with him. He just lights up with joy every time we introduce something new – whether it's the Fisher Price Nativity Set I just bought to help teach him about why we celebrate Christmas, going caroling to neighbors (and getting to ring the bell and belt out all the lyrics he can muster), or making cookies together as a family, he just soaks it all in.
Even hearing him say, "Merry Christmas" as clear as a bell is so neat. The more he grows up, and we get to see his little personality unfold, the more I find that he loves routines and traditions. It's great!
I thought it would be fun to share a collection of memorable family traditions, just in case there's someone out there looking for something new to do with their family.
I've seen a lot of people ask others lately about what they do for Christmas, so hopefully, this will give some of you some new ideas. There are lots of different ideas here.
Some are super simple, others require a little more effort. What's important is just spending time with those you love and traditions are a great way to do that.
---
Download Our FREE Christmas Printable Pack!
Signup below for amazing printables to help get your home in the holiday spirit!
Thanks to Hallmark for making this post possible.
Make sure to check out our ULTIMATE Holiday Gift Guide – over 500 gift ideas for EVERYONE on your list!
Fun Christmas Traditions
I think almost everyone I know has an advent calendar of some sort. This is a great way to garner up daily excitement for Christmas, and there are so many ways you can do it.
We had a felt Christmas tree at the end of our stairwell that had pockets. Each pocket had a piece of candy and a tiny ornament to put on the tree.
Other advent calendars I've seen have little doors to open, pieces of paper to flip, or a stocking to open.
I've seen people put candy in them, a scripture related to Christmas to read, or a fun Christmas/Winter themed activity that they will do as a family that day.
Even something as simple as my countdown to Christmas chalkboard can be a fun tradition! Here are a few other fun advent calendars (the lego one looks so fun.)
Christmas Book Unwrapping
I wrote a post about the best Christmas books for children a few weeks ago, and I mentioned this tradition in there. Basically, you wrap up 25 (or 12, or however many you want) Christmas books and put them under the tree.
Each day leading up to Christmas, your family gets to unwrap one and you read it as a family together.
This is a fun way to make use of all the Christmas books you accumulated over the year, and I think it's something the whole family can look forward to.
This is a really neat service we have used the past few years.
For $9.95, you sign up for a text message service that will send your child personalized messages, pictures, and games from Santa Claus every day leading up until Christmas. It's such a fun thing for kids (and, to be honest, I think it would be fun for me, too!) Sign up here
Open a New Game
This is an idea my sister started doing with her family, and I think it's a great idea (because I love games!)
On Christmas Eve, the family opens a new game, and they all play it together.
The next morning if it's not time to wake up yet to go look at what Santa brought, the kids play the game together. Here are some fun posts I've written about different game ideas:
Write Letters to Santa
I think most people write letters to Santa Claus at some point or another during Christmas-time. I know I always did! Sometimes we would do it together as a family, which was fun.
I recently learned about SantaMail, and I can't wait to use it! For $9.95, your child will get a custom letter straight from the North Pole. It looks so cute, and I can only image how excited Jack would be to get this!
Elf on Shelf
Most people have probably heard of Elf on the Shelf. As much as I enjoy watching other people share what their elf does every day, I don't think I'll ever adopt this tradition.
However, I know a lot of people really enjoy it each year and look forward to the elf arriving! Plus, Pinterest has TONS of ideas in case you aren't super creative.
You check out The BEST Elf on the Shelf Alternatives for other ideas.
I just learned about this one, and I'm excited to use it this year. You can get 25% off using the code CLARKS25 at checkout.
"Holly's Magical Mistletoe is an exciting new Christmas Kissing Tradition for couples and families alike! This fun twist on the classic tradition allows people to find their inner child and bond over something truly magical: Christmas kisses. A Christmas book, mistletoe sprig and fun activity, all in one!
Each night during the holidays, someone plays the role of Holly the Elf, and hangs her magical sprig where it can be found the next day and kissed beneath. More often than not, Holly's mistletoe is discovered in the most bizarre and unexpected places, leading to a lot of fun, laughter and exciting kissing adventures!"
When you buy the kit above, you get a fun, illustrated book, one of Holly's Magical Mistletoe sprigs, and a fun activity.
I can't wait to do this with my kiddos this year!
Going to the mall
I don't know when we started this tradition, but at the beginning of the holiday season, our family would pile into the car and go to the mall. We would usually split up into groups and go out to buy the Christmas present for our assigned sibling, for our friends, and for our parents.
I LOVE going to the mall during Christmas-time – it just smells and looks like Christmas everywhere. We would usually eat dinner in the food court afterward and then go see Santa Claus.
Forrest and I took Jack to do that this year, though the effect wasn't quite the same, since our local mall is under construction. It was still fun though!
If you travel away from home for Christmas, this is a great way to make sure Santa finds your kids! Hallmark makes these beautiful snowflakes that you can write your child's name on and have it light up for about four hours at a time.
You can put them on your ornament, on the tree, or even on the door. Santa is sure not to miss your house!
It could be fun to put these up at the beginning of December, to remind your kids (and yourself) of the new star that appeared on the night Christ was born, and to also remind your kiddos to be kind all month long!
Watch a Christmas Movie
There are so many great Christmas movies out there – why not make it a tradition to watch a few throughout the season?
You could watch one every night, have a movie marathon on one day, or let everyone pick their favorite one to watch during the month. If you have Netflix, there is a goldmine for Christmas movies there.
My friend, Becky, over at Utah Sweet Savings, created an awesome guide to all the current Christmas movies on Netflix.
Sitting on the stairs
When we wake up on Christmas Eve, we don't just run down the stairs to see what Santa brought. Everyone goes to my parent's room to sing "We Wish You a Merry Christmas," and then we go and sit on the stairs.
My dad goes downstairs, usually says something like, "It looks like somebody's been here" and starts a fire. I can smell the fire, and I so vividly remember the feeling of anticipation on the stairs just thinking about it.
After the fire is lit, he comes to the stairs with the video camera, and everyone runs down the stairs, down the hall, and into the family room!
Make fun Holiday Crafts
This is something that I really enjoy doing with my children. One idea that I really love are these DIY snow globes that I made recently. They are super easy and fun to make!
Decorate Christmas Tree and House Together
Making decorating your home a family affair! Turn on some Christmas music, make some hot chocolate, and just enjoy being together as you make your home a little more jolly.
Donate at least one old toy to charity or a family in need
Most kids get some kind of toy on Christmas. If you aren't careful, you can end up with a lot more toys than you need over the year.
I've heard of a lot of people doing something like this, and I think it's really smart.
Basically, your kids pick a couple of toys they no longer want or play with, and you donate them to charity or someone who is in need. It teaches your children to help others, and it also clears our your toy room for the new Christmas goodies!
Cookies for Santa
This one may seem pretty obvious, but it's worth mentioning — putting out cookies for Santa. I put together a post about 25 cookie recipes that a perfect for Santa in case you need some inspiration.
Zoo Lights
If you have a zoo near where you live, they probably have zoo lights. I've only done this a few times, but it's usually pretty neat.
There usually aren't any animals out, but the zoo is transformed into a Christmas light galore.
The Denver Zoo does an awesome job with this. I often see discounts for different zoo's zoo lights, so be on the lookout (otherwise it can be kind of pricey.)
New Ornament Every Year
I always got a new ornament every year since I was born. My mom would always carefully pick out the ornaments for each of her kids, and it was always so fun to get a new one to add to our collection.
When Forrest and I got our first Christmas tree, these were the first ornaments that we had to put on it.
I know a lot of people do something similar to this. I always try and get an ornament that represents something that Jack loves that year or reminds me of him. That makes getting them out even more fun, as you take a walk down memory lane.
The other day someone mentioned that their parents always did this, and then as a wedding gift, they were given the box of ornaments they had collected growing up. I think that's such a thoughtful gift!

Making Stockings
I made stockings for Jack, Forrest, and I a few years go, and even though they turned out skinner than I meant for them to, I love them!
Making stockings for your family can be a fun idea, and I imagine they are something most people will cherish throughout their lifetime.
My friend Katelyn compiled this list of 27 DIY Homemade Stockings. Be sure to check it out!
Wow! That took a long time to write out. I hope that at least someone finds this helpful, and that in some way, I've helped you create some lasting memories with your family. I'd love to hear about any of your family traditions for Christmas!
If you haven't gotten your Christmas traditions fix, make sure you check out this AMAZING eBook that is full of Christmas traditions, recipes, crafts, and more.
Christmas bucket list
There are always so many different Christmas activities going on during December. While you can't do everything, at the beginning of the month, you could sit down with your family and come up with a bunch of different ideas of what you want to do during the month.
Sign up below to get a super cute free bucket list printable straight to your email. It's perfect for hanging on the fridge!
Sign up for your FREE Christmas Bucketlist (and other fun Christmas freebies this season!)
Visit Santa Claus
We always make an effort to go see Santa Claus each year. I think having pictures of your kids with Santa throughout the years is priceless. I absolutely love seeing the ones of Jack. He's gone from complete and utter terror to an undying love. We always try to find a Santa that lets us take our own pictures, because, let's be real – the cost for Santa pictures is ridiculous.
Christmas Food Traditions
Cookie Baking Day
While I make cookies all season long, it's kind of fun to set aside a day or two where everyone bakes yummy treats together! You can do this to make plates to deliver to friends and family or just for everyone to enjoy together.
And here are a few of our favorite Christmas cookies:
Caroling and Delivering Treats
This is something we did just tonight (though,I must admit, I didn't have the best attitude, since I'm so sick with cough and cold!)
We always make up plates of goodies to take to our friends, and we serenade them with our beautiful (ha!) voices. Everyone always seems to really appreciate it.
Jack had so much fun putting together the plates this year, and he loved caroling even more. He danced for everyone that we sang to, and he proclaimed in his sweet little voice, "Merry Christmas!" whenever we left.
Homemade Donuts
This is a tradition Forrest brought to our little family, and it's a tasty one indeed!
On Christmas Eve, we make homemade donuts for everyone to enjoy. It's fun to come up with different flavors and ideas, and there's nothing better than a freshly made donut.
Here are a bunch of homemade donut recipes I posted earlier this year.
Don't forget to pick up a donut pan – it will make making them SO much easier!
Make A Special Food
I asked on Facebook what some people did for traditions and several people mentioned making a special food every year.
Someone mentioned homemade pierogies, another cinnamon rolls, and another scones. Whatever you do, if you make it every year, it quickly will become a tradition.
Christmas Service Ideas
I recently went to a women's activity at my church and someone suggested kindness or service elves.
These are similar to ever-popular Elf on Shelf, but each day, the elves leave an act of kindness or service they hope the kids will do that day. It can be anything from smiling to everyone at school, making their siblings bed, or taking cookies to a neighbor.
I love this idea, because it focuses more on helping your children to good. The lady who mentioned it said that once they started doing this, she felt that her kid's greediness and bickering started to melt away. I love it!
I recently discovered this website that sells the cutest Kindness Elves kits. It comes with beautifully created elves, a little house for them, etc. They are $26.60, but I think they would be worth buying for years to come. When you first go to the site, everything is listed in Euros, but you can toggle to the American dollar in the upper right hand corner. I can't wait to get a set myself!
Drawing Names for Presents
If you have a lot of kids in your family, this is a great way to keep spending to a limit. We always drew names growing up (and we continued to do so to this day), and I think it makes it easier to be a little more personal with your gift giving.
I always loving trying to come up with the perfect person for whoever I pick. You can make it a secret, put a price limit on it, or require the present to be homemade – the sky is the limit! We always would open our sibling present on Christmas Eve.
Donate at least one old toy to charity or a family in need
Most kids get some kind of toy on Christmas. If you aren't careful, you can end up with a lot more toys than you need over the year. I've heard of a lot of people doing something like this, and I think it's really smart.
Basically, your kids pick a couple of toys they no longer want or play with, and you donate them to charity or someone who is in need. It teaches your children to help others, and it also clears our your toy room for the new Christmas goodies!
12 Days of Christmas
I've mentioned this a lot on our blog, but it's such a fun tradition. Pick a family who you want to do the 12 days of Christmas to.
They can be someone in need, or just a family that you want to make feel loved. We did this a lot growing up, and it was so fun, especially because we did it anonymously.
I loved when I was the person who had to "ding dong ditch" a family. Here are some great ideas for the 12 Days of Christmas, as well as some free printables.
Christ in Christmas Traditions
Ornaments of Christ's Names
This is something I mentioned in my post about ways to keep Christ in Christmas, but I think it's worth mentioning again.
I absolutely love this set of the Biblical Name of Jesus Ornaments. There are 12 ornaments and each one has a biblical reference on it.
It would be fun to put one on the tree starting 12 days before Christmas and reading the reference and then end on Christmas by reading Luke 2 as a family.
White Stocking
This is another tradition I mentioned in my keeping Christ in Christmas post. It's something my mom started doing several years ago, and I can't imagine Christmas Eve without it.
Throughout the month of December, there is a simple white stocking that hangs on the mantle.
Everyone is encouraged to write down something that is their gift to Christ, or that they are thankful for.
On Christmas Eve, my mom reads them aloud. It's anonymous, but we always have fun trying to guess who said what, and there's usually tears shed at least once during it.
This is another great alternative to Elf on the Shelf, and it ties things back to the birth of Christ.
It's something that you begin at the beginning of December, and throughout the month, the shepherd hides somewhere new.
Kiddos have to find him each day, which is so much fun. It comes with the shepherd and a music/reading CD.
I can't wait to start this with my kiddos. You can order it on DaySpring (last I checked they had 30% off coupon available!).
Build Baby Jesus's Manger
When I was in primary at church, I remember coming home one Sunday at the beginning of December with a little paper manger and a bag full of straw.
We were instructed to put a piece of straw in the manger whenever we did something kind for someone else.
The goal was to have the manger filled with straw by Christmas. I love this, and it's a simple way to talk about Christ, his birth, and encourage kindness toward others.
Acting out the Nativity
Instead of just reading Luke 2 (which is wonderful however you do it), we have acted out the Nativity for as long as I can remember on Christmas Eve.
Everyone participates, and it's usually really neat. My dad always video records it, and I hope that one day we can compile those all into one DVD. I think it's a fun way to teach the story of the Nativity that keeps everyone engaged.
We got really cute shepherd and angel costumes on Oriental Trading Company. Here are some awesome nativity costumes as well.
Christmas Eve Traditions
I talk about Christmas Eve Traditions over here, but here are a few of my favorites:
Looking at Christmas Lights
There are so many beautiful lights that are up this time of year. I'm impressed by all the displays people put up!
We always love going on Christmas Eve but you can really go anytime during the Christmas season. You can find lists of the best displays in your area online.
When we were younger, I remember driving forever (or what seemed like forever) to see some of the most amazing Christmas light displays ever. It's also pretty fun when you run into a house that has their lights tuned with a local radio station.
PJs from the Elves
I know a lot of people get new pajamas on Christmas Eve, which I think is great! Who doesn't need more pajamas? Our family does this tradition a little differently than most, but it's one of my favorite memories.
When we go out to look at Christmas lights on Christmas Eve, Santa's Elves come and deliver pajamas for everyone.
They are pretty sneaky to get into our house like that. Even when we've had guests over for Christmas Eve, and they come to look at Christmas lights, the elves always seem to leave something for them.
The story goes that my parents worked out a deal with the Elves when we were younger to do it. We've worked out the same deal for Jack!
I always like to get the pajamas from Target or Kohls on Black Friday. Though, I must admit, I love this brand when Christmas comes around. They have the best pajamas for adults, kids, and babies (matching!). SO soft and warm!
Opening Present on Christmas Eve
I mentioned this a little bit earlier, but this is a fun way to build up the anticipation for Christmas morning!
In our family, we open one gift on Christmas Eve (usually a sibling present.) You could do this any way you wanted though – it could be new pajamas, an ornament, a "spiritual" gift, presents from out-of-state family…whatever! It's just fun to do.
Sleeping in the same room as siblings on Christmas Eve
We did this for many, many years. I think Forrest and I even slept in the same room with my little brother for the first year or two after we got married.
When I was younger, it was especially fun, because we would stay up chatting in anticipation for the next morning. I have so many fun memories doing this, and it is definitely something I will encourage with my children!
I usually ended up on the ground, because I was the youngest. But I was totally okay with it!
Sprinkle reindeer food outside for the reindeer
We would always put carrots on the plate of cookies for the reindeer, but I know of people who would sprinkle reindeer food on the grass or snow outside. Here's a recipe for magic reindeer food.
Read the Night Before Christmas on Christmas Eve
This is another tradition that Forrest's family does. As he describes it, on Christmas Eve, his dad will always read The Night Before Christmas, from an old, tattered book. This is a classic story, and I think it can be really magical to read it on Christmas Eve.
Be sure to check out this post on Christmas Eve Traditions!